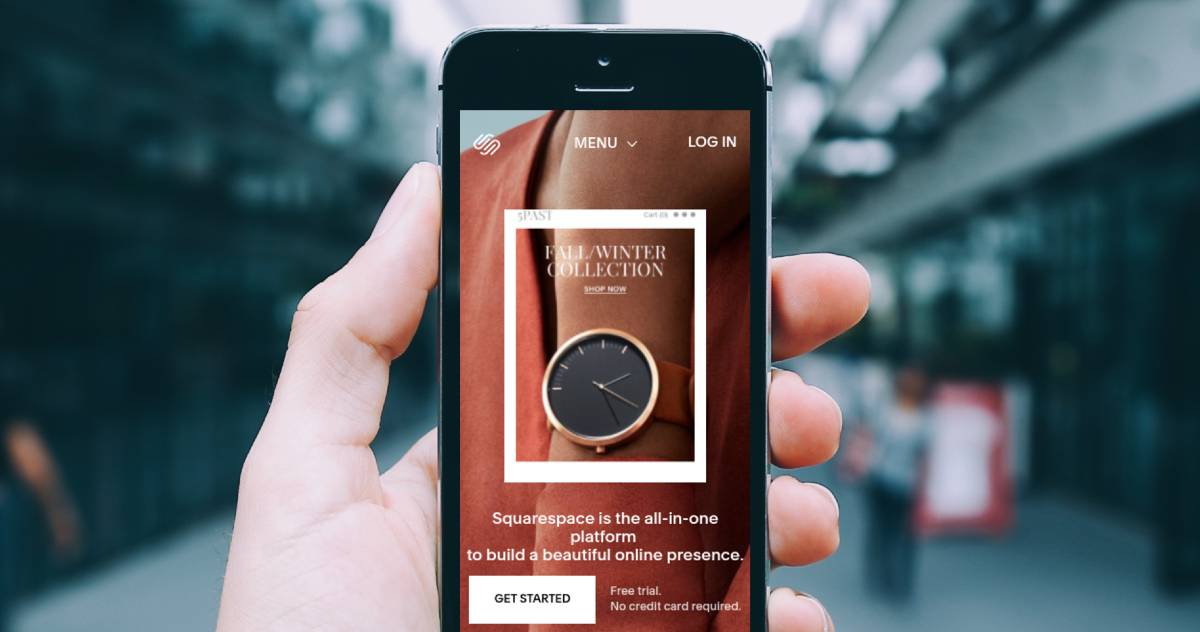 In this post you'll discover the difference between Squarespace and Wix for building a website or starting a blog.
Squarespace and Wix are two of the most prominent website builders due to their huge advertising budgets - combined they spend over $200 million per year on marketing.
Even though there are dozens of great website builders, these two brands are the most widely recognized because they compete for Super Bowl ad spots, YouTube commercials and podcast sponsorships.
Plus, they are both endorsed by huge celebrities. So, should you use the company that's endorsed by Will Ferrell or Keanu Reeves?
Luckily, as a web designer I'm not easily swayed by celebrity testimonials, so I'll help you choose the right website builder without getting distracted by the stuff that doesn't matter.
In fact, there are 4 primary criteria I use to help clients decide which website builder is right for them. These include design, apps, flexibility/ease of use and price.
Summary of my Wix vs Squarespace comparison:
Design: As a web designer I believe Squarespace offers the best website templates and simplest editor. They have over 90 free themes you can use to build a beautiful website. Wix has over 400 free themes, but does not allow you to change themes easily.
Apps: Website builder software companies usually allow you to extend your website functionality with a 3rd part app or plugin. Squarespace does not offer 3rd party apps, but Wix offers over 250 apps. So if you need special features from your website, then Wix might be right for you.
Flexibility & Ease of Use: Both Squarespace and Wix are very easy to use. However, the trade off is that they are not very flexible. In the future if you need to extend your website with custom code, Squarespace allows complete developer control but Wix does not.
Price: Both companies offer competitive pricing. You can setup a Squarespace website for just $12 per month or a Wix website for $11 per month. Both offer free trials. In my book you should not decide between one or the other based on price alone.
| Builder | Score | Pricing | Review | Review | Signup |
| --- | --- | --- | --- | --- | --- |
| Squarespace | 9.5 | $12+ per month | Beautiful website templates, easy to use | Read Review | Visit Site |
| Wix | 8.5 | $11+ per month | Simple Templates, drag and drop editor, limited apps | Read Review | Visit Site |
Design
If you're not a designer but you want your website to look good, you'll need to pick a website builder that makes it easy to create your website without hiring a developer.
Both Squarespace and Wix allow you to design your website using drag and drop templates. No need to learn how to code or have a creative bone in your body.
Squarespace Templates
From a web designers perspective, I think Squarespace is ahead of the pack when it comes to beautiful website design. Their team of designers does an amazing job of creating clean and contemporary website themes that look great on both desktop and mobile devices.
They offer 91 free templates to pick from. Then you can adjust each template to meet your specific needs. Their website builder uses components called "sections" and "blocks" to help you modify your design without learning code. Although the website builder interface is clean and simple, I will admit that it can take some time to master the software.
One thing that I like about Squarespace is that you can see your website as you are editing the design. This is a unique feature because website builders like Wordpress require you to edit your design on the backend of your website without being able to see what you're working on.
Wix Templates
If you are picky like me when it comes to design, you'll probably have a hard time finding the perfect template when you launch your website. Thankfully, Wix offers over 400 free themes you can use to build your website.
And after you install your theme you can use their drag and drop editor to completely customize your website from top to bottom.
Unlike Squarespace, Wix does not use sections or blocks to build the foundation of your website. Instead you have free reign to move parts of your website anywhere on the page. That's pretty cool if you ask me because some website builders can be frustrating to work with when they make you use a structured layout.
The downside of all this design freedom is that once you build the perfect website, you cannot change your theme in the future without starting over from scratch. That may not be a problem if you follow a "set it and forget it" mindset: setup your website and then get back to business.
However, in my experience most website owners love changing the look of their website frequently by changing the theme. That means if you build your website with Wix and then decide to change the theme you will need to redesign it again from the beginning. Keep this in mind if you plan on building a large website with dozens or even hundreds of pages.
Apps
Sometimes you need your website to do something special that it can't do out of the box. Like connecting to social media or scheduling appointments. In these cases you'll need to install an app to get the special features you're looking for.
Sometimes these apps are created by 3rd party companies or are provided by your website software company. Either way they are a great way to supercharge your website without learning how to code.
Squarespace Apps
Squarespace does not offer an app marketplace like other website builders. Instead they provide a select number of integrations to help you extend your website or online store. They call these integrations "blocks."
A few of the most popular blocks include:
Flickr Galleries
Instagram Feeds
Google Maps
Email Newsletters
If they do not have a block that you are looking for, they offer a custom code block that allows you to paste a code snippet in your website template. Although this is probably too advanced for most users, it does allow some flexibility if they don't have an app you need.
Wix Apps
Wix has a growing marketplace of free and premium apps you can add to your website. Although there are over 250 apps to choose from, in my opinion they are not of the highest quality, so don't let that number fool you.
But if you need to connect your social media profiles to your website or want to allow customers to book appointments with you, then there's an app for that.
Wix apps are built into the website editor, so you just drag and drop you app where you want it.
Flexibility & Ease of Use
When helping my clients decide which website builder is right for them I always like to focus on the flexibility and ease of use, instead of other flashy features.
The reason is simple: these are the two areas where most website owners get frustrated and discouraged, so it is important to know what you need out of your website before you start building.
Here's what I mean:
A simple website builder might be easy to use but it probably won't offer a large ecommerce company enough flexibility to expand their website as their business grows. On the other hand a local plumber may not get much use out of complex website software if it is not easy for him to use.
There's always a tradeoff between flexibility and ease of use, so you'll need to be honest about what is most important to you.
Squarespace Features
Squarespace is very easy to use for both beginners and web design experts. It also includes ecommerce software so you can start and run an online store.
As you business and website grows, Squarespace provides developer documentation so you can customize your website from the ground up.
However, since the website builder is hosted on the Squarespace servers you do not have any control over the technical aspects of your website. And if you ever want to change website hosting companies, Squarespace makes it very difficult for you to export your content and you cannot take the website theme with you.
Wix Features
Wix is also very easy to use since it is built around a simple drag and drop editor. You can add an online store to your website and get a professional email address like [email protected] using their integration with Google's G Suite for business.
Although Wix is easy to use it is not flexible at all. You cannot edit the website code or move your website to a different host. This can make some website owners feel trapped if Wix ever raises their prices. At that point you would have to leave your website behind and start over with a different website builder.
Pricing
I always leave pricing until the end of my website builder reviews because there are much more important features to focus on first. If you pick the cheapest website builder to save money, you could waste dozens of hours trying to learn the software and get it to meet your needs. On the other hand if you pick the software that meets your needs first, then you could save both time and money right from the beginning.
And to be honest, the leading online website builders offer competitive pricing with usually only a dollar or two difference in price among brands.
One word of caution: many website builders promise you can get started FREE or offer low-priced packages. Don't get tricked by these marketing tactics. You should budget about $15 to $20 per month for your website expenses.
Squarespace Pricing
Squarespace prices are extremely reasonable and are in line with their competition. You can expect to spend anywhere from $12 to $46 per month to host your website or online store with Squarespace.
Please note that the quoted prices are for annual plans. You can expect to spend an additional 15 to 30 percent more if you pay on a month to month basis.
| | | | | |
| --- | --- | --- | --- | --- |
| | Personal | Business | Basic Store | Advanced Store |
| Monthly Price | $12 | $18 | $26 | $40 |
| Unlimited Pages | ✔️ | ✔️ | ✔️ | ✔️ |
| Mobile Optimized | ✔️ | ✔️ | ✔️ | ✔️ |
| Website Metrics | ✔️ | ✔️ | ✔️ | ✔️ |
| Free Custom Domain | ✔️ | ✔️ | ✔️ | ✔️ |
| SSL Security | ✔️ | ✔️ | ✔️ | ✔️ |
| 24/7 Support | ✔️ | ✔️ | ✔️ | ✔️ |
| Online Store | | ✔️ | ✔️ | ✔️ |
Wix Pricing
Wix also offers affordable monthly and yearly plans. While they allow you to create a website for free, if you are creating a website for your business or personal brand, you should purchase a premium plan.
The premium plan will let you use your own domain, such as yourawesomewebsite.com. This is critical to being seen as a real business and building trust with your potential customers or clients.
With Wix you can build a website and online store for just $17 per month. That's a great deal if you ask me!
| | | | | |
| --- | --- | --- | --- | --- |
| | Combo | Unlimited | eCommerce | VIP |
| Monthly Price | $11 | $14 | $17 | $25 |
| Unlimited Pages | ✔️ | ✔️ | ✔️ | ✔️ |
| Mobile Optimized | ✔️ | ✔️ | ✔️ | ✔️ |
| Website Metrics | ✔️ | ✔️ | ✔️ | ✔️ |
| Free Custom Domain | ✔️ | ✔️ | ✔️ | ✔️ |
| SSL Security | ✔️ | ✔️ | ✔️ | ✔️ |
| 24/7 Support | ✔️ | ✔️ | ✔️ | ✔️ |
| Online Store | | | ✔️ | ✔️ |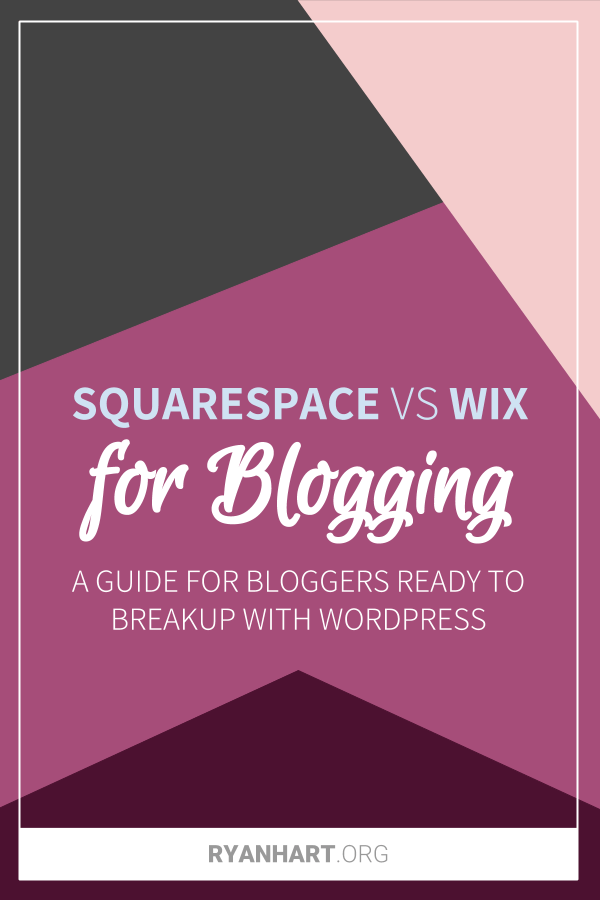 Conclusion
Both Wix and Squarespace offer a great product for a fair price. The only decision left is to figure out which one is right for you and your business.
If flexibility and ease of use is important, then I would recommend using Squarespace. On the other hand if you want to be able to choose from hundreds of website templates, then Wix is a great option.
Finally, you'll want to be honest about your plans for the future with your website. If you're going to need dozens of other apps to extend your website, then you'll need to checkout both Wix and Squarespace to see if they support the apps you need.
If you have any questions about starting a website with Wix or Squarespace, please leave a comment below. I am happy to answer your questions - this is what I do for a living.