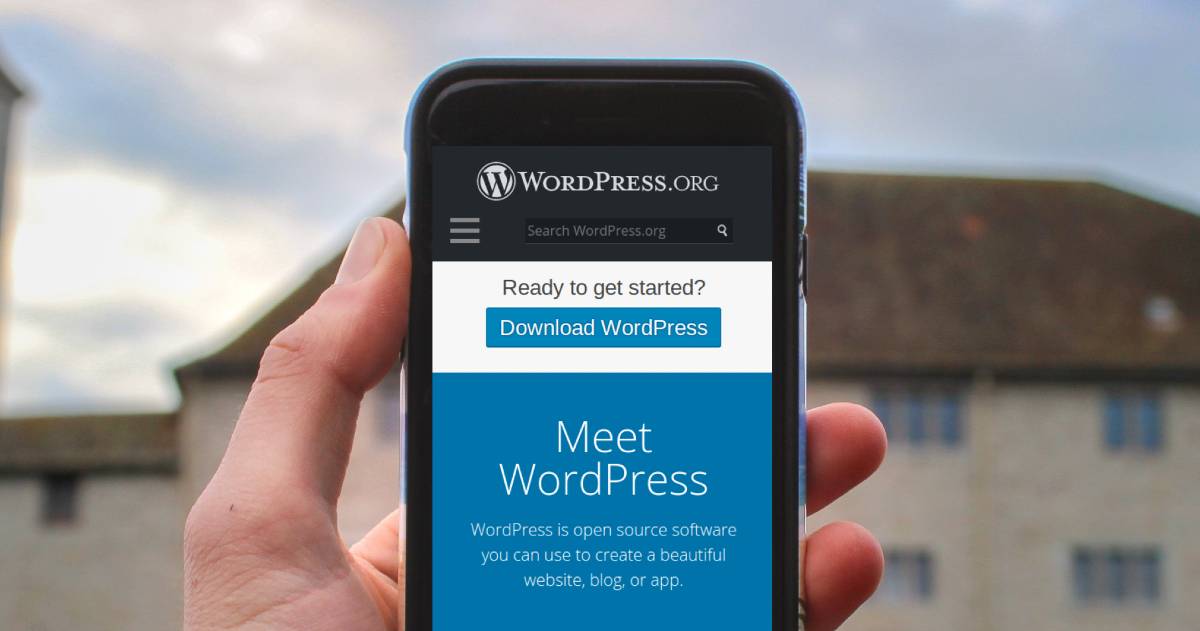 Ready to launch your blog but not sure how to create a website?
At this point you don't want to make a bad choice and choose the wrong website builder, right?
Well, Wix and Wordpress are two of the most popular website builders on the market, so this is a great place to start.
You might have heard of Wix from their Super Bowl commercials or persistent YouTube ads featuring influencers like Rhett & Link, iJustine or Will Ferrell.
And you have probably heard both good and bad things about WordPress because their software powers over 25% of websites on the internet!
So how do you know which one to choose? Well, as an experienced web designer and digital marketing consultant I help my clients overcome this obstacle everyday.
When I help walk someone through the process of picking a website builder there are four criteria I like to focus on: design, apps, flexibility/ease of use and price.
I dive into each of these down below but first let's discuss the big difference between these two platforms and why it's important.
Wix vs WordPress: What's the Difference?
Are all website builders the same? From the outside it may seem like it but when it comes to Wix and Wordpress they are very different.
Wix is proprietary website building software that is hosted on their servers and maintained by their team.
On the other hand WordPress is free, open source software that is maintained by volunteers around the world but you install the software on a 3rd party server.
As you will see below each has their platform has their pros and cons. So the platform you pick will depend on your business and personal goals.
Editor's Note: We are discussing the self-hosted version of WordPress (WordPress.org) not the hosted version (WordPress.com).
Design
I strongly believe that your website is an extension of you and your brand. So this makes design extremely important when you are starting your business or blog and trying to get noticed.
The great thing about using a website builder like Wix or Wordpress is that they are theme/template based. That means you can design a beautiful and professional website without learning how to code.
Just pick a great looking free theme and you'll be ahead of your competitors right out of the gate.
Wordpress Themes
WordPress is a theme based content management system. You can pick a free or premium theme from the marketplace and the look of your site will change but the content will stay the same. There are thousands of free themes and hundreds of premium themes to pick from.
This is great if you like to change the look of your website frequently (surprise: most people change their theme 3 or more times in first few months of starting their website).
However, a theme-based website builder makes it difficult to make small tweaks to your website without learning how to code.
You can easily customize your WordPress website by learning the basics of HTML and CSS in just one weekend. In fact, I have a few tutorials you might find helpful.
But if learning how to code intimidates you, the good news is that there are many great drag-and-drop themes you can use to completely customize your website from within the WordPress editor.
A few of the most popular page builders include Divi, Beaver Builder and Visual Composer. These will give you the design features of Wix but with greater flexibility and customization.
Wix Themes
Wix has a library of over 400 free themes to choose from. As a web designer I really respect the quality of the free templates Wix provides to their users.
If you want your website to stand out from the crowd or look just like your competitors, there's a theme that will get you there. The Wix editor is unique that it lets you drag and drop text, images and videos anywhere on the page. This flexibility makes it fun to design a website if you are used to using website builders that restrict you to uncomfortable grids and limits.
Remember when I said that new website owners like to change their theme frequently? Unfortunately with the Wix editor, once you select a theme, you cannot change the design of your website without starting over from scratch.
This is because the content you add to your Wix website becomes baked into your website template. If you change your template, you lose your content.
For a new website owner this might not be a big deal. It might only take an afternoon for you to redesign a website with under 10 pages.
However, as you website starts to grow to several dozen or even 100 pages of content, changing themes could be a nightmare. For this reason I recommend WordPress over Wix for businesses that want to use content marketing to grow their business.
For a small 2 or 3 page website, this recommendation does not apply. Wix will make it easier for you to get started and maintain your website without the complexity that comes with the Wordpress platform.
Apps
Website builders like Wix and WordPress are made to do one thing: help you design a beautiful website. But websites today need to be able do more than just stand there and look pretty. They need to be able to collect email addresses or leads, integrate with social media and track your progress with analytics.
That's where apps and plugins come into the picture.
Both Wix and WordPress rely on 3rd party apps to extend the functionality of their software to meet the unique needs of your business. This allows the website platforms to stay focused on what they do best: website design, and let outside developers focus on solving unique problems.
Wordpress Plugins
The WordPress plugin marketplace is filled with thousands of plugins (apps) that will add unique features to your website. Some of the most popular plugins will improve your website's SEO, help you collect email addresses and connect your social media accounts.
Most of these plugins are completely free and extremely powerful. Some plugins offer a few free features but hold back the best features to paying subscribers.
After a few minutes of browsing the WordPress plugin marketplace you may find yourself installing dozens of cool plugins to try out. The thing you should always keep in mind is that these plugins can greatly slow down your website and the wrong combination of plugins could crash your website.
So my only recommendation would be to think carefully before you install a plugin and always read the reviews.
Wix Apps
Wix offers over 250 apps to improve your website. Their app marketplace offers many apps that are designed and developed by the Wix team. They also offer both free and paid versions of 3rd party apps.
The most popular apps in the marketplace will help you improve your search engine optimization, book appointments directly from your website and collect email addresses.
Integrating an app into your website is very straight forward. You can use the drag and drop editor to move your apps around and customize the look to meet your needs. This is something you cannot easily do with WordPress because plugins are more difficult to modify.
Flexibility & Ease of Use
I always talk about flexibility and ease of use in one section because I like to think they are two sides to the same coin.
When it comes to website builders you either have to sacrifice flexibility if they are easy to use or the other way around. It is very difficult to find a website builder that is both flexible and easy to use.
What do I mean by flexible? A flexible website builder will allow your website to expand as your business grows. As you take on more customers or want to offer additional services, you'll need a website that can meet these needs.
WordPress Benefits
WordPress is one of the most flexible website builders on the market. It powers blogs for some of the most trafficked websites in the world including Etsy, Zillow, GoDaddy Garage, TechCrunch, Macy's and many more.
If those big names can run their blogs using the WordPress platform, there's no reason why it can't meet the needs of almost any other small business.
What makes WordPress so flexible is that you can install it on almost any web host you want. And if your web host decides to raise their rates or your are dissatisfied with their customer service, you can simply take your website and leave. Try doing that with Wix!
While WordPress is extremely flexible, it can be intimidating for beginners. First, you have to figure out how to install WordPress on your web host. Luckily most hosts offer one-click installation. But it can be tempting to give up when you are forced to learn what FTP, SQL and DNS mean and why they matter.
The next frustration that WordPress users encounter is that all of your interactions with your website are from within the WordPress dashboard. It is not very intuitive as you have to switch back and forth from the dashboard to your website to see any changes you've made. Not a deal breaker but it can be frustrating.
Also, modifying your website requires knowledge of HTML, CSS and PHP programming languages to edit the template files.
If any you were overwhelmed reading those last paragraphs, then Wix is probably the better choice for you. On the other hand, if you know what FTP or PHP stand for, then you will do just fine with WordPress.
Wix Benefits
If WordPress was flexible but not very easy to use, then Wix is the complete opposite.
Wix is designed to be user friendly with a simple drag and drop editor so what you see is what you get. This is great for new designers that want to play around with their website in real-time.
However, in exchange for ease of use, you have to give up flexibility. After you build your website in Wix you cannot export it or transfer it to another website builder like WordPress or Squarespace. Also, you cannot modify the website core files or extend the functionality to meet your unique needs.
Wix is built on proprietary software so you cannot see or modify the code. That can be a deal breaker for some businesses.
Price
OK, now here is where most people get confused when comparing Wix vs WordPress.
Wix advertises that you can get started for free and Wordpress is free open source software.
But most people are caught off guard when they go to build their website and find out that they will have to pay around $15 per month for a FREE website. What gives?
I'll explain…
WordPress Pricing
People often get confused about the cost of WordPress but it is understandable. WordPress itself is open source software that is free to use for personal and commercial projects.
However, you need to install the website software on a server or website host. These servers cost money to operate.
Some of the most popular website hosts charge around $5 per month for a basic package.
As your website popularity grows you will need to upgrade to an advanced package to improve your website performance to keep up with the traffic demands. As they say: mo money, mo problems.
That said, you should estimate to pay about $15 per month for a reliable website hosting company.
Wix Pricing
Wix advertisements love to claim that you can start your website for FREE when you use their platform. Sounds like a great deal to me.
Here's the catch: your website will live at yoursite.wixsite.com and they will inject ads into your content - that's not what you want. Your website should have it's own custom domain like yoursite.com and be free of ads you can't control.
If you want a website with a custom domain you'll need to upgrade to a premium plan that costs about $17 per month (paid yearly). Month to month plans are about 20 percent higher.
To be honest that's still a good deal for a great looking website, but if you thought it was going to be free you might be caught off guard.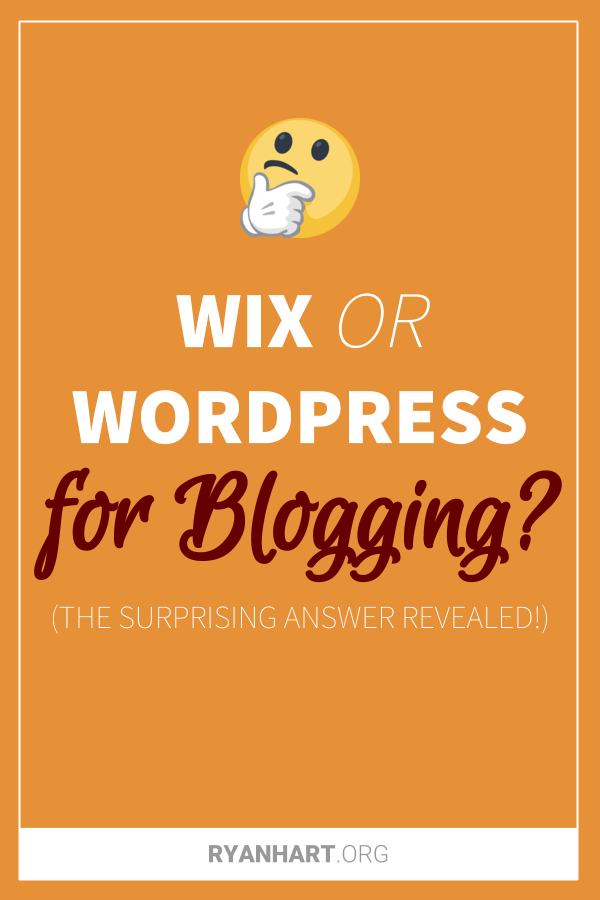 Conclusion
For years I was a WordPress "Super Fan" - I thought everyone should use WordPress to build their website because it was easy to use and flexible. However, lately I have come to realize that it is not right for everyone.
WordPress is still great if you plan to build a large blog and want flexibility to customize your website as your business grows. But, this flexibility comes with some serious side effects including security issues and website loading problems. Not deal breakers, but something to keep in mind.
If you want to start a simple but easy to maintain website, Wix is the way to go. You can design your own website in just a few hours without learning how to code or setup hosting. That being said, Wix is not for everyone either.
Wix lacks powerful blogging features and cool plugins that most people have come to expect from WordPress.
So there you have it: WordPress is great for businesses that are serious about growing their online presence. Wix is perfect for hobbies or small service based businesses that want a simple website.
Which website builder did you decide to use? Let me know using the form below or connect with me on Twitter @CallRyanHart. Feel free to send me your questions.