While promise rings have traditionally been associated with women, an increasing number of men are also choosing to wear them as a symbol of their commitment. However, finding a promise ring that is both masculine and stylish can be a challenge.
We've found several amazing rings and bands to help you pick the right promise ring for your style.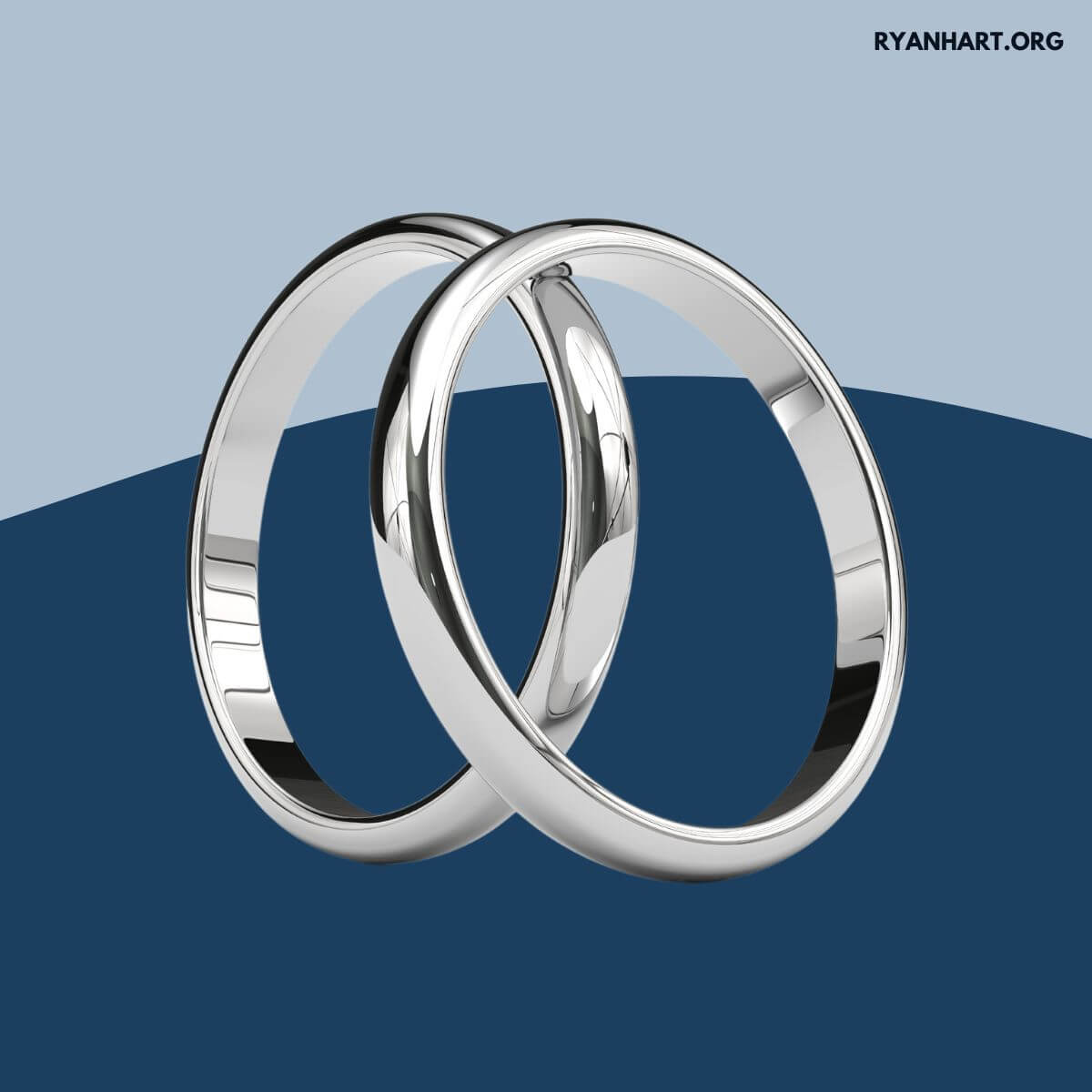 What are the Best Men's Promise Rings?
Whether you're shopping for a promise ring or just thinking about buying one, you should know what to look for. In this guide, we've compiled a list of a few of the best promise rings for men on the market right now.
Whether you want something simple or want to go all out with unique designs and custom engraving, these are our top picks!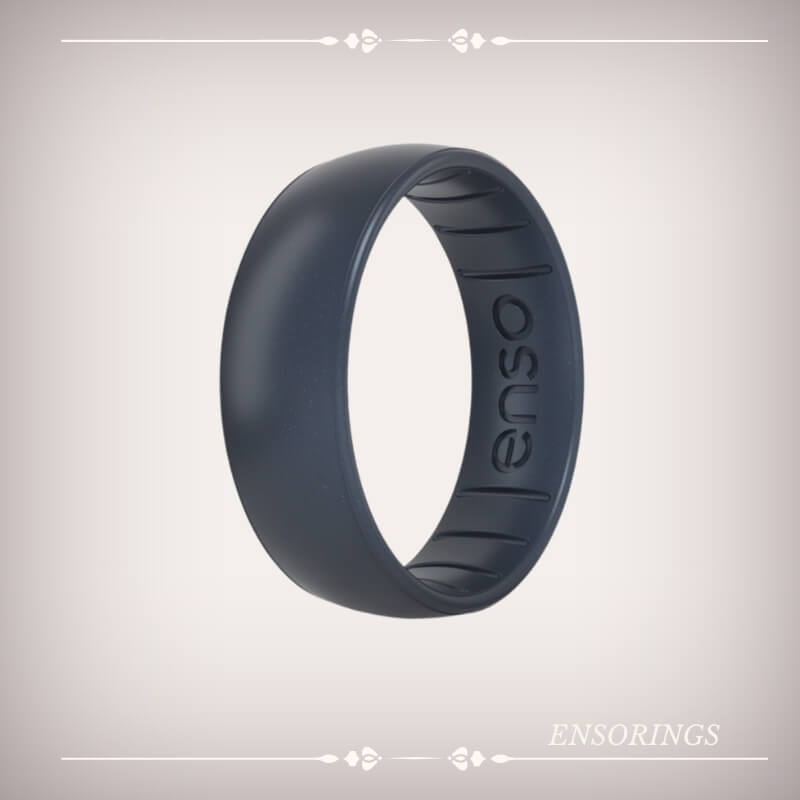 Made of high-quality silicone, the Elements Classic Silicone Ring is hypoallergenic and safe for people with metal allergies. Lightweight and comfortable even with swollen hands or fingers, the ring's simple, classic design makes it perfect for daily wear.
Who This is Best For:
Elements Classic Silicone Ring comes with breathable channels that allow airflow between your skin and the band surface, ensuring dryness for long-lasting comfort, giving you peace of mind knowing that this promise ring will last through all kinds of activities.
Made of stainless steel, the King Will Intertwine Spinner Ring is a low-maintenance, durable ring that will stand the test of time. The curb chain inlay design doubles as a built-in fidget spinner, providing an outlet for nervous energy while remaining low-key.
Who This is Best For:
The simple design and chain inlay make the King Will Intertwine Spinner Ring an excellent choice for those who want a promise ring that is both stylish and unique.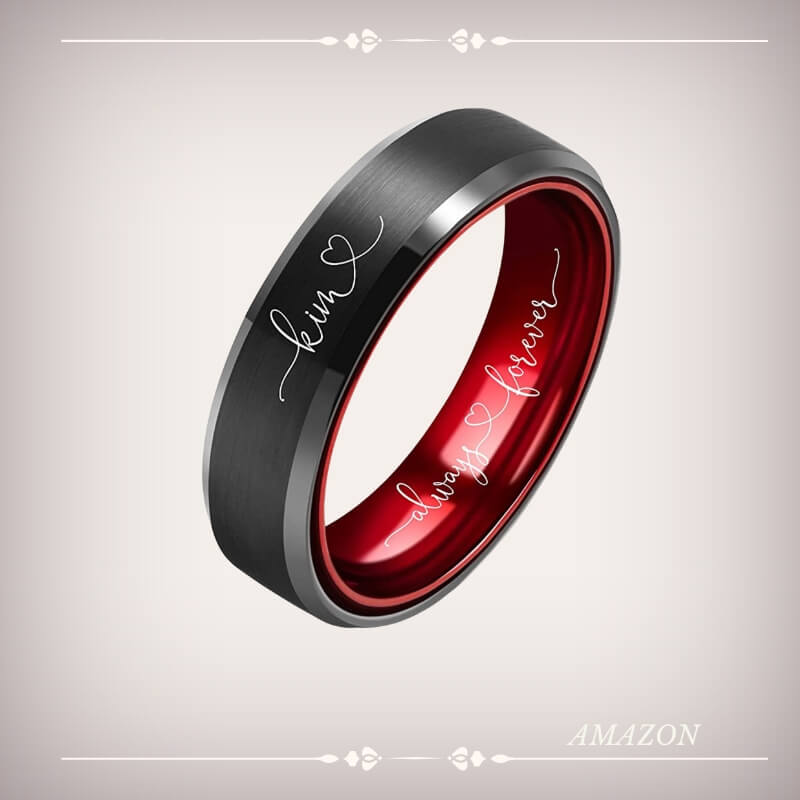 The Black Tungsten Promise Ring with Custom Engraving is the perfect ring to symbolize your commitment to one another. With its sleek matte black finish and smooth edges, this promise ring will look great on any man's finger.
Who This is Best For:
Made of high-quality tungsten carbide, the Black Tungsten Promise Ring can withstand being worn every day without losing its shine or luster.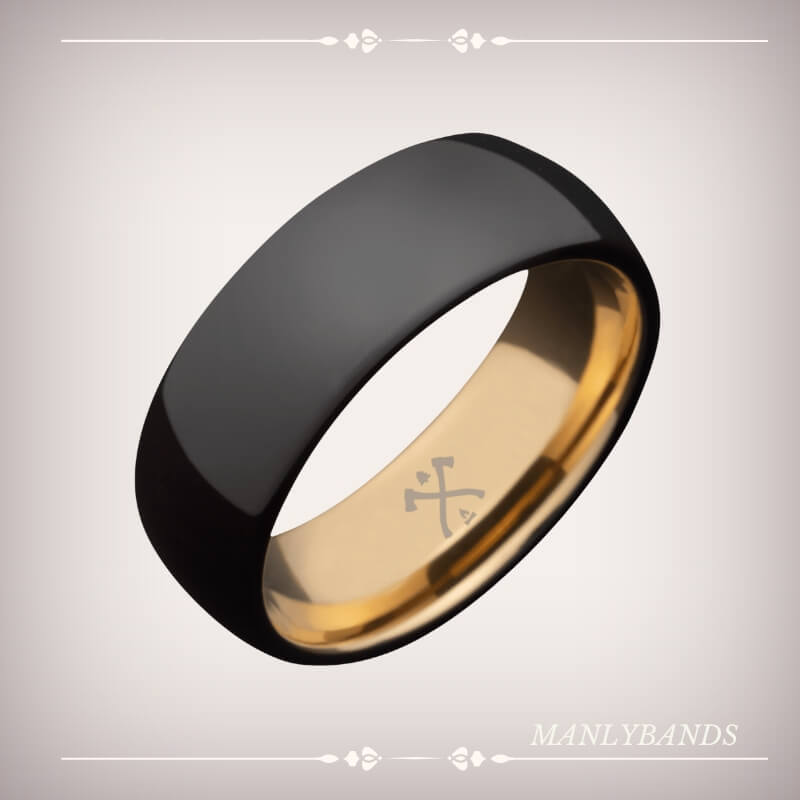 Made of high-quality, scratch-resistant tungsten carbide, Manly Band's The Record Producer is a promise ring that lasts. Plus, the ring itself is lightweight, so it won't weigh down your finger or be uncomfortable to wear.
Who This is Best For:
With a 14K yellow gold plated sleeve, this is a promise ring that looks sophisticated for any occasion. Smooth, comfortable, and durable, the Black Plated Tungsten with 14K Yellow Gold Plated Sleeve will continue to look good for years to come.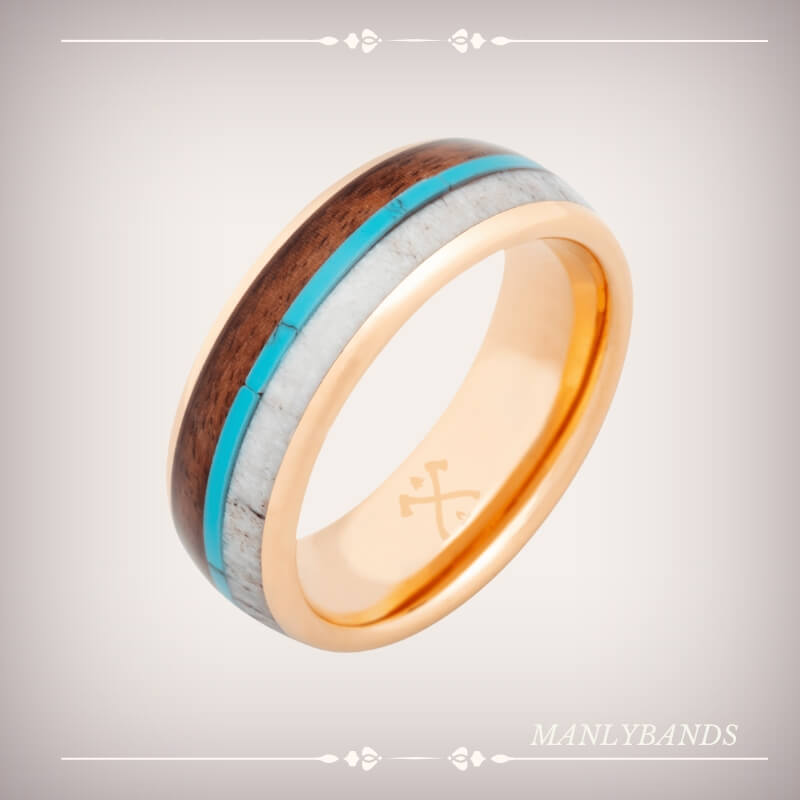 The The Journeyman by Manly Bands is an attractive choice for a men's promise ring because it's made from durable tungsten and has a unique design. This ring features solid metal construction with a smooth satin finish.
Who This is Best For:
It has an intricate deer antler inlay surrounded by turquoise on the top of the band. The inside of this promise ring features a koa wood inlay that gives it an earthy feel while still being eye-catching.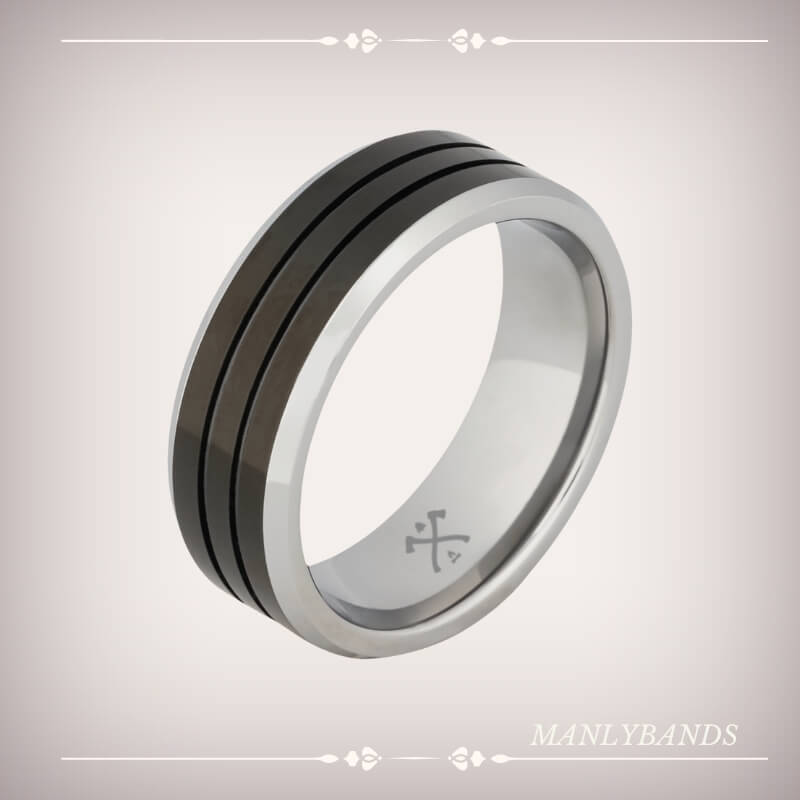 The Hacker by Manly Bands is an excellent option for men looking for promise rings that are simple and sleek. The ring is made of tungsten carbide, one of the strongest metals available.
Who This is Best For:
For men looking for a promise ring that is great for daily wear, the flat grooved design of the band provides a modern look while the ring itself is crafted for ultimate comfort.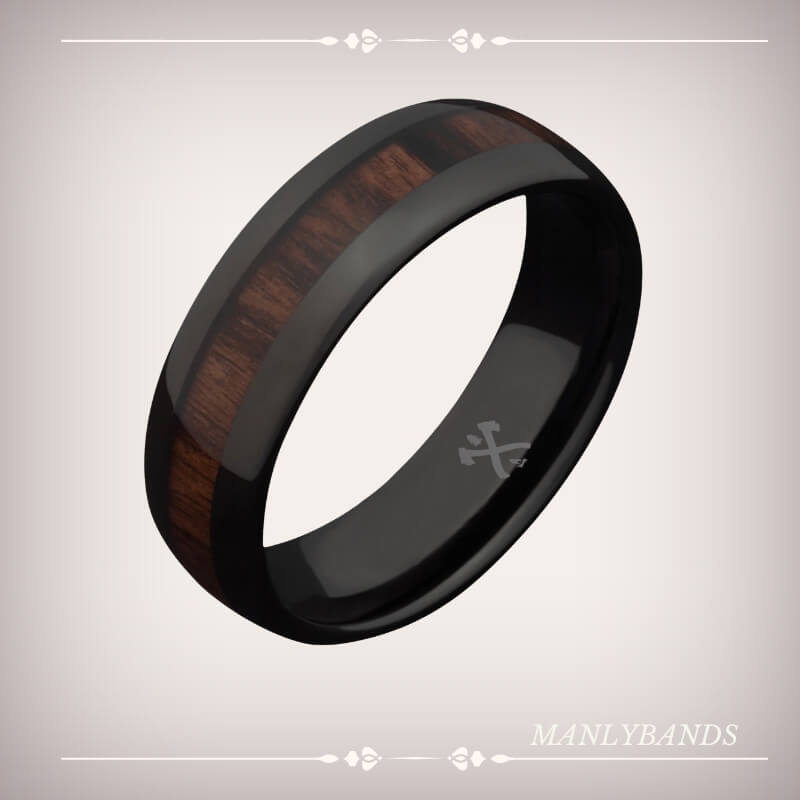 Beautiful koa wood and black tungsten come together to form an attractive blend of natural and modern styles. The Cowboy is made out of tungsten, a very strong and durable metal. The tungsten is then coated with a black finish, and a wood inlay adds to the piece's aesthetic.
Who This is Best For:
The wood inlay gives it a rustic feel, while the black plating gives it a modern touch. Made of tungsten carbide, which is known for its durability and strength, this sophisticated promise ring is perfect for the modern cowboy.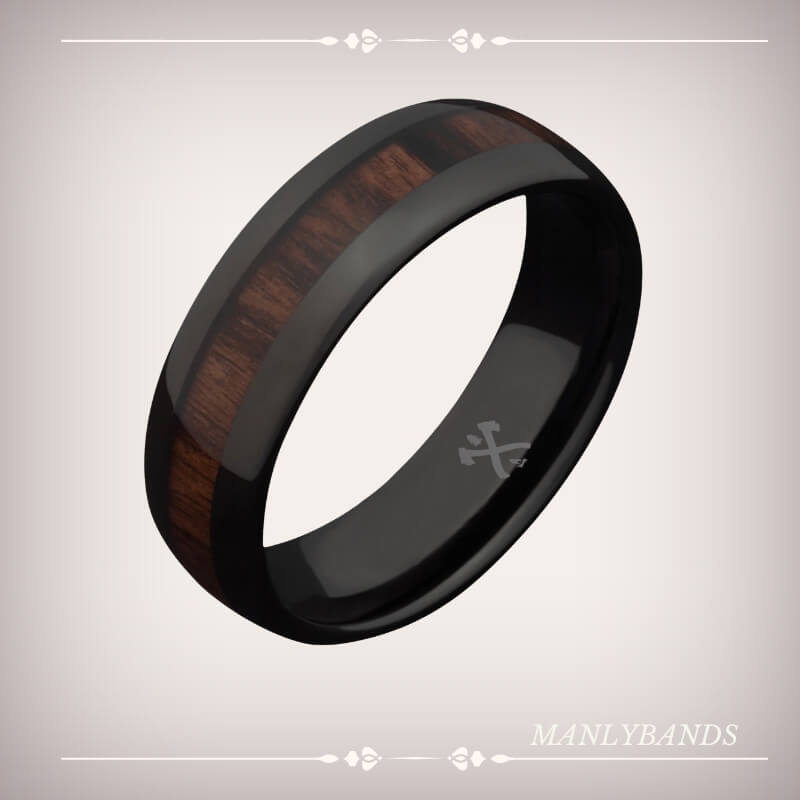 Brushed and Polished Comfort Fit Ring by Blue Nile features a brushed metal finish that contrasts beautifully with its polished edges. The ring's comfort fit design is comfortable for everyday wear, and it's made of gray tungsten carbide, so this ring is durable and scratch-resistant.
Who This is Best For:
The Brushed and Polished Comfort Fit Ring's simple, classy design is a wonderful promise ring for men looking for an elegant and understated style.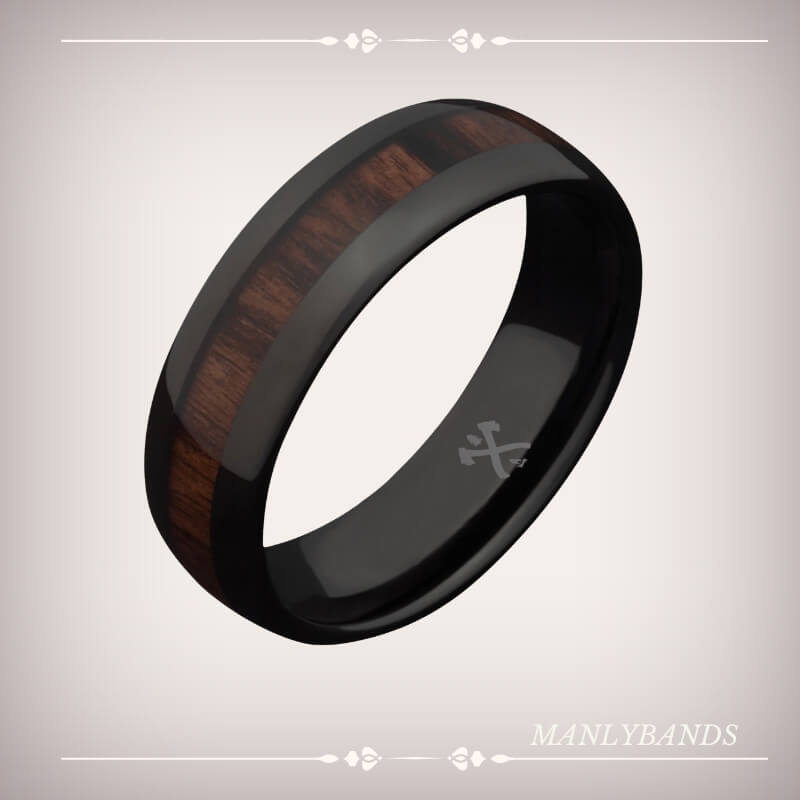 Durable and able to withstand the demands of daily wear, Blue Nile's Asymmetrical Black and Blue Engraved Promise Ring is a beautiful ring with a unique style. The blue tungsten carbide metal inlay provides a sharp look to the black band.
Who This is Best For:
The ring has been designed with comfort in mind, so it will not cause any irritation or discomfort when worn. This is an excellent option for men looking for a classy black promise ring that can be worn daily.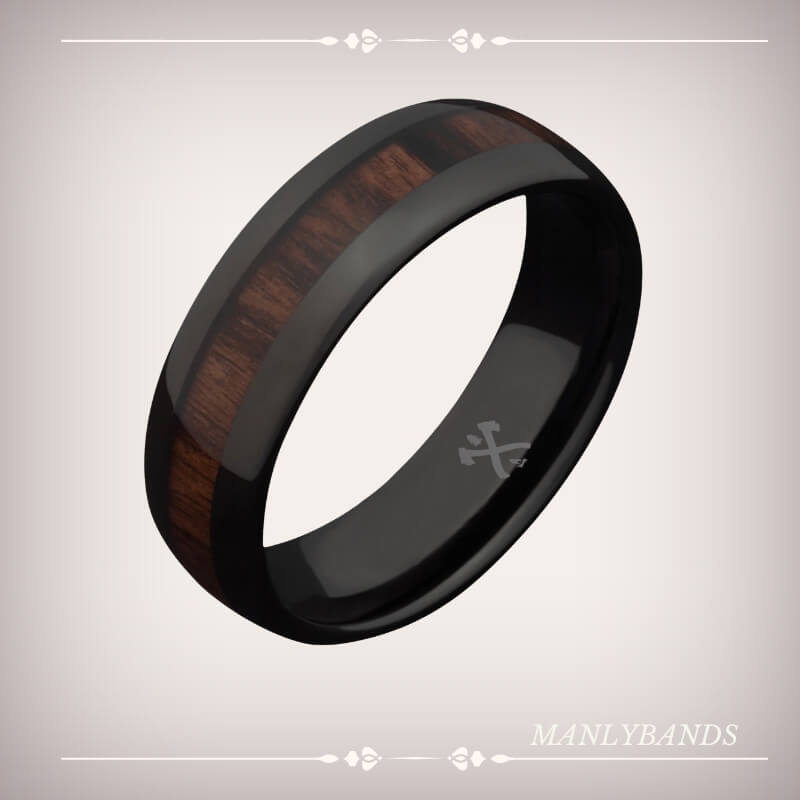 The Single Black Diamond Promise Ring shines brilliantly in a strong, masculine style that's comfortable and beautiful. Made with black tungsten carbide, it has an enduring shine that won't scratch or fade.
Who This is Best For:
This sleek and modern ring features a single black diamond set in a black tungsten band. The simple and elegant design is perfect for a man's promise ring, and the black diamond adds a touch of drama. Whether you're looking for an engagement ring or a promise ring, this ring is sure to impress.
What is a promise ring for men?
A promise ring is symbolic of commitment and is often worn by couples who are not ready to get married but want to show their faithfulness to each other. It can also be worn by single people who are waiting for the right person to come along.
Promise rings are usually made of metal, such as gold or silver, and may have gems or diamonds set into them. The rings are often inscribed with words such as "love" or "forever." Some people see promise rings as pre-engagement rings and may eventually upgrade to an engagement ring when they get engaged.
Others see the ring as a symbol of commitment that men can wear at any stage in a relationship.
What finger do guys wear promise rings on?
Men can wear promise rings on any finger, however, many guys choose to put them on the ring finger of their left hand.
The ring finger is traditionally associated with marriage, and wearing a promise ring on this finger shows that you are committed to your relationship.
Additionally, the left hand is considered the more romantic side, making it the perfect location for a promise ring. Of course, ultimately, it is up to you where you choose to wear your ring.
Why would a man wear a promise ring?
For some men, a promise ring reminds them to stay faithful to their partner. For others, it may be a pledge to abstain from drugs or alcohol. It could also be a symbol of celibacy or abstinence.
Whatever the meaning, a promise ring is a personal statement that can be worn as a reminder of one's commitment.
Wearing a promise ring is not limited to women; men may also choose to wear one. The practice of exchanging promise rings is quite common among couples serious about their relationship.
Bottom Line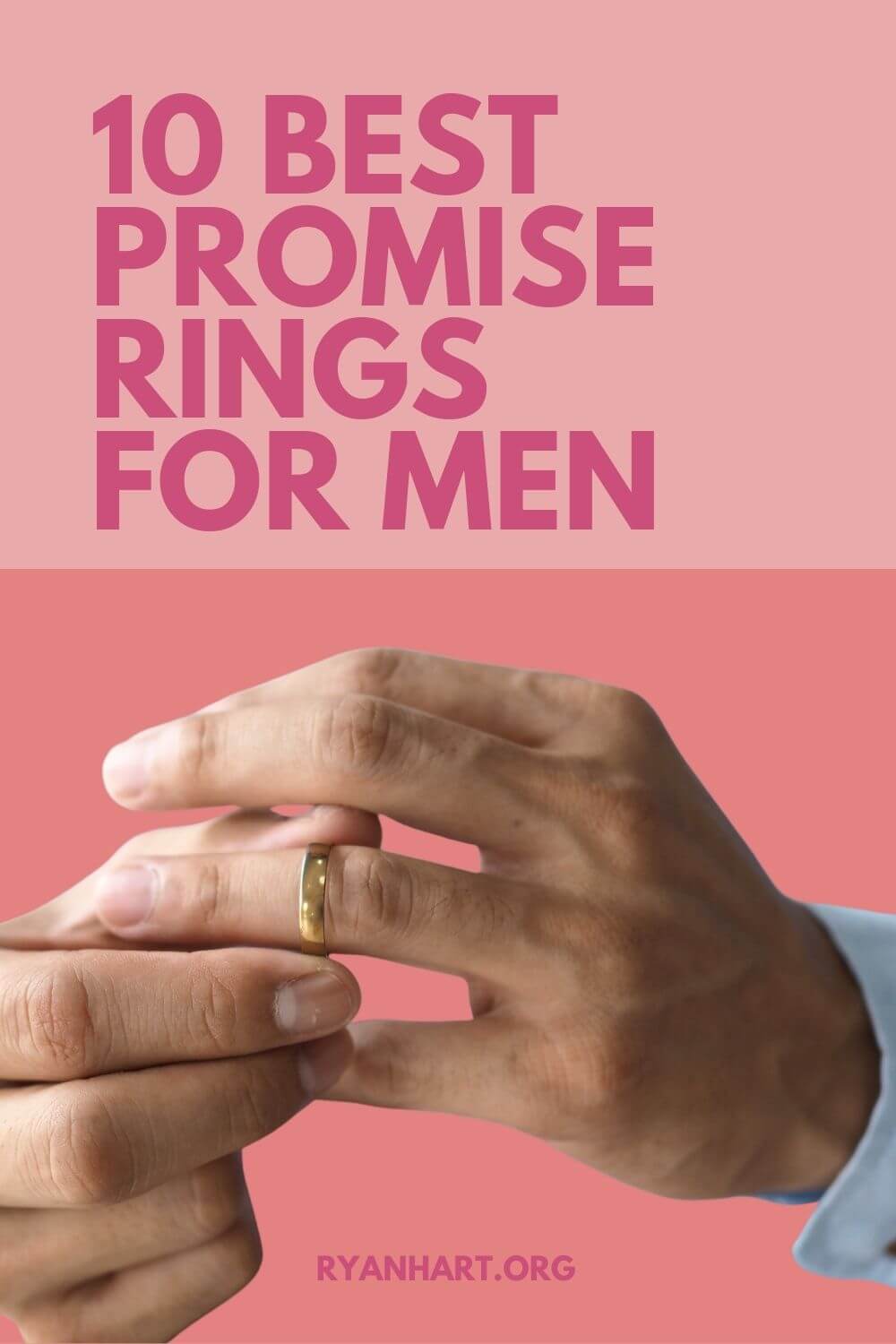 Promise rings for men are becoming increasingly popular as couples look for unique ways to symbolize their commitment to each other. While rings have typically been associated with women, men's rings are now seen as a stylish and meaningful way to express one's love and devotion.
Whether it's a simple band or a more elaborate design, a promise ring is a beautiful way to show that you're serious about your relationship. Plus, unlike an engagement ring, guys can wear promise rings on any finger, making it even more versatile.
Whether you're in a new relationship or you've been together for years, a promise ring is a simple way to show your partner how much you care.