In this post you'll learn a special prayer to St. Jude, Patron Saint of Hopeless Cases and Lost Causes.
In fact:
This novena prayer has been proven to work miracles for those that are in desperate need of help.
Read to learn the St. Jude prayer?
Let's get started!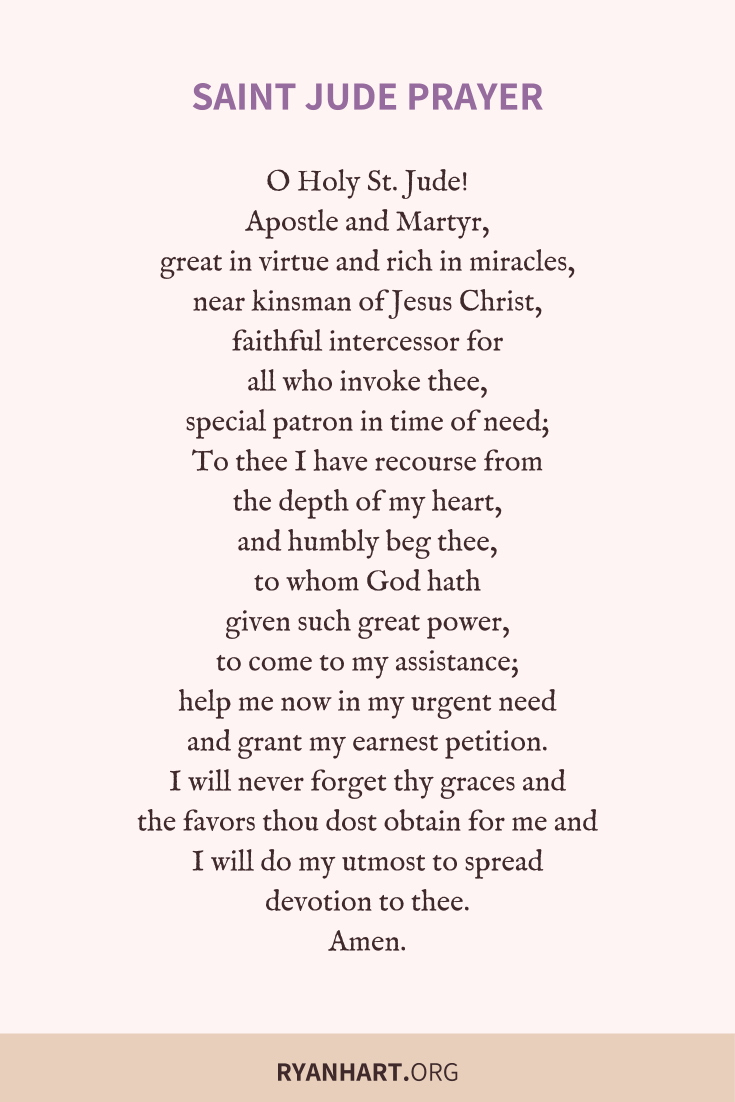 Prayer to Saint Jude Thaddeus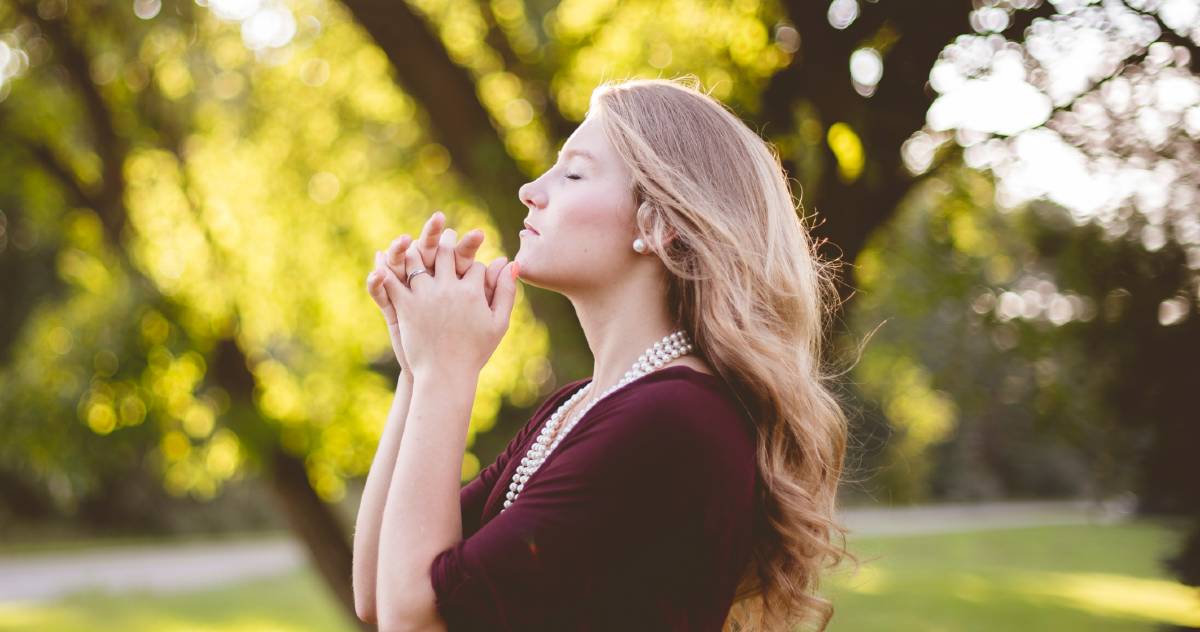 O most holy apostle, Saint Jude, faithful servant and friend of Jesus, the Church honoureth and invoketh thee universally, as the patron of hopeless cases, and of things almost despaired of.

Pray for me, who am so miserable. Make use, I implore thee, of that particular privilege accorded to thee, to bring visible and speedy help where help was almost despaired of.

Come to mine assistance in this great need, that I may receive the consolation and succor of Heaven in all my necessities, tribulations, and sufferings, particularly...

(insert your prayer request here)

...and that I may praise God with thee and all the elect throughout eternity.

I promise thee, O blessed Jude, to be ever mindful of this great favour, to always honour thee as my special and powerful patron, and to gratefully encourage devotion to thee.

Amen.
St. Jude Prayer Request
Click here to post a prayer to St. Jude
The St. Jude Thaddeus prayer can be used to ask for assistance when you are in desperate need of help.
One of the most common causes for which St. Jude is invoked is in the healing of diseases, but he has also been known to aid those who lack employment or are suffering from financial difficulties.
He is the Patron Saint of desperate causes, lost causes, and lost articles. He is also a patron saint of desperate situations that can be turned around with the help of others, if not by oneself. In fact, his name in Greek means "to be saved" or "to be delivered."
Many people turn to Saint Jude for help when they have tried to solve a problem on their own but have failed. A few reasons people read the St. Jude prayer might include needing:
Financial help paying unexpected bills
Extra money to pay monthly rent or mortgage payments
Cash to pay large medical bills
Cures for chronic health problems or terminal illness
Miracles to fix urgent problems
St. Jude Novena Prayer (9 Days)
Novena means "nine" in Latin and is a sequence of prayers that are read once per day over nine consecutive days.
Novena prayers are special because they represent the nine days the 12 Apostles prayed together before the Pentecost (Acts 1:4-5). After nine days of prayer, the Apostles were "filled with the Holy Spirit, and began to speak in other tongues as the Spirit gave them utterance" (Acts 2:4).
This biblical event is why the St. Jude novena prayer must be read once per day for 9 consecutive days.
During this novena we ask for St. Jude to intercede or take action on our behalf because our problems are too big to be solved on our own.
O Holy St Jude! Apostle and Martyr, great in virtue and rich in miracles, near kinsman of Jesus Christ, faithful intercessor for all who invoke thee, special patron in time of need; to thee I have recourse from the depth of my heart, and humbly beg thee, to whom God hath given such great power, to come to my assistance; help me now in my urgent need and grant my earnest petition. I will never forget thy graces and the favors thou dost obtain for me and I will do my utmost to spread devotion to thee. Amen.
Why Pray to St. Jude, Patron Saint of Hopeless Cases and Lost Causes?
St. Jude, also known as Judas Thaddaeus, was one of the Twelve Apostles of Jesus. Not to be confused with Judas Iscariot, Christ's betrayer. Judas Thaddaeus is often referred to simply as Jude in the bible.
Due to the two apostles, Judas Thaddaeus and Judas Iscariot, having the same first name, it was believed that many Christians avoided praying for help from St. Jude because they did not want to call upon the wrong Judas by accident.
Many believed that since St. Jude was often overlooked in prayer, he became eager to help anyone that asked him to intercede. So much so that he would help with almost any lost cause or hopeless case in order to prove his devotion to Christ.
That's why he is the patron saint of desperate cases and lost causes in the Roman Catholic Church.
According to the New Testament, St. Jude was a relative of Jesus, possibly his brother or cousin (Matthew 13:55-56). He was said to have been a carpenter (Mark 6:3).
He preached in Jerusalem and Samaria. He was eventually martyred in Persia by being sawed in two, after which he was buried by an unnamed woman and his body miraculously brought back together again.
The Eastern Orthodox Church celebrates his feast day on October 28th.
What To Do After You Say the St. Jude Prayer
After saying a prayer to St. Jude you may be tempted to sit and wait, but that would be a big mistake.
God works miracles daily and he wants to help you, too. However, sometimes instead of doing the miracle work for us, God points us in the right direction and asks us to take action.
(After all, we were put on earth to glorify God in everything we do, not the other way around.)
One way we can demonstrate God's character for others is to take responsibility for our problems, be humble, and ask for help when we need it.
So after you say the St. Jude prayer, here are a few things you can do to get help with your problems:
What To Do Next If You Are Facing Foreclosure
If you are unable to make your mortgage payments and are at risk of foreclosure, there may still be hope.
The U.S. Department of Housing and Urban Development (HUD) provides a free list of approved foreclosure avoidance counselors nationwide. These counselors can offer information and assistance to help you avoid foreclosure.
After you contact a counselor, you should notify your lender that you are working to resolve your foreclosure situation. Studies have shown that homeowners who receive foreclosure counseling are much less likely to lose their homes and can receive substantial reductions in their monthly mortgage payments upon entering a loan modification program.
Click here to find a foreclosure avoidance counselor near you
What To Do Next If You Have Past Due Bills
In the event you have past due bills stacking up, but feel hopeless and overwhelmed, help is available.
Consumer Credit Counseling agencies are non-profit organizations that provide financial assistance to those in need. They can help you come up with a plan to pay down debt, increase savings and improve your financial situation.
Some of the most common solutions these agencies provide include debt management plans, debt settlement and debt negotiation.
Click here to book a private coaching session
What To Do Next If You Have Serious Health Problems
If you have serious health problems and are unsure where to turn, there are many options available to low income individuals and those without health insurance.
Consider visiting a health center backed by the Health Resources and Services Administration. These centers are community-based and offer primary and preventative care to patients regardless of their ability to pay.
Click here to find a community health care center near you
Now It's Your Turn
And now I'd like to hear from you.
What does the Saint Jude prayer mean to you?
How has St. Jude, Patron Saint of Hopeless Cases touched your life?
Please let me know by leaving a comment below right now.