If you're starting your photography business or expanding your portfolio from primarily landscapes or stills, you might wonder what the best lens for wedding photography is.
There are several options on the market, but the lenses below offer the best features for portrait and live event photography.
These exceptionally high-quality lenses offer the features you need when photographing high-energy, fast-moving people and scenes. From quick autofocus to shake correction, the expert lenses we've assembled will help you take incredible photos.
Let's get shooting.
What is the Best Lens for Wedding Photography?
The best lens for wedding photography will have a couple of key features.
You'll want to look for something like the 70-200mm f/2.8 telephoto lens that's perfect for portraits and background blur.
A 90-100mm macro lens is a great choice for close-ups and works well for table decorations, ring portraits, or head and shoulder shots.
With these types of lenses in mind, let's dive into our top choices.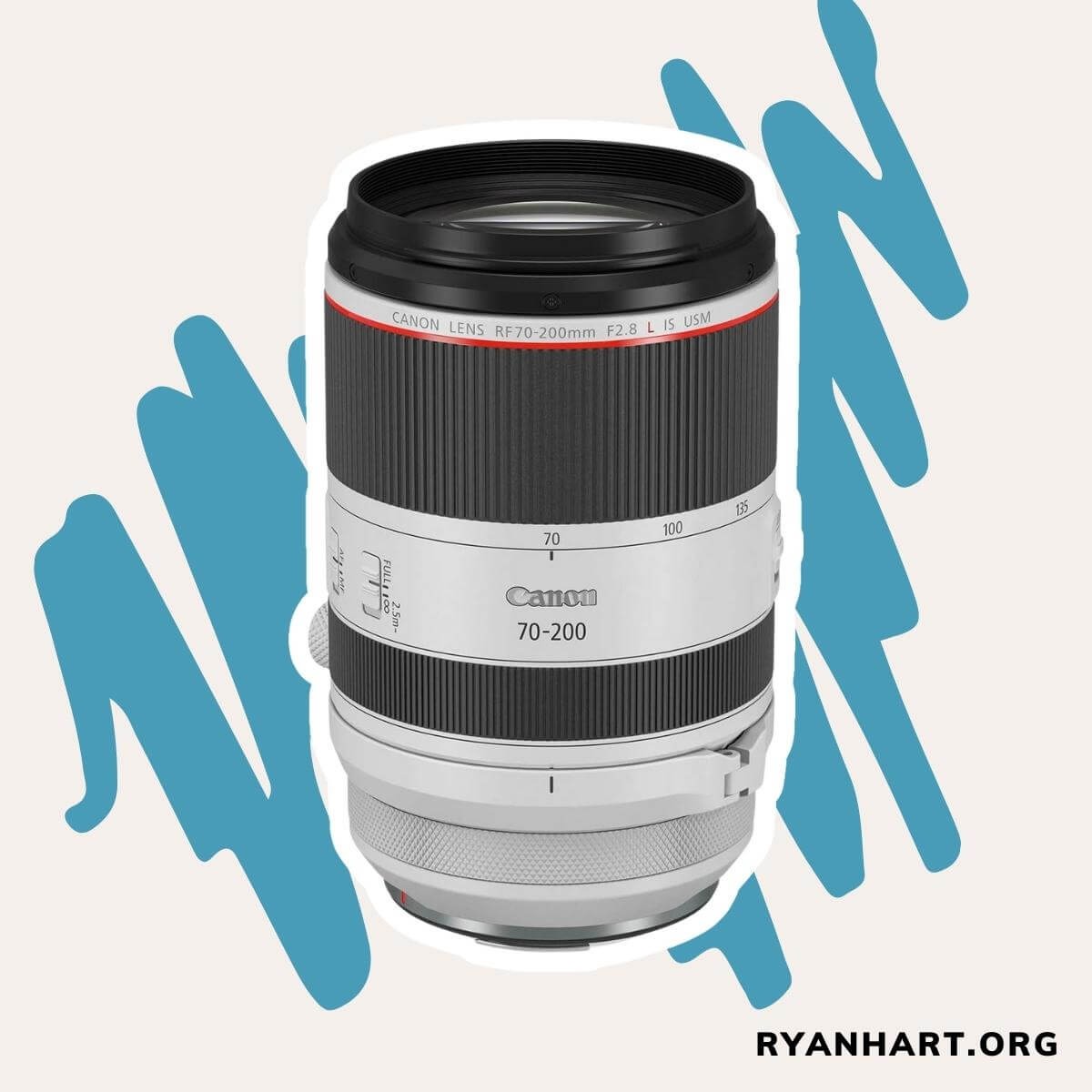 The Canon RF 70-200mm f/2.8L IS USM is a quality telephoto zoom RF L lens. It's compact and lightweight, which will be great when carrying it around the wedding for a few hours. Canon is a well-known brand that makes incredibly high-quality products and has been trusted for years.
Highlights:
The telephoto lens allows you to capture close-up shots without interrupting the action. As Canon's lightest and shortest 70-200mm lens, it's great for traveling to wedding locations.
The lens is dust and weather-resistant, perfect for outdoor weddings and events.
With a big f/2.8 maximum aperture, you'll get crisp, bright images, even in low-light settings, which is often the case for wedding receptions. Plus, the shake correction benefits photographers who need to be on the move during their shoot.
The RF 70-200mm lens uses two NANO USM motors, a first for a Canon autofocus camera lens.
You'll get enhanced close-focus performance thanks to the floating optical system.
What the Canon RF 70-200mm f/2.8L IS USM does best:
As a telephoto lens, this Canon option is best when it comes to capturing close-up shots during a wedding where you don't want to intrude on the event. The sharp images will look fantastic whether you're photographing the happy couple, their decorations, or capturing dance floor candids.
Check the Price for Canon RF 70-200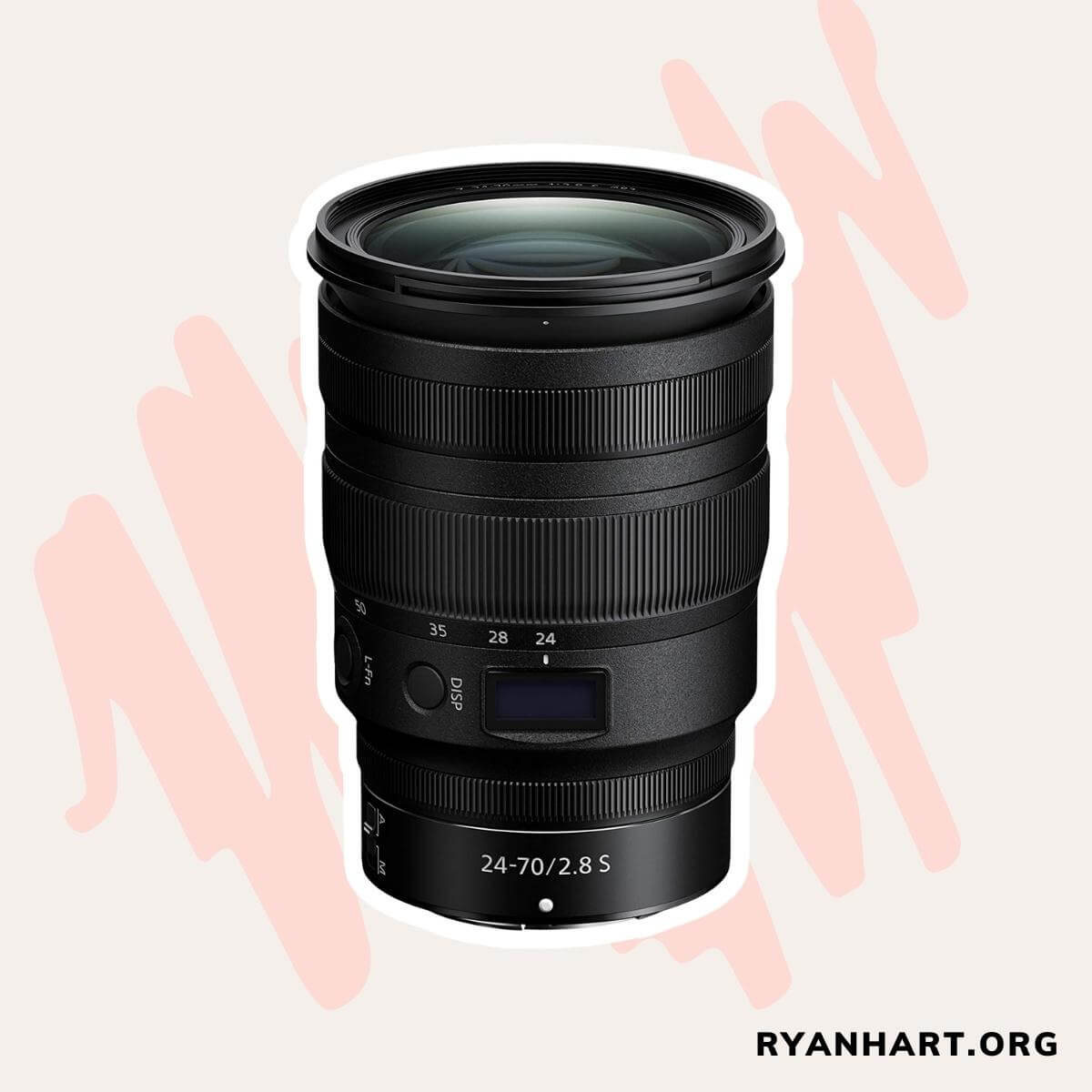 This Nikon lens pack comes with several valuable additions, including software, a lens flower, a five-piece cleaning kit, and three filters.
The lens offers significant glare reduction and correct aberration even at the edges of the frame. It's also weather-resistant, perfect for outdoor wedding shoots. The Stepping Motor is also built for smooth, fast, and quiet autofocusing, which will be great when you're quickly moving through the reception.
Highlights:
The Nikon Z 24-70mm f/2.8 S series for Mirrorless Cameras offers high-quality performance and is perfect for midrange zooms. It's versatile enough to tackle the outdoors, low-lighting wedding parties, and cake-cutting without having to switch lenses for each.
The anti-reflective performance reduced light streaking from backlit subjects through the premium lens coatings.
The new focusing technology with two synchronized AF drive units prevents color fringing and aberrations to offer high detail and resolution. You'll be able to sell beautiful, large prints from these shots.
With incredible clarity, thanks to the multi-focus system, this lens is an excellent choice for high-energy events like large weddings.
24-70mm f/2.8 lenses are a great ready-for-anything lens. You'll be ready for any amazing candids that show up throughout the night.
What the Nikon Z 24-70mm f/2.8 S does best:
Nikon is a great brand, and the elaborate package that comes with the Z24-70mm f/2.8 S lens makes the price even better. You'll be ready for any shot, keeping your lens clean and in great condition wherever you are.
Check the Price for Nikon Z 24-70mm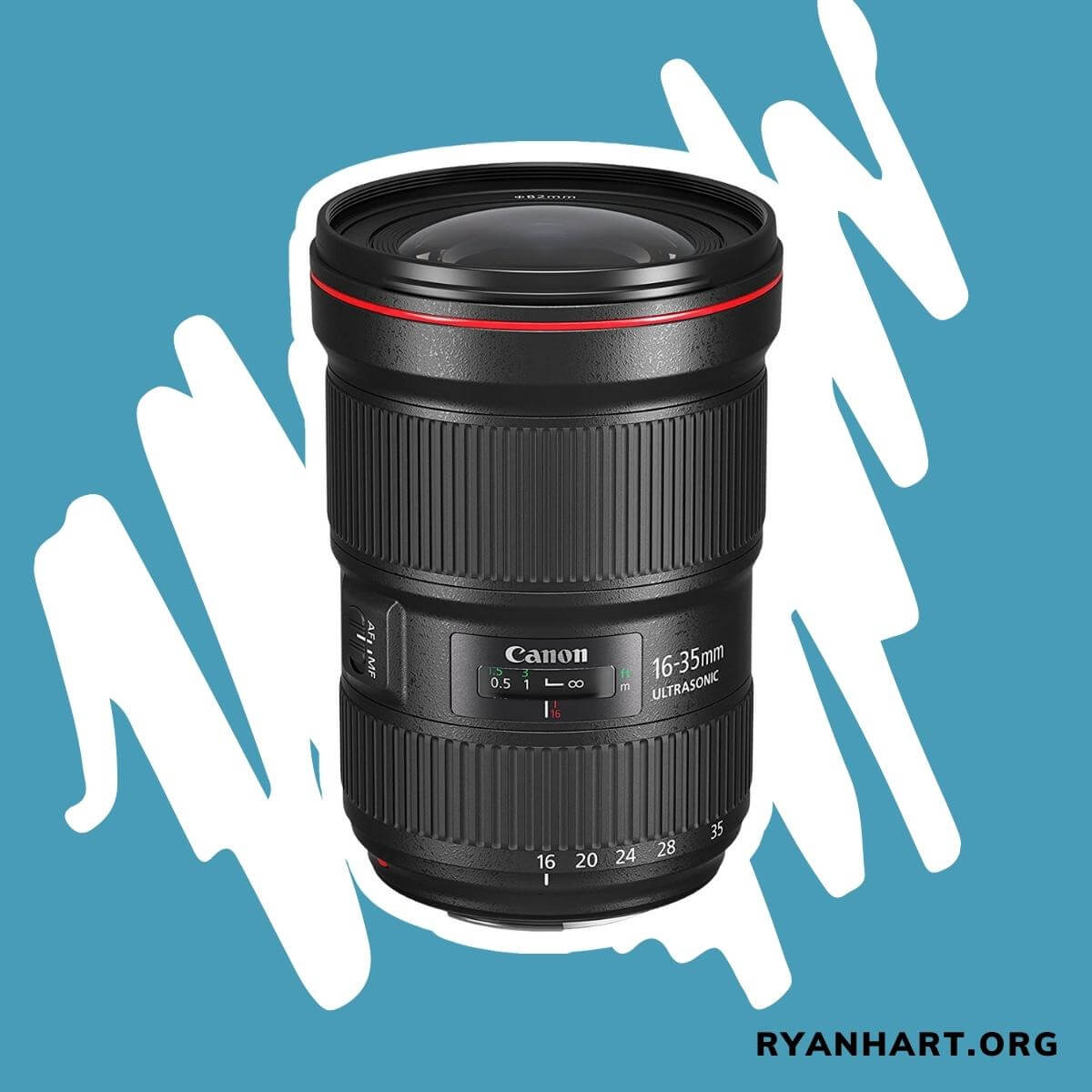 Another option from the renowned Canon is the EF 16-35mm f/2.8L USM III. The wide angles this lens is capable of are perfect for receptions, churches, and large group shots. It features weather resistance and fluorine coatings. This upgraded version of the previous Mark offers a large double-surface GMo aspherical element and two ultra-low dispersion elements.
Highlights:
This upgrade's high-tech coatings include subwavelength and air sphere coating for less flare and ghosting.
The Mark III is also much sharper than previous versions, especially at the edges and corners.
The circular aperture delivers soft, lovely backgrounds, and the ultra-wide-angle zoom lens provides a constant f/2.8 maximum aperture.
The Canon 16-35mm offers outstanding perspective control. When you pair that with the fast, constant aperture, you can create amazing candids of the entire bridal party.
The f/2.8 aperture offers a great depth of field control throughout the entire zoom range, great for shooting in dimly lit rooms, at dusk, or even during rougher weather.
What the Canon 16-35mm f/2.8L USM III does best
The wide-angle lens is perfect for capturing large bridal parties wherever the wedding or reception takes place. You'll get a lovely background blur and clear images even without the best lighting.
Check the Price for Canon 16-35mm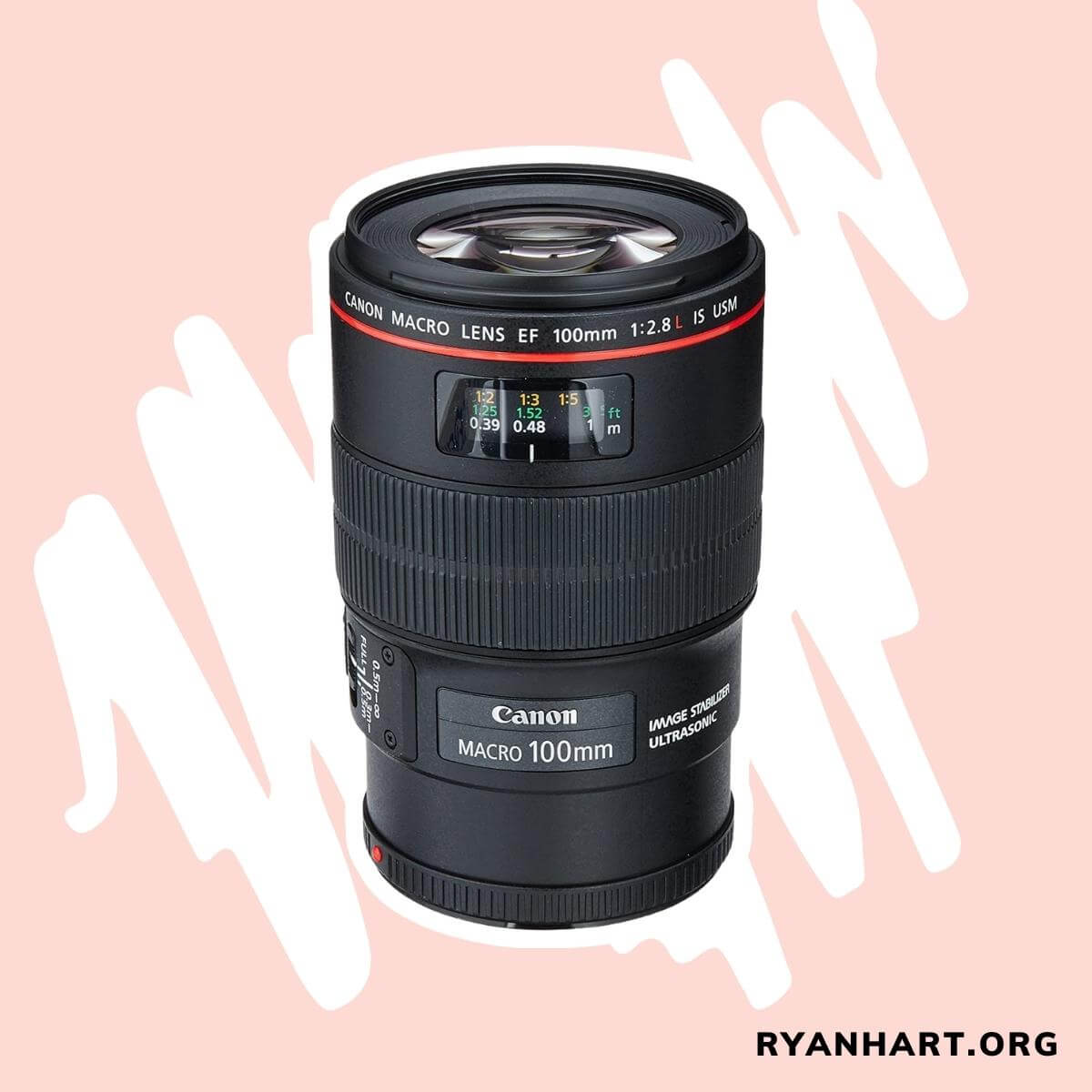 As far as macro lenses go, Canon is another customer favorite. They offer great close-ups that you can use to shoot the rings, detailed images of the guest book or décor, and can even get a great shot of the bride's dress or hair that she'll love, especially the back that she couldn't see.
Highlights:
A bit more affordable, the Canon EF 100mm offers true macro magnification with a ratio of 1:1. It can achieve a shallow depth of field with beautiful bokeh.
It offers built-in Hybrid Image Stabilization.
The lens is surprisingly lightweight, which you'll want since weddings are several hours.
The super fast autofocus and shutter make capturing live candid moments a snap. You won't miss out on the great shots because your camera is too slow.
The Canon EF 100mm is weather-resistant and offers Ultra-Low Dispersion, making it a great portrait wedding lens.
What the Canon EF 100mm f/2.8L IS USM Macro Lens does best
This macro lens is great for all those close-ups of the venue and party. Plus, since it's super fast, you can rest assured that all those fantastic smiles and gestures will be beautifully captured.
Check the Price for Canon EF 100mm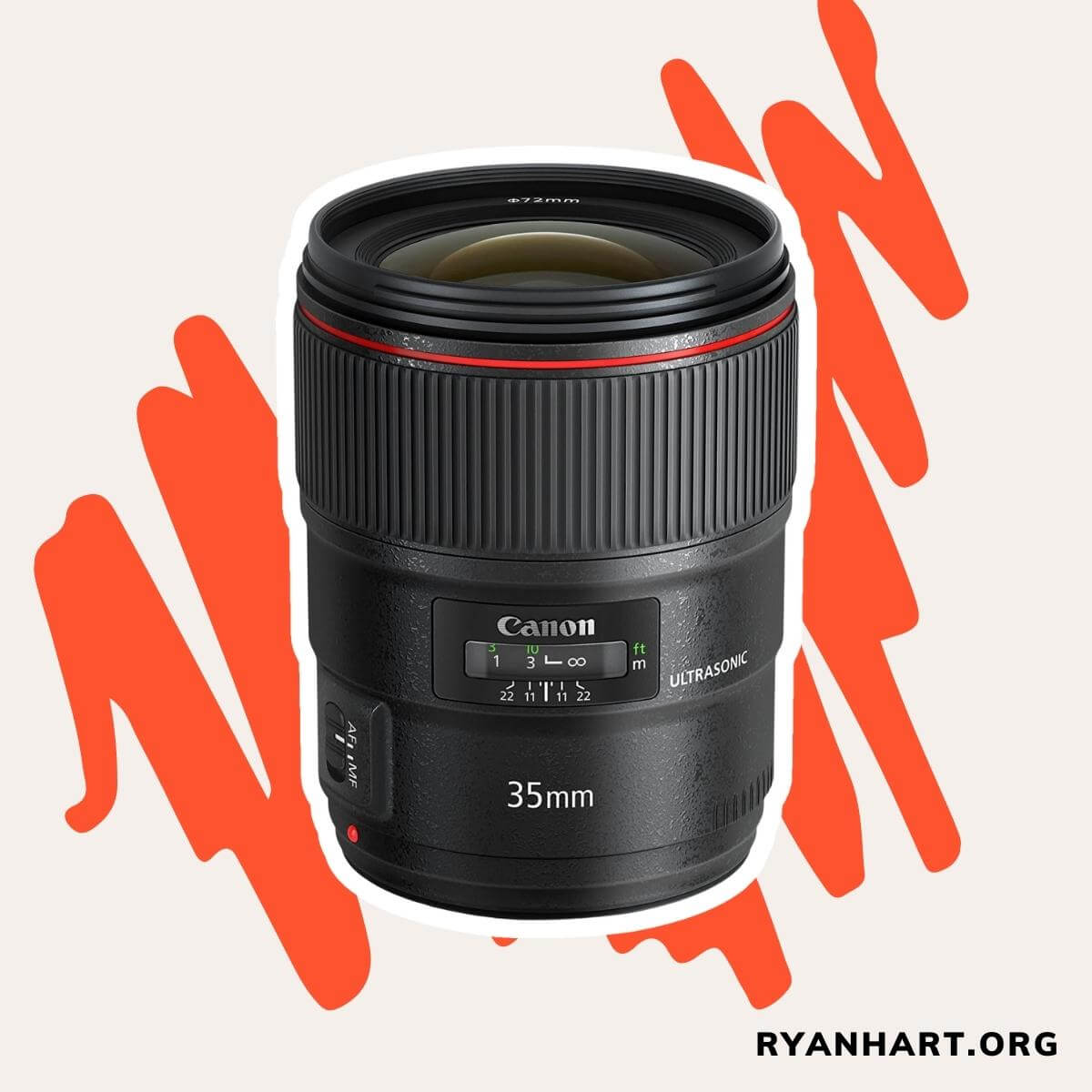 The Canon EF 35mm is a classic choice that offers a good focal length for candid shots, a wide aperture for low light, and a nice background blur. The high-tech lens refracts blue light and significantly minimizes chromatic aberration, giving you sharper, better contrast photographs. It's also weather-resistant with fluorine coatings on the front and rear.
Highlights:
It offers a fast, nine-blade maximum aperture for the perfect romantic night shot with a soft background.
The Canon EF 35mm complements the latest generation of Canon high-res SLRs.
The dust and water sealing make it a reliable choice for all your event photography.
The lens is responsive and produces sharp, beautiful images consistently.
Versatile for distance, portrait, or close-up photos.
What the Canon EF 35mm f/1.4 II USM does best
The Canon EF 35mm f/1.4 II USM is a great choice for one of the most versatile wedding photography lenses. It's a classic lens that photographers know can produce an excellent, crisp shot no matter where or when they're shooting- morning or evening, distance or close-up.
Check the Price for Canon EF 35mm
What is a Wedding Photography Lens?
A wedding photography lens is a type of camera lens specifically designed for taking wedding pictures.
Wedding photography lenses typically have a wide angle of view and a large maximum aperture, which allows them to capture light easily. The correct aperture setting is essential for getting clear, well-exposed photos in low-light conditions, such as during a reception or indoors.
These lenses also often have image stabilization, which helps to reduce camera shake and blur. For example, many wedding photographers use zoom lenses, which allow them to get close-up shots of the bride and groom without having to move around too much.
There are also specialty lenses for wedding photography, such as fisheye and macro lenses. Choosing the right lens for wedding photography can make a big difference in the quality of your photos.
What to Consider When Choosing a Camera Lens for Weddings
When it comes to wedding photography, there are a few things to remember when choosing the right camera lens.
First, consider the type of shots you want to take. A zoom lens will probably be your best bet if you're primarily interested in close-ups. On the other hand, if you need to capture wide shots of the ceremony and reception, then a prime lens is a better choice.
Second, think about the light conditions you'll be shooting in. If you're primarily going to be outdoors, then a lens with a large aperture is a good idea. However, if you're working indoors or in low light, a lens with image stabilization will help you get sharper photos.
Finally, consider your budget. Lenses can range from reasonably affordable to quite expensive, so it's essential to pick one that fits your needs without breaking the bank.
Bottom Line
A wedding photographer needs a few high-quality camera lenses in their arsenal to capture special moments on a couple's big day.
Having the right lens will help capture clear and sharp images of the bride and groom, the guests, and the decorations.
In addition, wedding lenses allow the photographer to capture images with greater detail and depth of field. This is essential for close-up shots of the bride and groom and group shots where there are many people in the frame.
Camera lenses are essential for any wedding photographer who wants to create beautiful and lasting memories for their clients.