Whether you're using candle jars for making candles, planting, or storing food or snacks, there are plenty of places to get them.
However, finding cheap glass jars in bulk can be difficult because there aren't many stores that sell them wholesale.
In this article, we reveal the best wholesale candle jar suppliers that sell products at reasonable prices and in large quantities.
Where to Buy Wholesale Candle Jars
While your local store may have a few options, they may not keep enough in stock or have exactly what you're looking for. In those cases, it's best to rely on other product distributors, as you can find more options for a lower price.
We've compiled a list of the top five wholesale suppliers that sell candle jars in bulk: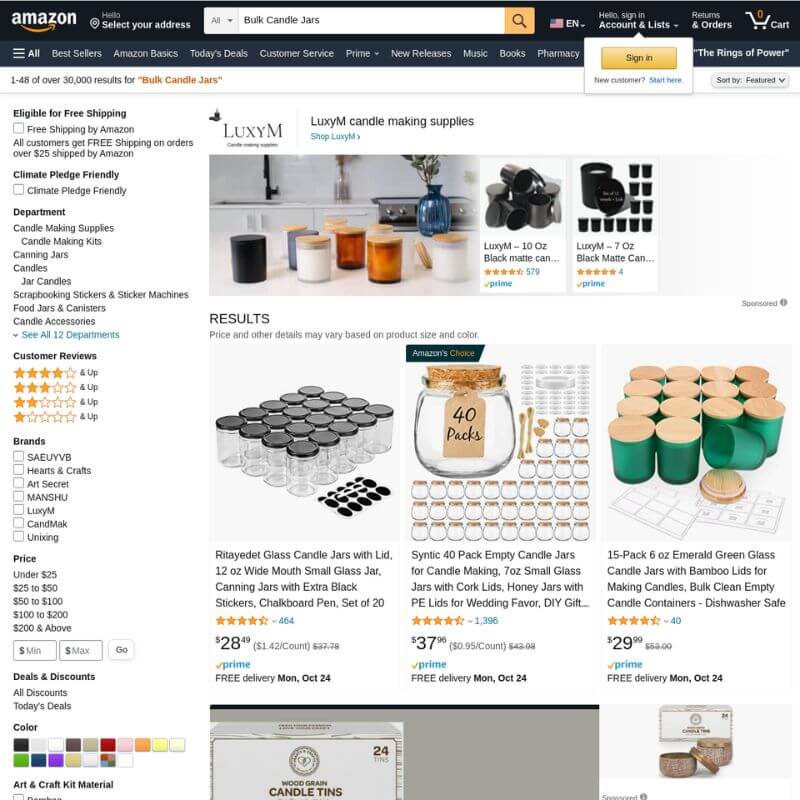 Amazon is a great place to find a wide selection of wholesale candle jars. You can find a variety of sizes and styles of candle jars on Amazon, and the prices vary. Whether you're looking for bulk order, a specific size, or style, you'll find all types of jars on Amazon.
Since there are different sellers on Amazon, you can browse multiple listings of other products. You will also be able to compare product prices and get a good deal on the candle jars you want. Luckily, sellers also sell in bulk, which makes it easy for small businesses or individuals to get a reasonable price on multiple products.
What Amazon does best:
Amazon allows anyone to sell products, allowing small businesses or individuals to list their products. Because of this, you can get quality wholesale candle jars at an affordable price. Plus, there are always new options being added, which means if you don't find what you like one day, there may be something that pops up that you do end up liking.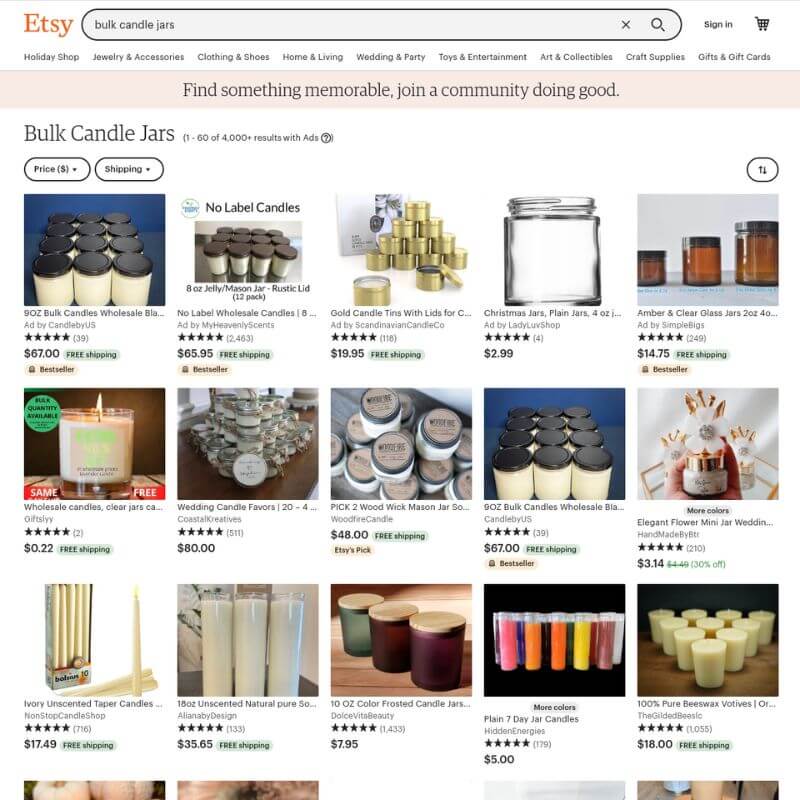 Etsy is a great place to find unique, handmade candle jars. You can find various sizes and styles of candle jars on Etsy. However, prices can vary depending on who you're buying from.
Etsy is an e-commerce website selling handmade or vintage items and craft supplies. So, you will find a large selection of custom-made jars and vintage and wholesale candle jars.
What Etsy does best:
Etsy is geared more towards homemade products or those sold by individuals. So, you'll find a lot of unique candle jars on here. Aside from that, the jars are often affordable, and you will be able to contact sellers if you have any special requests.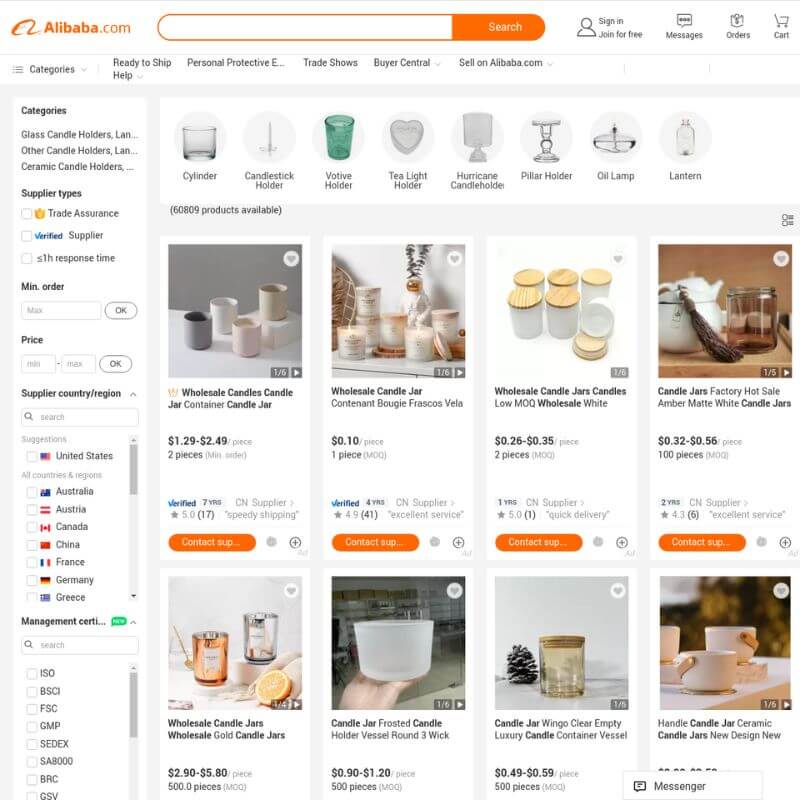 Alibaba is an overseas e-commerce website. The site itself has an English platform, and most of the products are sold from overseas countries. This means that you can get a bulk load of products cheaper than if you were to buy them from your local store.
What Alibaba does best:
Alibaba is similar to eBay, except most products will take longer to ship. The quality of items varies from vendor to vendor, so check out the reviews before purchasing your candle jars with lids.
What Alibaba does best is gives you a wide variety of products from all over the world. Prices are often reasonable, as many products are made in China. However, the products do take a while to ship to your location.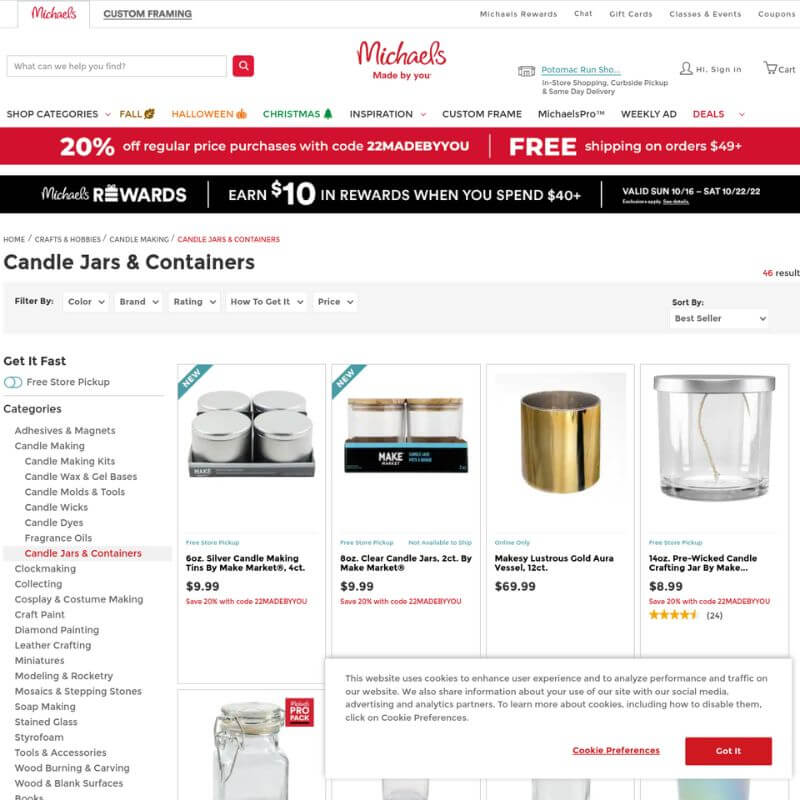 Michaels is a great place to find wholesale candle jars. You can find various sizes and styles of candle jars at Michaels, and the prices are very competitive. They can be ordered online, or if you live in the United States, you can find a store near you.
What Michaels does best:
Michaels is an chain of stores that focuses on arts and crafts. You will find a large selection of products, particularly candle jars. While they may not have as many options as online stores, you can rest assured that all products are high-quality.
While most products at Michaels are affordable, there are still some pricey products compared to online shops. However, you will be able to view all the products in person, ensuring that you're getting what you're looking for. Many people find this an excellent alternative to online shopping because they won't get scammed or run into issues while ordering overseas.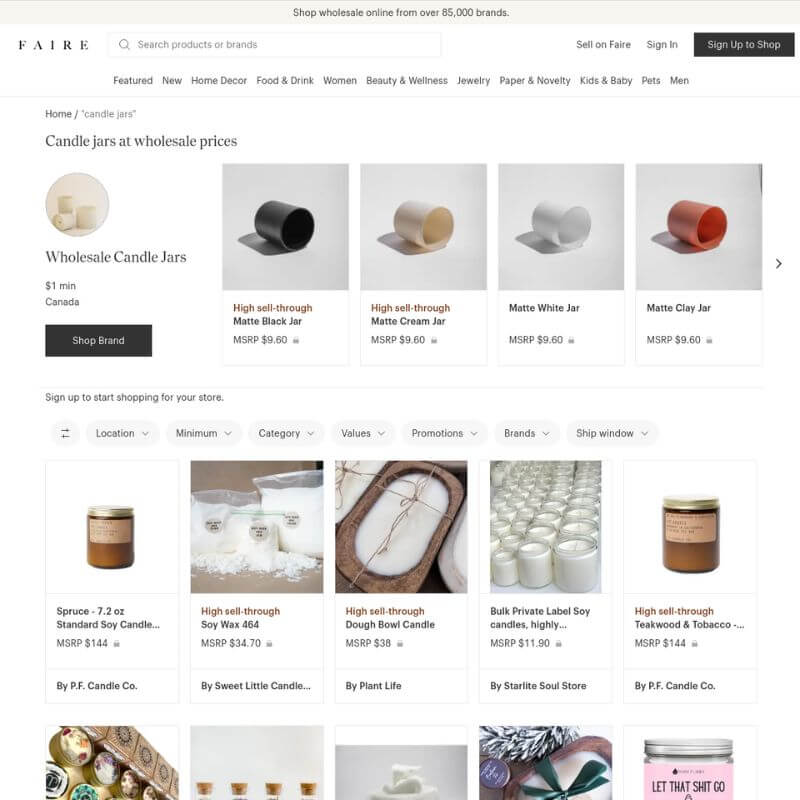 Faire is an online wholesale site that helps connect businesses with retail shops. They have over 500,000 retail stores that connect with products. Here, you can get risk-free items in bulk with free returns.
They are constantly updating their products. So, you'll be able to come back and look for more options. However, Faire is ideal for retailers and brands, as they offer a substantial discount for large bulk purchases.
What Faire does best:
Faire is another online shop that helps connect products with businesses and stores. You'll find a large selection of different shapes and sizes for luxury candle jars. The website is best suitable for small businesses, as you won't be able to order just a few. We highly recommend these for large batches or those needed to fulfill orders for the upcoming months.
What type of jar is best for making candles?
Glass is the best material for candle making, as it doesn't absorb the wax or change its shape when heated.
Clear glass is ideal, as it allows you to see the color and level of the wax, but colored glass can also be used to create unique effects.
Mason jars are a popular choice for candles, as they are inexpensive and easy to find in bulk.
Are concrete jars good for candles?
Concrete jars can make excellent containers for candles. They are sturdy and durable, so they won't break easily if they are knocked over.
They are also heat-resistant, so they won't crack or melt if the candle happens to get too hot. And because they are not transparent, they can help to create a more ambient lighting effect.
Overall, concrete jars can be a great option for those looking for a unique and stylish way to display their candles.
Can you use any mason jars for candles?
Mason jars are a popular container for candles, but not all mason jars are created equal. The best mason jars for candles are made of thick glass that can withstand high temperatures.
They should also have a wide mouth so that the candle wick can be easily trimmed and extinguished. Mason jars with a metal screw-on lid are also a good option, as they provide an airtight seal that helps to prevent the candle from smoking.
In general, any mason jar that is heat-resistant and has a wide mouth will make a good candle holder.
Bottom Line
Wholesale candle jars can be a great way to save money on your candle-making supplies.
Buying in bulk often allows you to get a better price per unit, and it can also be convenient if you need a large number of jars all at once. However, before you buy a bunch of candle jars, there are a few things you should keep in mind.
First, make sure that the supplier you choose offers a good selection of sizes and styles. You should also be sure to check the quality of the jars, as some suppliers may sell inferior products.
Finally, be sure to compare prices from different suppliers before making your purchase. By keeping these factors in mind, you can be sure to find the best deal on wholesale candle jars.