If you have anxiety, you've likely, at least, researched coping tools that are affordable and discrete. Fidget and anxiety rings are amazing tools for just this!
However, there are a lot of rings out there to choose from, and the task can cause anxiety itself. Read on to see which fidget rings for anxiety we believe are best.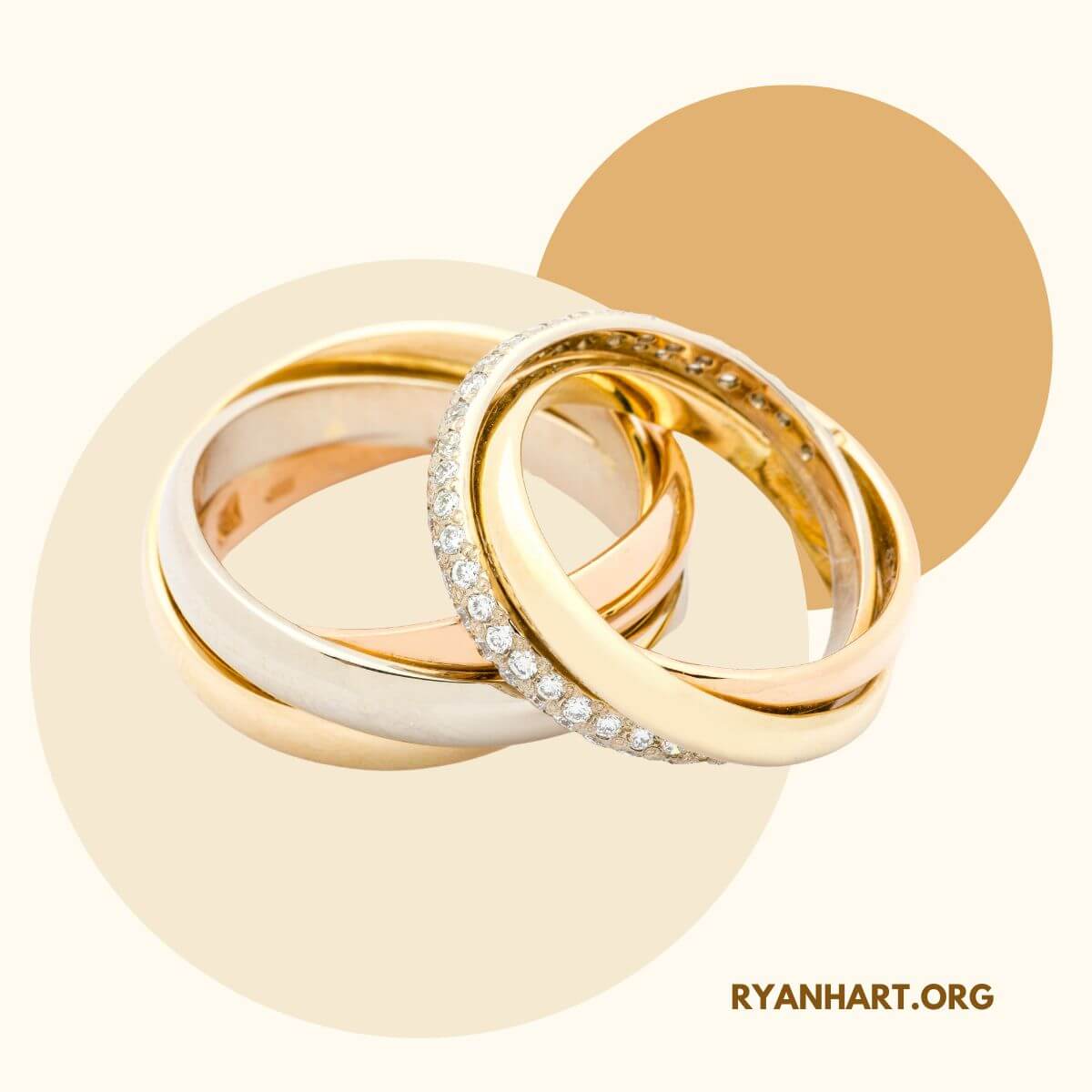 What is the Best Spinner Ring for Anxiety Relief?
The ring you purchase will depend on a few things, including your budget, the type of metal you prefer, how you fidget, and your style. Many websites sell rings for anxiety relief, but you'll definitely have the most choice by simply browsing Amazon. Here are our top ten favorites!
This dainty ring is subtle enough that it can be worn with nearly any outfit. Made from sterling silver, you won't have to worry about this ring rusting or turning your finger green, and it's hypoallergenic.
Why We Love This Ring:
The minimalist design keeps it simple, and its ten moveable silver beads offer the comforting and satisfying action of fidgeting without attracting too much attention—if any at all. The beads on this ring are a great distraction for nail-biting and skin-picking.
This ring is affordable and offered in a wide variety of sizes. If you need a calming outlet and you're more of a minimalist, this ring might be just what you're looking for.
If you're looking for a more modern and stylish anxiety ring, this vintage spinner ring might be more your speed. It's bulkier and has more moving parts, which adds more ways to subtly fidget while still looking stylish.
Why We Love This Ring:
Not only is this a more stylish ring, but it also comes in more than one color. This handmade ring is offered in four different styles, which allows you to make your purchase based on your metal preferences and style.
Although this ring is a little pricier than others, the seller offers a two-year warranty, which means you'll be able to replace it if it comes apart or rusts.
If you're looking for even more options, this ring comes in 24 different styles and sizes. They're wider and look a little more casual than dainty but can still be dressed up or down, depending on your style.
Why We Love This Ring:
There are so many options with this ring—they even have some for Mother's Day and Valentine's Day—that it's tempting to buy more than one. And at such a low price, it might be a good idea to do so.
There are a few masculine-looking designs, which is harder to come by in an anxiety ring. And the entire outer part of the ring spins instead of just smaller beads, which is super satisfying.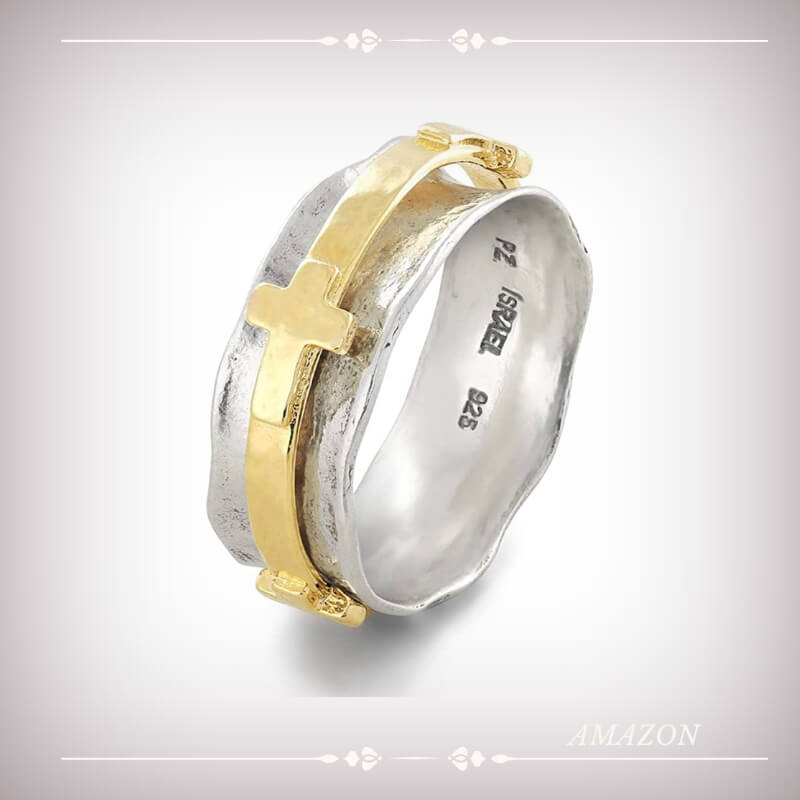 This boho-style cross ring is hypoallergenic and comes in three styles: sterling silver, rose gold, and gold. It's not super heavy and features a ring of crosses for anxious fidgeting.
Why We Love This Ring:
This ring might look heavy, but it's actually pretty lightweight, and its handmade style gives the ring a slightly worn look. If you are religious, having a cross ring to fidget with might be a comforting addition to your ensemble.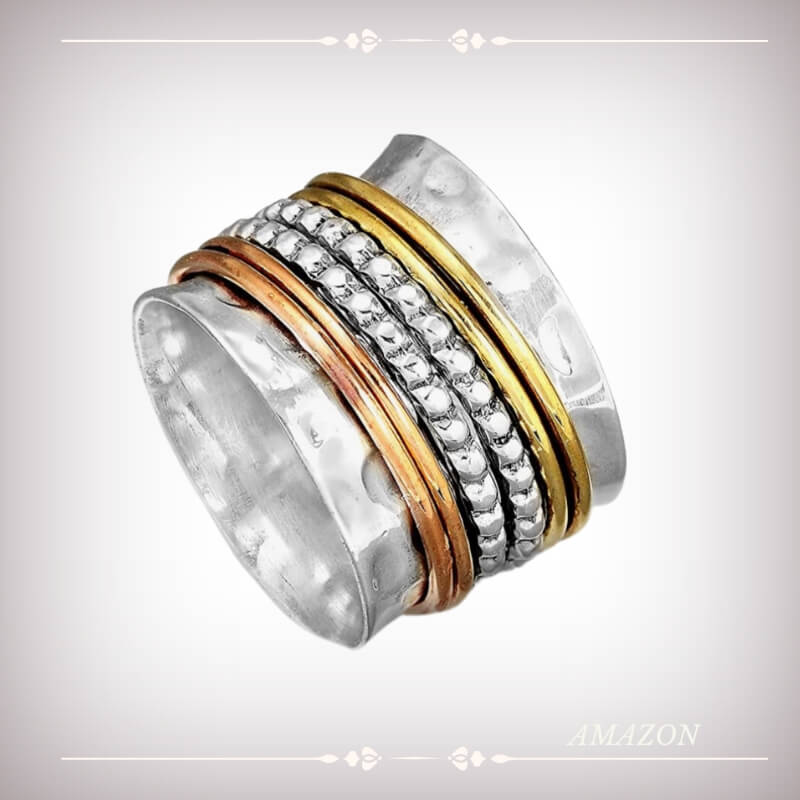 This anxiety fidget ring features different textures, which can be tactilely soothing while meditating or trying to distract yourself. It only comes in one style, but the blend of metals is beautiful.
Why We Love This Ring:
The hammered inside portion of this ring is smooth and curved, so you don't have to worry about the spinning rings falling off after a day of excessive fidgeting. This chunky statement ring looks like it could have been chosen as a fashion statement, so be prepared to answer questions about it!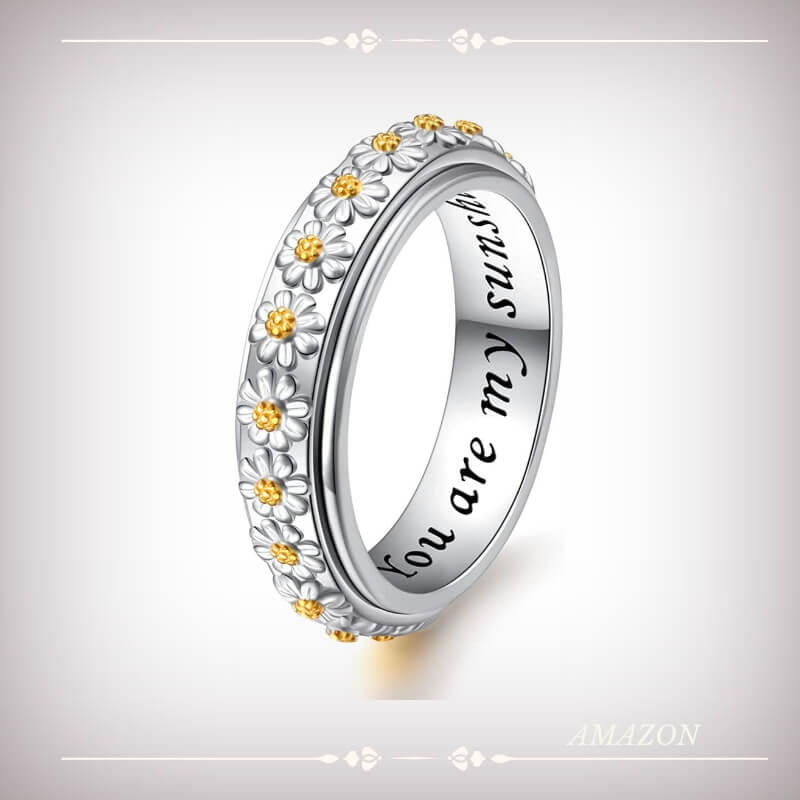 This sterling silver fidget ring is absolutely adorable. If you love floral designs, the daisies will be perfect for you. It's made of Sterling Silver and 18K white gold.
Why We Love This Ring:
This ring is the perfect gift for your sister, girlfriend, friend, or other loved one. It comes in a gift box and has a hidden secret message inside the band. The golden flowers give it a nice little pop of color without being too distracting.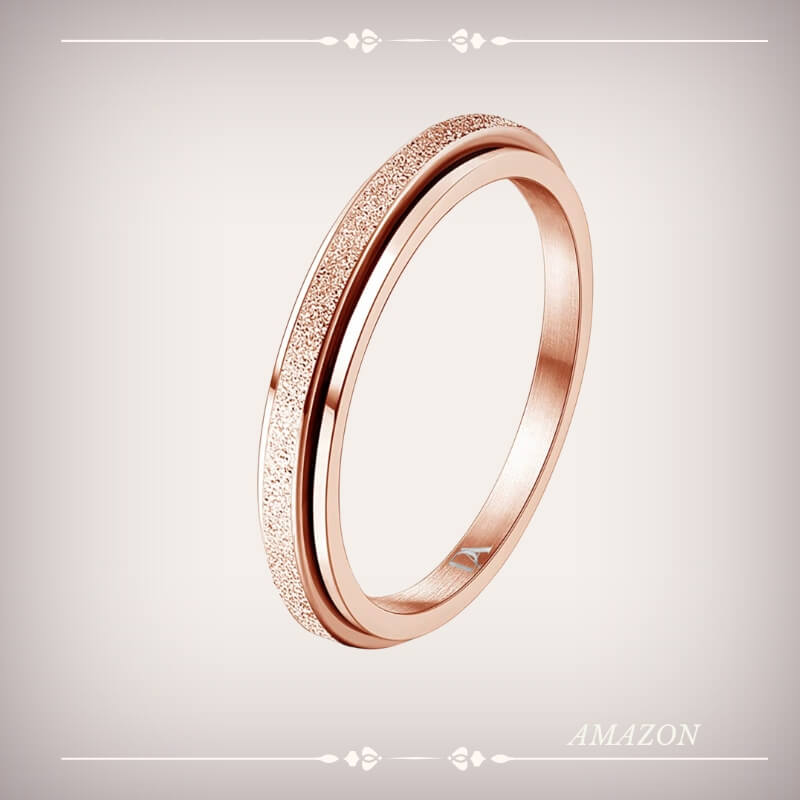 This narrow spinner ring might appeal to you if you're drawn to thinner bands. Rather than silver, this ring is made from stainless steel and is scratch-resistant.
Why We Love This Ring:
This ring is super-customizable, even if it seems simple at first glance. There are three different band thicknesses, three colors, and a handful of sizes to choose from. The Shiny Rainbow option is stylish without being too bold.
This chunky leaf-patterned ring makes a bold statement while still offering a distraction from anxious habits like nailbiting and finger-picking.
Why We Love This Ring:
There are a lot of chunky fidget rings, but the leaf pattern on this one adds a personal, stylish touch that makes it stand out among the rest. The red and yellow brass rings spin independently and have a unique texture. It also comes in a super-cute gift box, which is perfect if you are buying this ring for someone else.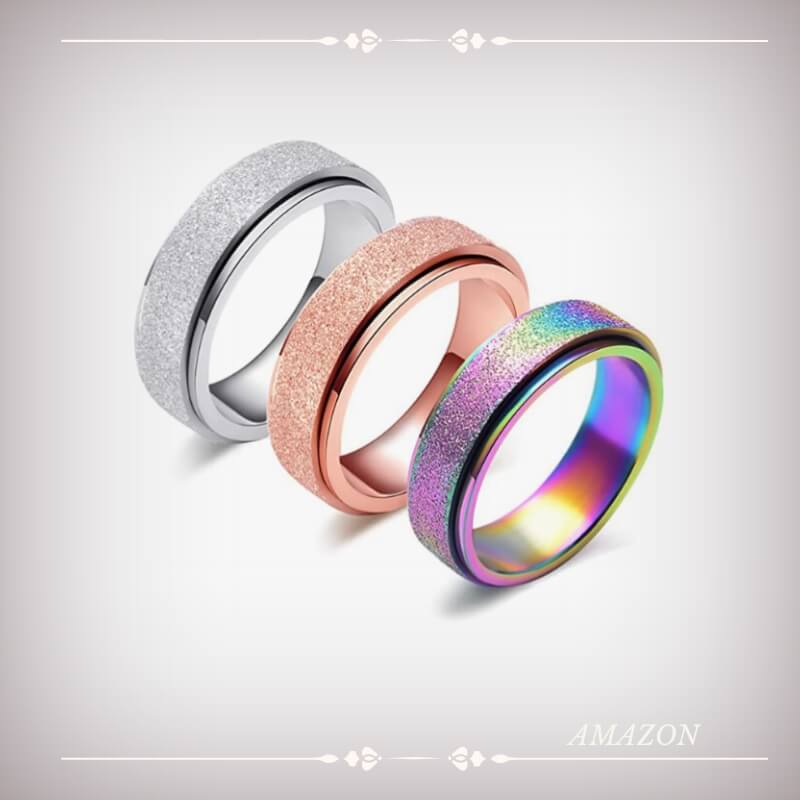 Redirect your anxious habits with one of these 316 stainless steel fidget rings. Many reviews claim that the rings still spin months after purchase, even with constant wear, so you can fidget without worrying about wearing down your ring.
Why We Love This Ring:
The option to buy rings individually or in a set of three gives customers the ability to mix and match their purchase. The glittery finish on the outside offers a texture to fidget with, along with the smoothly rotating ring, to bring relief and a feeling of calm during anxious moments.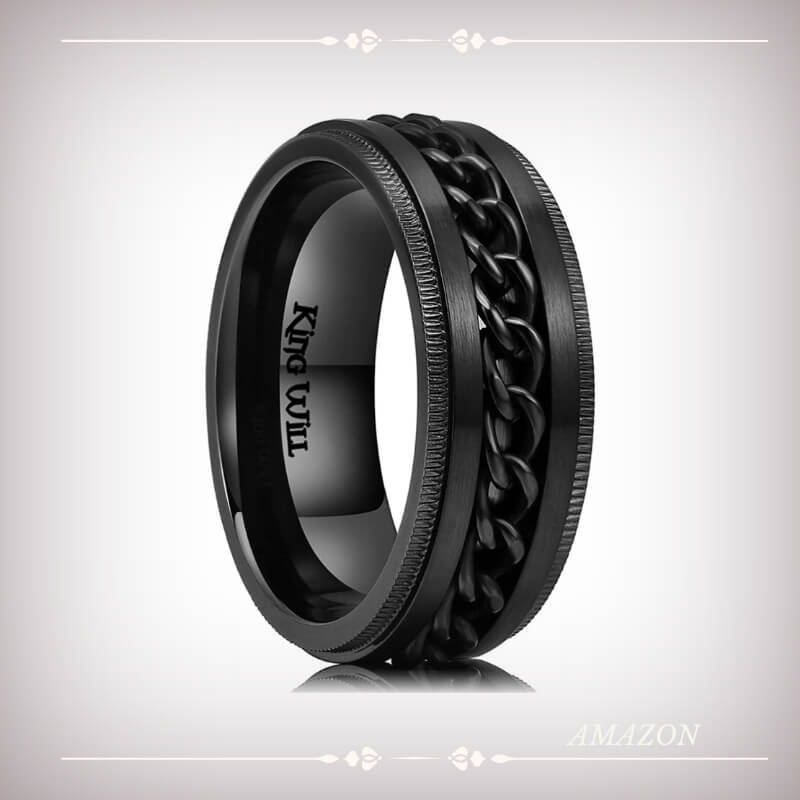 Men experience anxiety too! This ring comes in various color combinations that look more masculine while serving the same purpose as other anxiety fidget rings.
Why We Love This Ring:
The chain inlay on the outer part of this ring gives it a relaxed, sophisticated style without drawing too much attention to the fact that it's a fidget ring. With so many sizes and styles, you're sure to find that perfect fit.
What Are Anxiety Rings?
Anxiety relief rings, also called worry rings, are becoming an increasingly popular way to cope with anxiety and stress.
The concept is simple: wear the ring on your finger and focus on the physical sensation of the ring spinning around. Fidgeting helps to redirect your attention from whatever is causing your anxiety and focus on something else.
If you suffer from anxiety or stress, it may be worth trying.
Do Anxiety Rings Work?
The act of spinning a ring or fidget toy can help to release tension and calm your nerves.
There is some evidence to suggest that fidgeting can help to reduce anxiety. For example, one study found that fidgeting helped people with anxiety disorders to focus their attention and to feel less stressed.
Another study found that fidgeting was associated with lower levels of stress hormones and weight loss. So, while there is no definitive answer, it seems that fidget spinners may indeed be helpful for some people in relieving anxiety.
Bottom Line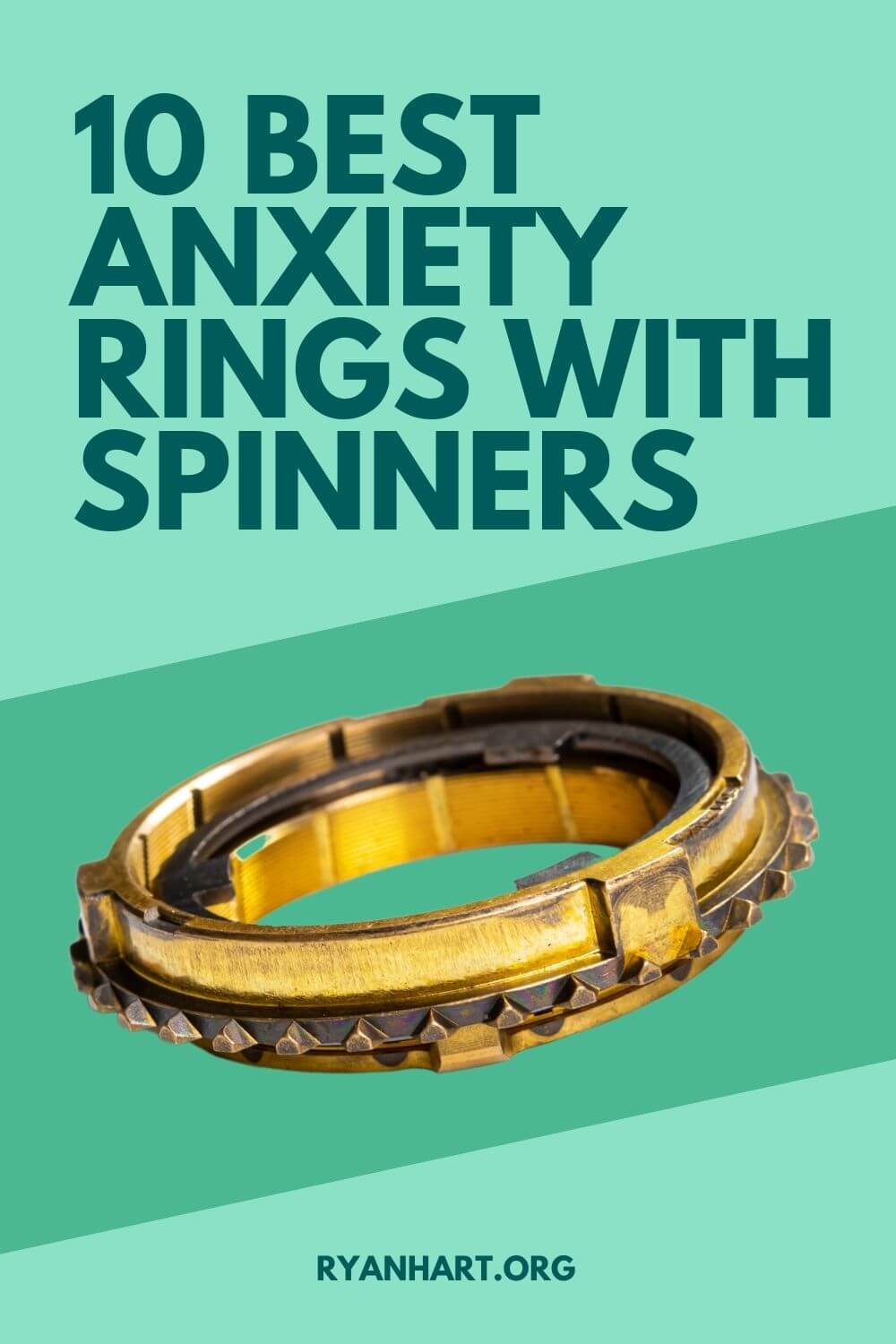 There's no doubt that fidget spinners and anxiety rings are having a moment. You can find these simple devices on the fingers of people of all ages, providing a satisfying way to fidget and stay present in the moment.
But beyond being a fun toy, fidget spinners can also have real benefits for mental health. For people who suffer from anxiety or ADHD, fidgeting can be a helpful way to focus and stay calm.
The repetitive motion of spinning a fidget toy can help ground your attention in the present moment and provide a visual focal point.
Additionally, the act of fidgeting can help release excess energy, improving concentration and reducing stress.
So next time you see someone spinning an anxiety ring, don't be quick to judge - they may be using it to help them stay calm and focused.