When planning a bridal shower for your best friend, including party favors is essential. These souvenirs will help to commemorate the day and keep the love flowing long after the wedding shower is over. Stick to thoughtful and useful items that are also fun or pretty!
You'll have to consider the costs, your guests, and the shower's theme. We've assembled a list of seven cheap bridal shower favor ideas that are priced right for buying in bulk for the entire crew!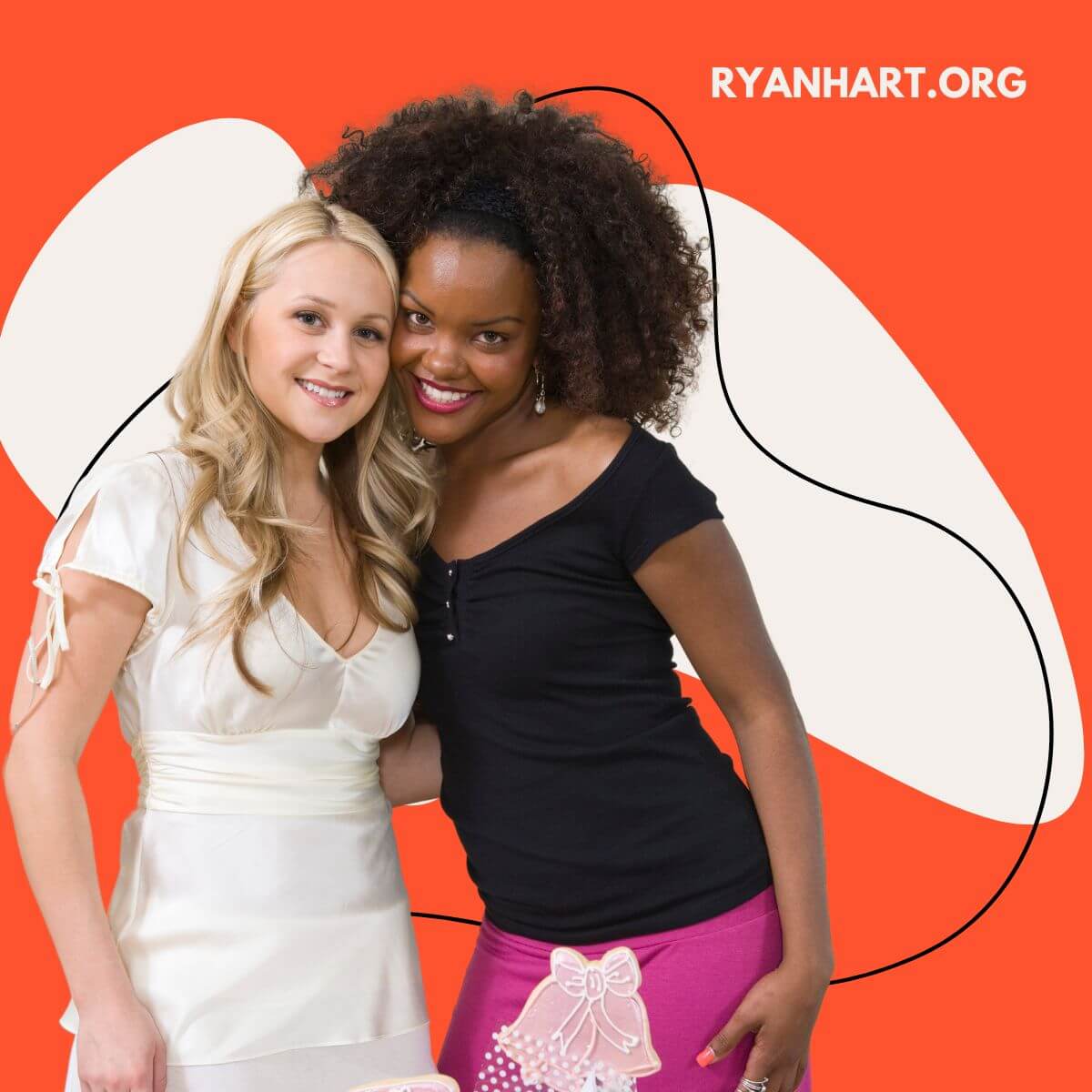 What are the Best Bridal Shower Favors?
Here are our favorite wedding shower party favors that are easy on the wallet: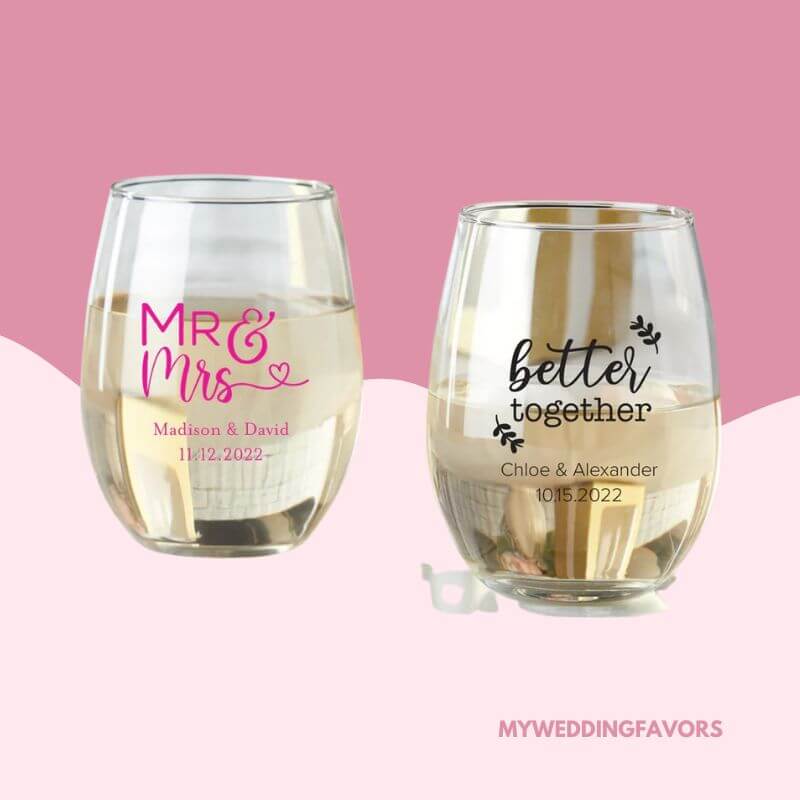 A wedding is definitely the right time to break out the vino. So, personalized wine glasses would be at home at the bridal shower. Include the initials or last name of the new couple with the date of their wedding.
Make sure you order a set for the lovebirds. To present them to the wedding party, consider filling them with candy. They make for great décor for the table setting.
These personalized 9 oz. Stemless wine glasses from My Wedding Favors are just $2.59 each. They come in assorted colors. Upon their first anniversary, the couple can pull them out and enjoy a glass to celebrate.
Why Personalized Wine Glasses are Perfect: Your wedding party will use them forever and definitely at the bridal shower!
Check Prices at MyWeddingFavors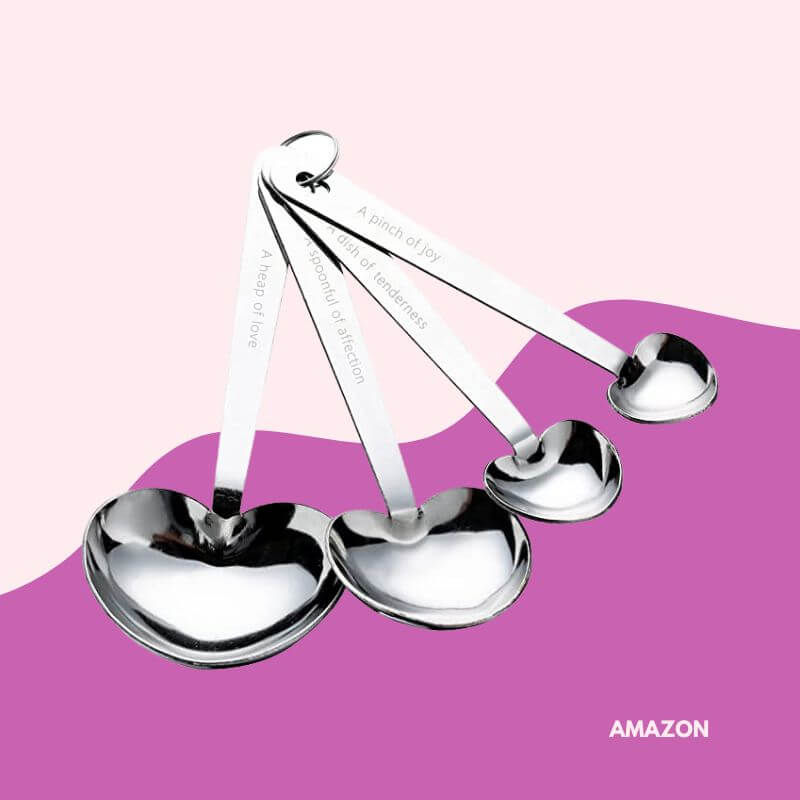 Measure out a little love to the wedding party with these heart-shaped measuring spoons. Include cute gift tags noting the big day's details and a ribbon to match the décor of the bridal shower. This package of thirty includes durable measuring spoons with individual gift packages. Each stainless-steel measuring spoon features love phrases, including "a pinch of joy" and "a spoonful of affection."
Why Heart-Shaped Wine Glasses are Perfect: They are shipped and sold by Amazon, so they are great for last-minute shipping! And everyone needs a measuring spoon in their kitchen.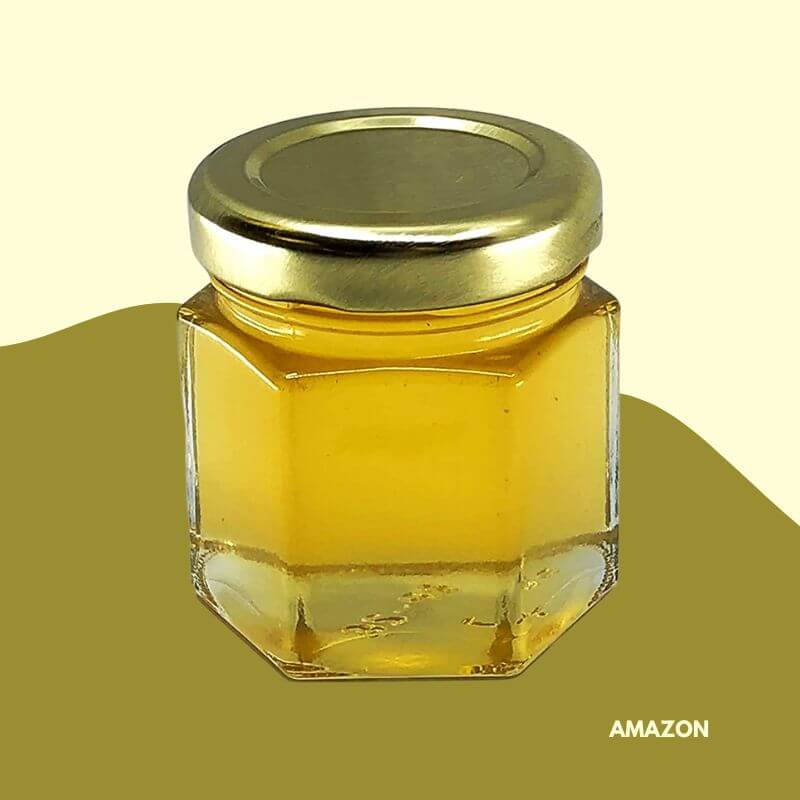 Looking for bridal shower favors that will appeal to everyone? Try jars of honey! Adorn them with a ribbon and a tag to commemorate the big day. The Honey Jar Bee-lux Jar of Pure Raw Honey is perfect for everyone to take home after the shower.
The pure clover honey is strained and heated to avoid crystallization. Sourced from family-owned farms around the US, the honey can be delivered within a week of ordering. They each have their own wooden honeycomb dipper for your guests to enjoy.
Why Jars of Honey are Perfect: Edible wedding shower favors are always a big hit! And the sweet taste of honey will please most guests!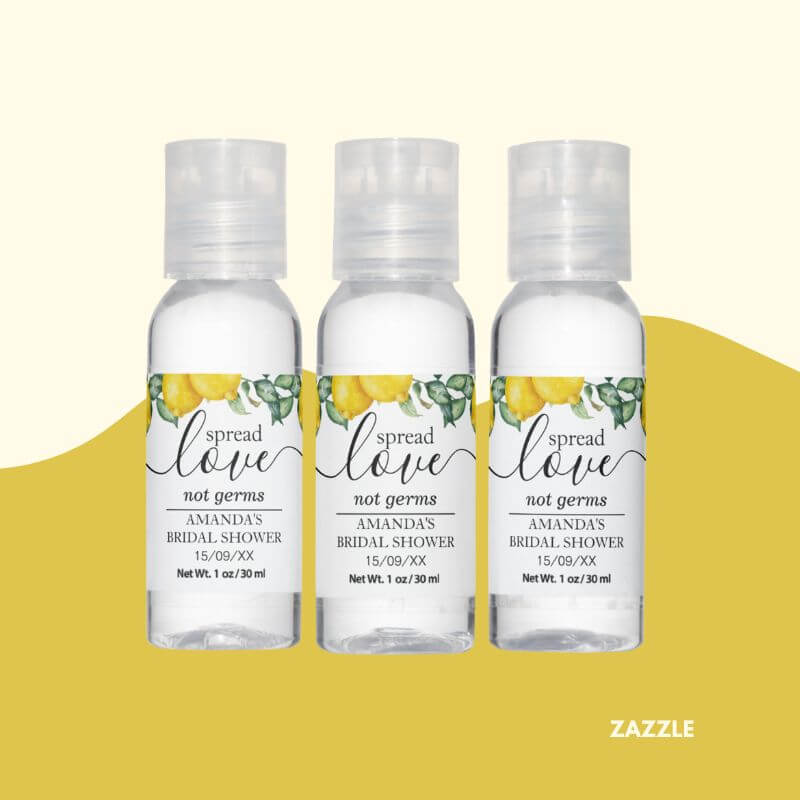 Yes! We said hand sanitizer bottles. After our journey through the pandemic, we take cleanliness and personal care seriously!
Not only can they use them at the bridal shower, but they can also keep them in their purse long after. Each time they pull them out, they'll think of how thoughtful the bridal shower favor was. Consider ordering enough to hand out at the wedding! Or set up a hand sanitizer table at the wedding.
The Lemons Bridal Shower Hand Sanitizer favors are less than $50 for a set of twelve travel-size bottles. The scent is light and fresh, and the mixture contains 67% alcohol which is more than the CDC recommends for good hand hygiene. 
Why Custom Hand Sanitizer Bottles are Perfect: Everyone is mindful about keeping clean Post-pandemic. They are great for travel and use anywhere!

When handing out bridal shower favors, you want to know that guests will use their gifts. Soaps are perfect, especially when they are personalized. These handmade soaps come in assorted colors and scents, are all-natural, and are an excellent way to "shower" your guests with love!
This 50-piece vegan personalized soap is handmade and includes olive, laurel, coconut, castor, almond, orange, jasmine oil, and spring water. The brand uses a cold process method to keep temperatures low during production to keep them in decent shape. Ensure you order early, as they must cure for about four weeks before shipping.
Why Personalized Soaps are Perfect: Because you can really make it memorable! If the bride knows her wedding party, she can help you choose scents perfect for them. And they are perfect for giving a little self-care to guests.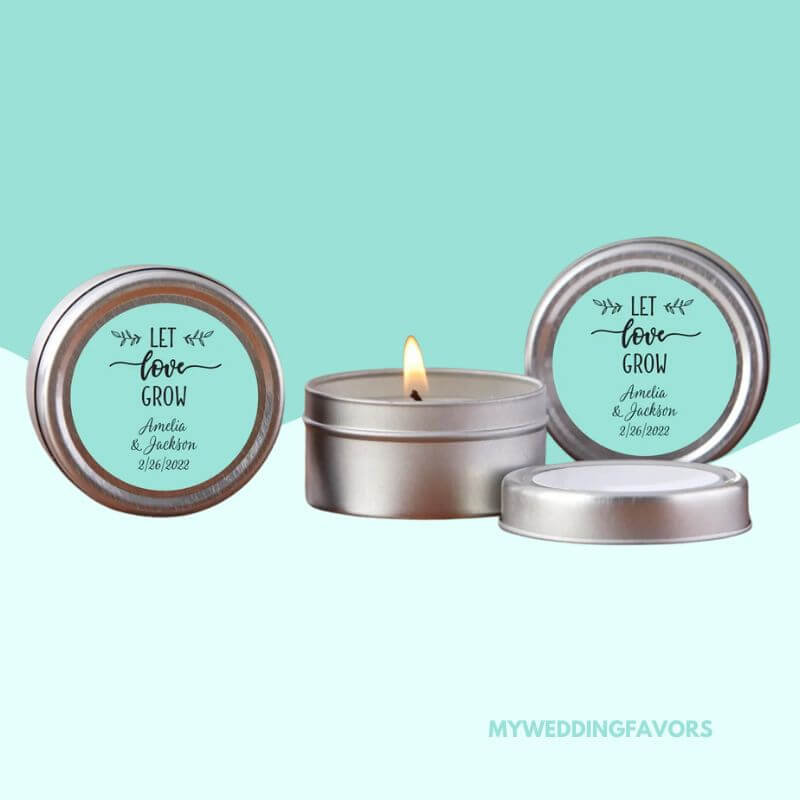 Personalized candles will last long after the wedding shower and come packaged in a gorgeous tin. They are sure to match any theme. This customized travel candle tin is just $1.50!
Perfect for bridal shower favors. Sold in a set of twenty-four, these round candle tins have a light vanilla scent and can be personalized with your own sticker design that you'll have to attach when they arrive. 
Why Personalized Candles are Perfect: Scents can take you back to memorable moments in your life. Each scent can help to create a memory of the bridal shower for the entire party. 
Check Prices at MyWeddingFavors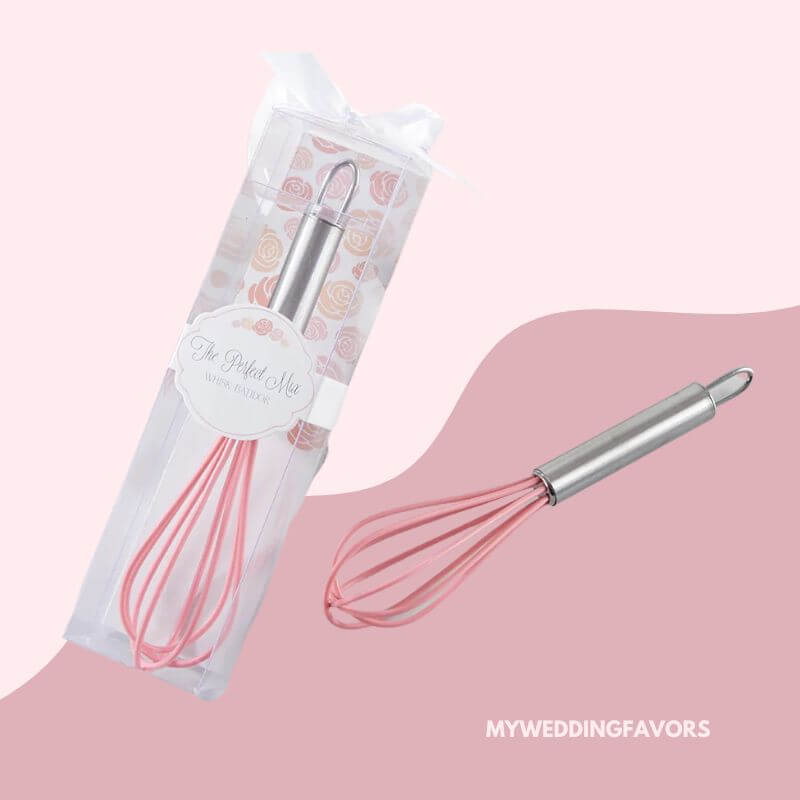 Whisk your guests away at the bridal shower with these favors! Everyone can use a kitchen gadget. The Perfect Mix Pink Kitchen Wisk is just $3.68.
Available in pink and silver, they are stainless steel and have a silicon coating. These BPA-free whisks come with a display box, an insert with multi-colored roses, and a belly band. They are durable and fun for those looking to mix it up in the kitchen.
Why The Perfect Mix Whisk is Perfect: Everyone needs a whisk, even if they don't know it yet. And they are priced great for bulk orders!
Check Prices at MyWeddingFavors
What are Bridal Shower Favors?
Bridal shower favors are small gifts that are given to guests as a way of saying thank you for attending the shower. While they are not required, they are an excellent way to show appreciation.
When choosing bridal shower favors, the sky is the limit. You can go with something classic like candles or soaps or get more creative with personalized items like picture frames or keychains.
No matter what you choose, make sure it matches your shower's theme and style. Guests will appreciate the thoughtfulness, and you'll be able to look back on the shower with fond memories.
Bottom Line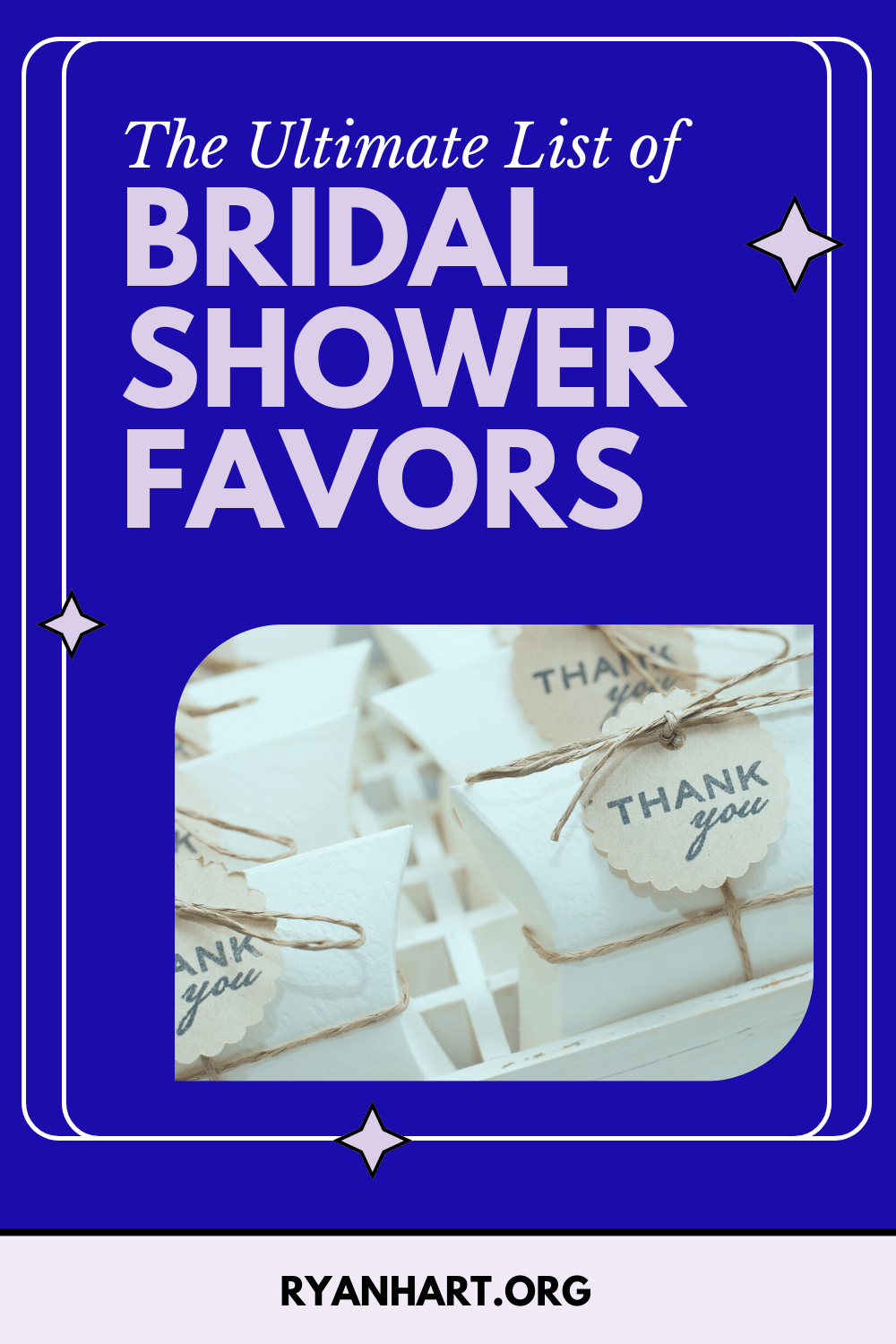 If you're planning a bridal shower, chances are you're looking for cheap bridal shower favor ideas.
Our top three picks for the best place to buy bridal shower favors in bulk online are Amazon, MyWeddingFavors, and Etsy. All three of these sites offer a wide selection of favors at great prices, and they provide excellent customer service.
Simply put, they're the perfect places to find the perfect favors for your special day.