There are a few reasons why you might choose to buy lab-grown diamonds online.
First of all, lab-grown diamonds are generally more affordable than natural diamonds. They also tend to be less likely to have flaws and inclusions, which can make them more visually appealing.
Additionally, many people feel good about supporting the lab-grown diamond industry because it is more environmentally sustainable than mined diamonds.
Ultimately, the choice between natural and lab-grown diamonds is a personal one, but if you're looking for a beautiful diamond at a great price, buying a manufactured diamond is a great option.
Ready to discover the best place to buy lab-grown diamond jewelry?
Let's get started!
Where to Buy Lab-Grown Diamonds
Lab-grown diamonds can be found in specialty shops and online stores globally. However, the best selection of lab-grown diamonds is usually available from online retailers. Here is a list of our favorite websites:
1. James Allen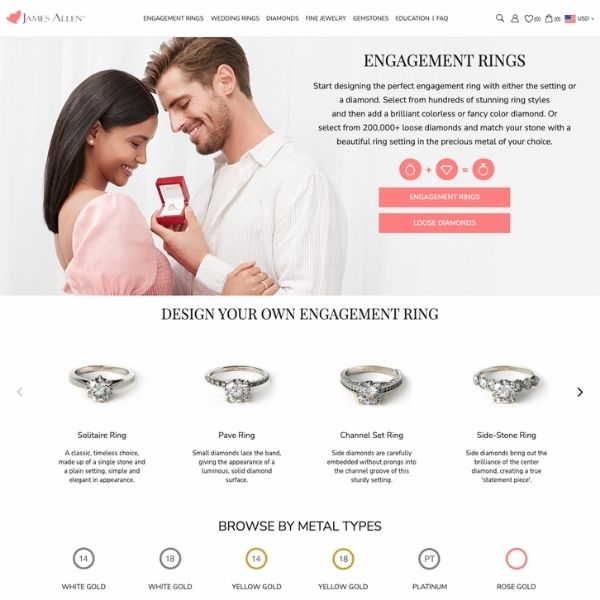 James Allen is one the largest online diamond jewelry retailers, and they have been in operation since 2006. They offer high-quality lab-created diamonds, comparable to earth diamonds, but at a better price and with fewer environmental impacts.
Their goal is to provide the most beautiful gemstones on the market, including their man-made diamonds.
Highlights:
The site provides a method for customizing the diamonds to ensure customers get precisely what they want. The online templates and tools offer plenty of options and details regarding price.
The company provides a 100% money-back guarantee and a lifetime warranty. They will refund the customer's money if they aren't happy with the product.
They also provide free shipping and 24/7 customer service.
The site provides an easy-use customization tool. Shoppers can select the size, shape, and setting of their jewelry.
They offer lab-created diamonds to fit all budgets. Shoppers have a wide range of choices and price points.
James Allen is a company committed to excellence and its customers. They go above and beyond to ensure each purchase is of the highest quality and provides complete satisfaction for shoppers.
2. Clean Origin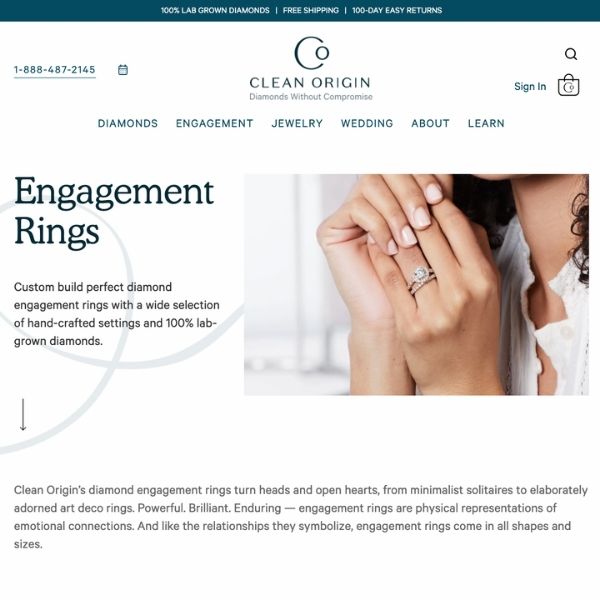 Clean Origin offers many types and styles of lab-grown diamonds. They offer 100% conflict-free synthetic diamonds created in their lab. Their certified and graded jewelry options are among the top in the world.
Highlights:
100-day returns for customers if they aren't happy. They will return the customer's money with no questions asked.
The company also offers free shipping. On top of free shipping, they also insure the package and send it by an expedited carrier.
The company provides free consultations with its diamond experts. They can help individuals shop for the perfect lab diamonds.
They certify all of their diamonds. This company uses an independent certifier to ensure the best quality.
They also offer complimentary resizing. If the ring is the wrong size, they will adjust it, so it's a perfect fit.
Clean Origin is a top company that takes pride in and offers customized lab diamond rings and other jewelry items. They are committed to exceptional customer service and strive to ensure complete satisfaction.
3. Brilliant Earth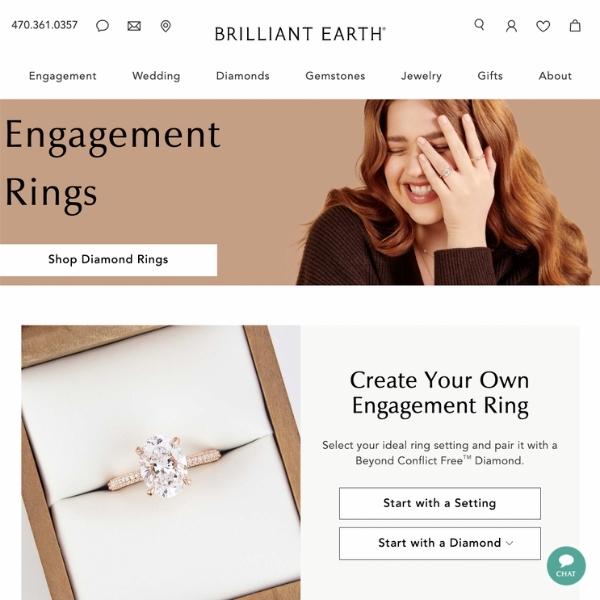 Brilliant Earth is one of the largest online diamond retailers in existence today, and they take the idea of Conflict Free diamonds to the next level with their Beyond Conflict Free (TM) mining practices.
They carry a vast selection of customized man-made diamonds, as well as recycled diamonds. In addition, they provide complete customer service and many options.
Highlights:
Brilliant Earth uses 100% recycled metals to help reduce its carbon footprint and the adverse effects of mining metals.
Each piece of jewelry is designed by hand at their San Francisco studio. Each part of the jewelry creation is carefully inspected for precision and quality.
A wide selection of lab-colored diamonds that customers can choose from. This option helps shoppers with more customization for a better-finished product.
Brilliant Earth is a certified carbon-free retailer. This designation means they're helping to contribute to rainforest conservation.
Brilliant Earth significantly contributes to charities and conservation groups such as the NAACP Legal Defense, Feeding America, and the Rainforest Alliance. They also help build education facilities in the Congo.
Anyone shopping for lab-created diamond rings or other synthetic diamond rings can find a wide selection and many options.
This company not only believes in providing customers with exceptional quality jewelry, but they also have a mission to reduce their footprint and assist organizations in improving their social, economic, and natural environments.
4. Blue Nile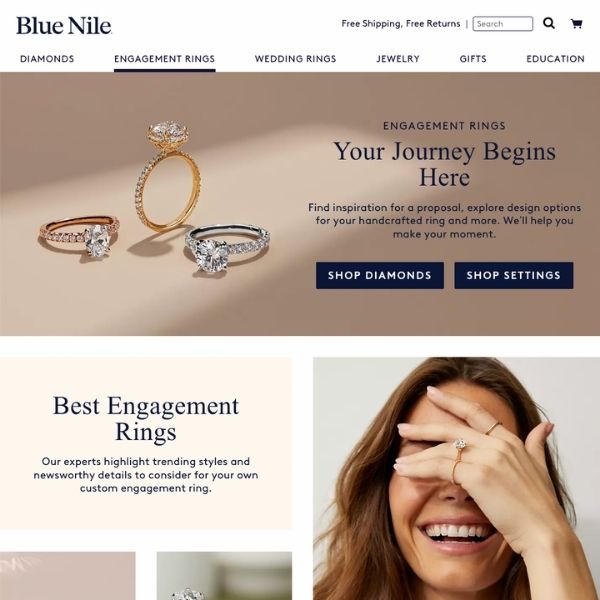 Blue Nile is a world-renowned diamond jewelry retailer with plenty of affordable options. They offer superior quality lab diamonds with standards their customers can rely upon for any purchase.
They provide private consultations with prospective customers to ensure they get precisely the lab-created diamond they desire.
Highlights:
Blue Nile offers consistent pricing according to size. Their standard price is $800 per carat.
This company has private consultations available. Get one of their experts to answer questions and help pick the perfect lab-created diamond rings or other jewelry items.
Blue Nile offers a price match guarantee on all of their lab diamonds. Customers will pay only the competitor's price if they find a better deal elsewhere.
Blue Nile offers no-questions-asked 30-day return period. If the customer isn't happy for any reason, they will refund their money.
Blue Nile is a top retailer of colored lab-created diamonds. Find tons of colors, shapes, and sizes to provide the ultimate customization.
Blue Nile is a company that cares about the quality of its jewelry and customer satisfaction. Get an expert to assist with purchases and selections according to budget and personal tastes.
5. Helzberg Diamonds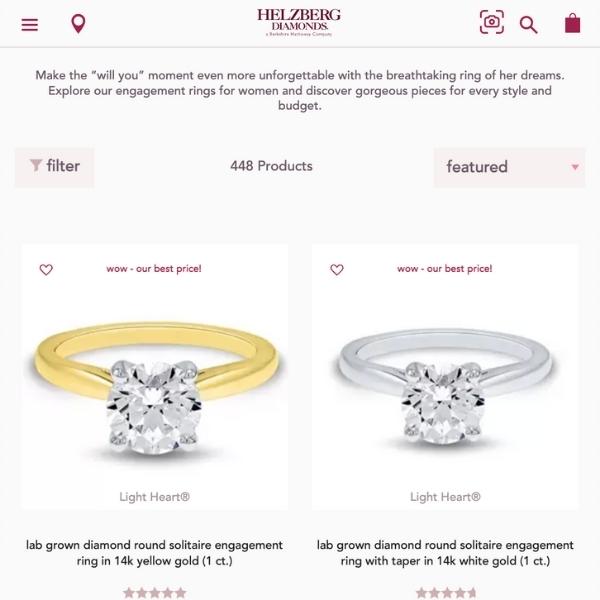 Helzberg Diamonds is an online and on-site retailer that specializes in engagement and wedding rings for men and women.
They have top-quality lab diamonds in a wide assortment of styles and prices. In addition, they offer top-quality customer service and convenient payment options.
Highlights:
Get personal jewelry consultations to ensure you get the perfect lab-created diamond rings. Discover all of your options for complete satisfaction.
Same-day delivery for some areas. You may not need to wait.
Helzberg Diamonds offers free standard shipping for all orders over $99. You save even more money on your lab diamonds.
This company has been in business for over 200 years. That means they have the experience and insight to provide certified perfect diamonds and featured designer styles that are unique to the company.
Take advantage of frequent discounts on select engagement and wedding rings. Discounts are subject to change, and certain restrictions apply.
Helzberg Diamonds is a company that has a solid reputation for quality and service. You can shop online or in a store to suit your needs. They feature many designer styles and exquisite colored diamonds to add personality and elegance.
6. VRAI
VRAI diamonds are unique in that they are made from greenhouse emissions. They have their own lab that creates these synthetic diamonds in the American Pacific Northwest.
These diamonds are identical to Earth diamonds and are expertly cut and polished before arriving to the customer.
Highlights:
These lab-created diamonds are very affordable and provide exceptional quality. They are a superior product that is identical to Earth diamonds.
These diamonds are offered in premium cuts only. They only offer the best. All VRAI lab diamonds are cut with a grade of excellent or above.
The diamonds are GIA graded, but the manufacturer offers a full warranty and a graded certificate for each diamond purchase. That means shoppers can be assured of the quality of their purchases.
This company provides consultations with diamond experts. Get assistance with purchasing the perfect size, shape, and price.
Find exceptional true diamond quality without conflict or a carbon footprint. Their diamonds are designed to reduce environmental impacts while still getting excellent products.
Discover how beautiful these lab-created diamonds can be while being ethical and environmentally friendly. These unique diamonds are created especially for this company and are unlike any others on the market today.
7. Ritani
Ritani is a well-respected diamond retailer that offers customers plenty of options at affordable prices. They go above and beyond to ensure that each individual gets the attention and service they need to find the lab-created diamond they've always dreamed about without headaches or hassles.
Highlights:
The company offers a free in-store preview of customized jewelry to ensure that it is precisely what the recipient desires.
The store offers financing and split payments to assist shoppers in paying for their purchases. This helps individuals stick to a budget and still get the highest quality diamonds.
Ritani offers coupon codes for most purchases. Not only are their lab-created diamonds more affordable than natural diamonds, but you can save even more money with these exceptional discounts.
The company offers personalized service and support. Whether you prefer emailing, chatting, or talking to a representative on the phone, they have expert help available when you need it.
Ritani is a leading retailer of lab-created diamond rings for engagement and wedding rings. They strive to offer comprehensive customer service that allows individuals to try before buying to ensure satisfaction.
What are lab-grown diamonds?
Lab-grown diamonds are formed from carbon and have the same chemical, physical, and optical properties as Earth-grown diamonds. The primary difference is that synthetic diamonds are created in a laboratory rather than by nature.
The process of growing synthetic diamonds was first developed in the 1950s and has been refined over the years.
Today, two main methods exist for creating synthetic diamonds: high-pressure, high-temperature (HPHT) and chemical vapor deposition (CVD).
Both manufacturing processes begin with a tiny diamond seed placed in a chamber and exposed to ultra-high temperatures and pressures. These conditions cause the carbon atoms to bond and create a new diamond.
It can take weeks or months to grow a synthetic diamond this way, but the result is a beautiful gem identical to a natural diamond.
Are lab-grown diamonds real?
Lab-grown diamonds are chemically, physically, and visually identical to natural diamonds. The main difference is that they are manufactured in a controlled environment instead of developing over time underground.
Because they do not come from the Earth, lab-grown diamonds have a much smaller environmental impact than natural diamonds. These diamonds also tend to be less expensive than natural diamonds of comparable quality.
Whether you choose a natural or lab-grown diamond is a personal preference. Both types of diamonds are beautiful and valuable.
What's the difference between lab-grown and natural diamonds?
When it comes to diamonds, there are two main types: natural diamonds and lab-grown diamonds.
Both diamonds are fundamentally the same, consisting of pure carbon atoms arranged in a lattice structure. However, there are some key differences between natural and lab-grown diamonds.
Natural diamonds are formed deep within the Earth over millions of years, while manufacturers can produce lab-grown diamonds in weeks.
Miners must extract natural diamonds from the Earth's surface. They are mined in various ways, depending on their location and the amount of money and manpower available.
For example, small-scale artisanal miners may mine for diamonds using only hand tools, while large-scale commercial operations may use heavy machinery and explosives.
No matter their methods, all diamond mining has some environmental impact, as it inevitably disturbs the surrounding landscape.
In recent years, there has been increasing concern over the conflict diamonds mined in Africa, which are often referred to as "blood diamonds." These diamonds are often sold to finance rebel movements or other unlawful activities, creating conflict and humanitarian crises in several countries.
As a result, the diamond industry has implemented stricter controls on the origin of diamonds, and consumers are becoming more aware of the ethical issues surrounding conflict diamonds.
On the other hand, synthetic diamonds are created in a laboratory using advanced technology. As a result, lab-grown diamonds tend to be more uniform in size and shape than natural diamonds.
Manufactured diamonds are becoming increasingly popular, and their price is likely to drop as the technology improves.
Whichever type of diamond you choose, you can be sure that it will be a beautiful and unique piece of jewelry. At the end of the day it comes down to personal preference when deciding between a natural or lab-grown diamond.
How are lab-grown diamonds made?
Manufacturers create lab-grown diamonds using one of two methods: High-Pressure, High-Temperature (HPHT), or Chemical Vapor Deposition (CVD).
Both methods have their pros and cons, so it's essential to understand how each works before deciding.
HPHT diamonds are grown in a controlled environment that simulates the conditions found deep within the Earth. This manufacturing method allows for exact control of the diamond's final properties.
As a result, HPHT diamonds tend to be very high quality and free of impurities, but they can be expensive.
CVD diamonds are created by the deposition of carbon atoms onto a substrate in a low-pressure environment.
In this process, a tiny seed diamond is placed in a chamber and exposed to a plasma of carbon-containing gas. The gas breaks down into carbon atoms, which then adhere to the surface of the seed diamond.
With enough time and temperature, a full-sized diamond can be grown. CVD diamonds can be grown in various colors, including blue, green, and pink.
This method is generally less expensive than HPHT, but it can produce lower-quality diamonds that may contain impurities.
Lab-grown diamonds are cheaper than natural diamonds because they don't need to be mined from the Earth. Consequently, lab-grown diamonds are an attractive option for those who want the beauty of a diamond without the environmental impact or the high cost.
When choosing a lab-grown diamond, you must consider your budget and your desired outcome.
An HPHT diamond may be the best option if you're looking for the highest possible quality. However, a CVD diamond may be a better choice if you're working with a tight budget.
Bottom Line
When choosing the perfect diamond, the options can seem endless; however, one crucial factor to consider is where your diamond comes from.
Natural diamonds are often mined in conflict zones, contributing to human rights abuses and environmental devastation.
In contrast, manufactured diamonds are created in a controlled environment, making them a conflict-free option.
In addition, lab-grown diamonds have the same physical and chemical properties as traditional diamonds, meaning they are just as beautiful and just as durable.
So if you're looking for a diamond that is environmentally and socially responsible, a lab-grown diamond is the way to go.