With bohemian decor trending right now, it's no wonder that pampas grass is becoming a design staple. From party decorations to home decor, bulk pampas grass is very much sought after.
You will save money by purchasing pampas grass wholesale, rather than one piece at a time. By the end of this post, you'll know the best wholesale suppliers of bulk pampas grass.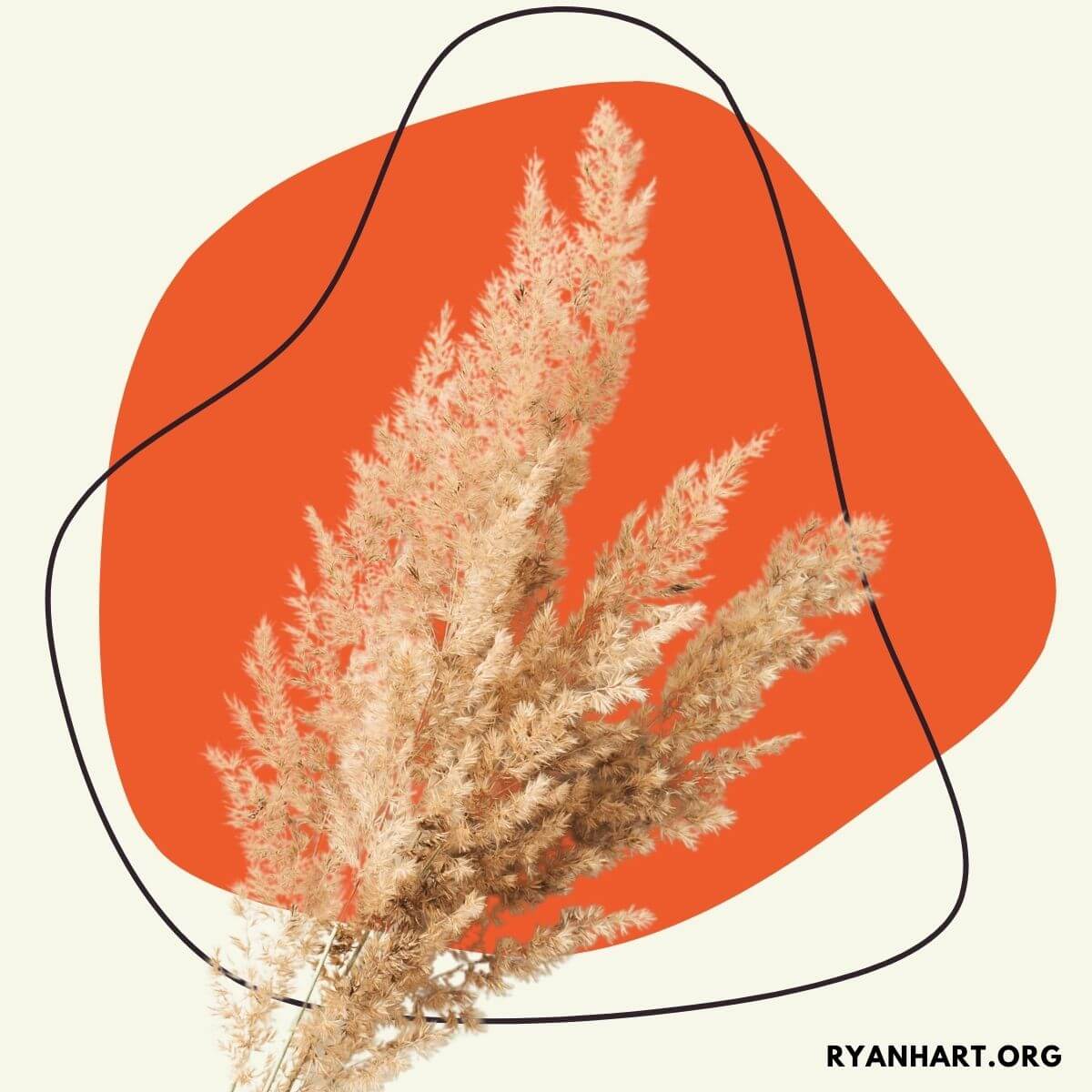 Where to Buy Pampas Grass?
Hundreds of websites offer bulk pampas grass, but we have narrowed it down to the top five websites where you can purchase directly from wholesale suppliers. Keep reading to find the right website and options for you.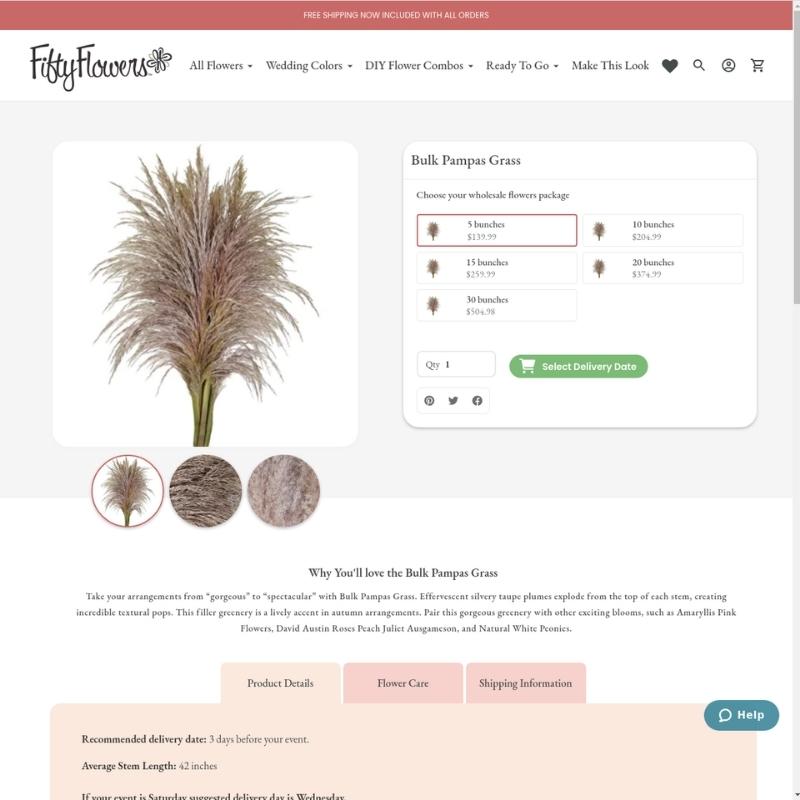 Fifty Flowers is geared explicitly towards event planning, such as weddings and parties. It is also a woman-owned company and specializes in bulk flower sales. This website has the most bulk options, which is perfect if you want to buy a lot of wholesale pampas grass.
Highlights:
Five bunches of pampas grass (5 stems per "bunch") is $139. This amounts to about $5.56 per stem, which is very affordable and one of the less costly websites.
Fifty Flowers is an incredibly detailed site with tips for keeping your pampas grass fresh and in good shape, which is different from other websites listed in this article.
If you're looking to pair flowers with your pampas grass, Fifty Flowers has a large assortment of fresh and dried flowers.
What Fifty Flowers does best:
Fifty Flowers offers a huge selection at very affordable prices, and they have great reviews on their products.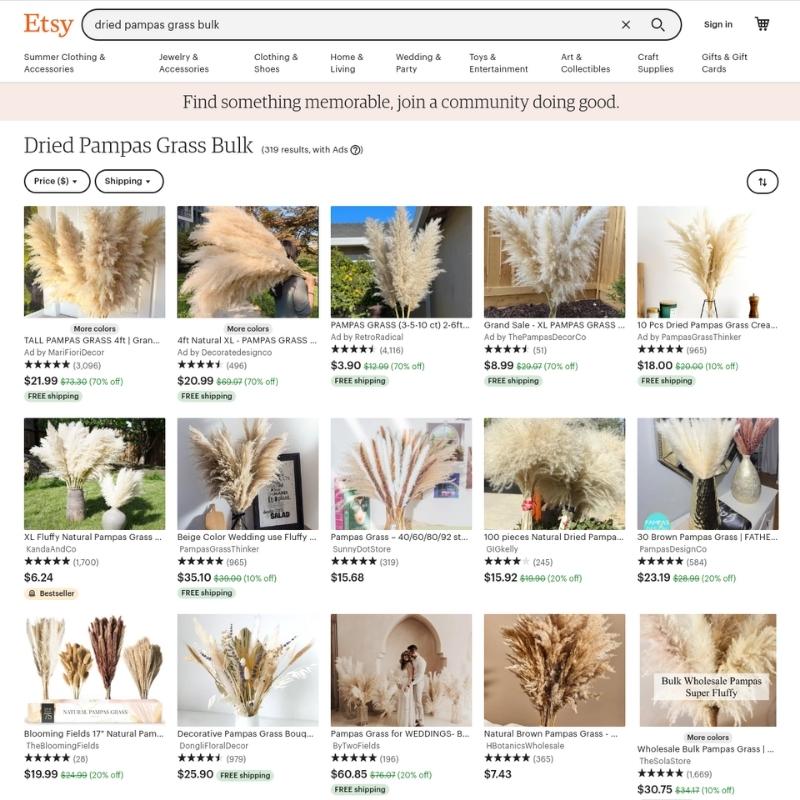 Etsy is an online marketplace that benefits small, local sellers. Etsy is easily the best option if you want to support a small business. There are various bulk pampas grass options on Etsy, given that each seller can customize orders specifically for you.
Highlights:
Every Etsy purchase directly benefits a small business, which helps you make more of an impact while buying wholesale pampas grass.
You can get a 10-pack of 4 feet tall beige pampas grass stems for $76.99, with free shipping. This evens out to $7.69 per stem.
If you don't want beige, there are many more color options. If you want more than ten stems, Etsy has you covered.
It is generally easier to contact the seller on Etsy, and most shops will do anything to make your order right if the pampas grass is not to your liking.
The shipping speeds and return policies vary from shop to shop, so it's worth a bit of research on Etsy to find the right shop for you.
What Etsy does best:
Etsy is an excellent option for those who want to support small sellers at a reasonable rate and don't mind slower shipping speeds when purchasing wholesale pampas grass.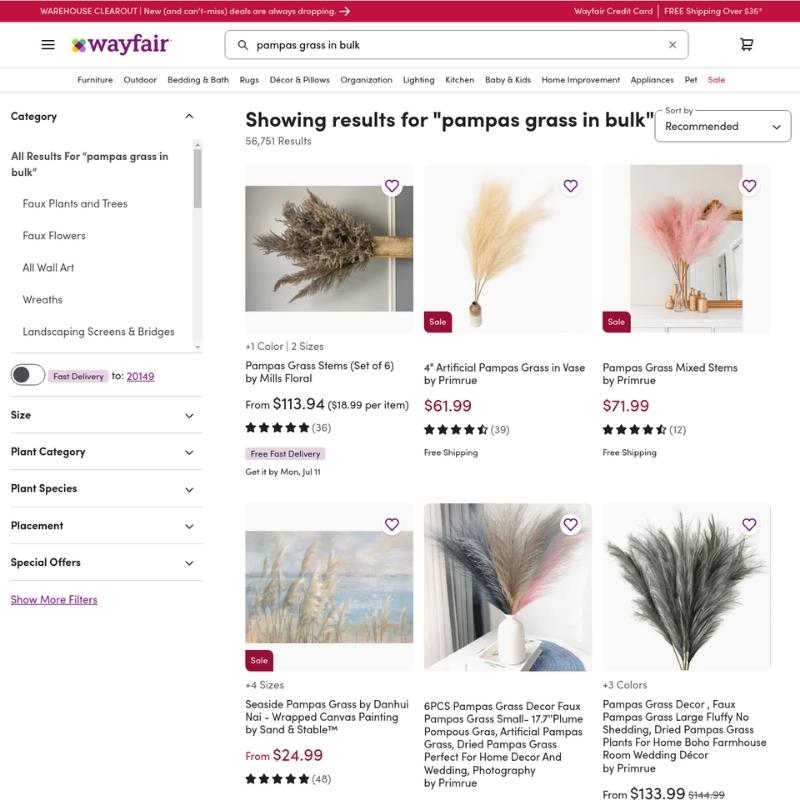 Wayfair is known for its massive selection, from decor to furniture. Wayfair has various faux and real pampas grass options, but they do not offer large wholesale amounts of pampas grass.
Highlights:
Wayfair has multiple listings of pampas grass already arranged for you in a vase or decorative object. This is a fantastic time-saver for anyone who doesn't want to arrange their bulk pampas grass.
There are unique colors on Wayfair that are unavailable on other sites, such as blue and gray.
You can get 65 pieces of bulk pampas grass for $111, evening out to $1.70 per piece. While this may seem like an incredible deal, the pampas grass is not as large or fluffy as other websites. This is the perfect choice if you are not picky about how fluffy your pampas grass is.
The bulk pampas grass on Wayfair comes in many options, making it easy to find something that works for you.
What Wayfair does best:
Wayfair offers arrangements and bulk pampas grass for any project. This company is versatile and has excellent reviews.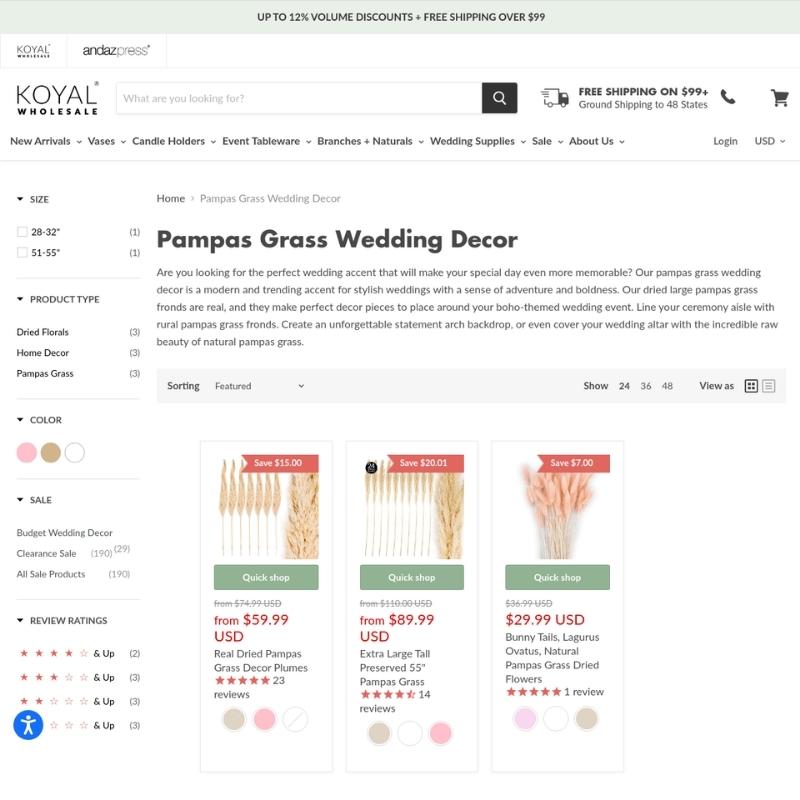 Koyal Wholesale has been in business for almost 20 years, specializing in wedding and event decor. They are a leader in the industry and are constantly updating their offerings to reflect the current trends in wedding colors and unique designs.
Highlights:
Koyal Wholesale has the fewest color options for bulk pampas grass, but those available are the most popular.
If you want to choose from just a few options without being overwhelmed by choices, Koyal Wholesale is the best choice for you.
Extra-large, fluffy bulk pampas grass is $110 for 24 stems, amounting to $4.58 a stem. This is more economical than other websites listed.
If you aren't worried about variety and want simple wholesale pampas grass, Koyal Wholesale is the perfect website to visit.
What Koyal Wholesale does best:
Koyal Wholesale keeps it simple and clean. They offer a few varieties of bulk pampas grass and emphasize quality over quantity.
Check Prices on Koyal Wholesale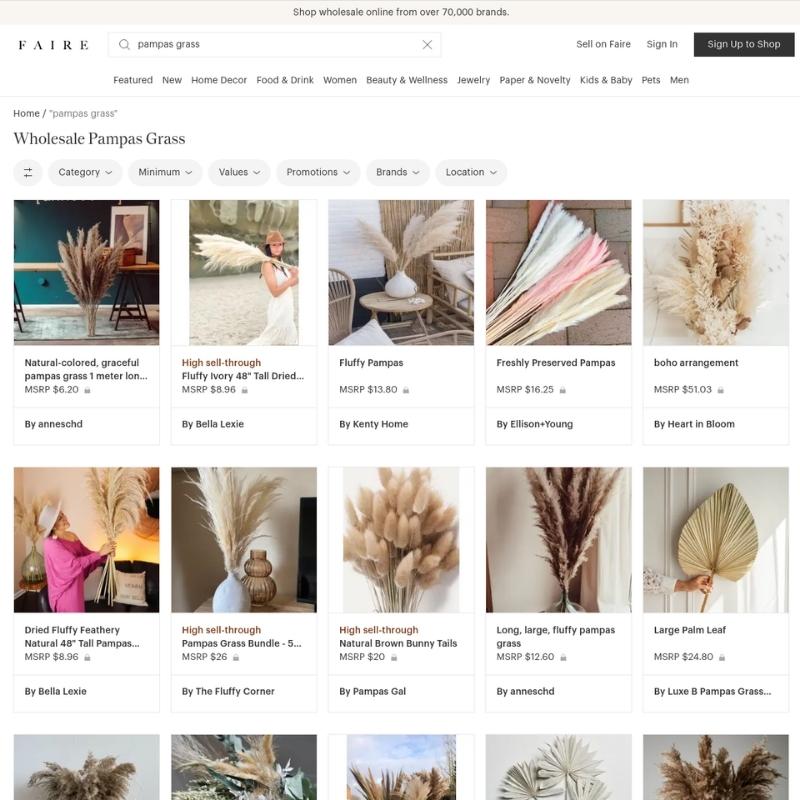 Faire is your best choice if you're looking for both faux and real wholesale pampas grass options, especially if you are looking to resell.
Offering wide varieties of artificial and natural bulk pampas grass stems, Faire allows you to pick and choose what types of pampas grass you'd like to buy in bulk.
Highlights:
Faire requires you to sign up with an account to receive wholesale pricing for any item you want to purchase. It is free to create an account.
Faire is created for those looking to fill their shelves with inventory.
The shipping rates vary depending on the seller.
Faire has more faux wholesale pampas grass options than other sites listed.
What Faire does best:
Faire offers assorted pampas grass arrangements in vases, bowls, or planters, along with wholesale pampas grass stems. This makes Faire the best option for those who want something visually stunning for their storefront.
What is Bulk Pampas Grass?
Pampas grass is a tall, ornamental grass that is native to South America. It is often used as a wedding decoration due to its dramatic, fluffy plumes.
Bulk pampas grass is simply pampas grass that has been sold in larger quantities, making it a convenient choice for event planners and florists.
Pampas grass is easy to care for and can be stored for long periods of time, making it a popular choice for both fresh and dried arrangements.
It is also a popular choice for landscaping, as it creates a dramatic effect when planted in mass.
The grass is relatively low maintenance and does not require much watering or fertilizing. However, pampas grass can be invasive, so it is important to plant it in an area where it will not spread.
When purchasing pampas grass in bulk, be sure to choose a reputable supplier who can provide high-quality, fresh product.
Bottom Line
Pampas grass is a wedding decoration staple. The tall, feathery grasses add an elegant touch to any wedding ceremony or reception, and their neutral color ensures that they will complement any wedding theme.
While pampas grass can be purchased from many local florists, the best way to ensure that you are getting high-quality pampas grass is to buy it online.
Online retailers specialize in wedding decorations, and they often offer a wider selection of pampas grasses than brick-and-mortar stores.
In addition, buying pampas grass online allows you to take advantage of special deals and discounts.
So if you are looking for the best way to decorate your wedding ceremony or reception, be sure to purchase your pampas grass online.