In this post, we've compiled a list of the seven best wedding centerpiece rental companies to help you create stunning decor for your big day. These companies have everything from classic and elegant to modern and unique.
Whether on a tight budget or ready to splurge, there is something for everyone. We've done the research, so you don't have to. Check out our top picks for the best wedding centerpiece rental companies to make your special day unforgettable.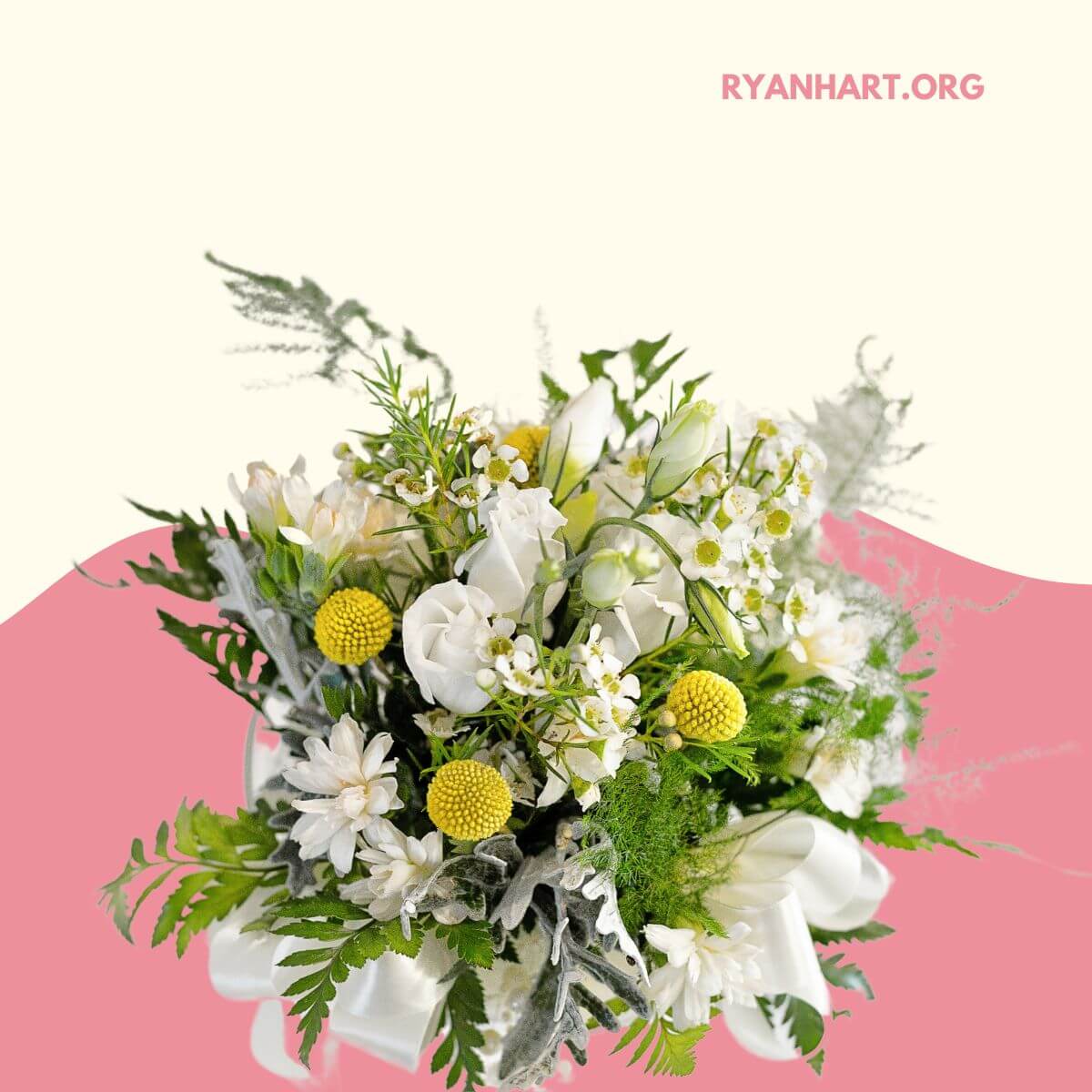 Where to Rent Centerpieces for a Wedding?
There are so many rental companies to choose from, which can make this task seem overwhelming. So we've narrowed down a list of our favorites to give you an idea of the wonderful variety out there.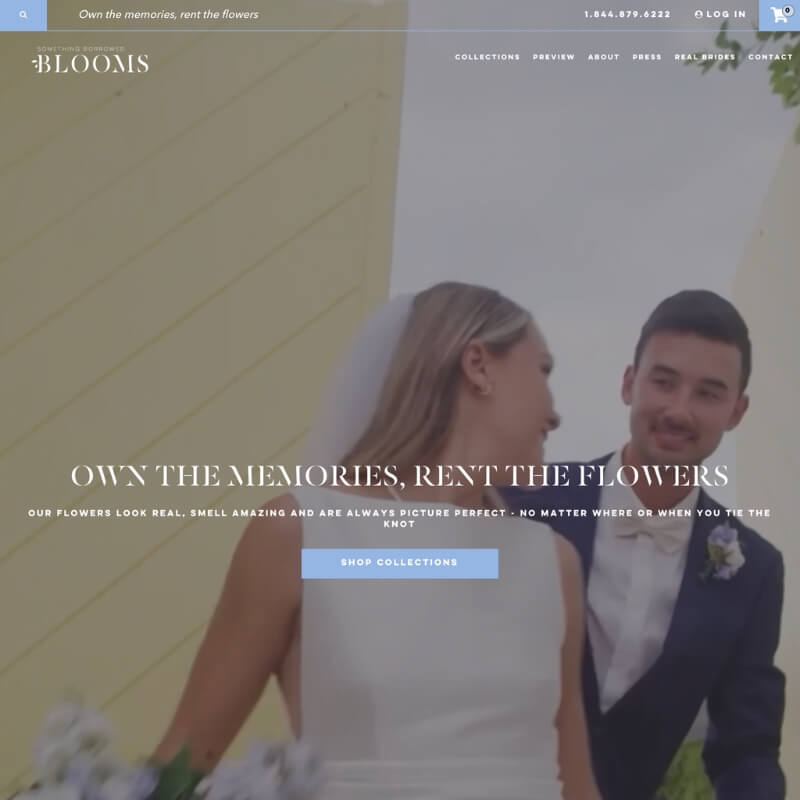 Are you looking for silk flower centerpieces for a fraction of the cost of real flowers? Then look no further than Something Borrowed Blooms. With an exquisite variety at affordable prices, you can have one less worry when it comes to the cost of your big day.
The arrangements from Something Borrowed Blooms are very budget-friendly, but that's not the only reason we love them so much. Something Borrowed Blooms offers a preview option, allowing the happy couple to see a sample of the flowers they might want before they commit to ordering them.
If you're torn between a couple of different arrangements, simply head to the "Preview In-Home" section on their website and select the products you're interested in. And as an added "thank you," once you return the samples, you'll receive a discount on your bulk order—saving you even more money in the long run.
Something Borrowed Blooms is also a great place to shop for many wedding decor needs. From hairpins and pet collars to table candles and cake clusters, the added convenience from a company you can trust will give you some peace of mind heading into your big day.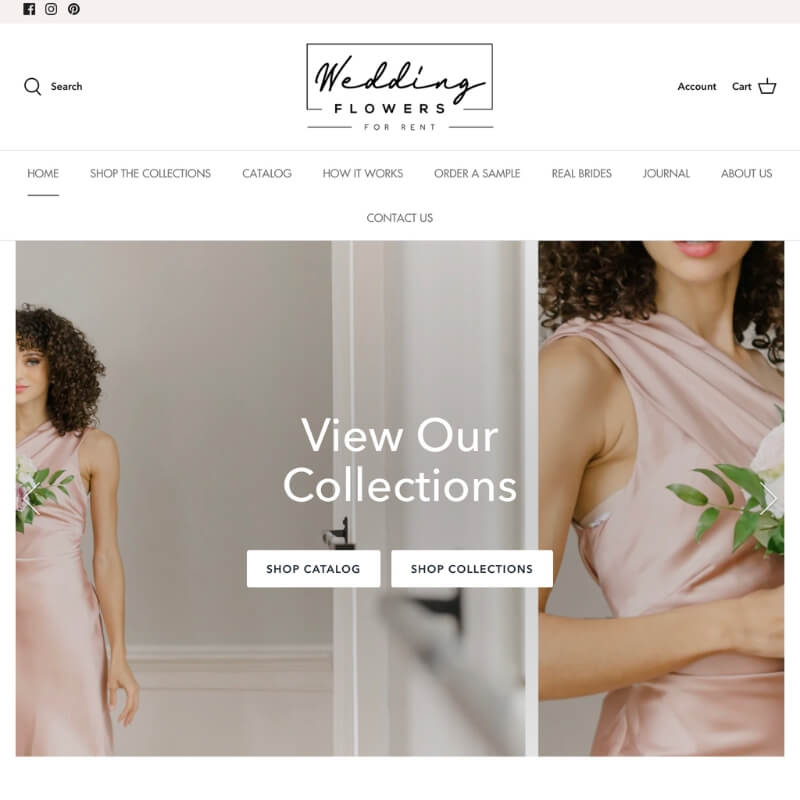 Boasting an average of 70% savings compared to natural flowers, Wedding Flowers for Rent has been one of the leading floral rental companies for over 10 years.
Wedding Flowers for Rent knows that planning a wedding can be hectic. After years of practice and feedback, they've streamlined their process to make it as easy as possible.
From choosing your sample to receiving and returning your flowers, they ensure every step makes sense.
These luxury flowers come in a variety of styles, which means that there's something for every bride and every budget!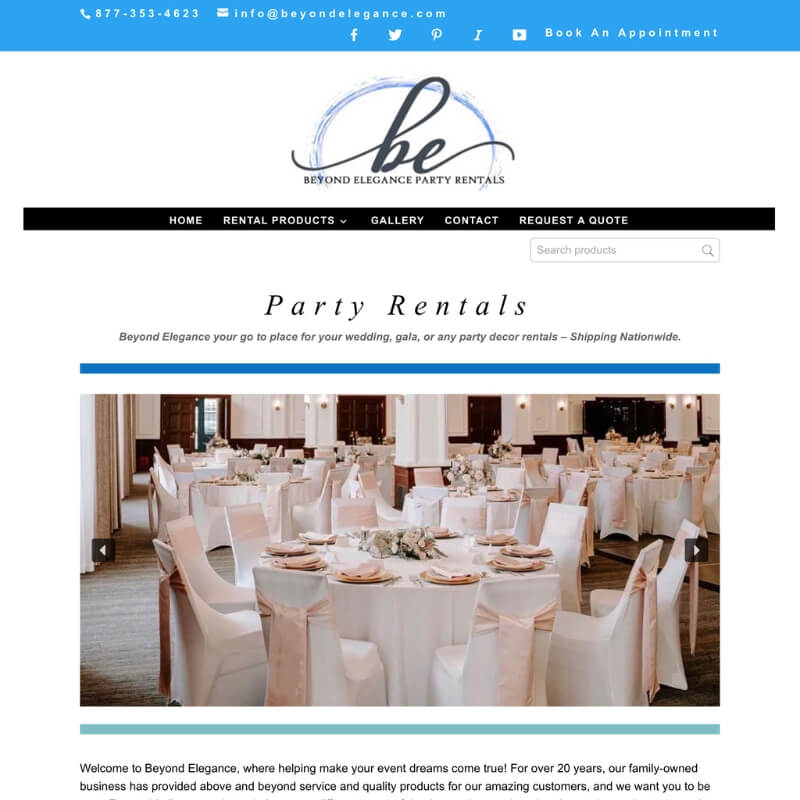 A family-owned business in the party planning business for over 20 years, Beyond Elegance Party Rentals knows their stuff. They go above and beyond to ensure that your big day looks as impressive as it feels by offering luxury rental decor with easy returns and low prices.
When it comes to decor, Beyond Elegance offers nearly everything you need in terms of decor for your big day. From tablecloths and chair linens to signs and centerpieces, you'll find that this company has thought of everything.
With various colors, package sizes, and lighting options, this company makes planning your big day a breeze! If you're a wedding or event planner, there are wholesale options to help cut costs even more.
Beyond Elegance also offers photobooth services if you're looking for some added fun at your reception. Take adorable candid photos with your new spouse, bring some friends in for silly pictures with props, and spend the night making memories.
At the end of the celebration, you'll receive digital copies of all of the images taken throughout the night—which means you get to keep these special memories for years to come.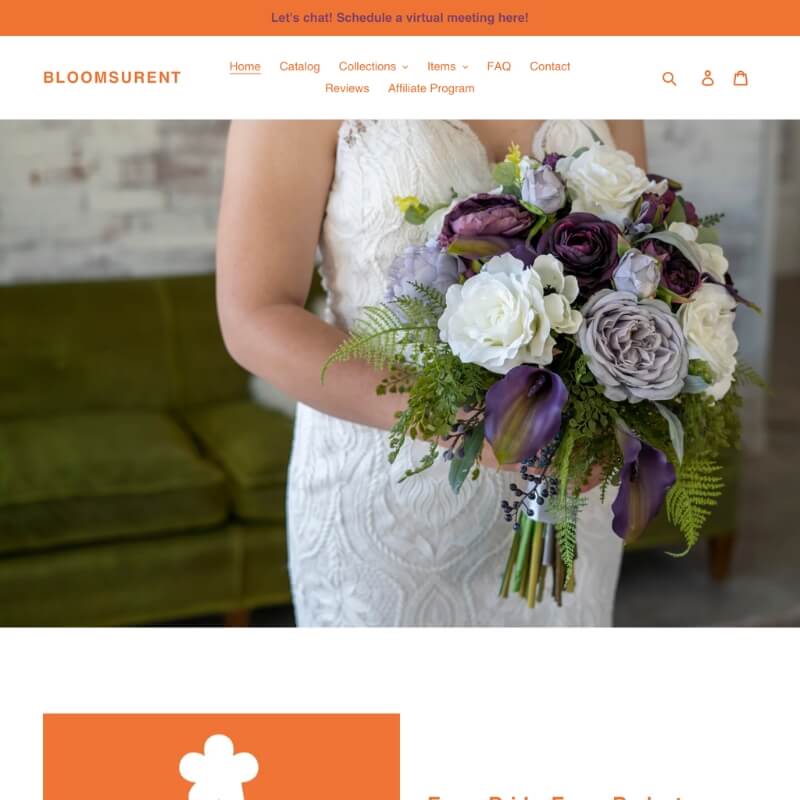 Recently merged with Indee Blooms, Blooms U Rent is another excellent option for a one-stop shop for all your centerpiece and floral needs. With sustainability and beauty in mind, you'll find arrangements that are great for the planet and easy on your wallet.
What Blooms U Rent Does Best:
What makes Blooms U Rent unique is that they don't only offer silk flowers—they also create custom wood flower arrangements that last for years to come. This creative alternative helps reduce waste and gives the happy couple more creative control when making the perfect arrangement.
Just as beautiful and elegant as their wood flowers, Blooms U Rent also offers a variety of stunning silk arrangements at a low price. From centerpieces and garlands to bouquets and boutonnières, they've covered the bases for floral planning.
If sustainability and affordability are important to you, Blooms U Rent might be the company for you.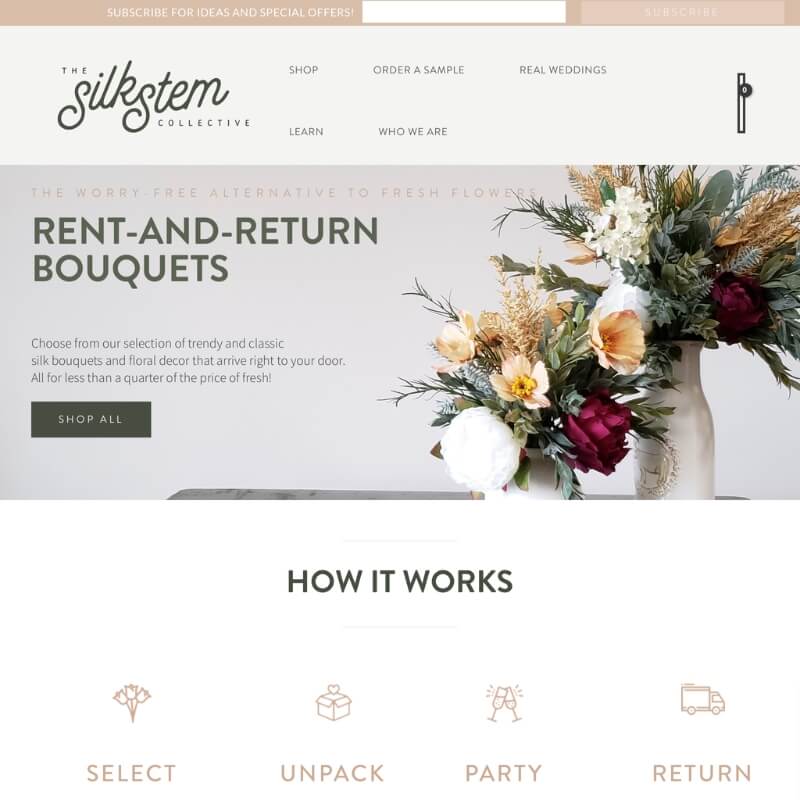 From trendy to classic, The Silk Stem Collective offers silk flowers and decor delivered straight to your door at less than one-third of the price you'd pay for fresh flowers.
The Silk Stem Collective has two goals in mind—beautiful arrangements at affordable prices and being eco-conscious. They start by using as many eco-friendly products as possible when creating their arrangements, improving wherever they can.
The packaging they use to ship the flowers is all reusable and recyclable, and they create bouquets and arrangements that fit into vases without floral foam or plastic stabilizers. All flowers and arrangements are reused as long as they are fit for circulation and retired using a Keepsake Program when they can no longer be rented out.
If you see something on their website that catches your eye, you can use their sample bouquet option to have a bridesmaid bouquet sent straight to your door. Keep them for up to a week, and then return your sample for a discount on your floral order when you're ready to choose flowers for your big day.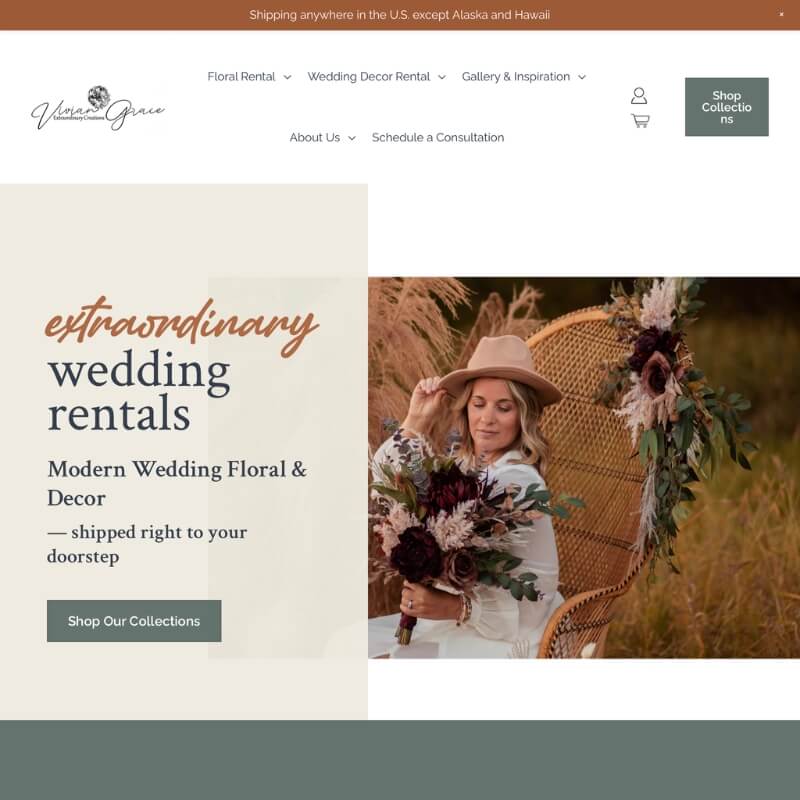 Vivian Grace Creations offers modern silk flower arrangements with your budget in mind. Each collection is created and tweaked to follow current trends, combining classic and timeless with a trendy aesthetic to elevate your big day.
While they do not offer customized creations at this time, they offer a guide on their website for customers interested in mixing and matching their creations to make their rental feel a little more personalized.
As beautiful and elegant as their floral arrangements are, Vivian Grace Creations has another trick up their sleeve—trendy and sophisticated decor. Anyone planning a wedding knows that every little detail matters and Vivian Grace understands this.
From food containers and stands to centerpieces and lighting, many choices will help make your special day more memorable.
Couples local to Minnesota also have the option to pick up their order right from the showroom, and Vivian Grace even offers decorating services for nearby events—which saves you the hassle of transporting and decorating on your own.
Faux Real Flowers combines convenience with customization to bring customers arrangements and decor that perfectly match their vision and personality.
With elegant silk flowers and trendy centerpieces, Faux Real's goal is to save you time and money without sacrificing the quality of its products.
Like many other brides, you probably have a Pinterest board dedicated to your dream wedding. Faux Real Flowers turns your vision into a reality using anything from Pinterest to collages and scrapbooks to help bring your dream wedding to life.
Take your vision to one of their showrooms along with a checklist of anything and everything you might need for your wedding, get a quote, and wait for your custom arrangements, centerpieces, and other floral touches, then pick them up before your special day.
Bottom Line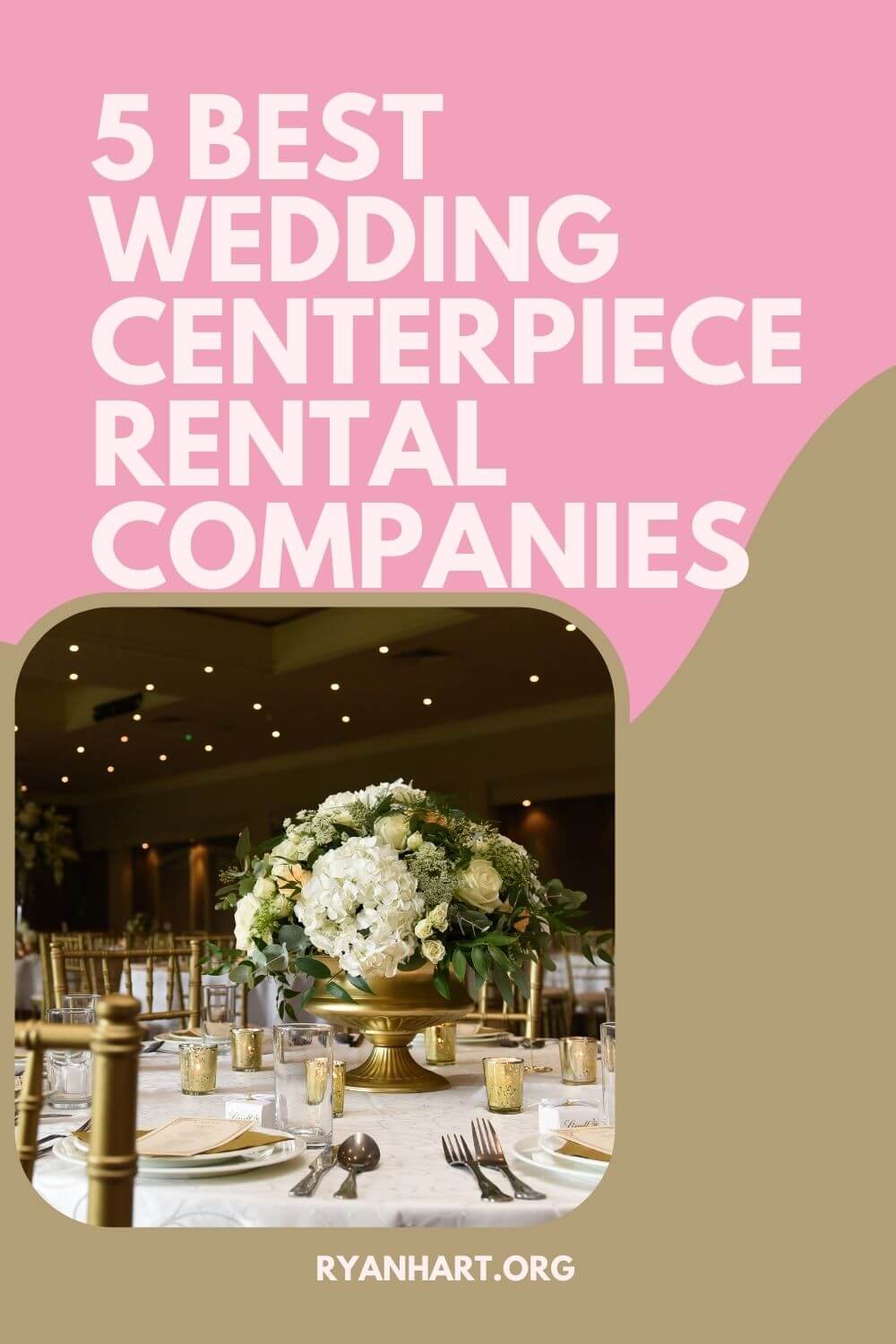 When choosing a wedding centerpiece, think about your wedding style. Is it fancy or simple?
Next, pick a size that fits your table. A big centerpiece looks great on a big table. A small one is better for a small table.
Then, think about your colors. Pick a centerpiece that matches your wedding colors. Look at different vase shapes, like round or square. Also, consider your budget.
Remember, the perfect centerpiece will make your special day even more amazing. So, take your time and find the one that's right for you.