Crystals are everywhere these days. Once, these healing, energetic stones were accepted by a small niche group but now they have broken free into the mainstream.
In today's more open-minded and accepting environment, crystals are owned by people of all walks of life, from various faith traditions, and for multiple reasons.
In fact, one of the main reasons for the rise in crystal popularity is fashion. Crystals in necklaces, rings, bracelets, and other types of jewelry are an incredibly in-demand fashion accessory.
With so many people looking to add crystals into their lives, there are now numerous places where they can be purchased. If you are ready to start a collection of crystals, or you're looking to resell them in this hot market, you need to know where to turn.
Ready to discover our favorite websites to buy wholesale crystals online?
Let's get started!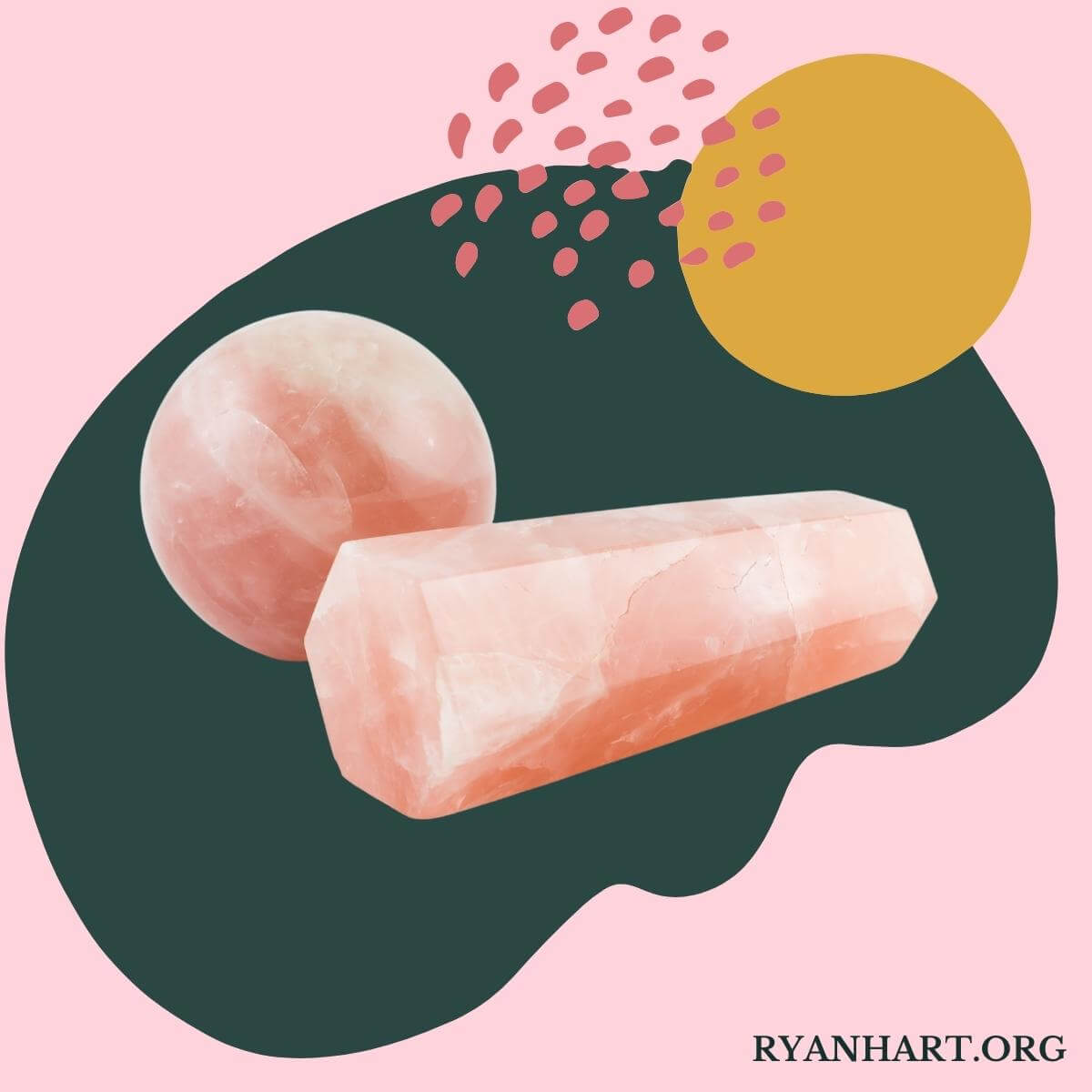 What is the Best Place to Buy Wholesale Crystals and Gems?
It's easy to find places online that sell bulk crystals. However, in order to get high-quality, budget friendly crystals that you can use or resell for a profit, you'll want to purchase from reputable sites. Knowing where to buy wholesale crystals will save you a lot of time, energy, and money.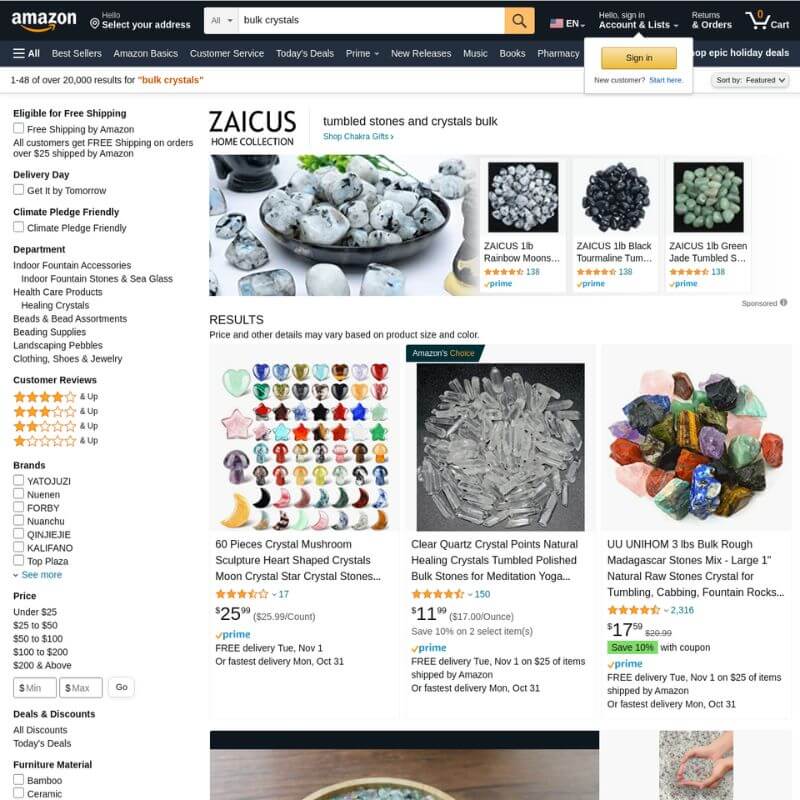 The number one online store, Amazon, is one of the best places to purchase raw crystals wholesale.
They have a wide variety of crystals and stones to choose from, giving you the ability to purchase your favorite crystals, from amethyst, to rose quartz, to assorted stones.
Highlights:
Offers multiple listings for wholesale crystals and stones, enabling you to find exactly what you're looking for.
Prime benefits for members, including free two-day shipping on certain products.
High-quality large crystals wholesale with reviews so you can make sure you are purchasing a worthwhile product.
Abundant offerings, from solo bulk crystals to boxes of bottled crystals, giving you the ability to find exactly what you're looking for.
Buy one crystal in bulk, assorted crystals, or a set of specific crystals to meet your needs.
Amazon makes it easy for anyone to purchase wholesale crystals for jewlery making or other uses. The simplicity of purchase, the affordability, and the free shipping, make Amazon a great option for Prime members who are just getting to know crystals and wanting to try them without spending a fortune.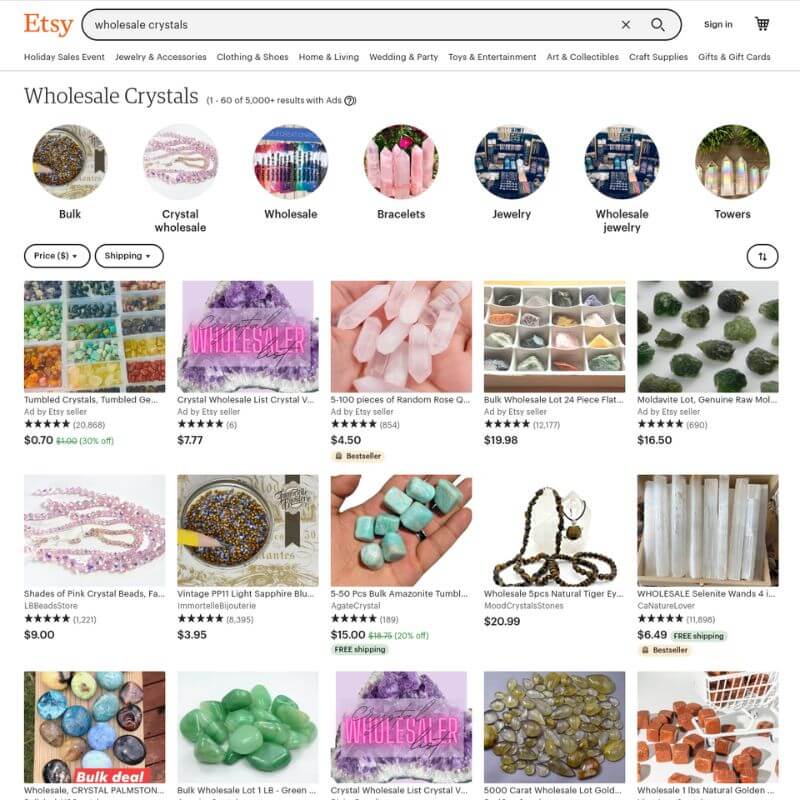 Alibaba is a retail service in China that sells wholesale crystals and other products to international buyers.
With most products sourced locally in China, costs are kept low for buyers, making Alibaba a very affordable place to purchase. Their wholesale crystals and stones are priced incredibly low, with a wide amount of options for buyers.
Highlights:
Unmatched affordability of crystals, along with low international shipping.
A large stock of products, giving buyers multiple options for buying raw crystals wholesale.
An easy, customized search feature enabling you to easily wade through hundreds of products and find what you're looking for.
Crystals come in various forms, including solo, shaped, as jewlery, in containers, and more.
Find everything you need, from any type of crystal to tools for jewelry making, in one place for a low price.
Alibaba is one of the cheapest places online to purchase wholesale crystals. With so many options at an extremely low price, Alibaba is a great place for those new to crystals and with limited funds to find what they are looking for.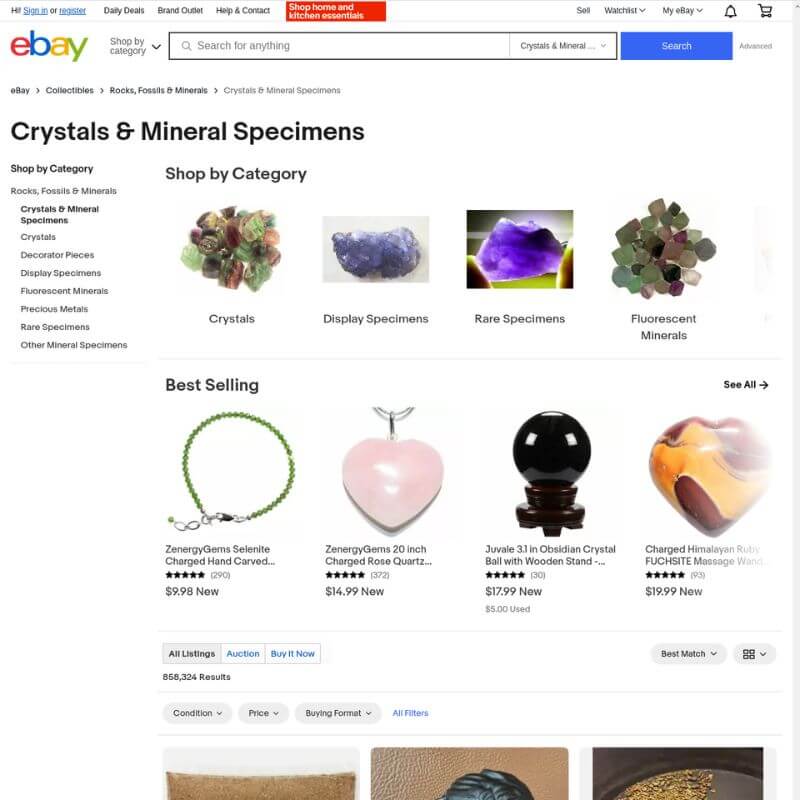 When searching for quality, Etsy is a great place to look. As an American e-commerce platform, Etsy prides itself on allowing personal sellers to sell handmade and vintage items, as well as crafting material.
Wholesale crystals for jewelry making make the cut when it comes to products that can be sold on Etsy, giving buyers another place to find what they're looking for.
Highlights:
With personal sellers you are helping a small business when you buy from an Etsy store. You can also communicate one-on-one with your seller to ensure a smooth transaction and that you are getting the right products.
Hundreds of options to choose from. Simply search what you are looking for and scroll through the different stores offering the crystals you want.
Choose from inexpensive, solo options to more costly, bulk products.
Options include one crystal to bulk, in jewelry form, in bottles, or on their own, large crystals and small. Whatever you are looking for, Etsy has an option for you.
Stars and reviews provide peace of mind when it comes to choosing a seller.
Etsy has so many personal sellers of wholesale crystals, it's easy to find the products you are looking for while also choosing a seller you connect with. If you're not necessarily looking for the cheapest option, but are instead looking for high quality and a seller you want to support, Etsy is the place to go.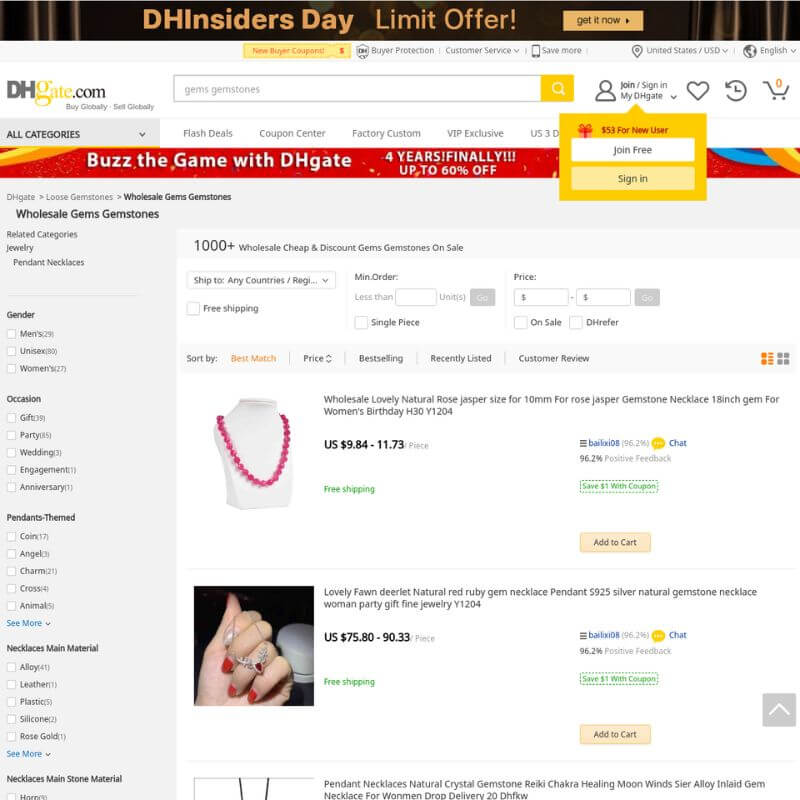 eBay has long been one of the most popular e-commerce sites, standing out from others with its auction feature.
Sellers on eBay can either list items at a firm sales price or send them to auction, giving buyers an opportunity to bid on items at the price they want to pay.
The global reach of eBay has made it one of the best places to find rare and expensive items that are difficult to find. Crystals on eBay range from inexpensive wholesale to costly, uncommon finds.
Highlights:
Discover unique finds. eBay has a wide range of crystal products, including basic solo stones to large, rare objects.
Crystals within your budget. Whether you have a large budget or a small one, you can find raw crystals wholesale that you can afford.
Find what you're looking for. There are so many options on eBay, you will be able to find specific crystals or assorted ones.
Buyer protection provides peace of mind. eBay is known for having great buyer protection, making it a safe place to purchase online.
Easy search options help you find wholesale crystals for jewelry making without trouble.
The buyer and seller features on eBay make it a desirable platform if you're looking for unique crystal options or have a set budget. You can find exactly what you want within your price range by shopping on eBay.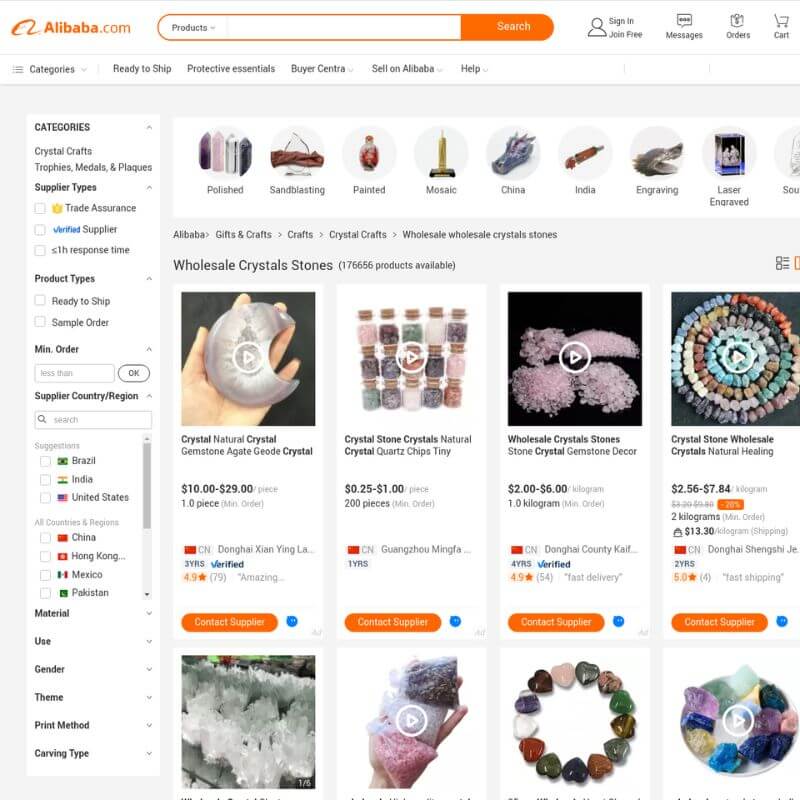 Wholesale sellers in China use DHGate as an online marketplace, giving them an easy way to connect with buyers from around the world.
While DHGate is the platform, sellers and buyers work together in their transactions and sellers ship directly to the purchaser. There are many options for wholesale crystals on DHGate, listed individually by each seller.
Highlights:
Multiple product options from hundreds of sellers, making it easy to find the wholesale crystals you want.
Free international shipping on most items.
Simplified search options, helping you narrow down your search to the most relevant.
Regular platform deals and coupons provide further savings for buyers.
DHGate is a streamlined platform that serves wholesale customers looking for a great deal on specific products. If you are looking to add certain crystals to your collection at an inexpensive price, DHGate might be the right place for you.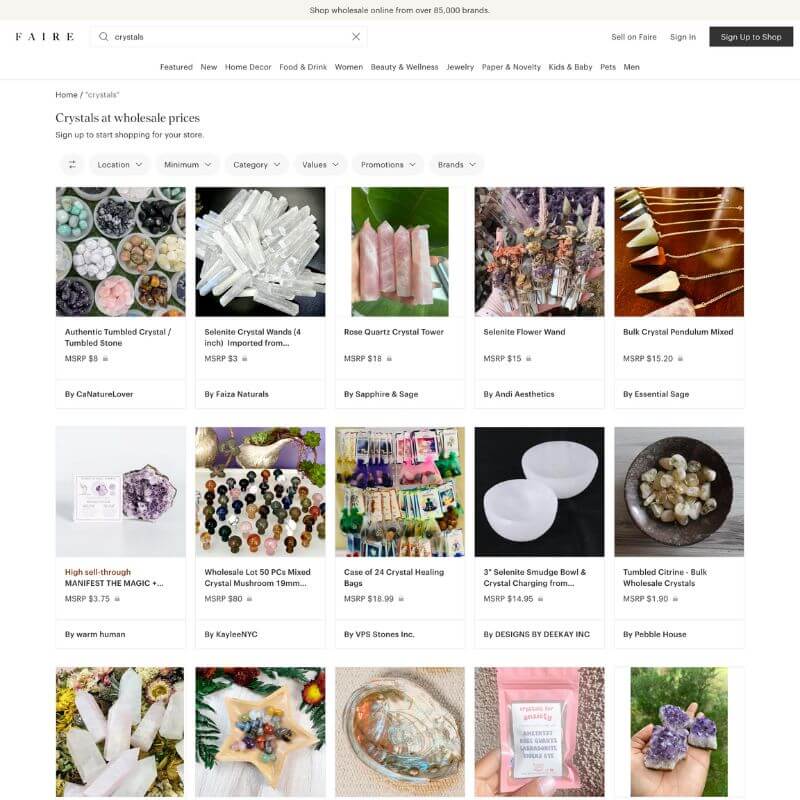 US-based company, Faire, is a wholesale marketplace that gives retailers a place to sell their artisan products. Similar to Etsy, Faire gives retailers a place to sell and promote products, building a business through connection and sales.
Highlights:
Personalized online shopping by connecting with small retailers and makers.
Abundant options based on each small retailers' current offerings.
Price options for most budgets.
Can find more unique and custom products, or solo raw crystals wholesale.
Easy to favorite your top stores and become a repeat customer.
Customers looking for quality and connection over a low price will love Faire for wholesale crystals and stones. It's a great platform to try various retailers and discover the ones that consistently deliver what you are looking for.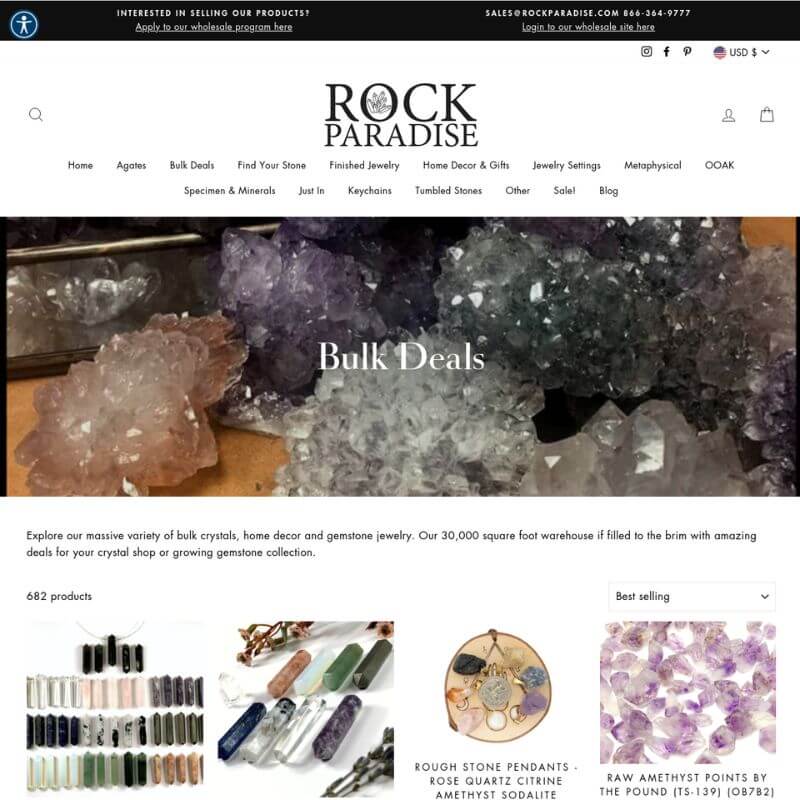 Rock Paradise is a large online retailer that sells large crystals wholesale, sourced directly from the mines. They find the best stones out there and ship directly to their customers worldwide.
As a niche online retailer instead of a comprehensive one, they are focused solely on the product, ensuring quality and relevant customer service.
Highlights:
The best products out there, directly from the source. When you purchase from Rock Paradise, there's no question where your crystals came from.
Crystals just how you want them. Purchase in the raw form or have Rock Paradise customize them for home decor, jewelry, or resale.
Find what you're looking for. Wholesale crystals and stones is the sole business of Rock Paradise, so products are consistently added and updated.
Great bulk prices. Rock Paradise works directly with the mines, cutting out the middleman and allowing them to offer reduced bulk prices.
Raw materials to meet your needs. Get your stones and other materials exactly as you want them and customize as you choose.
The team at Rock Paradise is dedicated to the wholesale crystal business. This focus ensures quality, assistance, relevant customer service, and an assurance that you're getting exactly what you're looking for. If you already know crystals and you're looking for the best raw materials for resale, Rock Paradise is the best option out there.
What is the Benefit of Buying Wholesale Crystals for Resale?
Buying wholesale crystals is the best option for people looking to offer crystals for resale in their online store or boutique shop. You will be able to purchase bulk crystals at an affordable price so that you can resell them at a higher price to make a profit.
Buying high-quality raw crystals wholesale gives you a popular product you can sell to others who will use them for jewelry, home decor, and spiritual/meditation practices.
Wrapping Up
If you are looking to purchase wholesale crystals for personal use or resale, finding the right online retailer is essential.
There are many eCommerce platforms where you can purchase wholesale crystals and stones, each with their own benefits. You can purchase stones based on price, quality, retailer, or any other features. Take the time to learn about the various platforms to determine the best one for your needs.