In this post I'm going to share with you my favorite bible verses about tithing and offerings from the Old and New Testament.
In fact:
These are the same scriptures on tithing I read when I'm feeling grateful for God's generosity and all the gifts He provides.
If you need some inspiration to start tithing (donating 10 percent of your income to the church), these bible verses are a great place to look for guidance.
Let's get started.
Related: 15 Tithes and Offering Messages for Churches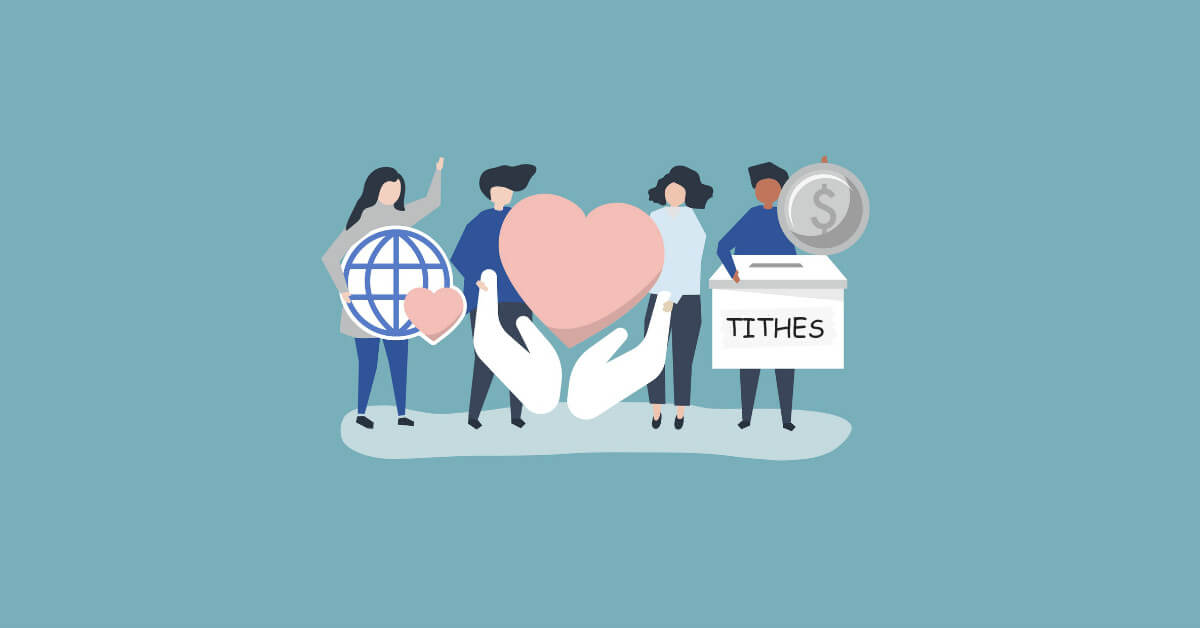 Bible Verses About Tithing in the Old Testament
Genesis 14:19-20
And blessing him, said, May the blessing of the Most High God, maker of heaven and earth, be on Abram: And let the Most High God be praised, who has given into your hands those who were against you. Then Abram gave him a tenth of all the goods he had taken.
Genesis 28:20-22
Then Jacob took an oath, and said, If God will be with me, and keep me safe on my journey, and give me food and clothing to put on, So that I come again to my father's house in peace, then I will take the Lord to be my God, And this stone which I have put up for a pillar will be God's house: and of all you give me, I will give a tenth part to you.
Exodus 35:5
Take from among you an offering to the Lord; everyone who has the impulse in his heart, let him give his offering to the Lord; gold and silver and brass
Exodus 35:22
They came, men and women, all who were ready to give, and gave pins and nose-rings and finger-rings and neck-ornaments, all of gold; everyone gave an offering of gold to the Lord.
Leviticus 27:30-34
And every tenth part of the land, of the seed planted, or of the fruit of trees, is holy to the Lord. And if a man has a desire to get back any of the tenth part which he has given, let him give a fifth more. And a tenth part of the herd and of the flock, whatever goes under the rod of the valuer, will be holy to the Lord. He may not make search to see if it is good or bad, or make any changes in it; and if he makes exchange of it for another, the two will be holy; he will not get them back again. These are the orders which the Lord gave to Moses for the children of Israel in Mount Sinai.
Numbers 18:21
And to the children of Levi I have given as their heritage all the tenths offered in Israel, as payment for the work they do, the work of the Tent of meeting.
Numbers 18:26
Say to the Levites, When you take from the children of Israel the tenth which I have given to you from them as your heritage, a tenth part of that tenth is to be offered as an offering lifted up before the Lord.
Deuteronomy 12:5-6
But let your hearts be turned to the place which will be marked out by the Lord your God, among your tribes, to put his name there; And there you are to take your burned offerings and other offerings, and the tenth part of your goods, and the offerings to be lifted up to the Lord, and the offerings of your oaths, and those which you give freely from the impulse of your hearts, and the first births among your herds and your flocks;
Deuteronomy 14:22
Put on one side a tenth of all the increase of your seed, produced year by year.
Deuteronomy 14:28-29
At the end of every three years take a tenth part of all your increase for that year, and put it in store inside your walls: And the Levite, because he has no part or heritage in the land, and the man from a strange country, and the child who has no father, and the widow, who are living among you, will come and take food and have enough; and so the blessing of the Lord your God will be on you in everything you do.
2 Chronicles 31:4-5
In addition, he gave orders to the people of Jerusalem to give to the priests and Levites that part which was theirs by right, so that they might be strong in keeping the law of the Lord. And when the order was made public, straight away the children of Israel gave, in great amounts, the first-fruits of their grain and wine and oil and honey, and of the produce of their fields; and they took in a tenth part of everything, a great store.
Nehemiah 10:35-37
And to take the first-fruits of our land, and the first-fruits of every sort of tree, year by year, into the house of the Lord; As well as the first of our sons and of our cattle, as it is recorded in the law, and the first lambs of our herds and of our flocks, which are to be taken to the house of our God, to the priests who are servants in the house of our God: And that we would take the first of our rough meal, and our lifted offerings, and the fruit of every sort of tree, and wine and oil, to the priests, to the rooms of the house of our God; and the tenth of the produce of our land to the Levites; for they, the Levites, take a tenth in all the towns of our ploughed land.
Proverbs 3:9-10
Give honour to the Lord with your wealth, and with the first-fruits of all your increase: So your store-houses will be full of grain, and your vessels overflowing with new wine.
Proverbs 11:24–25
A man may give freely, and still his wealth will be increased; and another may keep back more than is right, but only comes to be in need.
Amos 4:4-5
Come to Beth-el and do evil; to Gilgal, increasing the number of your sins; come with your offerings every morning and your tenths every three days: Let that which is leavened be burned as a praise-offering, let the news of your free offerings be given out publicly; for this is pleasing to you, O children of Israel, says the Lord.
Malachi 3:8-9
Will a man keep back from God what is right? But you have kept back what is mine. But you say, What have we kept back from you? Tenths and offerings. You are cursed with a curse; for you have kept back from me what is mine, even all this nation.
Malachi 3:10-12
Let your tenths come into the store-house so that there may be food in my house, and put me to the test by doing so, says the Lord of armies, and see if I do not make the windows of heaven open and send down such a blessing on you that there is no room for it. And on your account I will keep back the locusts from wasting the fruits of your land; and the fruit of your vine will not be dropped on the field before its time, says the Lord of armies And you will be named happy by all nations: for you will be a land of delight, says the Lord of armies.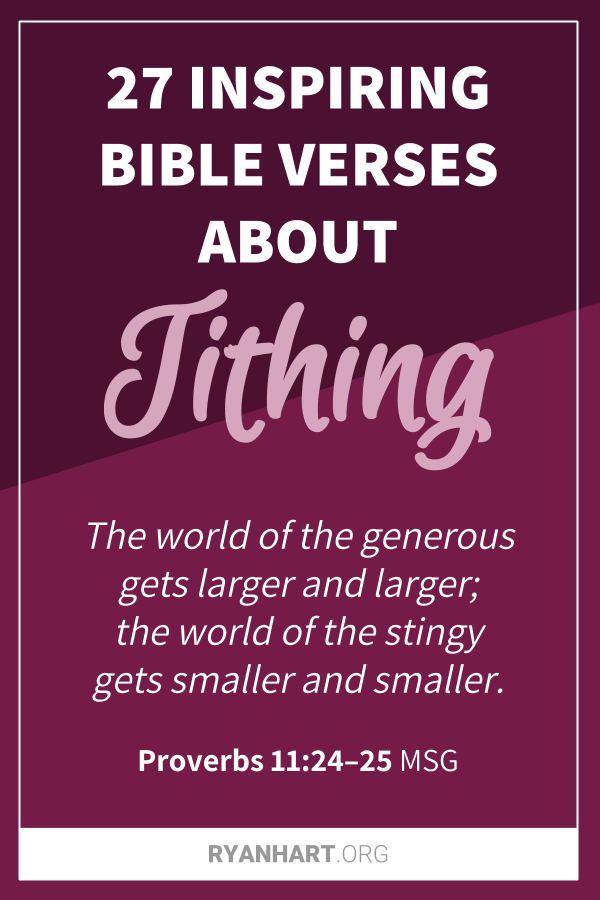 Bible Verses About Tithing in the New Testament
Matthew 6:1-4
Take care not to do your good works before men, to be seen by them; or you will have no reward from your Father in heaven. When then you give money to the poor, do not make a noise about it, as the false-hearted men do in the Synagogues and in the streets, so that they may have glory from men. Truly, I say to you, They have their reward. But when you give money, let not your left hand see what your right hand does: So that your giving may be in secret; and your Father, who sees in secret, will give you your reward.
Matthew 23:23
A curse is on you, scribes and Pharisees, false ones! for you make men give a tenth of all sorts of sweet-smelling plants, but you give no thought to the more important things of the law, righteousness, and mercy, and faith; but it is right for you to do these, and not to let the others be undone.
Mark 12:41-44
And he took a seat by the place where the money was kept, and saw how the people put money into the boxes: and a number who had wealth put in much. And there came a poor widow, and she put in two little bits of money, which make a farthing. And he made his disciples come to him, and said to them, Truly I say to you, This poor widow has put in more than all those who are putting money into the box: Because they all put in something out of what they had no need for; but she out of her need put in all she had, even all her living.
Luke 6:38
Give, and it will be given to you; good measure, crushed down, full and running over, they will give to you. For in the same measure as you give, it will be given to you again.
Luke 11:42
But a curse is on you, Pharisees! for you make men give a tenth of every sort of plant, and give no thought to right and the love of God; but it is right for you to do these things, and not let the others be undone.
Luke 18:9-14
And he made this story for some people who were certain that they were good, and had a low opinion of others: Two men went up to the Temple for prayer; one a Pharisee, and the other a tax-farmer. The Pharisee, taking up his position, said to himself these words: God, I give you praise because I am not like other men, who take more than their right, who are evil-doers, who are untrue to their wives, or even like this tax-farmer. Twice in the week I go without food; I give a tenth of all I have. The tax-farmer, on the other hand, keeping far away, and not lifting up even his eyes to heaven, made signs of grief and said, God, have mercy on me, a sinner. I say to you, This man went back to his house with God's approval, and not the other: for everyone who makes himself high will be made low and whoever makes himself low will be made high.
1 Corinthians 16:2
On the first day of the week, let every one of you put by him in store, in measure as he has done well in business, so that it may not be necessary to get money together when I come.
2 Corinthians 8:2-3
How while they were undergoing every sort of trouble, and were in the greatest need, they took all the greater joy in being able to give freely to the needs of others. For I give them witness, that as they were able, and even more than they were able, they gave from the impulse of their hearts
1 Timothy 6:6-8
But true faith, with peace of mind, is of great profit: For we came into the world with nothing, and we are not able to take anything out; But if we have food and a roof over us, let that be enough.
Hebrews 7:1-2
For this Melchizedek, the king of Salem, a priest of the Most High God, who gave Abraham his blessing, meeting him when he came back after putting the kings to death, And to whom Abraham gave a tenth part of everything which he had, being first named King of righteousness, and then in addition, King of Salem, that is to say, King of peace;
What is Tithing?
Tithing is the act of giving one-tenth of your income to the church.
It's an ancient custom that has been practiced in many cultures for centuries, but became popular again in America during the late 1970s and early 1980s when televangelists like Robert Tilton urged viewers to give generously so they could receive blessings.
However, tithing isn't just about offering money; it also means being generous with our time, talents, and possessions. The Bible says that if we have two coats then we should share one with someone who doesn't have one (James 2:15-16).
Where Does It Say to Tithe in the Bible?
Where does the Bible say we must tithe? This is a question that has been asked by Christians for centuries. The answer to this question is not as straightforward as many people think.
In fact, there are many different scriptures in the Bible where tithing is either mentioned or discussed. So it depends on which scripture you reference when answering this question.
In order to give an accurate answer, let's go through an example of these scriptures and determine how they apply to Christian giving today:
Malachi 3:10 (NIV): "Bring the whole tithe into the storehouse, that there may be food in my house. Test me in this," says the Lord Almighty, "and see if I will not throw open the floodgates of heaven and pour out so much blessing that there will not be room enough to store it."
This verse talks about bringing your tithes into a storehouse so it can be redistributed among God's people who have need. This is one of the main reasons why tithing is still practiced by many Christians today - to help those in need.
When it comes to giving, Christians are called to give generously and not just tithe (give a tenth). However, Malachi's verse does show us that God values our tithes and that they should be used for the poor.
This verse shows the ultimate reward for giving your tithes: God opens windows in heaven and pours out blessings upon those who do so. It is important to note that while this verse does not mention what type of blessings we will receive.
Now It's Your Turn
And now I want to hear from you.
Which of these bible verses about tithing is your favorite?
Do you think all Christians should be required to tithe?
Either way let me know by leaving a comment below right now.