When it comes to divorce, men often face unique challenges and issues during proceedings. That's why it's important to have a skilled and experienced lawyer on your side. But who is the best divorce lawyer for men?
In this article, we'll explore some important factors to consider when choosing a divorce lawyer.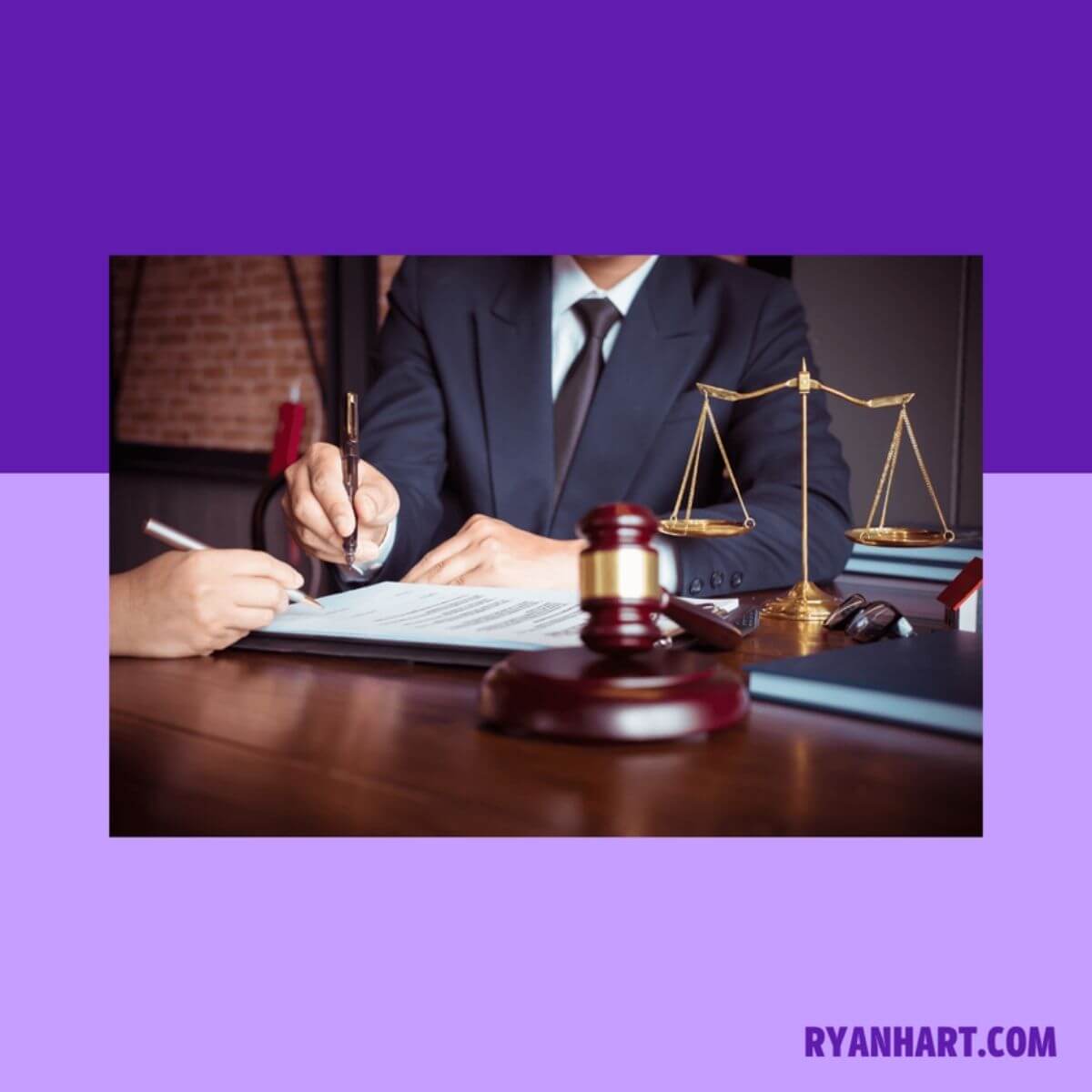 Who is the best divorce lawyer for men?
First and foremost, you want a lawyer specializing in men's divorce cases. These lawyers will better understand the issues men face during divorce, such as child custody and support, alimony, and property division.
You should hire a lawyer with a solid record of success handling men's divorce cases, and check their qualifications and experience to ensure they have the knowledge and expertise to handle your case.
Choosing the right divorce lawyer is imperative for husbands facing divorce. In the rest of this article, we'll explore specific tips for finding and hiring the best divorce lawyer for men.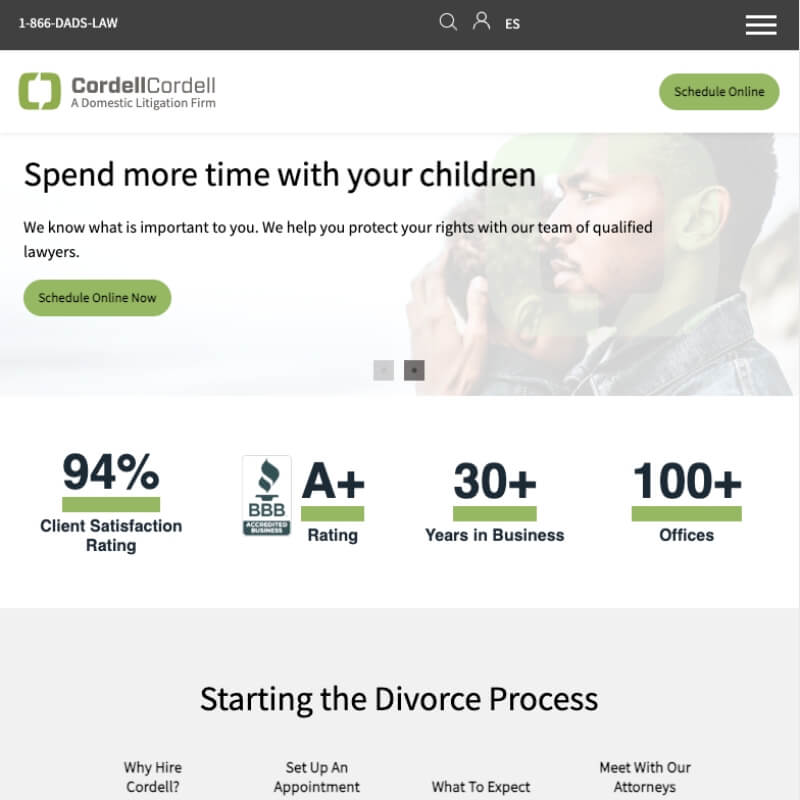 Cordell & Cordell is a law firm specializing in providing legal representation to men going through divorce. The firm has a mission to prioritize growth and success for its clients and its team of legal professionals.
The lawyers at Cordell & Cordell are dedicated to challenging fallacious assumptions and highlighting inequalities in the family court system. They believe that men facing divorce need all the help they can get to level the playing field.
The firm's practice proficiency program ensures that its attorneys are highly skilled in domestic litigation, organization, time management, and communication.
Cordell & Cordell reviews its employees and legal process continuously and manages its own quality assurance process to ensure client satisfaction. The firm provides intelligent, aggressive divorce representation to fathers.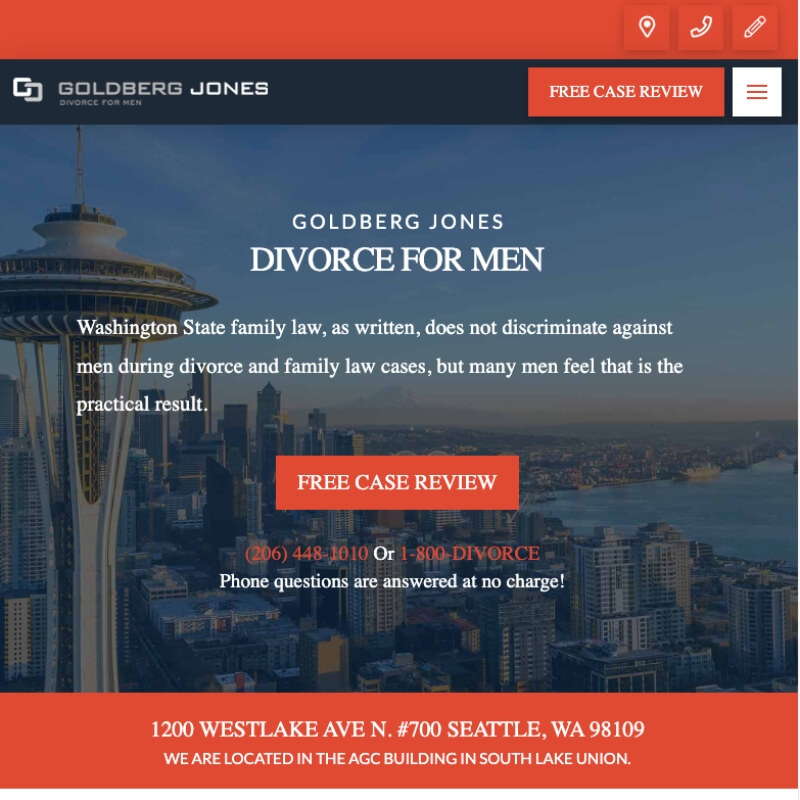 Goldberg Jones is a law firm specializing in family law and representing husbands and fathers in Western Washington. The firm focuses on men's rights in divorce, child support, custody, and paternity cases.
The Seattle office opened in 1996, and due to its success and referrals, Goldberg Jones opened additional offices in Portland and San Diego. The firm is known for its excellent results and personal referrals.
Managing attorneys at each office has facilitated the firm's growth while maintaining direct client contact, accessibility, and responsiveness. Goldberg Jones is committed to providing its clients with excellent service, compassion, and results.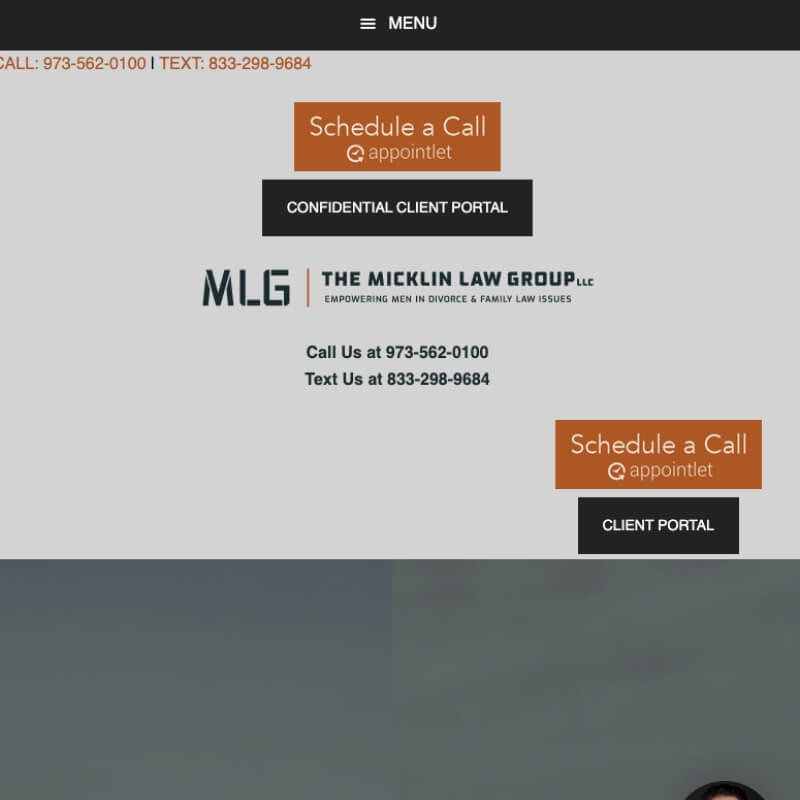 The Micklin Law Group in Nutley, New Jersey, specializes in providing legal representation to men and fathers facing divorce, separation, or other family law issues.
With over 20 years of experience, the firm offers focused legal representation and comprehensive estate planning and probate services.
The law firm is dedicated to building personal relationships with clients and providing support and guidance throughout the emotionally and financially challenging process of divorce.
The firm's founder, Brad Micklin, is committed to helping men and fathers maintain their rights and achieve fair outcomes in divorce cases. The Micklin Law Group offers services in divorce consulting, child custody, division of property, spousal support, and negotiating reasonable alimony.
The firm also provides resources to help fathers navigate the emotionally challenging process of a child custody case. The law firm believes in providing customized counsel that meets each client's unique needs.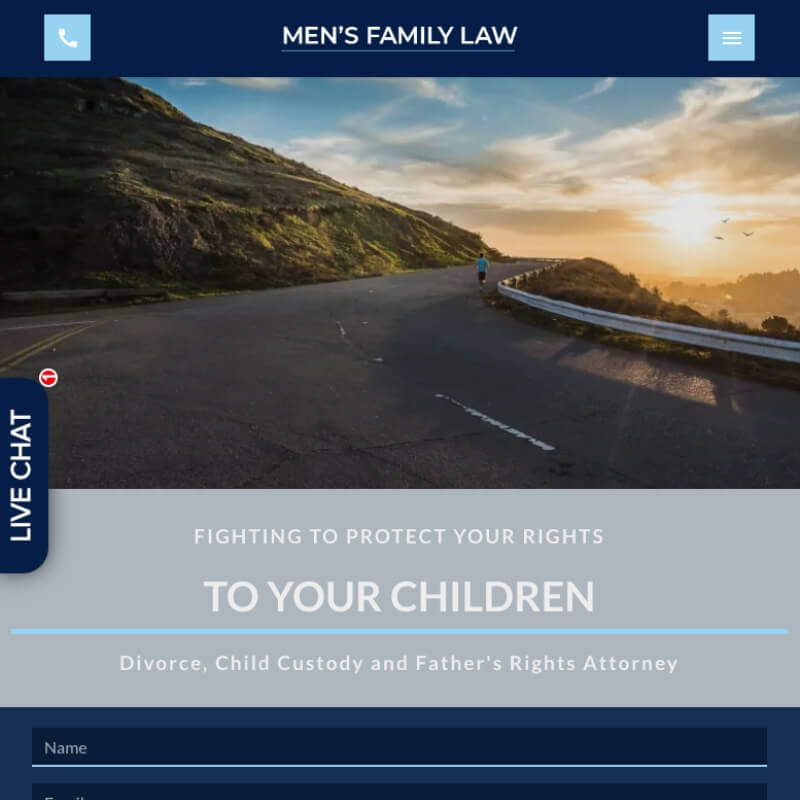 Men's Family Law is a law firm based in Santa Monica, California that provides legal representation to fathers and husbands in family law cases.
The firm's founder has over 20 years of experience and is committed to fighting for men's rights as parents and spouses. Men's Family Law believes that fathers play a vital role in raising their children, but the court system does not always honor that role.
The firm offers legal services, books, and podcasts to educate men about their rights and help them fight for what matters most. Men's Family Law advocates for fathers facing divorce, custody battles, and other family law issues.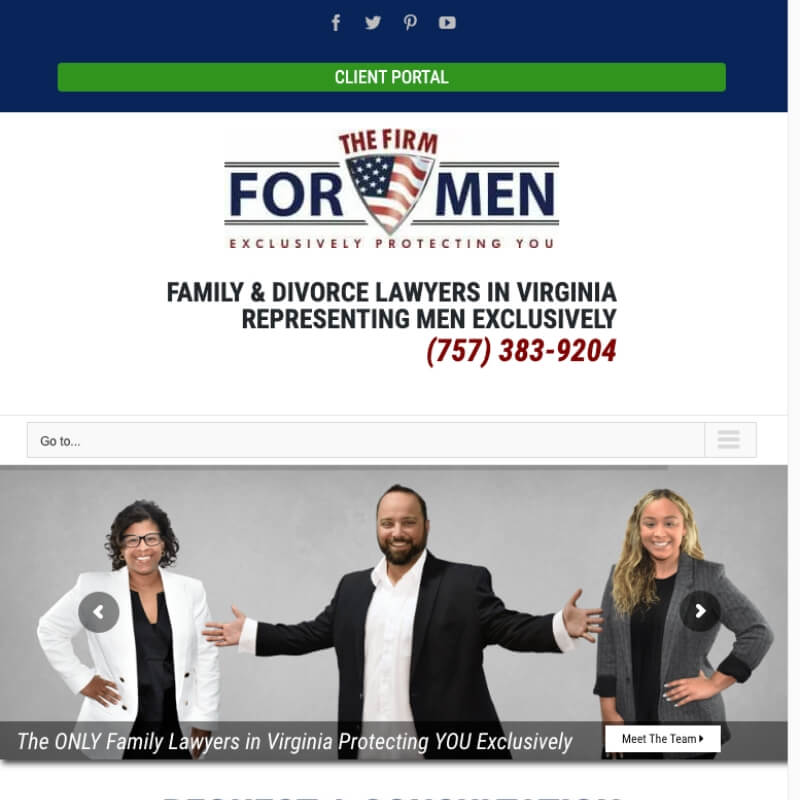 The Firm For Men is a law firm based in Virginia Beach that specializes in providing legal representation to men and fathers in family law cases.
The firm's founder, Jason Swango, and his team of attorneys focus on men's rights in divorce and family law matters, advocating for those who are traditionally disadvantaged in the court system.
The firm offers legal services in separation agreements, uncontested and contested divorce, property division, spousal support, child custody and visitation, child support, paternity, and post-divorce and modifications matters.
The Firm For Men is dedicated to fighting for men's rights and ensuring a level playing field in the legal system. The firm is locally owned and operated in Virginia Beach, and its attorneys work to represent men and fathers in Hampton Roads.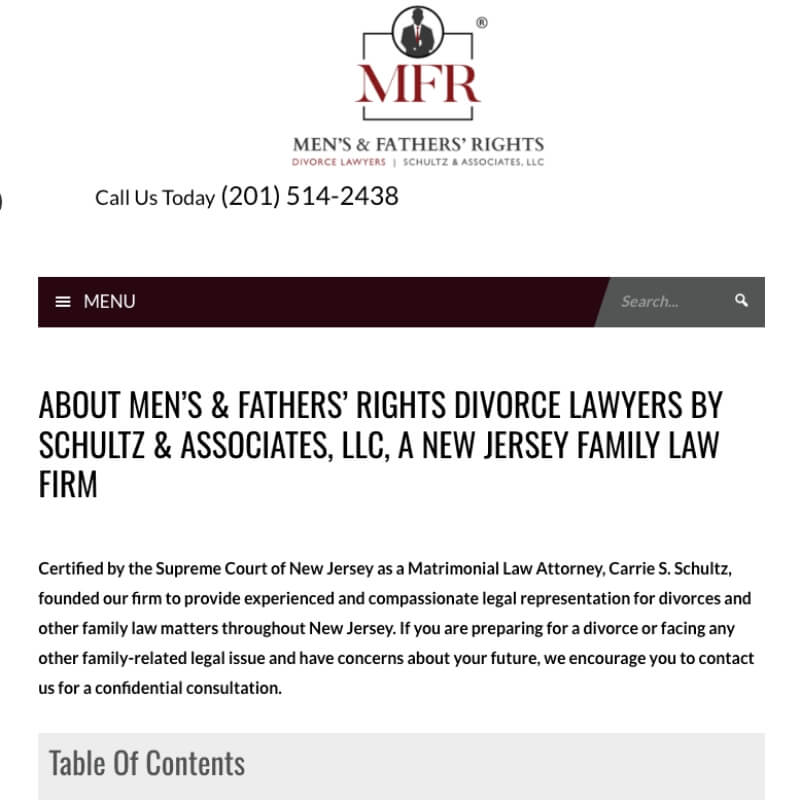 Schultz & Associates is a law firm based in Bergen County, NJ that provides legal representation to men and fathers in family law cases throughout New Jersey.
Carrie S. Schultz founded the firm, a certified matrimonial law attorney, to offer experienced and compassionate legal services for divorces and other family law matters. The firm's attorneys are passionate about helping individuals and families find practical solutions to complex legal issues.
They understand their client's emotional and financial challenges and aim to help them as quickly and cost-effectively as possible while minimizing conflict during and after the process.
The firm offers comprehensive family law services and provides direct contact with your lawyer to develop a personal relationship with them.
Schultz & Associates is committed to providing cost-conscious representation and meeting their clients' needs. The firm offers a confidential initial case evaluation to discuss your matter in greater detail and find the best solution for your particular situation.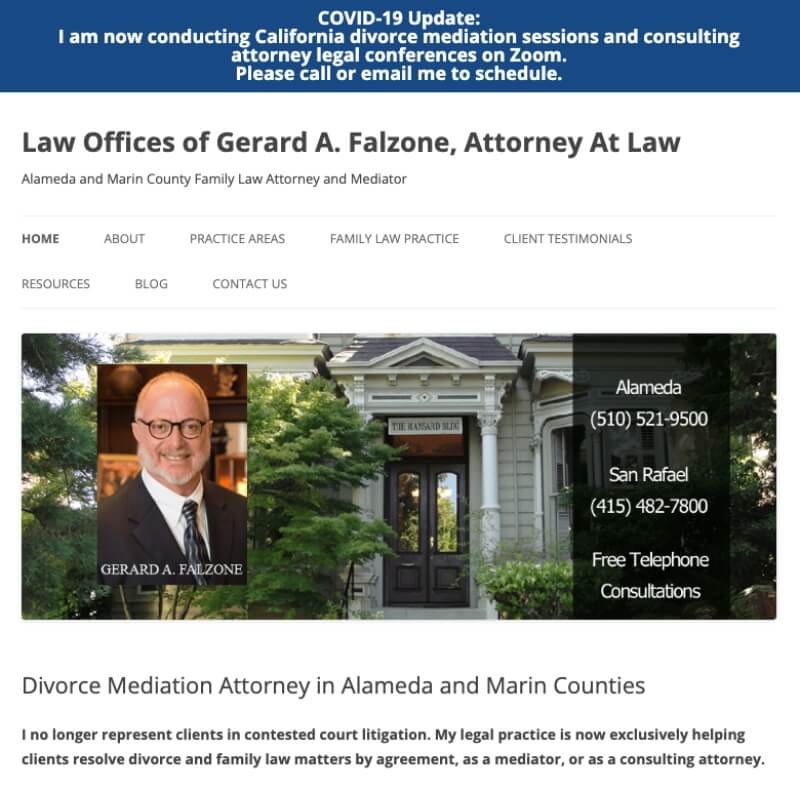 Gerard A. Falzone is a family law attorney with more than 30 years of experience in the San Francisco Bay Area. He no longer represents clients in contested court litigation but instead focuses on helping clients resolve divorce and family law matters by agreement, as a mediator, or as a consulting attorney.
Falzone believes that the right family law attorney can help transform the divorce process and is committed to helping clients achieve a cleaner, simpler, and more efficient resolution to their cases.
Falzone's goal is to settle family law disputes as peacefully and quickly as possible, but he is also willing to work aggressively on his client's behalf. He recommends pursuing mediation resulting in a legal divorce and/or child custody agreement but is also ready to protect his client's cause in court if necessary.
Falzone's offices are located in Alameda and San Rafael, and he offers reasonable hourly rates and a free phone consultation.
Denise Watson Family Law Attorney is a family law firm that has been exclusively practicing family law in Jacksonville, FL, for over 30 years. They provide legal representation to all members of the diverse community in Jacksonville and surrounding counties.
The firm offers services in divorce, custody issues, LGBT-related problems, custody modifications, and unmarried couple paternity issues. Attorney Denise Watson has nearly 40 years of experience in family law, and attorney Jay Henderlite has received accolades for his family law knowledge.
The firm works in an old family home and treats clients like family. They offer support from when clients step foot in their office until their legal matter is resolved.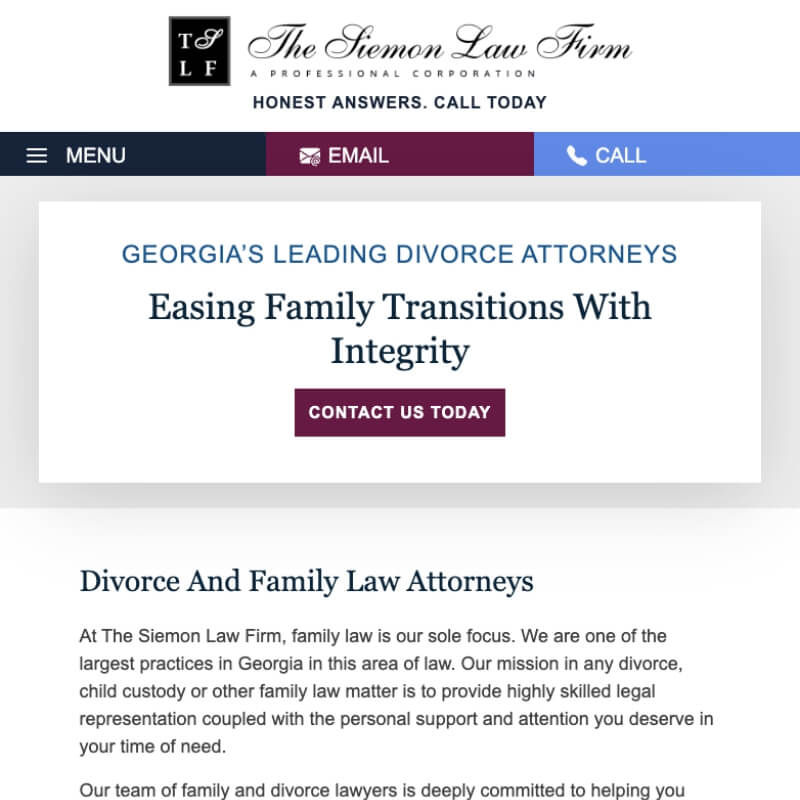 The Siemon Law Firm is a family law practice located in Georgia that focuses solely on family law matters such as divorce, child custody, and other family law issues.
The firm has a team of experienced family and divorce lawyers who are dedicated to providing highly skilled legal representation and personal support to clients.
The Siemon Law Firm has several convenient office locations in Alpharetta, Atlanta, Cumming, and Marietta.
The lawyers at the firm are committed to advocating for their clients and take their legal responsibility seriously. They understand the importance of their clients' relationships, children, and property and work tirelessly to help them achieve their goals.
The firm's lawyers negotiate effectively and litigate aggressively to help clients reach the best possible outcome in their cases. If you need legal representation for a family law matter, contact The Siemon Law Firm to schedule a consultation with one of their attorneys.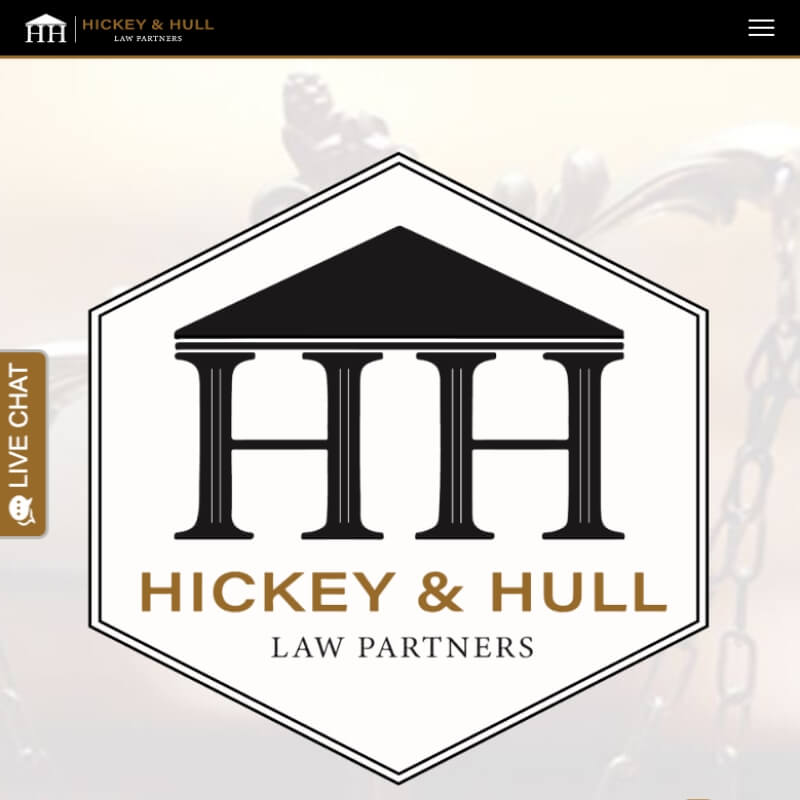 Hickey and Hull Law Firm is a law firm located in Arkansas that provides legal representation in family law, criminal law, civil/personal injury, and business law cases.
With a combined experience of 70 years, the firm's attorneys are committed to providing professional service, prompt communication, and persistent work on each case.
They pride themselves on building honest and trusting relationships with their clients and pushing the case forward in a diligent and consistent manner from start to finish. The firm offers a free consultation in order to assist clients in making informed decisions.
Frequently Asked Questions
What do divorce lawyers for men do?
Divorce lawyers for men help husbands and fathers when they're getting a divorce. They guide them through the process, explain the laws, and stand up for their rights in court. A good divorce lawyer ensures that the husband's responsibilities and rights with regard to his children, debts, assets, and other matters are protected.
Why would I need a divorce lawyer specifically for men?
Some guys feel more comfortable with a lawyer who understands the unique issues men face in a divorce. These lawyers know how to fight for a man's rights, especially when it comes to things like child custody.
Can a divorce lawyer for men help me get custody of my kids?
Yes, they can. A good divorce lawyer for men knows how to present a strong case for why you should get custody of your kids. They'll work hard to make sure your voice is heard. They can also help you navigate the legal system and make sure your rights are protected. Divorce is a difficult process, but having an experienced lawyer in your corner who understands the law can be invaluable.
What happens after I hire a divorce lawyer for men?
After you hire a divorce lawyer, they'll start working on your case. They'll give you advice, handle paperwork, and represent you in court. They're there to help you through this tough time.
Your lawyer will also help you come to an equitable agreement that works for both spouses. They'll negotiate on your behalf and help manage the process of resolving any disputes or disagreements you have. Remember, it's important to work with someone who understands your situation and can provide sound advice throughout the process. Good luck!
Bottom Line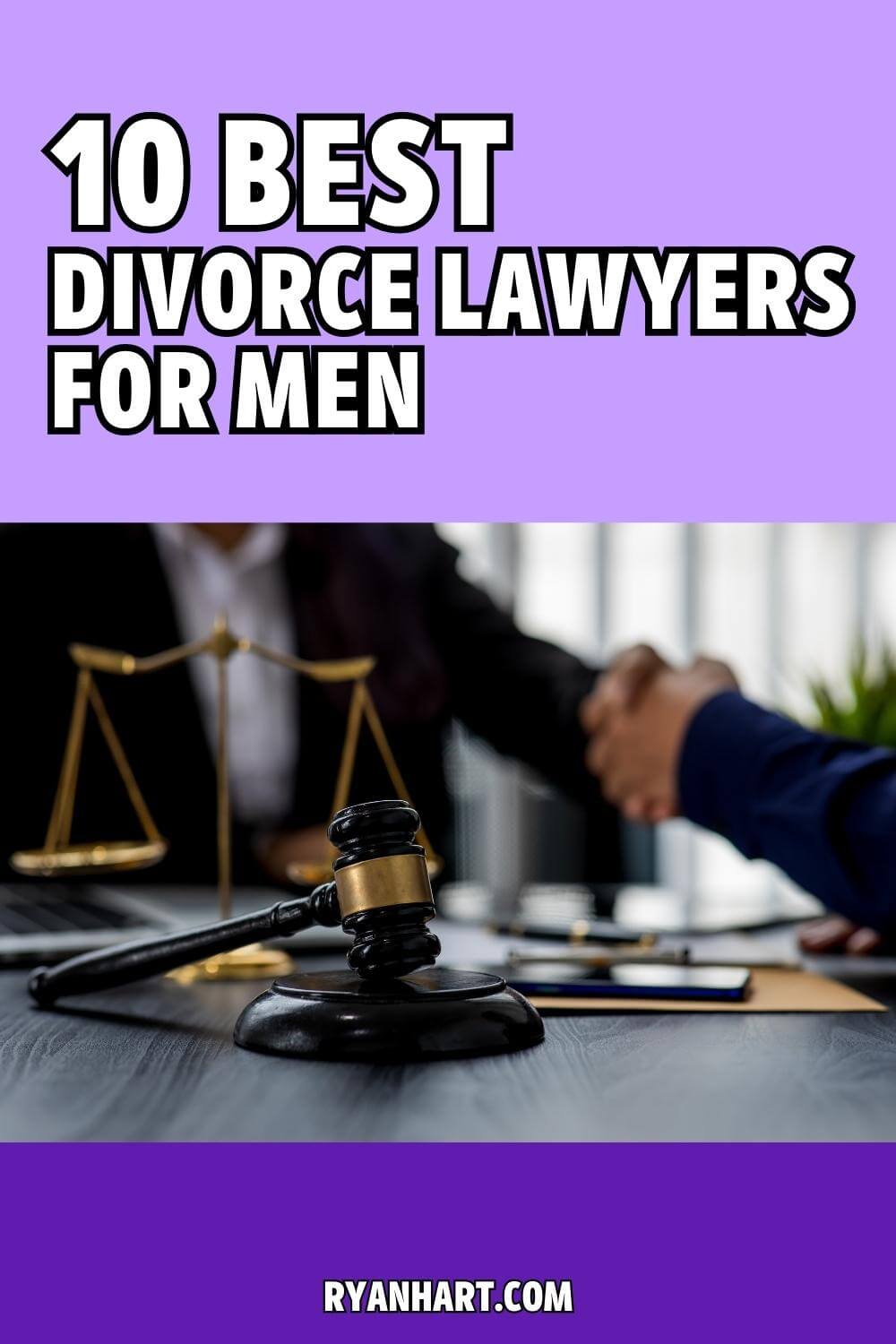 Going through a divorce can be tough, but having a good lawyer by your side can make all the difference.
Divorce lawyers for men are there to support you, help you understand the law, and make sure you get a fair deal. They can help with everything from splitting up property to figuring out who gets custody of the kids.
So, don't try to handle everything on your own. Get a good lawyer who can help you navigate this difficult time. Remember, the right lawyer isn't just about winning in court. They're also about helping you start your new life on the right foot.