There are four elements in astrology: fire, earth, air, and water. Each element represents different qualities and traits.
For example, Earth signs are considered to be reliable and down-to-earth, while air signs are seen as being more intellectual and detached.
In this blog post, we'll go over the characteristics of the three earth signs: Virgo, Capricorn and Taurus. We'll also take a look at some famous people who share your sign.
Ready to get started?
Let's go!
Discover what's in store for your love life. Chat with a gifted psychic reader now. Get your first 3 minutes FREE.
What are the Earth Signs of the Zodiac?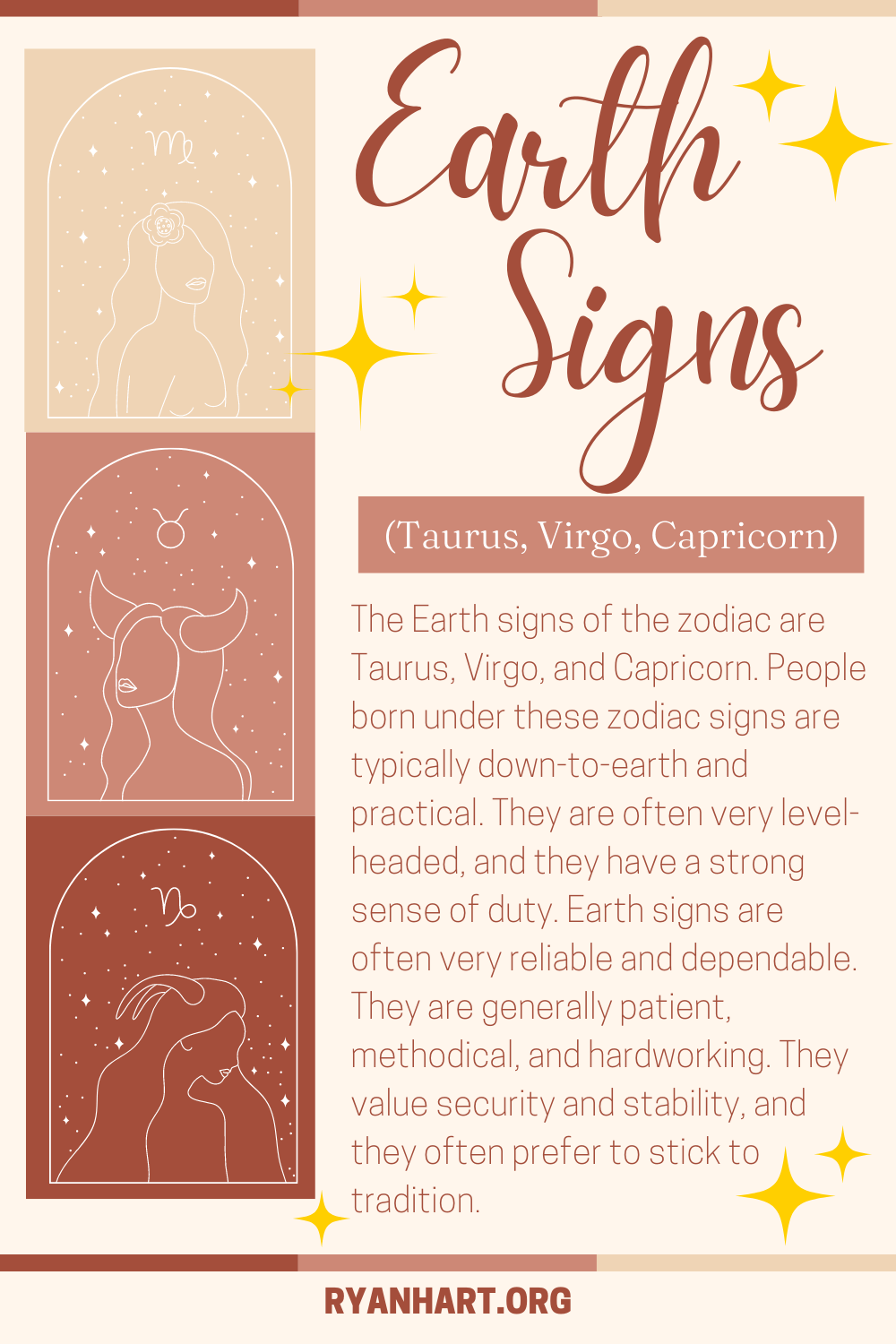 The Earth signs of the zodiac are Taurus, Virgo, and Capricorn.
People born under these zodiac signs are typically down-to-earth and practical. They are often very level-headed, and they have a strong sense of duty. Earth signs are often very reliable and dependable.
They are generally patient, methodical, and hardworking. They value security and stability, and they often prefer to stick to tradition.
People born as an Earth sign typically like things that are tangible and real. They often have a strong connection to nature, and they may enjoy outdoor activities such as hiking or gardening.
If you know someone with an Earth sign, they probably make a great friend or family member. They are usually loyal and supportive, and they will always be there when you need them.
Taurus
If you were born between April 20 and May 20, then you are a Taurus. As an earth sign, you are grounded and practical.
You have a strong sense of taste, and you enjoy being surrounded by beauty. You are also loyal and reliable, and you value stability in your life.
However, you can also be quite stubborn, and you may resist change even when it is for the best. You are patient and level-headed, but you can also be slow to make decisions.
Ultimately, you are a down-to-earth individual who is comfortable with the status quo.
Virgo
If you were born between August 23 and September 22, your zodiac sign is Virgo. As an earth sign, Virgos are practical and down-to-earth, always keeping their feet firmly planted on the ground.
They're known for being hardworking and efficient, paying close attention to detail in everything they do. Virgos are also loyal and supportive friends, always there to lend a helping hand.
Although they can be shy at first, once you get to know a Virgo, you'll quickly see that they have a warm and compassionate heart.
If you're lucky enough to have a Virgo in your life, cherish them, as they are sure to make your world a better place.
Capricorn
Capricorns are often thought of as being serious and reserved, but there is much more to this earth sign than meets the eye.
Capricorns are born between December 22nd and January 20th, making them one of the most hardworking and persistent signs of the zodiac.
When it comes to their goals, Capricorns are known for their single-minded determination and overall discipline. However, they are also capable of great compassion and empathy.
In fact, many Capricorns use their drive and ambition to help others achieve success. When it comes to relationships, Capricorns value loyalty and stability above all else.
They are also known for their sense of humor, which can be both dry and self-deprecating.
So, if you're looking for a sign that is loyal, hardworking, and down-to-earth, you can't go wrong with a Capricorn.
Bottom Line
Just like the element of earth, earth signs are grounded, stable, and reliable.
They are the builders and the doers, always ready to roll up their sleeves and get to work. But they also know how to enjoy the fruits of their labor, and they are often the ones who know how to have the most fun.
Whether you're an earth sign yourself or you're just curious about them, learning about earth signs is a great way to understand astrology and yourself a little better.