While tradition says to spend at least two months' income on an engagement ring, this is not the modern way. Couples are more focused on building wealth and starting their lives on the right foot – so they don't want to spend a fortune or put thousands on their credit card.
Planning a wedding is expensive, and many couples choose to spend more on their future and less on the event and the jewelry. Others just can't afford to drop $10K on an engagement ring. But that doesn't mean you can't find a beautiful ring for less than $1000.
We've gathered some of the most gorgeous engagement rings you can get for a pretty low price. Don't break the bank! Just check out these seven cheap engagement rings for under $1000.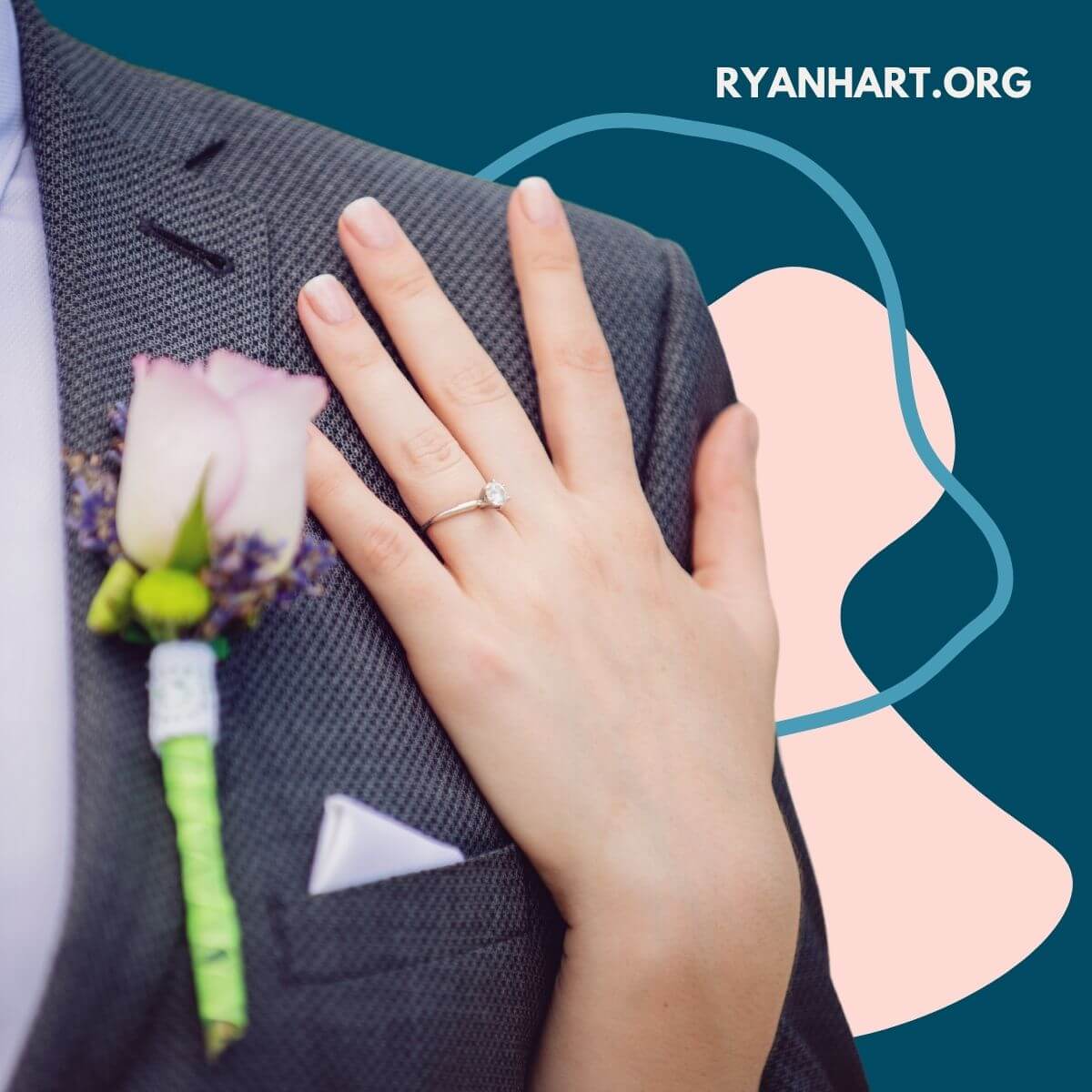 What are the Most Affordable Engagement Rings?
Here are seven cheap engagement rings for under $1000. We have included in our list classic, vintage, and modern designs.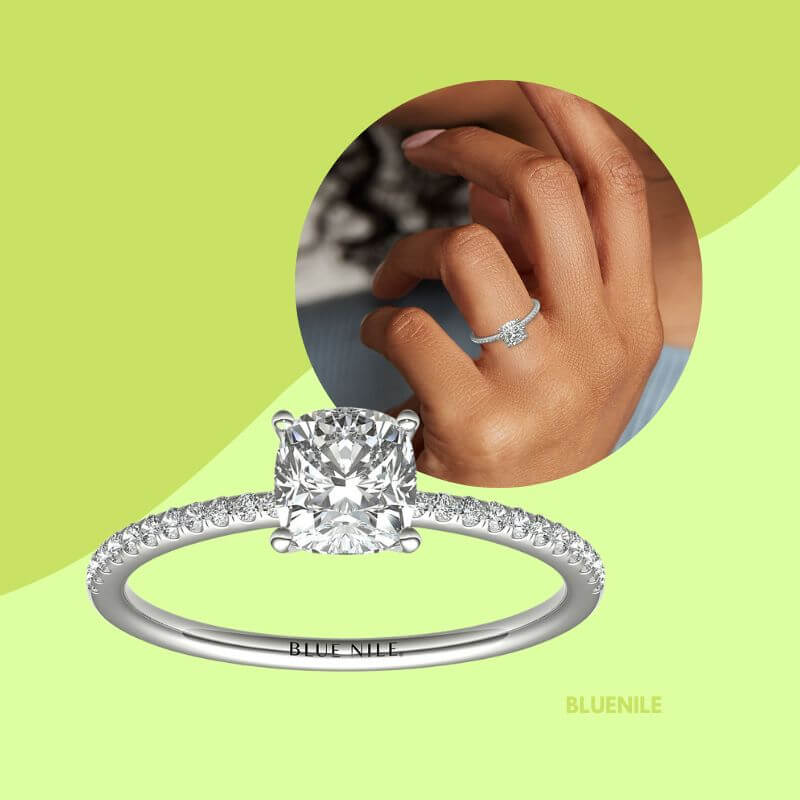 Sometimes when you see an engagement ring sparkling from across the room, it's not about one big stone – it's often the effects of the pave setting. And you'll have the same effect with this petite micropave diamond engagement ring from Blue Nile that starts at just $850 in white gold.
The half circle of sparkling petite micropave diamonds knows how to set the scene for your center stone. Pave settings sparkle as they line the ring band and outshine their setting.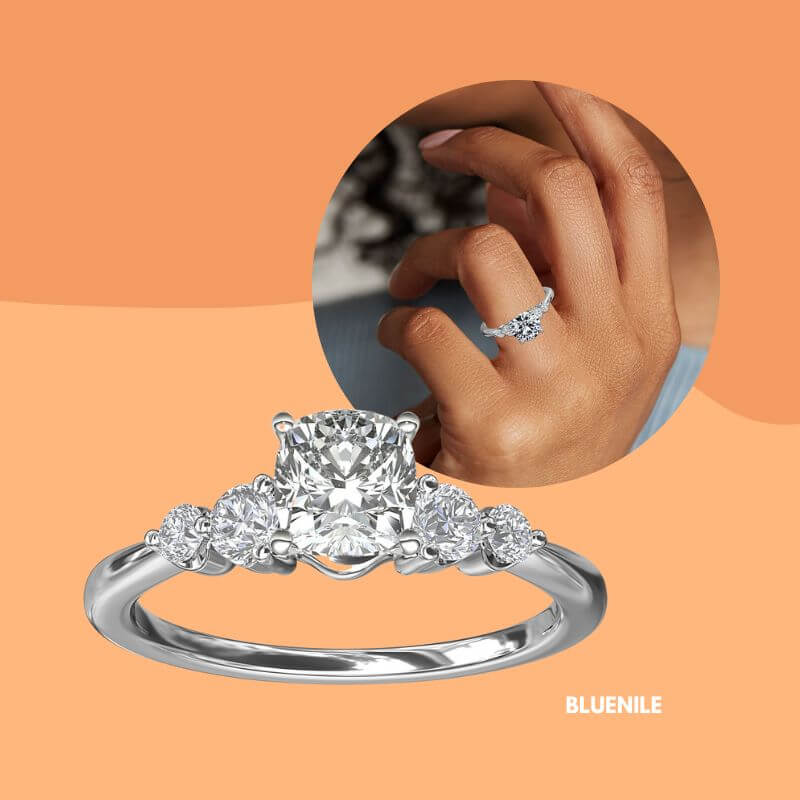 When a solitaire isn't enough of a statement, a sidestone may be the answer. Sidestones sit on either side of the center stone, enhance the design, and spotlight the star. The delicate styling of this petite double sidestone diamond engagement ring from Blue Nile offers beauty, grace, and a great deal!
Available in platinum, rose, white, and yellow gold, it starts at just $990. This three-stone petite double sidestone diamond engagement ring will be sure to turn heads.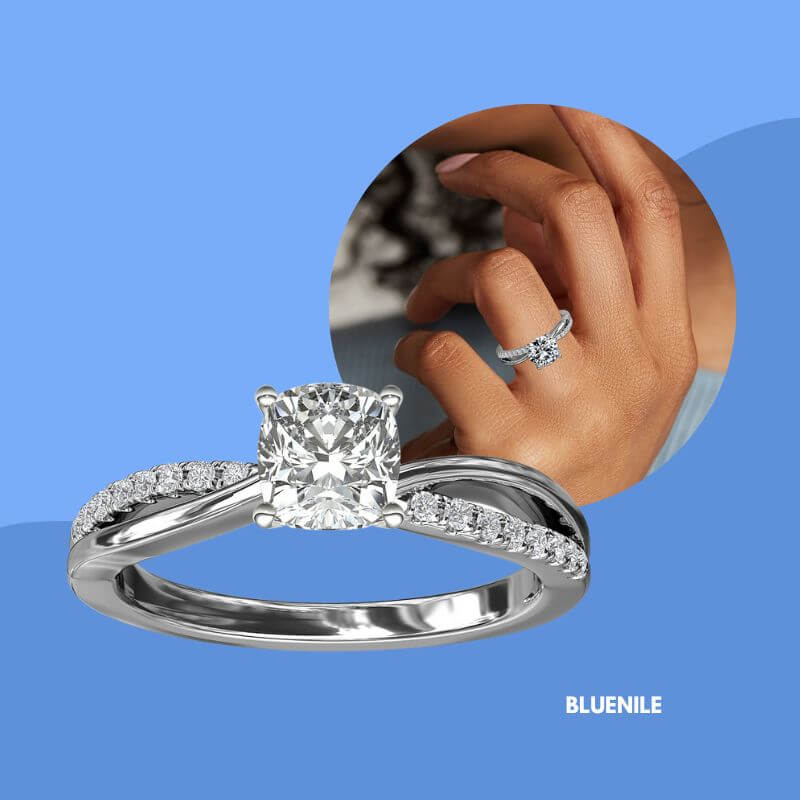 The hottest trend going now is also a timeless design, the split shank. It is named for the open style with a band that separates as it approaches the center stone. The infinity-shaped band holds sparkling pave diamonds and sets the stage for the center stone.
Split-shank engagement rings offer a vintage look that is also classic. The Split Shank Pave Diamond Engagement Ring comes in white, yellow, and rose gold and starts at just $950.
Stones set on the shanks make the center stone shines, and the shanks also give more support to the center stone, so it will be secure in your ring once it's set in place.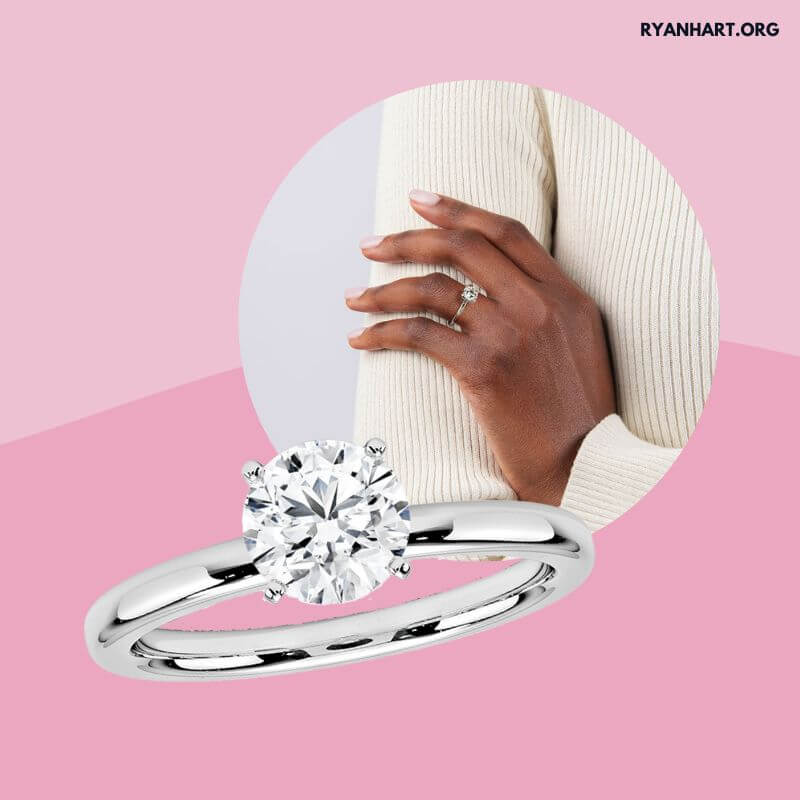 Design your own ring when you opt for the 18K White Gold Comfort Fit Engagement Ring from Brilliant Earth. Comfort fit rings are for those who don't want to worry about taking their rings off to get things done around the house or simply want a comfortable fit.
Choose your diamond shape, carat, color, and clarity to make it your own using both lab-created and natural diamonds with this setting starting at $590.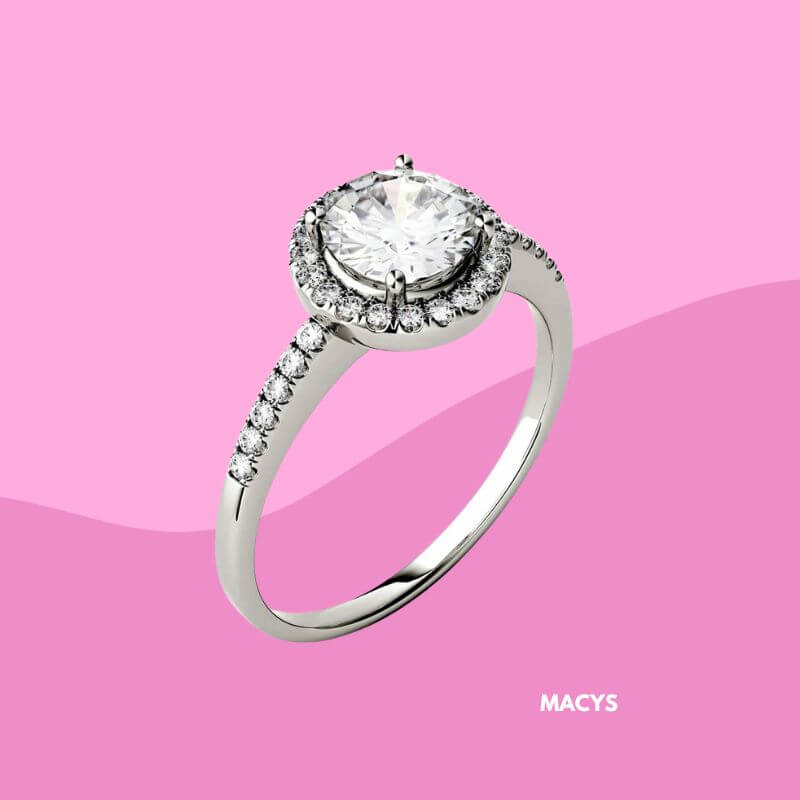 Those who have become more environmentally conscious have started to make thoughtful choices in everything they buy, from paper to jewelry. This is where Moissanite comes in. Macy's brings a responsible selection – the Charles & Colvard Round Moissanite Halo Ring in 14K white, yellow, or rose gold starting at just $900.
The 1.3 mm moissanite stones surround the centerpiece – a 6.5mm round moissanite center stone. Charles & Colvard offers a lifetime limited warranty on the Moissanite's optical properties and physical integrity.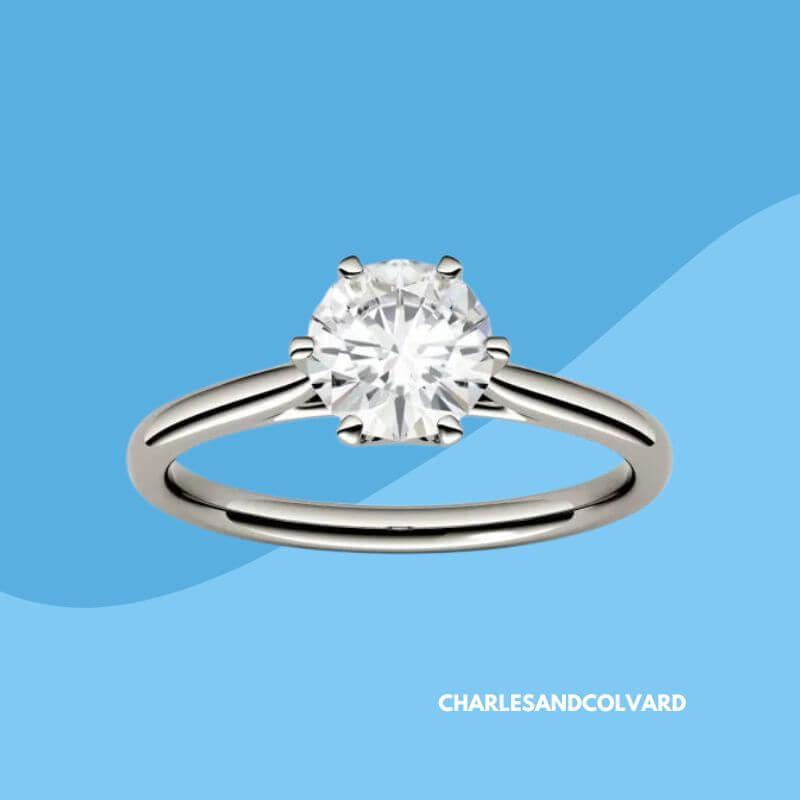 Really want a stunning engagement ring at a great price? Go for lab-created Moissanite! This Round Moissanite Six-Prong Solitaire Engagement Ring from Charles & Colvard starts at under $800.
Called the world's most brilliant gem, the Forever One Moissanite is a high-quality, responsibly sourced white gemstone that comes at an incredibly reasonable price! Six prongs securely hold the gorgeous moissanite center stone on the solid white gold polished band.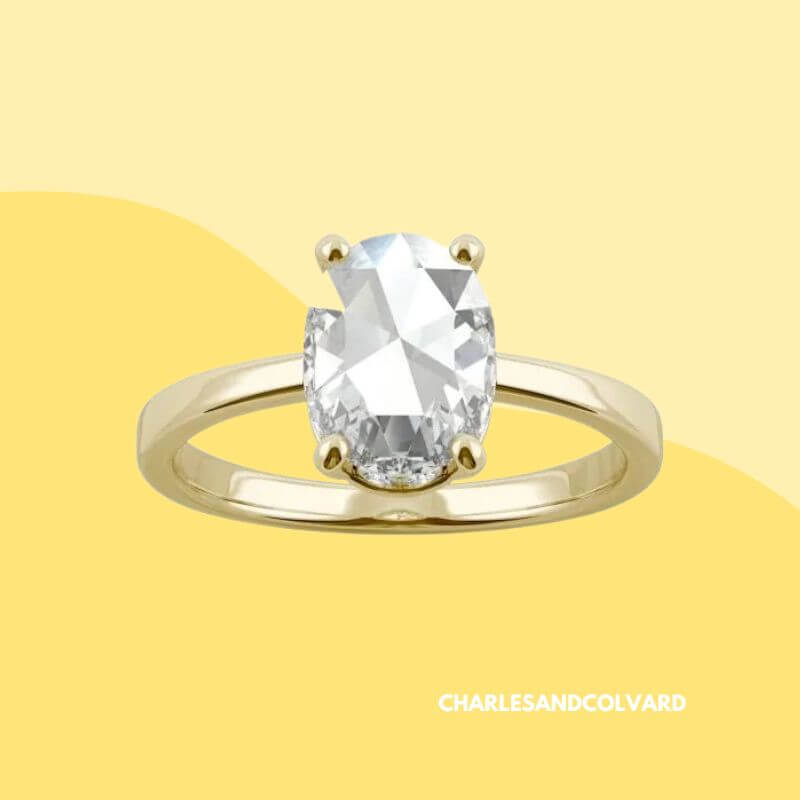 Another beauty from Charles & Colvard, the 1.26-carat weight Oval Moissanite Solitaire Ring with Hidden Accents in 14K yellow gold starts, really puts on a show!
The durable stone, Moissanite, was discovered by scientist Henri Moissan as falling particles. Now this diamond simulant is used in fine jewelry, offering a brilliant fiery rainbow and providing a higher refractive index than a natural diamond. Starting at just under $1000, it has heirloom quality and is environmentally friendly.
Is $1000 cheap for an engagement ring?
Engagement rings costing less than $1000 are considered affordable alternatives to a traditional diamond ring and are a good fit for those who want a quality ring without breaking the bank. Whether or not that is cheap is up to your budget and preferences.
The average cost of a diamond engagement ring varies depending on the size and quality of the diamond. Generally, GIA-certified diamonds in the half-carat to one-carat range may cost anywhere from around $1,500 to $7,000, depending on the stone's cut, color, and clarity.
It is important to note that these prices do not include the setting, which will cost more.
How much should a fiance spend on an engagement ring?
Most wedding experts suggest spending two to three months' salary on an engagement ring. However, some may spend up to six months' salary depending on their circumstances.
There are many factors to consider, such as budget, personal preference, and expectations from family and friends.
Ultimately, it should be something both parties are comfortable with – after all, the ring is meant to symbolize love, not debt.
What is the cheapest type of engagement ring?
The cheapest options for engagement rings are settings made of a less expensive metal such as sterling silver or stainless steel. While these are not typically the most luxurious options, they can still be beautiful in their simplicity and affordability.
Additionally, you can find inexpensive alternatives to diamonds, such as cubic zirconia or Moissanite, which look just as stunning for a fraction of the cost.
Moissanite engagement rings offer several unique benefits. For one, they are much more affordable than diamond rings, making them an excellent option for those on a budget.
Moissanite stones have similar properties to diamonds in hardness and luster, yet they can be up to five times brighter than diamonds, giving them a unique sparkle.
Moreover, Moissanite is also ethically sourced and conflict-free, which makes it an ideal choice for those looking for a sustainable and environmentally conscious way to propose.
Bottom Line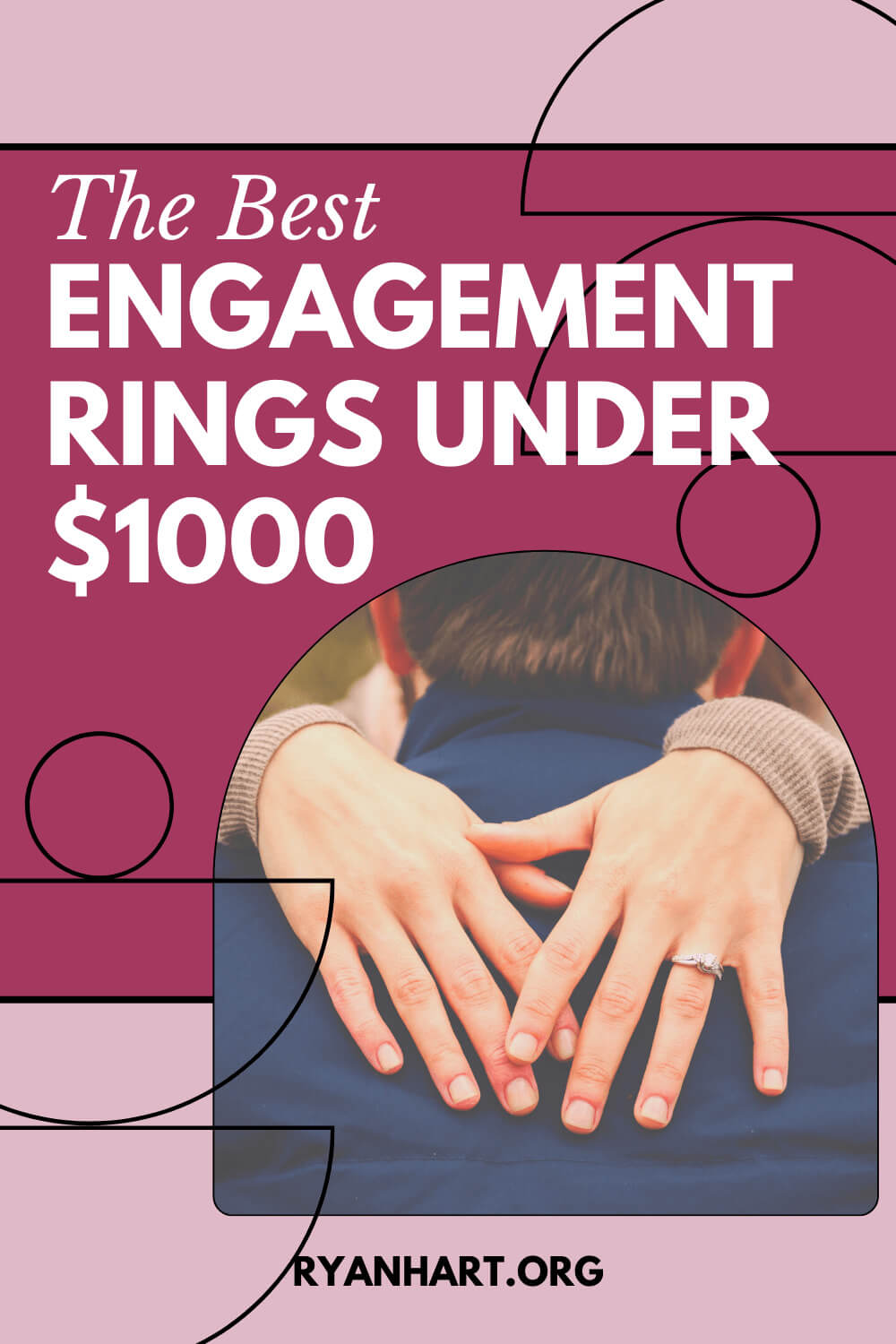 An engagement ring should be as unique as the person you are proposing to. But why spend thousands of dollars on an expensive diamond when equally beautiful rings are available for under $1000?
Affordable rings can still be stunning, with delicate designs and high-quality materials that sparkle and shine. Plus, spending less on a ring means having more money in the bank for other things – like a honeymoon or starting a family.
So if your budget is tight, don't fear; you can find a perfect engagement ring without breaking the bank.