A splash of green is a gorgeous addition to any wedding or event. Eucalyptus garlands are the perfect choice if you're looking for decorations that will stand out.
You can drape them over windows and doorways, and they're lovely for trimming banisters and tables. Add them almost anywhere to brighten up a space.
There are many styles of garland to choose from, so you can customize your purchase to your needs! However, no matter what type you choose, a bit of eucalyptus will enhance your decor without spending a fortune.
Where to Buy Eucalyptus Garland?
Eucalyptus garlands look gorgeous over windows and doorways or draped across banisters and tables. However, there are many different options, so knowing where to purchase from can be daunting.
For instance, you can find live eucalyptus to perfume the air, or you can go with artificial so it can be used again for future events. You can also choose different lengths depending on the space you are in.
Luckily, this list will help introduce you to the different types of bulk eucalyptus garlands and help you find the perfect site to buy precisely what you want.
1. Amazon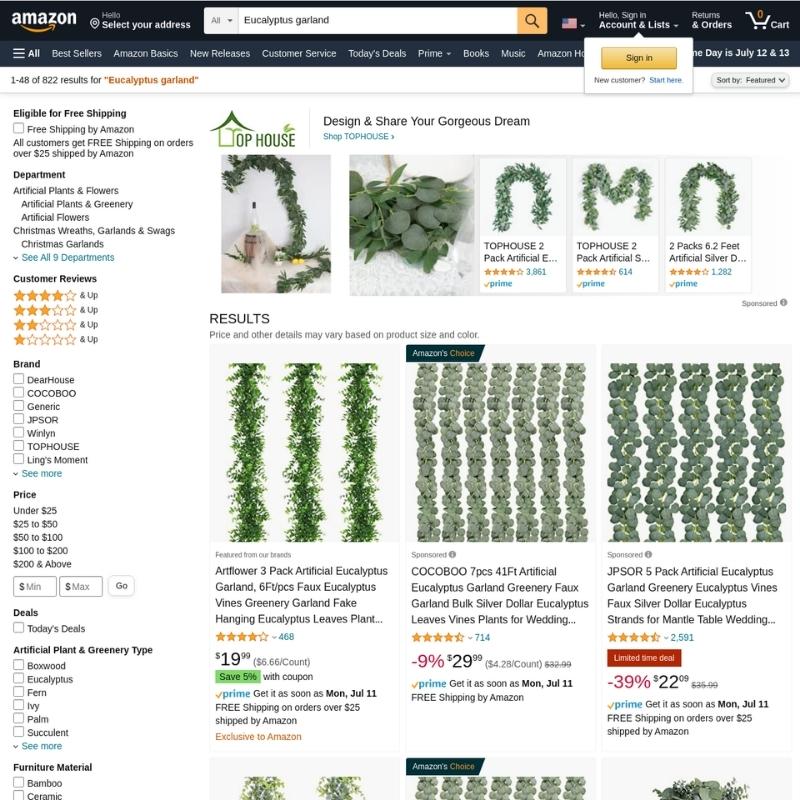 Amazon is one of the most popular online retailers.
They sell many products directly but also allow third-party sellers to use the platform to connect directly with buyers. This makes Amazon an excellent option because they feature an extensive selection.
Amazon also offers quick and free shipping for Prime members and has excellent customer satisfaction policies.
Highlights:
Amazon has a wide array of bulk eucalyptus garlands to choose from, so you can find the exact product you are looking for.
Free expedited shipping is available to Amazon Prime members at no additional cost.
Amazon allows free returns on most products which means you can purchase without worry.
The quantities sold vary, so you can buy just one eucalyptus garland to start with, or as many as sixteen in one purchase, depending on your needs.
Amazon verifies customers that have purchased a product, so you can read their reviews and know they're authentic.
What Amazon does best:
Amazon is the ideal place to buy bulk eucalyptus garlands if you aren't sure what you're specifically looking for. You can buy small quantities and return any that don't work for you without a hassle. There are so many garlands to choose from that you'll have many options to explore.
2. FiftyFlowers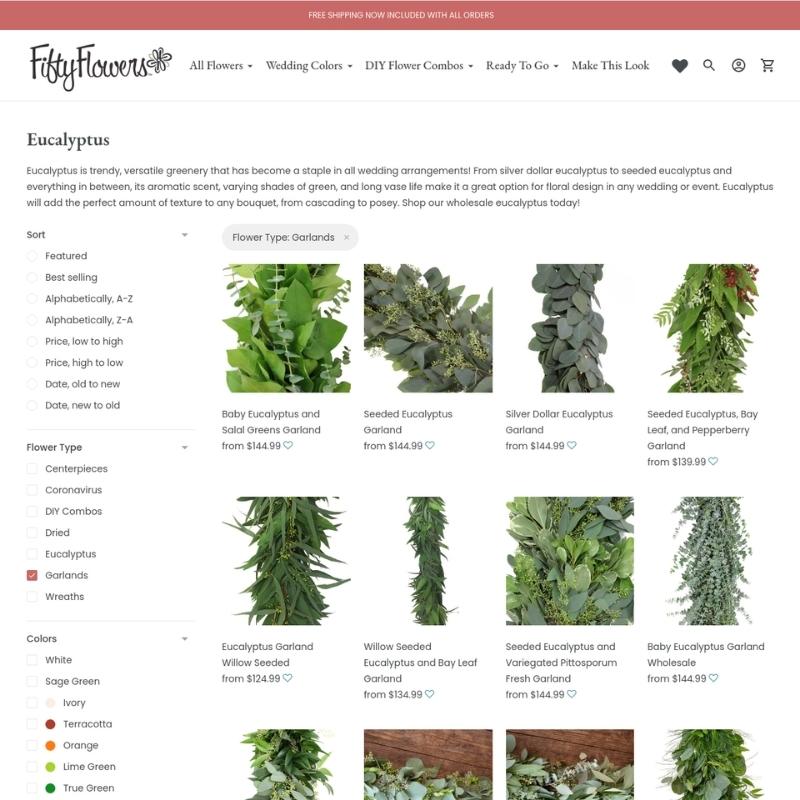 FiftyFlowers is an online store that sells fresh-cut flowers and live plants. As this is all they sell, their team is knowledgeable and able to answer questions and advise you on how to improve the longevity of your garlands or arrangement. All shipping and return policies are geared towards this specific product type.
Highlights:
The eucalyptus garlands sold from FiftyFlowers are made from real eucalyptus leaves, unlike the ones available on other sites, which are artificial.
Garlands are offered in many length options; you can buy a garland up to 100 feet long.
You can choose your delivery date to ensure that your eucalyptus garland arrives on a day that works for your schedule.
As the garlands are made from natural plants, they are scented.
FiftyFlowers specializes in selling fresh flowers and plants, so if you have any questions or concerns, they are a knowledgeable resource.
What FiftyFlowers does best:
FiftyFlowers is perfect if you want to purchase a bulk eucalyptus garland made from natural eucalyptus.
The garland will only last approximately four days, but it will be striking and fill your event with a pleasant greenery scent that faux eucalyptus garlands will lack. It's a great choice if you only need the garland for one night and want to make it memorable.
3. Etsy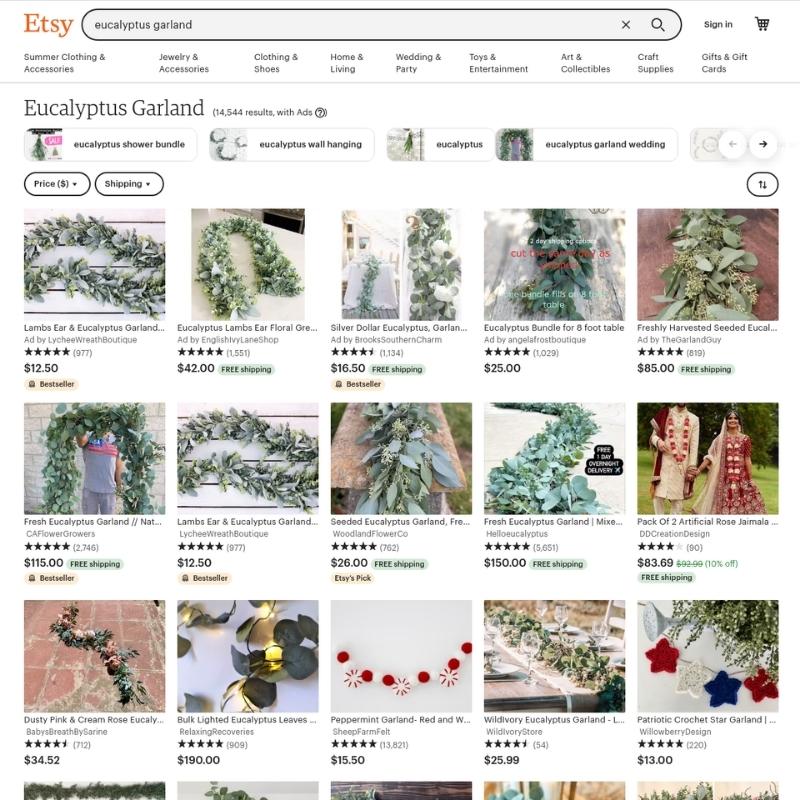 Etsy is an online marketplace that helps facilitate sales for small business owners and artists.
They specialize in unique, handmade, vintage, or creative items, so it's perfect if you want something that will stand out.
They also offer many different decorative items on their site, so you can find anything you need for your wedding or event.
Highlights:
Etsy sellers are small business owners, so it's ideal if you want to shop small and support a small business owner rather than a large corporation.
There are options for fresh eucalyptus garlands and artificial ones, so you can find exactly what you're looking for.
You can directly message the seller, who typically makes the garlands themselves, so if you need a custom length, it's possible to work something out.
You can read reviews of products and sellers so you can shop confidently.
As each seller has different policies, shipping options vary, so you can always find one that matches your needs.
What Etsy does best:
Etsy is ideal if you want something custom-made because the bulk eucalyptus garlands will be sold by small independent sellers and are usually handmade. Furthermore, it's a great option if you are happy to pay a premium to support small artisans and crafters. Plus there are many choices, so you can always find what you want.
4. Wayfair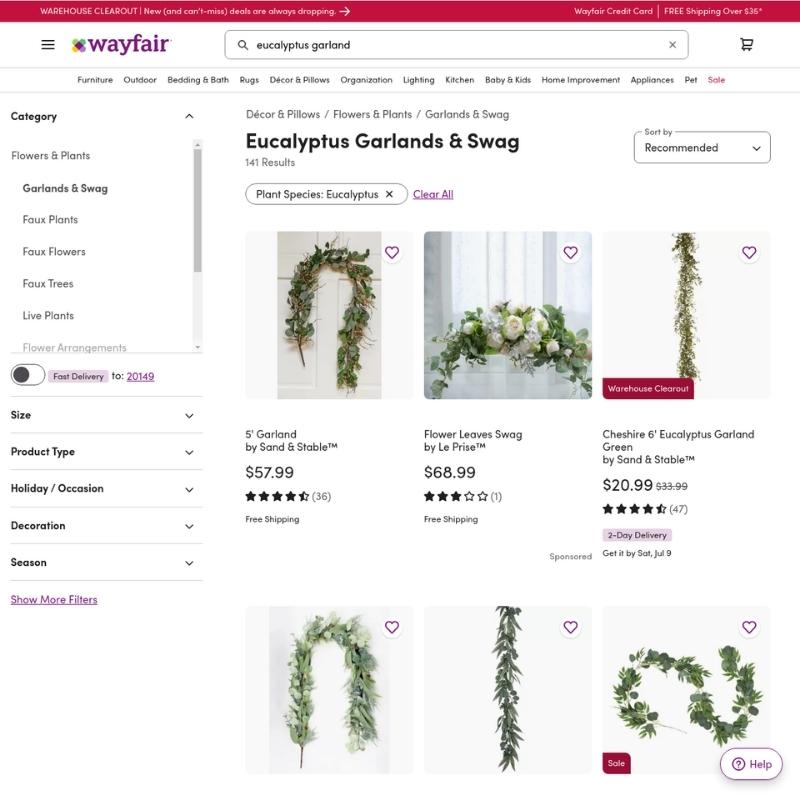 Wayfair is an online store that sells all of the furniture and decor that you could ever need. As they sell their products directly, their policies tend to be consistent, and it's a great choice if you're wary about buying from a shop with limited reviews.
Highlights:
Wayfair sells many bulk eucalyptus garlands that have different leaf designs or vary in appearance to find something unique and eye-catching.
They offer free delivery on most garlands.
They frequently have sales or coupon codes so that you can redeem terrific deals and low prices.
Many garlands combine Eucalyptus leaves with other flowers to create a striking look.
Nearly all items can be returned within 30 days of purchase.
What Wayfair does best:
Wayfair is the ideal site if you're hesitant about shopping online for bulk eucalyptus garlands and want to ensure that you can return your plants and receive strong customer support if needed. Furthermore, it's great for anyone on a tight budget because sales happen frequently, and they offer a Wayfair Credit Card with promotional discounts.
5. Faire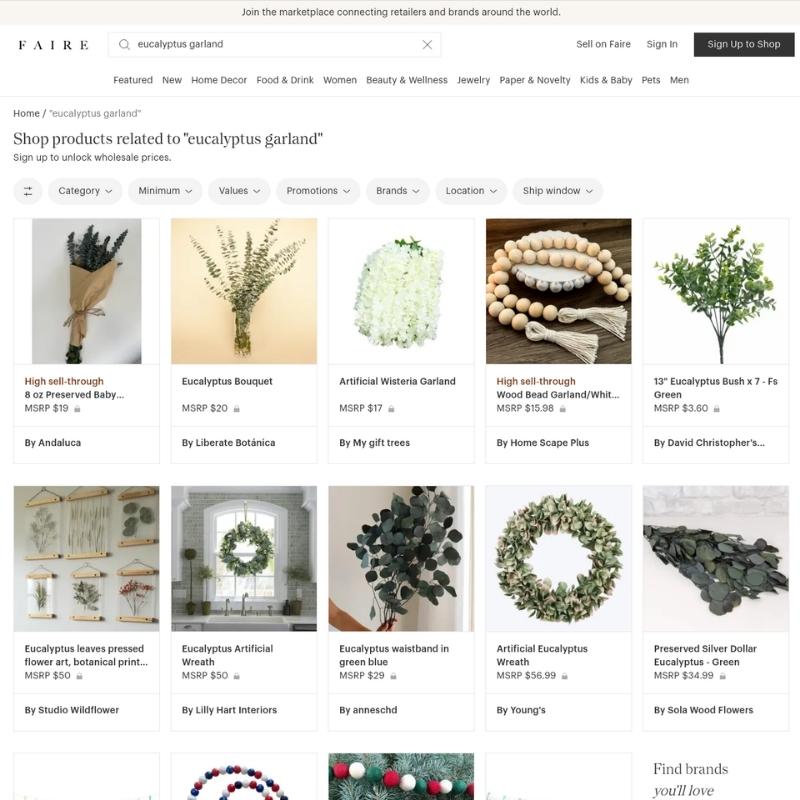 Faire is an online marketplace that connects small business owners and buyers who need wholesale quantities. You will need to make a free account to shop, but their prices are very competitive, and their beautiful selection. Furthermore, you can feel good about your purchase knowing you will support an entrepreneur and not a large company.
Highlights:
Faire sells not only bulk eucalyptus garlands but also eucalyptus bouquets, wreaths, and leaves so you can have variety in your plant decor.
They sell many different types of decorations so you can outfit your entire wedding or event.
Faire specializes in selling items wholesale; if you register your store or business, you can redeem very competitive prices.
Faire allows many different sellers to use its platform, so many options exist.
Most sellers are small business owners, so you can directly make an impact with your purchase of a garland.
What Faire does best:
Faire is an excellent choice for anyone looking for more than bulk eucalyptus garlands and who needs a one-stop-shop to decorate their entire wedding or event.
They sell all manner of decor from numerous sellers, so you can find anything and everything you are looking for. Plus, if you can successfully set up a wholesale account with your business, you can buy at very affordable rates.
What is Eucalyptus Garland?
Eucalyptus garland is a beautiful and fragrant decoration perfect for any holiday or special occasion.
Native to Australia, eucalyptus is a hardy plant that can survive in harsh conditions. The leaves of the eucalyptus plant are long and narrow, with a distinctively minty smell.
Eucalyptus leaves retain their shape and color when dried, making them ideal for use in garlands and wreaths. It is also very versatile, as you can use it to decorate tables, mantles, or doorways.
Eucalyptus garland is popular among florists as they can use it to create unique and beautiful arrangements.
They are often combined with other decorations, such as flowers or ribbon, and can add a touch of greenery to any room, event, or wedding reception when used alone.
No matter how you choose to use it, eucalyptus garland is sure to add a touch of beauty and elegance to your home.
Bottom Line
A eucalyptus garland is an excellent option if you're looking for affordable wedding decoration ideas. This versatile greenery can be used in various ways, from draped over the wedding arch to winding down the aisle.
Eucalyptus is also a popular choice for bridal bouquets and centerpieces. And when you buy it in bulk online, you can save money and time.
And because eucalyptus garland is so versatile, you can use it for other occasions, like parties and baby showers.
So why not buy eucalyptus garland in bulk online? It's a great way to save money while still being able to create beautiful wedding decorations.