Are you planning your wedding, and found the perfect venue in a beautiful setting? They even have all the furniture you will need, included in the venue price - tables and chairs for dinner, high-top tables for cocktail hour, and even long rectangles to be set up for gifts.
Were you shocked when they pulled out these tables, and you saw rickety old plastic tables or chipped plywood tabletops?
"No problem," says the venue's event coordinator, "you'll just need to provide the table linens." If this scene sounds familiar, keep reading.
We've compiled a list of the top five places to rent linens online.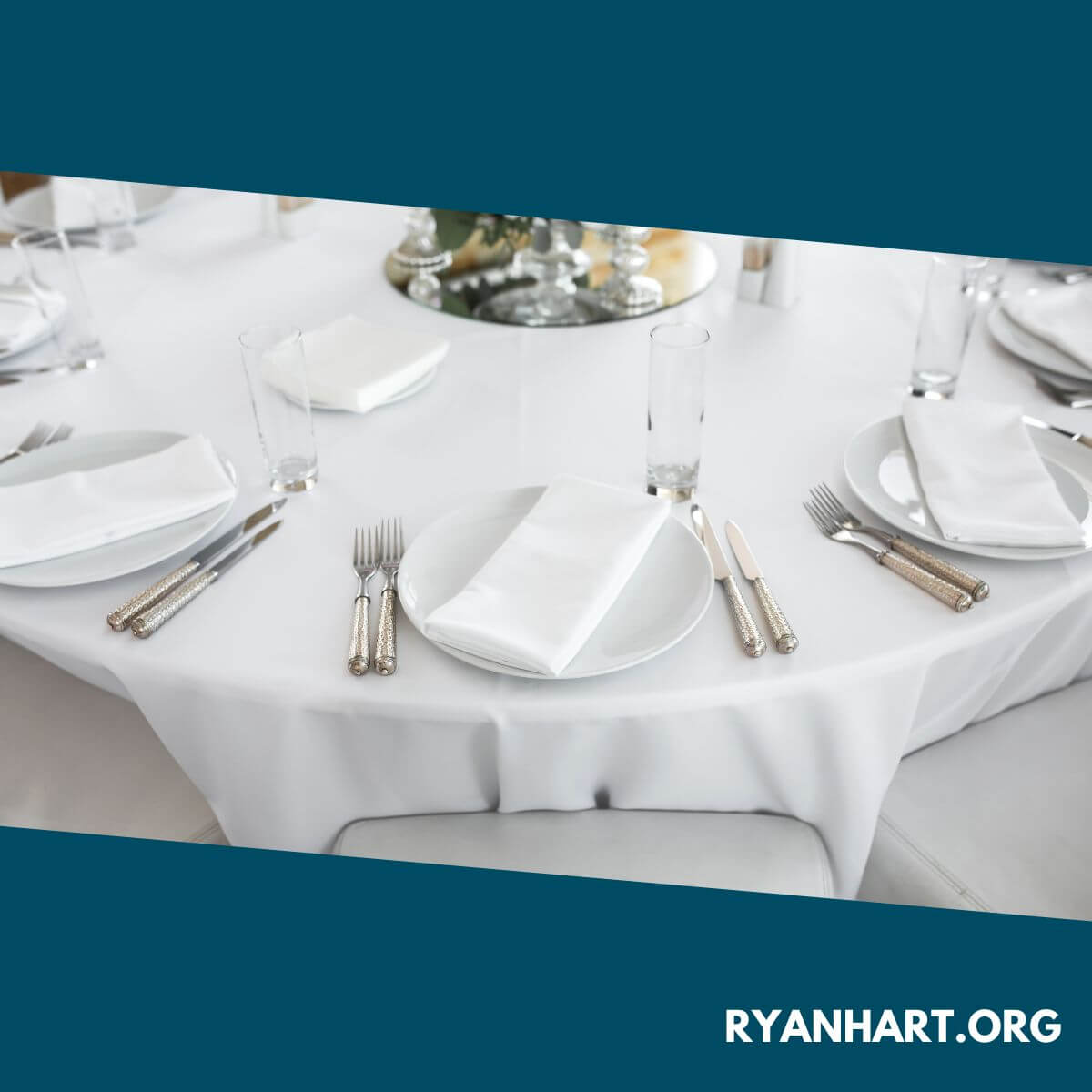 Where to Rent Table Linens?
There are a few things to consider when renting table linens for your wedding. Consider your budget, the types of linens you want, and the quantity you need. You'll also want to think about the delivery and pick-up process.
Once you've considered all of these factors, you'll be able to narrow down your options and find the best place for table linen rentals.
Here are the best places to rent table linens for your wedding: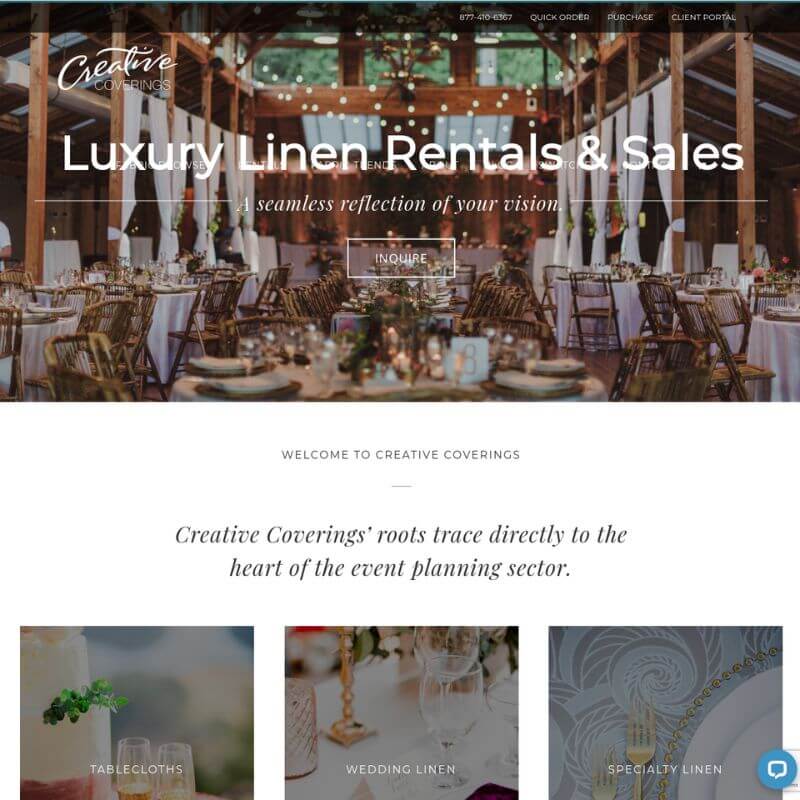 Creative Coverings specializes in party and wedding linen sales and rentals. They are committed to assisting customers with finding the perfect look.
Based out of Reno, Nevada, Creative Coverings serves all 50 states. For over 25 years, their creative team has sourced and styled all of the latest linen looks. They rent an array of fabrics for tablecloths, chair accessories, napkins, lounge pillows, and more.
Highlights:
Shop hundreds of fabric types - Their vast selection of linens for weddings helps customers create the look and feel they want for their big day.
Linen specialists help cover your needs - As industry partners, you can be sure you're getting the best and most current selection of wedding linens.
Established company - Creative Coverings has decades of experience in the linen industry. Customers benefit from their extensive knowledge and resources.
Shipping available to all 50 states - Creative Coverings can get the linens there no matter where your event is located. They ship to all 50 states, yep, that's right, even Alaska and Hawaii
Shop linen types for every aspect of decoration
What Creative Coverings does best:
Creative Coverings has phenomenal customer service. They go above and beyond to make sure you are satisfied with your order. Not sure about a table setting, they'll send you the sample to view for free! From napkins to tablecloths, they have all the linens you need!
Check Price at Creative Coverings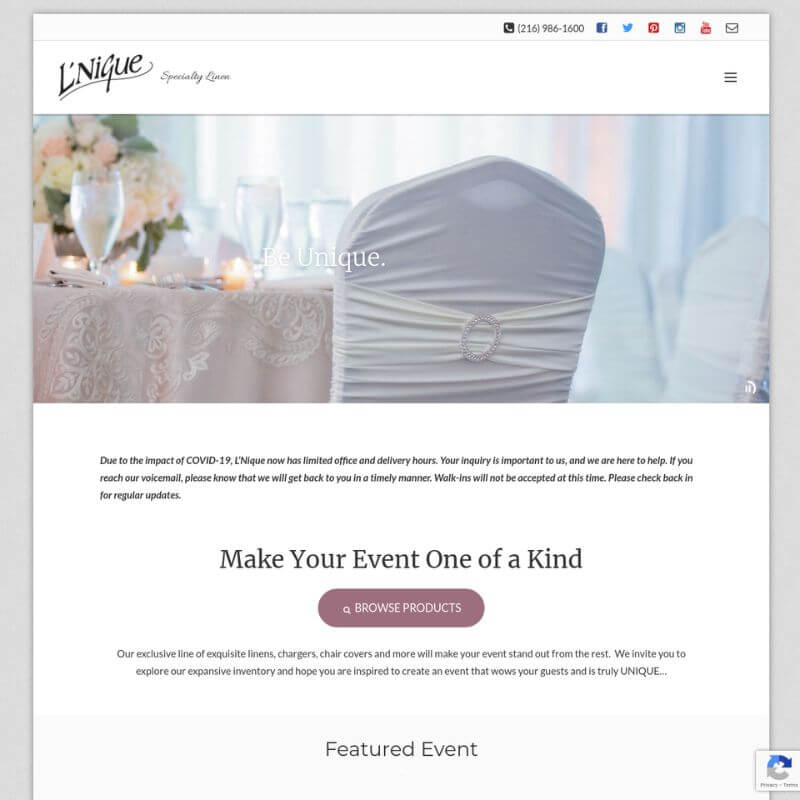 L'Nique is a full-service wedding linen rental company. Based out of Ohio, their delivery trucks serve the Northeast Ohio area and will also ship to your event destination.
Their team offers customizations and delivery for their linen rentals. Their inventory includes napkins, overlays, tablecloths, table runners, and everything else you need.
Highlights:
Choose from a variety of fabric types, patterns, sizes, and textures. You're sure to find the perfect match for your wedding theme.
Creates custom linens for any event - The onsite sewing and design team will help you create custom linens for any occasion. This is perfect if you have a specific vision or need a certain size or shape.
Quantity discounts available - Working one-on-one with the L'Nique team means they consider every need. If you have a bulk order, they will provide a quantity discount.
Delivery available - They will work with you for a custom delivery quote that suits your event's schedule.
Handcrafted quality - Each order is handcrafted with care. The L'Nique team puts their heart into every detail to ensure your event is flawless.
What L'Nique does best:
L'Nique has the best handmade linen rentals for weddings. If you want to know that care was placed into every stitch of your wedding linens, L'Nique is the rental company for you. They specialize in handmade, custom linens that will make your wedding one to remember.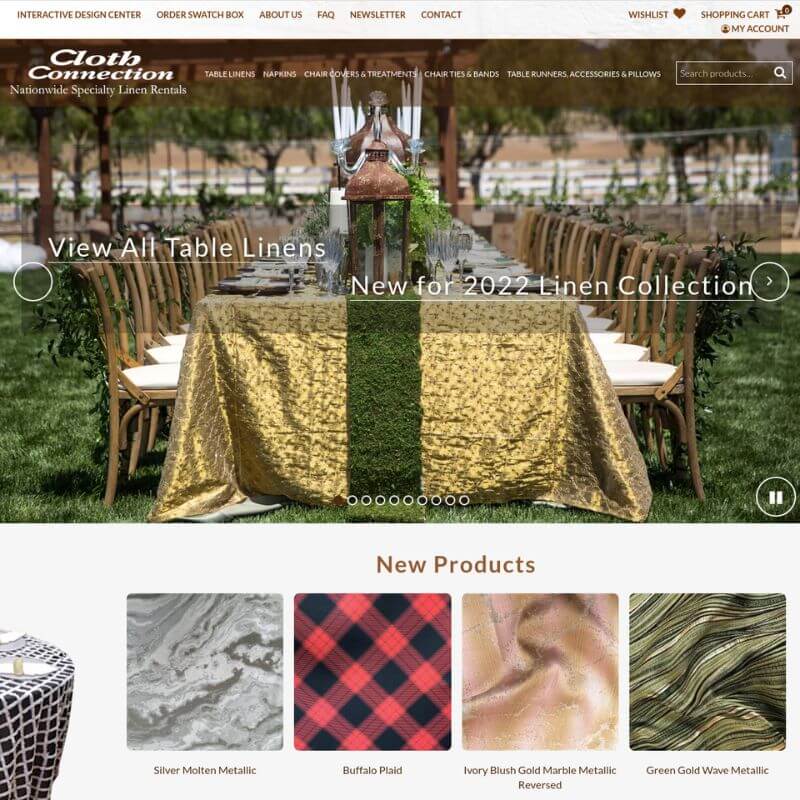 Cloth Connection is a nationwide distributor of wedding table linens and rentals. For more than 40 years, they've been a staple in the wedding industry, and their products can be delivered anywhere in the United States. They carry many premium linens and accessories and offer top-quality customer service.
Highlights:
Use the Interactive Design Center, a web tool to create the perfect look - Visualize the perfect look for your wedding by using the Interactive Design Center on Cloth Connection's website. This is a great way to see what colors and styles of table linens will work best for your event.
Easy to use linen rental system - Cloth Connection makes linen rentals simple! They provide tracking labels as well as return labels and duffel bags.
100% Customer Satisfaction Guaranteed - The Cloth Connection team is dedicated to ensuring that every customer is satisfied with their purchase. They offer a 100% satisfaction guarantee on all of their products.
Top quality fabrics and materials - Cloth Connection only uses the highest quality fabrics and materials in its products. This ensures that your wedding table linens will look fabulous.
Serves weddings of all sizes - Cloth Connection has the perfect table linens for you, no matter the size of your wedding. They carry a wide range of sizes and have worked at events with thousands of people.
What Cloth Connection does best:
If you're planning a large event, Cloth Connection is the best place to go for linen rentals. They have a wide selection of sizes and styles, and their products are made from high-quality materials. Plus, their customer service team is dedicated to ensuring you're satisfied with your purchase.
Check Price at Cloth Connection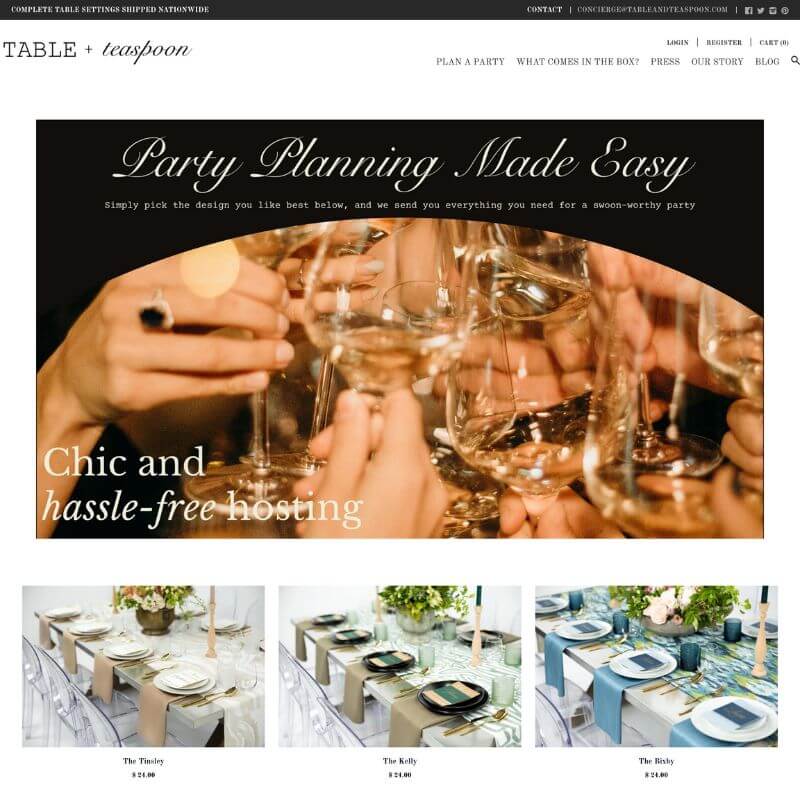 Table and Teaspoon is a specialty table setting rental company that makes beautiful table linens available for everyone's budget.
The simple, four-step process delivers linens to your door, and you ship them back to be cleaned and returned. Choose from six table designs and color choices with plates and glasses.
Highlights:
Choose settings per guest - Table and Teaspoon have a set price per guest, so you can order the exact number of settings you need.
All of the best details - From menu cards to candlesticks, you can find all the finishing touches for your event at Table and Teaspoon, ready to go from the box.
Designer-inspired looks and settings - You get complete looks inspired by all of the top trending home designers.
Choose your date, and you're ready to go - The convenient online rental system lets you choose your event date and ship the items back whenever is most convenient.
Affordable and convenient linen rentals for any budget - Table and Teaspoon make beautiful table linens available for every budget. The simple, four-step process delivers linens right to your door, and you ship them back to be cleaned and returned.
What Table and Teaspoon does best:
The focus on quality, design, and ease of use makes Table and Teaspoon a top choice for specialty table-setting rentals. The company's commitment to delivering beautiful results without breaking the bank sets them apart.
Table and Teaspoon have you covered if you want matching glasses and table settings delivered right to your door in one convenient package.
Check Price at Table and Teaspoon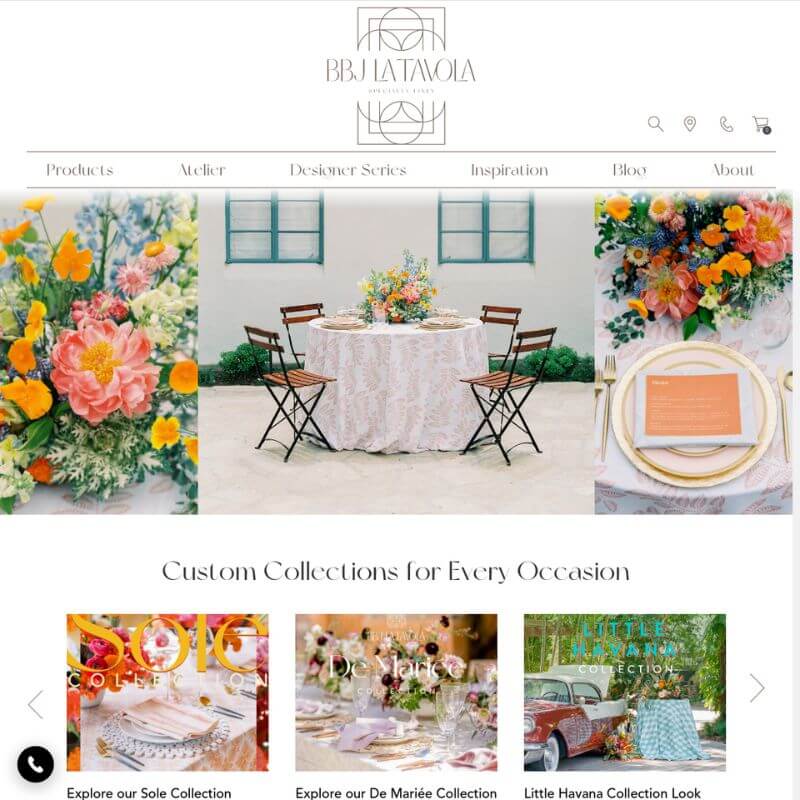 BBJ La Tavola has beautiful and unique fabrics for linens. They carry many products, including table runners, table linen and overlays, chargers and placemats, and napkins. Their designer series of linen and tableware is also top-rated among event planners.
They are also a premier provider of chair covers and sashes. Their products are perfect for weddings and corporate events. One thing that sets BBJ La Tavola apart from other linen companies is its use of unique fabrics.
Highlights:
Eco-conscious practices - Their company uses a sustainable model to be more green throughout the process.
Easy return process - They ship duffel bags and return labels with your order to make the entire process easy.
Pick and choose your perfect accessories - As well as napkins, tablecloths, and table runners, they offer a range of accessories to finish your look, including charger plates, centerpieces, and more.
Designer looks and fabrics - BBJ La Tavola is the perfect place to shop for unique and beautiful fabrics for your next event. From table runners to chargers, they have a wide selection of products.
High-quality products - They only use the highest quality fabrics and materials to make their products. This ensures that your items will last for years to come.
What BBJ La Tavola does best:
BBJ La Tavola is the best place for high-quality, designer linen rentals. They offer a wide variety of products, and their prices are very reasonable. They also have an excellent return policy. Whether you're looking for unique fabrics or sustainable practices, BBJ La Tavola is the perfect place to shop for all your linens needs.
What Are Rental Table Linens?
Rental linens are table coverings that are rented for a short time, typically for an event such as a wedding or party.
Standard items include table cloths, napkins, and table runners. More specialized items such as chair covers and place mats may also be available.
Table linens are typically made from natural fibers such as cotton or linen, although synthetic materials such as polyester are also common.
Renting table linens is a convenient way to achieve a cohesive look for an event without having to purchase them individually. It is also an economical option for those who do not plan to use the table linens regularly.
What Table Linens Do You Need to Rent for a Wedding?
When planning a wedding reception, choosing the right table linens is important. The type of fabric and the colors you select can help create the perfect atmosphere for your event.
For a formal affair, you may want to rent white or ivory tablecloths and napkins. If you are hoping for a more relaxed vibe, renting colored linens is a great way to add some personality to your tables.
No matter your style, be sure to rent enough tablecloths to cover all your guest tables and any buffet or cake tables. You will also need to rent enough napkins to provide one for each guest and extras in case of spills.
You can create a beautiful and welcoming atmosphere for your wedding reception guests with the right table linens.
How Much Do Wedding Linen Rentals Cost?
Wedding linen rentals can range in cost from a few hundred dollars to a few thousand, depending on the size and scope of the event.
For a small wedding of 50 guests or less, expect to pay around $200 for basic white tablecloths and napkins. The price will go up accordingly if you're looking for something more luxurious, like satin or silk.
For a medium-sized wedding of 150 guests, expect to pay around $500. And for a large wedding of 300 guests or more, expect to pay close to $1,000.
Of course, these prices will vary depending on the specific linens you select and the company you rent from. But in general, these are reasonable ballpark estimates to keep in mind when budgeting for your big day.
The price also varies depending on whether the rental company delivers and sets up the linens or if the bride and groom are responsible for doing so.
In general, it is less expensive to rent linens than to purchase them outright. And because most rental companies have a wide selection of colors and styles, it is easy to find the perfect look to complement any wedding theme.
Bottom Line
When planning a wedding, there are a lot of details to think about. One important detail is the table linens.
Tablecloths and napkins can help to set the tone for the wedding and tie the overall look together. While it is possible to purchase table linens, renting them is often more cost-effective.
Many companies specialize in wedding linen rentals, so it is easy to find exactly what you are looking for.
In addition, most rental companies will deliver the linens to your venue and pick them up after the wedding, so you don't have to worry about transportation or storage.
You can save money and hassle by renting table linens while still creating a beautiful wedding atmosphere.