You said yes! Congratulations! But after you pop that cork, post a selfie with your engagement ring, and announce it to the world – it's time to get jewelry insurance.
You get protection for your vehicle and your home; you will also want to ensure that you protect your new bling! While you may think that your jewelry is covered by your renter's or homeowner's insurance, they come with limitations.
If you're not sure where to start, I have you covered! Here I share five top-rated providers offering reliable and affordable jewelry insurance.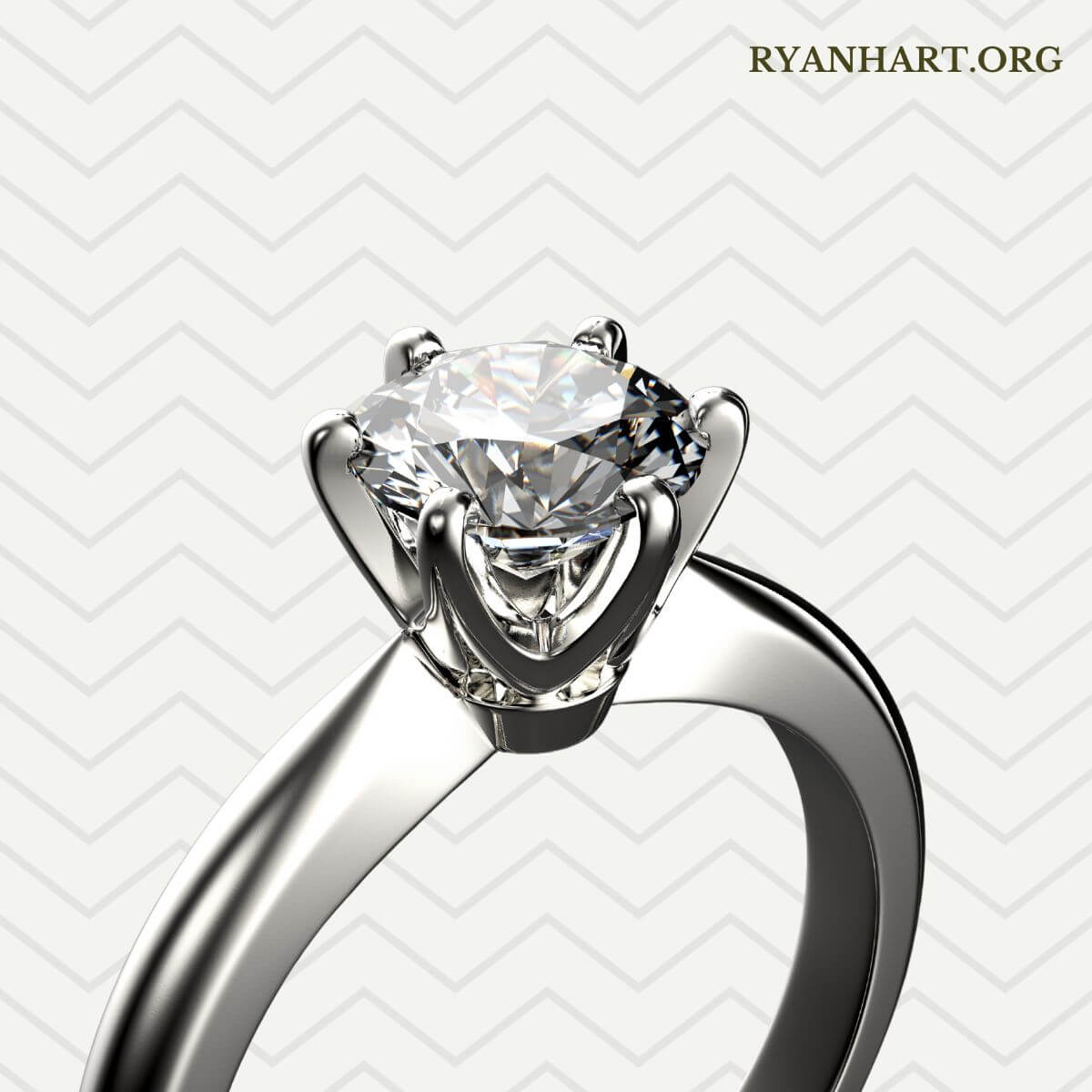 Where to Buy Jewelry Insurance?
Before you start the wedding planning, give you and your partner some peace of mind knowing that your wedding bands are protected from loss, theft, and even damage.
Jewelry insurance isn't something you put on that to-do list! Here are the best places to buy jewelry insurance right now.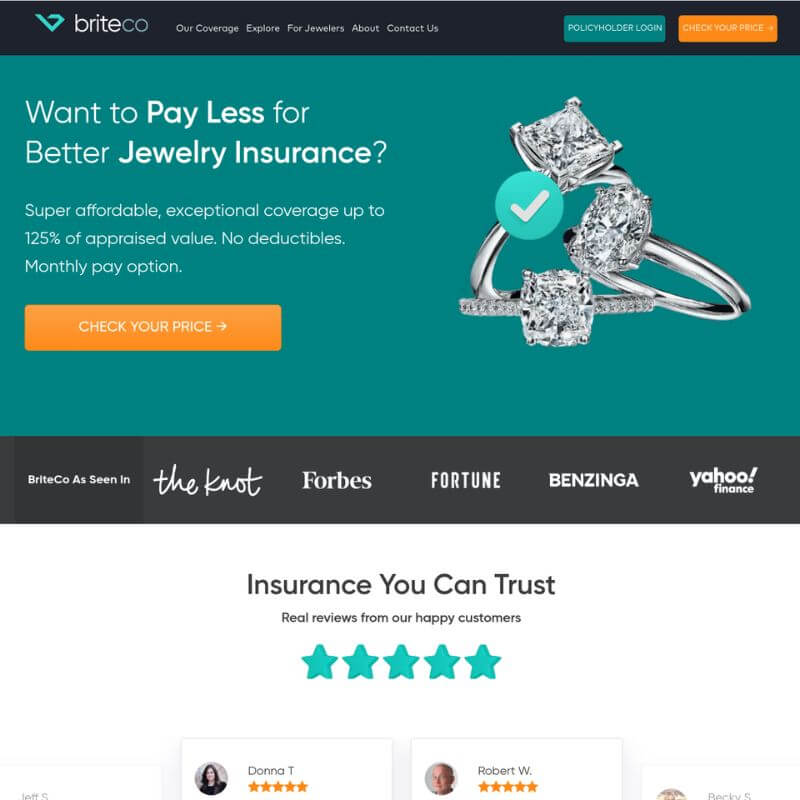 BriteCo offers affordable jewelry insurance that covers up to 125% of your ring's appraised value. Your coverage values are even updated each year at renewal.
BriteCo set out on a mission to provide a seamless process of getting insurance that goes beyond the coverage provided by homeowners' and renters' insurance policies. The company harnesses digital technology to offer specialized jewelry insurance.
Highlights:
BriteCo. pays up to 125% of appraised value for your insured pieces
No deductibles on claims
Pay each month on your jewelry insurance
User-friendly website to get you signed up and manage your coverage
They offer worldwide coverage
It just takes two minutes and three effortless steps to get started.
What BriteCo Does Best:
Choice! You choose how to pay, and if you have to file a claim, they are processed quickly! Replacement through your local jewelry company at the total value!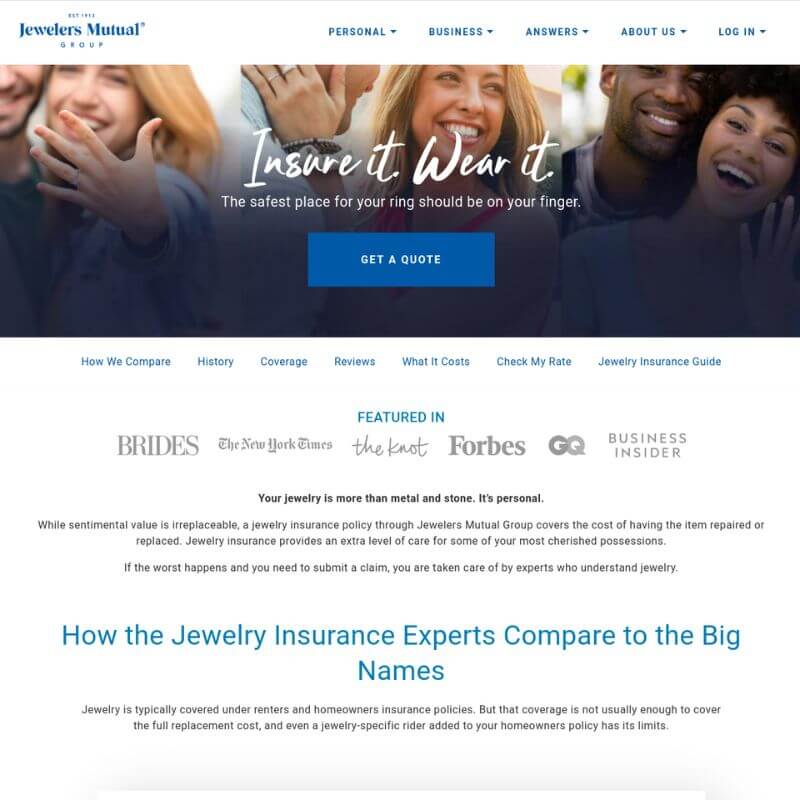 Jewelers Mutual has been around since the 1900s and is a member of the American Gem Society, Jewelers of America, Canadian Jewelers Association, and other leaders in the industry.
The firm covers all types of insurance and even loose stones while being set. The group even gives back to charities and works hard to be a responsible corporate citizen.
Highlights:
They cover loss, theft, damage, disappearance, flood, earthquake, and worldwide travel
No out-of-pocket cost when you choose the appropriate coverage
The only insurance in North America dedicated to only jewelry insurance for over one hundred years
They work directly with your jeweler when you file a claim
What Jewelers Mutual Does Best:
Jewelers Mutual understands that your jewelry is more than just a material possession; it is a reflection of your personal style and taste. They offer the most comprehensive coverage in the industry, so you can rest assured that your precious jewelry is always protected.
Check Prices at Jewelers Mutual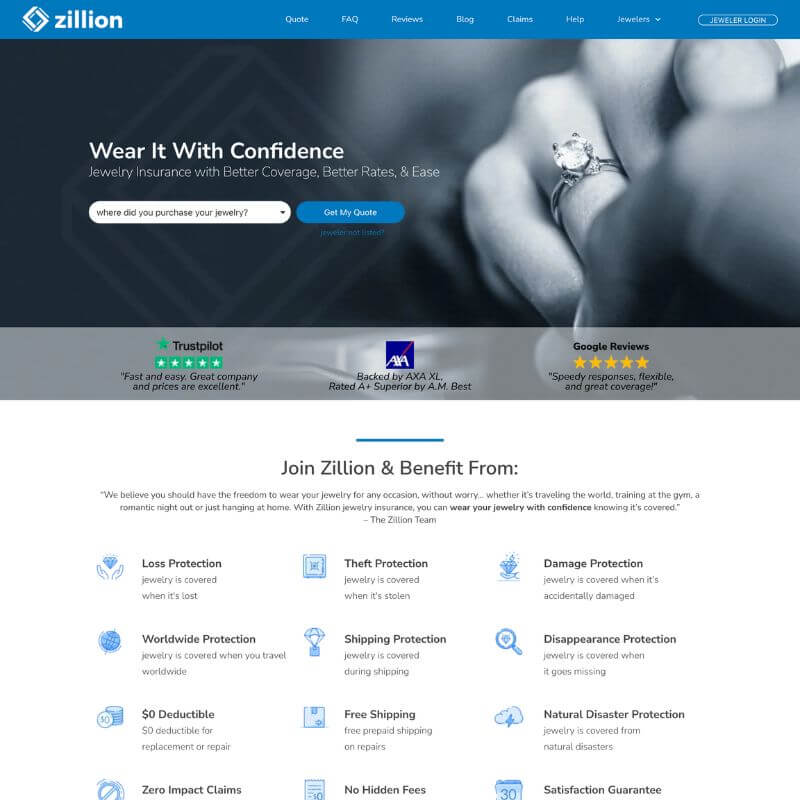 Zillion will insure your jewelry through their user friendly insurance platform. They save money by managing risks, controlling costs, and passing those savings on to you with better rates.
You have complete control of their flexible policies. You can also cancel for a full refund in the first 30 days! After that, you can cancel with a pro-rated refund.
Highlights:
The company covers loss, theft, damage, disappearance
They do it all with a $0 deductible on your claim
Their policies even cover natural disasters
They offer zero impact claims that don't increase your costs, and their claims processing is quick.
The repair and replacement process can be started online, and it begins in under 24 hours after you file the claim.
What Zillion Does Best:
Zillion makes it easy to file a claim online or over the phone, and they have a very short turnaround time for processing claims. Plus, their rates are very competitive. In short, Zillion offers the best combination of coverage, convenience, and value when it comes to jewelry insurance.
Lavalier gets its name from the term for a jewelry pendant on a chain. And covering your jewelry is all that they do.
They offer flexible coverage and exceptional customer service and are a part of Berkley Asset Protection.
Lavalier focuses on building client relationships, ensuring innovation with their easy-to-use platform, and partnering with retailers and other partners.
Highlights:
Lavalier has been in the jewelry insurance business for half a century
They cover loss, theft, damage, earthquake, and flood anywhere around the world
The company also covers those gifts that you give to your fiancé.
Their coverage options are flexible and cover up to $50,000
You can get a plan with deductibles as low as $0
Their personalized claims process offers a limited impact on your policy rates.
What Lavalier Does Best:
Information! Their website and blog are full of helpful information on more than just insurance.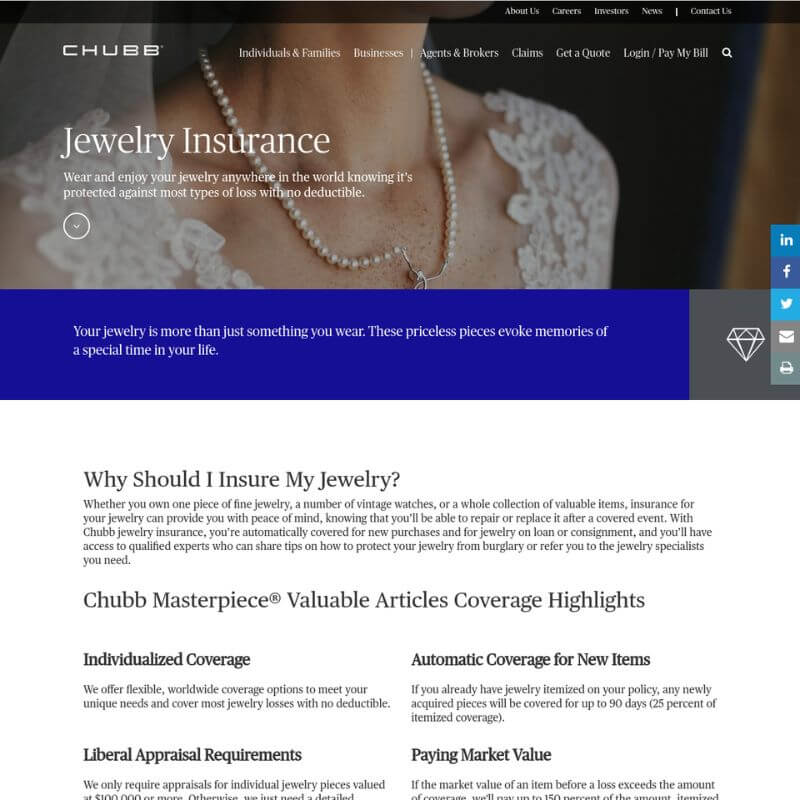 Chubb is a jewelry insurer and is also a property and casual insurer covering things like sailboats. They offer a comprehensive list of service offerings; their core insurance companies have AA ratings from Standard & Poors and A++ from A.M. Best.
As the world's largest publicly traded P&C insurance company operating in fifty-four countries, they are also underwriters.
Highlights:
Offering flexible and customized coverage to meet your needs includes no deductible plans
Appraisals are only required for pieces valued over $100K
Newly acquired pieces are covered for up to 90 days
Chubb offers blanket or individual coverage.
What Chubb Does Best:
Chubb provides worldwide coverage for your jewelry, so you can rest assured that your treasured items are protected no matter where you travel.
How does jewelry insurance work?
Jewelry insurance is a type of homeowners insurance policy that provides coverage for personal belongings; however, standalone policies are available that provide more comprehensive coverage.
Here's how the process works: first, you sign up for jewelry insurance online or with your local agent.
You'll need to get an appraisal for your jewelry so the insurance company can determine its value. Then, you pay an annual premium for the insurance.
If your jewelry is lost, stolen, or damaged, you file a claim with the insurance company. There is usually no deductible on jewelry insurance claims.
What does jewelry insurance cover?
Coverage typically includes protection against theft, loss, and damage. Some policies even provide coverage for accidental breakage.
When choosing a jewelry insurance policy, it is essential to ensure that it meets your needs and budget. Review the policy carefully to understand what is covered and what is not.
You should also consider the deductible or the amount you will need to pay out of pocket before the policy kicks in.
How much does it cost to insure jewelry?
The cost of jewelry insurance depends on several factors, including the value of the jewelry, the type of coverage, and the deductible.
For example, insuring a $5,000 diamond ring with a $500 deductible would cost about $60 per year. The same ring with a $1,000 deductible would cost about $30 per year.
Ultimately, the best way to determine the cost of insurance is to get quotes from several companies.
Is it worth getting a jewelry protection plan?
A protection plan can give you peace of mind when it comes to protecting your jewelry. You can insure your jewelry against loss, theft, and damage at a low monthly cost.
If something happens to your jewelry, you can rest assured that you will be compensated for its value.
While you may never need to use your protection plan, it can be worth the peace of mind that comes with knowing you are covered.
Do you need an appraisal for jewelry insurance?
If you want to insure your jewelry, you will likely need to get an appraisal. An appraisal is a 3rd party evaluation of your jewelry, and insurance companies typically require it to provide an accurate quote.
The appraiser will examine your jewelry and consider factors such as the quality of the materials, current condition, and market value. Once the appraisal is complete, you can get an insurance policy that covers your jewelry for its total value.
In some cases, you may even be able to get a policy that covers the replacement cost of your jewelry in case it is lost or stolen.
Do you get a cash payout when you make a claim?
No, you do not get a cash payout when you make a jewelry insurance claim. Most policies cover repair and replacement but do not offer cash settlements.
After you file a claim, you must find a jeweler that can sell you a replacement piece of similar value and quality. The jeweler will typically invoice the insurance company directly for the cost of the replacement item.
If the jeweler cannot work directly with the insurance company, you will need to pay for the item out of pocket. Then you will be reimbursed by the insurance company for that amount.
Sometimes, the insurance company may require you to submit a receipt or other documentation to process your claim. However, you should not expect to receive a check or direct payment from the insurance company.
Bottom Line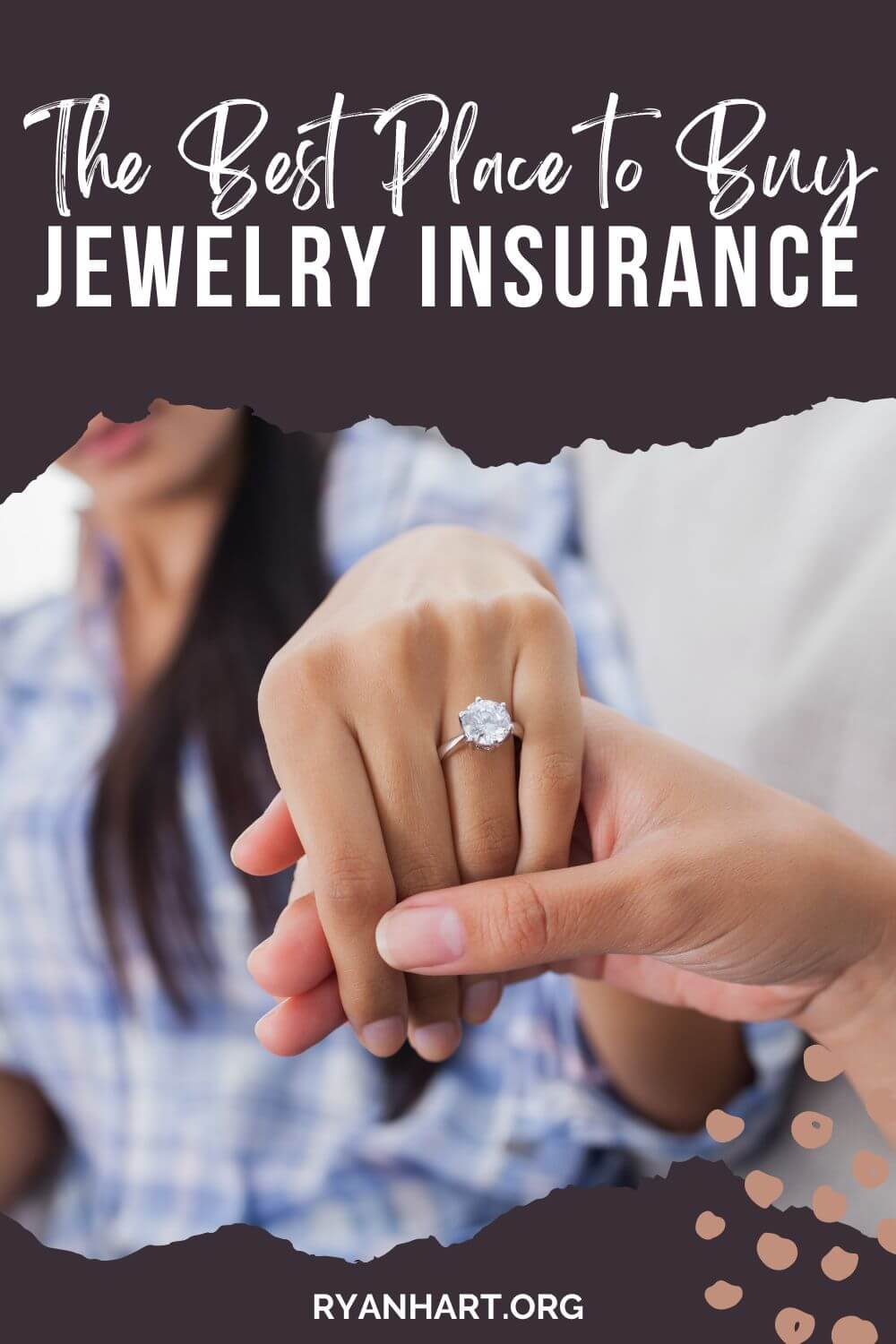 When you purchase jewelry, you are making a long-term investment. Whether it is a diamond engagement ring, a gold necklace, or a set of pearl earrings, your jewelry will hold its value for years to come.
However, your jewelry is also susceptible to loss, damage, and theft. That's why it's essential to purchase jewelry insurance.
Jewelry insurance protects your investment by reimbursing you for the cost of repairs or replacement in the event of loss, damage, or theft.
Many homeowners insurance policies have limited jewelry coverage, so purchasing a separate policy is crucial if you want complete protection.
You can purchase jewelry insurance online from a variety of insurers. Always compare rates and coverage levels to find the policy that best meets your needs.