Today, the variety in men's wedding bands available is astounding. Once given a choice between a yellow gold or white gold solid band, nowadays, men can branch out into platinum and other durable metals. They often incorporate diamonds and other stones, too.
It can be hard to decide where to start looking if you're not sure who to trust or who has the best prices.
So, we've assembled a list of five men's wedding band retailers to get you started!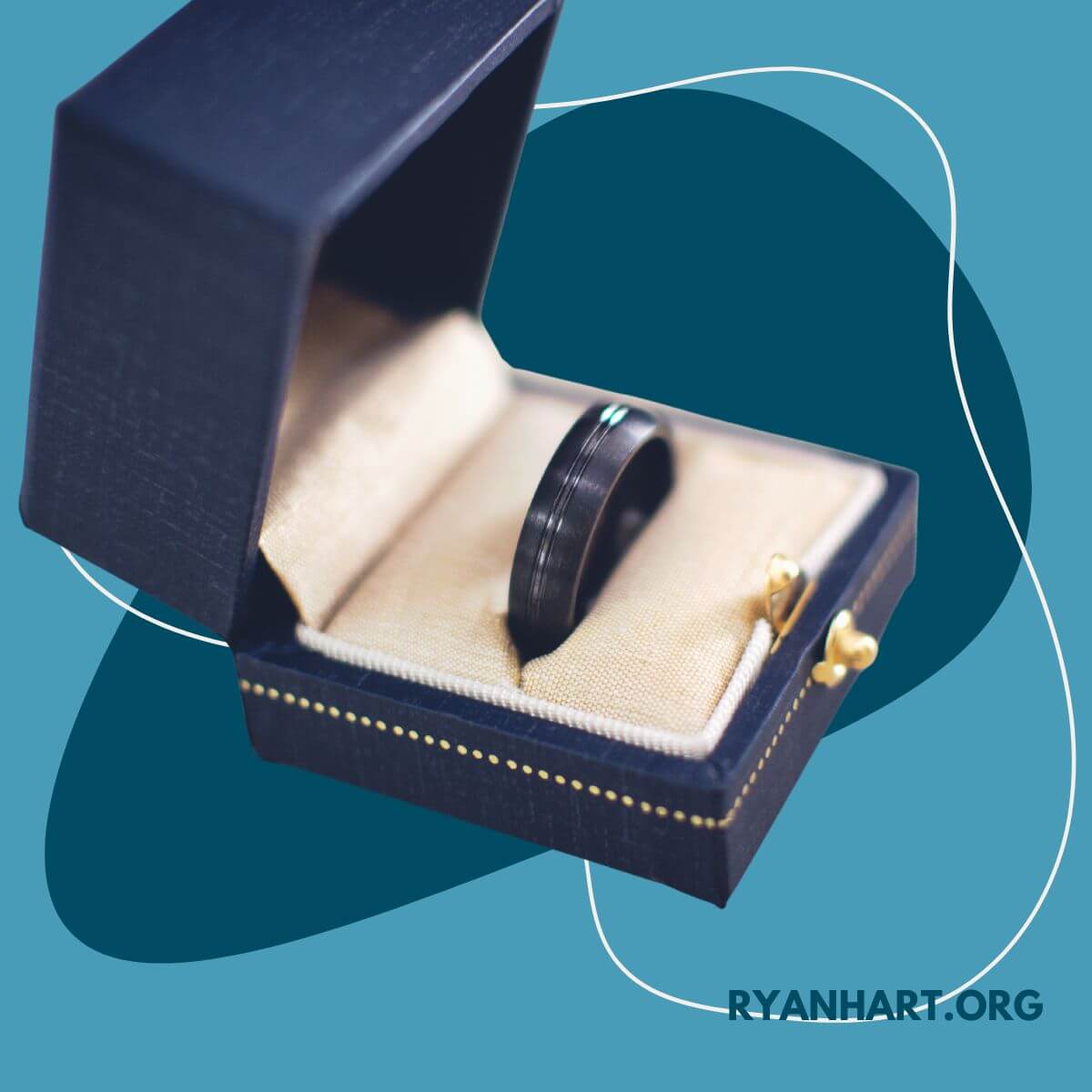 Where to Buy Mens Wedding Bands
These brands offer men's wedding bands ranging from classic to custom and a wide selection of unique materials. Here are the best places to buy men's wedding bands.
Manly Bands boasts of selling "not your ordinary bands." And that's pretty accurate. The wedding band company offers classic, antler, black, meteorite, Dino bone rings, and more.
They also have exclusive Jack Daniels, Fender, and MLB designs to ensure you can find the perfect ring for your ideal mate.
Highlights:
Manly Bands also has groomsmen gifts for your wedding party, including leather goods, swag, accessories, and, oddly enough – a custom monogrammed hatchet.
Not only can you browse their selection on the website, but you can also check out the bands on the brand's Instagram page. Here you can view custom men's wedding bands photographed on the fingers of real customers!
There's a wide range in pricing, so there is something for every price point.
Colors, colors galore! They're sure to have the color you want if you want to think outside the classic box.
The company is offering 20% off your first order.
What Manly Bands Does Best:
ORIGINALITY! Their mission is to help everyone find their perfect, unique, and "bad-ass" men's wedding band.
Shop Wedding Bands at Manly Bands
Brilliant Earth offers more traditional men's wedding bands and still provides a lot of variety. The brand not only creates beautiful men's wedding bands taking into consideration the big picture and the little details like the artful prongs, hidden accents below the gem, and the curve of each band.
You will find a comfortable, quality, and durable wedding band to suit your man.
Highlights:
Pricing ranges from $600 and above.
Your Brilliant Earth ring comes in a Forest Stewardship Council-certified forest-sourced wood box.
The company ships all packages in post-consumer recycled content.
The brand offers men's wedding bands in platinum, yellow and white gold, alternative metals, different thicknesses, diamond and gemstone, and matte.
They also have a comfort fit band for guys not used to wearing jewelry.
What Brilliant Earth Does Best:
Responsibly sourced and created wedding bands. When Brilliant Earth couldn't find anyone to meet their standards of ethical, transparent, and sustainable jewelry - they set their own and only offer "Beyond Conflict Free" diamonds and even have recycled metals.
Shop Wedding Bands at Brilliant Earth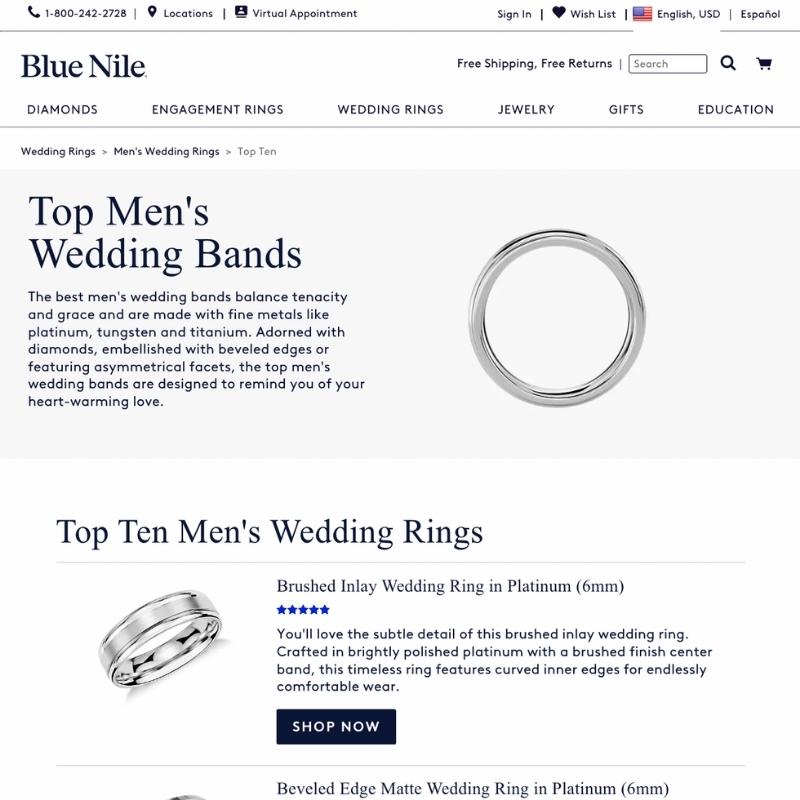 Blue Nile offers a handcrafted collection of men's wedding bands and rings in diamond and plain metal in various fits and finishes.
Founded in 1999, the company focuses on innovation and has disrupted the online business model with extraordinary, high-quality diamonds at fantastic prices. They have a team of passionate, non-commissioned diamond and jewelry experts on staff that works from a customer-centric viewpoint.
Highlights:
Blue Nile rings are handcrafted of high-quality materials.
They only offer ethically sourced diamonds.
The brand stands behind its products with diamond certification, secure delivery, 30-day returns, and lifetime guarantees.
Blue Nile also offers diamond-price matches.
When you enter the website, Blue Nile lists the number of items they have in the category in which you are searching.
What Blue Nile Does Best:
Blue Nile offers wedding ring education and expert advice available 24/7.
Shop Wedding Bands at Blue Nile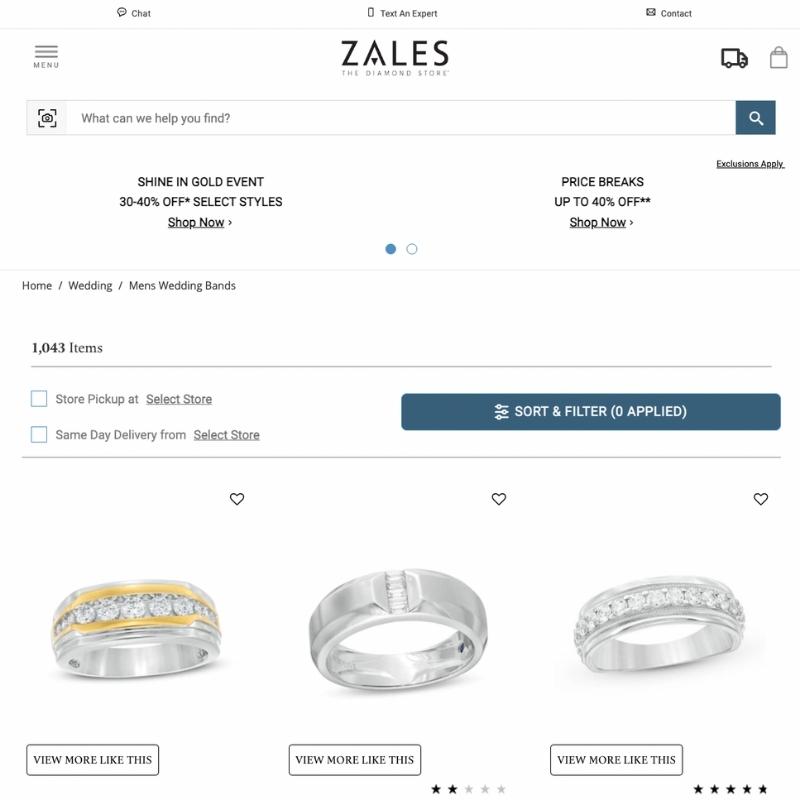 Zales has been one of the top diamond stores in the nation since 1924.
Founded in Wichita Falls, Texas, they aim to offer high-quality jewelry at the lowest prices and manageable credit plans. They now have expanded to 700 stores in North America and Puerto Rico.
Whether you like stepping into a brick-and-mortar store or shopping online, they have you covered.
Highlights:
Financing is their thing! They offer the Zales Diamond Credit Card, Progressive Leasing/Lease Purchase Program, and a Buy Now, Pay Later financing plan with Affirm.
Your ring ships 2nd Day Air on UPS free, with no minimum amount required, or you can ship to the store and pick it up free.
Zales offers a 30-Day Risk-Free Return Policy.
Their Lifetime Diamond Commitment means that if you lose your diamond, they will replace it at no extra charge.
You can upgrade your diamond by applying the original purchase price to the new diamond.
Customization is available, and the brand has thousands of rings available to buy just as they are.
What Zales Does Best:
Zales is about customer service with its diamond commitment, various financing options, and continuing care for your jewelry.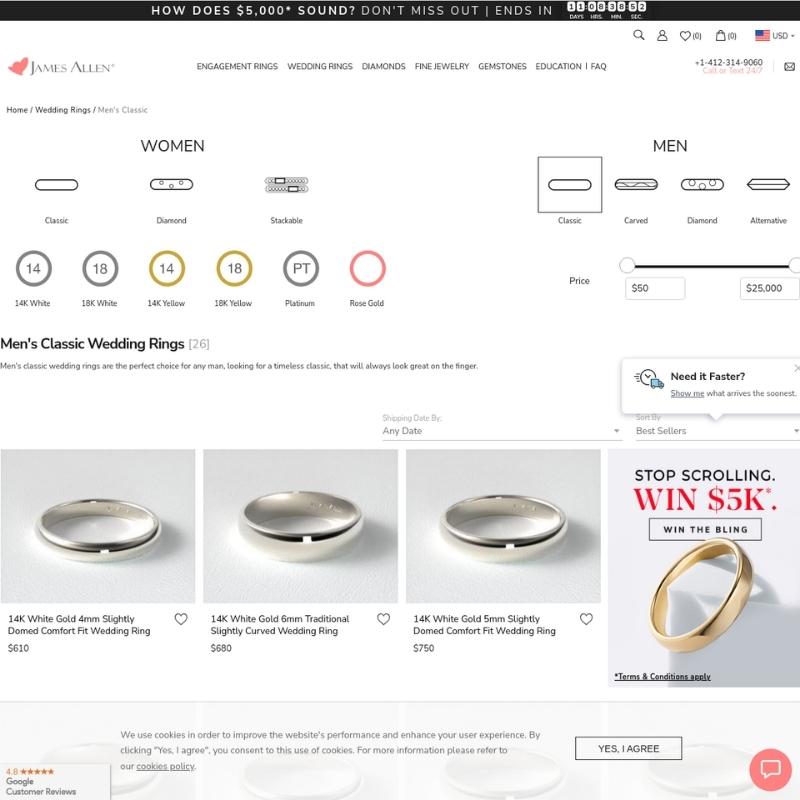 James Allen promotes itself as the jewelry with the "most prized diamonds, the best selection, and the newest technology" as the "company with a technology soul."
As the largest privately held online diamond and wedding jewelry retailer in the world, they have a mission of offering consumers online high-quality diamonds and the most extensive selection at the best price.
Highlights:
James Allen offers classic, carved, diamond, and alternative men's wedding bands in 14 and 18K white and yellow gold, platinum, and rose gold. They also offer complimentary engraving.
With Diamond Display Technology, you can view real diamonds in HD views.
The company has 24/7 non-commissioned jewelry experts for diamond consultations for free.
Their jewelry has a lifetime warranty with prong tightening, re-polishing, rhodium plating, and cleaning. They will also resize your ring for free in the first year of your purchase.
James Allen ships your ring free worldwide.
What James Allen Does Best:
Craftsmanship and quality. With over sixty combined years of experience, their founders have crafted rings for Tiffany & Co and many other jewelry brands.
Shop Wedding Bands at James Allen
What are Mens Wedding Bands?
Men's wedding bands are rings worn by men on their left ring finger, usually with a matching band on the left ring finger for their spouse. The bands are usually made of gold, silver, or platinum, and they may be engraved with the wedding date or the couple's initials.
For many men, their wedding band is the only piece of jewelry that they wear. Men's wedding bands are a symbol of marriage and commitment, and they are often passed down from generation to generation.
Wedding bands for men are typically less expensive than women's, but they can still be quite costly. For example, when shopping for men's wedding bands, it is essential to consider the style of the ring, the metal it is made from, and the size.
Wedding bands can be simple or elaborate and should be comfortable to wear. The metal should be durable and hypoallergenic, and the size should be appropriate for the man wearing it.
Do Men Wear Wedding Rings?
Wedding rings symbolize marriage, and both spouses typically wear them.
Traditionally, it was more common for women to wear wedding rings than men, but this is no longer the case. Today, many men wear wedding rings to signify their commitment to their spouse.
Before making a decision to buy a men's wedding band, think about your lifestyle. If you have a job that requires you to use your hands extensively, such as in construction or carpentry, a wedding ring may get in the way or even pose a safety hazard.
You should also consider your budget. Wedding rings can be pretty expensive, so if you're on a budget, you may want to opt for just a band for your bride and purchase a more affordable silicone ring for yourself.
Ultimately, there is no right or wrong answer regarding whether men should wear wedding rings; it's simply a personal choice.
How Much Do Wedding Bands for Men Cost?
The average cost of a wedding band for men is $500. The price can range from a few hundred to a few thousands dollars, depending on the metal's quality and the ring's design.
For example, a simple tungsten band may cost as little as $250, while a more elaborate gold design could cost $2,000 or more.
The most important thing to consider when buying a wedding band is not the price but rather the quality of the ring. For example, a well-made ring will last a lifetime, whereas a cheaply made ring may need to be replaced in just a few years.
It is also essential to choose a style you feel comfortable wearing daily. With so many options available online, it is easy to find a wedding band that fits your budget and style.
Who Pays for the Grooms Wedding Ring?
While it is common for the groom to purchase the engagement ring, the tradition of who buys the man's wedding ring is less clear.
In some cases, the groom may purchase the engagement and both wedding bands. In other cases, the bride may purchase his wedding ring or the couple may split the cost.
Ultimately, there is no set rule for who should buy the wedding rings. Whether purchased by the groom, bride, or as a joint effort, the wedding rings should reflect the couple's relationship.
Do Men Wear Engagement Rings?
While engagement rings are traditionally associated with women, more and more men are choosing to wear rings as a symbol of their commitment.
There are a variety of explanations why men may choose to wear an engagement ring; for some, it is simply a matter of personal preference.
Others may see it as a symbolic way to show their partner they are equally committed to the relationship.
Whatever the reason, it is clear that the trend of men wearing engagement rings is on the rise. And as society becomes more open of diverse expressions of love, even more men will likely opt to wear rings as they enter into committed relationships.
Bottom Line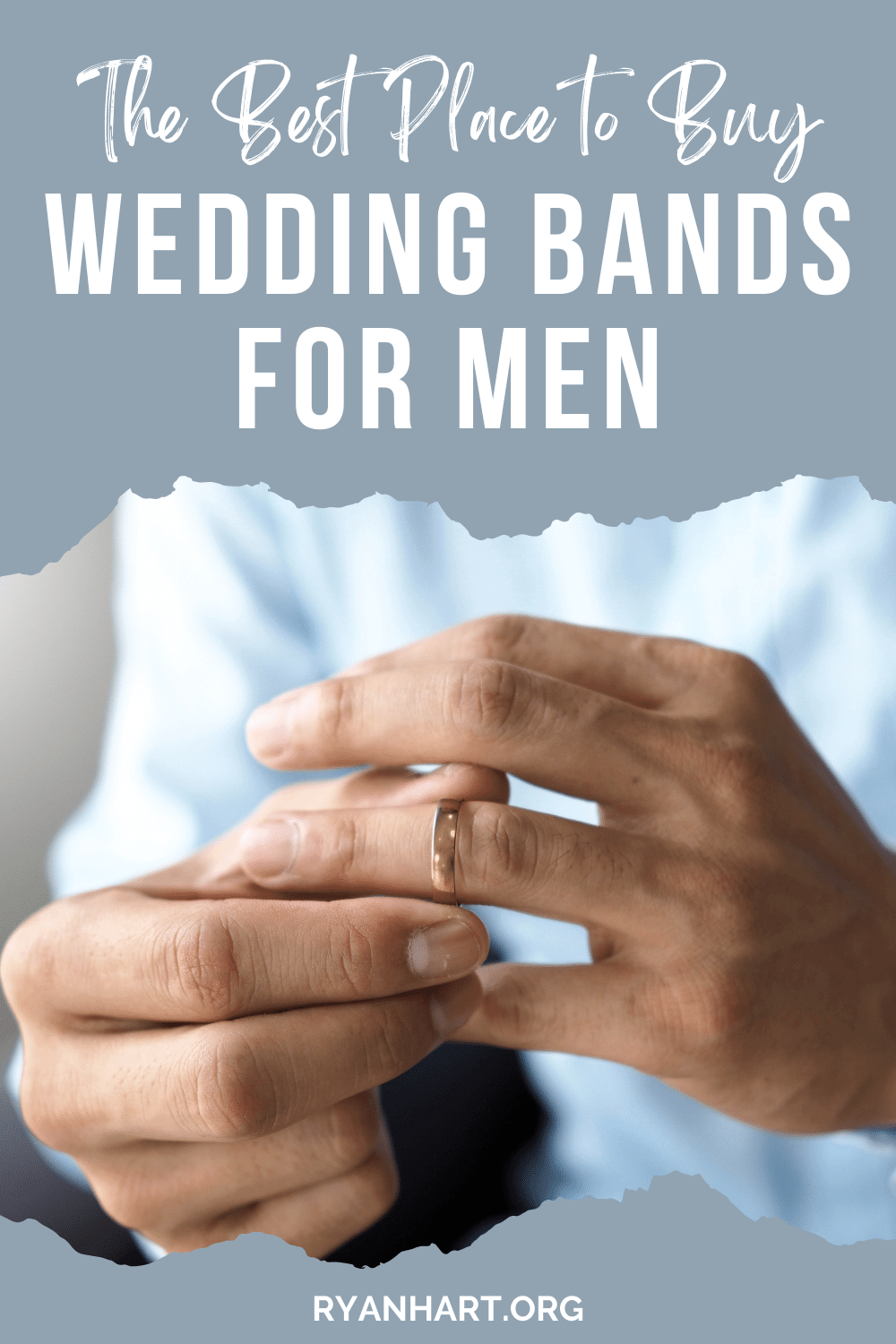 There are many reasons to purchase a men's wedding band online rather than in a local jewelry store. For one, the selection of bands online is much more comprehensive, giving you more options.
In addition, online jewelers often offer lower prices than brick-and-mortar stores due to the lower overhead costs associated with running an online business.
Finally, buying a men's wedding ring online is more convenient than going to a jewelry store, as you can do it from your couch or the comfort of your home.
With all of these advantages, it's no wonder that more and more people are choosing to purchase their wedding bands online.