Choosing the right wedding band for your exquisite solitaire engagement ring can be challenging. Not only do you want it to be attractive, but you don't want to spend a fortune. You have so many other expenses with the upcoming wedding. But we have you covered!
We've found the seven best wedding bands for solitaire rings:
What is the Best Wedding Band for a Solitaire Engagement Ring?
Often, you'll find engagement rings with matching wedding bands; but most are not sold in a set. This may make the search difficult; we've assembled a list that offers variety, something for everyone.
Also, consider those times that you may want to leave your large stone at home. When you choose an interesting wedding band, you have more flexibility.
Here are the seven best wedding bands for solitaire engagement rings: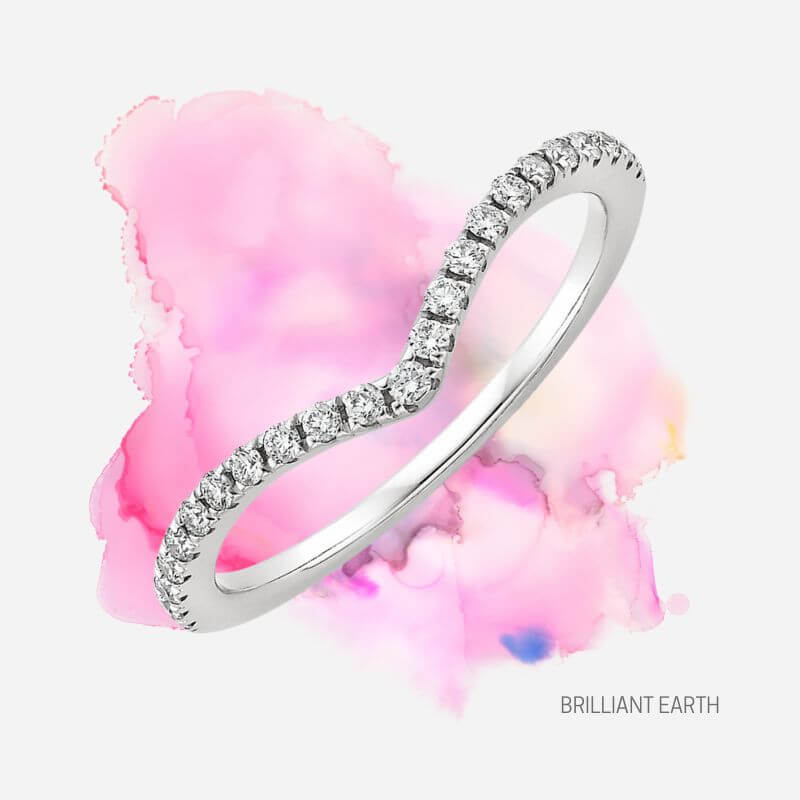 From Brilliant Earth, the Flair Diamond Ring features scalloped pavé diamonds flowing midway down the band. Stunning enough to stand alone, paired with your solitaire engagement ring it will make for a beautiful wedding set.
With a starting price of just $1000, it is available in 18K white gold and either 1/6 or 1/3 carats. Like all Brilliant Earth rings, it's made of 93% recycled gold and comes in FSC-certified packaging.
It's delicate and striking at the same time. And even better, Brilliant Earth offers only high-quality and responsibly sourced gems.
Check Price at Brilliant Earth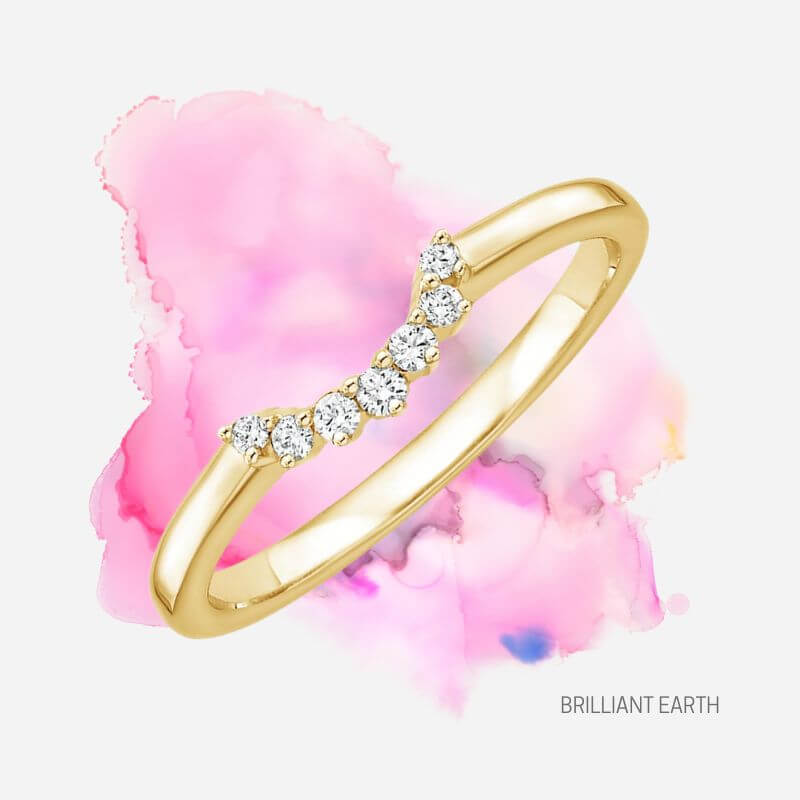 The Crescent Diamond Ring from Brilliant Earth works alone with your engagement ring, or you can make your stone really stand out by stacking one band on top and one below. The 1/15-carat beauty is available in yellow, rose, and white gold, as well as platinum, starting at just $890.
It ships for free, and the company offers 30-day returns. It's the perfect wedding band to add sparkle to your engagement ring.
It can be worn alone or paired with another to encircle and highlight your engagement ring. You can also consider saving the second, encircling ring, as a first-anniversary gift to complete the set.
Check Price at Brilliant Earth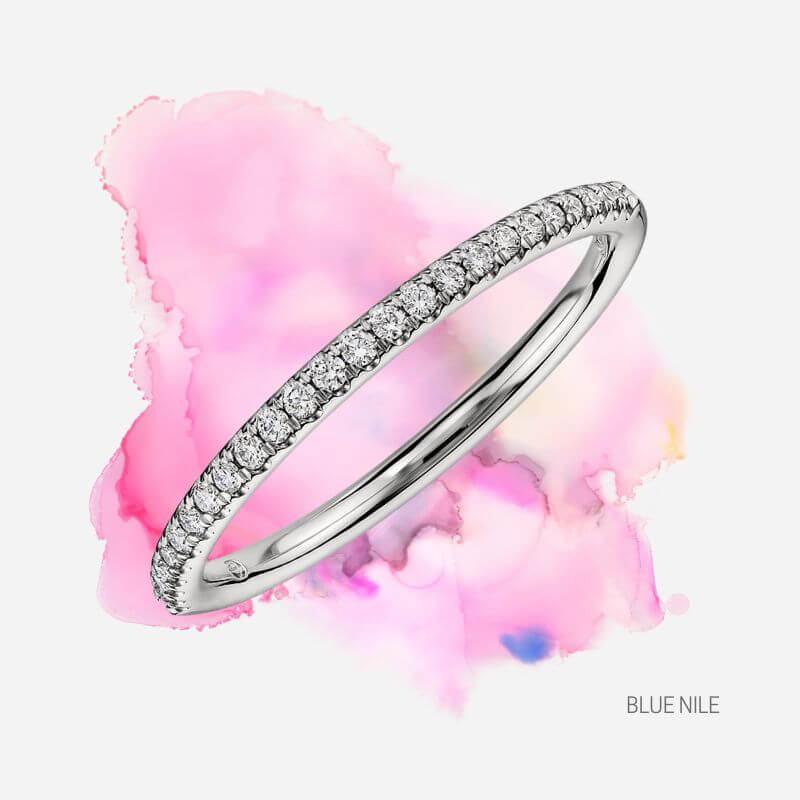 Pavé settings on a wedding band can help to make your solitaire appear larger. Pavé settings feature small diamonds that sparkle around the center stone. Accent stones are set together and joined with prongs, putting the focus on the diamonds and not the metal surrounding them. Our pick is the Petite Micropavé Diamond Ring from Blue Nile. Available in white, yellow, and rose gold, you can opt for platinum, which is slightly more expensive. It has a 1/10 carat of diamonds around the delicate band and starts at less than $700.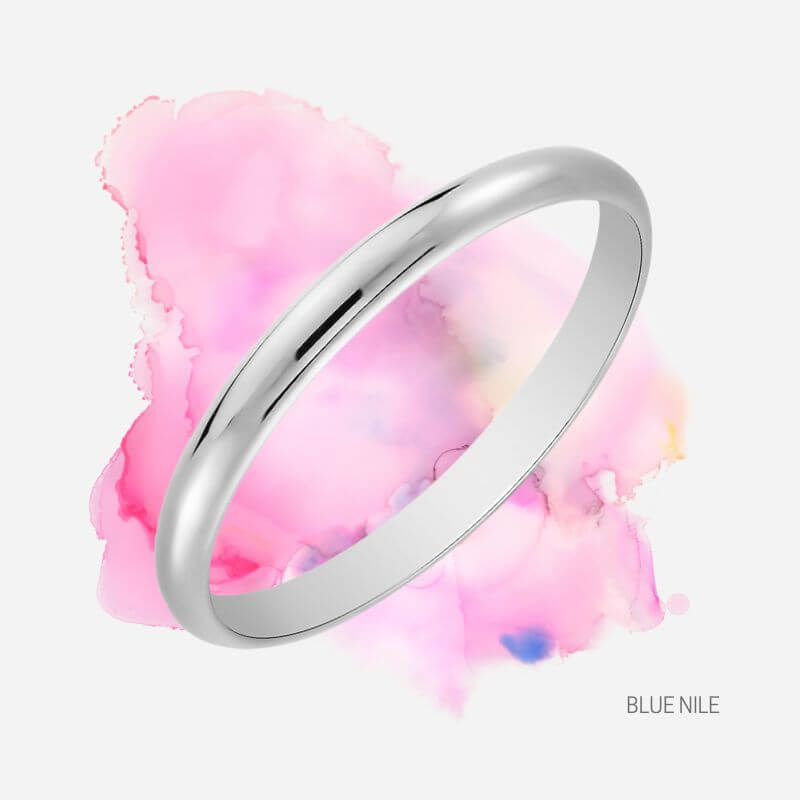 One of the more traditional and extremely trendy styles is the Classic Wedding Band. Choose from the delicate 2mm band width or the larger 7mm width. It's lightweight and slender with a low profile. Sticking with this classic can really help your budget. The Classic Wedding Band comes in white, yellow, and rose 14K gold; yellow and white 18K gold' or platinum starting at just $390. The beautiful band can even stand alone if you choose to leave your engagement ring at home for the day.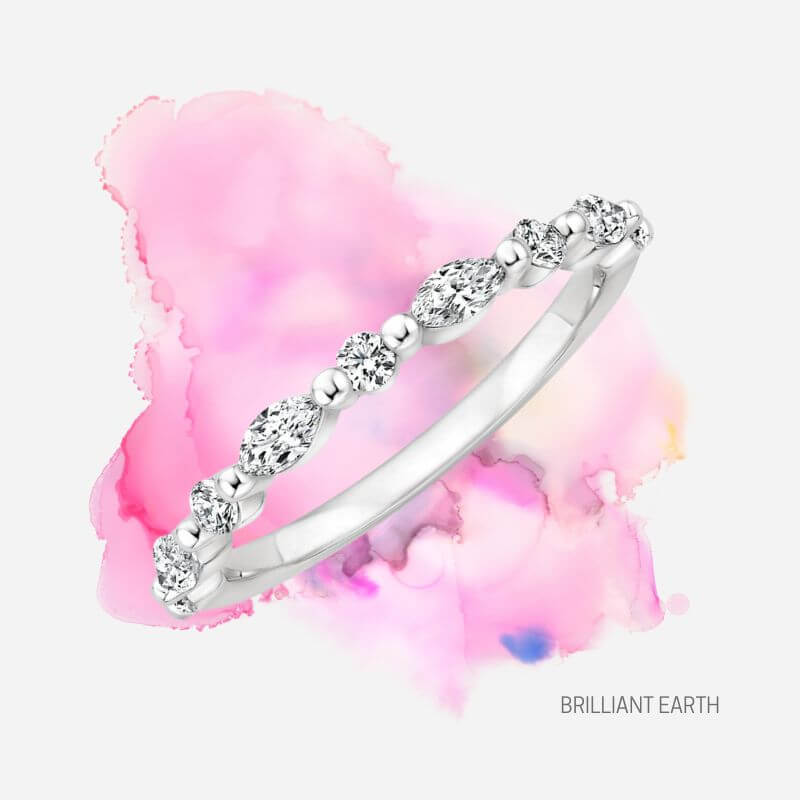 Brilliant Earth's Versailles Diamond Ring features alternating round and marquise diamonds with a bead between each halfway around the band. Choose from a carat weight of 1/5 to ¾. It's available in 18K white and yellow gold, 14K rose gold, and platinum and starts at $1390.
Even without your engagement ring, it is a beautiful statement piece. If you're wary about rocking your rock on a daily basis, you can certainly put this on to show your new status.
Check Price at Brilliant Earth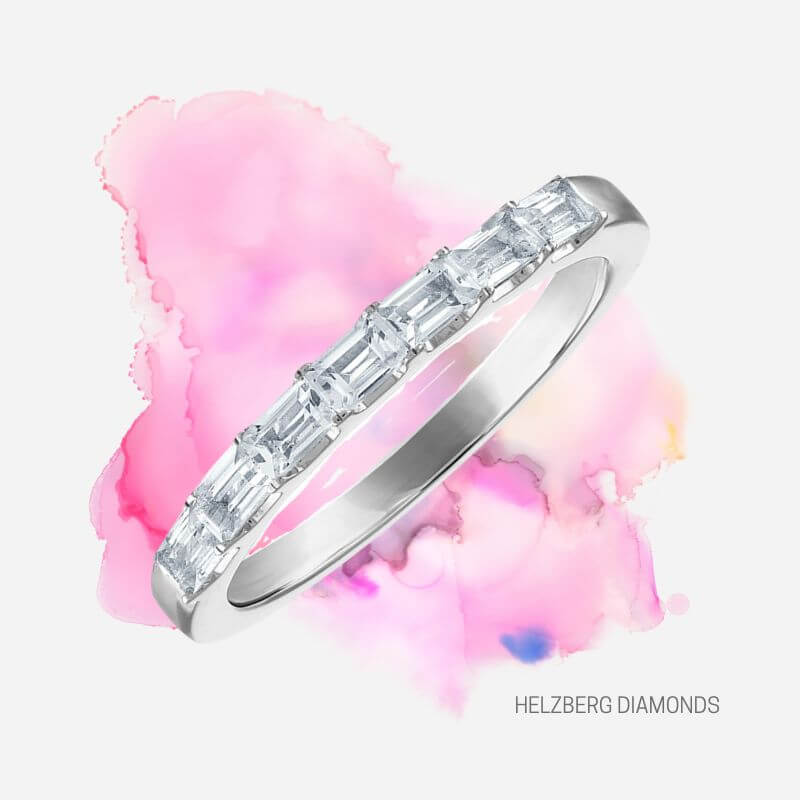 From Helzberg Diamonds, we bring you the Baguette Diamond Wedding Band featuring seven Light Heart lab-grown diamond baguettes. Helzberg has been in the diamond business for over a century, and they know diamonds.
So much so that they offer an alternative choice in fine jewelry. The Baguette Diamond Wedding Band is made in 14K white gold and has a ½ carat total weight for only $1299. If you're not sure about lab-grown diamonds, they are graded with the highest industry standards and have the GCAL certification.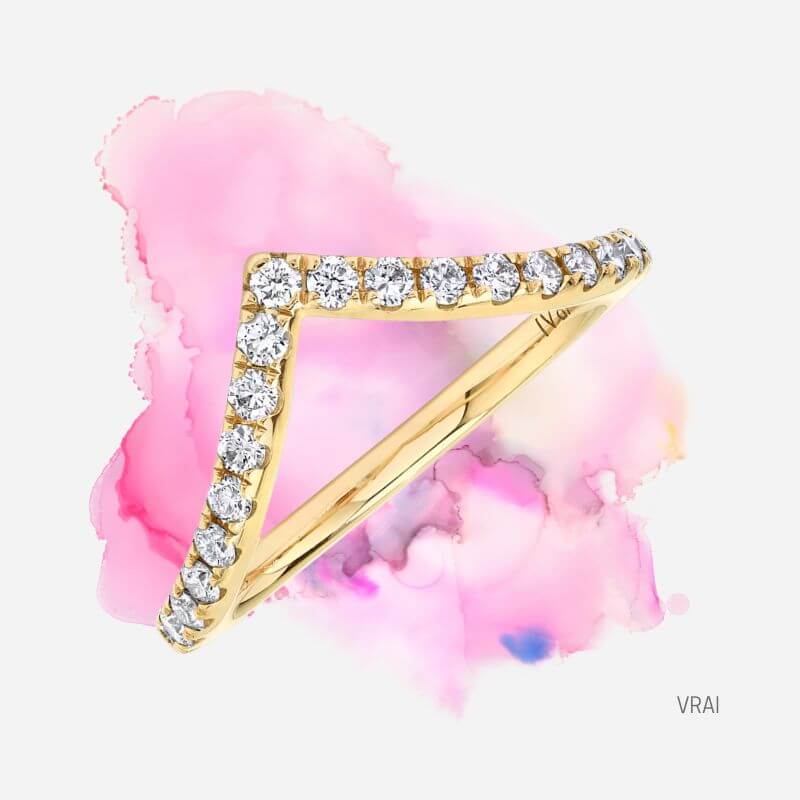 The Signature V Wedding Band from VRAI starts at $1300 and is available in 18K white and yellow gold, 14K rose gold and platinum. The pavé wedding band has a 2mm band width and a .38 total carat weight.
Your selection ships free in the US. Made in platinum or recycled gold within ten days of your order, the gorgeous wedding band comes from a brand that is serious about sustainability. Their diamonds are produced with no carbon footprint whatsoever.
Sustainability and environmentally friendly, the VRAI brand makes their diamonds in a zero-emission foundry with hydropower from the Columbia River. If you're also concerned with and participating in taking care of the environment – choosing a VRAI ring is a great way to do it!
How do you match your wedding band and engagement ring together?
When shopping for wedding bands, get inspiration from your engagement ring's style. The two rings should complement each other and create a cohesive look.
Classic engagement rings with simple designs tend to pair well with simple bands, while you can match more intricate rings with bands that have detailed designs.
It's also important to consider the metal of your rings. For example, if your engagement ring is gold, you'll want to find a gold wedding band.
However, if you have a silver engagement ring, mix things up and choose a rose gold band.
What style of wedding band goes with a solitaire engagement ring?
While there are no hard and fast rules about what style of wedding band goes with a solitaire ring, there are a few guidelines that can help to make the decision easier.
First, consider the setting of the diamond. A simple solitaire ring will usually look best with a simple band, while an elaborate setting may call for a more ornate band.
If you want a bit of flair, you can choose a band with a different shape, such as an eternity band or a pave band. You can also add some sparkle to your band with diamonds or other precious stones.
Finally, think about your style, choose a band that fits your aesthetic, and you will be happy with the result.
Bottom Line
A solitaire engagement ring is a timeless symbol of love; the wedding band you choose should reflect that.
First, consider the metal of your engagement ring. If it's gold, you'll want to choose a band in the same metal so that they match perfectly.
A band with diamonds or other precious stones will add a touch of sparkle. A pave band will add a layer of luxury to your wedding ring set.
Ultimately, the best wedding band for a solitaire engagement ring is one that compliments the ring while still maintaining its unique style.