Shopping for "his and hers" wedding bands can be challenging. After all, the rings you purchase will symbolize your relationship forever. You should look for something that you both love and that coordinates well.
Your wedding bands don't have to match exactly, but they should coordinate with one another. For example, you can purchase a set of identical wedding bands, get two bands in the same metal, or choose something that brings two rings together.
Before you start your search, check out our seven best matching wedding band sets.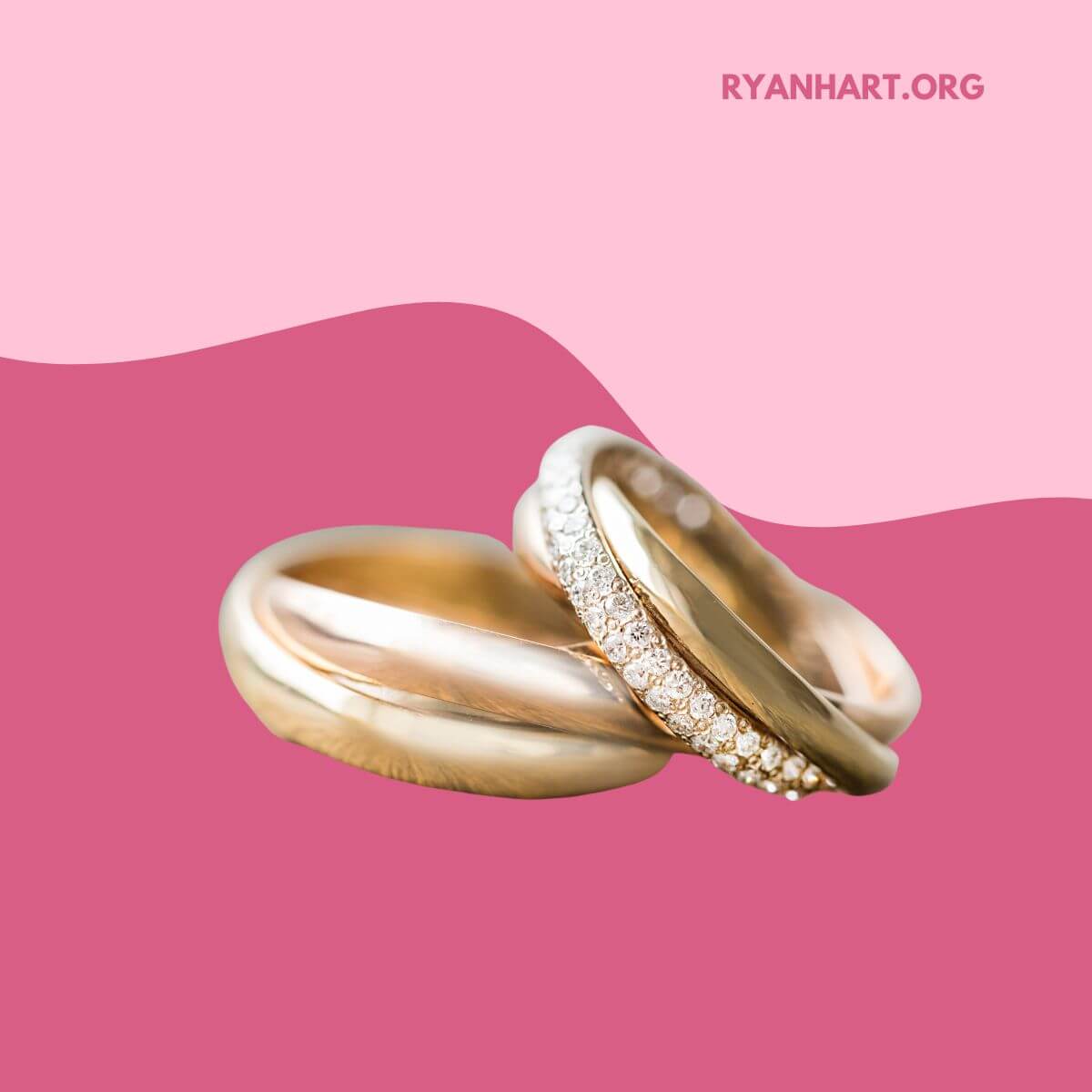 What are the Best Wedding Ring Sets for Couples?
The best wedding ring sets will be what makes the two of you happy and appeal to you both in some way. Many couples choose to find bands with matching metals or matching or complementary styles.
Using this popular method, we've sorted through the thousands of options and narrowed it down to seven top pics for wedding ring sets for him and her. Let's get to it so you'll better understand the perfect matching wedding band sets!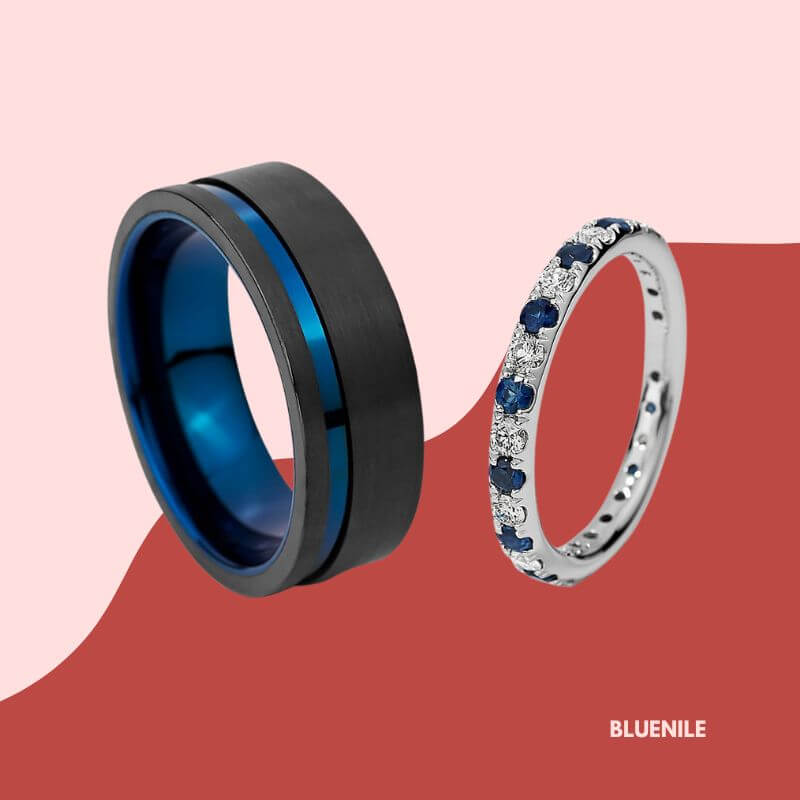 Pavé settings are those with small diamonds or gemstones used to emphasize the center stone on the engagement ring. The look is made to create a fantastic sparkle. The Riviera Pavé Sapphire and Diamond Eternity Ring in platinum does that.
Pair it with the stylish tungsten asymmetrical black and blue engraved wedding band, and you have a unique look. Get the pair for under $3,000! When you order from Blue Nile, expect free shipping and a thirty-day return policy.
Why this set is a Great Choice:
They are incredibly unique and gorgeous! Black is becoming a popular choice for men, and the combination of sapphire and diamonds is exquisite. The set is beautifully coordinated.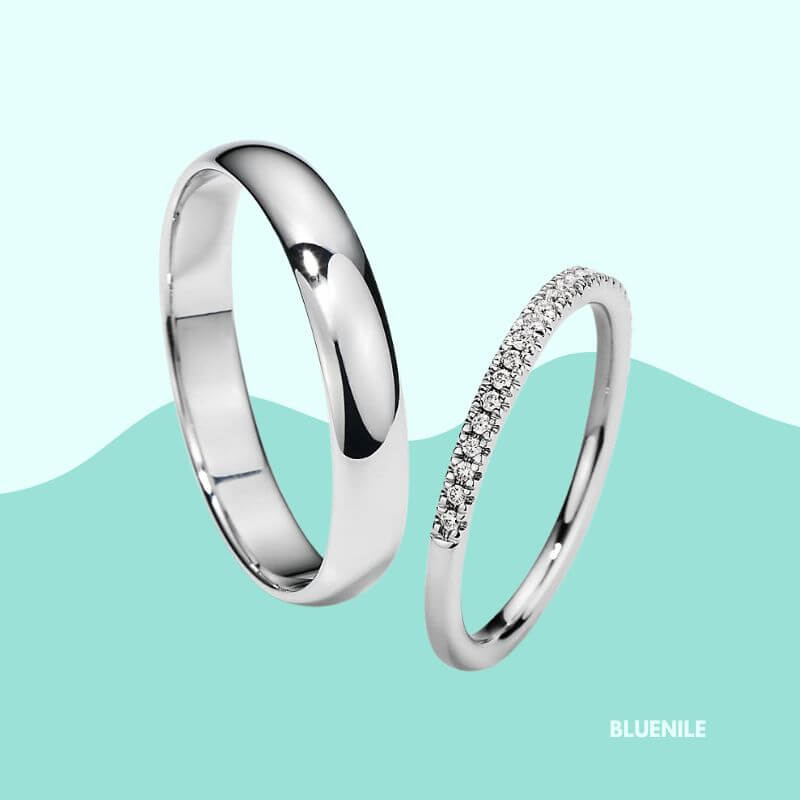 Nothing says classic and timeless like beautiful white gold. This matching set from Blue Nile has a subtle elegance that will last a lifetime. The set screams simplicity and luxury all at the same time.
The petite micro pavé diamond band and classic wedding band set in 14k white gold are priced at just under $1200. Engrave a special message or your initials right inside the rings when ordering to make the set extra special.
Why this set is a great choice:
In addition to being a beautiful matching set, Blue Nile believes in and is committed to dealing in only conflict-free diamonds.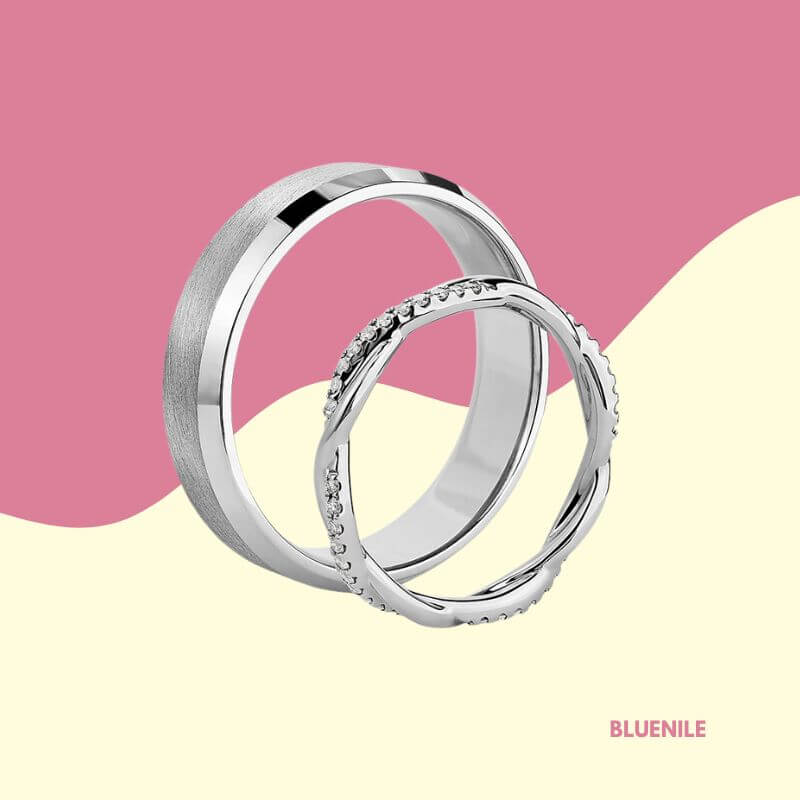 Twisted engagement rings and bands have become popular in the last decade. The Petite Twist Diamond Eternity Band fits the bill! Paired with the Lathe Emery Comfort Fit in 14K White Gold, it's just under $2000 from Blue Nile.
Two intertwining bands, one featuring micro pavé set diamonds and one of solid gold, make a bold statement and give the eternity band a feminine touch. The Lathe Emery band complements the twist band while maintaining a masculine look.
Why This Set is a Great Choice:
The set allows the two of you to stick to separate styles that coordinate.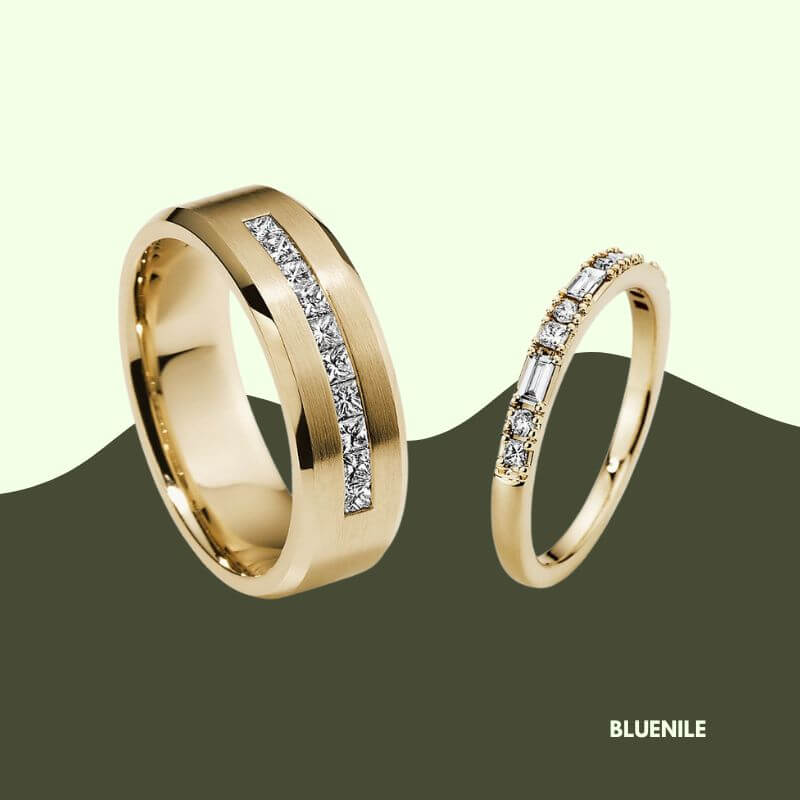 Yellow gold wedding bands are both classic and sleek. And it can definitely shine when wrapped around fabulous diamonds. The Dot Dash and Princess-Cut Channel-Set Diamond Set in 14k Yellow Gold shows that you can be masculine and show a little bling.
The set, priced at under $4K, includes a Dot Dash Diamond band set with princess round and baguette cuts. The two create a stunning look while keeping with a traditional style.
Why This Set is a Great Choice: The setting is unique while traditional, and the gold shines beautifully.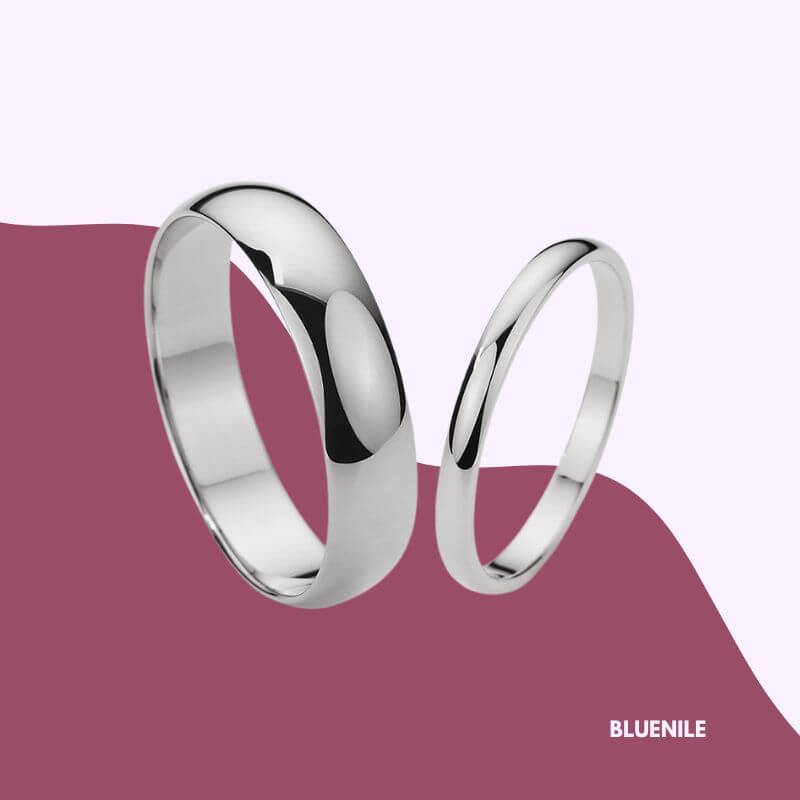 The Classic Wedding Ring Set in Platinum is perfect for those with a more conservative style. At just under $1,280 for the set, it's also affordable. Platinum is a durable metal that will take a little abuse.
It is also hypoallergenic, making it the best choice for those with sensitive skin or allergies.
This set is made with 950 platinum, so it has a high purity level. The low-maintenance metal is also easy to keep clean and doesn't need a lot of fuss to maintain its beauty.
Why This Set is a Great Choice:
Guys usually take a little time to get used to having something on their finger. This hypoallergenic and durable ring will handle anything.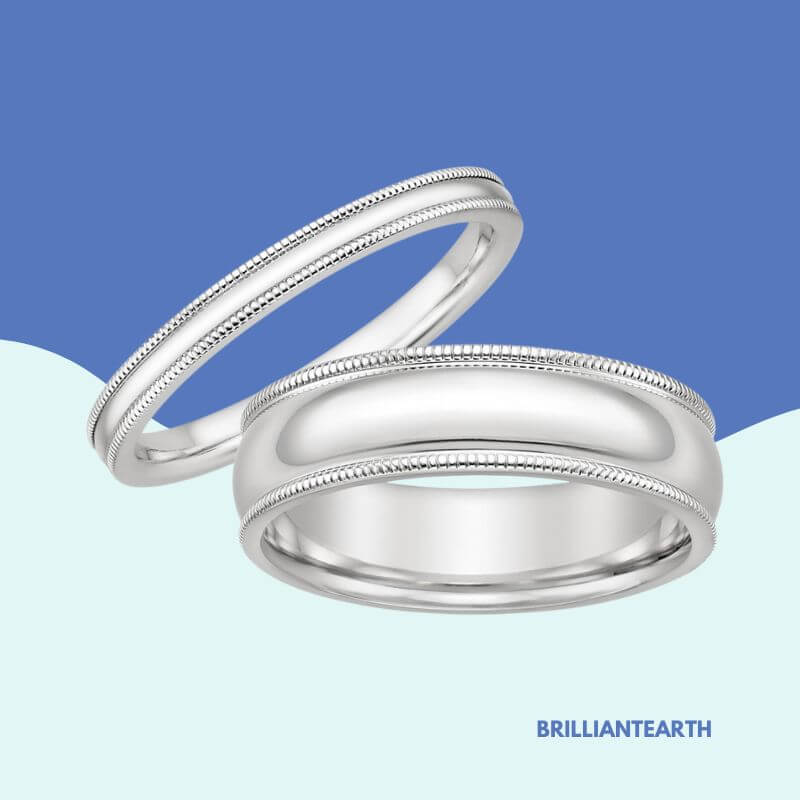 Milgrain jewelry features decoration on the edges akin to beads, adding an exciting border detail to a wedding band. The Brilliant Earth 2mm, Milgrain Wedding Ring in 18K White Gold is priced at just $390 and pairs nicely with the Brilliant Earth 6mm, Milgrain Wedding Ring in 18K White Goldwith the comfort fit band for $1190.
Associated with the Art Deco period in the US, Milgrain Wedding Rings like the ones below require a bit more time to create a vintage look.
Why This Set is a Great Choice: Milgrain is a classic and unique choice for a vintage look.
Shop for the Women's Milgrain Ring on Brilliant Earth
Shop for the Men's Milgrain Ring on Brilliant Earth
With Clarity brings us the Channel and Pavé Diamond Band with Satin Channel Men's Diamond Wedding Band in 14K white gold. The Channel and Pavé Diamond ring features a row of pave diamonds, and the matching channel set men's band matches with a center row of diamonds. With twelve G VS quality diamond stones, it's sure to please.
All materials are sourced from eco-friendly suppliers. With Clarity also cleans each piece with ultrasonic cleaning.
Why This Set is a Great Choice:
All the bling! The pavé diamonds glitter in the sun, putting on their own little show.
Shop for the Channel and Pave Basket Diamond Ring on With Clarity
Satin Channel Men's Diamond Band on With Clarity
What are His and Hers Wedding Bands?
A matching set of wedding bands is a popular choice for many couples. His and Hers bands are usually made from the same metal, often gold or platinum, and they may feature matching designs or be a simple plain band.
Matching sets can be a symbol of the couple's unity and commitment to each other. They may also have their bands inscribed with a special message or date.
Some His and Hers sets even have matching gemstones put into the bands. While they are not required, His and Hers wedding bands can uniquely symbolize the connection between a husband and wife.
Do His and Hers Wedding Rings Have to Match?
When it comes to wedding rings, there are no hard and fast rules. Some couples prefer to match their rings precisely, while others opt for complementary styles.
There is no right or wrong answer; ultimately, it is up to the couple to decide what works best for them. However, there are a few things to remember when choosing his or her wedding rings.
First, think about the overall aesthetic you want to achieve. Matching rings may be the way to go if you prefer a coordinated look. On the other hand, if you want your rings to reflect your personality, complementary styles may be a better option.
Second, consider your budget. Matching rings can be more expensive than buying two different rings, so it is essential to factor this into your decision. The important thing is to choose a style that you both love and reflects your unique relationship.
Bottom Line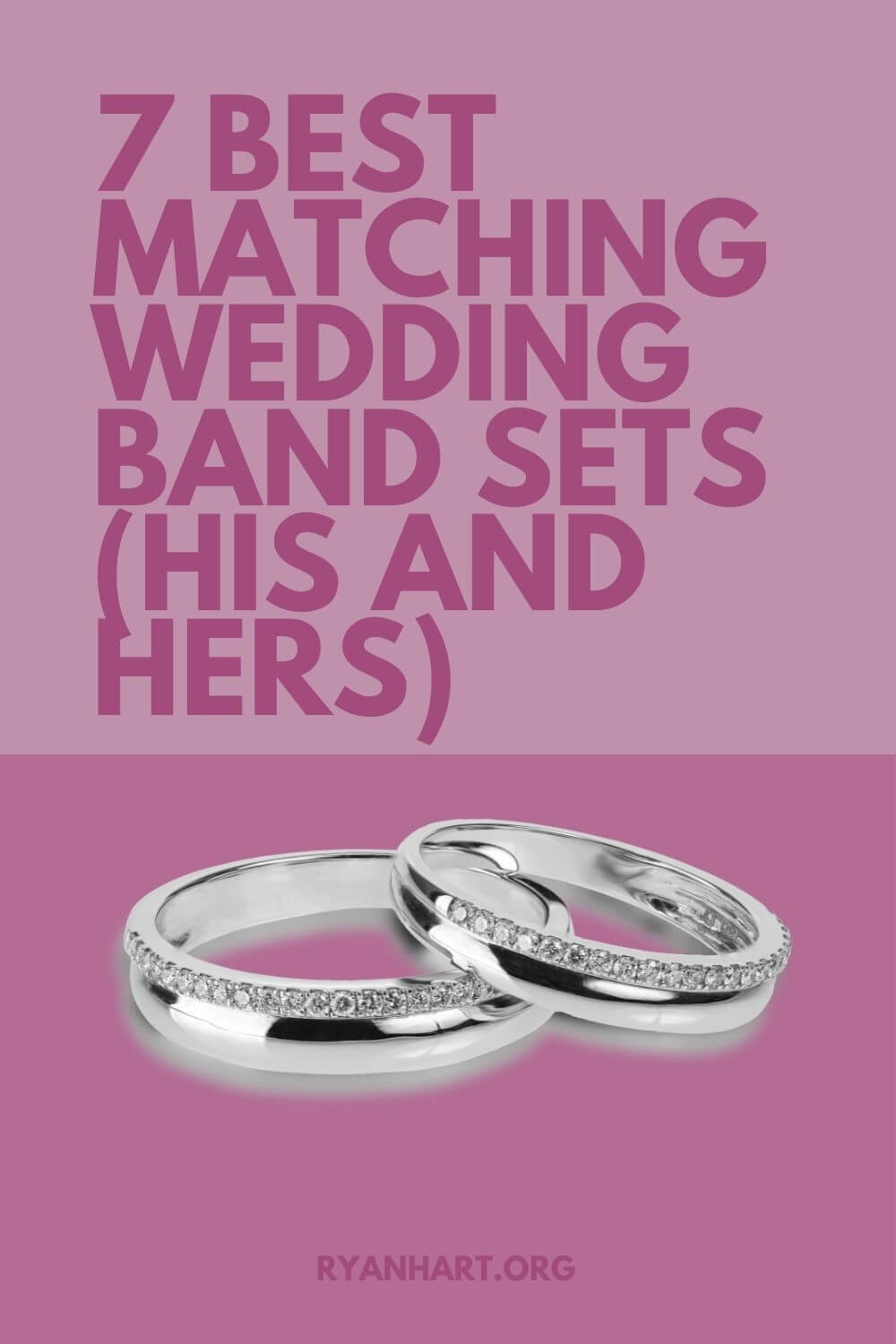 A wedding band is a ring that symbolizes the union of two people in marriage. Couples often choose to buy matching bands as a way to show their commitment to each other.
There are several reasons why couples might choose to buy matching bands. First, it can show that they are indeed equal partners.
Second, matching bands can be a sign of unity and togetherness.
Finally, some couples prefer the look of identical rings. Whatever the reason, matching bands can be a beautiful symbol of a couple's love for each other.