If you're looking to sell your platinum, you may be wondering who buys it near you. There are many companies that purchase platinum, including pawn shops, jewelry stores, brokers, and online auction websites.
One of the best options is to work with an online precious metals buyer. These companies have expertise in appraising and valuing precious metals.
They often have a large audience of retail buyers that they sell to, so they can offer competitive prices for your platinum coins and bullion.
In this article we review the most popular online platinum buyers to help you get the most money for your valuables.
Who buys platinum?
Here is a list of the most popular websites that buy platinum: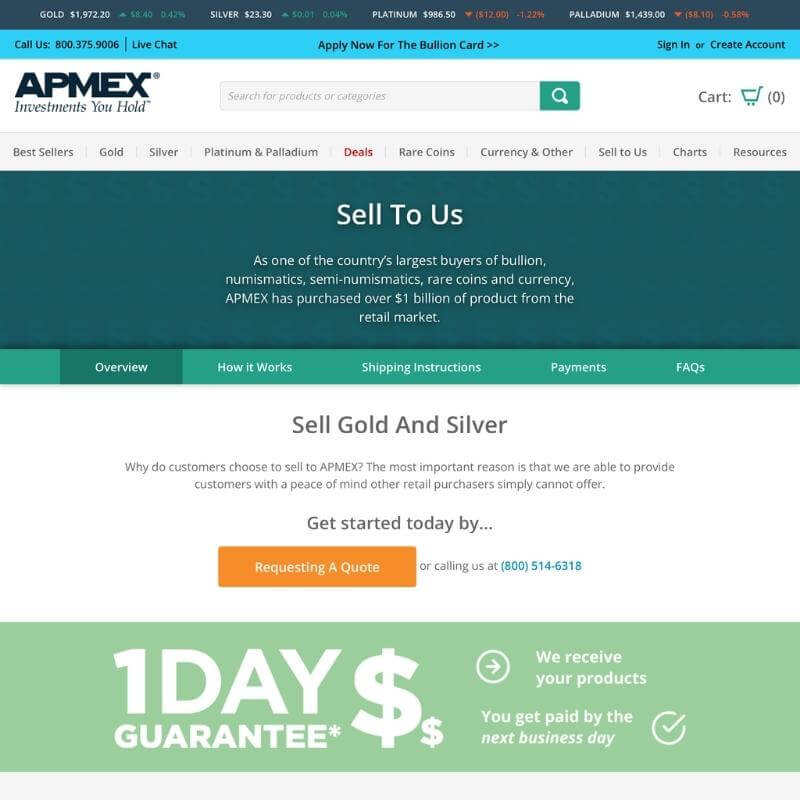 When you sell platinum to APMEX, they make the process easy and straightforward.
They offer competitive prices and will lock in your price as soon as you confirm your sale. They will also provide you with a shipping label and pay for the shipment of your platinum.
Once your shipment is received, APMEX will authenticate your platinum and process your payment promptly. They offer several payment options, including check, wire transfer, and ACH transfer.
Overall, APMEX is a reliable and trustworthy place to sell your platinum. They offer competitive prices, a broad assortment of platinum bullion and numismatics, and a straightforward selling process.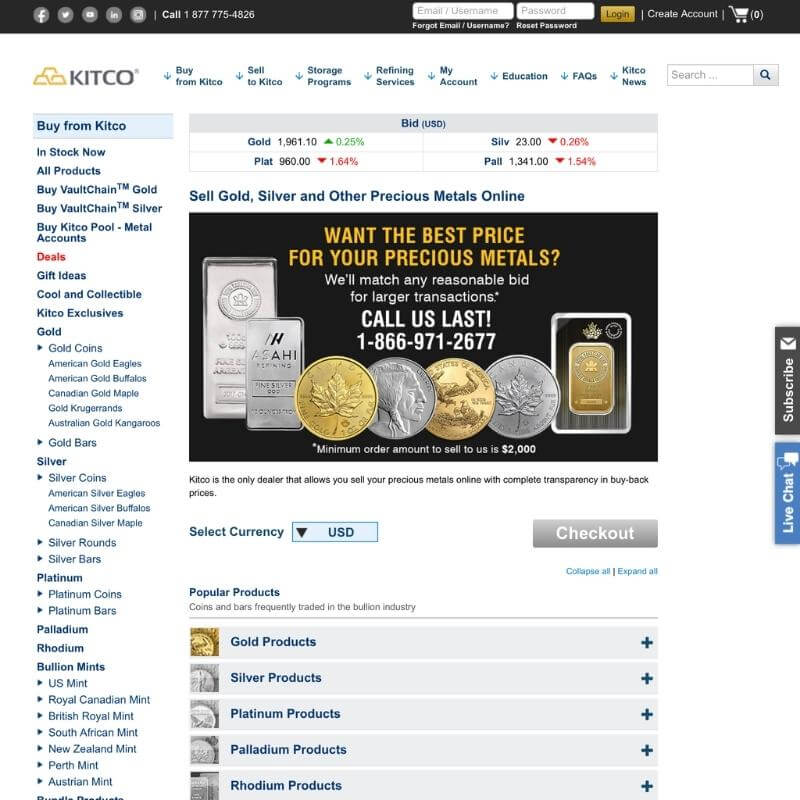 With over four decades of experience in the precious metal industry, Kitco has established itself as a reputable source of information and a trusted dealer for buying and selling precious metals.
One of the benefits of selling your platinum to Kitco is their transparent and competitive payout rates. Kitco provides up-to-date quotes for platinum, so you can be sure you are receiving a fair and accurate price for your metal.
With their commitment to integrity, Kitco is a great option to consider when selling your platinum.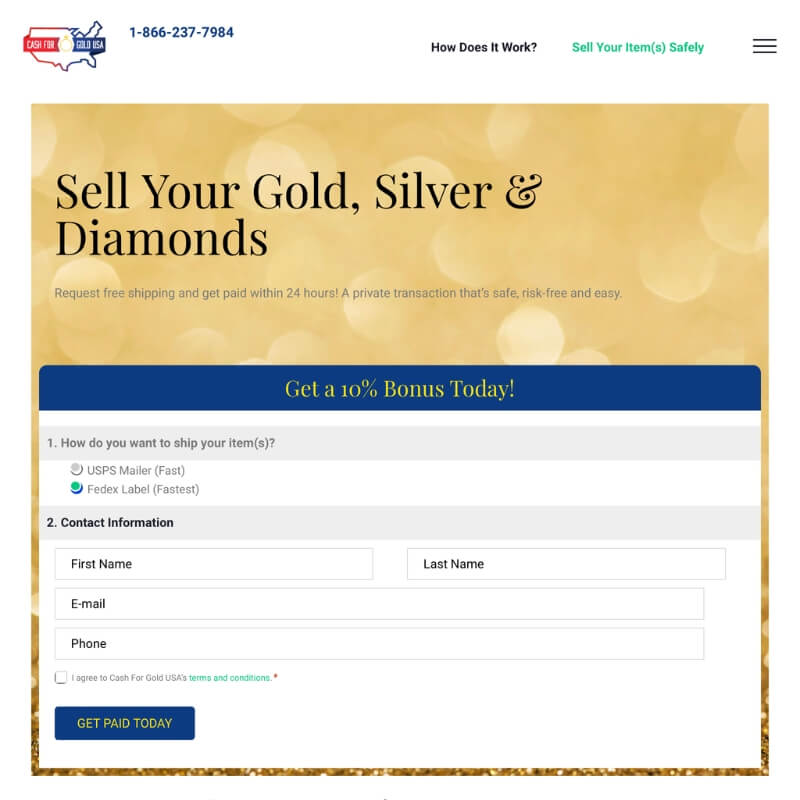 Cash for Gold USA offers a simple and hassle-free buying process. Just request a free appraisal kit, send in your items, and receive payment within 24 hours of acceptance.
Their team of experts uses the latest technology to accurately appraise your platinum and offer you a competitive price. They also provide a 10% cash bonus on your quote when you use their appraisal kit.
One of the best things about Cash for Gold USA is that they offer fully insured shipping, which means you can sell your platinum without any risk or commitment. They also provide a paypal option for payment, which is a secure and fast way to receive your cash.
With their expertise and experience in the industry, you can rest assured that you will receive a fair price for your precious metal.
4. JM Bullion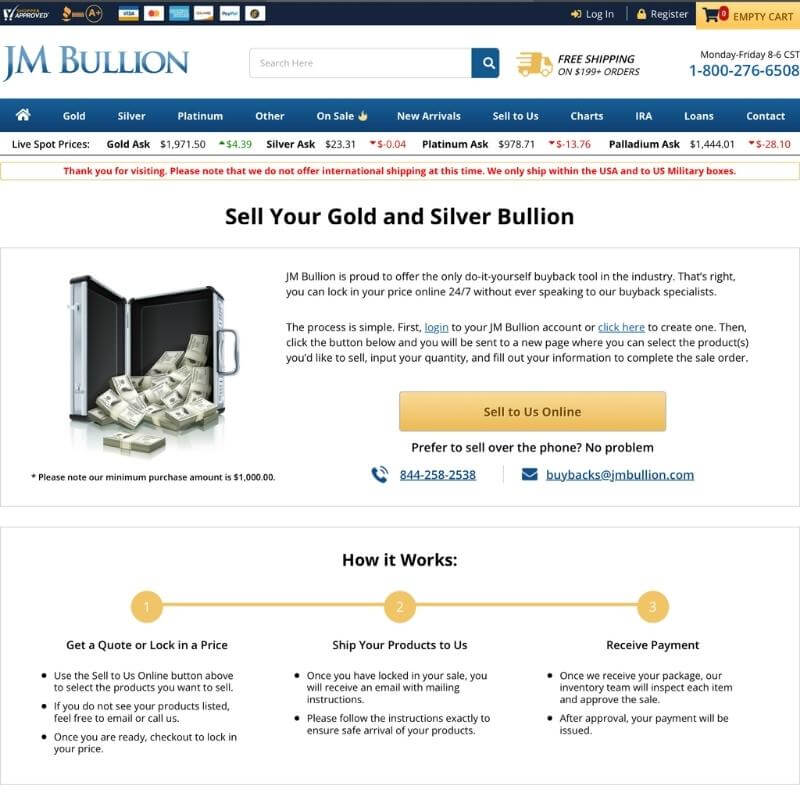 JMBullion is a precious metals dealer that has been in business for over a decade. They specialize in buying and selling precious metals, including gold, silver, and platinum bullion.
They have a vast inventory of platinum coins and bars available for purchase online, making them a go-to source for investors and collectors.
When you sell your platinum to JMBullion.com, you can expect a fair and competitive price for your precious metal. They offer some of the best platinum prices in the industry, and their payment process is quick and hassle-free.
Overall, JMBullion is a great place to sell your platinum bullion online.
5. Monex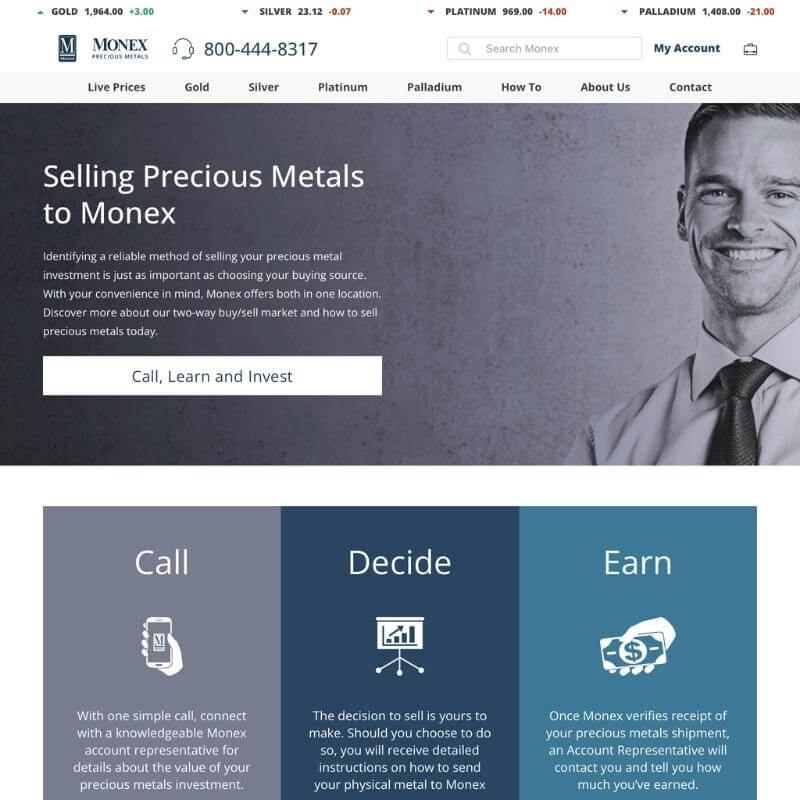 As a trusted precious metals dealer for over 50 years, Monex has a long-standing reputation for providing fair prices and excellent customer service.
Monex offers a variety of options for selling platinum, including bullion bars and coins. They also provide a secure storage option for those who prefer to hold onto their platinum for a longer period of time.
When it comes to payment, Monex offers several options, including wire transfer and check. They also provide a competitive buyback program for those looking to sell their platinum back to Monex in the future.
One potential downside to selling to Monex is that they primarily deal in bulk purchases, so if you only have a small amount of platinum to sell, you may not get the best price. However, for those with larger amounts to sell, Monex can be a great option.
Overall, if you're looking to sell your platinum to a reputable buyer with a long-standing history in the industry, Monex is definitely worth considering.
6. Bullion Exchanges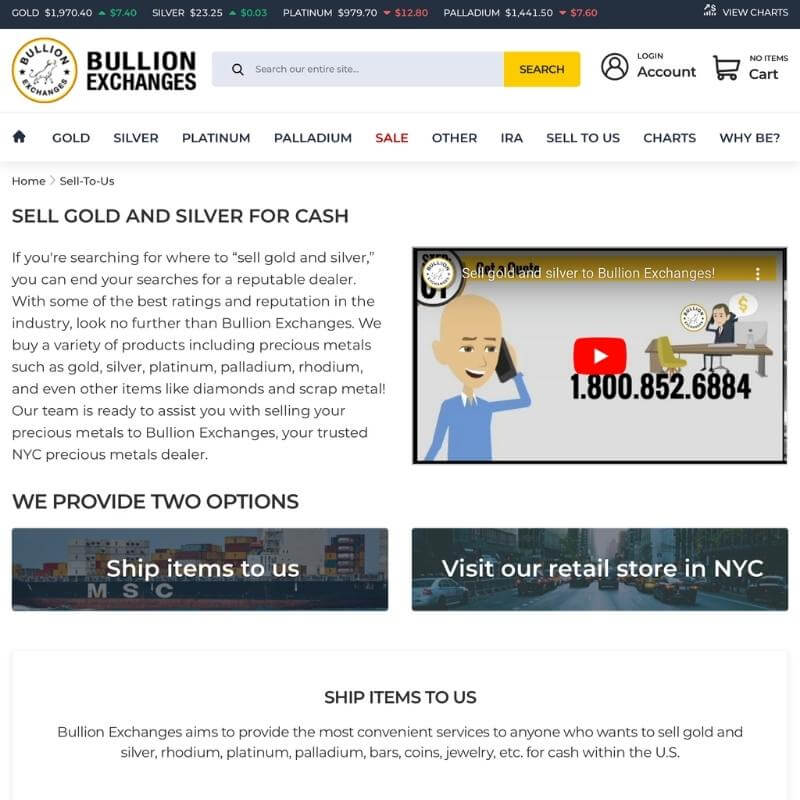 Bullion Exchanges offers competitive prices and a straightforward selling process. They accept a variety of platinum products, including coins, bars, and jewelry. You can sell your platinum to them online or in person at their New York location.
One thing to keep in mind is that Bullion Exchanges only pays for the metal content of your platinum items, not any numismatic or collector value. This is important to consider if you have rare or collectible platinum coins or jewelry.
Overall, Bullion Exchanges is a solid option for selling platinum. They offer fair prices, a simple selling process, and excellent customer service. If you are looking to sell platinum online, they are definitely worth considering.
7. eBay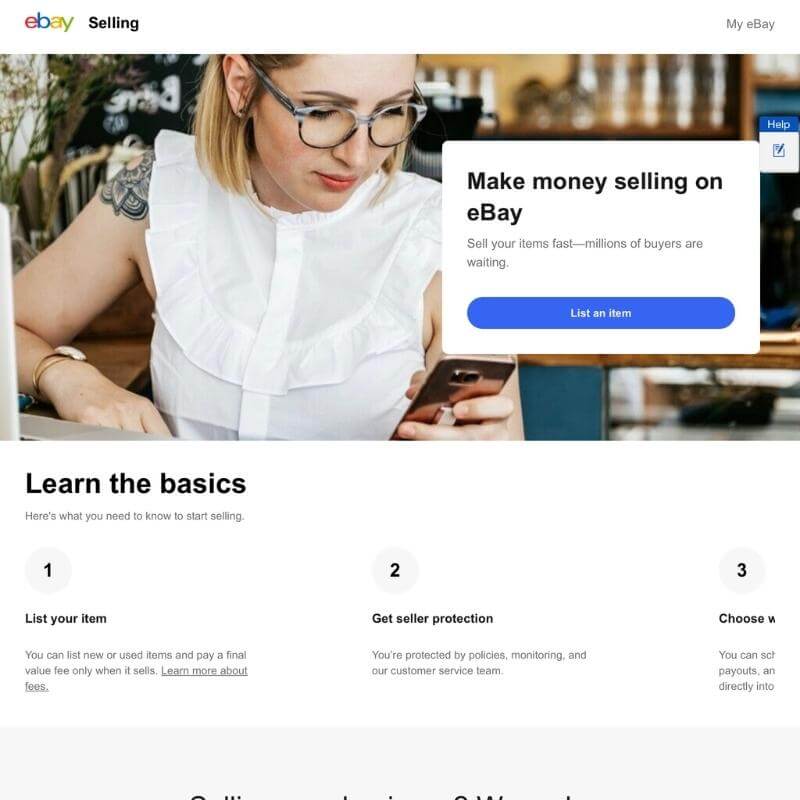 If you're looking to sell your valuable platinum jewelry or bullion, you need to access a large and eager audience of potential buyers.
But the traditional options are too time consuming and cost-prohibitive, leaving you stuck with limited exposure and few offers.
So why not try eBay? They have millions of users from around the world all looking for valuable treasures like Platinum.
eBay allows you to set up an auction for your platinum, which can be a great way to get the best price possible. However, keep in mind that auctions can be unpredictable, and you may not always get the price you're hoping for.
You can also list your platinum for sale at a fixed price. This can be a good option if you want to avoid the uncertainty of an auction.
eBay is the perfect platform for getting your platinum jewelry or bullion out in front of collectors quickly and easily.
What is Platinum?
Platinum is a precious metal that is highly valued for its rarity, durability, and beauty. It is a member of the platinum group of elements, which also includes palladium, rhodium, ruthenium, iridium, and osmium.
Platinum is known for its resistance to corrosion, heat, and wear, which makes it an ideal material for jewelry, catalytic converters, and other industrial applications.
Platinum is often used in the form of bars, coins, and bullion, which are traded as commodities on global markets.
The purity of platinum is measured in parts per thousand, with pure platinum having a purity of 999.5 or higher. The most common alloys of platinum are 95% platinum and 5% other metals, such as iridium or ruthenium.
How much is Platinum worth?
The price of platinum varies depending on the market demand, but you can expect to sell platinum for around $1,000 to $1,500 per ounce. However, the price can fluctuate greatly, so it's important to keep an eye on the market trends.
Platinum prices are typically quoted in U.S. dollars per troy ounce, and you can easily find the current price by checking financial news websites, commodity exchanges, or precious metal dealers' websites.
Keep in mind that the spot price of platinum will be different from the price you may receive when buying or selling platinum coins, bars, or jewelry, as premiums and transaction fees may apply.
To find the most accurate and up-to-date platinum prices, I recommend checking reliable sources like the London Bullion Market Association (LBMA), COMEX, or Kitco.
What is the resale value for platinum?
The resale value for platinum depends on the condition and purity of the platinum you are selling. Jewelry, coins, and other items made of platinum may have a higher resale value than scrap platinum.
Additionally, the resale value may also depend on the buyer and their willingness to pay for the item. It's important to get multiple offers from reputable buyers to ensure that you are getting a fair price for your platinum.
Where can I sell platinum from catalytic converters?
You can sell platinum from catalytic converters to scrap metal dealers or specialized recycling companies that deal with catalytic converters.
It's important to note that not all scrap metal dealers or recycling companies will buy catalytic converters, so you should do your research and find a reputable buyer.
Bottom Line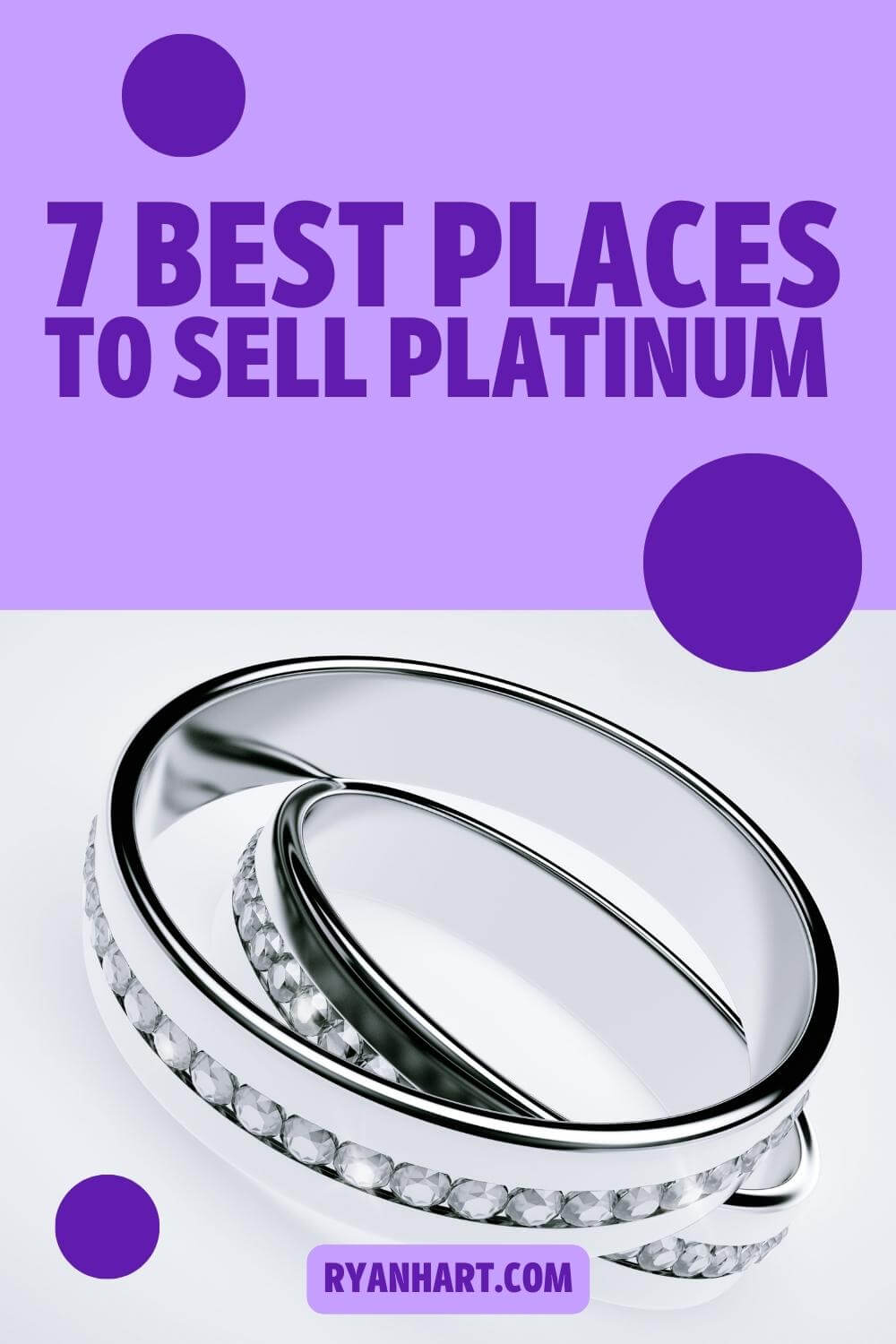 Selling platinum online is easy and convenient, as you can do everything from your computer or phone, and even send your jewelry or bullion by mail.
Plus, online buyers have safe and secure systems to handle your platinum, ensuring it doesn't get lost or stolen while keeping your information private.
Another benefit of selling online is that there's no pressure to make a quick decision. You can take your time and make the best choice for you without worrying about someone trying to make you sell quickly or for less money.
Just remember to choose a trusted online marketplace or buyer and learn about their process before selling your platinum.