Auction sites for jewelry are a great avenue to buy and sell high-quality pieces for a fair price. That said, not all sites are equal, so it's crucial to buy from a trustworthy site.
So if you're looking for a reliable auction site with a large inventory and trustworthy buyers and sellers, you'll love these sites!
Keep reading to discover the best place to buy your next piece of jewelry.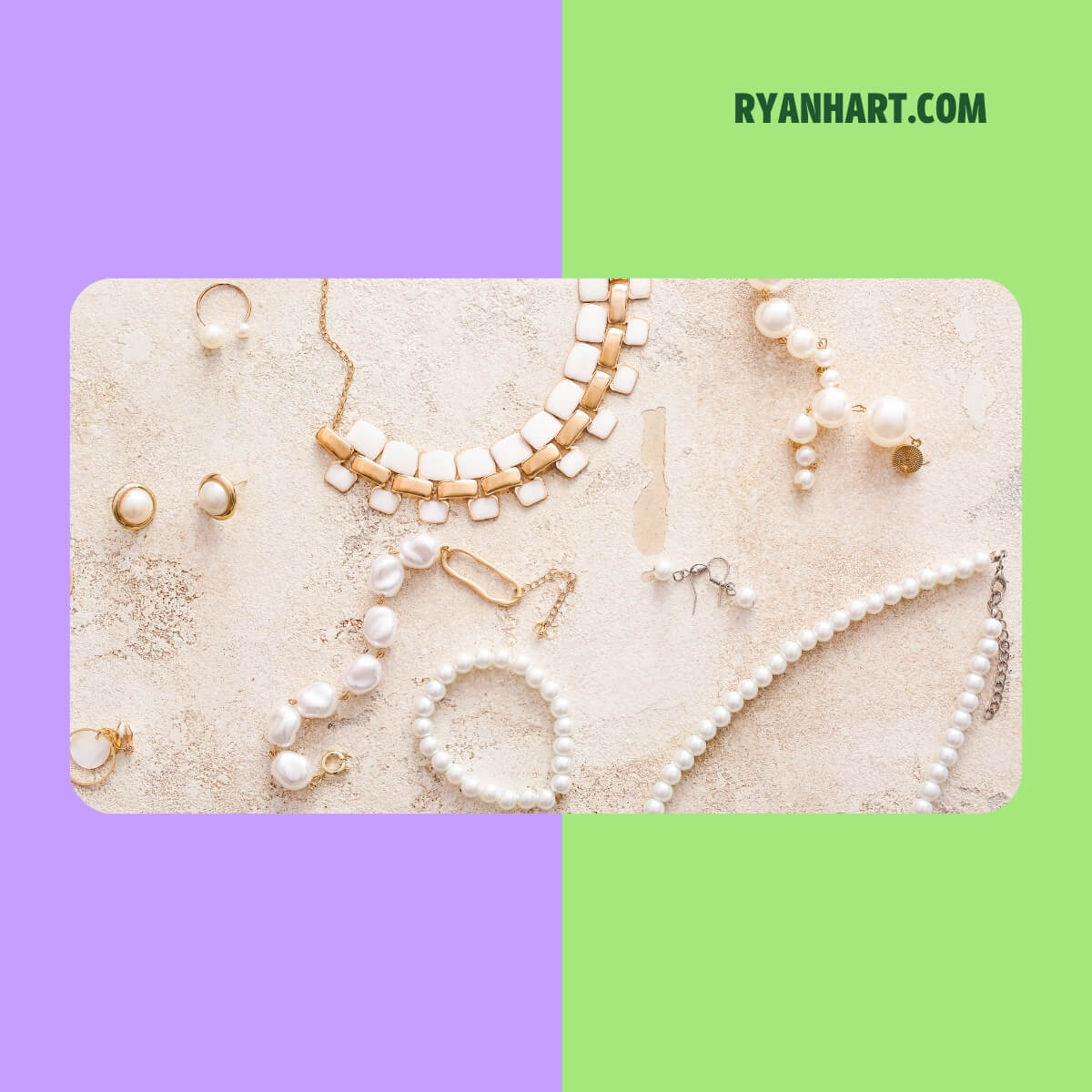 What is the best jewelry auction site?
The best auction sites for jewelry make it easy to find what you're looking for and bid on the pieces you love. Many top-rated sites have policies designed to protect buyers and sellers, leading to a smoother shopping experience.
When buying and selling jewelry, these auction sites can't be topped: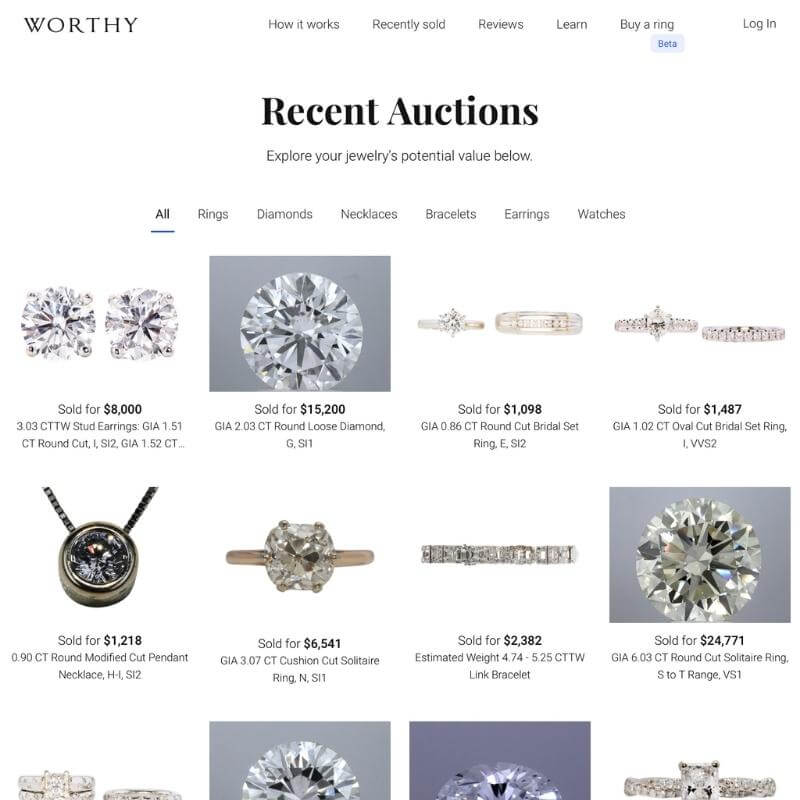 Selling valuable jewelry is frequently stressful, but Worthy makes the process easy.
When you send your jewelry to Worthy, they'll take steps to prepare it for sale, making it easier for you to attract the right buyer. Your jewelry will be cleaned, professionally photographed, and even graded by a third party!
Not only is Worthy an excellent place to sell jewelry, but they have fantastic options for buyers. Since all their diamonds are certified, you can be confident that the piece you're buying is the real deal. Best of all, the diamonds are sourced from real people!
Founded in 1995, eBay is one of the most trusted auction sites around. It's an excellent place to buy and sell all kinds of items, including fine jewelry.
Due to its popularity, eBay offers an impressive selection, and filter tools make it easy to narrow your options and find what you're looking for.
If you're selling a piece from a well-known brand and want to let potential buyers know that it's authentic, eBay gives you the option of having your jewelry certified by the brand. This feature allows buyers to shop with confidence, making it easy to secure a sale.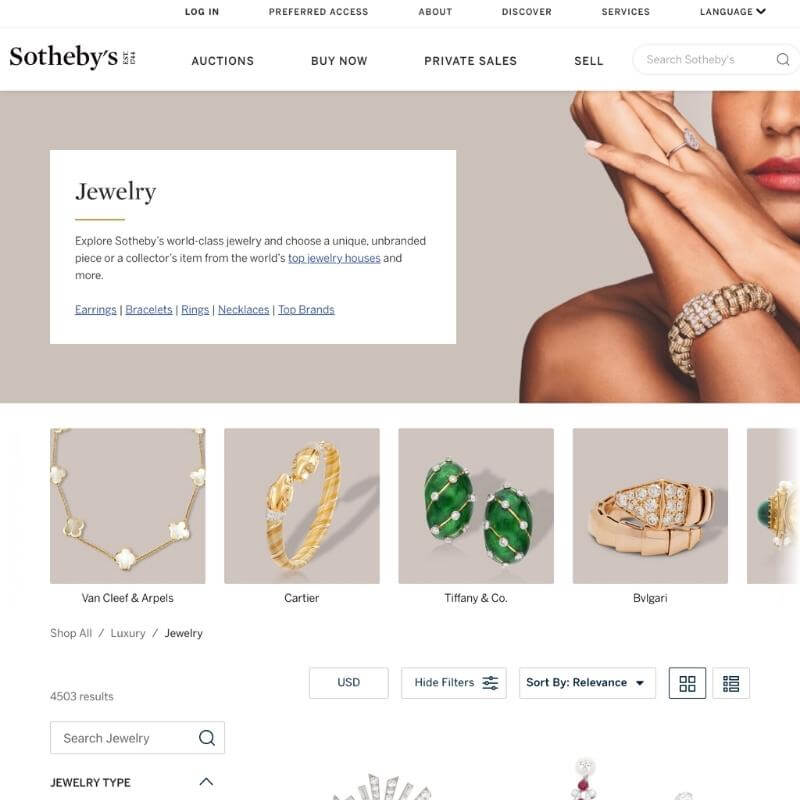 If you're looking for a reputable auction site for gold jewelry, you can't go wrong with Sotheby's. The Sotheby's auction house started in the 1700s, and today, the company is one of the world's largest brokers of fine jewelry.
Every piece sold on Sotheby's meets high-quality standards, and the site offers pieces from many major brands.
Sotheby's has exceptional filter tools that let you search for pieces by specific designers and even look for pieces from particular eras. It's an excellent place to shop, and if you need to sell premium jewelry, it's a terrific place to sell.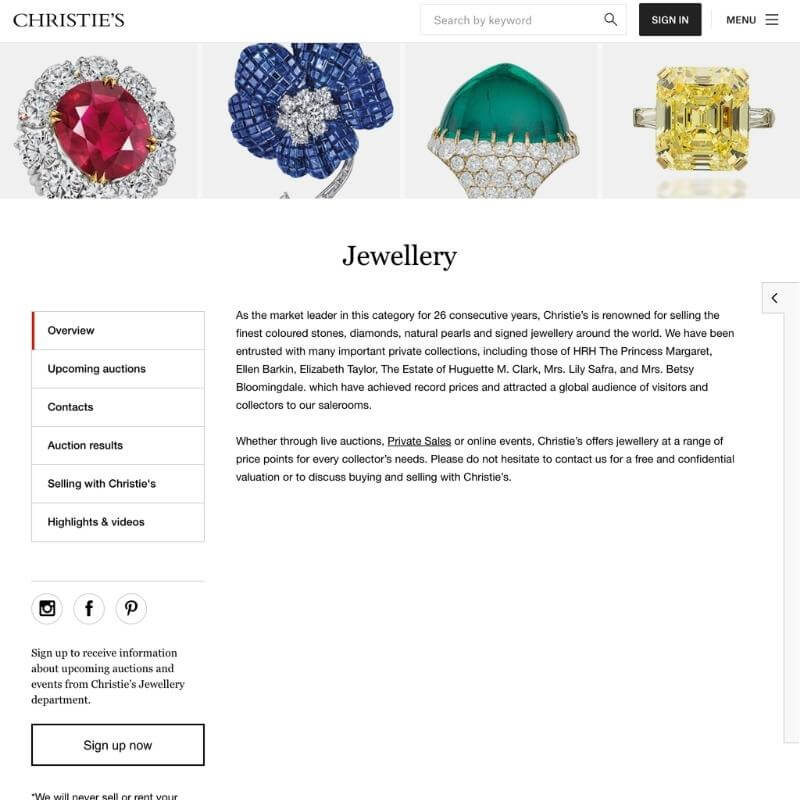 Christie's is a world-famous auction house that's sold many priceless pieces, including the Oppenheimer Blue diamond! Today, the site is considered a market leader in fine jewelry sales. From its live auctions to its private sales, Christie's offers a vast selection of jewelry at various price points.
If you're considering selling valuable jewelry but have yet to make a final decision, Christie's offers free valuation services. The site makes it easy to explore your options before selling and decide what works for you.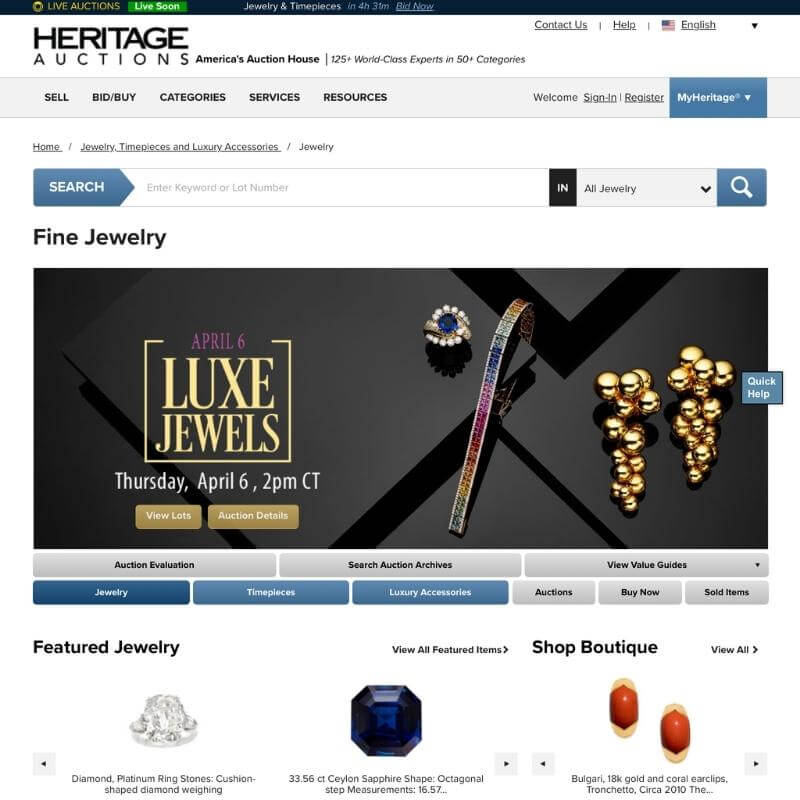 Whether you're looking to buy valuable jewelry or have a piece you want to sell, Heritage makes the process easy.
Heritage is one of the largest auction houses in the world and has many experts on staff. They offer unique and gorgeous pieces and a variety of options for potential sellers.
If you're looking for one-of-a-kind jewelry or vintage pieces, Heritage offers options you can't find anywhere else. They also have many seller-friendly policies. In some cases, you can even sell jewelry and receive immediate payment!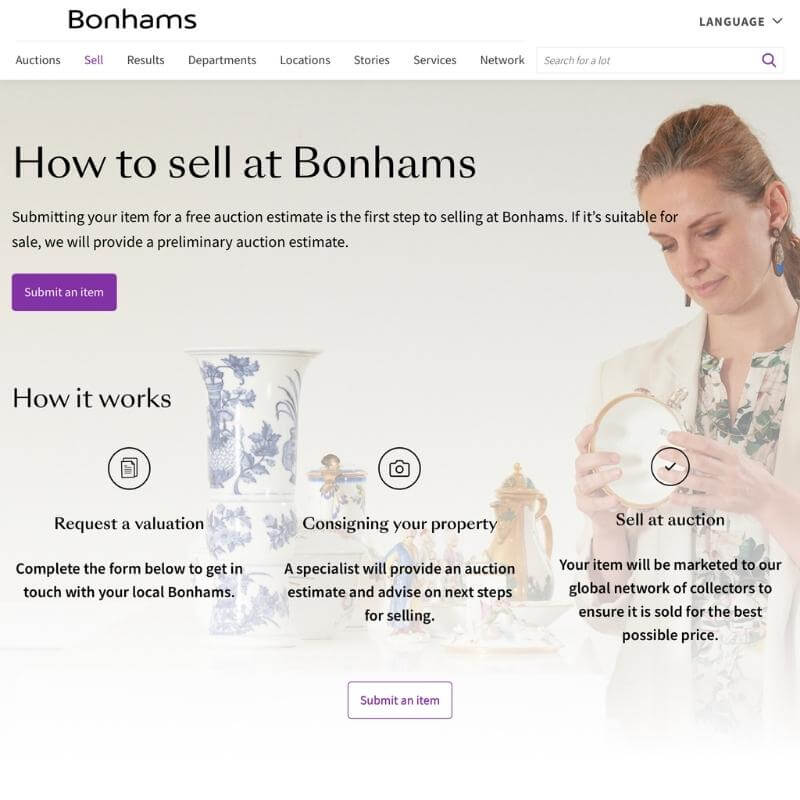 It can be challenging to make the right decision when trying to sell high-quality jewelry. Bonhams lets you submit items for a free auction estimate before you commit to selling. That way, you can be confident that you'll get the right price if you choose to sell.
Bonhams works with specialists all over the globe, allowing you to partner with local auction houses while using online auction sites for jewelry. They can even connect you with shippers in your area so you can confidently send out your valuables.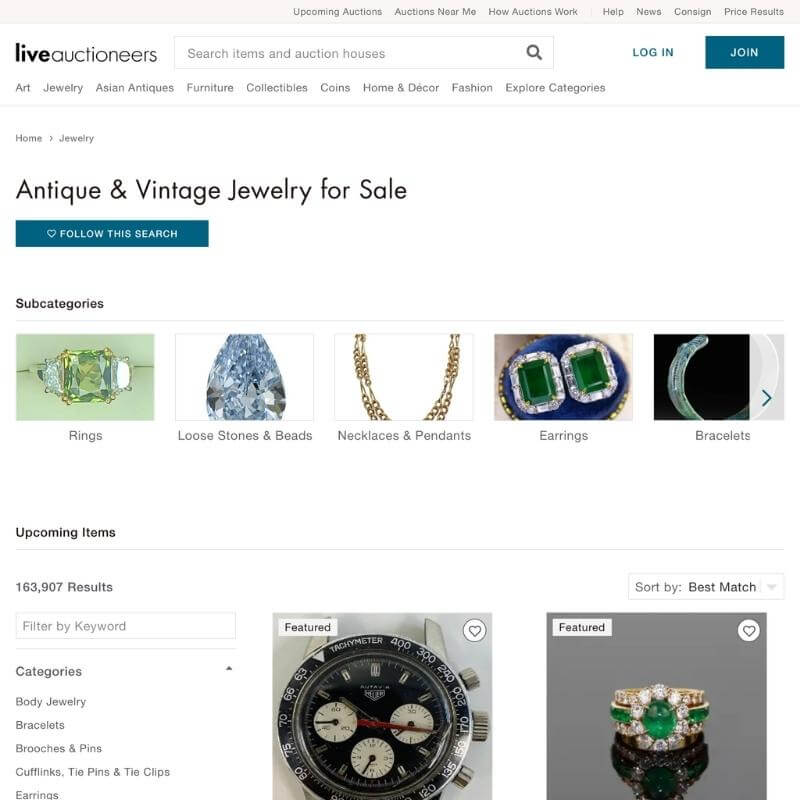 Finding the perfect piece of jewelry can take time. LiveAuctioneers offers a variety of stunning pieces and lets users follow searches, making it easy for you to see new jewelry that's in line with your personal tastes.
True to its name, auctions are held live, but if you won't be available for an auction you want to participate in, you can leave an absentee bid.
If you decide to sell on LiveAuctioneers, you'll be able to reach millions of potential buyers. LiveAuctioneers partners with many major auction houses and provides sellers with all kinds of useful tools.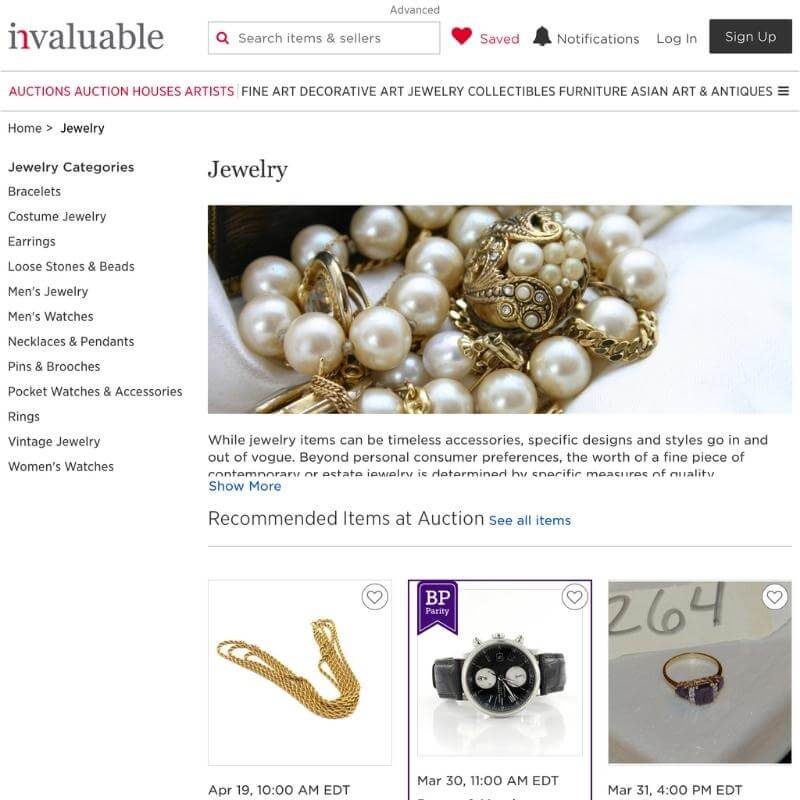 Invaluable understands that a special piece of jewelry can be priceless. That's why they go out of their way to offer auctions for beautifully-crafted pieces with timeless details. From costume jewelry to vintage pieces, their curated selection is impressive.
Jewelry is often a significant purchase, so Invaluable lets buyers save the pieces they're drawn to. You'll have the chance to think things over before the piece is auctioned off. That way, you can ensure you're bidding on a piece you truly want to buy.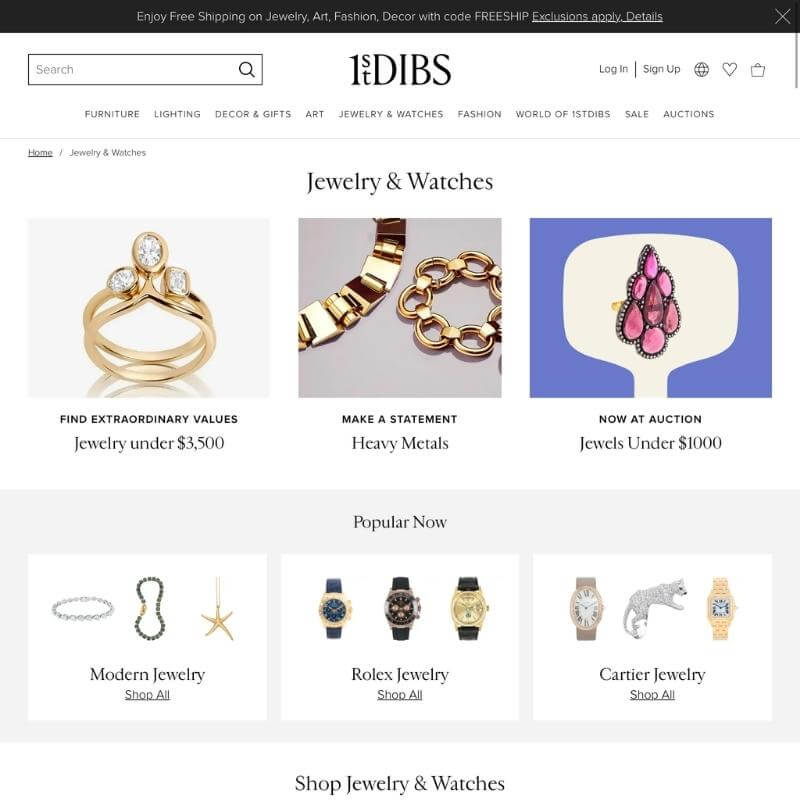 Inspired by the flea markets of Paris, 1stdibs has a stunning selection of modern jewelry and classic pieces. You can find jewelry and watches from many major brands here, including Cartier and Tiffany. Since there are also pieces from up-and-coming designers, it's a fantastic place to discover new jewelry in line with your tastes.
The filter tools on 1stdibs allow you to find precisely what you're looking for. For example, you can search by carat weight, stone cut, gemstone, and more! Since there are options at various price points, you can seek out a gorgeous piece that's within your budget.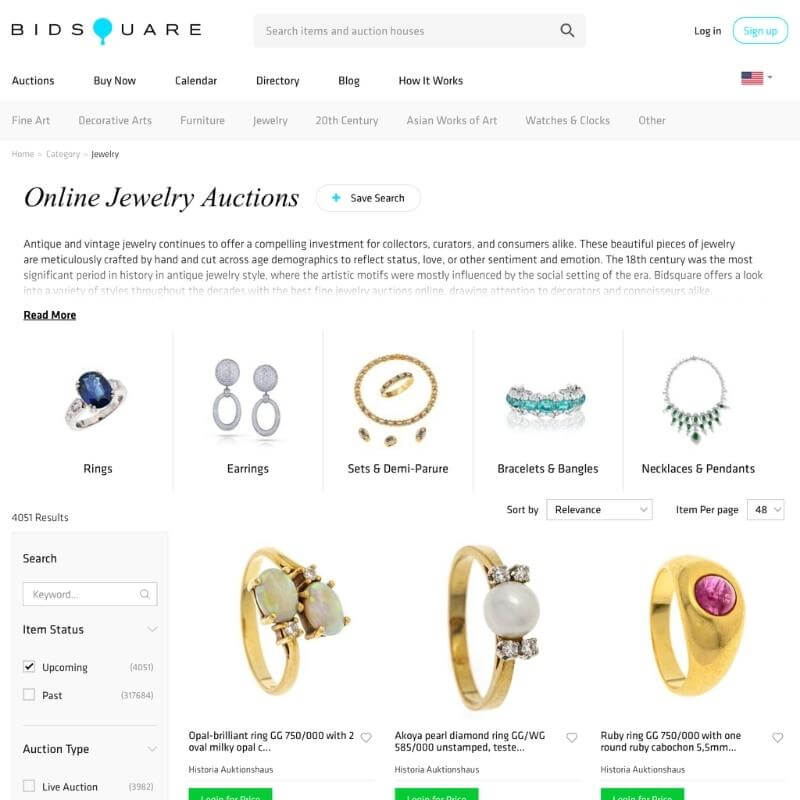 Are you a fan of antique and vintage jewelry pieces? Bidsquare is one of the best jewelry auction sites for buyers interested in older pieces. Some of the jewelry they sell is over 100 years old!
The site has both live and timed auctions, so buyers can bid on items in a way that works for them. You can even browse upcoming auctions, allowing you to search for gorgeous pieces and plan out purchases ahead of time!
Bottom Line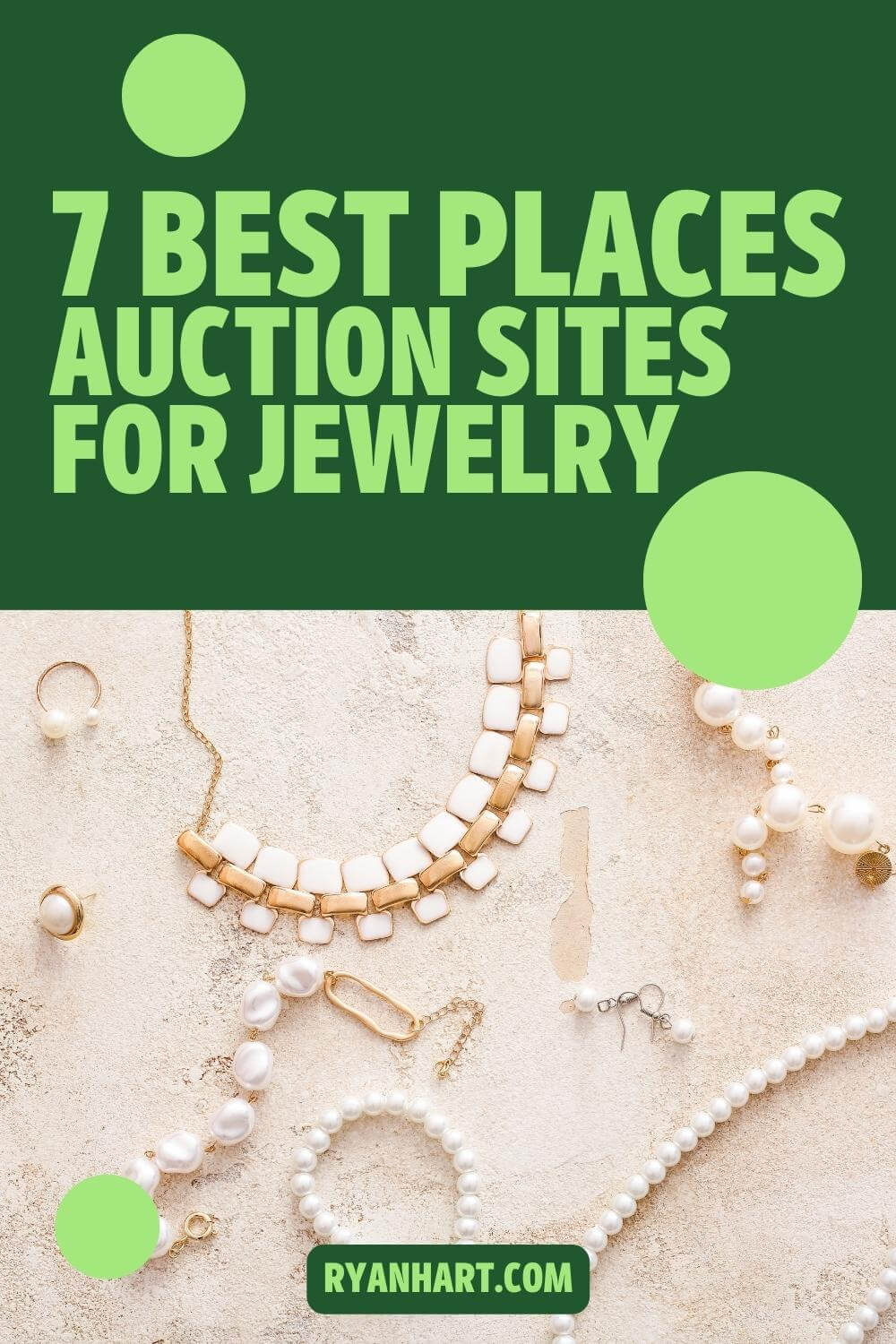 Selling your jewelry through an online auction can be a fun and easy way to make some extra money.
First, you need to take good pictures of your jewelry with a camera or smartphone. Make sure to take clear and bright photos that show all the details of each piece. You can also take multiple angles and close-ups to make your jewelry look more appealing.
After taking photos, you can create a listing on websites like eBay. Make sure to include all the necessary information about your jewelry, such as its size, material, and any special features.
You should also set an attractive starting price to entice bidders. When your auction ends, make sure to ship your jewelry promptly and securely to the buyer.
With a little effort, you can turn your jewelry into cash through an online auction!