If you're looking to sell a diamond engagement ring, there are a few things you'll want to keep in mind. First, where you sell is just as important as how much money you can get for it.
Next, make sure that you know the specifics of the diamond itself. Knowing the carat weight, color, clarity, and cut can really help when it comes to discovering what kind of price range you're dealing with.
Keep reading for a breakdown of some popular options, as well as some tips on how to get the most money for your ring.
In our view, Worthy is the easiest way to sell your diamond jewelry for its true market value, and it's fast and risk-free.
Where to Sell an Engagement Ring for the Most Money
If you want to get the most money for your jewelry, you'll need to do some research and compare offers.
Here are the best places to sell your diamond engagement ring for the most cash: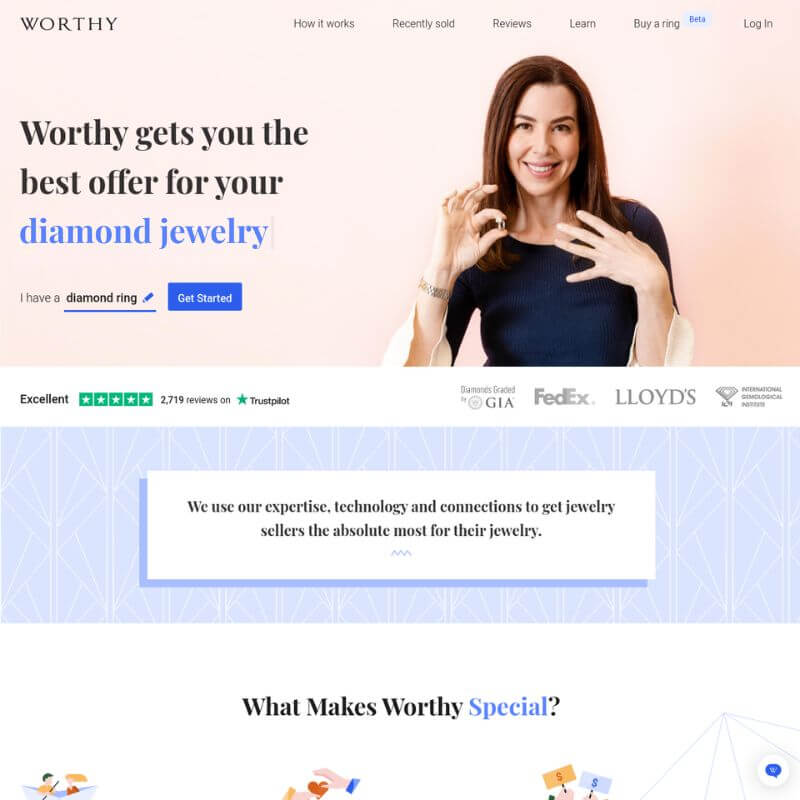 Worthy is the best place to sell an engagement ring quickly.
A trusted and respected brand, Worthy has streamlined the selling process with its innovative technology and experienced jewelry professionals.
Their secure platform makes listing your engagement ring for sale safe and provides a broad range of buyers who are vetted and ready to purchase high-value items like diamond rings.
Best of all, you have complete control over your sale and will always know critical details like when your piece has been accepted or if your reserve auction price has been met. You'll never have to worry about uncertainty with their secure online marketplace!
You can get started in just a couple of clicks, and you'll be able to work with a personal auction manager whenever you need assistance or have questions about selling your ring.
And with their fast and free shipping, they make it effortless to get your item ready for sale.
2. Retail Jewelry Stores
When it comes to trading in your diamond engagement ring, there are many benefits to opting for a locally-owned jewelry store.
For one thing, local jewelry stores typically have more purchasing power than other gold buyers, which means that they can offer competitive prices when you sell them your old ring.
In addition, stores like these tend to have expert staff who can give you helpful advice and guidance when choosing the right design and cut for a new diamond.
By choosing a local jeweler, you get the highest price possible for your ring and support a small business in your community.
So if you're looking to trade in your diamond engagement ring, visit a local jeweler and see what they offer!
3. Precious Metal Buyers
There are several reasons why it might be a good idea to sell your engagement ring to a precious metal buyer.
For one thing, these dealers are experts in the jewelry field, and they can offer you top dollar for your ring. However, getting a competitive offer is vital because you can rest assured that the final value will be accurate and fair.
In addition, selling your engagement ring through a reputable dealer is quick and easy. You won't have to deal with lengthy appraisals or other time-consuming paperwork tasks.
So if you're looking for the best way to get top dollar for your diamond engagement ring, consider selling it directly to a precious metal buyer.
4. Auction House
Consigning your diamond ring with an online auction house is a great way to get the most money for your ring.
Auction houses have a global reach so you will have potential buyers from all over the world. You will also have the opportunity to set a reserve price, so you can be sure you will get the price you want for your ring.
In addition, most auction houses provide insurance for your ring while it is in their care. This means you can rest assured your ring is in good hands and will be returned to you in the same condition as when you sent it.
So if you are looking for the best way to get the most money for your diamond engagement ring, consigning it with an online auction house is the way to go.
5. Pawn Shops
Selling your engagement ring to a local pawn shop is an attractive option for specific situations. These shops usually offer fair prices for used jewelry and other valuables, and you get quick cash without much hassle.
However, there are several reasons why there may be better choices for most people. For one, pawn shops can be very disreputable, often rife with shady practices and scams.
It is generally better to refrain from selling your engagement ring through a local pawn shop. Instead, consider seeking out reasonable offers from reputable jewelry stores or using it as an asset in divorce proceedings if need be.
Ultimately, making this kind of emotionally charged decision should involve wise counsel from support networks like friends and family members or trusted financial advisors.
6. eBay
If you're considering selling your engagement ring on eBay, you need to take a few key steps to get the best possible price.
First, getting your ring appraised by a professional is essential to assess its value accurately. You should then use this appraisal as a starting point and set an appropriate asking price based on current market conditions.
Next, you should spend some time researching similar listings to see how other sellers are pricing their rings, and keep in mind that those offering free shipping tend to attract more buyers.
Finally, do everything you can to make your ring look as attractive as possible online by using high-quality photos and writing compelling listing descriptions.
Bottom Line
The best place to sell an engagement ring depends on several factors.
For example, different buyers may offer different prices based on things like the style of the ring and its current market value.
Online auction sites like eBay are an excellent option for many sellers, as they allow you to reach a large audience at once. Alternatively, consider selling your ring directly to a local jeweler or pawn shop.
Ultimately, it's up to you to decide which option will work best for your situation. But regardless of where you sell your engagement ring, a little research will help you get the most money possible for this precious piece of jewelry!