Selling your diamond jewelry with Worthy is a great way to get a competitive offer for your pieces without the hassle of dealing with local buyers!
Not only do you get a free diamond grading report and appraisal, but you also have access to experienced professionals who have been in the jewelry business for decades.
Plus, thanks to Worthy's advanced auction marketplace and secure system, you can easily track an item from listing to sale.
You won't experience any scams or disappointment from eBay or other auction platforms—because with Worthy, you know that your item will be evaluated accurately and sold at fair market value.
With so many advantages, selling online with Worthy is an intelligent choice if you want to ensure you get paid what your items are worth!
In our view, Worthy is the easiest way to sell your diamond jewelry for its true market value, and it's fast and risk-free.
What is Worthy?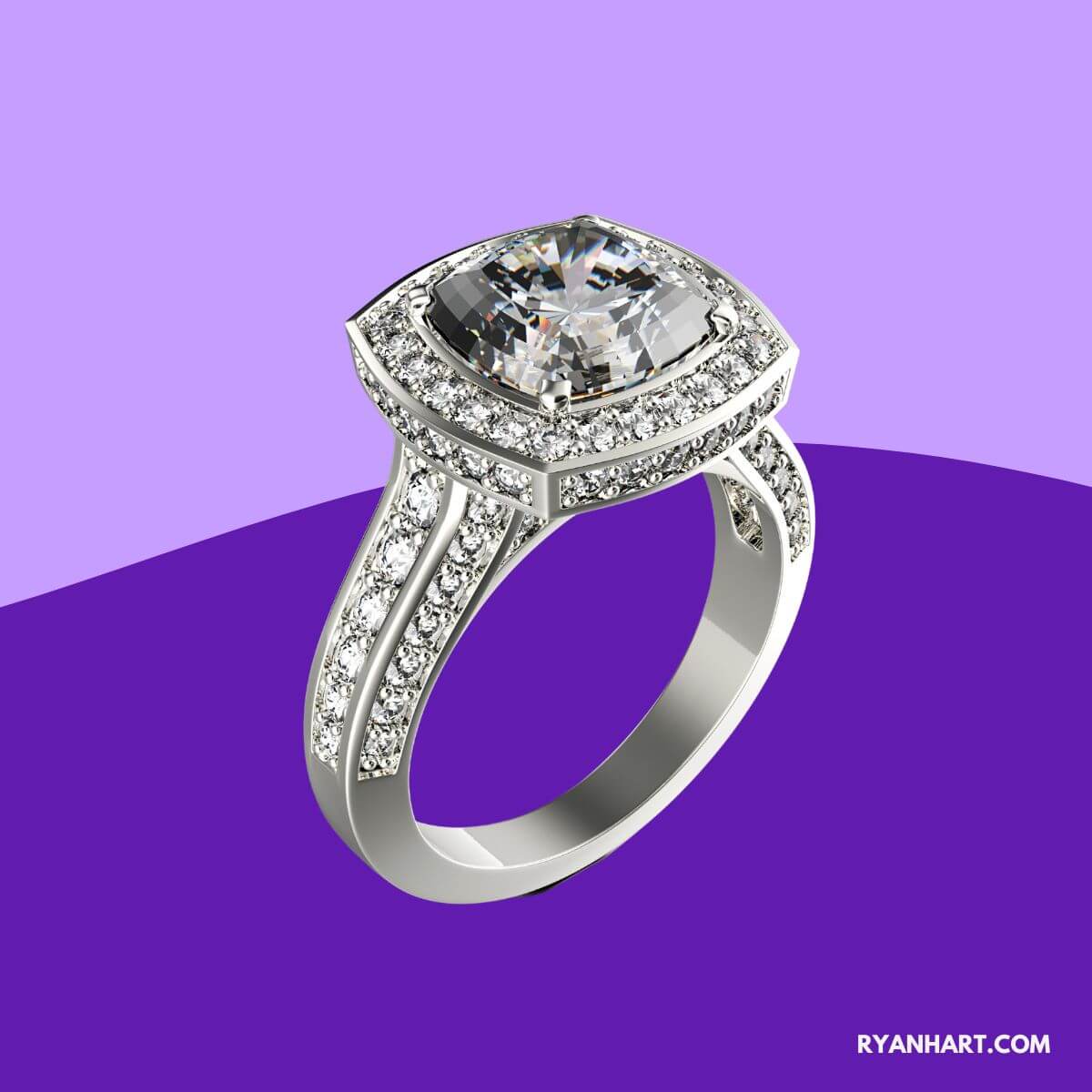 Worthy is a private online jewelry auction company helping people turn their used diamonds into cash.
They do not purchase jewelry from consumers, instead, they help you sell your items via a 48 to 72-hour closed-bid auction on their website.
They have a network of over 1000 professional buyers that use their platform to find high-quality jewelry at fair prices.
Whether you want to get rid of that engagement ring from a broken relationship or your grandmother's earrings passed on to you through generations - Worthy can help you get top dollar!
At Worthy, you can sell your jewelry for a higher price than you would find selling on eBay or other auction sites. Worthy has an experienced team of gemologists who analyze and grade each item before listing it in their auction, making it easier to get a competitive offer for your jewelry.
To top it off, Worthy also provides personalized service to sellers every step of the way and provides them with services like professional photography and insured shipping.
All these services make Worthy a great choice if you want to sell items at a higher value than what you can get from selling to a local buyer!
What Jewelry Can You Sell with Worthy?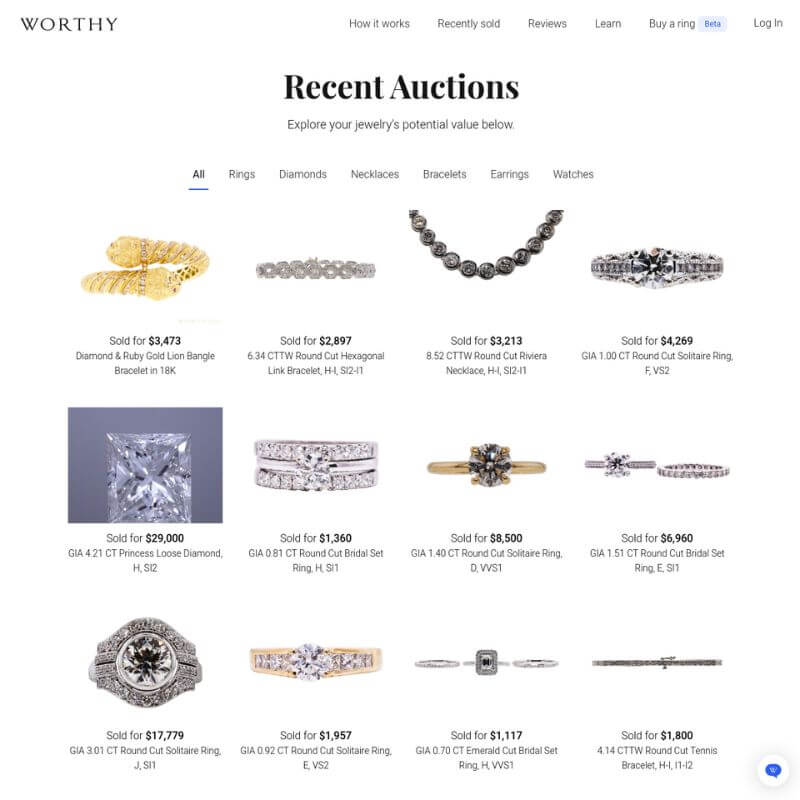 On the Worthy marketplace, you can sell diamonds over 0.50 carats or luxury jewelry with an estimated resell value of $1,000 or more.
They accept diamond jewelry such as:
Rings
Necklaces
Bracelets
Loose diamonds
Earrings
Luxury brand watches
Their experts will carefully evaluate the jewelry and provide an accurate estimate on resale value, making it easy to get top dollar for your diamonds and designer jewelry.
It doesn't matter whether you're selling a brand-new engagement ring or a classic family heirloom; Worthy will make sure you get the best prices available no matter what type of diamond jewelry you need to sell.
Plus, with their convenient online platform, you can be sure that your valuable jewels stay protected every step of the way.
How Does Selling with Worthy Work?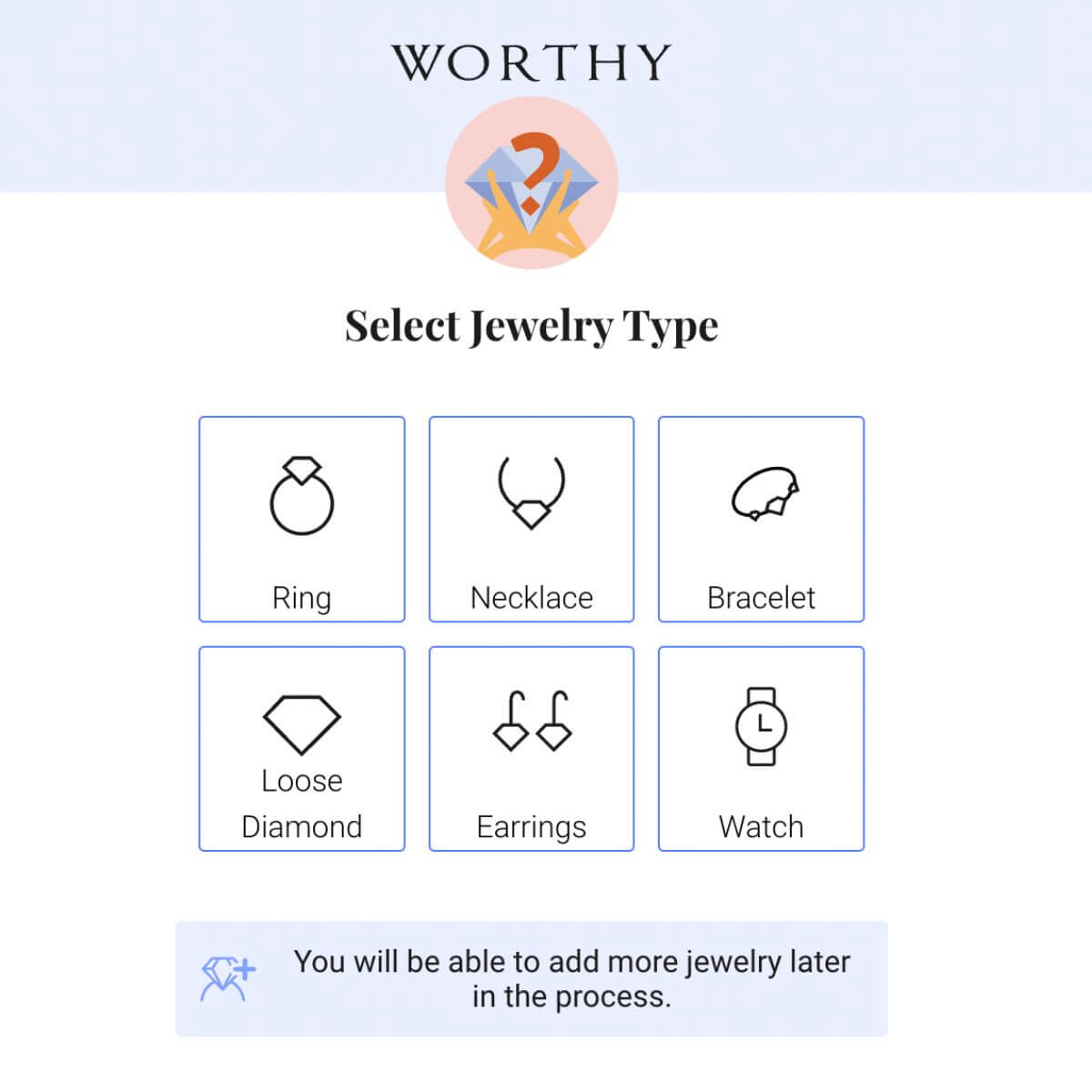 Here's how simple it is to sell your valuables with Worthy:
Take an online quiz
If you want the most money for your diamond or luxury jewelry, start by taking the Worthy quiz. All you need to do is answer a few quick questions about your diamond, such as cut, shape, and size.
Schedule a free consultation
After you take the free quiz, you'll need to upload photos of your jewelry and submit any relevant documentation, such as GIA reports. The more accurate information you can provide about your jewelry, the better.
Next, you will schedule a free consultation with one of Worthy's auction managers to discuss your selling options.
Send jewelry items via free prepaid shipping
When ready to start, schedule a FedEx pickup from your home or drop your valuable items off at any FedEx location near you. Your items will be carefully delivered to Worthy Headquarters in New York, where they will be prepped for auction.
And the best part is that both shipping costs and insurance coverage - provided by the renowned Lloyd's of London - are covered entirely by Worthy.
Pieces are prepped for auction
Once your package arrives in New York, the experts at Worthy will clean and prepare your jewelry for auction. Each item receives a third-party evaluation by GIA, GHI, or IGI-certified graders.
This careful preparation is why Worthy sellers receive competitive offers on their jewelry compared to other auction platforms like eBay. Buyers can bid confidently because they know each item is genuine, eliminating their risk of getting ripped off.
Professional photographs and a dedicated listing
The Worthy staff will professionally photograph each jewelry piece to represent the item accurately. They also create a dedicated listing page where buyers can learn more about the item, including diamond size, grading, and other essential attributes.
Set your reserve price
Based on the information gathered during their evaluation of your jewelry, Worthy will recommend a reserve or minimum price you would be willing to accept in an auction. You can accept this amount or set a price that seems fair to you.
Private auction begins
Once a reserve price is accepted, a 48-hour auction will begin to find the highest bidder for your jewelry.
If you receive a bid above the reserve price, you must sell your item at that price. However, if you do not receive a competitive offer, you still have the option to cancel the auction and have your item returned.
Get paid
When the auction closes, it can take 5 to 7 business days for Worthy to receive payment from the buyer. Once the money hits their account, they will send the proceeds to you via bank transfer, Paypal, or check.
The amount you receive will be the highest bid minus any fees taken by Worthy for their service.
Bottom Line
Selling valuable jewelry online can be a complex undertaking. Not only is it emotionally challenging, but the entire process can be rather confusing.
That's why many sellers opt to use Worthy when they want to put their diamonds and fine jewelry up for auction.
Worthy has a dedicated team of GIA-trained diamond experts that evaluate every piece to determine its actual market value – meaning you get the best price possible, and the entire transaction is backed by the most comprehensive insurance in the industry.
Plus, unlike other online auction websites such as eBay, on Worthy, you can rest assured knowing that your sale is 100% secure! So not only will you get great value for your jewelry, but they also guarantee peace of mind while using their service.
Simply put, Worthy makes selling an engagement ring or diamond jewelry easy!