Tungsten wedding rings for women are a great option when you want something durable, long-lasting, and stylish.
They're scratch-resistant and don't easily bend. So if you work with your hands or want something that'll stick with you for years, tungsten wedding bands for her are a perfect choice.
With so many options to choose from, how do you know which one will be best for you? Look no further than our comprehensive list of the best tungsten wedding rings for her that'll be both tough and stylish. Let's dive in.
What are the Best Tungsten Wedding Bands for Women?
Here are some of the best tungsten engagement rings and wedding bands to buy for women, available online.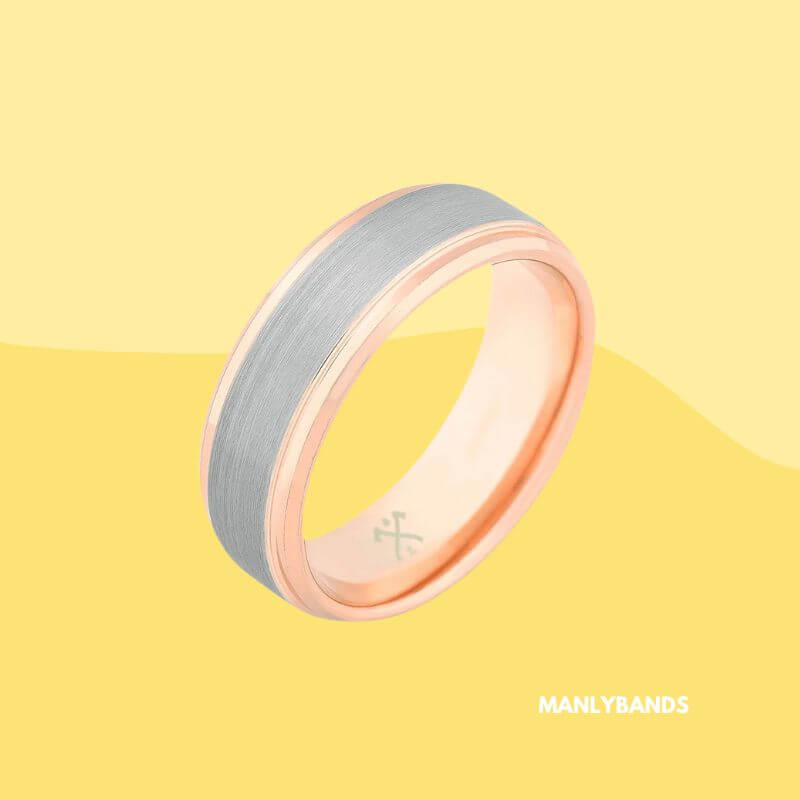 Don't let the Gentleman name of this tungsten ring from Manly Bands fool you. This tungsten ring with 18K rose gold is stunning and would be lovely for any person.
It features beautiful rose gold sleeves, sides, and a subtle brushed silver tungsten core. The middle section is raised up from the rose gold edges, creating a striking contrast. The beveled stepped-edge design comes with their Comfort Fit to ensure you'll love wearing it. It's both subtle and unique for a bride looking for a non-traditional ring.
Why we love this ring:
The Gentleman ring from Manly Bands does what many brides and grooms want- it combines a beautiful look with the understated presence of a tungsten band. It's a stylish choice when you don't want an ordinary gold band.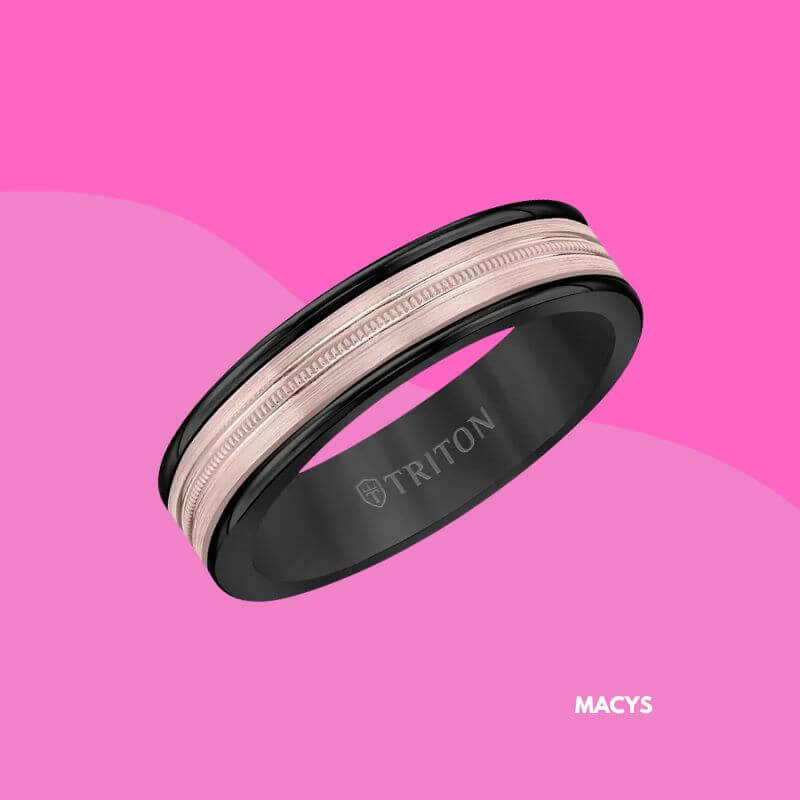 If you really want something unique that not many other brides will choose as their wedding band, look no further than the Black Tungsten Carbide Ring at Macy's. The bold black sits around a rose gold milgrain insert with striking texture and detailing.
The 14K rose gold looks fantastic next to the deep black body of the ring, and Triton, the manufacturer, is known for its quality. This is the one for you if you want something with a bit of pizzazz.
Why we love this ring:
Triton makes excellent rings, and this stylish option is proof of that. It's a unique, gorgeous choice for a wedding band for her when you want to change things up and try different colors from gold and silver.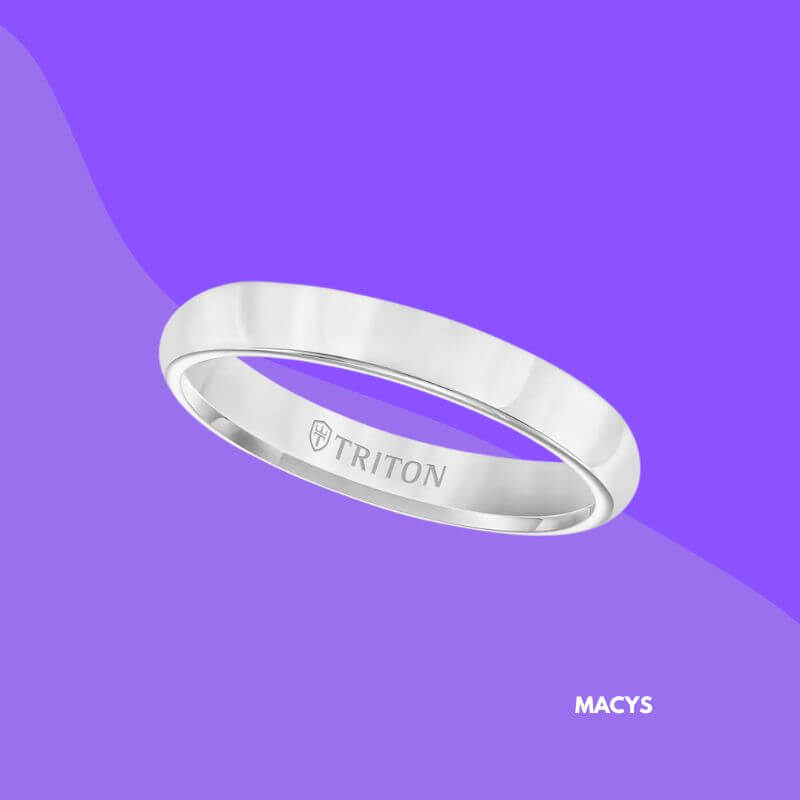 The White Tungsten Wedding Band for Women from Triton is wonderful if you want something simple, straightforward, and silver. Its thin design makes it a good fit next to an engagement ring where it won't steal the limelight from the diamond. It's also easy to wear an exact match with your spouse. The simple white tungsten band will look great regardless of either person's style. Another option from Triton, a leading provider in tungsten rings for him and her; it's sure to hold up for years.
Why we love this ring:
The best thing about this ring is how simple it is. That way, your engagement ring can do the talking, or you can avoid having something too flashy. It's perfect for people who love simplicity and understated design.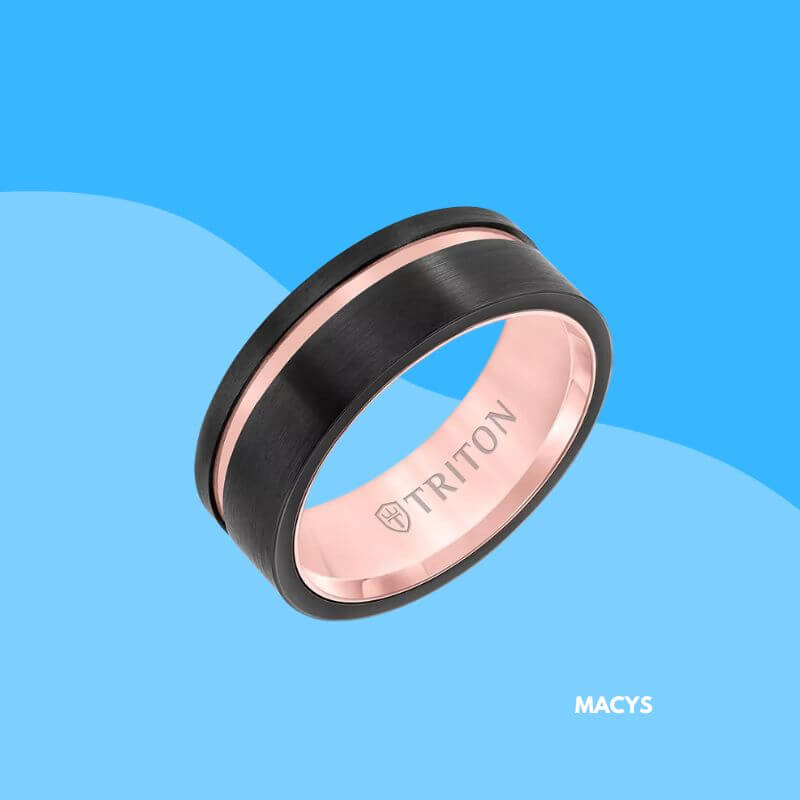 The Black and Rose Tungsten Carbide Ring from Triton is another simple yet beautiful wedding band for her. The sweet rose gold color next to the deep black creates a high contrast ring that's both modern and romantic.
The asymmetrical rose gold channel that runs around the ring is a unique touch to what would normally be a basic centered line. This contemporary look is distinctive, and thanks to expert craftsmanship, it's very comfortable to wear.
Why we love this ring:
This Triton ring is another example of why this brand is so well-known and appreciated. It's beautiful, strong, and unique compared to traditional wedding bands for her.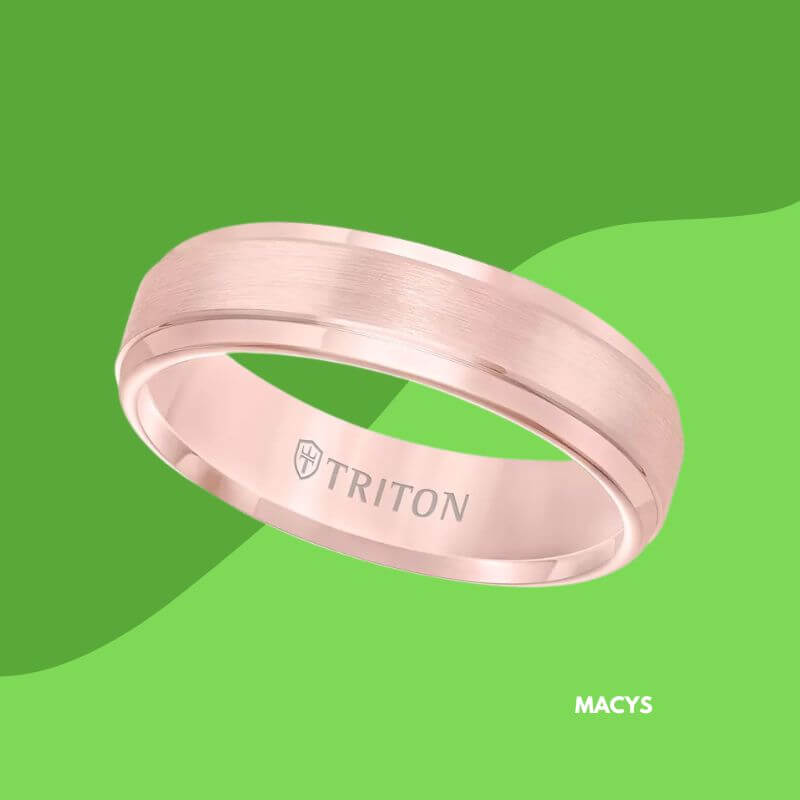 The Triton Satin Comfort-Fit Band in Rose Tungsten is soft, romantic, and won't bend or warp. If you're looking for a wedding band or tungsten engagement ring that both shows how much you love her and keeps things understated, this is the ring for you.
The raised channel in the middle of the ring features a soft brushed look, and the polished edges are rounded for ultimate comfort. Anyone who loves the color of rose gold will appreciate this ring's craftsmanship, no matter their style, gender, or ring size.
Why we love this ring:
This rose tungsten wedding band is perfect when you want the look of rose gold without the price tag or concerns about bending. The simple, durable design will look great for years.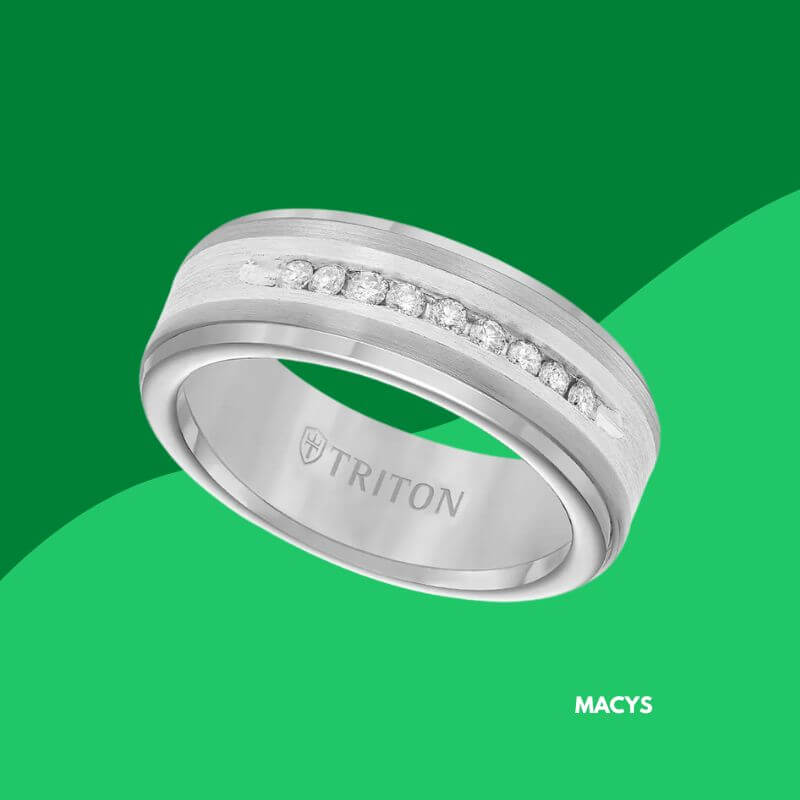 If you're looking to kick things up a notch and embrace the sparkle, the Diamond Wedding Band in Tungsten Carbide from Triton is top-notch. It can make the perfect tungsten engagement ring for her or a gorgeous wedding band to sit next to a large, flashy diamond from the proposal.
It is the right choice for someone who loves diamonds and wants the durability of tungsten and the wow factor that the array of stones offers.
Why we love this ring:
The Diamond Wedding Band in Tungsten Carbide is all about the glam. If you want something brilliant and bright, or if you're shopping for a modern yet showstopping engagement ring, it's a fantastic choice.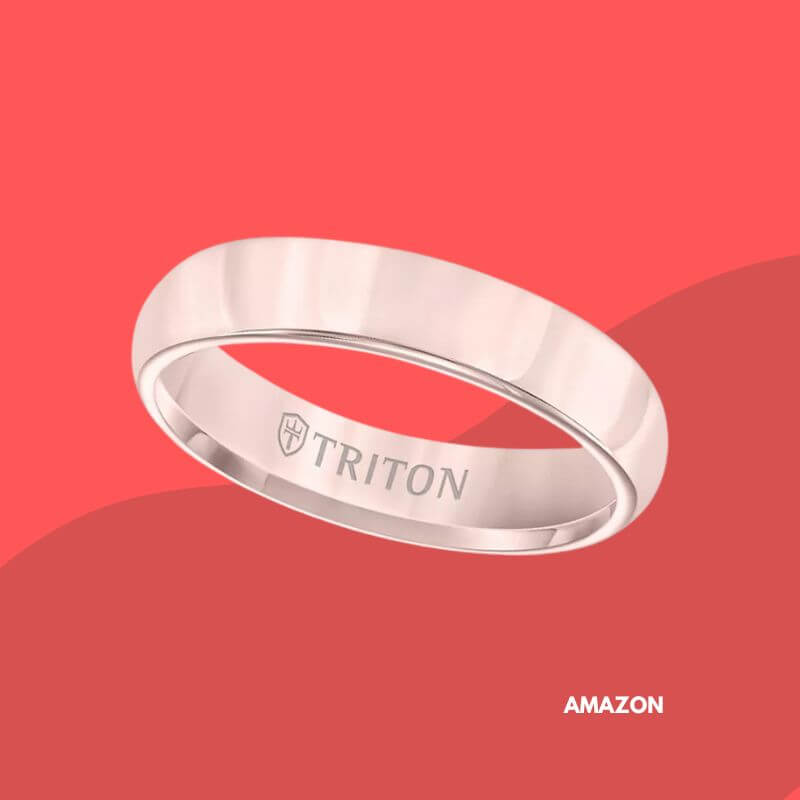 The Domed Comfort Fit Band in Rose Tungsten Carbide is perfect when you want super simple, exceedingly sweet, and just a bit delicate. The band is completely stripped down, but the gorgeous rose coloring and rounded edges make it a charming addition to a wedding ring set.
It won't outshine your diamond, but it will snuggle in close and accentuate it. It's polished and chic and will be exceptionally comfortable. And like all tungsten wedding rings for her, it'll stand up to the test of time.
Why we love this ring:
The Domed Comfort Fit Band in Rose Tungsten is simple elegance to a T. It'll fit any person regardless of their unique style.
What is a tungsten ring?
To put it simply, tungsten is the toughest metal available – and because of its strength, people often use it to make wedding rings!
That's right - due to its hardness, wedding rings made with tungsten can look brand new for years. Plus, tungsten wedding bands provide superior protection from chips and scratches.
Can women wear tungsten rings?
Tungsten wedding rings are no longer just for men – ladies who love this rugged and scratch-resistant metal can don their favorite statement rings to mark special occasions.
While traditional styles may be more widely available in guys' sizes, contemporary designers are creating more pieces suited to the female taste.
So whether it's a glam couture option with intricate engravings or something chic and straightforward, women now have their fair share of tungsten wedding rings to choose from.
Are tungsten rings good quality?
Tungsten wedding rings are perfect for couples looking for an alternative to traditional gold or silver bands. Unlike other precious metals, tungsten is very strong and durable, meaning your ring can withstand the rigors of everyday life without losing its unbelievable shine.
Tungsten wedding rings come in a wide array of styles, from classic domed edges to bright and bold cut inlays or intricate details like brushed metal finishes or stepped edges.
And best of all, you don't have to break the bank - tungsten is super affordable and will provide you with a timeless keepsake that's made to last!
Bottom Line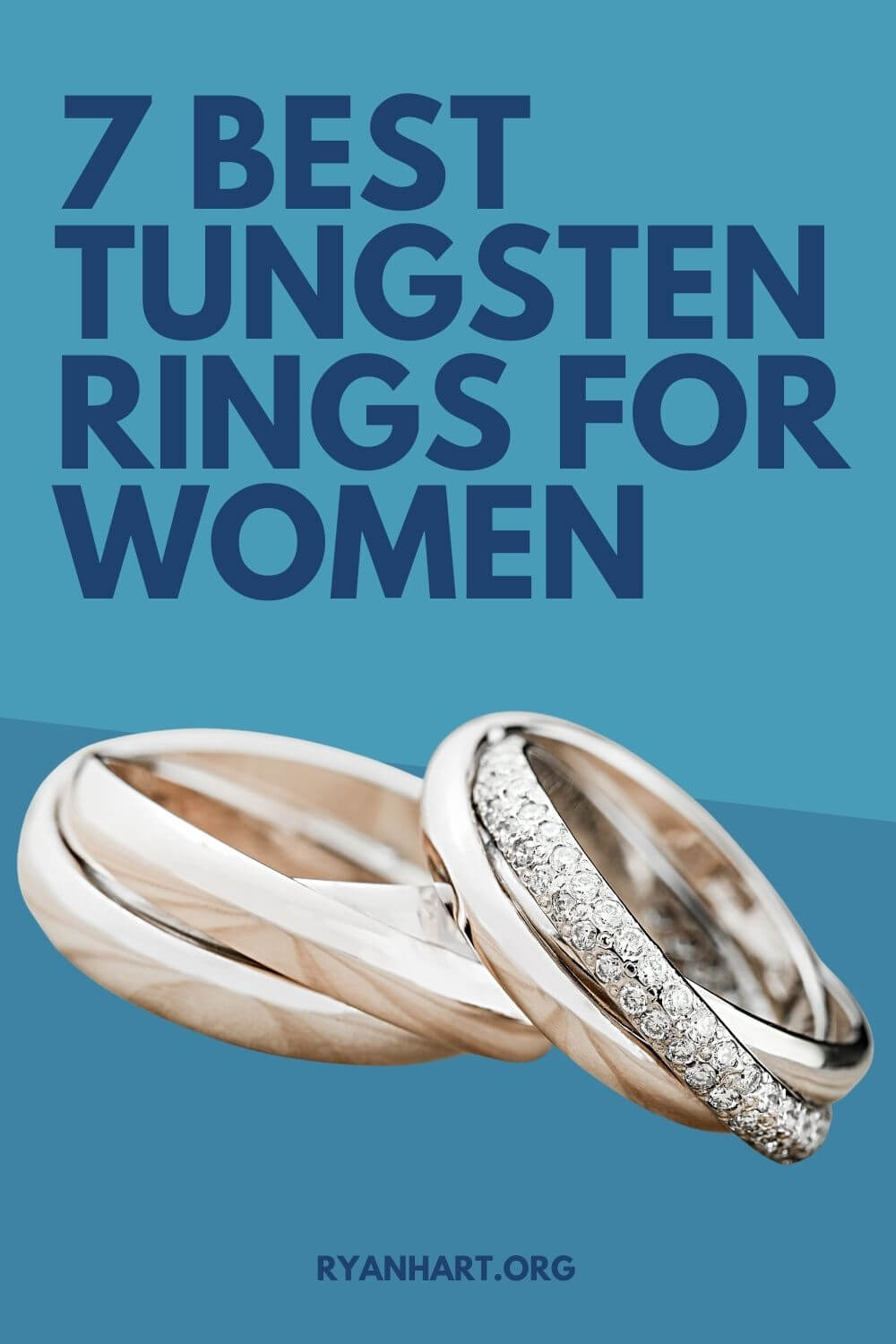 Whether you're a woman who loves classic style or modern trends, tungsten wedding rings are an excellent option for many reasons. Not only are they incredibly durable, with hardiness and shine that won't fade, but they also come in various styles to suit any taste.
If you want a unique look on your special day, tungsten wedding rings offer a wide range of polished options that genuinely stand out from the crowd.
The affordable price tag means you'll have extra cash left over for those honeymoon flights!
What's not to love about rocking a beautiful and durable tungsten wedding band on one of the most important days of your life?