So you're planning on getting married, congratulations! Now it's time to secure your wedding bands.
For her, you'll want to find a wedding band that will compliment her oval engagement ring without turning it into a time-consuming and stressful task.
Since she'll be wearing this ring for the rest of her life, it's essential to find just the right one. The good news is that it's easy to find the best possible wedding bands with our recommendations.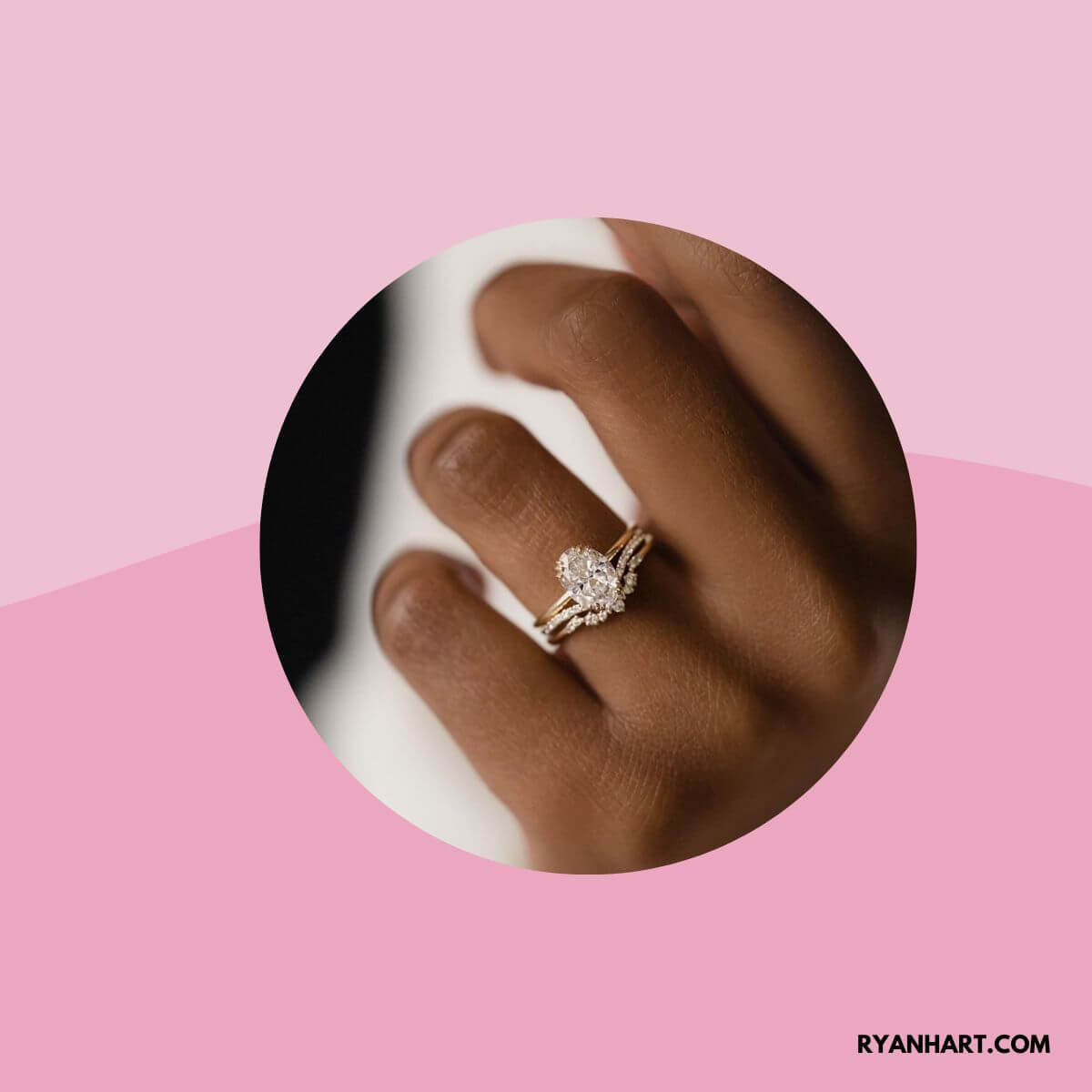 What is the Best Wedding Band for Oval Engagement Rings?
Some of the top jewelers in the world sell wedding bands that are perfect for oval engagement rings. Without further adieu, here are the best wedding bands for oval rings: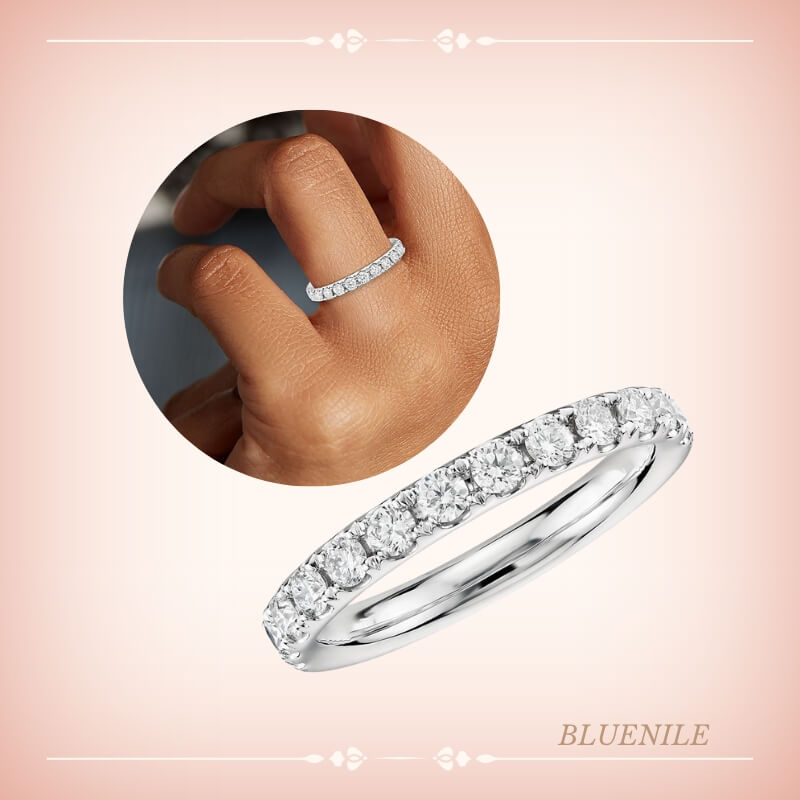 Your bride-to-be deserves the best of everything. If, like most women, she can't resist the beauty of a shining diamond, you'll want to get her the Riviera Pave Diamond Ring. This ring boasts 13 diamonds and weighs 0.50. It's made of platinum metal and designed to fit comfortably.
The pave setting means that the gemstones are clustered close together in a way that creates a texture similar to a paved sidewalk. This is accomplished by holding the gems on the ring with small prongs.
To avoid wasting time, it pays to browse the Blue Nile website and mark your favorites. You can go to the nearest showroom to see them in person before choosing one.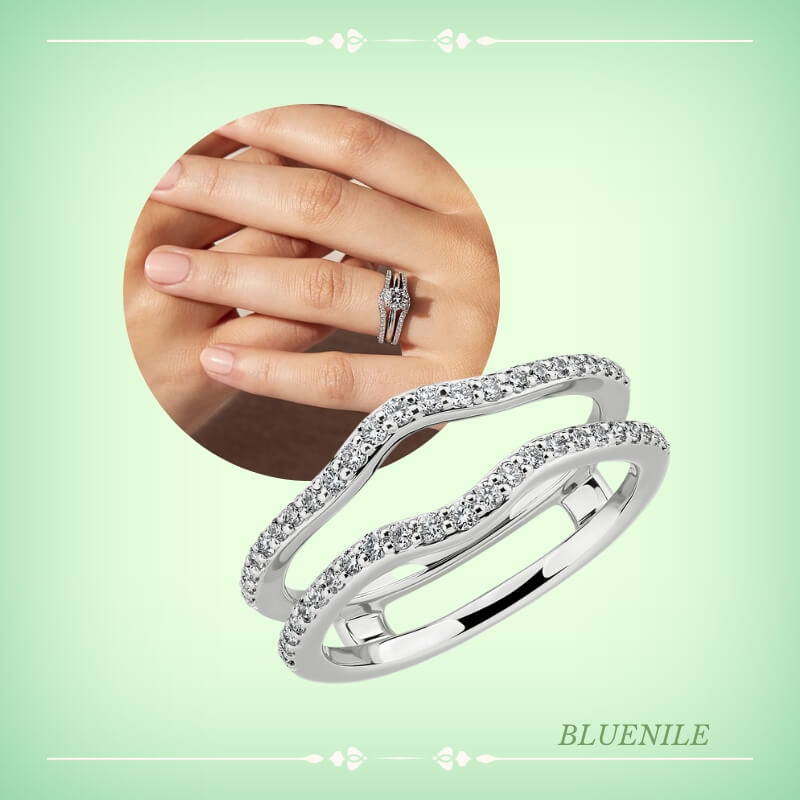 Sometimes, unconventional wedding bands for oval rings are the way to go. One example of this is the Curved Diamond Guard. Classic 14-karat white, this ring is stunning to look at.
It's rhodium plated and pairs well with an oval engagement ring. The only downside to this ring is that it can't be resized because of its unusual shape.
Thanks to pictures from multiple angles, you can see what a ring looks like on its own and how it will look on your hand.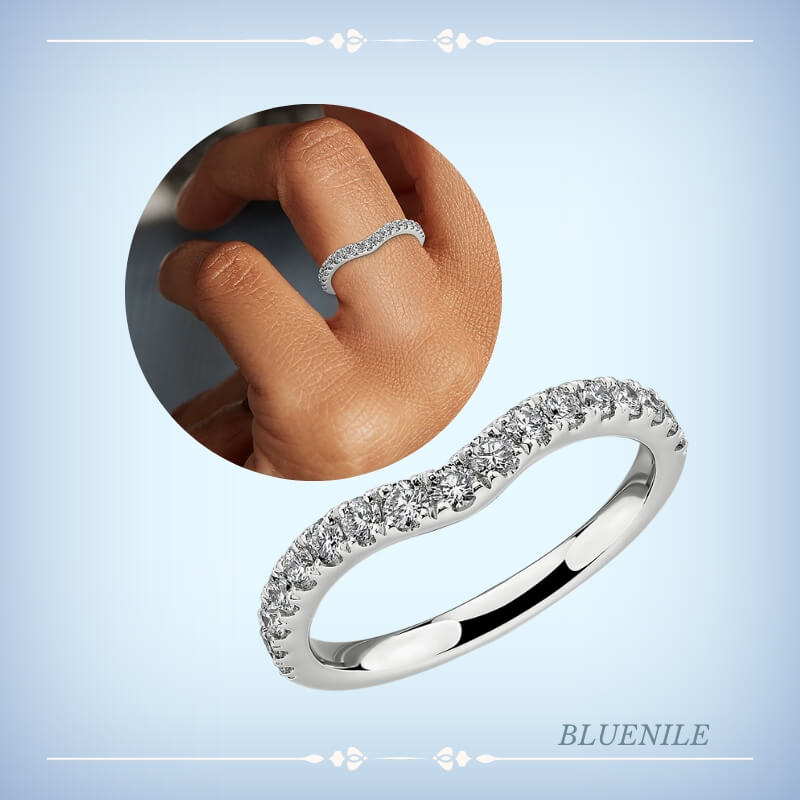 Blue Nile's Curved Diamond Band is simple but eye-catching. It has 17 round-cut diamonds set in a single row. The design means it will wrap around your engagement ring but won't overshadow it. Made of 14-karat white gold, this is one ring any bride can be proud to wear.
When you order a ring from Blue Nile, you can automatically have it appraised so you'll know what it's worth before you even get it.
Some wedding bands for oval rings are more elaborate than others. Blue Nile's Regal Curved Diamond Band is one of them. Its eight-round diamonds make the ring an unforgettable sight. The split sides and curve mean that it will look good on you and be as comfortable as it looks.
Blue Nile will always tell you if a particular ring you are looking at comes in more than one type of metal. For the most discerning brides, this is a great benefit to have.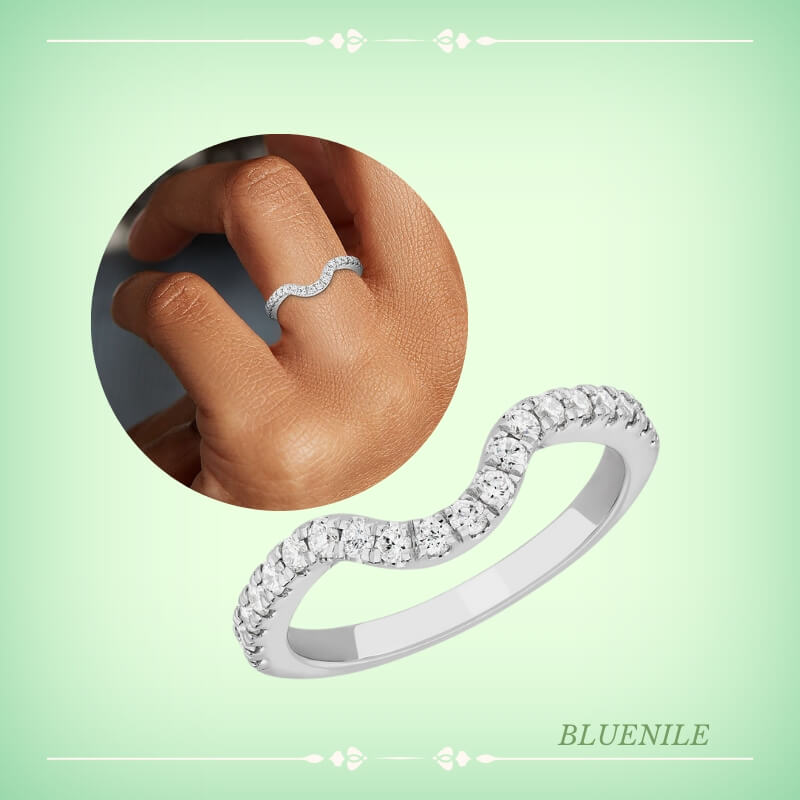 If you already purchased one of the Vintage Diamond Engagement Rings, you'll probably want to pair it with the matching wedding band. The classic style of this ring means you'll want to pass it down to future generations. Made with 14-karat white gold, this ring will hold up over time when properly cared for.
With 20 center-round diamonds, you'd be hard-pressed to find a more beautiful or valuable ring. The pave setting of the diamonds enhances the ring's texture and makes it something you'll lovingly admire every time you look at it.
The Vintage Diamond series of wedding and engagement rings is vast. If you see one you like but aren't sure it's the one, the Blue Nile website will automatically show you the other rings in the series.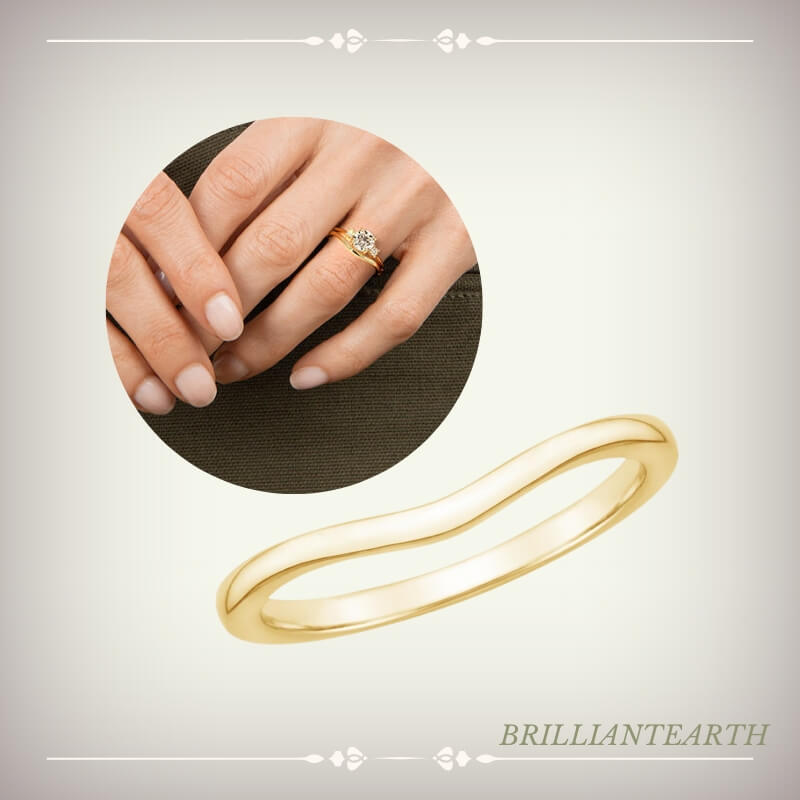 If you're looking for a simple wedding band for an oval diamond, Brilliant Earth's Petite Curved Wedding Ring is an ideal choice. The ring is available in 14-k Rose Gold, and the 18-k version comes in white or yellow gold. Or, for an extra fee, you can opt for platinum.
Choosing wedding rings should be an activity every engaged couple shares. So if you find one on the Brilliant Earth site you want your partner to see, you can use the drop hint feature to show them which ring you're looking at.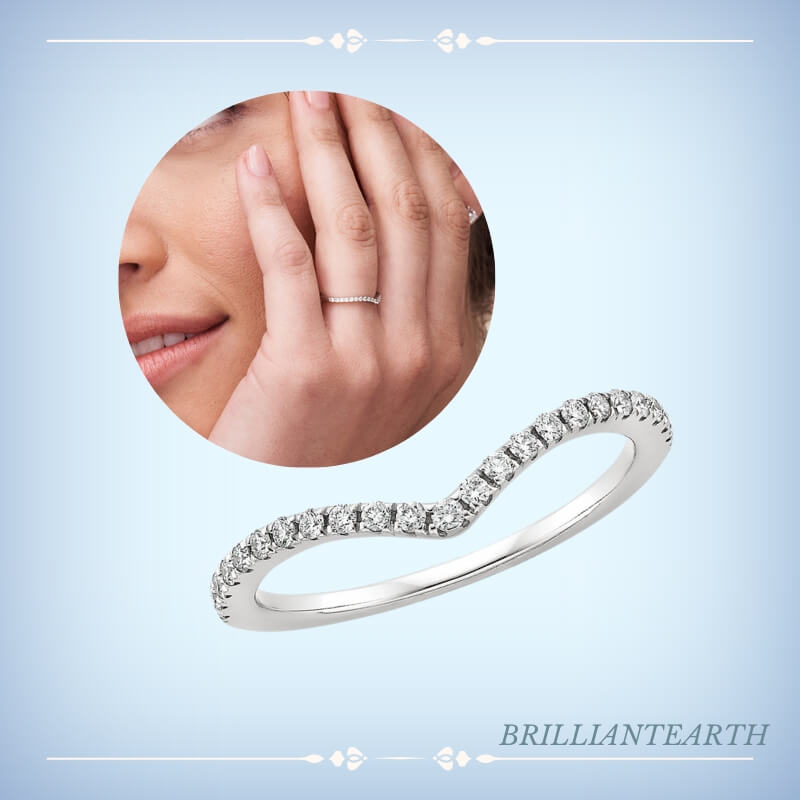 The Chevron Diamond Wedding Band is shaped like a heart. While it will pair well with an engagement ring, it can be worn alone and be just as special. This ring is available in 1/3 and 1/6 karats. If you choose a 14-karat ring, it comes in Rose Gold. If you select an 18-karat ring, they come in white gold and yellow gold. Featuring 19 round diamonds, this scalloped pave ring would look beautiful on any woman.
A unique feature on the Brilliant Earth site allows you to see what their rings look like against any shade of skin, from light to dark.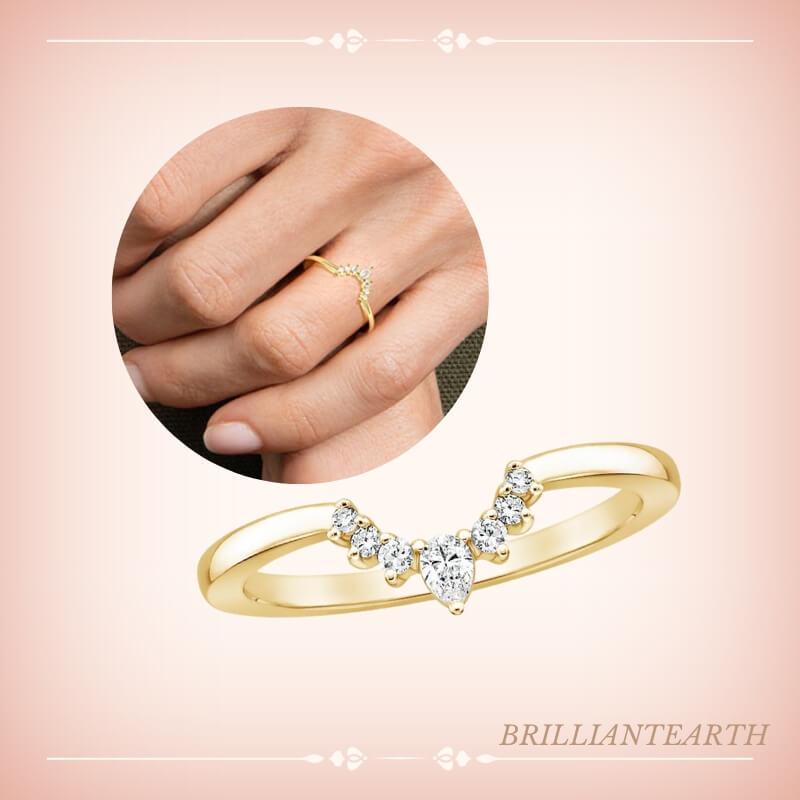 The Crescent Diamond Wedding Band is named after its shape. It can be paired with your engagement ring or any other one you might wear. There are six diamonds in this ring, both round and pear-shaped. Only available in 18-karat yellow gold, this ring will bring a smile to your face every day.
Each ring sold by Brilliant Earth was created with recycled metal, making them environmentally friendly rings you can be proud to wear.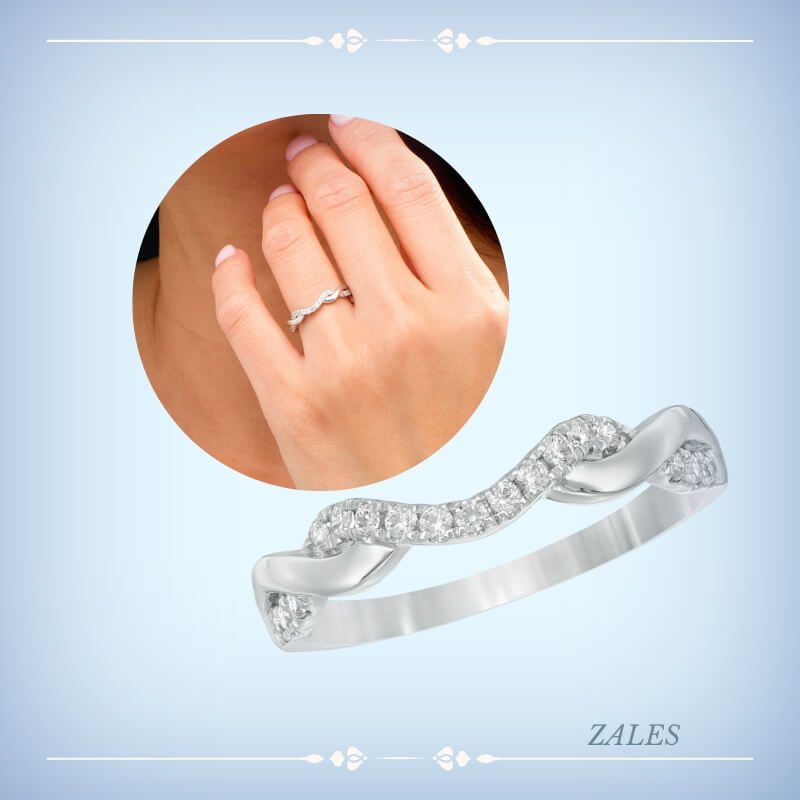 The Diamond Twist Contour Band is sold exclusively online by Zales. Made with 14k white gold, it boasts polished ribbons and is lined with beautiful diamonds. If you're looking for an oval solitaire engagement ring with a wedding band, you will love owning and wearing this ring.
What Zales does best when it comes to wedding bands for oval rings
You always have the option of seeing what this ring looks like on a model's hand before you decide if it's right for you.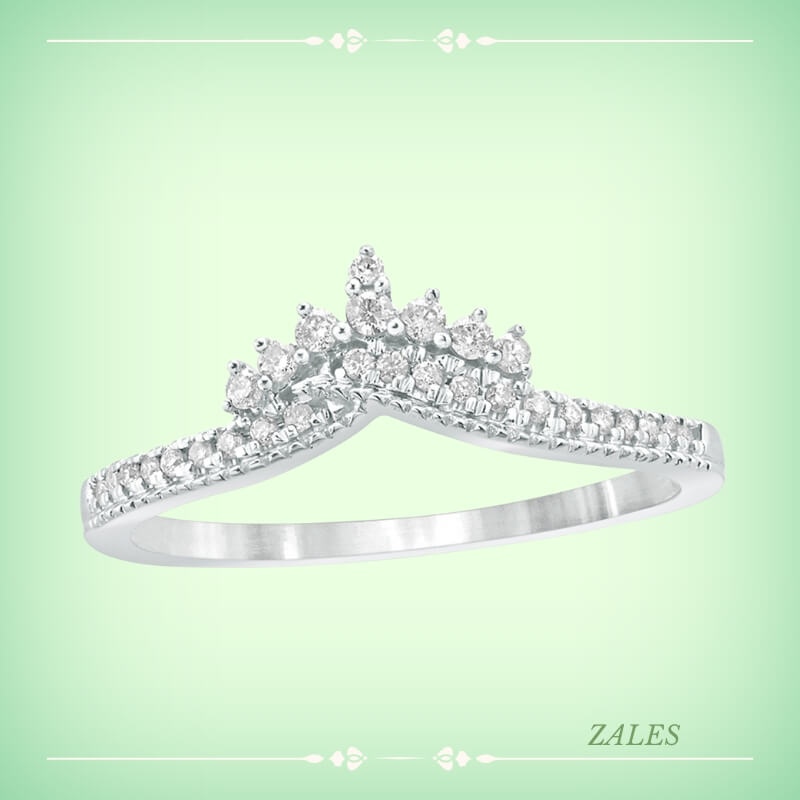 When it comes to wedding bands that pair well with oval engagement rings, consider purchasing the Diamond Round Chevron Vintage-Style Wedding Band. The ring is available in white, yellow, and Rose gold. The band is lined with diamonds that shimmer in the light. Its intricate details make it even more eye-catching.
If you choose the Zales protection plan, the cost includes size adjustments, engraving, and the tightening and repair of stones.
Bottom Line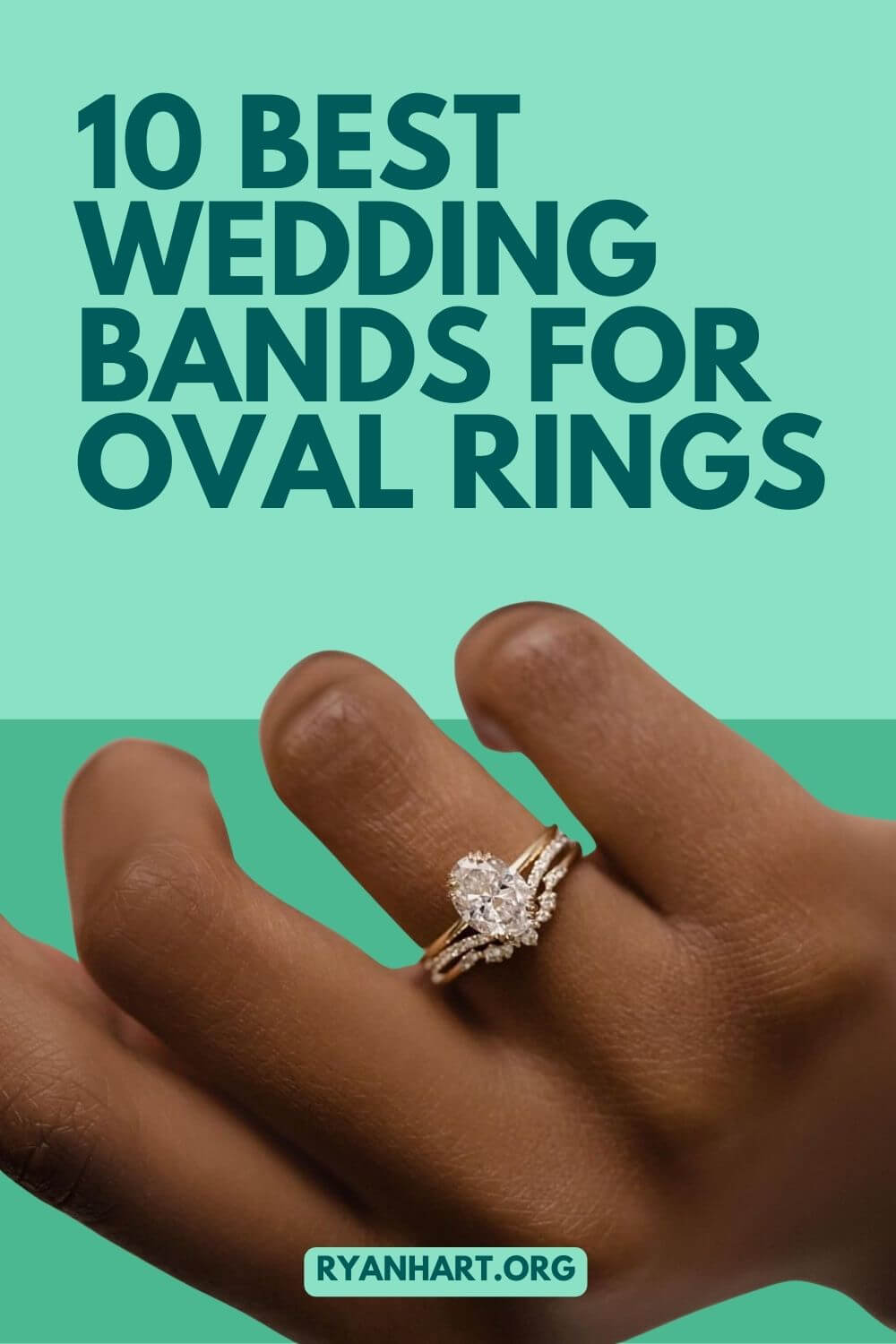 If you're looking to match a stunning oval diamond engagement ring with an equally stunning wedding band, then you should consider the unique beauty of a curved ring.
Perfectly complementing the contours of your special piece and featuring diamonds inlaid within its curves, a curved wedding band embraces your fingers in elegant style and offers a striking contrast to an otherwise classic oval design.
Best of all, these expertly crafted bands have been designed to sit flush against your diamond engagement ring to complete the look while providing lasting durability.
Whether it's for your special day or just to show how much you care, a curved wedding band symbolizes the eternal bond between two people that only comes with marriage.