Many brides dream of sparkling diamonds when they think of wedding rings. But some brides worry that an expensive ring could get damaged, lost, or stolen.
A silicone ring is the answer when you want to wear a wedding band that shows your commitment to your better half and ensures you don't have to worry about wearing it no matter what you're doing.
Other reasons for choosing silicone rings include being employed in a field where you're not allowed to wear a metal ring, such as an electrician, or having an allergy to metal.
Durable silicone rings come in many colors and textures and are comfortable and affordable. Even if you opt for a traditional gold or platinum ring, a silicone ring can come in handy when traveling or performing manual tasks.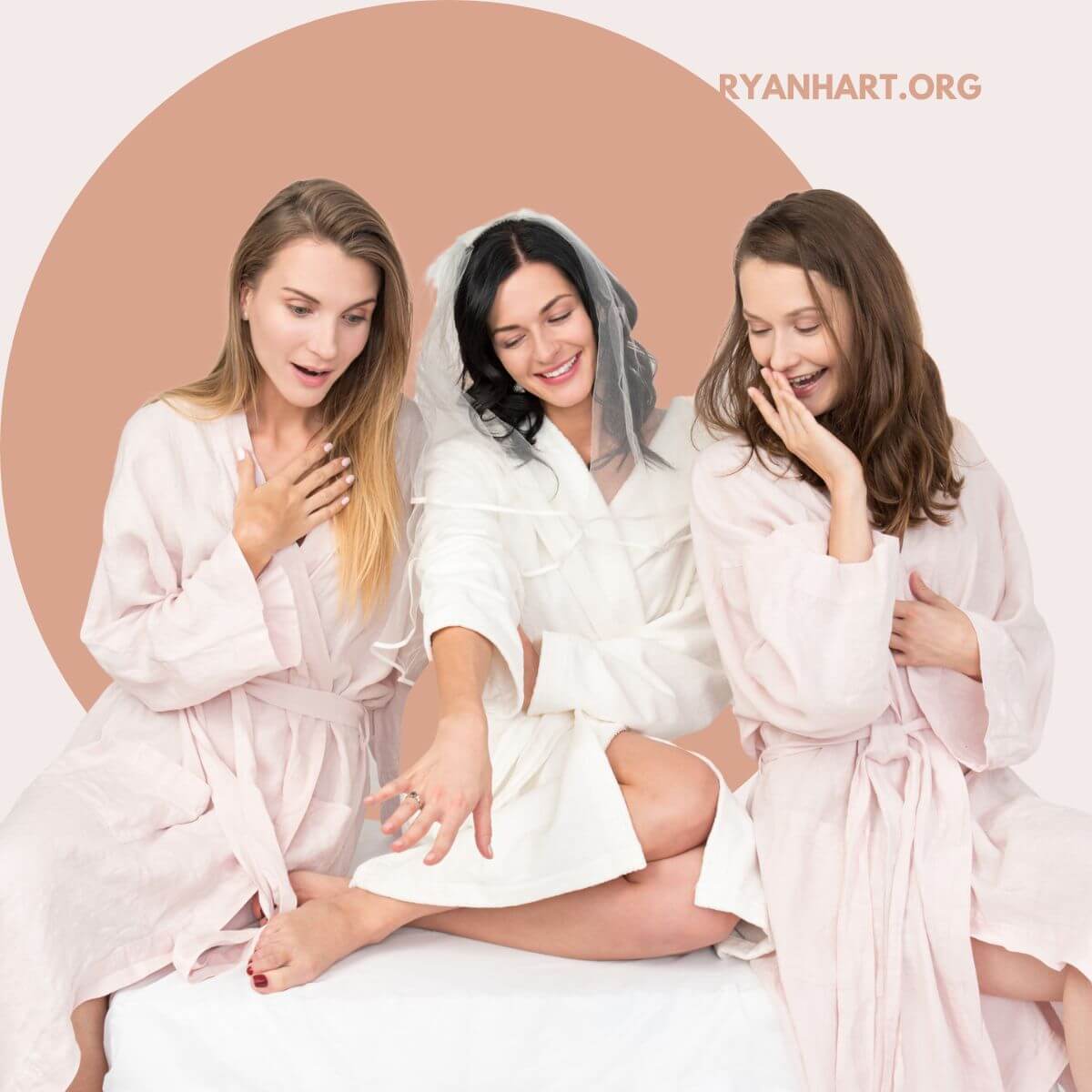 What are the Best Silicone Rings for Women?
Silicone rings are comfortable enough to wear for extended periods. They also come in many colors and are inexpensive enough to get several colors to match the various outfits in your wardrobe. They also are perfect for times, like pregnancy, when your fingers swell up.
If you're intrigued and want to learn about the best silicone rings for women, keep reading, we've assembled a list of the top seven of the best choices!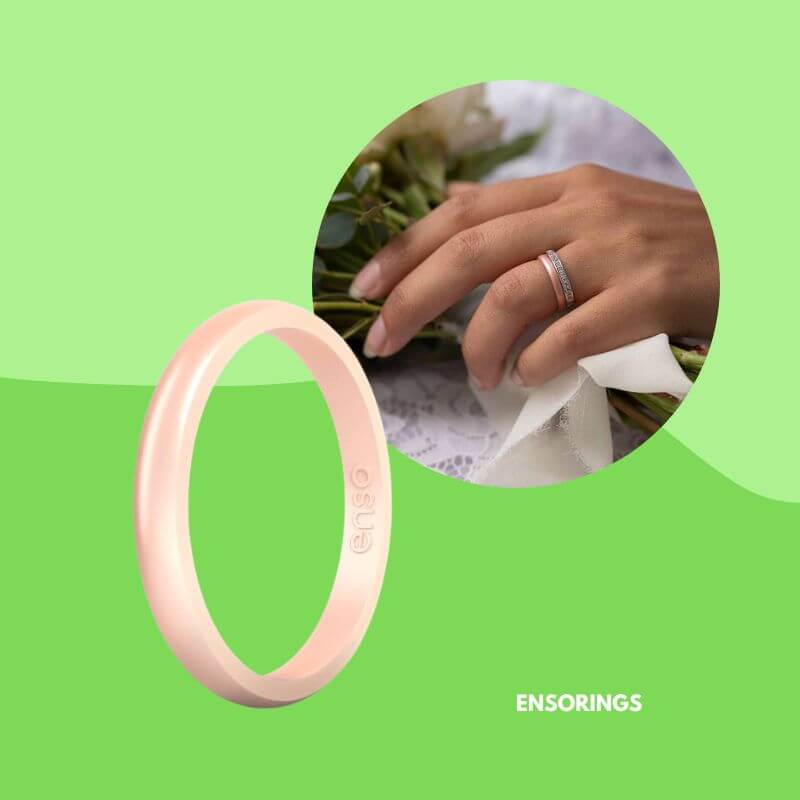 The Elements Classic Halo Silicone Ring is a delicate and attractive option and is actually infused with precious metals. For just $40, this handcrafted Enso Ring is a great buy. It's comfortable to wear, attractive, and engineered with anti-ring avulsion technology for safety.
Do anything you would typically do – jogging, climbing, cooking, and never feel the need to take your ring off. Choose your width – classic, thin, or halo for the perfect style for you.
Why we like this ring: These gorgeous rings have a lifetime warranty to cover rips, breaks, tears, and discoloration.
Made from soft, stretchy high-quality rubber, the Qalo Reversible Silicone Ring is exceptionally light, flexible, and hypoallergenic and fits any lifestyle. It will stay put no matter what you're doing, swimming, or participating in extreme sports! And Qalo provides you with several style options!
Each color combination is marbled and made from durable silicone. The smooth finish ensures it won't catch on other materials. Make it truly your own by inscribing it with a special message.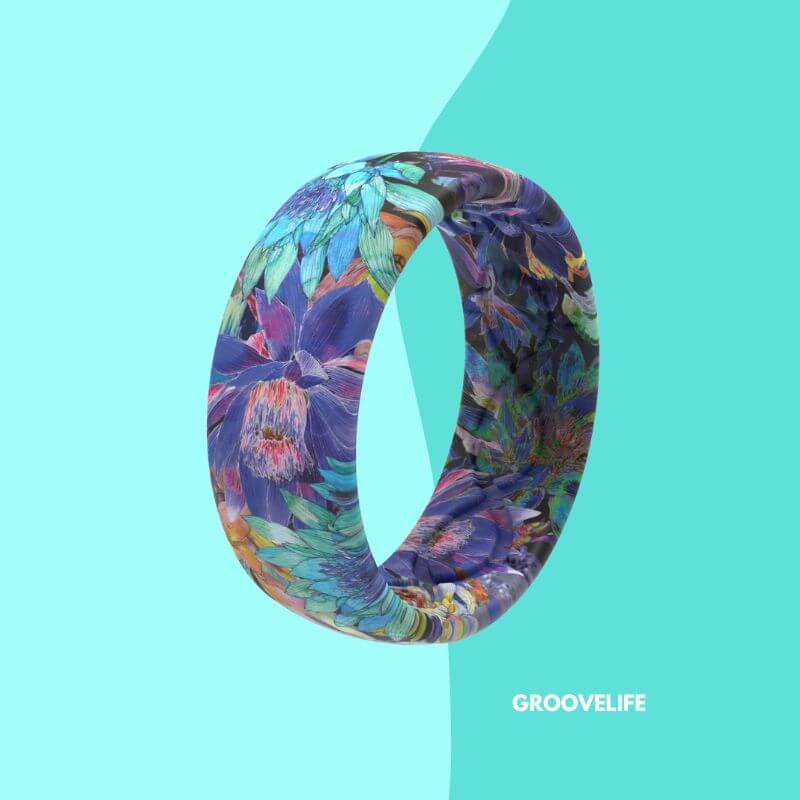 When you're in a profession that doesn't allow you to wear metal jewelry, the Groove Ring Twilight Blossom is perfect! When working out or in the heat all day, it breathes, is durable, and wicks moisture away.
Made in Tennessee, it's sold in a unique pattern and Groove technology that uses a high elastomer blend for durability and flexibility. Give these rings a week to get broken in. They will feel rigid at first and begin to soften with time.
Why we like this ring: The beautiful pattern and color options are fantastic. Really get creative and make a new statement each day!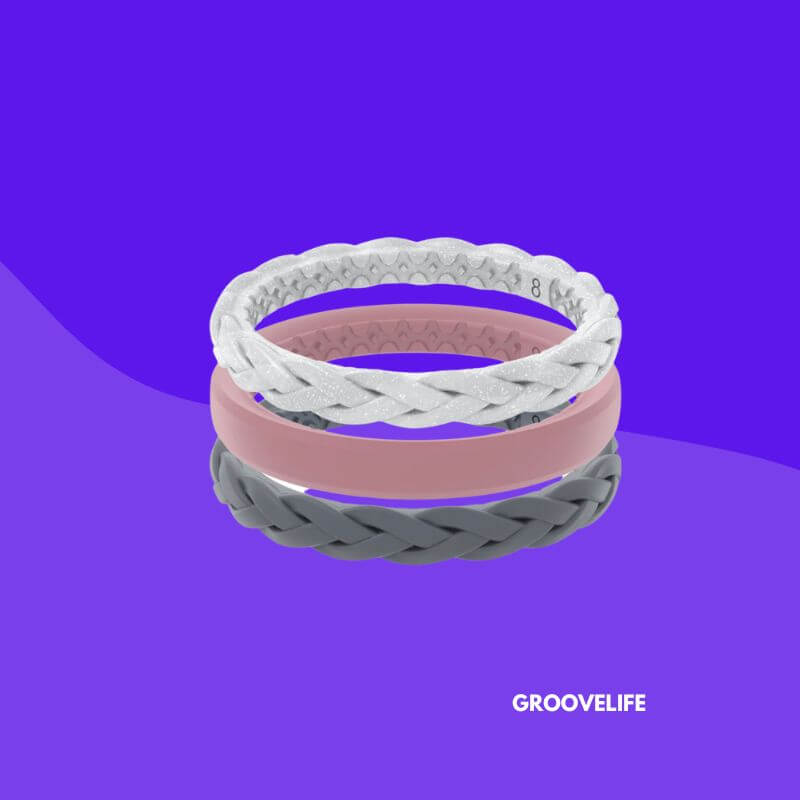 When you're looking for both durability and beauty, the Groove Ring Serenity Stackable Ring is the one for you! It features interwoven braids of deep stone and pearl around a soft inner ring offering a beautiful hue and rich texture. Like all Groove Rings, the inner grooves let air in and moisture out, so it's both waterproof and sweat-resistant. All Groove Rings take a little getting used to, as they will feel stiff when you first slip them on.
Why we like this ring: You can stack them, making them an excellent option for fashionistas who love coordinating their outfits.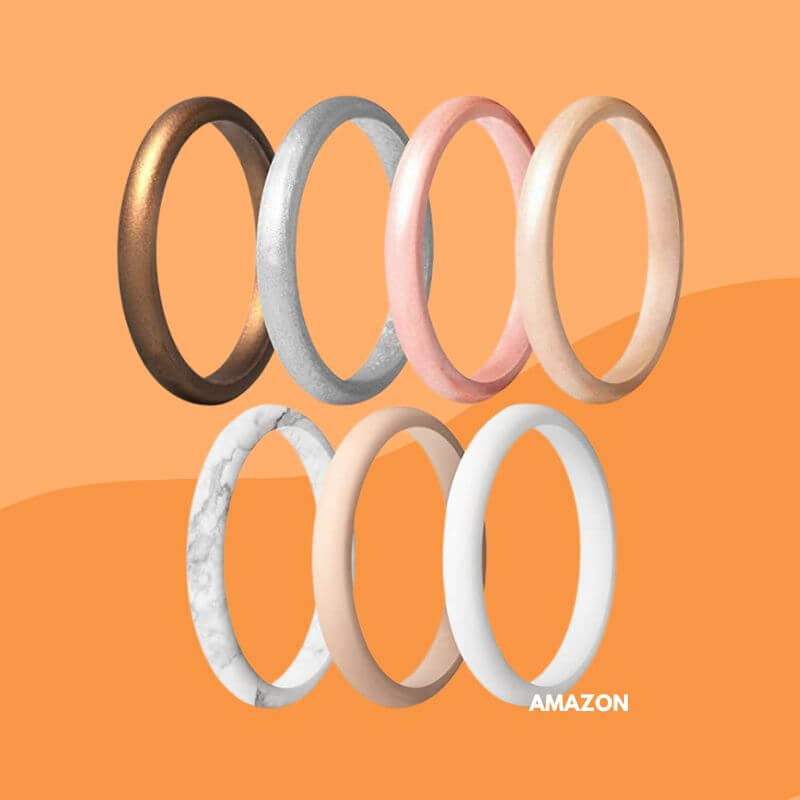 Never worry about putting on a ring sizer on a ring that's too big or struggling with a ring that's too tight; ThunderFit Women's Thin and Stackable Silicone Wedding Bands help to avoid ring avulsion. They also allow you to always show your commitment without worrying about damaging your band. The ThunderFit design will also break when a certain amount of pressure is applied.
Whether in the gym or building a home, it's durable enough to handle whatever you bring. With a comfort-fit inner design and smooth ergonomic outer design, it's also hypoallergenic and flexible.
Why we like this ring: You can stack these beauties in assorted color combinations and feel comfortable all day.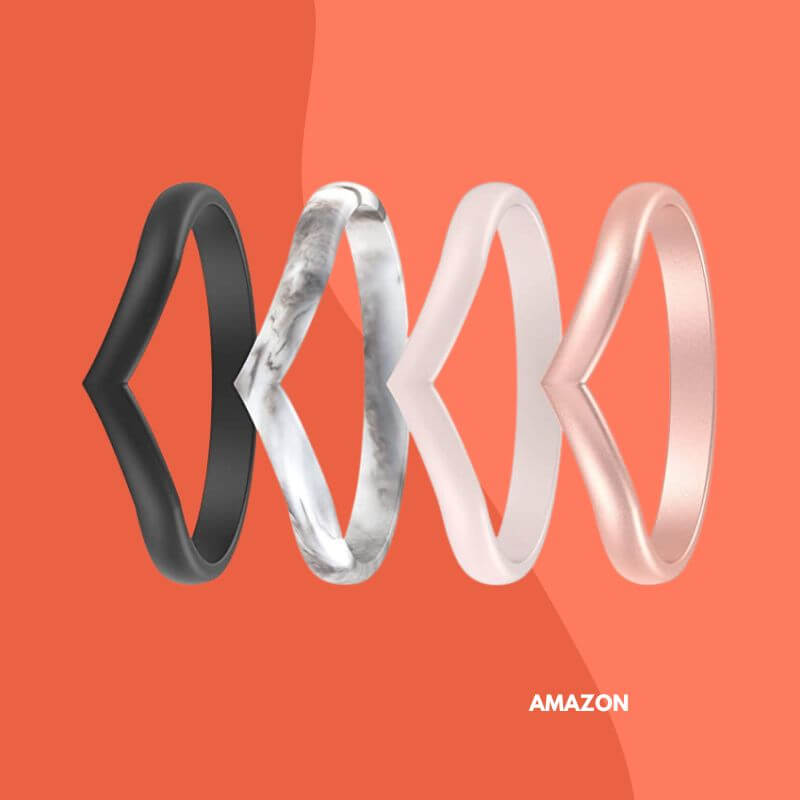 People with active lifestyles love silicone rings. And this one allows you to have a heart and give one away with ThunderFit Thin Heart-Shaped Silicone Wedding Rings. These stackable rings are perfect as a wedding band or a fashionable ring to wear anywhere.
These durable and flexible rings are designed to break away with a certain amount of pressure. It's ideal for those performing carpentry, operating machinery, and working out. Choose a variety of rings in distinct colors to match everything in your closet!
Why we like this ring: The design is unique and perfect to show your love!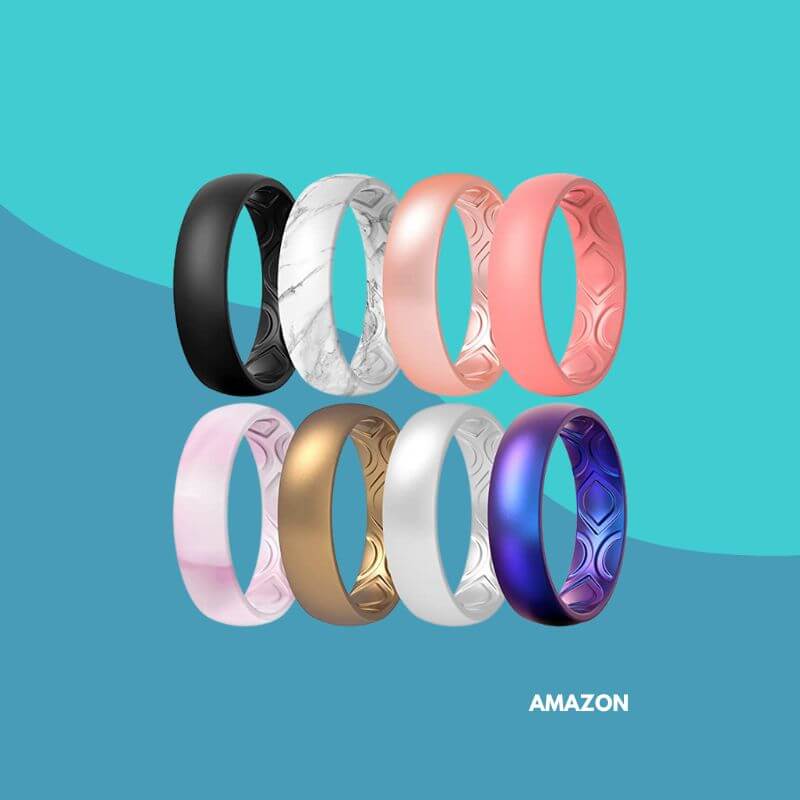 Silicone rings are less expensive than metal bands like this winner from ThunderFit, the Women's Breathable Silicone Wedding Ring, is damage resistant, has an ergonomic design, and offers a comfortable fit. Made of top-grade, hypoallergenic, and flexible silicone, it has its own safety feature – it's designed to break away from your finger at 43 pounds of pressure. It's durable and can last for a lifetime if you care for it properly. And it's priced just right, allowing you to buy several in different colors.
Why we like this ring: It's gorgeous, ships fast through Amazon, and is inexpensive!
What does wearing a silicone ring mean?
Silicone wedding rings are perfect for married couples who want to show their commitment and style. Not only are these rings stylish, but they also provide great flexibility and comfort that many conventional metal rings don't offer.
Wearing a silicone ring reflects both partners' willingness to adapt to each other's wants and needs while still expressing their personalities.
Ultimately, it's one of the most fun ways to celebrate marriage since you get to add extra personal flair without compromising on the message that you're in it for the long haul.
Why do women wear silicone rings?
Women wear silicone wedding bands for a variety of reasons. For some, it's the practicality; silicone rings are comfortable, flexible, non-conductive, and, most importantly – don't stratch like traditional metal rings.
Others may switch to silicone because of their active lifestyle; you don't have to worry about removing it or catching it on something - it's so lightweight that you won't even know it's there!
And finally, many women love the versatility of style, and color silicone bands provide. Unlike traditional golden or silver bands, these unique rings can come with fun patterns and colors to fit any personality - how cool is that?
They are the perfect way for a woman to express her fashion sense while still proudly wearing her wedding ring.
How long will a silicone ring last?
Silicone rings may look delicate, but they are more durable than you'd think! With regular wear and tear, a silicone ring can last several years.
Plus, if it does happen to break, many companies offer a lifetime warranty - so you can get a free replacement without much hassle. So no matter where life takes you, your silicone ring is built to come along for the ride.
Bottom Line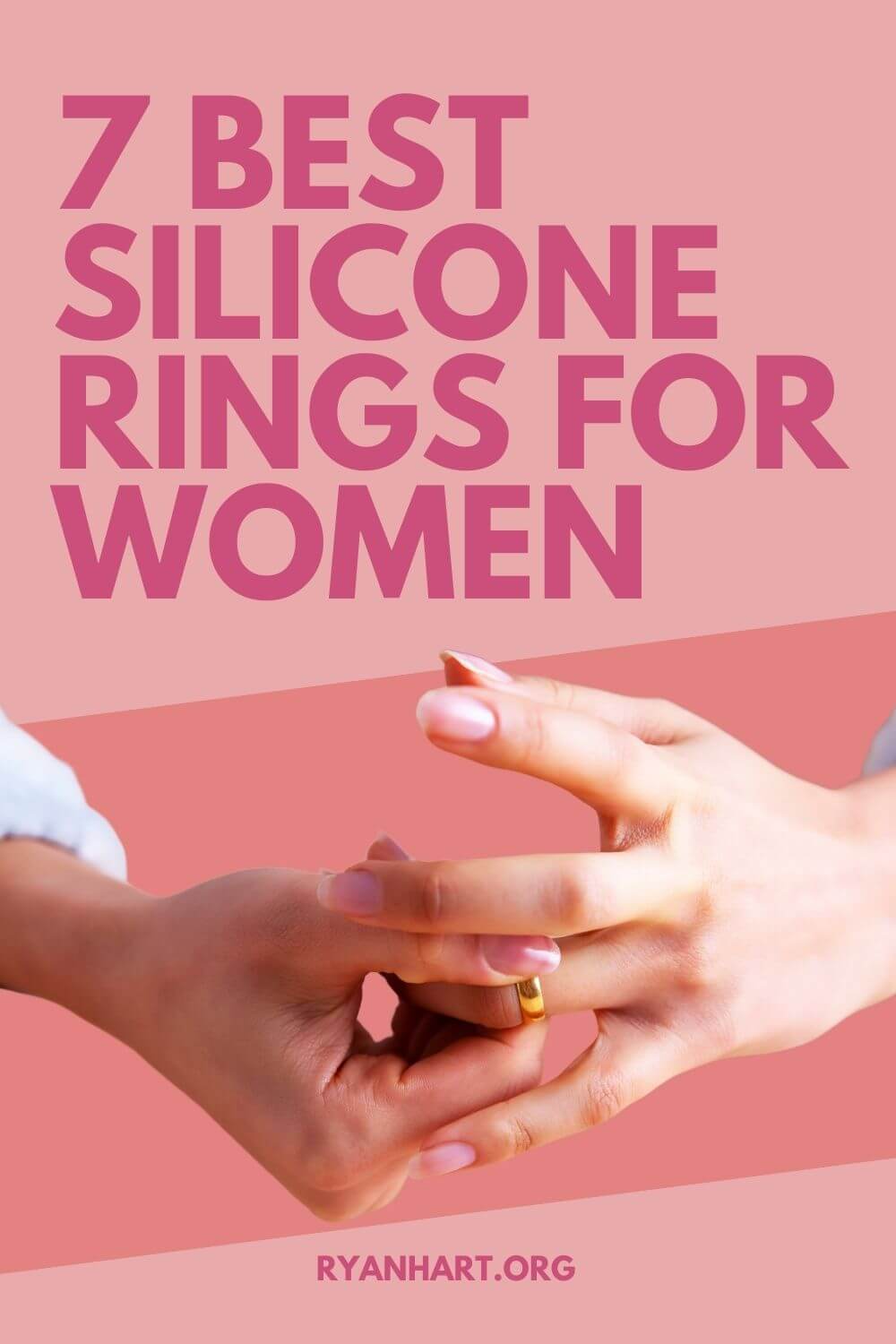 A silicone wedding ring is the way to go for any woman ready to make a statement about her style and commitment after her wedding ceremony.
These rings come in hundreds of colors and styles, allowing the modern bride to express her individuality without breaking the bank.
Unlike traditional metal bands, silicone wedding rings are relatively easy to put on or take off as needed—making them perfect for a woman who lives an active life and doesn't want any ring-related concerns getting in the way.
Plus, environmentally conscious brides can have peace of mind knowing that these rings require zero mining of precious metals or stones. Whether throwing on a dressy outfit for a night out or camping with friends, your silicon ring will always perfectly size up to any activity.
Silicone wedding rings are the perfect accessory for women who want their fashion, and environmental impact statements heard loud and proud!