A cluster ring is made of many small diamonds or gemstones, sometimes dozens, to create that brilliant sparkle when that solitaire stone just won't do.
If you're looking for an engagement ring with a little extra bling, but your significant other isn't a fan of halo settings, consider a cluster setting instead. This style can work with nearly any gemstone, and you could even include multiple colors within the design.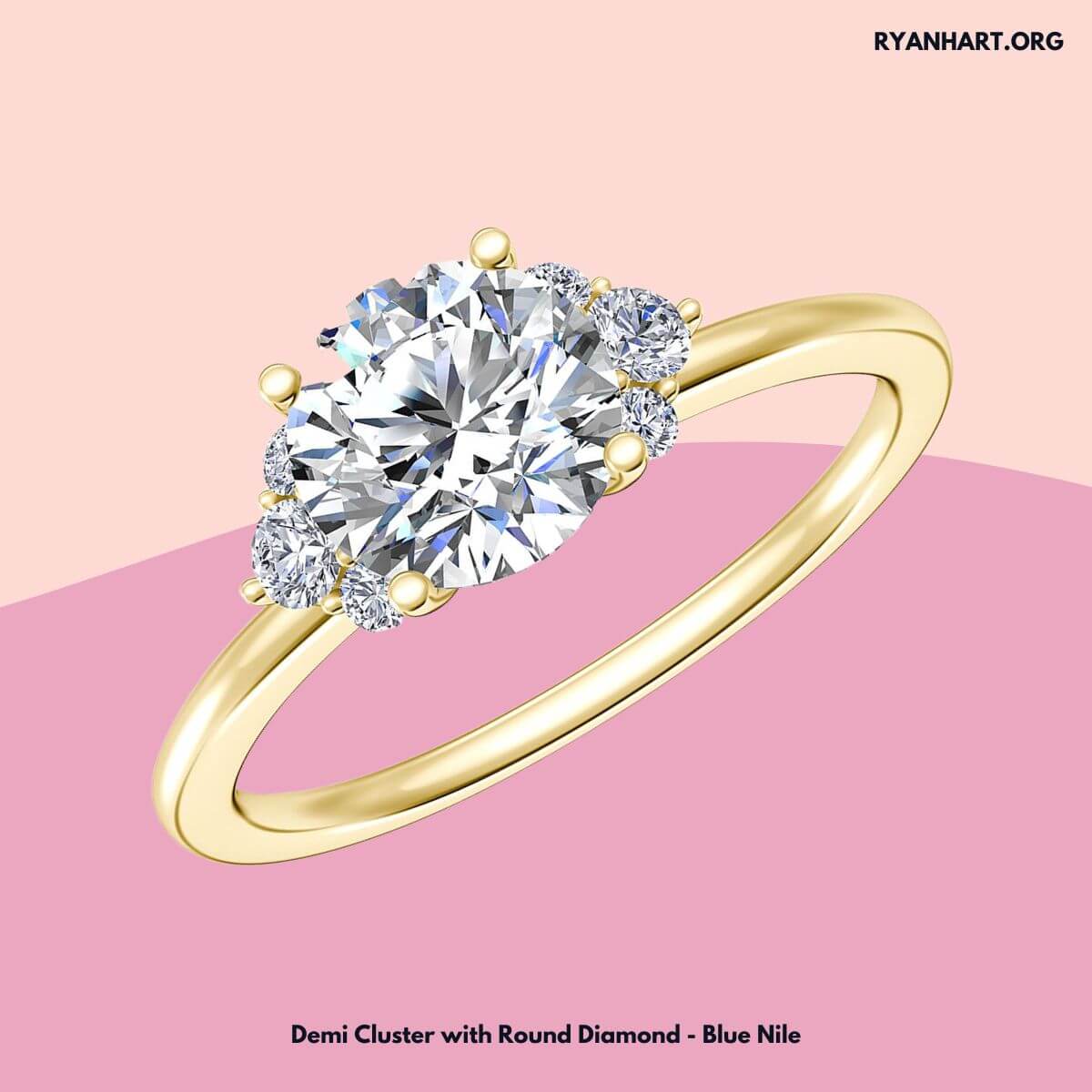 What are the Best Cluster Engagement Rings?
The type of cluster ring you choose entirely depends on the style choices of the person wearing the ring. There are many different options and styles available from many jewelers, so we looked at several rings to help get you started on your search: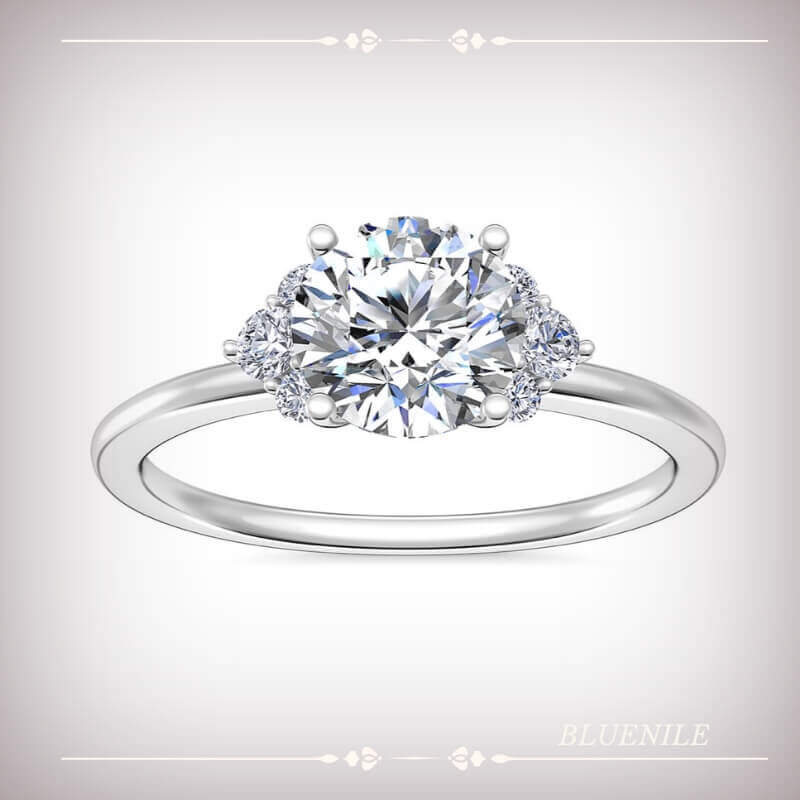 This elegant ring features a stunning round diamond surrounded by a cluster of small diamonds to give the illusion of one brilliant, sparkling gemstone.
The trio of shimmering diamonds set on either side of the larger stone doesn't distract from the round diamond. In fact, they bring your attention straight to the exquisite larger gemstone with little effort. This luxurious-looking ring also comes in a variety of band metals, giving you the option to customize it if platinum isn't what you're looking for.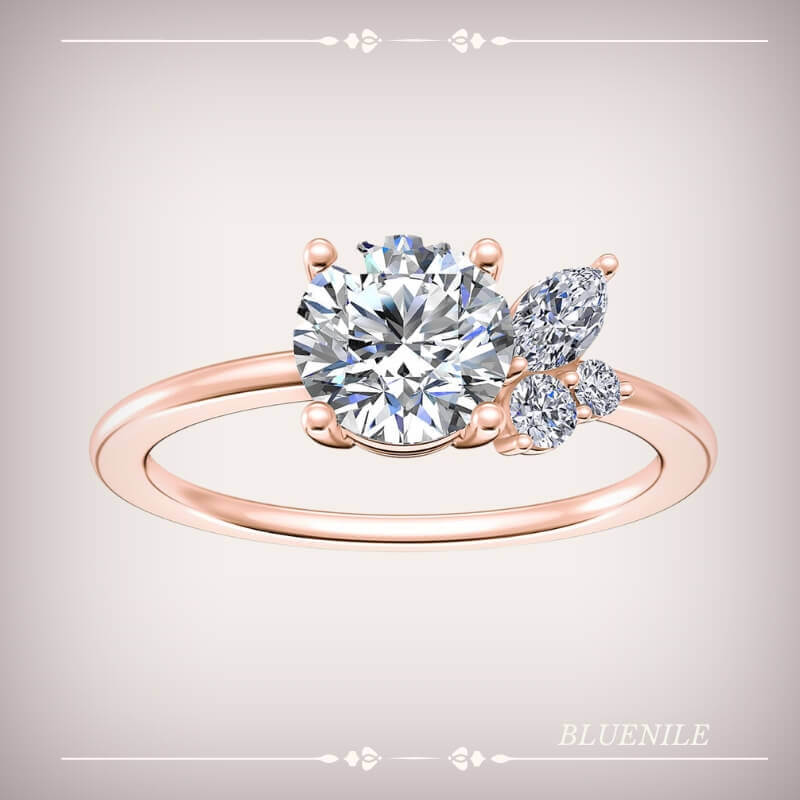 Get her a ring that is as unique and beautiful as she is, and consider purchasing an asymmetrical cluster ring.
Set into a sophisticated rose gold band, the round diamond in this ring is still what draws your gaze. However, the marquise and round diamonds on just one side of the diamond offer a unique take on a cluster diamond ring. She was born to stand out and should have a ring that compliments that.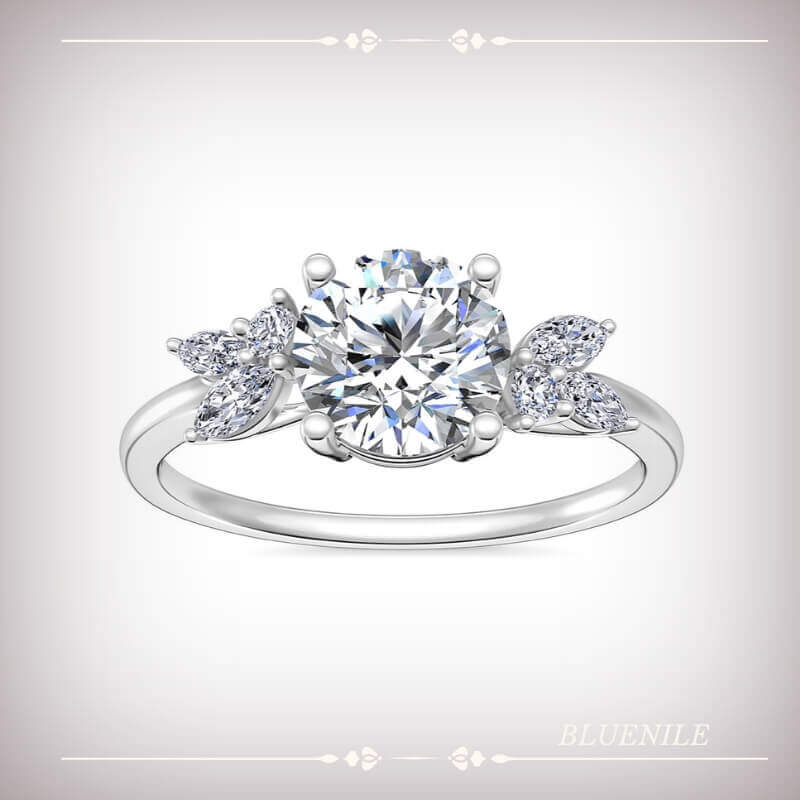 This stunning ring is also slightly asymmetrical—but to a less dramatic degree.
If your bride-to-be likes the traditional look of engagement rings but still wants something a little different, the subtle offset placement of the cluster diamonds in this ring will help bring a little personality to her ring without being too over the top.
Choosing a different diamond shape also elevates the uniqueness of this design and helps the asymmetrical diamonds stand out even more. And with lab-grown diamonds, you're guaranteed to get an exquisite sparkle from every angle.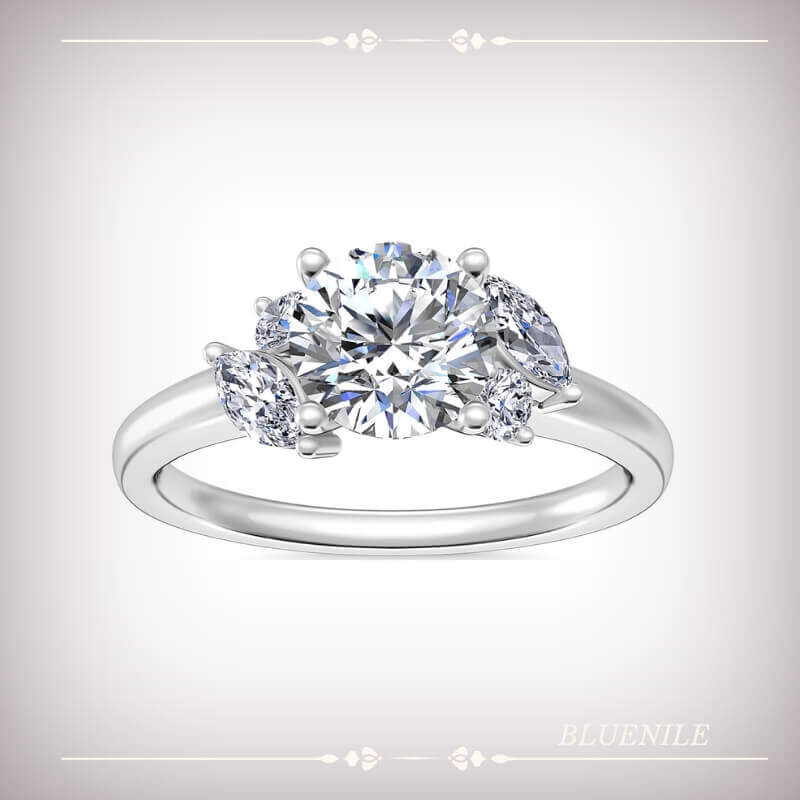 This ring is simple, yet elegant, showcasing an asymmetrical cluster of shimmering diamonds.
The round cut center diamond is mesmerizing and stunning, and the accompanying round and marquise cut diamonds flanking it add a little more sparkle to the simple band. This ring looks brilliant in white gold, but it's beautiful with any available band metal.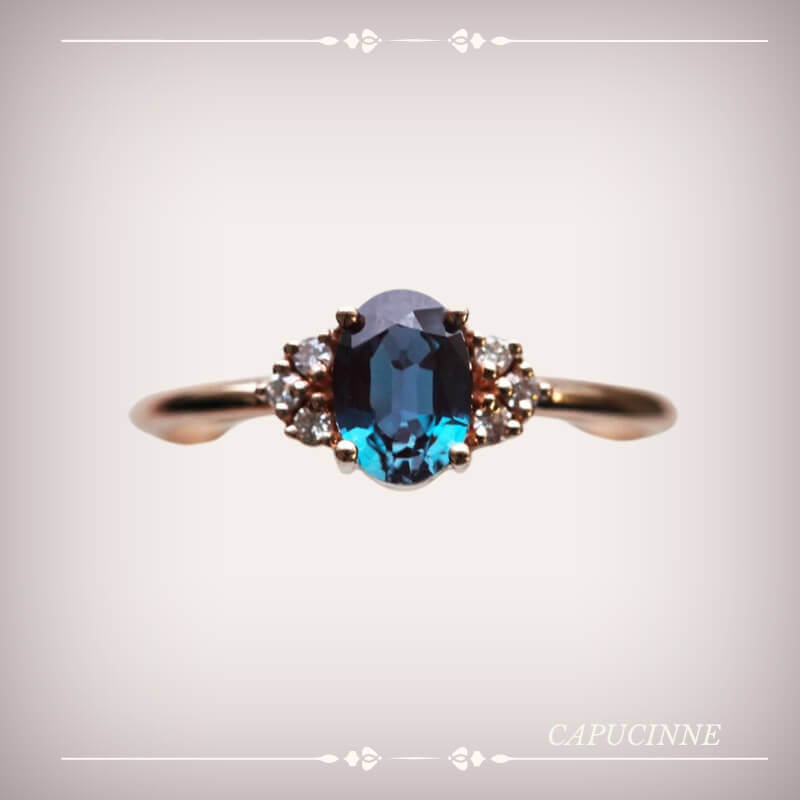 This is a more traditionally styled ring for those who are interested in cluster diamonds but don't want to stray too far fromtraditional diamond settings.
The true star of this ring is the stunning alexandrite stone. The triple diamond cluster on either side of the gemstone highlights the stone. The color-changing illusion of alexandrite will give this ring a unique appearance depending on the lighting and angle.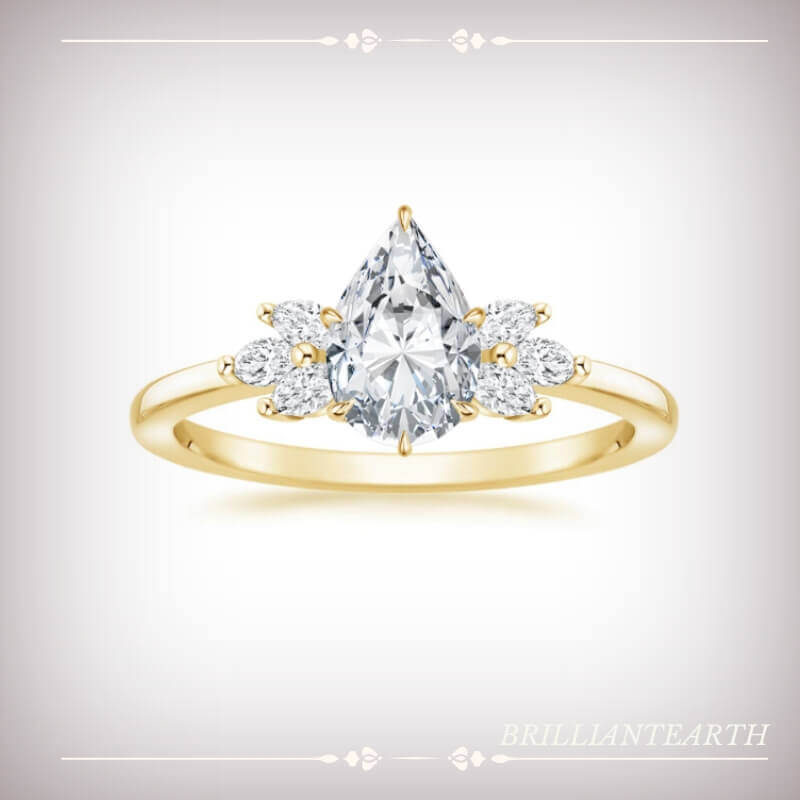 This unique, chic, and stylish ring features three smaller marquise-shaped diamonds on each side of a brilliant pear-shaped center stone diamond.
Unique without the added element of being asymmetrical, this ring is absolutely stunning. It also features an open-basket setting instead of a typical prong setting for added sparkle and shine.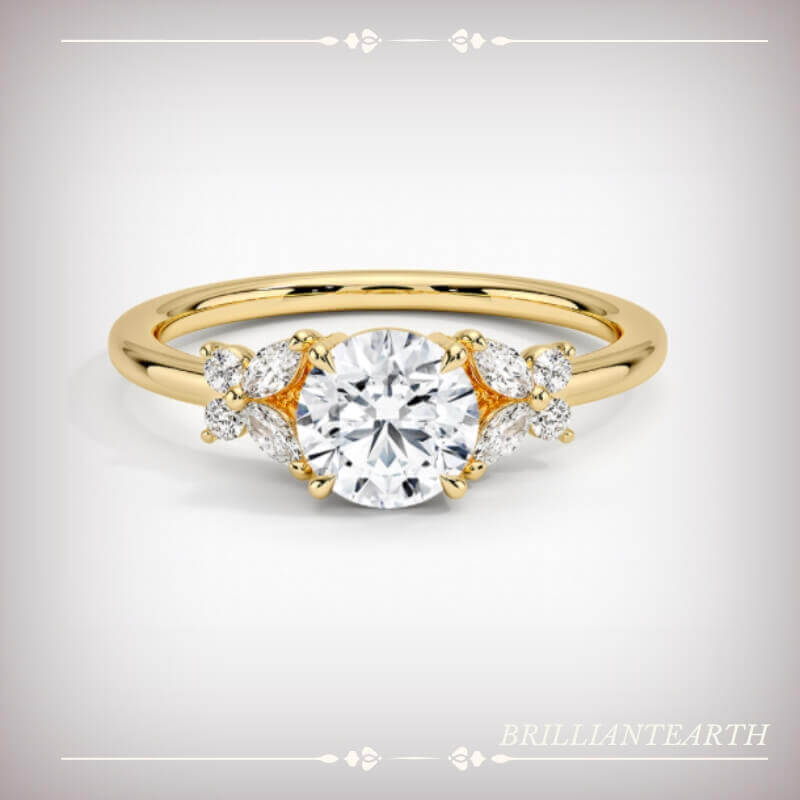 This nature-inspired design is perfect for someone a little more on the elegant and delicate side.
The marquise-cut diamond in the middle is beautiful on its own, but the cluster diamonds are the real eye-catcher in this ring. The round and cluster cut diamonds create a perfect butterfly shape, adding a touch of femininity without adding too much bulk to the ring itself. The butterflies can be seen either from the top or the side, adding a truly unique element.
Floral lovers will swoon over this delicate, stunning illusion of a blooming flower.
This chic ring is designed to look like a blooming flower, and the tiny diamonds in the leaves bring a stunning shimmer to its appearance. Although it looks beautiful in any band, the rose gold creates a delicate and feminine look that she will love.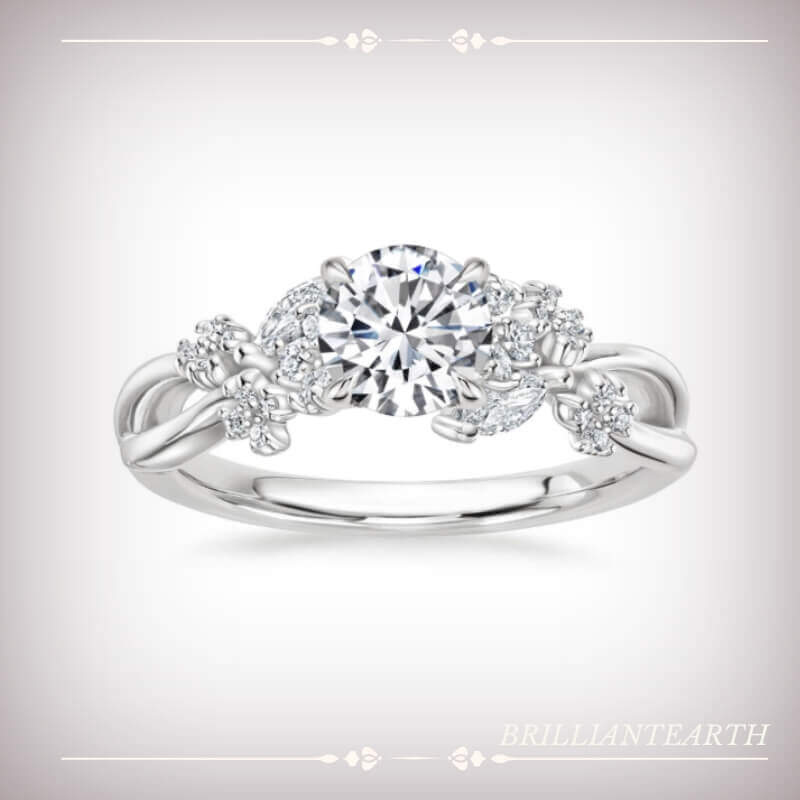 This glamorous ring resembles a string of blooming flowers wrapped around delicate stems, with twelve diamonds on each side of the center gem.
Charming and beautiful, this unique design adds a touch of elegance to a traditional cluster ring. The center gem sits in an open gallery setting, giving it a stunning and unmatched sparkle in any lighting. When viewed from the sides, this ring looks like a rose or blossoming flower silhouette.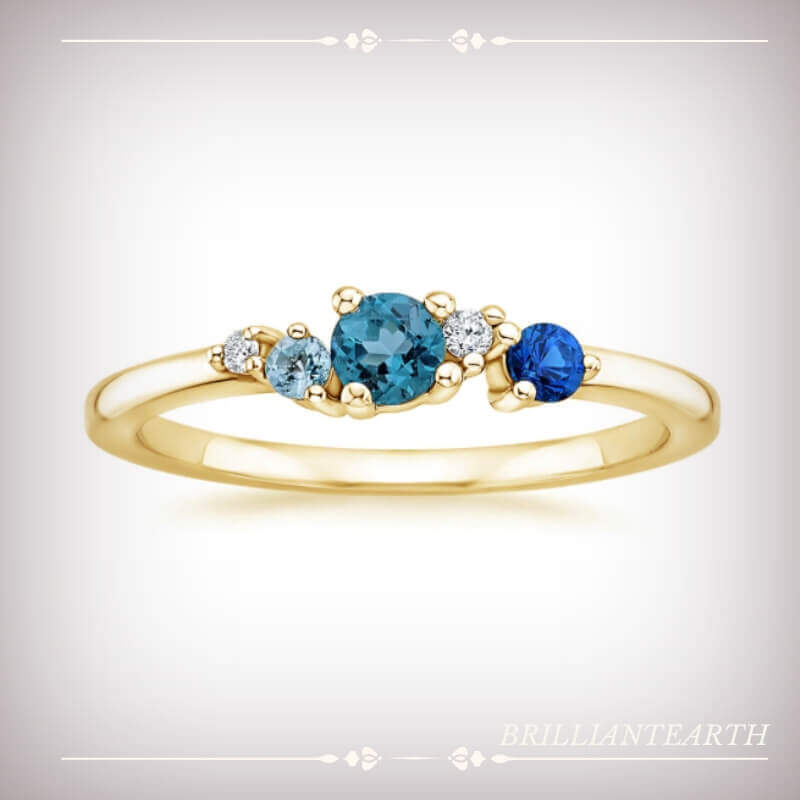 This ring gets its name from the asymmetrical setting of the gemstones, which resemble the ocean's rolling waves. If the sea has a special place in her heart, this ring will mean even more to her.
Cluster rings are unique on their own, but this ring is particularly stunning. The various shades of blue truly give the illusion of the colors of the sea, and since each gemstone is different, there is no specific standout stone; each is exquisite in its own way. This ring would be perfect as an engagement ring, but it is also simple enough to purchase for any special occasion.
What is a Cluster Ring?
A cluster ring is a type of ring that features a cluster of diamonds or other gemstones. The stones are usually set close together in a prong setting, which helps to show off their sparkle.
Cluster rings are often less expensive than rings that feature a single large stone, making them an excellent option for those on a budget.
They also have a unique look, which makes them a popular choice for those who want something different from the traditional solitaire ring.
Can a cluster ring be an engagement ring?
A cluster ring can absolutely be an engagement ring! Cluster rings have been a popular choice for stylish wedding rings for centuries.
The reason for their popularity is simple: cluster rings are stunning and eye-catching. A cluster ring typically features a center stone surrounded by a group of smaller stones. This design creates a stunning visual effect that is sure to stand out.
Are cluster engagement rings tacky?
While some may consider cluster engagement rings tacky, they are timeless and elegant. In addition, they are often more affordable than traditional solitaire rings, which makes them an excellent option for budget-conscious couples.
The cluster design helps to create the illusion of a larger stone, which can be particularly attractive to those who want a bit of extra sparkle. Plus, there's something to be said for their boldness and uniqueness.
They are an excellent option for someone looking for an affordable engagement ring. A cluster ring is a perfect option if you want something that looks a little more unique than a solitaire but don't want to spend much money.
However, those looking for a more traditional engagement ring can seem gaudy and over-the-top, not to mention a bit tacky.
At the end of the day, it's really up to the couple to decide what kind of ring they want.
Bottom Line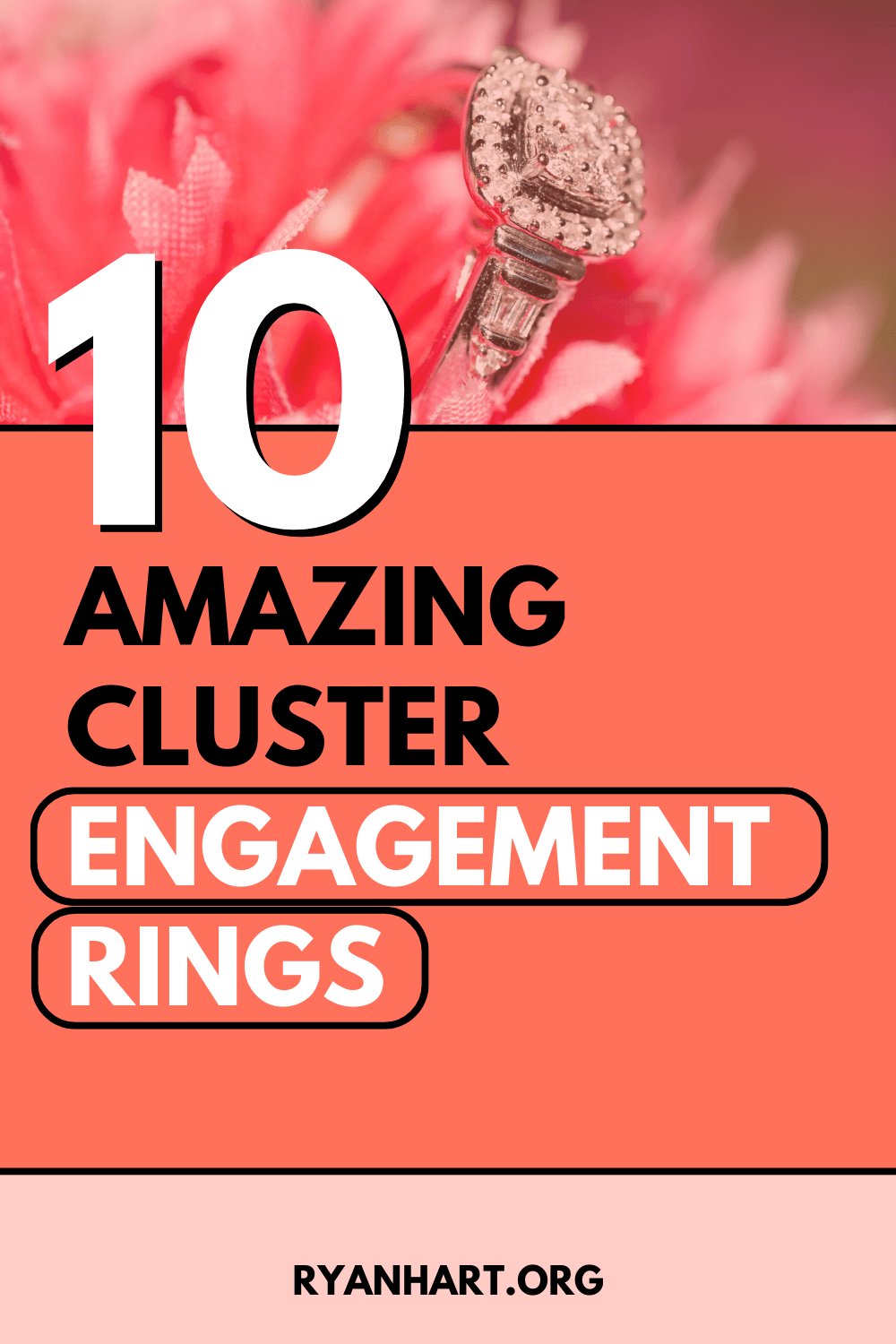 Cluster engagement rings are an excellent choice for couples on a budget. By grouping several small diamonds or gemstones, you can create the illusion of a much larger stone.
In addition, cluster rings tend to be very sparkly and eye-catching, and as a result, they often look like much more expensive rings than they are.
Cluster rings also tend to be more delicate and feminine-looking, which can be a plus for some women. And since they typically have smaller stones, they are generally less expensive to resize or repair.
Overall, cluster engagement rings offer great value for money and are an attractive option for couples on a budget.