Diamonds aren't the only option for engagement rings. Many choose to select other gems to highlight their new status as a bride-to-be.
One gem of choice is the beautiful emerald. We've searched for the best in the pack and bring you seven stunning emerald engagement rings.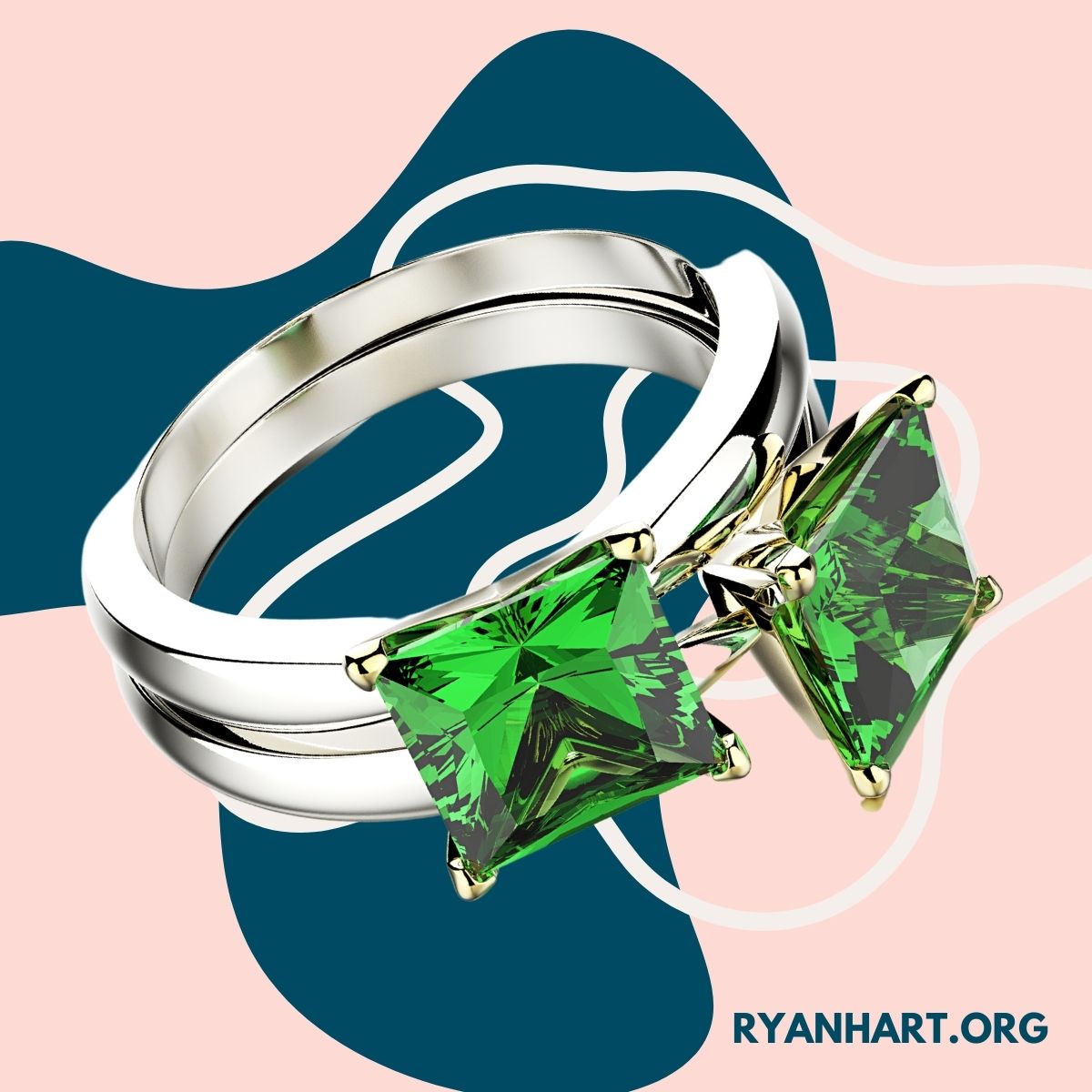 What is the Best Emerald Stone Wedding Ring?
Emeralds stand for successful love, and many believe they can promote longevity in love. As one of the most precious gemstones, emeralds make for a beautiful engagement ring. Whether they are set in platinum, white, or yellow gold, the contrast is striking.
They can stand alone or be paired with diamonds. It's a unique selection that will hold its value, making it a wonderful investment. So let's get started sharing with you seven stunning emerald engagement rings.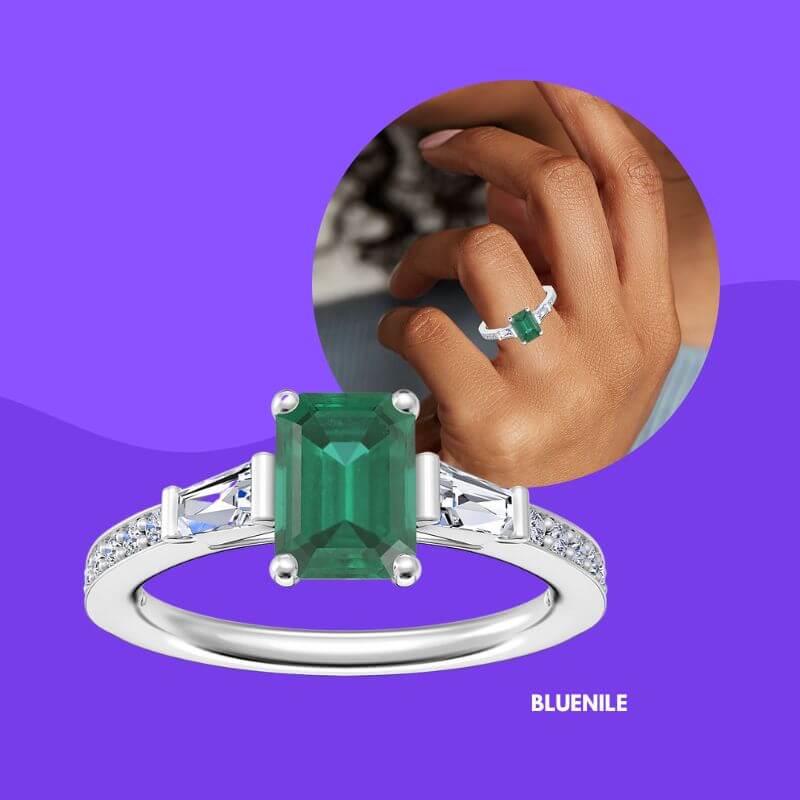 Three stone engagement rings are a great option and represent the past, present, and future with your love. This Tapered Baguette Diamond Cathedral Emerald Engagement Ring is no exception.
With a beautiful emerald center stone resting between baguette diamonds, it is available in gold or platinum and brings back Art Deco styling. The delicate platinum band offers a soft look that places all the emphasis on the emerald.
The tapered baguettes add to the sparkle without taking over the show. The matching Contour Channel Matching Diamond Wedding Band in Platinum is designed to fit it like a glove.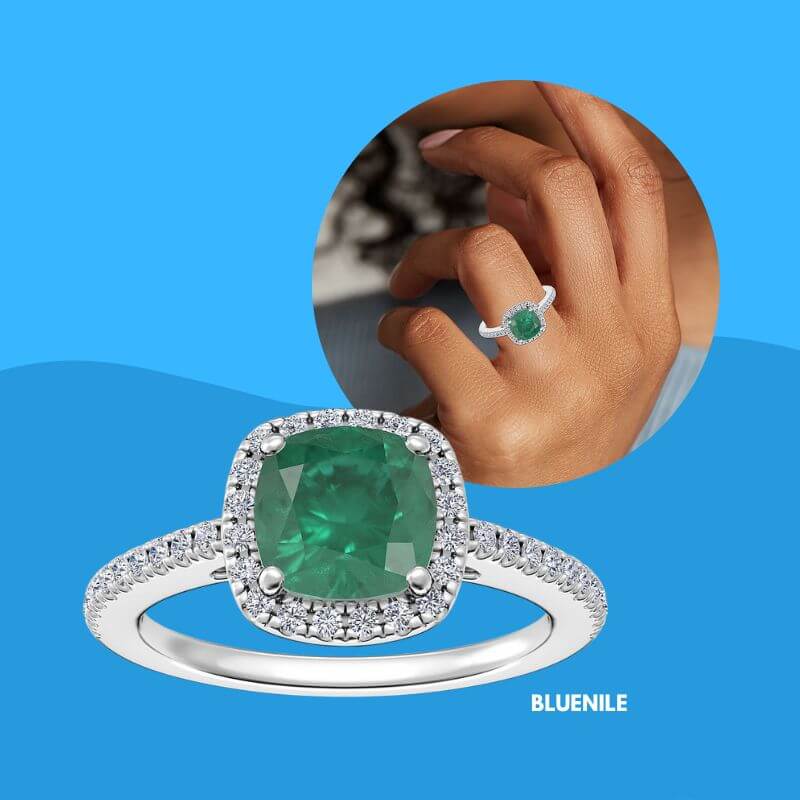 Halo engagement rings come in a variety of styles and, while classic, offer a modern feel. You can't go wrong with a halo ring. We bring you the Classic Halo Engagement Ring from Blue Nile with a cushion cut emerald in gold or platinum.
The traditional design features a center emerald gem surrounded by a halo of diamonds, offering a vintage look while still being trendy. The halo is a perfect mix of glamor and simplicity.
Emeralds can be captivating, unique, and stunning, especially in a beautiful royal setting like the Blue Niles Emerald Ring with Diamond Baguette Accents in 14k white gold. The perfect design highlights the brilliant emerald gemstone with diamond baguette side stones playing backup.
Glittering round diamonds bring this exquisite design together. Use the Build Your Own Ring feature to make the ring of your dreams. It offers excellent value while getting a high-quality engagement ring.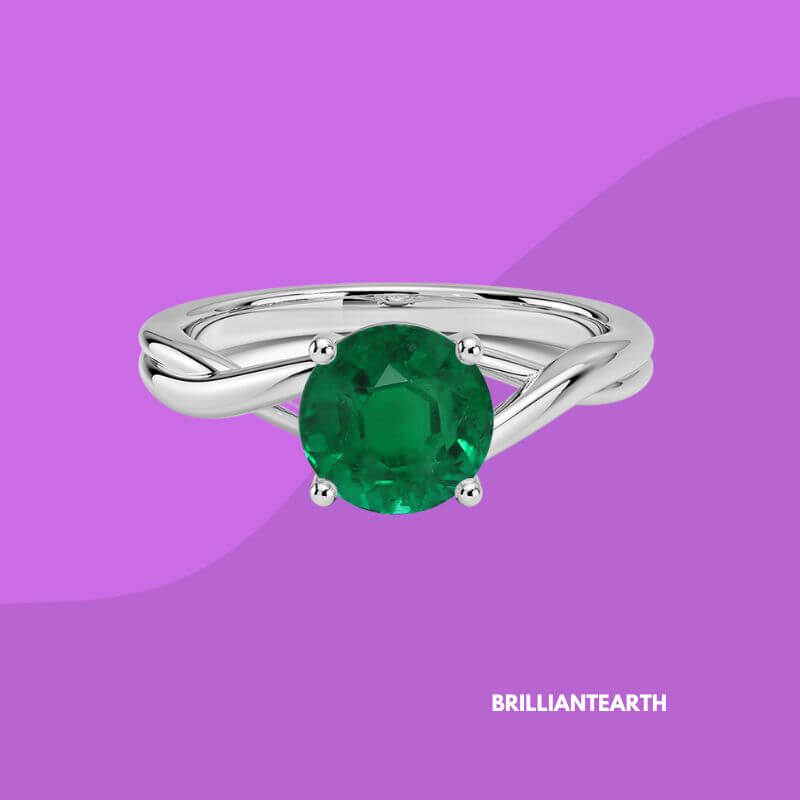 A split shank offers a twist on the traditional engagement ring band when you're looking for something different and whimsical. It makes quite a statement when showcasing a brilliant round emerald. You'll find the two blended together in the Platinum Grace Ring with Round Emerald.
Another one of Brilliant Earth's "Your One-of-a-Kind" Rings, you can make it your own. The Grace Ring is created with a medium green round emerald in platinum and offers style, grace, and simplicity.
It's not stuffy, plain, or overstated. And it offers luxury with a conscience as all of Brilliant Earth's jewels are sustainably sourced and mindfully produced.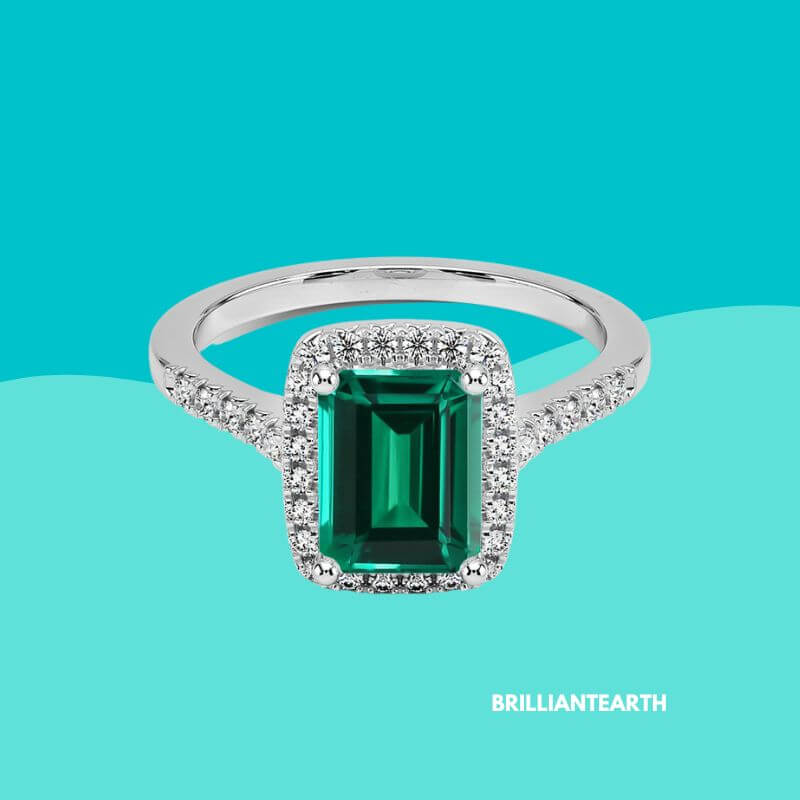 Harkening back to the days of Cleopatra, emeralds symbolize immortality, wealth, and prosperity. If those reasons aren't enough to choose emerald as the center stone on your engagement ring, emeralds are also a durable choice for engagement rings.
Another "Your One-of-a-Kind Ring" from Brilliant Earth, the Platinum Odessa Emerald and Diamond Ringfeatures a lab created emerald in a vivid medium dark green set in a platinum setting. The halo design takes the ring to another level, offering a luxurious look.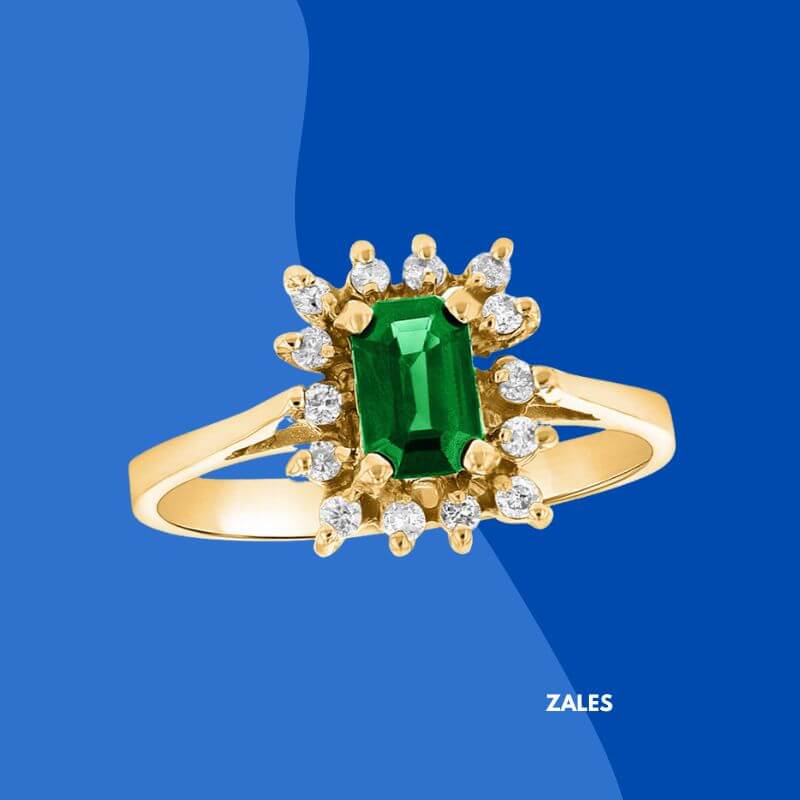 Signifying growth and peace, when set on a striking band, emeralds can also be stunning. Zales brings us the Emerald and Diamond Starburst Frame Ring. This emerald-cut center stone and 1/8 ct. t.w. diamond ring comes in 14k gold with a verdant-green emerald in a sunburst frame of sparkling diamonds.
Reminiscent of Maria's Sunburst ring in West Side Story, the emerald cut gem offers sparkle, a little drama, and a little nostalgia with its vintage style.
Also, since Zales is everywhere, you can get your ring today in-store, with curbside pickup or same-day home delivery.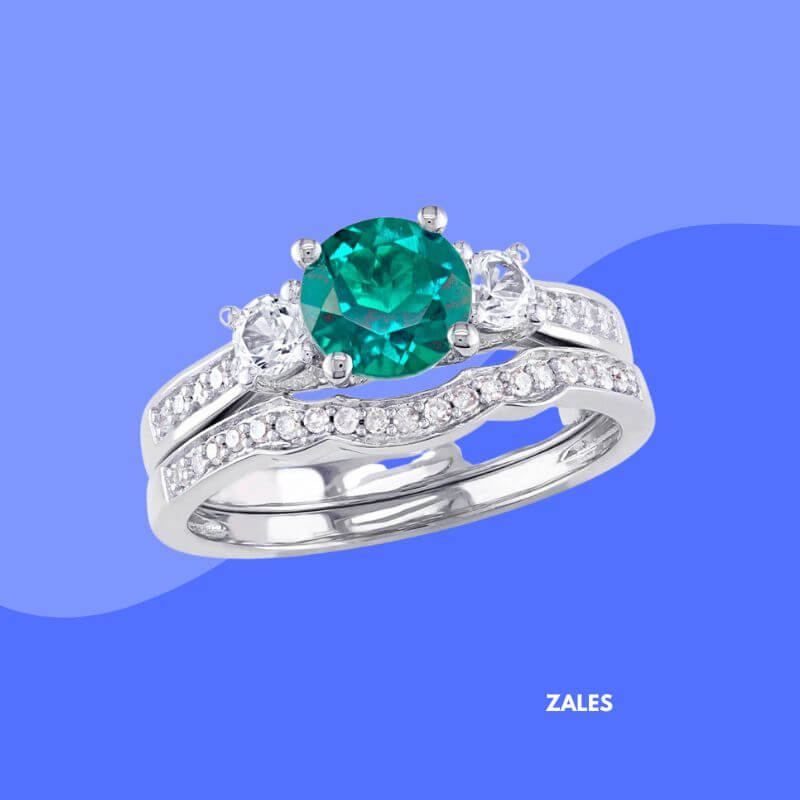 Just like with diamonds, jewelers are creating flawless lab-grown emeralds. Identical to natural emeralds, they come at a lower price point. In this Zales engagement ring, a beautiful lab-created emerald sits among white sapphire and diamond in this Three Stone Bridal Set in 10k white gold.
The verdant-green emerald sits between white sapphires and is set in a shank of sparkling pave-set diamonds. Round is a popular stone shape and keeps the look classic and in style.
What is an emerald?
Emerald is a variety of mineral beryl found in mines near Columbia, Zambia, and Brazil. These gems come in all shades of green, made even more beautiful by their natural inclusions, which add greater depth to the stone's fantastic color!
Reputedly a favorite of Cleopatra, emeralds were supposed to be worn by royals and nobility as symbols of status and power. In some cultures, emeralds were thought to have healing abilities that offer protection from both physical and psychological threats.
What does an emerald mean in an engagement ring?
Legend has it that giving a loved one an emerald symbolizes loyalty and everlasting love - plus, they're said to bring good luck in relationships. The vibrant green color of an emerald instantly evokes the feeling of springtime and makes it a perfect pick for those seeking a unique look.
Sure to stand out from more traditional gemstones like diamonds, emerald rings have become quite popular among those looking for something different while keeping the classic charm of an engagement ring.
Can an engagement ring have an emerald center stone?
Emeralds have become a popular diamond alternative, offering an earthy beauty to your engagement ring. This gorgeous green gemstone represents rebirth, renewal, and unending love – perfect for that special someone.
While diamonds remain a classic choice for an engagement ring, an emerald center stone is an exciting way to introduce something unique and special into the age-old tradition.
Are emeralds cheaper than diamonds?
If you're on a budget, then emeralds may be a better choice – they typically come in at a lower price than diamonds, though often only by a small margin.
You can get a larger stone for roughly the same price as a diamond of comparable size - talk about savings!
That being said, you don't want to skimp on quality either – so make sure you do your research and find an emerald that's worth your hard-earned money.
Bottom Line
Couples seeking a meaningful engagement ring symbolizing their everlasting love should look no further than emerald rings!
Their vibrant green color is full of life and perfectly complements the dramatic sheen of magical sparkle. It is the perfect pick for those who want a bit of luxury, as these exquisite gems are highly coveted among jewelry lovers.
It's certainly no wonder why emerald engagement rings remain a timeless choice - they make a beautiful statement that will never go out of style!