Gold is a precious metal that can be recycled repeatedly without losing its quality or purity. Recycling gold jewelry is an excellent way to make some extra cash while also benefiting the environment.
Instead of allowing unused or unwanted jewelry to gather dust in your jewelry box, consider selling it to an online gold buyer.
Not only will you receive a fair price for your items, but you will also be doing your part to reduce the need for environmentally damaging gold mining.
Gold mining is a destructive and environmentally damaging process that can have long-lasting effects on ecosystems, wildlife, and local communities.
In this article, we will explore the benefits of recycling gold jewelry and provide tips for selling your scrap gold.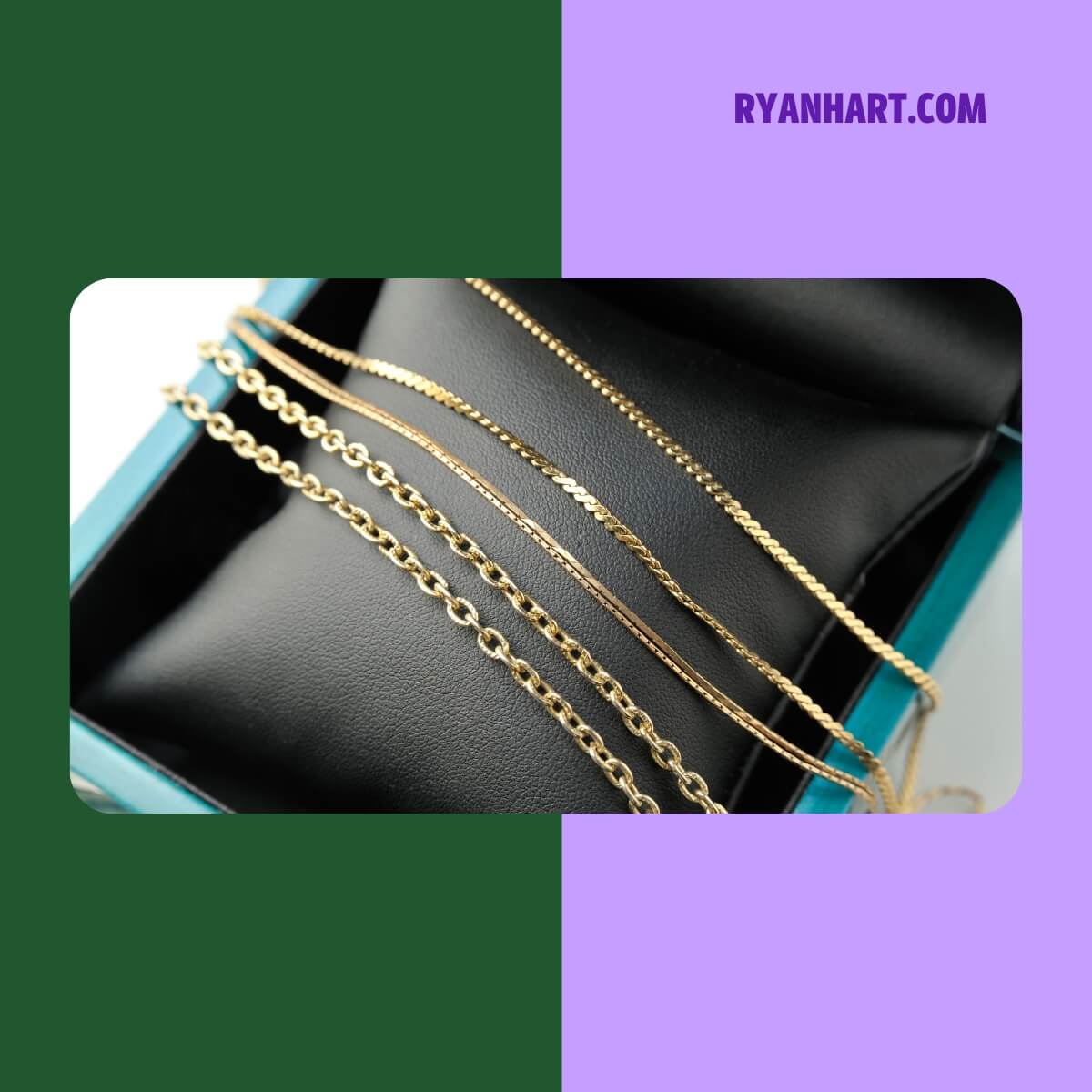 Where to recycle gold jewelry?
With the price of gold on the rise, there has never been a better time to consider selling your gold jewelry. Here is a list of the top gold buyers that recycle jewelry and precious metals: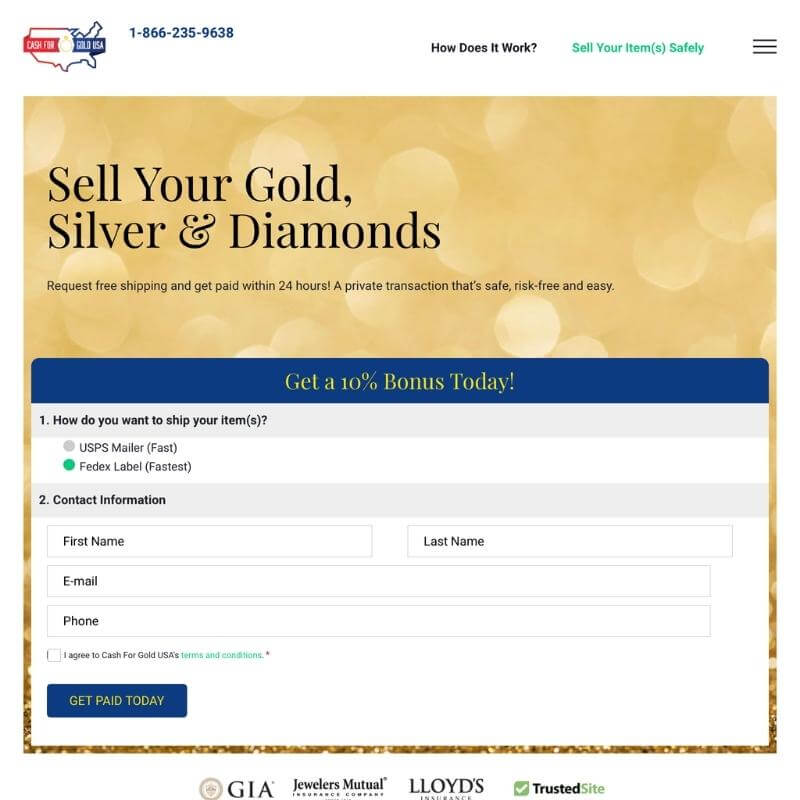 Cash For Gold USA offers convenient, safe, and efficient gold or precious stone recycling programs and operates with an "A+" BBB rating. With prepaid shipping – that is tracked and insured, recycling gold jewelry with Cash for Gold USA is faster and easier than ever.
After you receive your free appraisal kit and submit your items for review, including any gold scraps, you can accept or reject the offer submitted for an appraisal and sale. Cash for Gold USA payment options is made by virtual credit card, PayPal, direct deposit, or a check sent via USPS or FedEx.
Cash for Gold USA started nearly two decades ago, has served tens of thousands of satisfied customers, and has bought millions of dollars of precious metals, jewelry, and gemstones since its operations began. This sheer volume is why it can offer competitive pricing.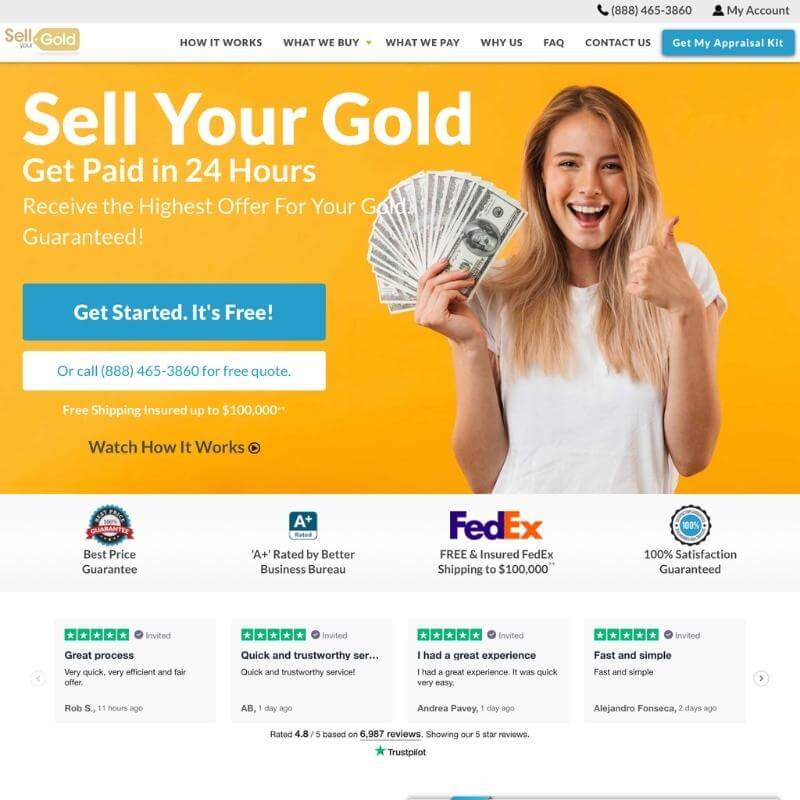 SellYourGold is recognized to be among the most reputable gold buying/recycling companies, with an impressive A+" Better Business Bureau rating. SellYourGold buys yellow gold jewelry (watches, bracelets, earrings, rings, chains, estate jewelry, etc.) and other precious and semi-precious metals.
With more than 50 years of precious metal, gems, and jewelry experience, SellYourGold offers a satisfaction guarantee, in-depth knowledge, free insured shipping, thousands of five-star reviews – and the highest payouts for your gold jewelry – guaranteed.
In addition, SellYour Gold offers same-day payments, secure transactions, and the ultimate in client safety - through the cutting-edge technology employed by the company for each transaction.
Through partnerships in eight states, SellYourGold is now available with walk-in and same-day service in Colorado, California, Washington, Texas, New York, Florida, Georgia, Nevada, and Illinois.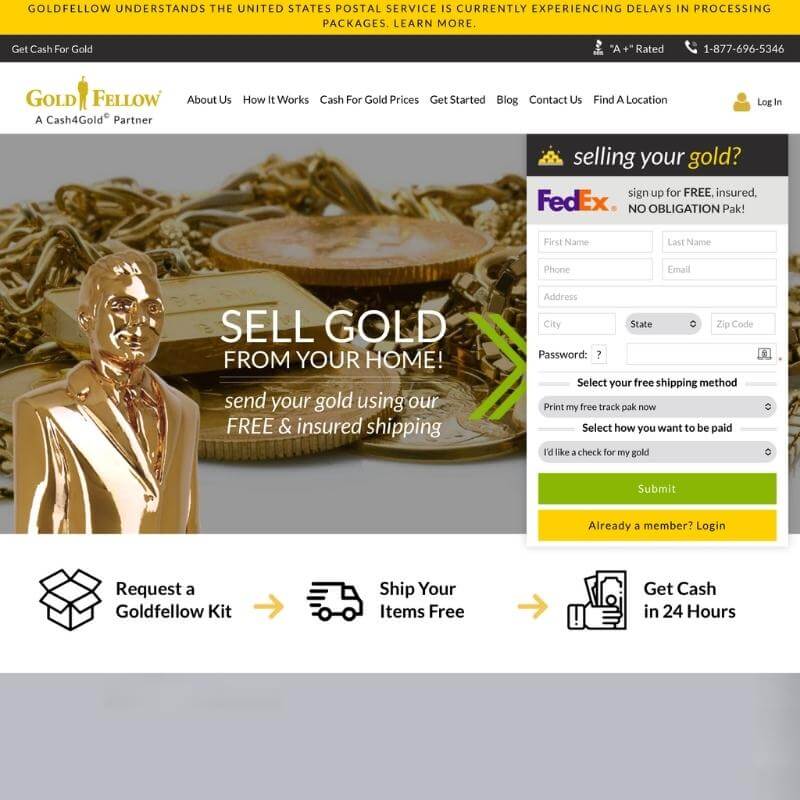 GoldFellow, headquartered in South Florida, was founded by one of the largest gold manufacturers and distributors in the U.S. and then sold to Berkshire Hathaway in 2007.
Goldfellow's mission is to offer a convenient, safe, and secure way to recycle gold jewelry and other precious metals or diamonds into cash that can be used for more current or practical reasons.
Examples of items that can be sold for cash include broken chains, lockets, charms, mismatched earrings, gold watches, cufflinks, school rings, and money clips. Simply request a free, insured shipping package and send your unwanted valuables to GoldFellow.
Payments from GoldFellow – a company that maintains an "A+" Better Business Bureau rating are made quickly and can be given to you in various ways, including e-checks, wire transfers, standard checks, or PayPal.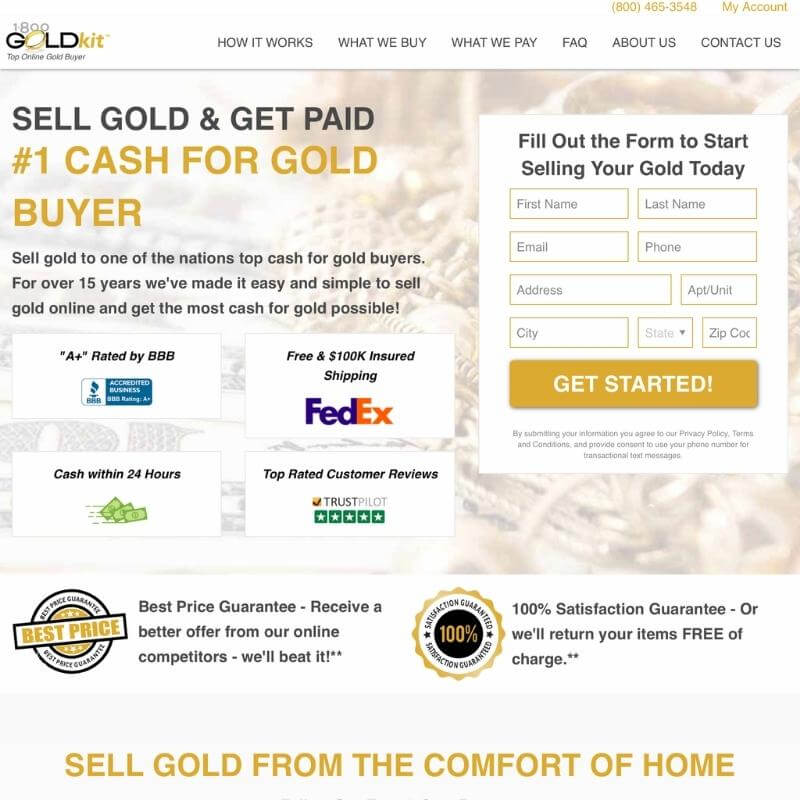 With a team of skilled professionals and accredited appraisers with over 50 years of experience, GoldKit promises to make selling your valuables quick, simple, and hassle-free.
They buy all forms of gold, platinum, and silver items, including necklaces, rings, bracelets, earrings, coins, and pendants. Their 3-step process is easy to follow, and they offer free shipping and a 100% satisfaction guarantee.
If you are not happy with your offer, they will return your items free of charge. GoldKit is also "A+" rated by the Better Business Bureau, and they have paid out over $60 million to their customers.
GoldKit offers the most cash for gold for your items based on the current market price, the purity of your gold, and the amount you send in. They also have a Best Price Guarantee, which means that if you can find a higher payout from any of their online competitors, they will beat it.
Whether you have inherited items that will never be worn, a relationship has ended and you no longer want a reminder of that person, or you simply need some extra money to pay off bills, GoldKit promises to offer you the most cash for your gold items.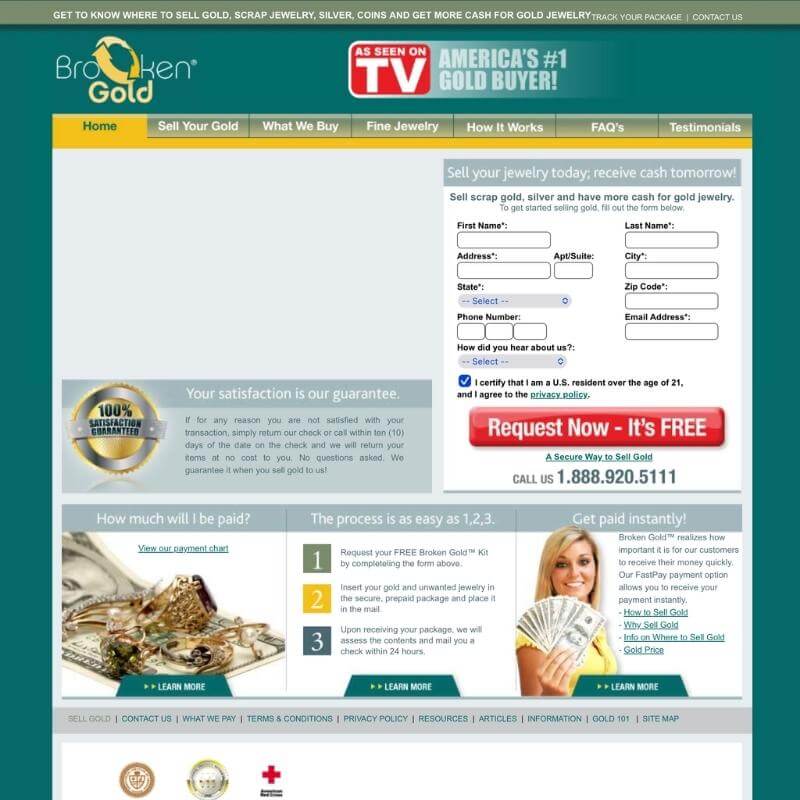 For those who wish to recycle gold jewelry, BrokenGold offers a quick and easy turnaround for cash for gold. Simply request a free BrokenGold shipping kit, and after BrokenGold receives and appraises your items, they will make an offer based on the gold's content and weight – given the current price of gold on the market.
BrokenGold, buys gold (10k, 14k, 18k, 22k, 24k), silver, coins, and jewelry (bracelets, pins, chains, broken jewelry, unmatched earrings, etc.).
Sellers can choose to receive payment when recycling their gold or silver directly deposited into their bank account – sometimes, the same day the items have been received by BrokenGold's appraisal and processing staff members.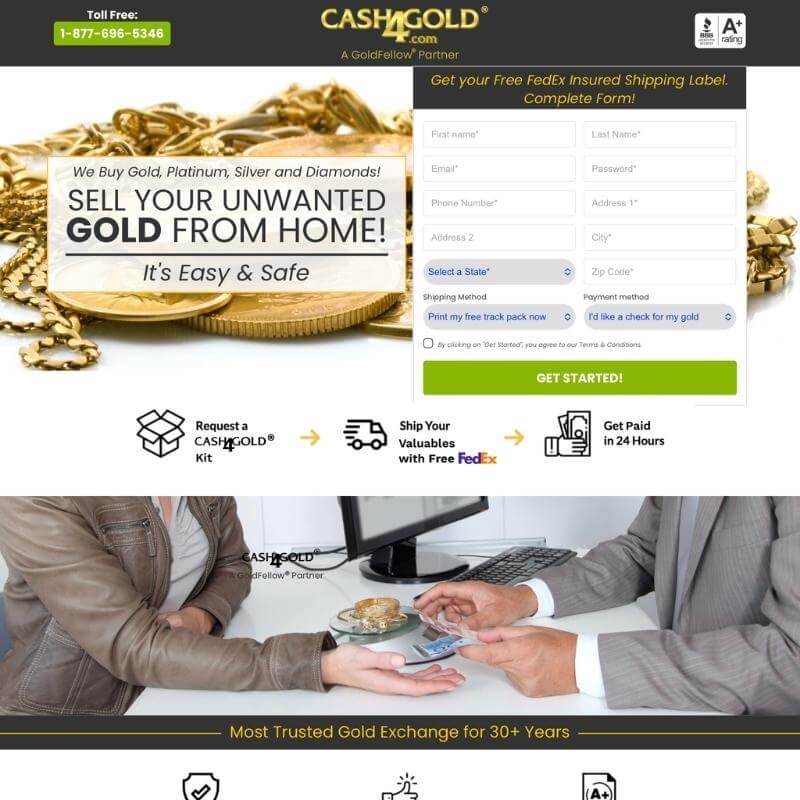 Cash4Gold, a GoldFellow Partner, allows anyone to sell their unwanted gold jewelry, silver, or platinum (and diamonds) from the comfort, privacy, and safety of their home.
Cash4Gold, which is among the most trusted recycled gold jewelry exchanges, has been in business for more than 3 decades and performs with an "A+" Better Business Bureau rating.
When ready, Cash4Gold will send you a free FedEx shipping kit to ship your valuables. Payment is made within 24 hours if the seller agrees to the offer made through Cash4Gold's user-friendly process.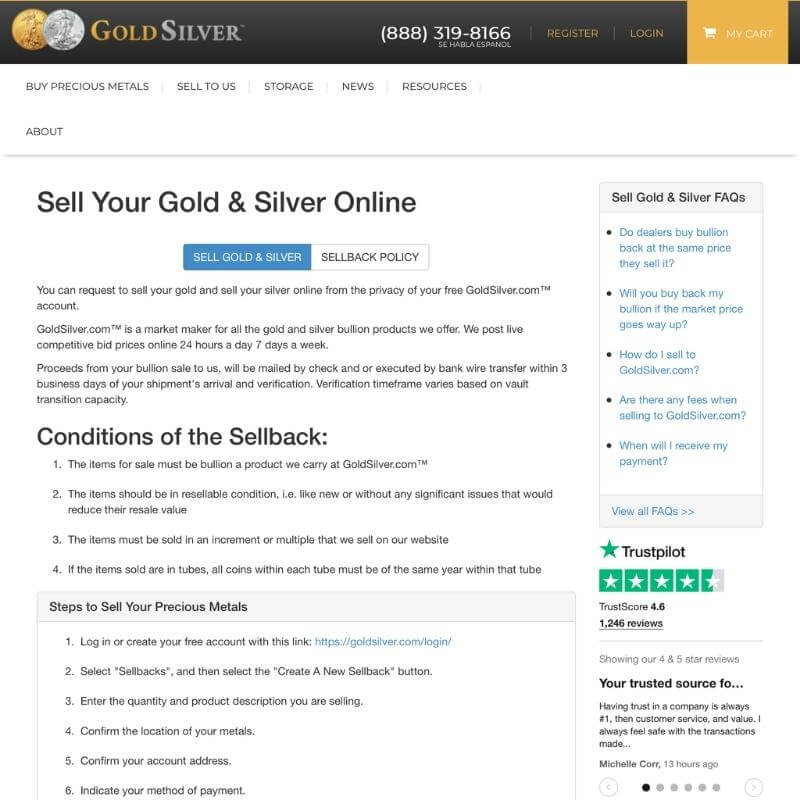 GoldSilver, founded in 2005, is among the marketplace's most trusted bullion buyers/dealers.
GoldSilver offers a convenient way to recycle gold and silver bullion for cash, in addition to an impressive array of educational videos and guidance about the art of collecting, investing, and storing bullion and other precious metals.
To begin, simply create a free account and start by describing to GoldSilver the quantity and description of the gold items or jewelry you wish to sell or recycle for cash.
GoldSilver is a company that operates internationally and has worked with clients from almost every country across the globe using a trusted network of secure and discreet transfer agents/partners. Those agreeing to sell will receive verification of payment within 3 business days of Gold Silver's offer.
Why should I recycle my gold jewelry?
Recycling gold jewelry is a great way to help the environment and earn some extra cash. It reduces waste, saves energy, and conserves natural resources by reusing existing gold instead of mining for new gold.
Selling your gold jewelry to a jeweler or pawn shop can be a great way to monetize discarded items. However, with these buyers you may find that you get less than you originally paid for the item.
Where can I recycle my gold jewelry?
You can recycle gold jewelry at local jewelers, pawnshops, or gold-buying businesses. Some online platforms also offer gold recycling services.
Make sure to research and compare different options to find the best deal. When you recycle gold jewelry, the gold is usually melted down and turned into new pieces.
If you're looking for a more sustainable option, some jewelers offer refurbishment services that can give your old jewelry a fresh look without creating additional waste. Don't forget to ask about recycling programs when you shop for new jewelry too - it's an easy way
How much money can I get for recycling gold jewelry?
The amount you receive for recycling gold jewelry depends on its weight, purity, and current market value. Check the current gold price and consult with a reputable buyer to get an accurate estimate. If you are recycling gold jewelry, be sure to bring your ID and any other relevant documents.
Some buyers may also require a written estimation of the item's worth before they will purchase it. Be aware that some buyers charge fees for evaluating items before they make a purchase. You should also research the reputation of any potential buyer before engaging in a transaction.
Is it safe to recycle gold jewelry online?
Yes, it can be safe to recycle gold jewelry online if you choose a trustworthy company. Read reviews, check their credentials, and ensure they provide a secure shipping method with insurance.
Additionally, you'll want to make sure the company pays you a fair rate for your gold. While recycling gold jewelry online can be safe, it may also be easier and more convenient to sell locally where you can see the items in person and negotiate pricing.
Bottom Line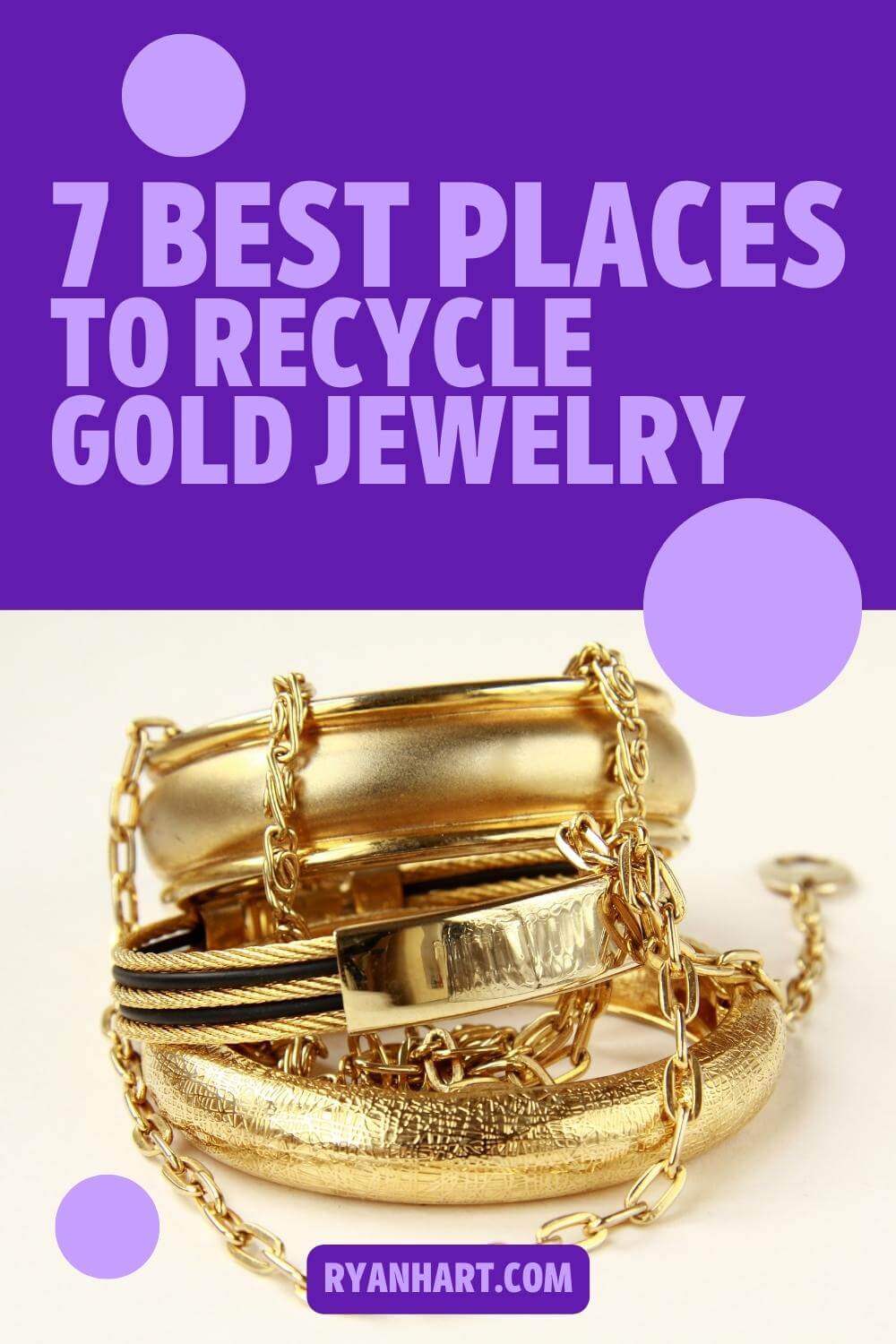 In conclusion, recycling gold jewelry is an amazing way to help our planet and make some extra money at the same time. By reusing old gold, we can save energy and protect our natural resources from being used up too quickly.
Plus, it's a great way to give new life to old or broken pieces that might otherwise end up in the trash. So, the next time you find yourself with unwanted gold jewelry, remember that recycling it is not only good for your wallet but also for the environment.
Together, we can make a difference by choosing to recycle our gold and supporting businesses that promote sustainable practices. Let's do our part to keep the Earth beautiful for generations to come!