Are you trying to find a place to sell diamonds but can't decide between multiple vendors? You're not alone!
Selling diamonds online or in person is always tricky, as is learning who buys diamonds for the maximum profit.
Thankfully, we did the hard work for you and found five places where you can sell your diamond and make good money with little hassle.
Whether you are looking to sell diamond earrings, engagement rings, or loose stones, these websites are known for offering the best prices.
In our view, Worthy is the easiest way to sell your diamond jewelry for its true market value, and it's fast and risk-free.
Where to Sell Diamonds?
The following five companies are the best places for selling diamonds. Some of them provide online diamond auctions, while others require in-person transactions.
Many will also help teach you how to sell diamonds to various people to get the most money possible.
Here's what you need to know about these companies that let you sell diamonds.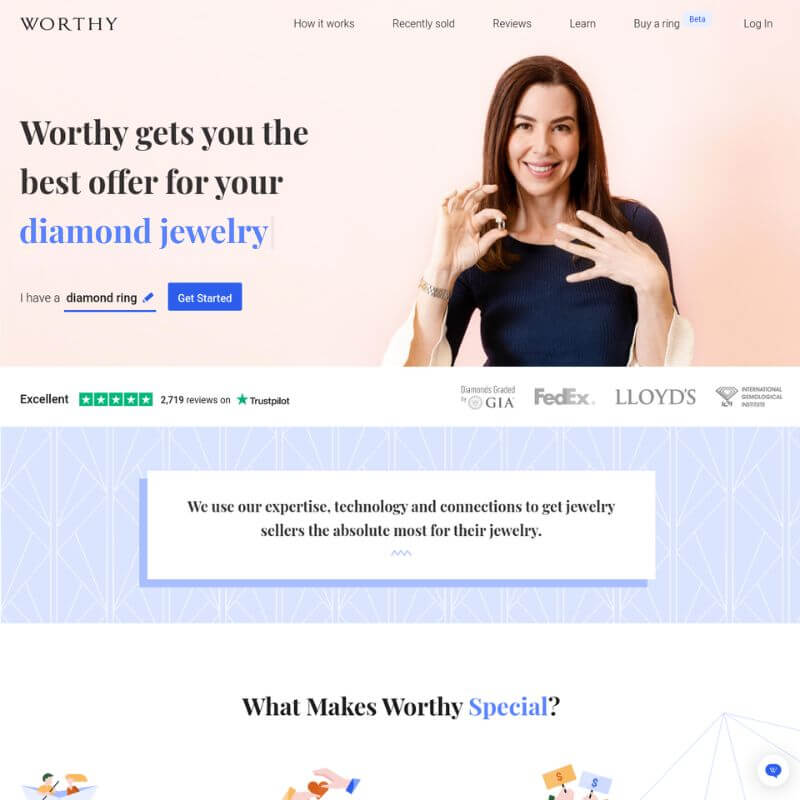 Worthy is a diamond seller that provides objective third-party grading and secure shipping for your items. They let you sell diamonds through an online auction that targets various interested buyers throughout the network.
Their unique platform connects high-quality buyers and sellers with secure payment methods.
Highlights:
Quick payment after the sale, minus the small percentage fee taken by Worthy.
Multiple auction options that let you set up the deal that you want.
Protected selling channels that minimize the risk of monetary loss.
Insurance provided directly from Lloyd's of London, a top jewelry insurer.
Diverse diamond types sold, including loose or set diamonds.
What Worthy Does Best:
Worthy is a great option for people who want to auction their diamond quickly. Though Worthy doesn't buy diamonds, they can help you sell diamonds by providing a place where you can offer them to interested parties. In this way, Worthy is good for the self-directed individual selling diamonds for maximum profits.
See how much your diamonds are worth
Diamonds USA is an excellent option for people struggling to figure out "who buys diamonds near me?" They will send you a free appraisal kit and a USPS SafePak that lets you ship your diamonds directly to them at no cost.
They send a competitive offer within 24 hours after receiving your jewelry and will even send the package back to you at no charge if you don't want to sell diamonds to them.
Highlights:
A quick and efficient grading process that gets a bid to you in a day.
Fair and competitive prices based on real market diamond values.
Compensated shipping means you pay nothing for this process.
Streamlined selling that cuts out the auction middle man.
A simple but effective platform that minimizes unnecessary complications.
What Diamonds USA Does Best:
If you're not interested in hosting an online auction and want a quick transaction, Diamonds USA is an excellent option for you. They're great for selling diamonds to one vendor and can teach you how to sell diamonds with minimal complications or issues.
Sell your diamonds with Diamonds USA
Sotheby's has a proven track record of success in multiple markets, including London, Geneva, New York, and even Hong Kong.
Their connections to these various markets make selling diamonds easier. You'll be paired with a diamond specialist that can teach you how to sell diamonds, find a place to sell your diamond, and negotiate to get you the most money possible for your asset.
Highlights:
Real success in a very competitive field, including over a $1 billion in sales
A simple evaluation process that gets you the most for your diamonds
Multiple markets, including Geneva, New York, Los Angeles, Paris, Tokyo, Madrid, and Monte Carlo
Willingness to work with multiple diamond types to increase your satisfaction
Protected buying networks that minimize the risk of scams
What the Sotheby's Does Best:
Sotheby's is fabulous for people who want to work in multiple markets worldwide and provides top-notch international diamond selling options. Setting up with a sales specialist can help streamline this process and ensure that you find a buyer interested in your diamonds.
Sell your diamonds with Sotheby's
Circa provides two different buying options: in-person and online purchases. This diversity of choices helps you set an appointment that fits your busy schedule.
They also buy a broad range of items, including antique jewelry, branded items, loose diamonds, and even slightly damaged or chipped options. In addition, Circa has 19 locations globally to improve your chances of making a sale.
Highlights:
Diverse selling options that minimize complications in this process
Real-time evaluation with a pricing specialist who works right in front of you
Immediate written offers after the quick evaluation process
Instant payment after accepting the offer, including check, bank transfer, or gift card
Fast 1-2 day transaction process if you sell online instead of in person
What the Circa Does Best:
Circa works best for people who want a quick transaction or don't know how to sell diamonds on other channels. Their fast process will get you money quickly, and at fair prices, as they don't charge any commissions on deals they make with their customers.
Abe Mor is a family-owned business focusing on long-term deals with buyers, retailers, and sellers. They provide a platform for you to sell diamonds and include marketing options that let you focus directly on interested buyers.
This platform helps sell diamonds for maximum profits and provides guidance from a sales specialist who can teach you how to sell diamonds at great prices.
Highlights:
A specialized diamond specialist who walks you through every step of this process
Willing to buy just about any diamond product at fair prices
Online tools that help make the selling process smoother and simpler
Focused selling platform that minimizes the need for auctions
Diamond preparation process that improves your sale price
What Abe Mor Does Best:
Abe Mor offers some of the fairest deals on the market, focusing on giving sellers the compensation they deserve. They focus on long-term partnerships to help you sell diamonds for years down the road and provide a transparent pricing platform that minimizes confusion or "surprise" fees after making a great deal on your diamonds.
Sell your diamonds with Abe Mor
How to Sell Diamonds Online
When trying to sell diamonds online, there are a few tips to keep in mind to get the best price for your stones.
First, doing your research and knowing the current market value of diamonds is essential. This way, you will have a good idea of how much your diamonds are worth and will be able to find buyers willing to pay a fair price.
Secondly, finding a reputable buyer experienced in purchasing diamonds is vital. There are many sophisticated scams out there, so you want to ensure that you deal with a legitimate buyer.
We recommend using a service like DiamondsUSA or Circa. These companies will appraise your diamond and make you an offer based on its value. These websites may be worth considering if you're looking for the most convenient way to sell your diamond.
How Much Are Diamonds Worth?
Jewelers estimate the value of diamonds using several factors, including the stone's carat weight, color, clarity, and cut.
The value of the diamond increases as the carat weight goes up. For example, a one-carat diamond may cost $2,000, while a two-carat diamond may cost $8,000.
The overall color of a loose diamond also affects its value. The most valuable diamonds are those with the least amount of color, ranging from "D" or "E" on the color scale. Diamonds with more color are less expensive, with "Z" being the lowest on the scale.
Clarity is another factor appraisers use to determine a diamond's worth. Flaws or "inclusions" within the stone can make it less valuable.
Finally, the cut of a diamond refers to its proportions and symmetry. A princess, radiant or brilliant cut diamond will reflect light better and appear more sparkly than a poorly cut one.
Bottom Line
When it comes to selling loose diamonds, you have a few different options. For example, you can use a traditional jeweler, an online diamond buyer, or a diamond exchange.
Each of these buyers has its own pros and cons, so it's essential to do your research before deciding.
For people looking for an easy way to sell your loose diamond for cash, then an online diamond buyer like Worthy or DiamondsUSA may be the best option. These companies will appraise your diamond and give you a cash offer based on its value.
The advantage of selling to an online buyer is that the process is straightforward. The downside is that you may not get as much money for your diamond as you would if you sold it through a diamond exchange or to an individual buyer near you.