Do you have a rare gold coin collection that seems to gather dust? We can help you learn how to sell gold coins to maximize their value!
However, identifying dealers you can trust can be tricky, especially those that will provide the best money for your collection.
Thankfully, we're here to help share a list of the best buyers we recommend. If you have a gold coin collection you need to sell, read on to learn more about your choices.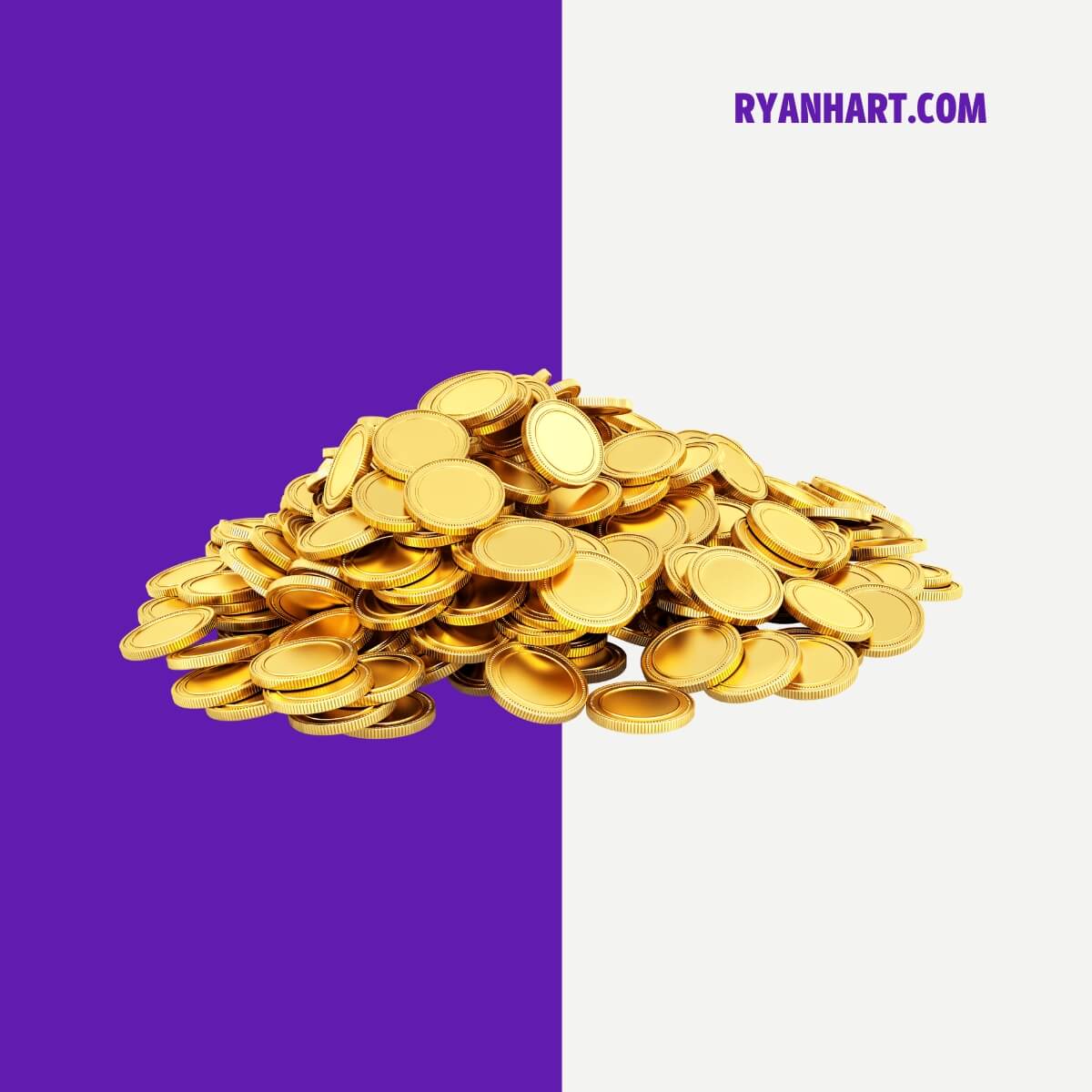 Where to Sell Gold Coins?
When learning how to sell gold coins for money, finding buyers you can trust is important. Depending on your experience and preference, in-person and online options may work for you.
Here's a simple rule: the best place to sell gold coins will be the dealer that gives you the most money and provides an efficient and effective marketplace.
Here are the 10 best options for people looking to sell gold coins for cash: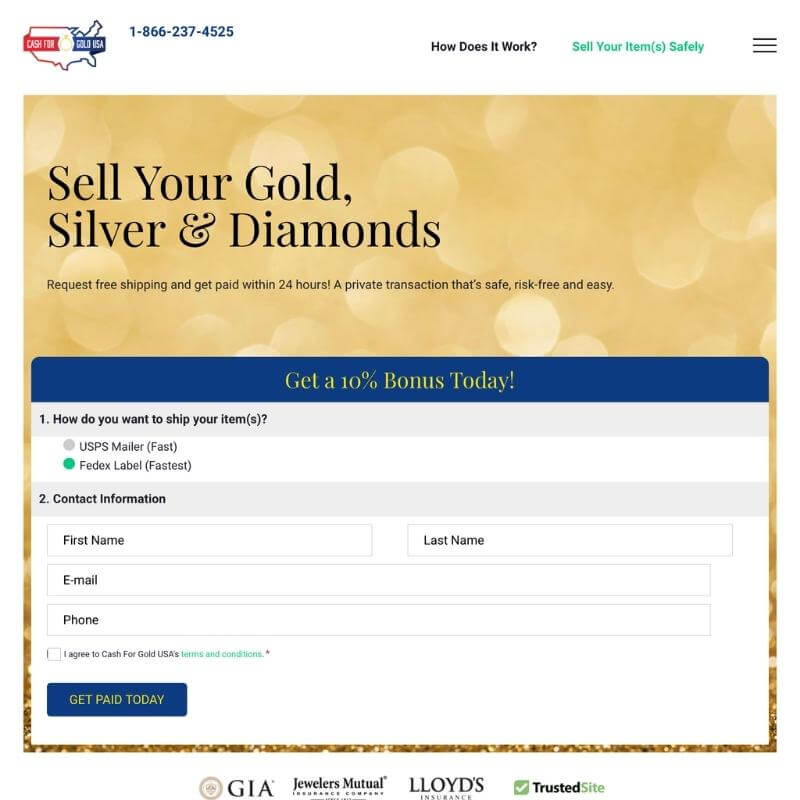 Are you looking for a dealer with an expedited buying process that will get you paid within 24 hours? Cash for Gold USA might be the best option for you.
This buyer will provide a private transaction with multiple safety processes that decrease risk. Even better, they provide a 10% bonus for first-time sellers, which can increase your deal even further.
Why they made our list:
Anyone who wants a quick payout will enjoy working with this dealer. They let you ship your items either by the US Postal Service or FedEx, meaning you can get them there quickly and get your pay even faster. That's a huge benefit for anyone who wants to offload their coins quickly and get paid.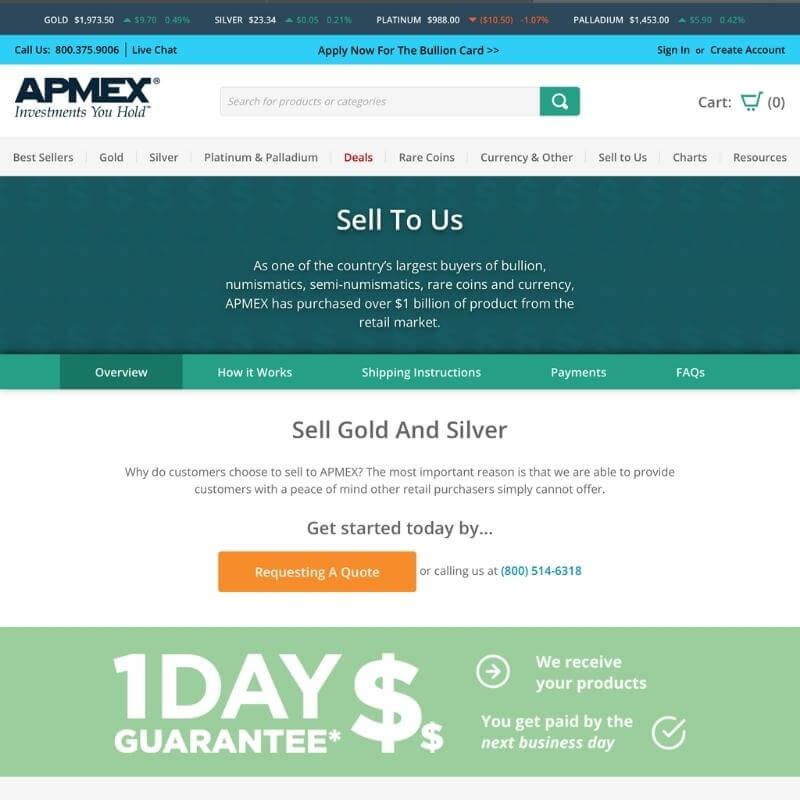 APMEX is one of the most trusted coin dealers on the market and has worked with over $1 billion in products over the years. Their expansive and respected site includes multiple buyers willing to work with sellers like you. That diverse market makes it easier to find potential buyers, particularly if you're dealing in odd or interesting coins.
Why they made our list:
If you want to work with the most potential dealers, try working with APMEX. Their diverse trading platform includes cold, silver, platinum, and palladium. That makes it an excellent option for people looking to expand their investments further.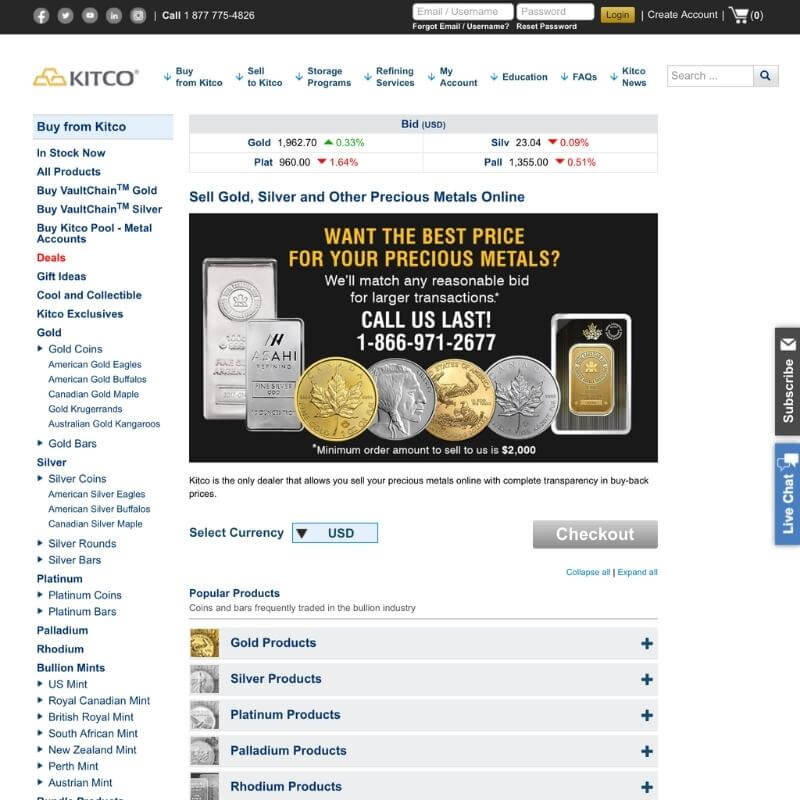 Kitco is a unique marketplace that lets you get your coins valued and bid on by various potential buyers. It's a very market-savvy site, focusing heavily on giving buyers and sellers a meaningful platform to sell their coins. Furthermore, it provides a unique array of services that few other sites offer, boosting its usefulness.
Why they made our list:
When you sign up and sell on Kitco, you get immediate market notices that let you know what metals are going for. That service can help you maximize your profits by knowing when to buy and sell. As a result, we suggest them for serious coin dealers.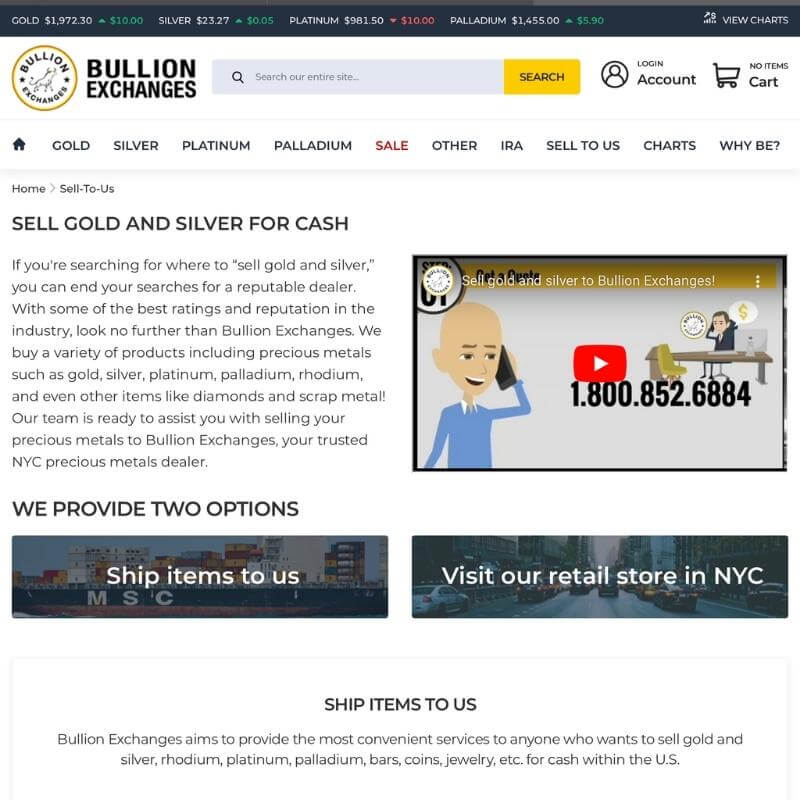 BullionExchanges is a trusted metal dealer that lets you ship items directly to their New York City shop or visit them after setting up a visit. This unique two-pronged approach means you can get the quick and effective online service you need or an in-person experience that is more personable and enjoyable. Those diverse options make it a great choice for many dealers.
Why they made our list:
Like many coin dealers, BullionExchanges also works in materials like silver, platinum, and even palladium. You can even purchase IRAs and other unique options here, which makes this dealer a fascinating choice for people dealing with multiple metal types.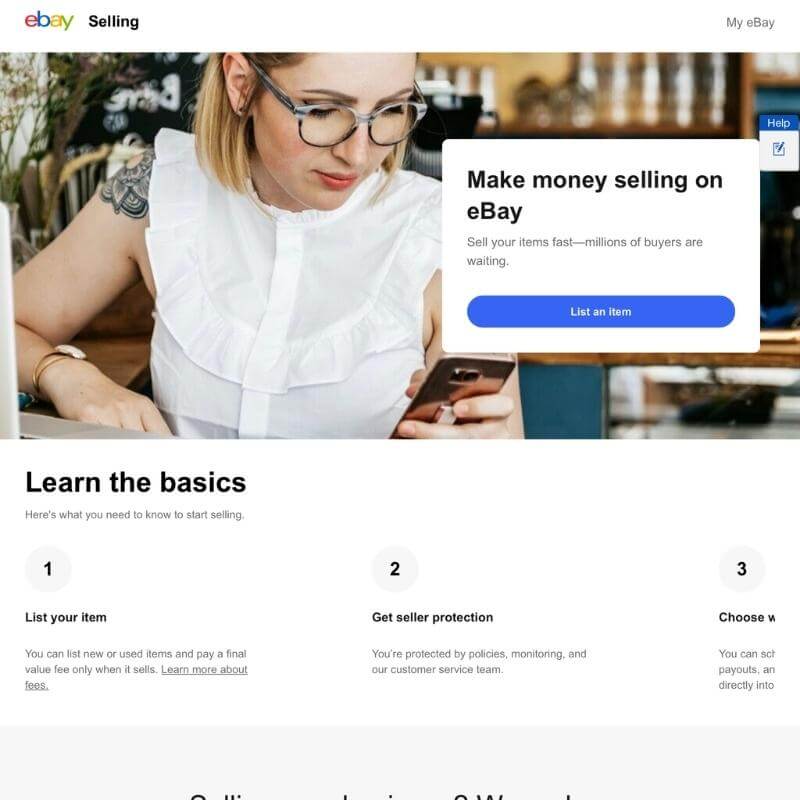 Indeed, eBay isn't exactly a coin dealer, but it is one of the world's biggest and most trusted buying and selling platforms. Many trade coins here due to the site's bidding structure and effective security. It also works well if you want to sell other products.
Why they made our list:
While eBay is not a specialized coin dealer, that's their appeal: they're broad enough to appeal to many people. Combined with their bidding platform, that fact could increase your coin prices and make you more money.
6. Local Coin Shops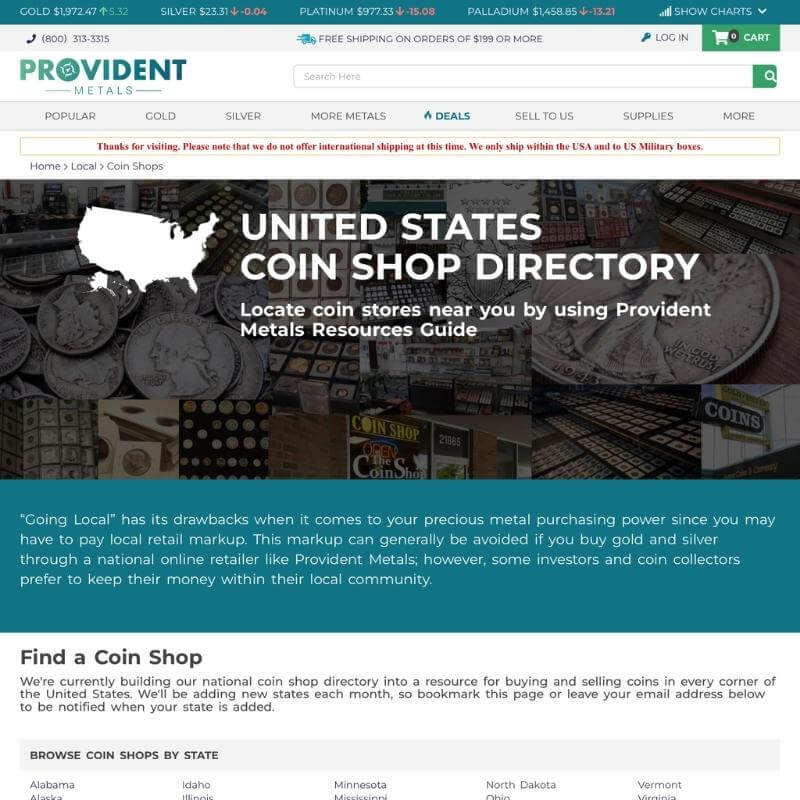 Selling your coins online can be fun and exciting, but it may not be right for everyone. For example, working with local coin shops provides a more personal experience. It also helps support your local community by keeping your money in the area.
Why they made our list:
Working with local coin shops is very rewarding if you prefer dealing with people in person and want to create a fun and long-term experience. Importantly, local coin shops often include insurance protection that minimizes potential financial loss.
7. Coin Shows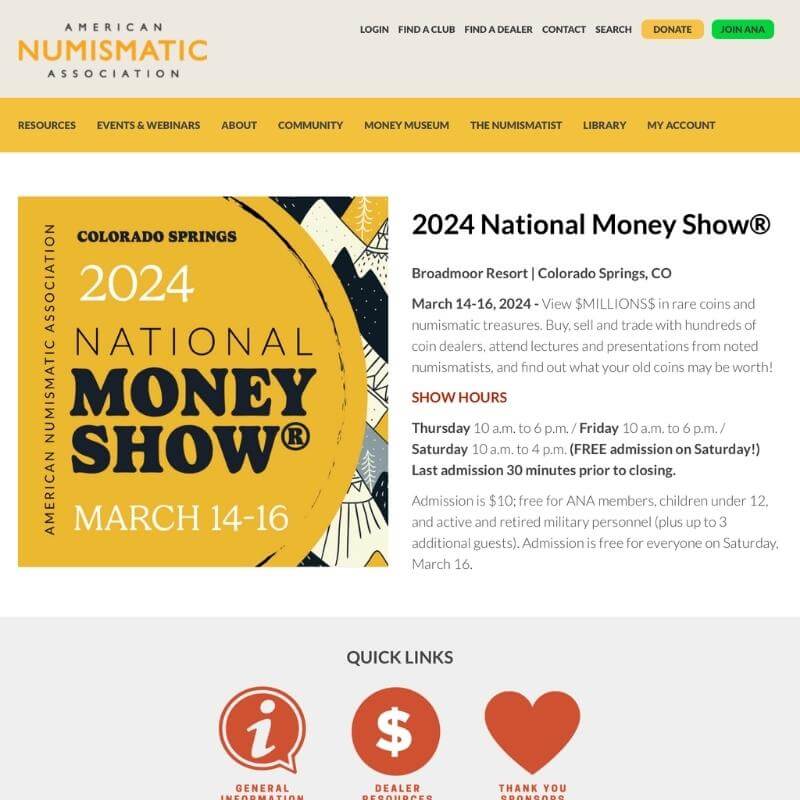 Have you ever been to a convention before? Well, coin shows are a convention for coin collectors!
It's a great option if you need help learning how to sell coins because each vendor will sit down with you, discuss this process, and ensure you feel comfortable. Furthermore, you can meet fellow collectors and make new friends. What's not to love about that?
Why they made our list:
Try coin shows if you're looking for a fun and engaging experience beyond local coin shops! They're not only a great place to make good money but can be a fun social experience. Try this option if you're interested in meeting fellow collectors who love coins.
8. JM Bullion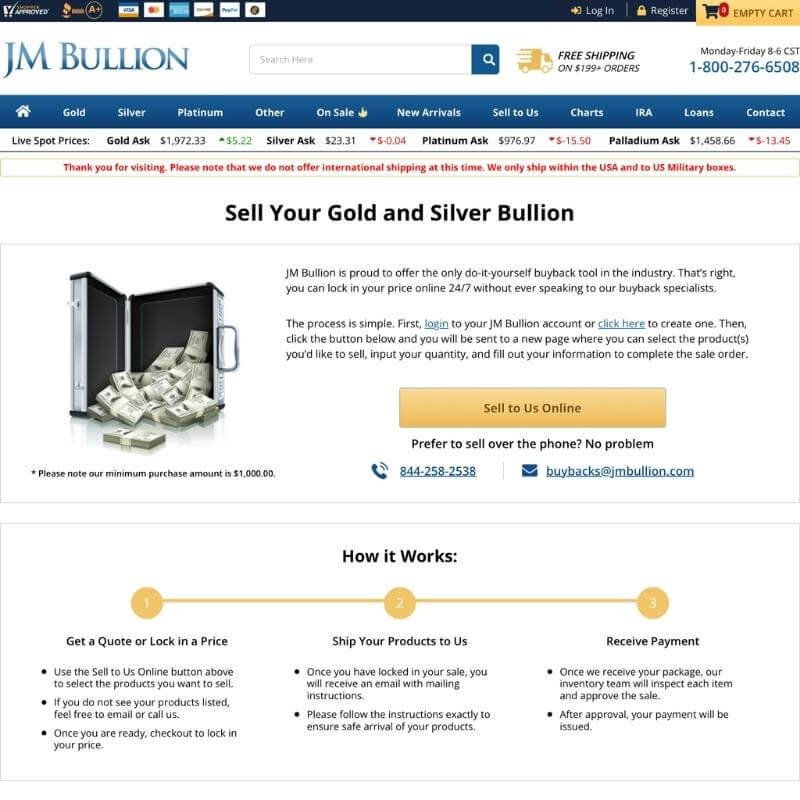 JM Bullion is a well-known gold and silver buy with a unique system that may appeal to self-motivated individuals.
You handle this process yourself rather than working with vendors or specialists to sell your coins. This means you can set up your deals 24/7 and even make good money whenever you want, streamlining this process and making it more effective.
Why they made our list:
Are you a self-directed person who likes doing things without hassle from others? You'll most likely enjoy JM Bullion. You'll not only handle the coin deals yourself but can maximize your profit by cutting out the middle person as much as possible.
9. Sell Your Gold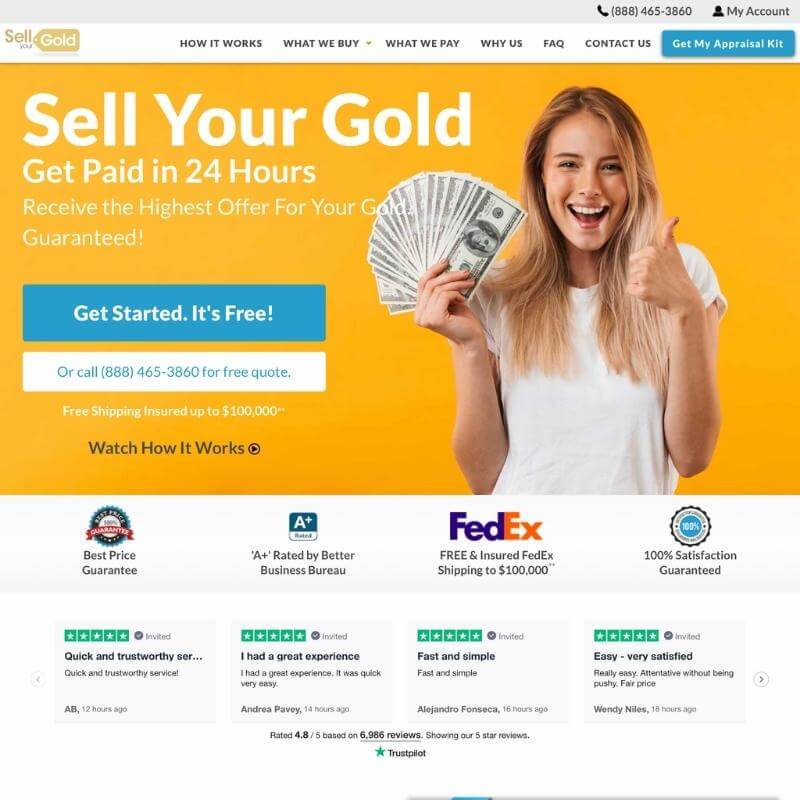 Sell Your Gold is a gold buyer focusing strictly on bullion, such as coins, jewelry, and more. They provide sellers with an appraisal kit that they can use to gauge the worth of their coins. They have been rated A+ by the Better Business Bureau and use insured FedEx shipments.
Why they made our list:
Do you want to get your pay in 24 hours or less? Try working with Sell Your Gold. This company is known for its fast turnaround rates and its safety procedures. In this way, it works well for people who want to sell fast.
10. Pawn Shops
Lastly, you can try selling your gold coins at pawn shops. These stores will make various goods, including gold coins, and either temporarily hold them after giving you money or buy them. In this way, they're a great place to sell coins and other products.
Why they made our list:
Do you want to get money for your coins with the option to buy them back later? Try a pawn shop.
This option is a good choice for people who are desperate for cash. However, you can also sell them and make good money if you need to do that too.
Frequently Asked Questions
What should I do before selling my gold coins?
Before selling, learn about your gold coins' value, weight, and purity. Keep them clean but don't polish them, as it may damage their value. Organize your coins and make a list for easy reference. When you're ready to sell, research reputable coin dealers in your area. Read their reviews and compare prices. When you have a few potential buyers, take your coins in for evaluation and comparison. Ask questions about any fees associated with selling to each dealer before making a decision. Finally, select the dealer that offers the best price and terms for you.
How can I get the best price for my gold coins?
To get the best price, research the market, compare prices from different buyers, and be patient. Don't rush to sell; wait for the right offer that matches your expectations. When negotiating, remember that you are in control and try to get the best deal possible. Make sure to read all contracts carefully before signing them and understand any hidden costs or fees. Finally, make sure to keep records of your negotiations and transactions so that you have a reference for future sales. Good luck!
Do I need to pay taxes when I sell my gold coins?
Yes, you may need to pay taxes if you make a profit from selling your gold coins. Check with your local tax laws and consult a tax professional for guidance. You will also need to make sure you keep accurate records of all your purchases and sales, as this may be required if the Internal Revenue Service (IRS) audited you. Additionally, you should know that some types of gold coins are subject to specific numismatic taxes, so it's important to research what exemptions may apply in your location.
How can I protect myself from scams when selling my gold coins?
To avoid scams, always research the buyer, use secure payment methods, and avoid sharing personal information. If something seems too good to be true, it probably is. Trust your instincts and stay safe. Before transferring money, check out peer reviews of the buyer and seller. Use secure payment options like PayPal to protect your data, or consider using an escrow service. Never share financial information over text or email. Be wary of deals that sound too good to be true – they're often scams. Finally, if you have doubts about a transaction, don't be afraid to walk away. Safety is of the utmost importance when buying and selling online.
Bottom Line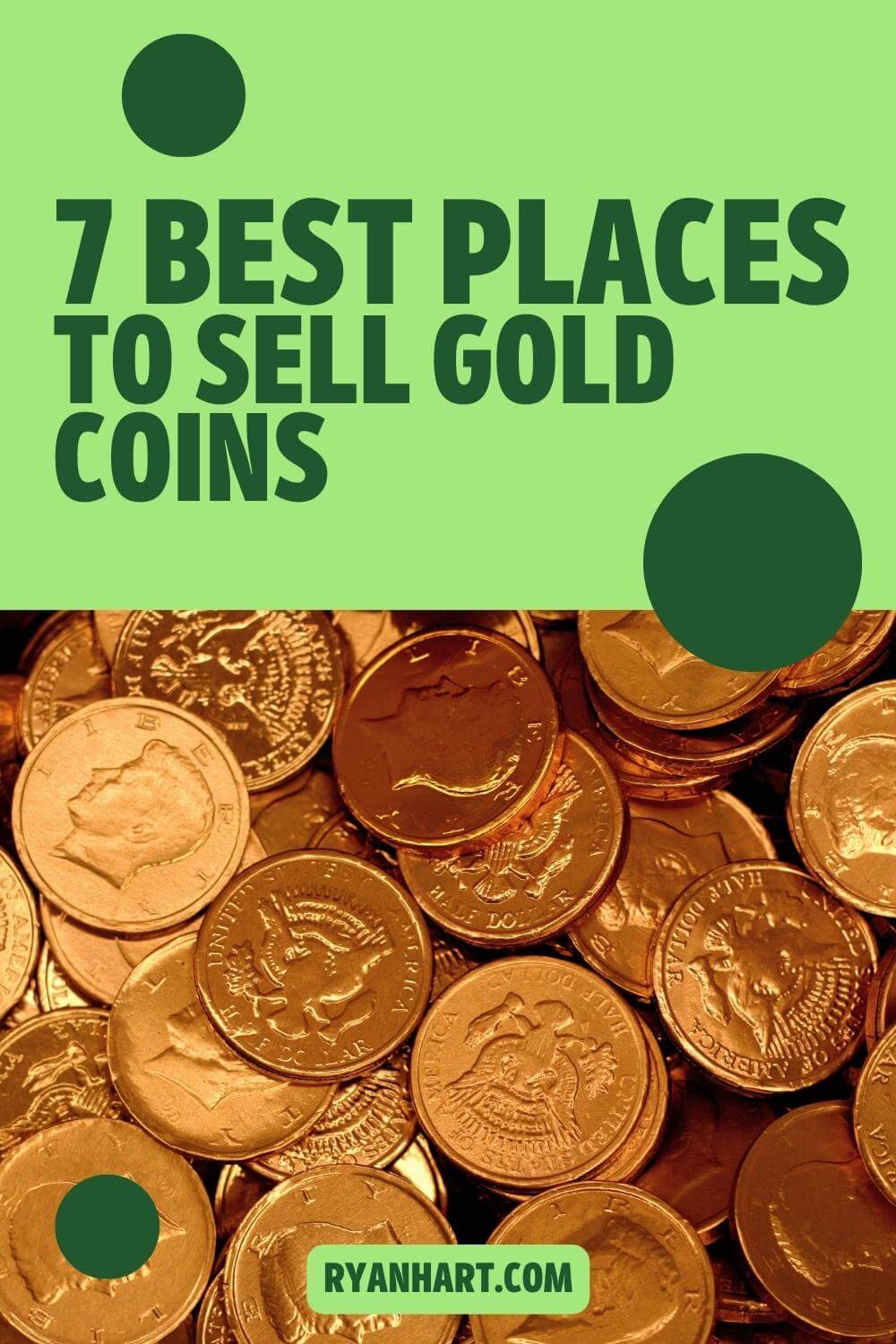 The more you know about your gold coins and their value, the better prepared you'll be to make smart selling decisions. Take your time, do your research, and always trust your instincts when it comes to finding the best places to sell your gold coins.
And don't forget – collecting gold coins is a fun hobby, so even after you've sold your collection, there will always be new coins to discover and collect.
Keep your eyes open for shiny treasures at markets, garage sales, and online auctions. You never know where the next great coin find will be!