Ring enhancers are made to wear alongside your engagement ring as a complete array, complementing your existing jewelry.
Many people get ring enhancers as a wedding set to layer with their engagement ring. Alternatively, they may receive one for an important anniversary to support and complement their wedding ring.
No matter your reason for looking for a ring enhancer, you can find our top recommendations in our all-in-one guide.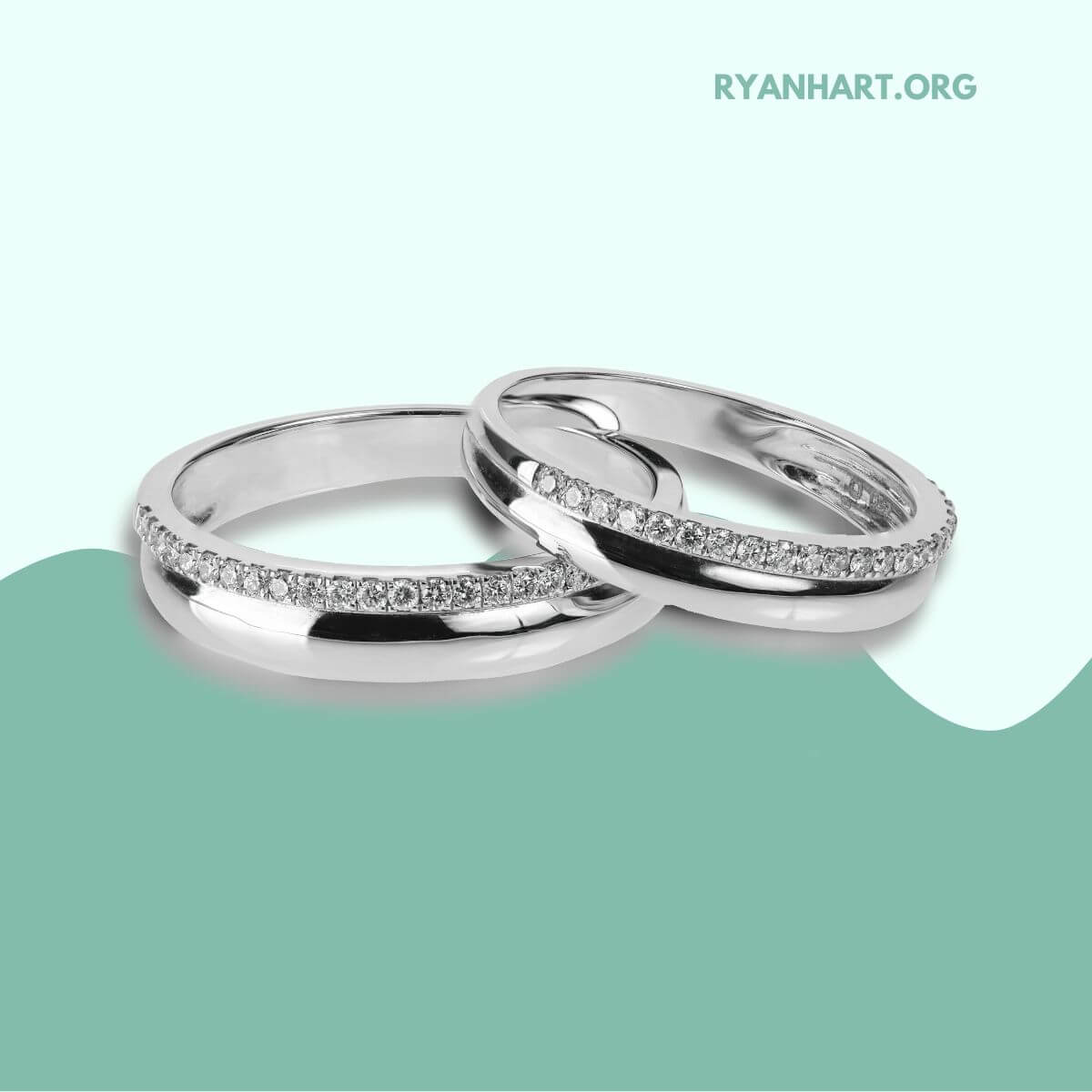 What are the best ring enhancers?
The best ring enhancers should wrap your wedding ring beautifully, supporting it without overshadowing it.
Ring enhancers, along with the main ring, should look like a single piece of jewelry that stands out. The surrounding bands also offer support for your ring, which may fit less snugly as time passes.
Other factors of a good ring enhancer depend on your preferences. You can find ring wraps in all shapes, sizes, and styles. They may feature any type of gemstone or precious metal.
Here are the top recommendations for beautiful enhancers to make your ring shine: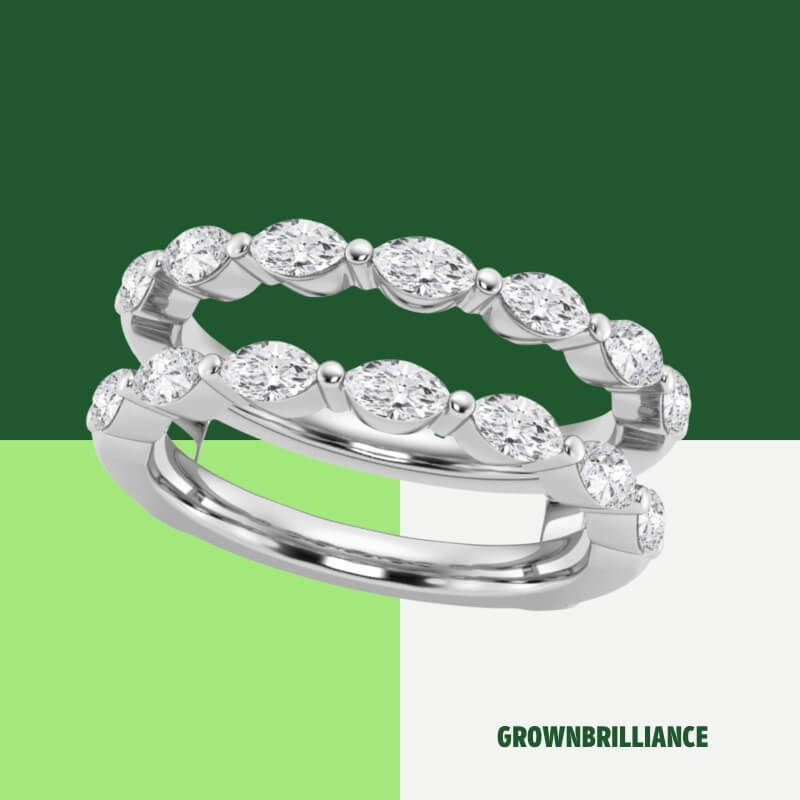 This stunning double-row ring enhancer features two layers of small diamonds designed to rest on either side of your solitaire ring.
The result is a stunning array of gems that fits snugly on the finger, protecting and complementing your existing ring.
The marquise-style, lab-grown gems are set in a band of 14k white gold, rose gold, yellow gold, or platinum. If you want an elegant ring enhancer, this is the perfect style for you.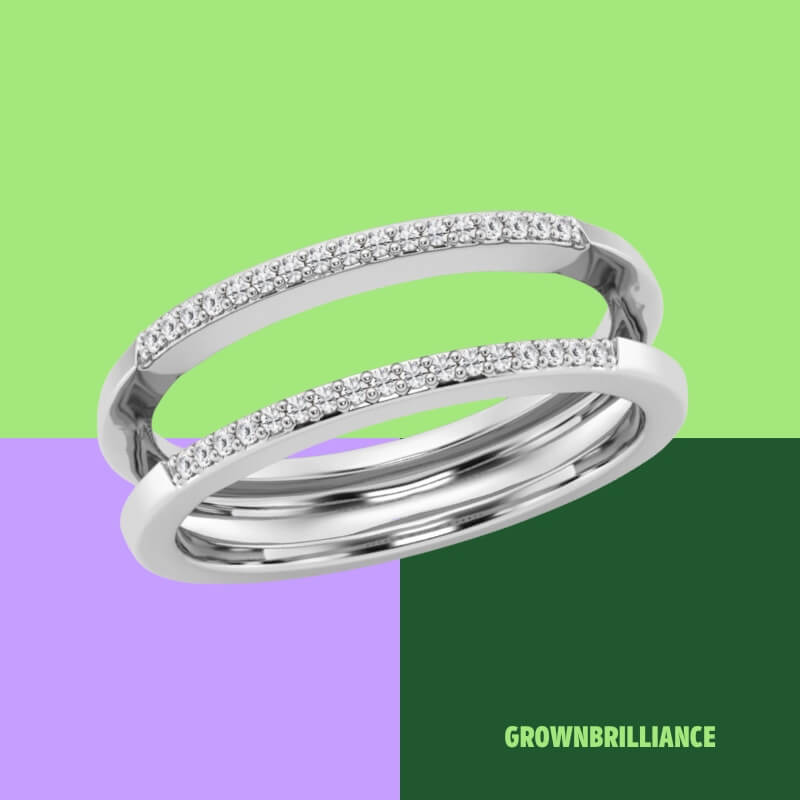 Simplicity and elegance are the name of the game with this round lab-grown Diamond Double Row Ring Enhancer.
These small diamonds are set in a band of 14k white gold (though you may opt for yellow gold, rose gold, or platinum if you prefer). The result is an eye-catching ring enhancer that allows your larger ring to shine.
This stunning double-row ring enhancer is a great choice if you want something understated but classic.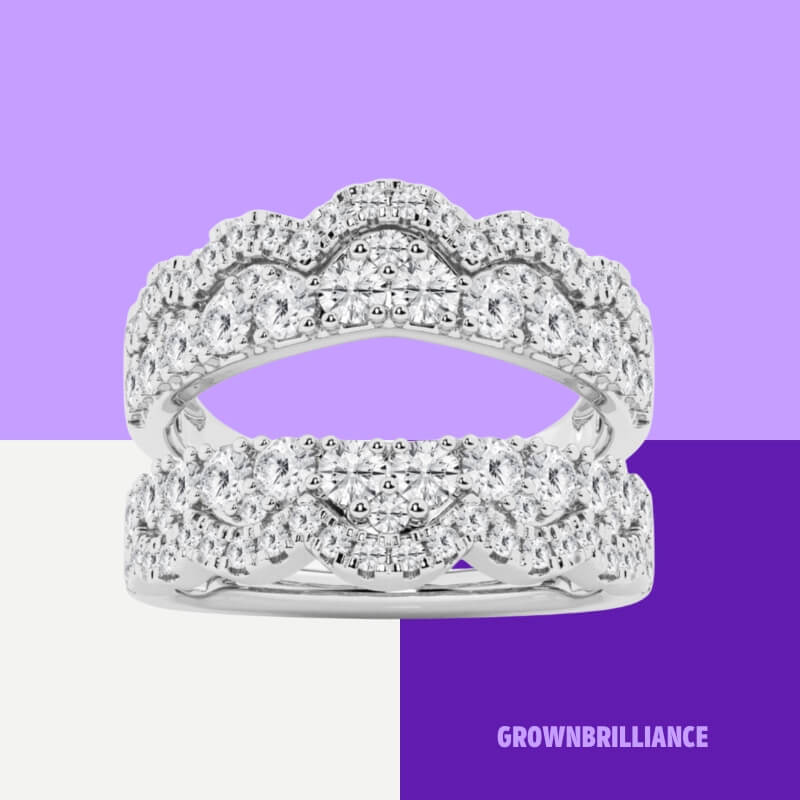 On the other hand (pun not intended), you might prefer a more opulent, noticeable style to set off your ring. If that is the case, you will love this Round Lab Grown Diamond Contour Ring Enhancer.
It is impossible not to notice this lavish ring enhancer featuring two layers of round diamonds. They are set in a band of 14k white gold.
This is the obvious choice for the person who wants a fanfare for their wedding ring.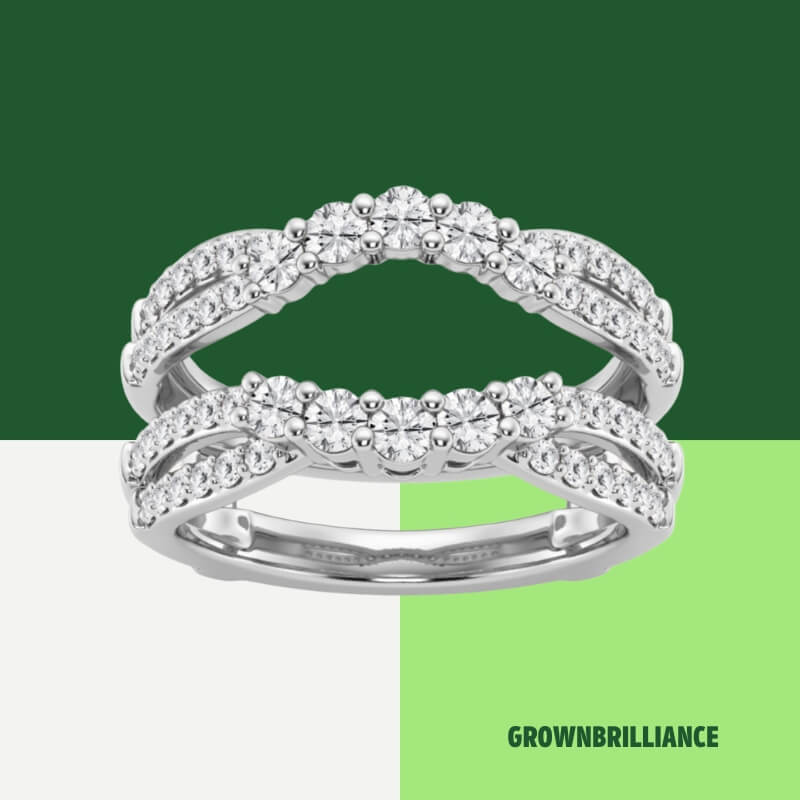 A crossover ring features two bands that intertwine, symbolizing the union of two hearts as one. This Round Lab Grown Diamond Graduated Crossover Ring Enhancer adds this symbolism to your existing ring.
Featuring two layers of stunning diamonds gradually decreasing in size, it is set against your choice of white gold, yellow gold, rose gold, or platinum.
This elaborate ring is a beautiful symbol of the love you and your spouse share, for better or worse.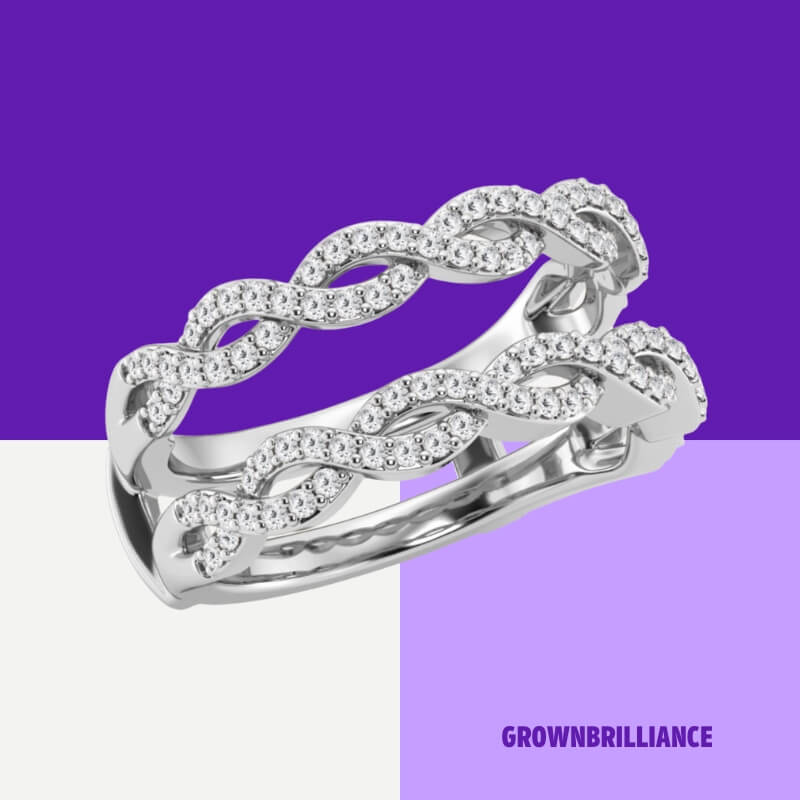 This eye-catching Round Lab Grown Diamond Braided Ring Enhancer features two layers of interwoven gems to set your existing ring off to perfection.
Braids are often used to symbolize the union of two people, making them a popular choice for rings in the tradition of Claddagh rings.
The array of round, lab-grown diamonds are set off against the band of your choice, which is made from recycled precious metals. This ring is classic, elegant, and beautifully symbolic of your love.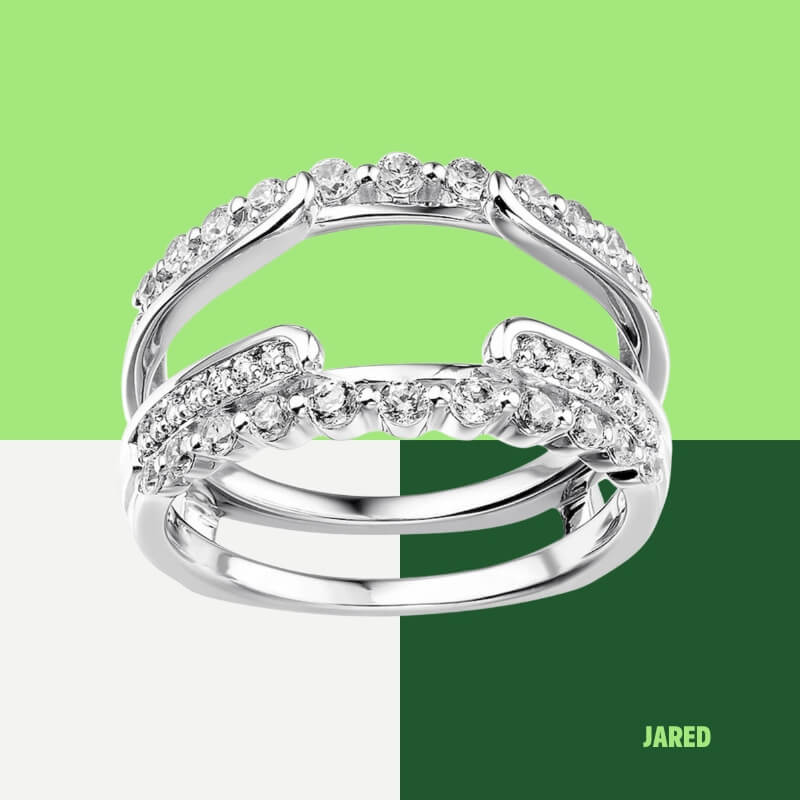 This elegant Round-Cut Diamond Enhancer Ring features two full layers of natural diamonds and two half-layers. The result is an intricate but beautiful appearance that perfectly sets off your central ring.
Set against a band of 14k white gold, this ring enhancer is an excellent choice for anyone who enjoys a simple yet stunning effect in their jewelry. The entire piece is coated in rhodium to protect the gems and metal and extend the ring's life.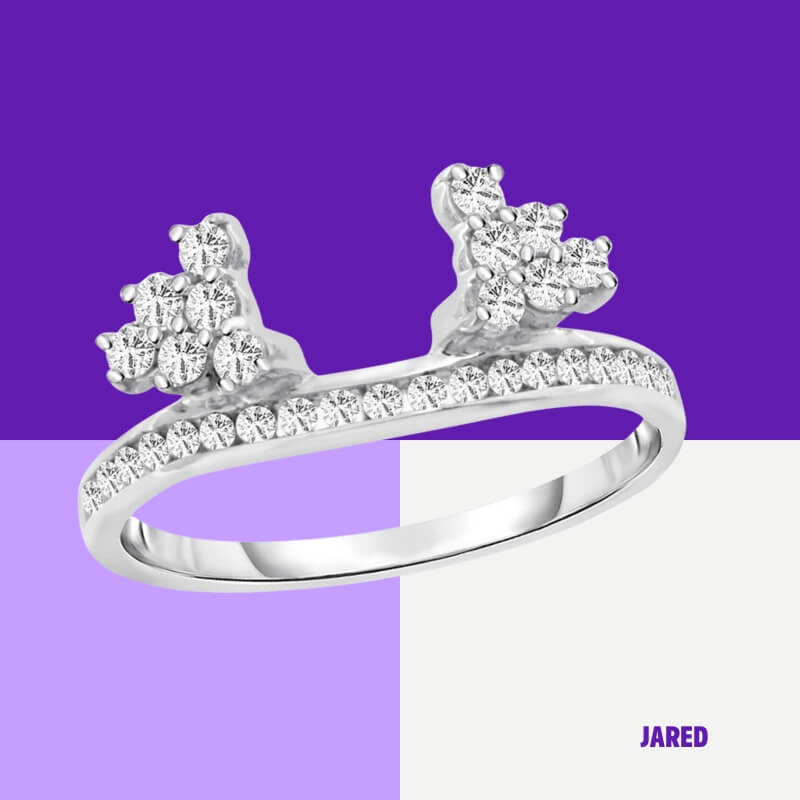 This Round-Cut Diamond Enhancer Ring from Jared features four layers of contoured diamonds to give an intricate, elegant appearance. This sets your diamond solitaire ring off to perfection.
The four layers have large and small round-cut diamonds set against a band of 14k white gold.
If you are looking for a ring enhancer that has tons of visual interest, this contoured round-cut diamond enhancer is an excellent choice to make your diamond solitaire ring stand out.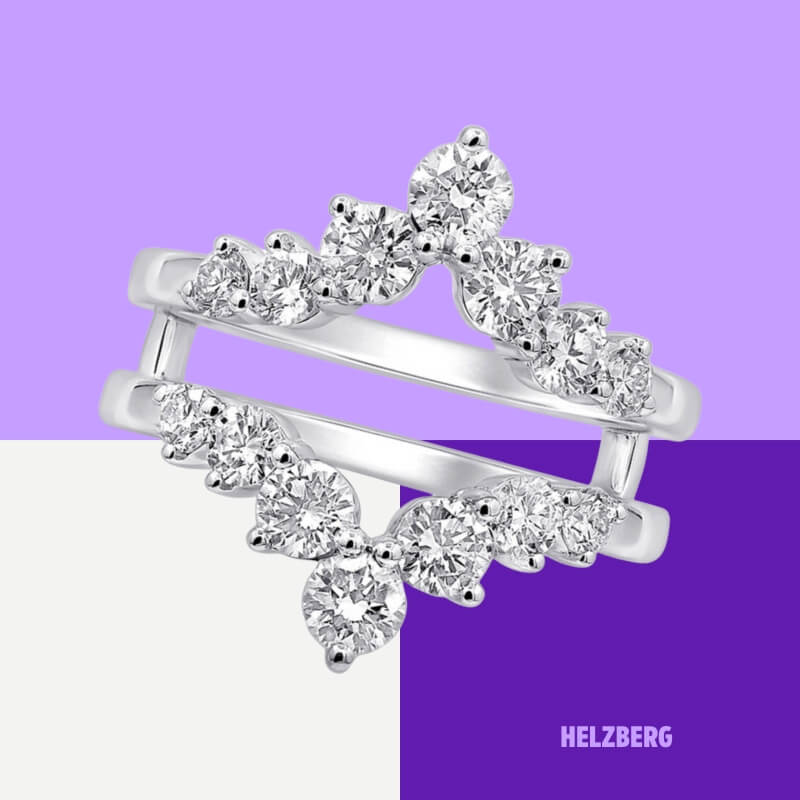 This Lab Grown Diamond Contour Ring Enhancer is one piece that is bound to stand out. Featuring two heart-shaped layers, the ring enhancer has a dramatic shape that is impossible to miss.
These mirrored layers show off a series of graduated diamonds decreasing in size along the band.
Plus, this ring enhancer features lab-grown gems, so you know your jewelry is produced safely and ethically. The band is 14k white gold to set off the sparkling diamonds to perfection. If you love dramatic jewelry that stands out from the crowd, this ring enhancer is for you.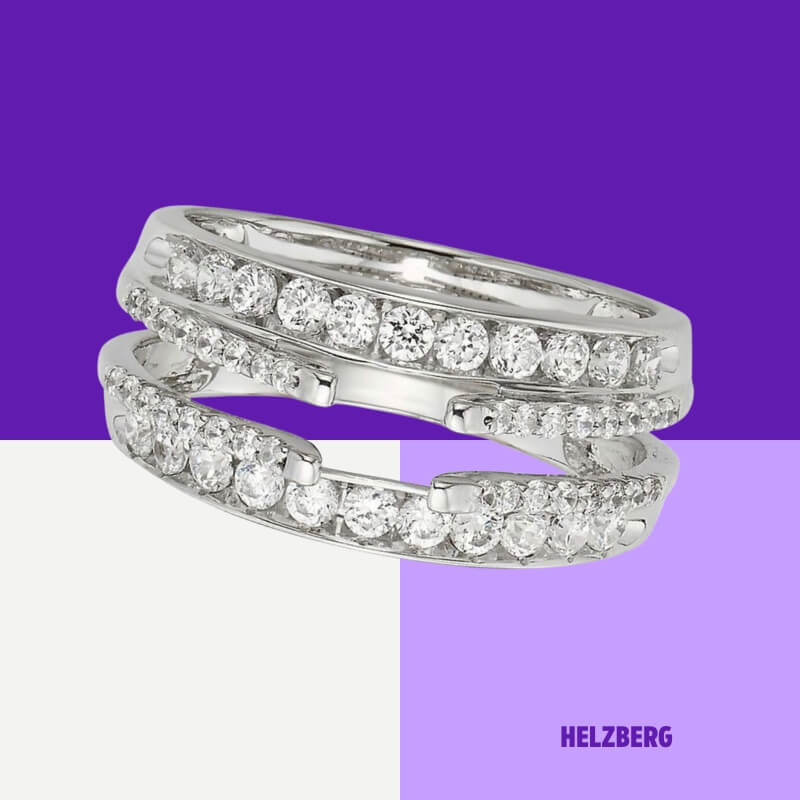 Diamond Ring Enhancer in 14k White Gold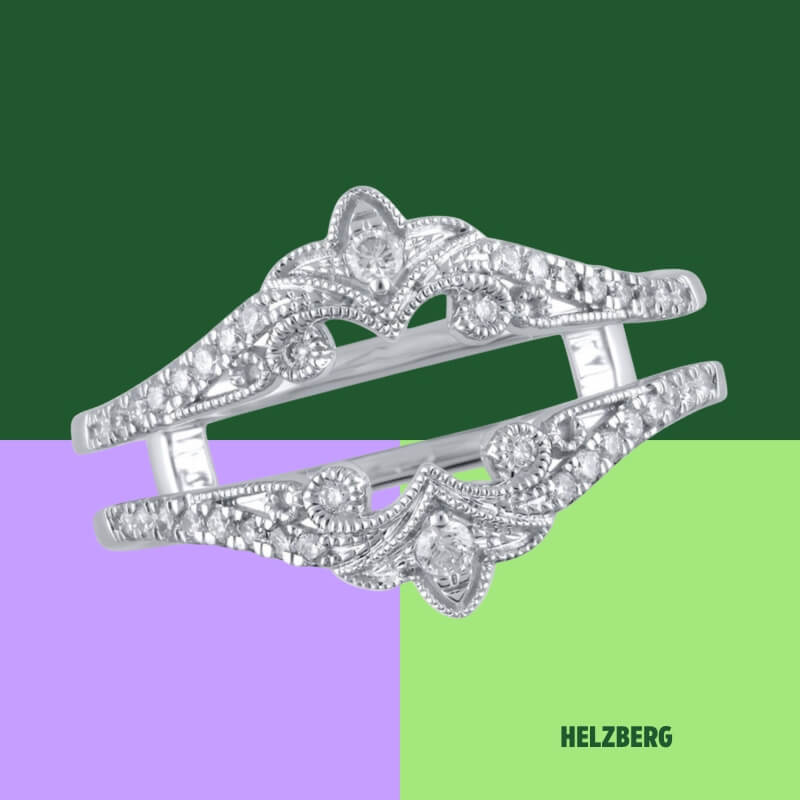 Finding a ring enhancer as unique and beautiful as this Diamond Ring Enhancer in 10k White Gold is rare. Each layer has a crown shape designed to draw the eye to the main event — your ring itself.
Each of the 38 natural diamonds is clear to white in color and set against a white gold band. With an elegant and intricate style, this ring enhancer is impossible to overlook when it is on your finger.
What is a wedding ring enhancer?
A wedding ring enhancer is a ring that is designed to fit around and enhance the appearance of a solitaire engagement ring. The purpose of an enhancer is to add extra visual interest to the engagement ring, making it look more impressive and flashy.
Enhancers can also serve practical purposes such as providing additional support or protection to the engagement ring. Some enhancers come with extra diamonds or other gemstones, adding extra sparkle and beauty to the entire set.
Overall, the purpose of an engagement ring enhancer is to take an already beautiful ring and make it even more stunning.
Bottom Line
Finding an engagement ring enhancer can be a little tough. First off, there's a whole bunch of styles and designs out there, which makes it kinda hard to pick just one. It's like finding a needle in a haystack!
Then, there's the whole matching thing. You've got to make sure the enhancer fits your engagement ring just right, both in size and style. You want them to look like they were made for each other!
But hey, don't stress! Take your time to explore different options, and maybe even ask for some advice from a jeweler or a friend.
With a little patience and some smart shopping, you'll find the perfect enhancer to make your wedding ring look even more fabulous.