Planning your wedding is a challenging task. But you can make it easier if you know which tools to use.
One way to successfully organize your big day is to use one of the ten best wedding planning apps. Each of these apps was created with busy brides and grooms in mind.
They will guide you through the planning process and ensure nothing gets overlooked. All you have to do is decide which app suits your needs.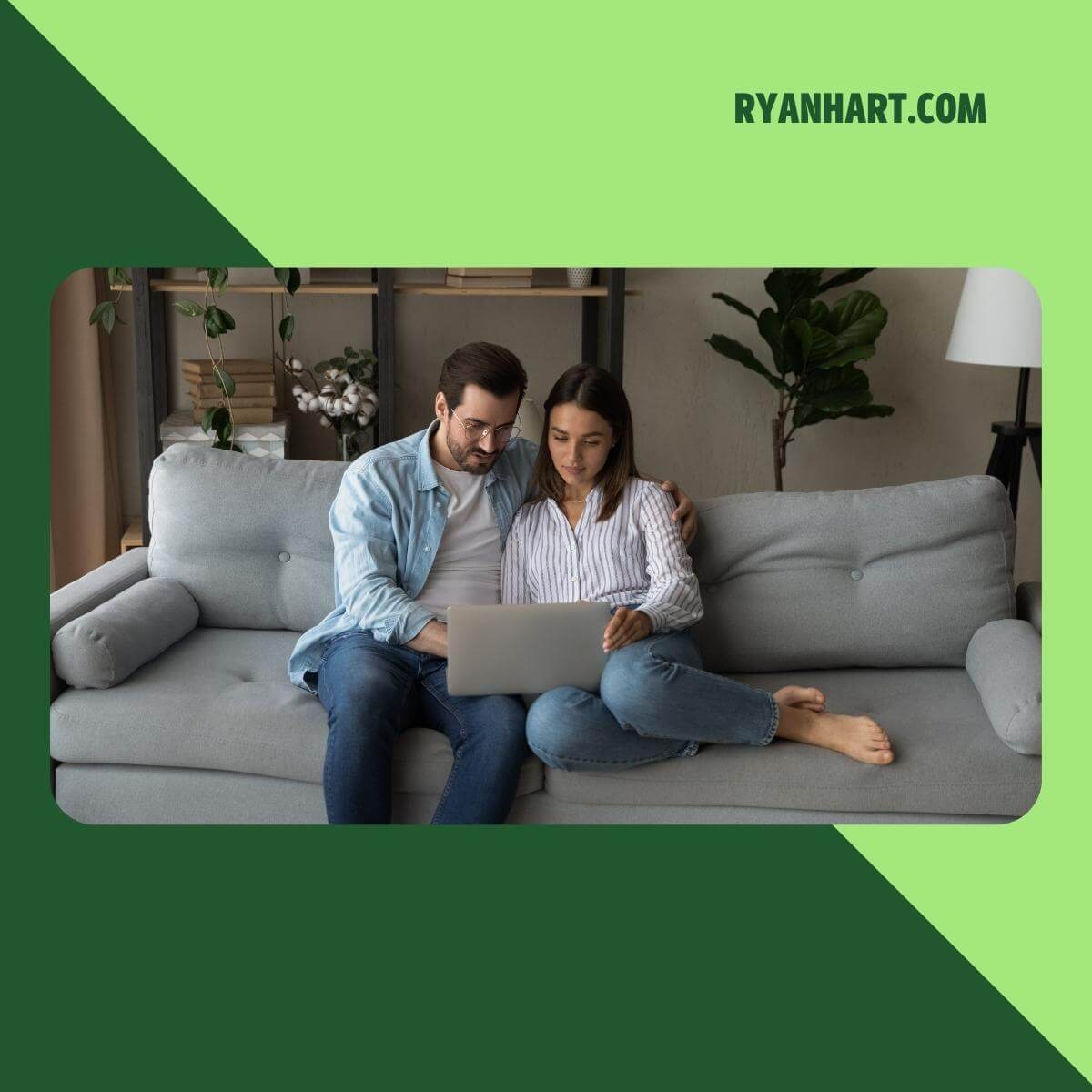 What is the best wedding planning app?
Here are the ten best apps to help plan a wedding: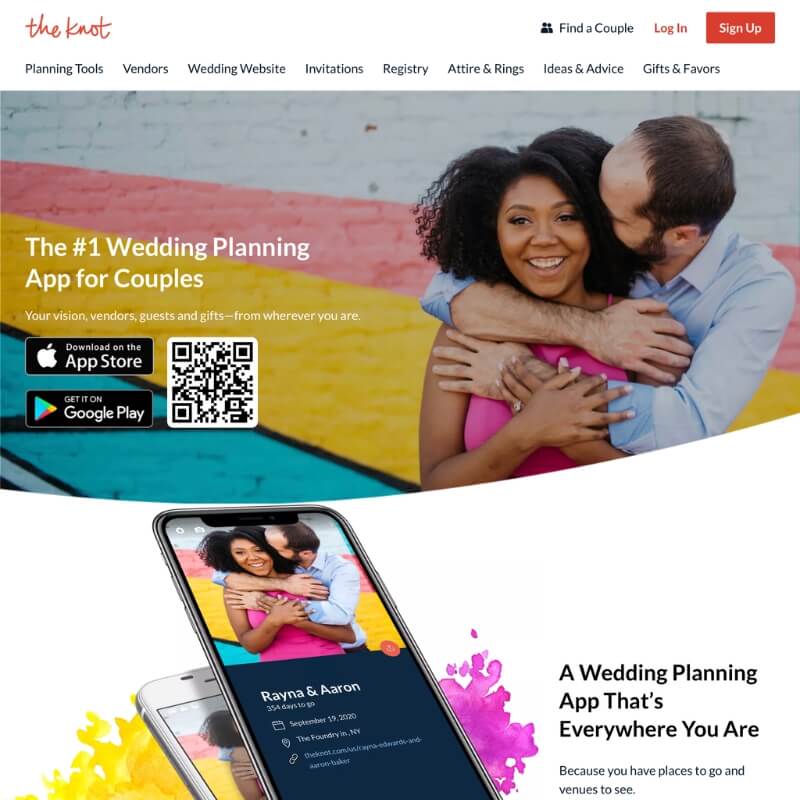 Perhaps the most well-known website in the wedding planning industry is The Knot. So, naturally, they have an app you can use to plan your big day.
You start the process by taking the app's built-in quiz. This helps you visualize every aspect of your wedding. And the wedding vendor section of the app saves you time by gathering thousands of choices in one place.
You can easily shop for vendors and keep track of the ones you hire. Other features of the app include a wedding day timeline, a dedicated web page for your wedding, and access to numerous gift registries.
What this app does best:
When you use The Knot Wedding Planning App, you'll have all the information you need in one place, making the planning process more efficient.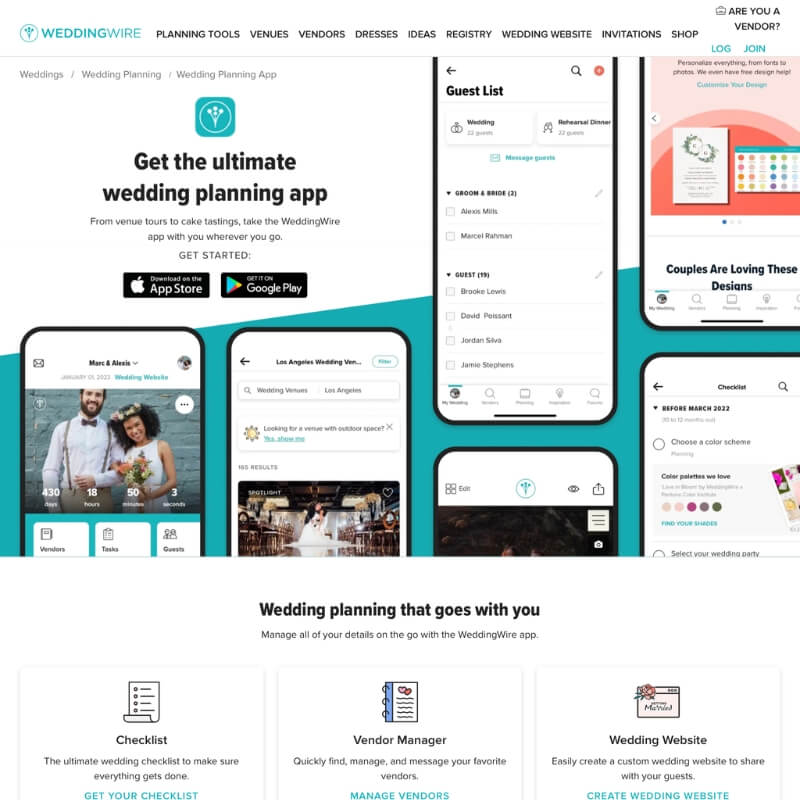 There is no aspect of the process that isn't covered with the Wedding Wire wedding planning app.
In addition to hosting your wedding website, it keeps track of your budget, seating chart, and guest list. It even includes a checklist to tackle the planning one task at a time.
The Hotel Blocks feature makes it easy to ensure you make rooms available for your guests and wedding party to rent.
What this app does best:
Wedding Wire makes it easy for your guests to find your wedding website so they can stay informed about your big day.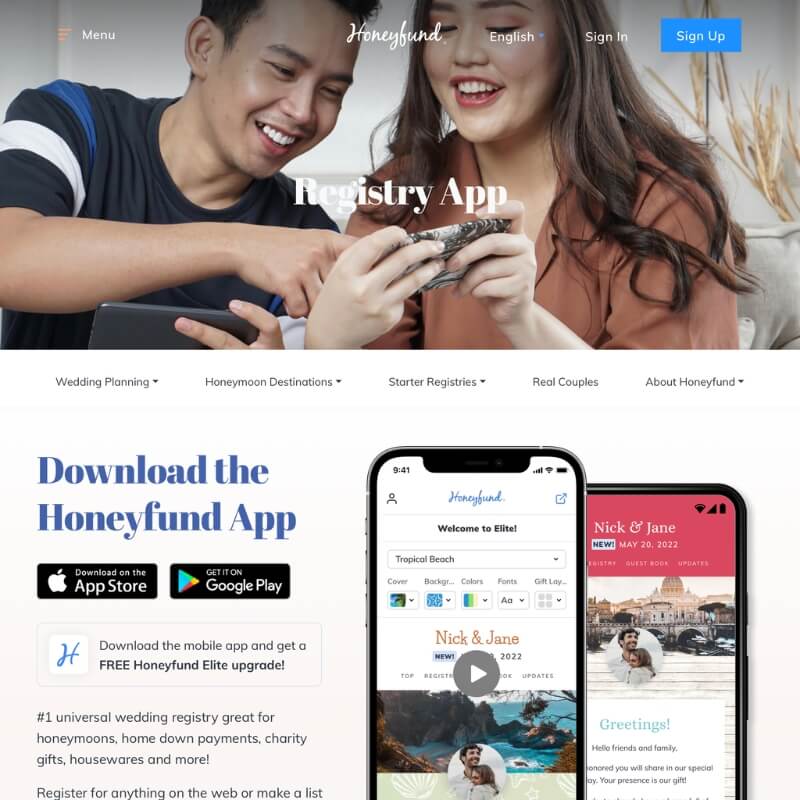 The Honeyfund app is dedicated to gift registries, honeymoon planning, and more. It encourages couples to open registries that will pay for their honeymoon destination.
You can save for everything from a cruise to an African safari. And if you need help choosing a honeymoon destination, this is the app you'll want to use.
Though it focuses primarily on helping you raise money for your honeymoon, the app also offers budgeting tips and tidbits on wedding gift etiquette.
What this app does best:
Honeyfund is the ideal app for couples more interested in life experiences than physical possessions.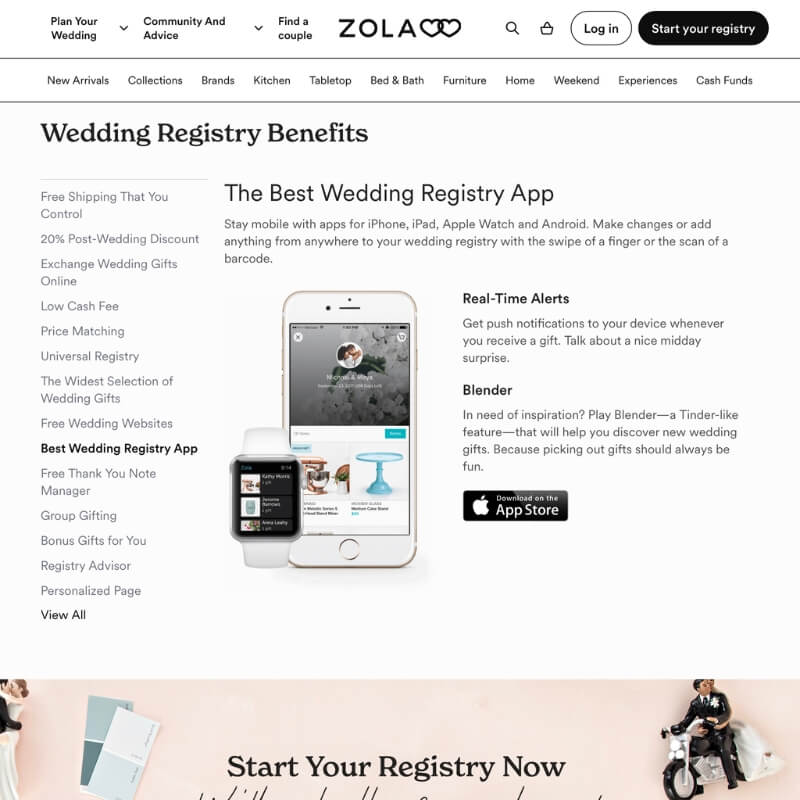 The Zola Wedding Registry app lets you stay on top of your gift registry.
The app will send alerts when a guest purchases a gift from your registry. And if you need help deciding what to put on your registry, the app has a feature that will help you figure out what you really want.
What this app does best:
You'll have peace of mind using the Zola Wedding Registry app to monitor your gift registry.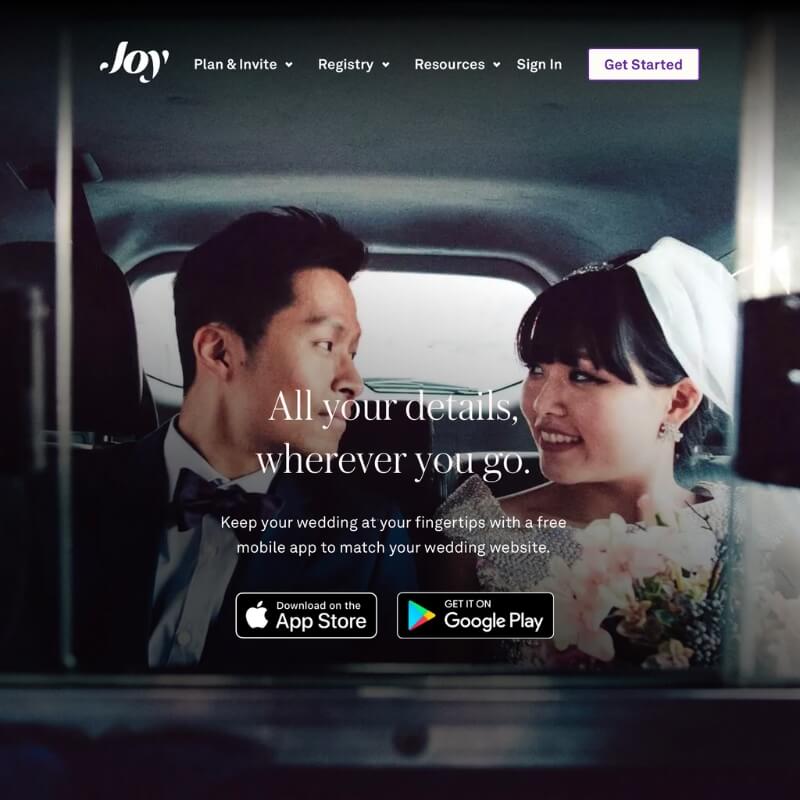 The Joy wedding app makes it easy for your guests to know in advance every detail they need for your big day. This includes schedules that tell guests when to be there and what time the day's events are taking place.
The app even makes it easy for you to share the info your guests need to book their travel and hotel for your wedding. And for guests who need help with transportation to and from the wedding, the app includes ride-sharing options they can book.
What this app does best:
When your guests take photos on your wedding day, they can upload them to the app so you can see everyone's photos at a glance.
The Wedding Happy app makes planning the day of your dreams easy for you and your partner. The app even creates a planning timeline so you'll know what to do and when to have it done.
At a quick glance, you can see how many tasks you've completed and how many more you have to go. You'll also see how many days are left until your wedding and which task you need to tackle next.
What this app does best:
If you are struggling to get through the process, you can get planning help from wedding experts, all while using the app.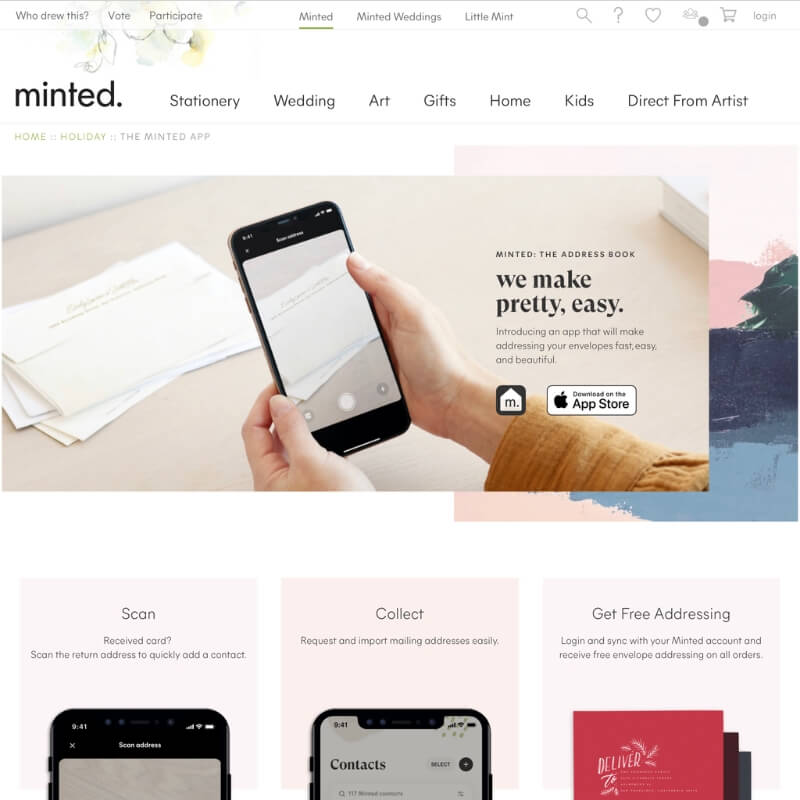 Addressing all the invitations is one of the biggest tasks you'll face while wedding planning. The Minted Address Book is an app that makes the process easier. You can enter all your guests' contact information into the app, along with their addresses.
If you have a Minted account and sync the app with it, you can order your envelopes already addressed.
What this app does best:
If the idea of addressing all your invitations by hand is exhausting and overwhelming, The Minted Address Book offers the perfect solution for busy couples.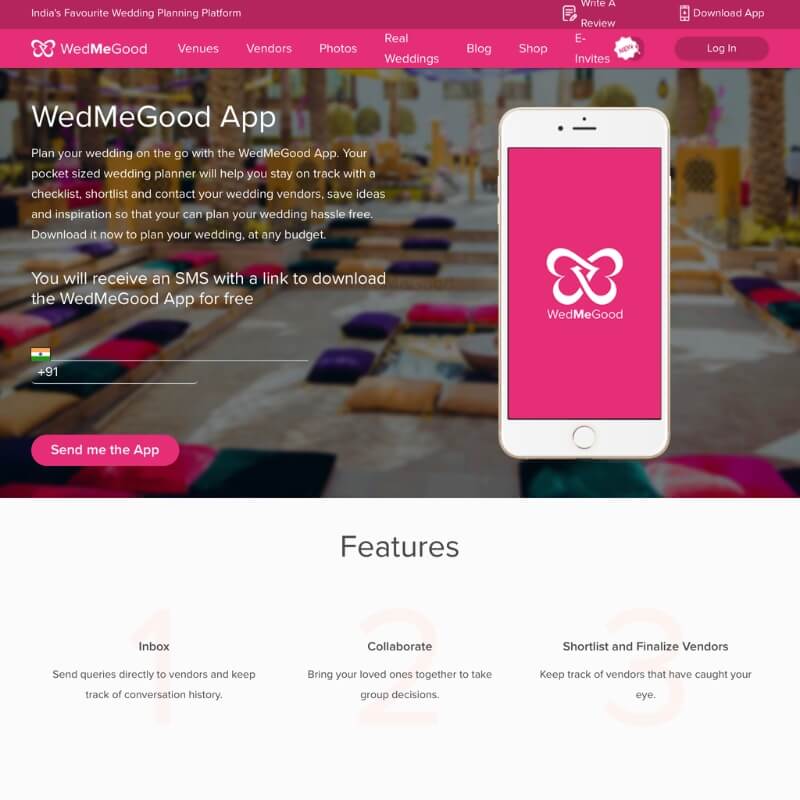 The WedMeGood App is just as helpful as having an actual wedding planner. This app lets you communicate with vendors and easily book them.
You can even give friends and family access to your account with the app so they can give their input on the planning.
What this app does best:
When you're overwhelmed with planning your wedding, WedMeGood makes it a fun and easy process.
A lot of considerations go into planning a wedding. To help you manage them all, download the Hitched Wedding Planning app.
It covers everything from finding and booking vendors to planning the guest list, the seating chart, and your wedding day budget. Even if you have to change your budget as you go, the app will help you.
What this app does best:
Hitched Wedding Planning App puts the planning process in the palm of your hand and helps you stay on track.
The Lady Marry App makes the process fun instead of stressful. By entering the location and date of your wedding, the app will automatically create a timeline.
It's also good for finding/booking vendors and keeping track of all the little details that make your wedding day flow smoothly.
What this app does best:
To get the ball rolling and keep it rolling, trust Lady Marry Wedding Planning app to help you breeze through setting up all the details for your big day.
What are wedding planning apps?
Wedding planning apps are mobile applications designed to assist couples in organizing and managing various aspects of their wedding. These apps offer features like budget tracking, guest list management, vendor recommendations, task reminders, and more.
They provide a convenient way to keep everything organized and on track. With the help of wedding planning apps, couples can make sure their special day goes off without a hitch!
How do apps help in the wedding planning process?
Wedding planning apps help simplify the process by providing tools to manage budgets, create to-do lists, keep track of vendor contacts, organize guest lists, and even build personalized wedding websites. They offer convenience and guidance in one place.
These tools can also be used to create seating charts, design wedding invitations, and coordinate photo slideshows. Wedding planning apps offer a variety of features to make the process simpler for couples and help them stay on track for their big day.
Are wedding planning apps easy to use?
Most wedding planning apps are designed to be user-friendly. They typically have intuitive interfaces and step-by-step instructions to assist couples in navigating through the various features and functionalities.
Some apps even offer the ability to customize certain aspects of a wedding plan, such as menus, guest lists, and seating arrangements.
By using a wedding planning app, couples can save time and energy when it comes to organizing their big day. Additionally, many apps provide helpful reminders for tasks that need to be completed before the wedding takes place.
Are wedding planning apps free?
Some wedding planning apps offer free versions with basic features, while others have premium versions or in-app purchases for access to advanced tools and additional features. It depends on the specific app and its pricing structure.
Some apps focus on helping you plan a wedding, while others could be more general task-management tools with some features suited to the unique needs of wedding planning. You can read reviews and compare different apps to decide which one is best for you.
Bottom Line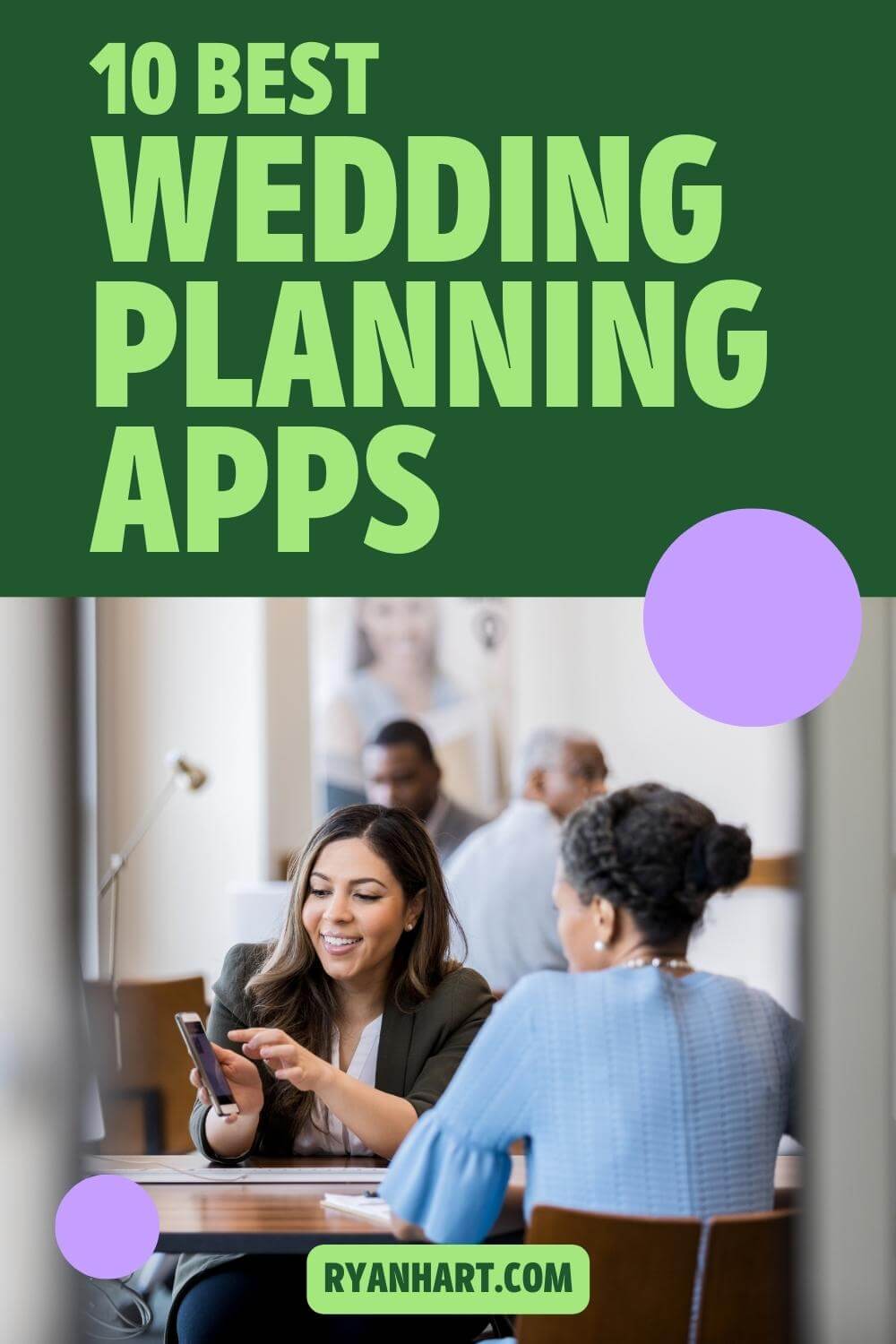 Wedding planning apps offer a wide range of features and tools to help couples stay organized, manage budgets, coordinate vendors, and create their dream wedding.
With intuitive interfaces and step-by-step guidance, these apps make the planning process simpler and more enjoyable.
Whether it's creating a personalized wedding website, tracking RSVPs, or finding inspiration for decor and themes, these apps have it all. They provide a convenient one-stop solution for all your wedding planning needs.
So, embrace the technology and take advantage of these amazing wedding planning apps to make your journey to the altar smoother and more memorable.