Wedding hashtags are a rising trend for modern couples looking to keep track of all their wedding memories in one place.
But coming up with something unique, memorable, and fun can be challenging. That's where wedding hashtag generators come in.
These sites offer great services and recommendations for cute wedding hashtags that'll be a fun way to celebrate your big day.
Let's take a look at the top seven wedding hashtag generators and how they can help you come up with the perfect slogan for your nuptials.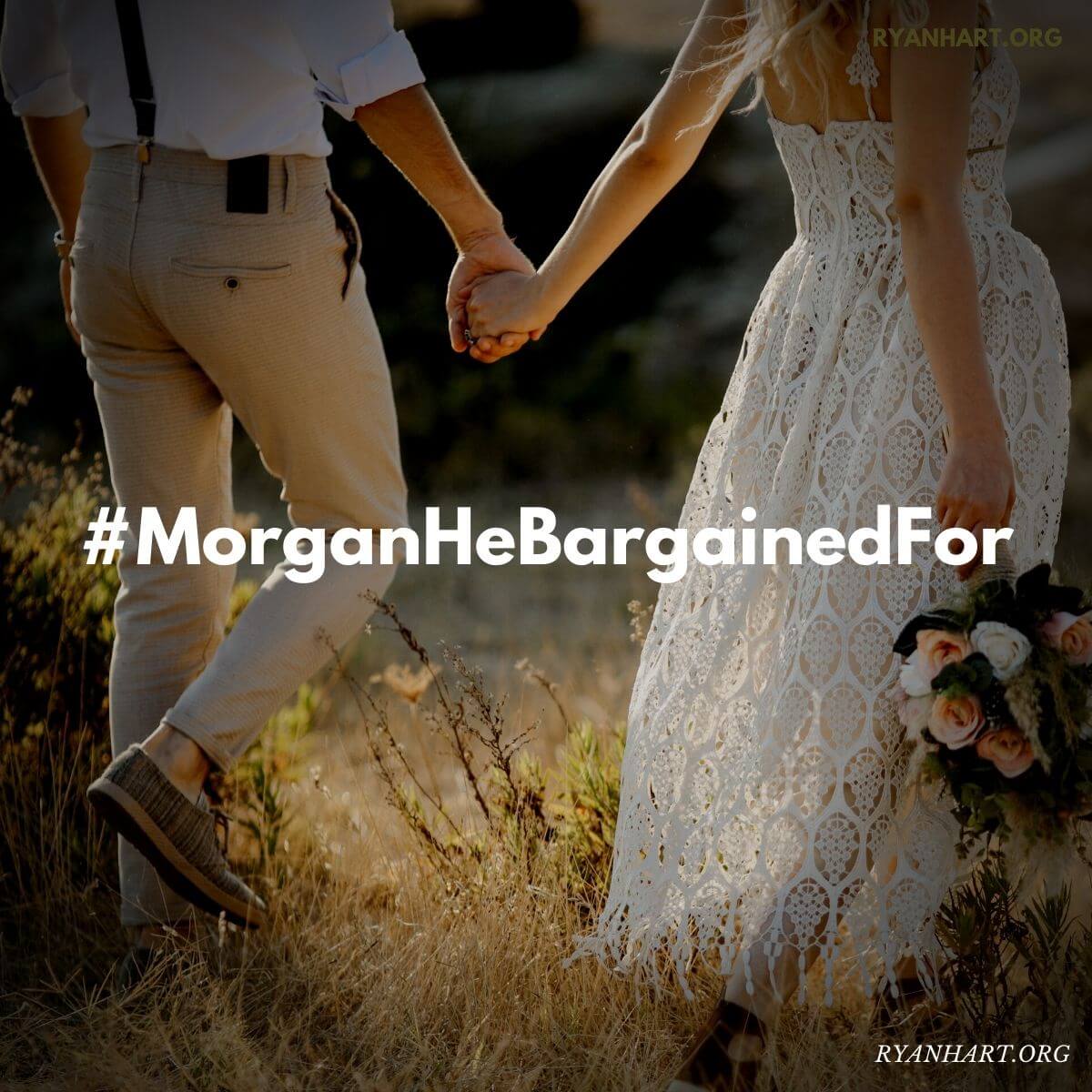 What is the Best Wedding Hashtag Generator?
The best wedding hashtag generator sites will provide a simple platform that crafts great suggestions that aren't short on creativity. Here are our top picks.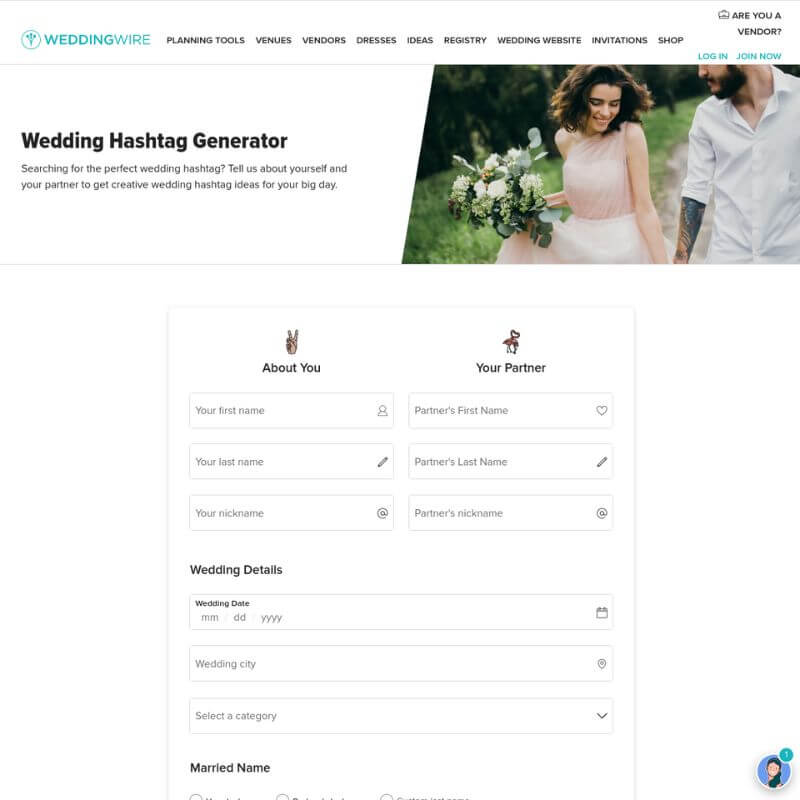 Wedding Wire is a handy online tool when you're planning your wedding. It offers a streamlined way to find professional help, shop invites, get inspiration or ideas, find a dress, and so much more.
The hashtag generator for weddings is easy to use and provides options based on your names, the wedding date, city, and style, such as Barns & Farms, Beaches, or Parks. You'll see three options pop up immediately, and can submit your email for the rest of the list.
What WeddingWire does best:
Because WeddingWire is a place to find all your wedding necessities, it's not surprising that they offer a quick and easy way to generate a wedding hashtag since it's becoming a popular trend. They make it very easy, and once there, you can also use the site to streamline your other wedding tasks.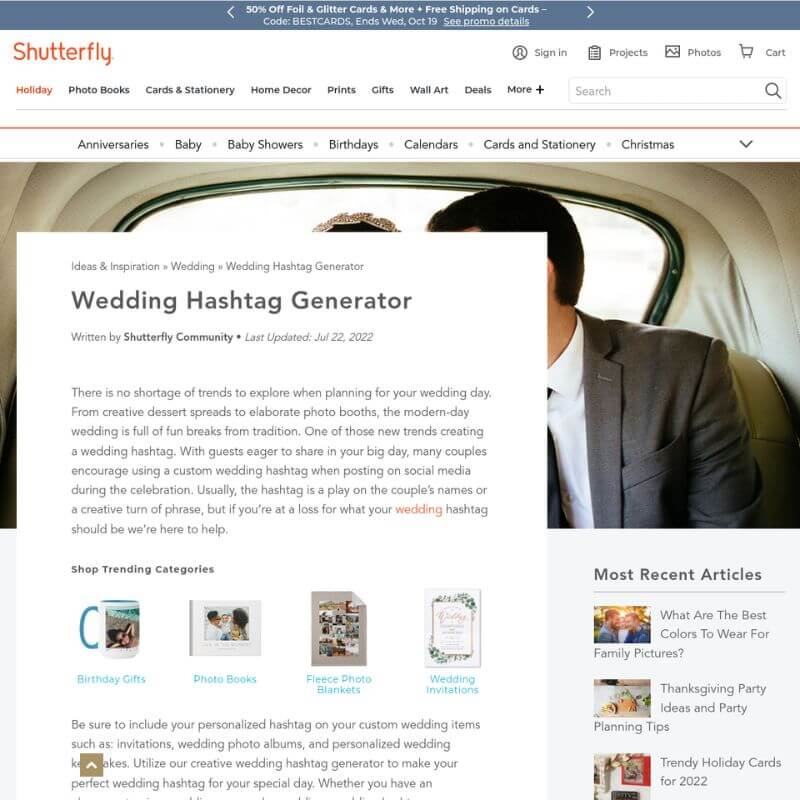 Shutterfly specializes in photo products that make memories last forever. They're known for their prints, mugs, posters, photo books, and more. They also offer a wedding hashtag generator as part of their dedication to providing unique services for preserving your memories.
They provide quite a few options when you fill out the free form, but you'll see that they repeat the ending words for each variation of your first names, last names, or nicknames. You can also check to see if the hashtag is in use by clicking the link next to the option to be sure it's totally unique.
What Shutterfly does best:
Shutterfly provides a quick free option that doesn't even require an email address to use. The options are easy to check for originality, and the form is very easy to fill out.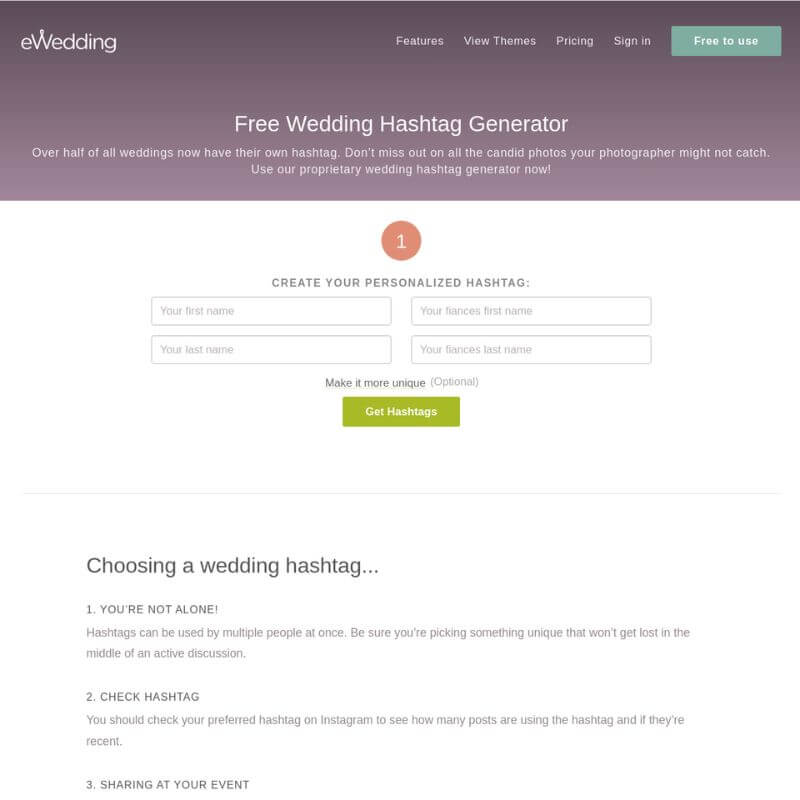 The eWedding hashtag generator is straightforward to use. It comes from a company that's all about online wedding management made simple. You can fill out just the couple's names, or there is an option to make it more unique with your nicknames, the wedding date, location, and the wedding setting.
They'll also provide you with an Instagram album of all the photos that use the hashtag on your free eWedding website. This option can be very appealing because it allows you to delete photos that have been incorrectly placed in your hashtag or are unappealing.
What eWedding does best:
eWedding is excellent when it comes to housing all your wedding information and images in one convenient online place. They also offer custom posters with your hashtag that you can display during the wedding.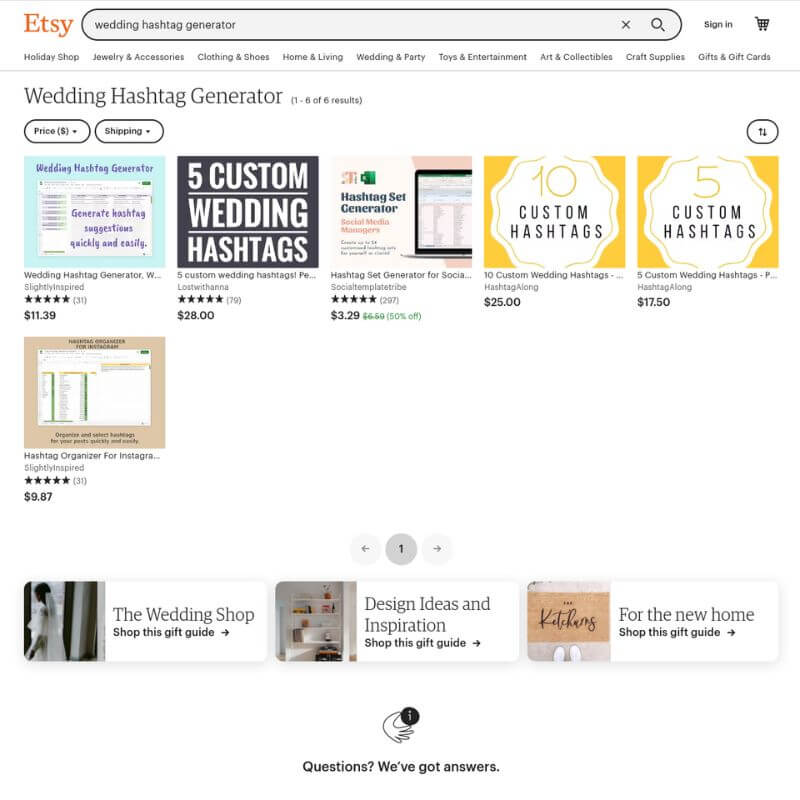 Etsy is known for its unique, hand-made products. The wedding hashtag services and décor are no different. There are several vendors who will generate hashtags for your wedding and many more that will create custom displays or signs that include that wedding hashtag in a decoration for the big day.
As with most things on Etsy, the prices range greatly and can seem a bit high. If you already have a hashtag and you're looking for cute signage, Etsy is perfect. If you're looking to come up with a hashtag, Etsy sellers can provide you with a few options, ranging from five to twenty.
What Etsy does best:
Etsy is fantastic when it comes to supporting smaller entrepreneurs and businesses. You can work with professionals to generate a clever wedding hashtag and then find the perfect way to display it during your wedding.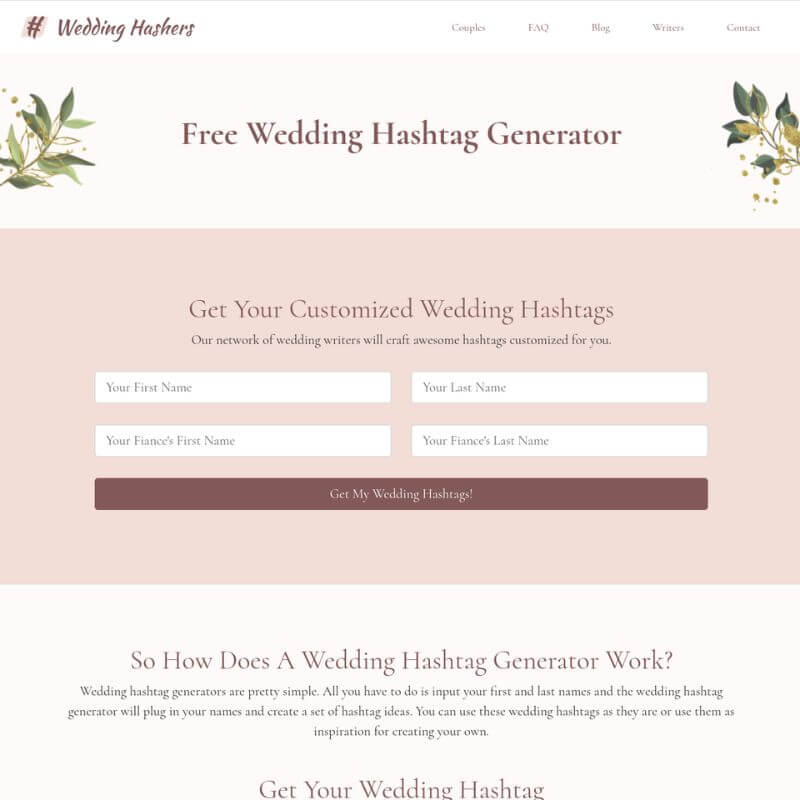 At Wedding Hashers, you can generate up to three free wedding hashtags right on the main page. The site uses the couple's first and last names to create its options. It's so simple to use that it's the world's largest network of professional wedding hashtag creators and a global favorite.
Wedding Hashers also provides a hashtag service that takes one business day and a detailed survey to provide custom wedding hashtags.
This detailed survey provides places to fill in nicknames, ages, the proposal, the vibe you're going for, and how you'll use the hashtag. They even offer a wedding hashtag quiz to help you discover the perfect type of tag for your event.
What Wedding Hashers does best:
Wedding Hashers is the biggest provider of this unique service. The generator is free, and all you need to do to get your hashtags is provide your email address.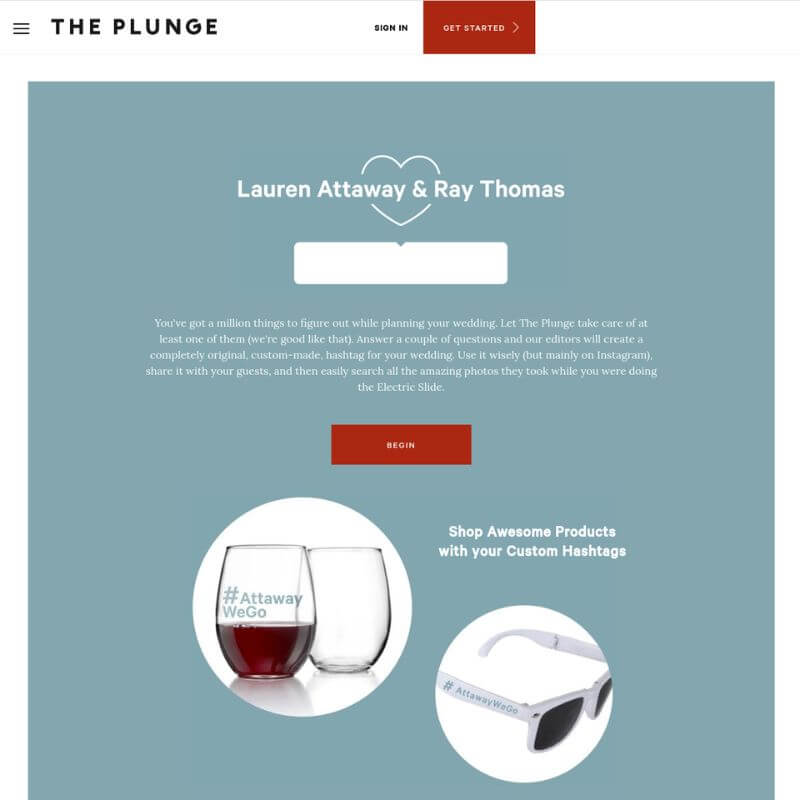 The Plunge is all about making wedding planning simpler and more fun for the grooms of the world. It offers several resources to find rings, learn about groomsmen's duties, create a signature look, plan the bachelor party, and more.
The wedding hashtag generator on the Plunge focuses on humor and puns and is super easy to use. It's really detailed as well, with spots for inside jokes you share, your hobbies and activities, your jobs, and how you met. Once you complete the form, you'll be emailed a list of custom hashtags based on your answers.
What The Plunge does best:
The Plunge is clever and laid back. It provides an excellent resource for grooms who want to be involved in the wedding planning process without making it sound difficult or boring.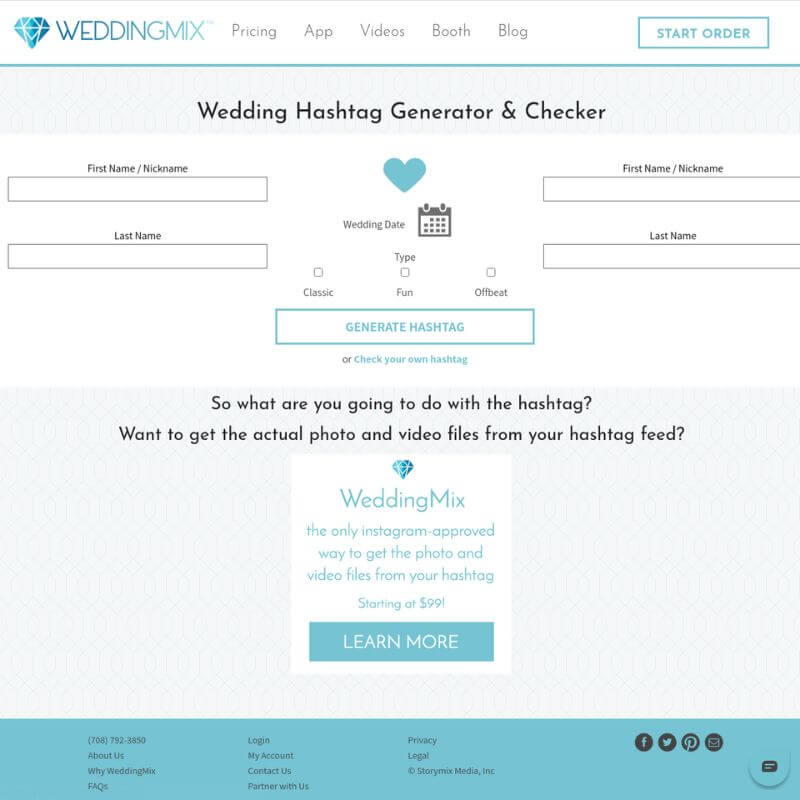 The Wedding Mix hashtag generator is straightforward to use and does provide a few customization options like classic, fun, or offbeat and the wedding date. Wedding Mix is all about creating a social wedding experience where guests capture your photos, and they help to edit them.
They can work with photos and videos, and the hashtag generator is another part of that social photo-sharing experience. You get one hashtag when you perform the search and can generate a new one as often as you want. However, they will start to repeat.
What Wedding Mix does best:
The Wedding Mix generator is free, and you can change up the names for nicknames to make the hashtag more unique. They can also get the photos posted on Instagram with that hashtag and make them part of your album.
What is a wedding hashtag?
A wedding hashtag is a unique phrase or expression that couples use to categorize and organize all of the photos and videos from their wedding on social media.
Hashtags are used on platforms like Instagram and Twitter, allowing anyone searching for the hashtag to see all of the related content in one place.
Wedding hashtags can be as simple as the couple's names or as clever as a pun relating to their relationship.
No matter what form they take, wedding hashtags are fun for couples to share their big day with friends and family members who couldn't be there in person.
Do I need a wedding hashtag?
Paying for a custom wedding hashtag may seem unnecessary, but there are several good reasons to do so.
A wedding hashtag is a simple way to help your guests share photos from your big day on social media. If you don't have a wedding hashtag, it can be difficult for your guests to find pictures from your big day online.
In addition, you might miss out on seeing some of the fantastic photos your guests take.
Creating a wedding hashtag is easy and can help ensure that you and your guests enjoy all of your special day's memories.
How do you make a catchy wedding hashtag?
To develop a catchy and clever wedding hashtag, start by brainstorming a list of words related to your wedding, such as the couple's names, the wedding date, the location, or inside jokes.
Once you have a few ideas, try putting them together to create a pun or play on words. For example, if your names are Sarah and John, you could combine them to make the hashtag #JohnSarahGetHitched.
Once you've settled on a few final contenders, test them out by searching for social media to see if they're already being used. If not, start using your chosen hashtag on all your wedding-related posts leading up to the big day!
How many hashtags do you need for a wedding?
When it comes to hashtags, more is not always better.
When planning a wedding, it's essential to create a limited number of hashtags that you and your guests can use. This will help to keep your wedding photos organized and easy to find.
So, how many hashtags do you need? We recommend creating at least five and then choose your favorite one as the primary hashtag for your wedding.
Of course, you can always create more than five, but we think five is a good starting point. So start brainstorming and develop a few unique ideas representing you and your fiancé.
How do I create a hashtag for free?
To create a wedding hashtag for free, come up with a short phrase or word that sums up your wedding theme. For example, if you're getting married on the beach, you could use #beachwedding or #sandytoes.
Once you've decided on a phrase, add the bride and groom's names to create a personal touch, for example, #katesbeachwedding or #jakeshawaiiwedding.
Finally, check if your chosen hashtag is available on social media platforms like Instagram and Twitter. If it is, start using it right away to encourage guests to post their photos!
If not, don't worry - plenty of other great options are still available. Just keep brainstorming until you find the perfect fit.
Bottom Line
Your wedding day is all about you and your spouse-to-be, so why settle for a generic wedding hashtag? A custom hashtag allows you to be creative and put your spin on your big day.
Plus, it's great to get all your guests involved in the fun! Using a unique hashtag, you can easily keep track of all the photos and messages from your loved ones on social media.
And who knows, maybe your wedding hashtag will even become trending on Twitter or Instagram! So go ahead and order a custom wedding hashtag from WeddingHashers - it's worth it!