When planning your wedding, you'll want to set the tone right down to your table linens. Opt for linen napkins for the best look and to save the environment. While this option may be more expensive, there are places where you can order them in bulk, saving a little money.
We've amassed a list of the seven best places to buy wholesale linen napkins in bulk to help you find just the right napkins for your wedding.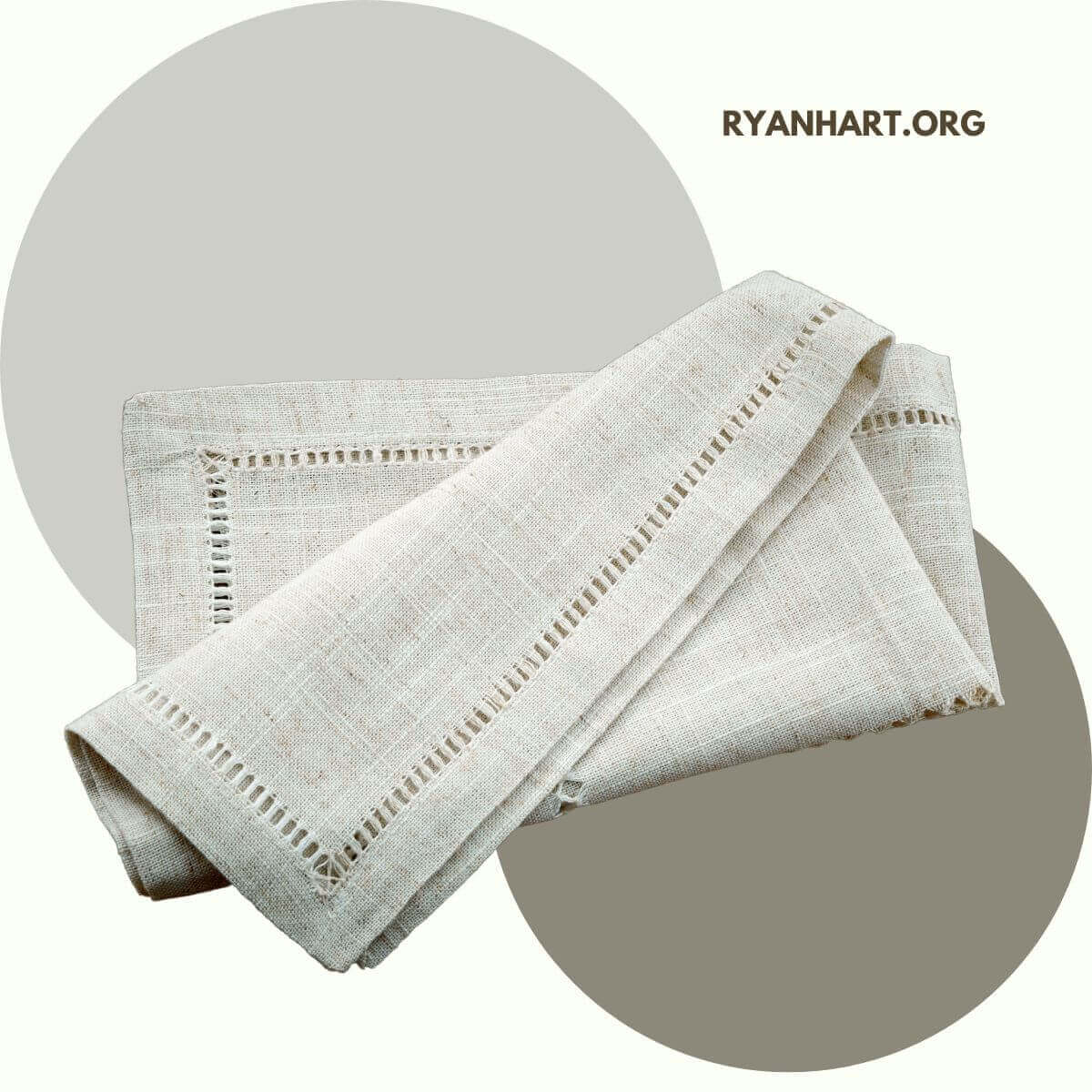 Where to Buy Bulk Linen Napkins?
When ordering your napkins, you have many options to match your wedding theme, and you can even personalize them for your special day.
Here are the seven best places to buy wholesale linen napkins in bulk: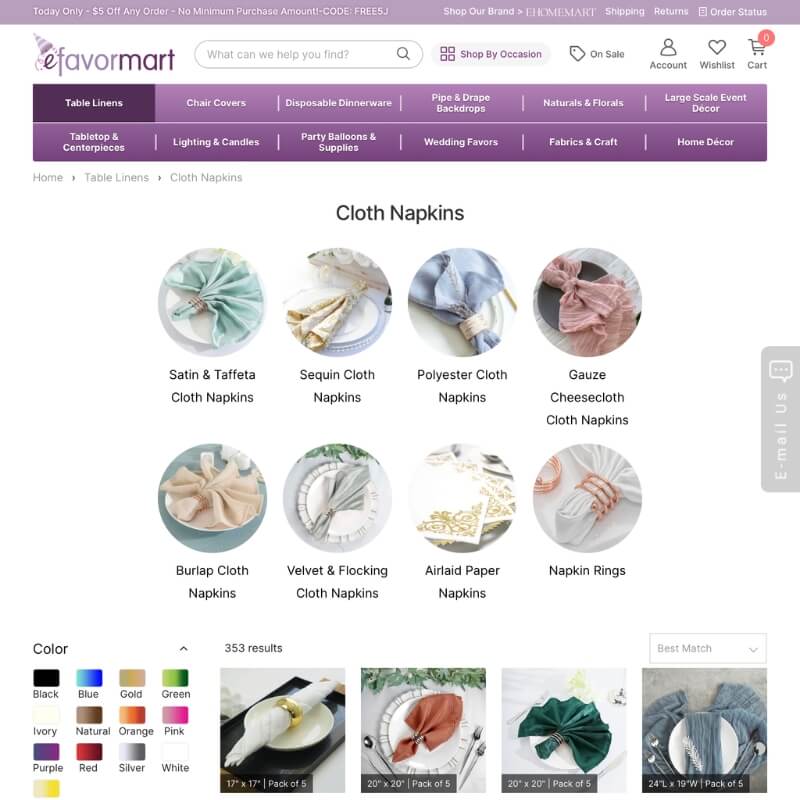 Linen napkins offer an elegant touch, and eFavormart has what you need and options in other fabrics. The various options use premium fabric and several colors from which to choose. They also have tablecloths, table runners, and centerpieces to go with your napkins.
eFavormart has been around since the early 2000s, allowing brides to cut out the middleman and buy bulk from them. They have everything you need for your event in one spot.
What eFavormart Does Best: They pride themselves on excellent customer service, following the golden rule. They treat their internal and external customers how they want to be treated and expect everyone on their team to do the same.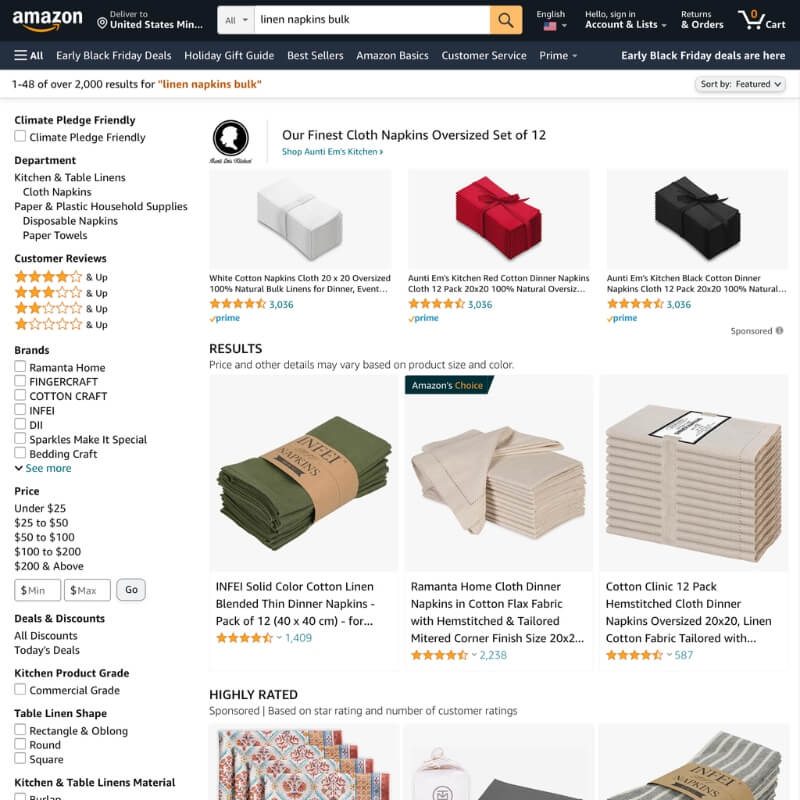 You may not think of Amazon for your wedding shopping, but why not? Amazon is great when you're not sure just what you want. The search filters are great for finding suitable napkins that are friendly to your budget.
A search on Amazon will return several color and fabric options. Many are easy to care for, allowing you to throw them into the washing machine to get them cleaned. Just make sure you follow the care instructions. Shopping for anything on Amazon usually makes the task more convenient and often more affordable.
What Amazon Does Best: With your Amazon Prime Membership, your shipping is free and fast!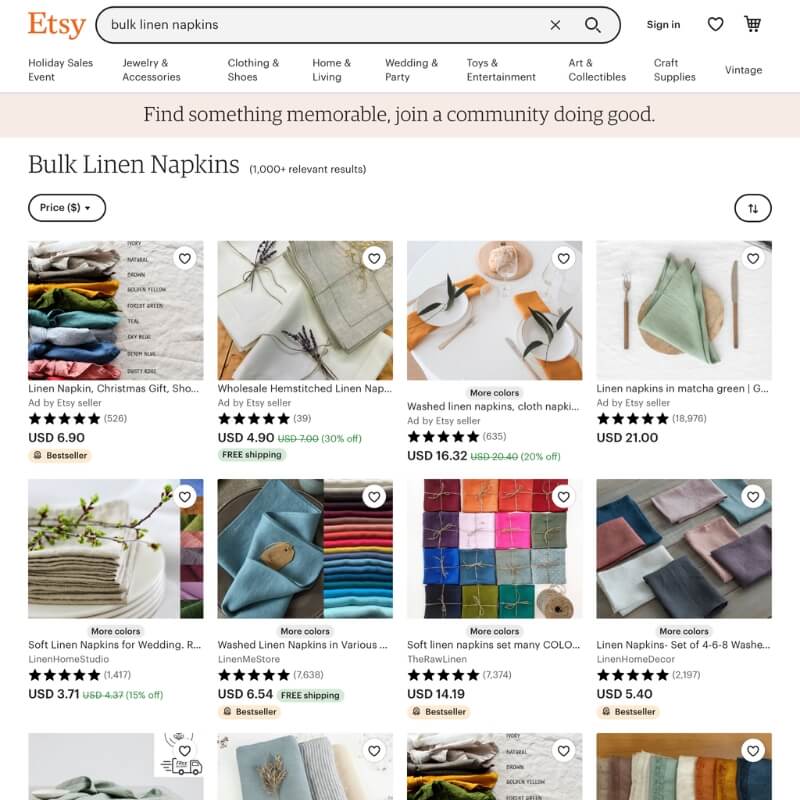 Etsy is perfect when looking for the right style napkin and wanting to personalize your order. Some of the options are handmade. Check out several Etsy shops to ensure you pick the right napkins for your reception.
There is a lot of variety available on Etsy, from color and pattern to size. Etsy is also fantastic for browsing wedding styles and finding great ideas. Then you can get everything you need and coordinate everything on one shopping site.
What Etsy Does Best: Personalization! Also, you can speak directly to your seller during the process.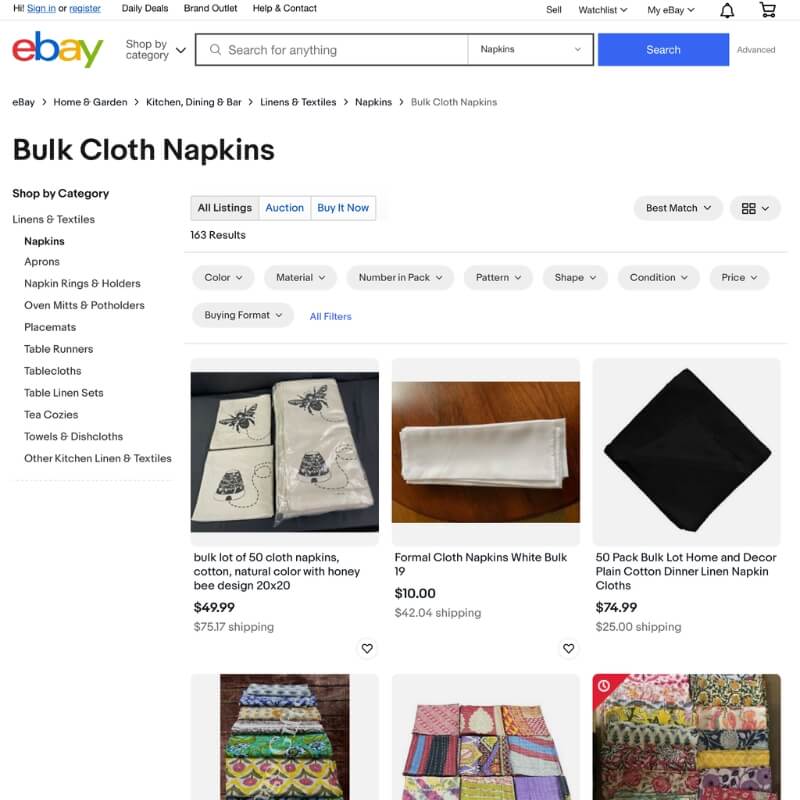 eBay is an excellent place to start your search for bulk napkins. On eBay, you can find new items from sellers or used items that another couple used once, washed, and stored away.
eBay is has countless wedding supplies at great prices. Just make sure you check out seller ratings and reviews while shopping.
What eBay Does Best: Variety and options! While on the site, get your decorations, including runners and table décor.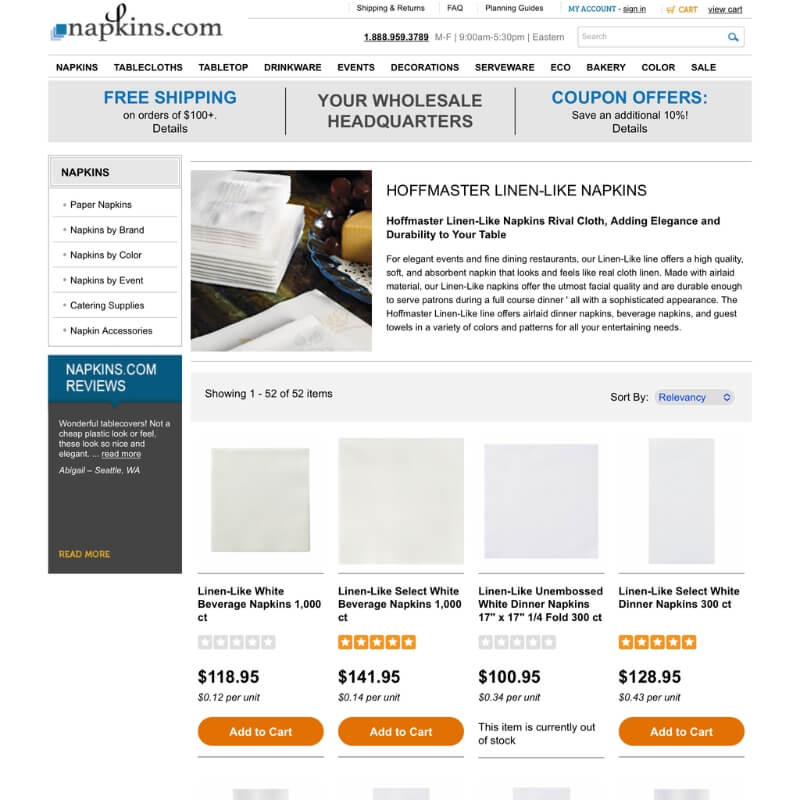 Napkins.com, the name says it all. The company specializes in wholesale disposable tableware and napkins for special events and home décor. The company offers a variety of colors, patterns, and fabrics.
Make sure you sign up for their emails; this gives you 20% off your order of at least $200. They offer competitive prices for bulk supplies. The website is user-friendly, and they have napkins in all sizes, colors, and materials.
What Napkins.com Does Best: Not only do they have all the napkins you need, but they also have the plates, flatware, and more to coordinate the look!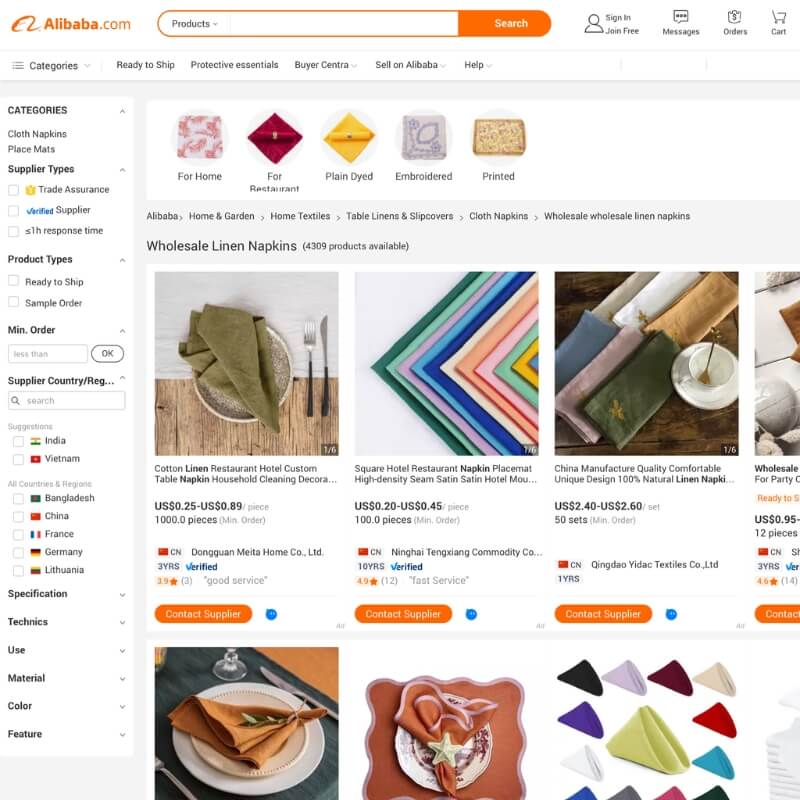 You know that Alibaba offers a little something for everyone. This includes brides trying to get everything they need for their wedding. They offer a variety of colors and prints, and styles that are casual or formal.
The wholesaler also provides everything you need for your big day - from flowers to wedding attire. Alibaba sells products around the world at great prices.
What Alibaba Does Best: Great value and convenience! Their prices are low, and you can shop online!
You do have to sign up to buy on Faire. But it's worth the minute it takes to do so. This online retailer has upscale options for napkins at wholesale prices.
They have so many vendors offering their wares that you're sure to find the napkins, other wedding decor, supplies, and wedding party gifts you need. Faire has brand name selections and helps guide you to the right sellers as you shop their website.
What Faire Does Best: You can narrow down your sellers to buy from those communities you wish to support.
Bottom Line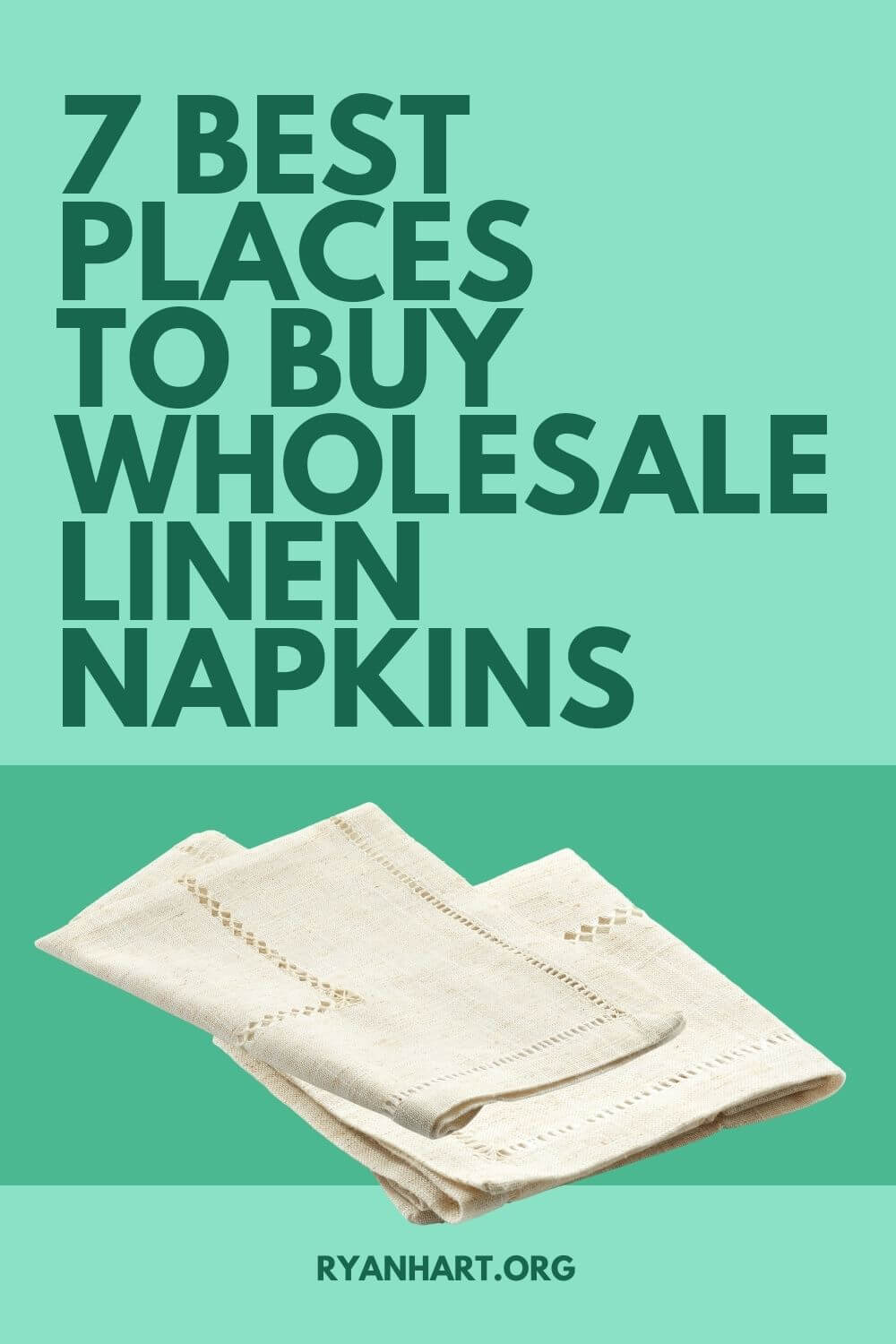 With so many details to consider when planning a wedding or special event, ordering bulk from an online wholesale supplier can be an easy way to check something off your list.
Linen napkins are one item that can be bought in large quantities with big savings. They come in a variety of colors to coordinate with wedding and event themes and decorations.
Also, by buying in bulk, you can be sure you will have enough napkins for the number of guests attending your special occasion.
Skip the hassle of going to multiple stores trying to find the perfect napkin and let an online wholesale supplier take care of you instead!