Your save-the-date cards are an important part of reminding your guests when and where your wedding is. They should be just as visually impressive and memorable as your wedding invitations.
So choosing the right company to print these cards for you is crucial. Since most busy brides-to-be are already pressed for time, placing your print order for your save-the-date cards online is usually best. Luckily, there are a few great options at your disposal.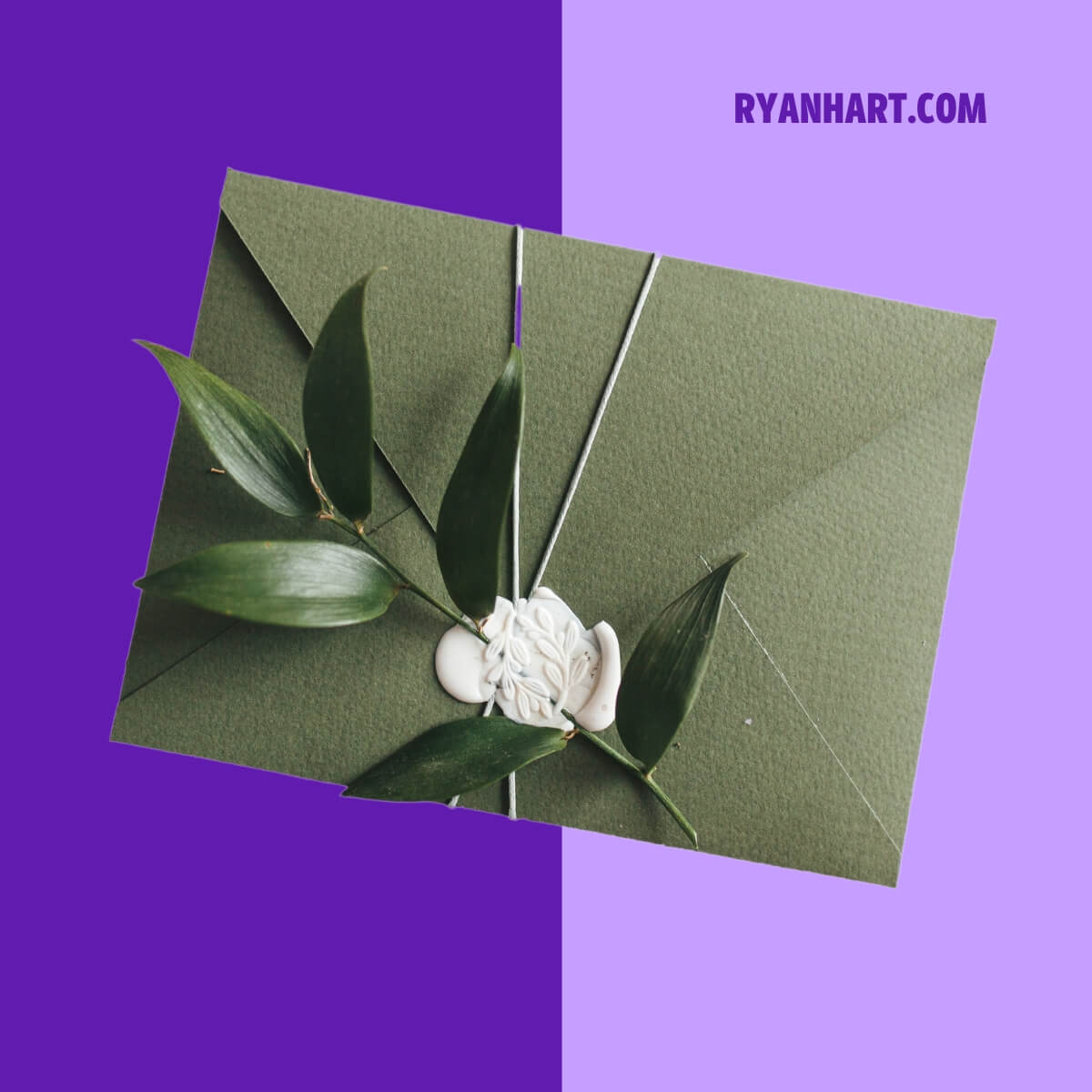 Where to print save the dates?
Choosing the right online printer is crucial if you hope to get the highest quality cards for your money. Here are the best companies that print save the dates.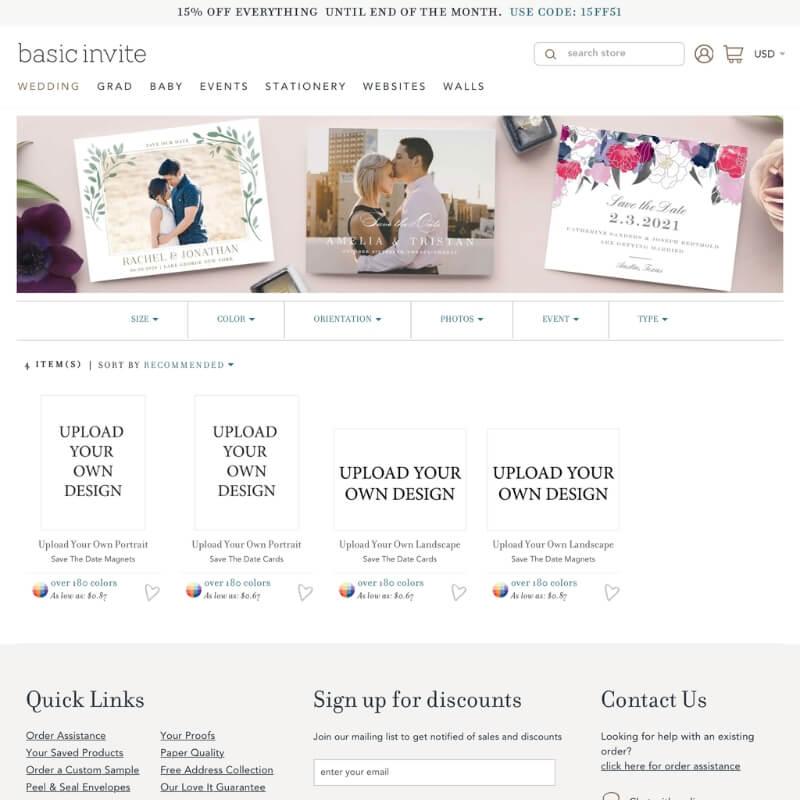 If you have your save-the-date cards already designed, it takes no time to submit them to Basic Invite. Not only can you print your cards in landscape or portrait mode, but you also have the option of having them printed as a magnet.
You can choose from more than 180 different colors for your cards. This can be a great souvenir to help your guests remember your wedding date; you may even want to keep one for yourself.
What we like best:
Signing up for the Basic Invite mailing list means that you'll have access to exclusive discounts and sale prices. It is worth it to keep using them for all your printing needs.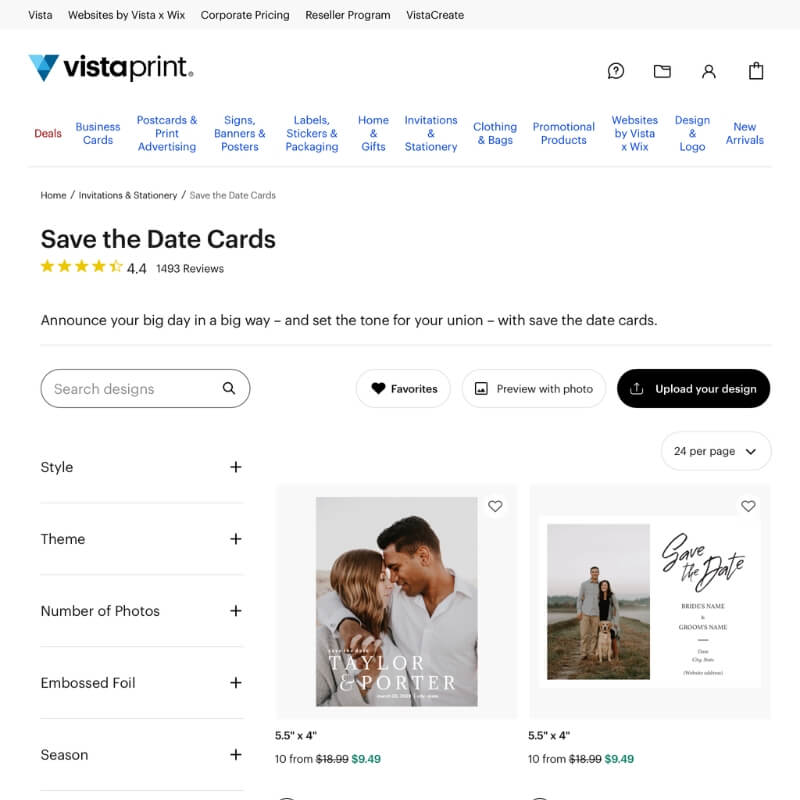 When you are picky about where to print save-the-date cards, look no further than Vistaprint. You'll have a great choice in background colors, fonts, and the size of your cards.
Regardless of your design size, VistaPrint has a card size that will accommodate it. Some of the cards can hold up to two pictures. It's possible to upload your photo or photos and see how they will look in any card design before you commit to purchasing.
You will have total control over the final design of your cards. And when ordering your cards, you can choose whether or not you want to purchase matching envelopes.
What we like best:
VistaPrint has so many designs that even if you can't figure out what you want, you'll have plenty of suggestions at your fingertips.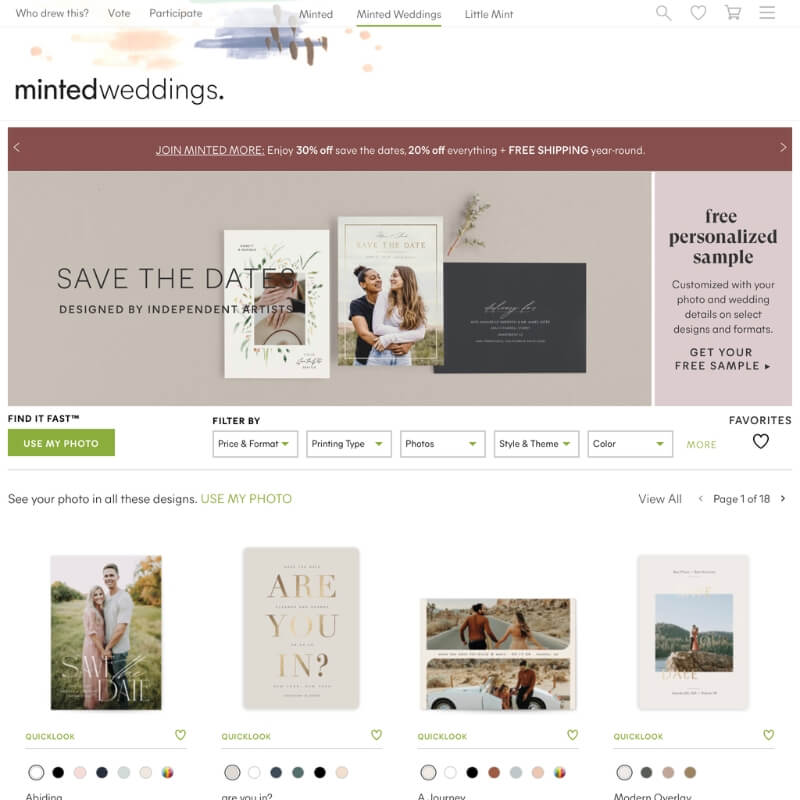 Minted is one of the best sources of unique save-the-date card designs.
There are many options available, and you can request a free sample of any particular card design before you decide whether or not you want to purchase it. Some even allow you to customize them to match your wedding colors exactly.
Many of them even give you the option of real foil or letterpress. Select designs can also be ordered as both matching invitations and a website where you can include all your wedding day details.
You can even get a QR code posted on the cards so that your guests can use their phones to access your wedding website.
What we like best:
When you order your save the date cards from Minted, they will print recipients' names and addresses on cards as long as you include a stamp for each card.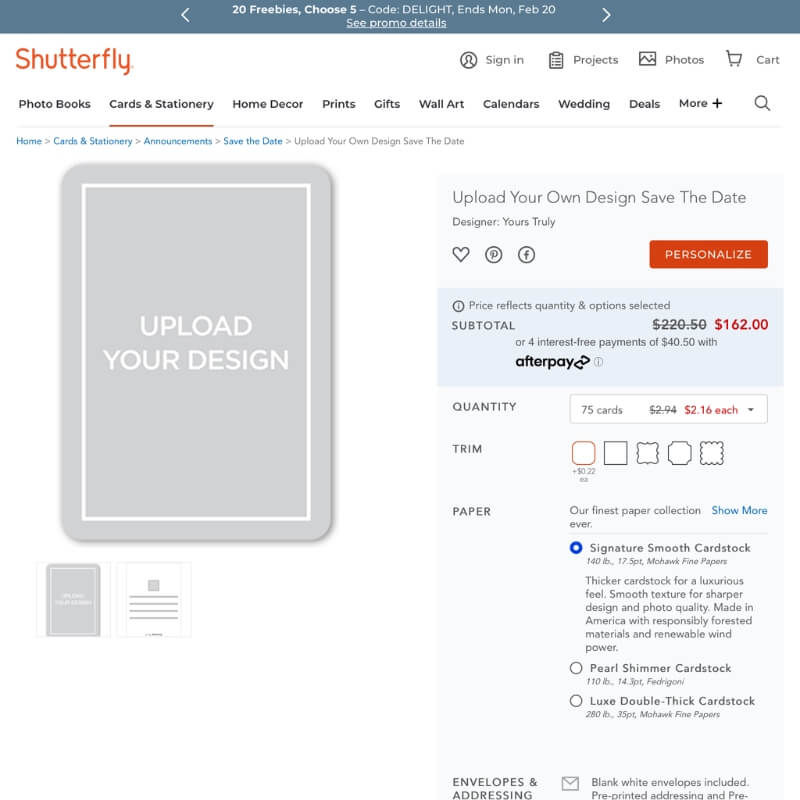 Shutterfly makes it easy to create the save the date cards of your dreams. It starts with uploading your design and includes choosing if you want it printed on smooth, pearl shimmer, or lux double-thick cardstock.
But you can also include as many as 13 photos in your save-the-date cards. And once you have the design finalized, let Shutterfly know whether you want to mail your own cards or let them take care of it for you.
If you choose, Shutterfly will address your envelopes, add the stamps and mail them for you.
What we like best:
You can have both the cards and the envelopes personalized to show off your official wedding color.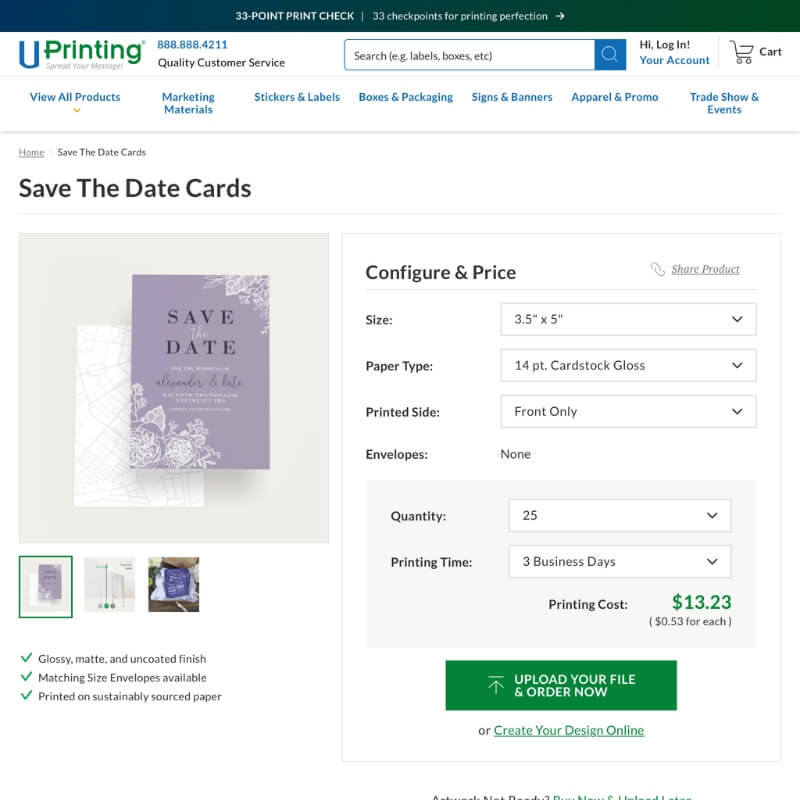 Not everyone has a large wedding. If your guest list is on the small side, you'll be happy to know that UPrinting will let you order as few as 25 save-the-date cards. When ordering your cards, you can choose among four different sizes, several paper types and font sizes, and even whether you want text only on the front or both the front and back.
After you order your cards, they take one to three business days to print. And if you want to see how it looks in advance, you can get a free proof.
What we like best:
If you want to lock in your save-the-date cards but haven't settled on a design yet, UPrinting lets you order your cards before you upload your design to the site.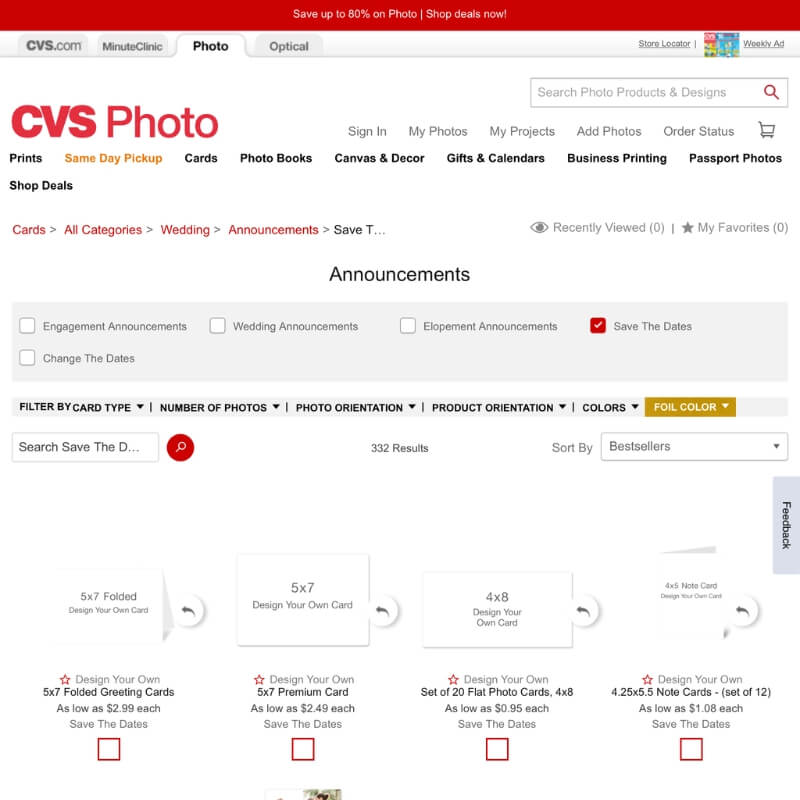 You don't have to use a fancy printing service to get great save-the-date cards. CVS Photo is an option many couples choose to take. You can browse designs on the website and even see what both the front and backs of the cards look like.
It's also possible to see what cards would look like with various background colors. They even have cards appropriate for weddings that had to be rescheduled.
What we like best:
When choosing your save-the-date cards, CVS Photo makes it easy to select the foil color you want. You can also see what this looks like before you place your order.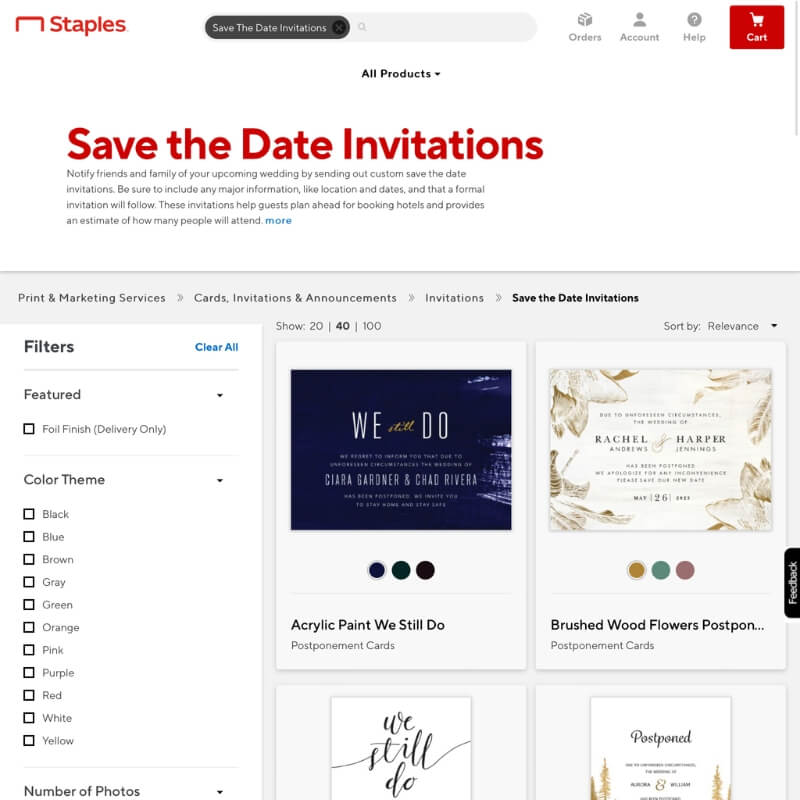 Staples lets you search for save-the-date cards based on your desired color theme. It also enables you to continue the design onto the back of your cards if you want to.
Customizing your cards is always a quick and easy process when you use Staples for your printing needs.
What we like best:
No matter what kind of wedding you are having, Staples has a save-the-date card for it, including destination weddings.
How much does it cost to print Save the Date cards?
The cost of printing save the date cards for a wedding varies depending on several factors, such as the number of cards you need, the quality of material, the design complexity, and the printing method.
On average, you can expect to pay between $1 to $3 per card for high-quality options like letterpress or foil stamping. Digital printing is a more affordable option, with prices ranging from around $.50 to $1.50 per card.
Some online printing services offer package deals that include design and printing for a set number of cards, which can save you money. It's best to request quotes from a few different printing services to compare prices and find the best deal for your needs.
Bottom Line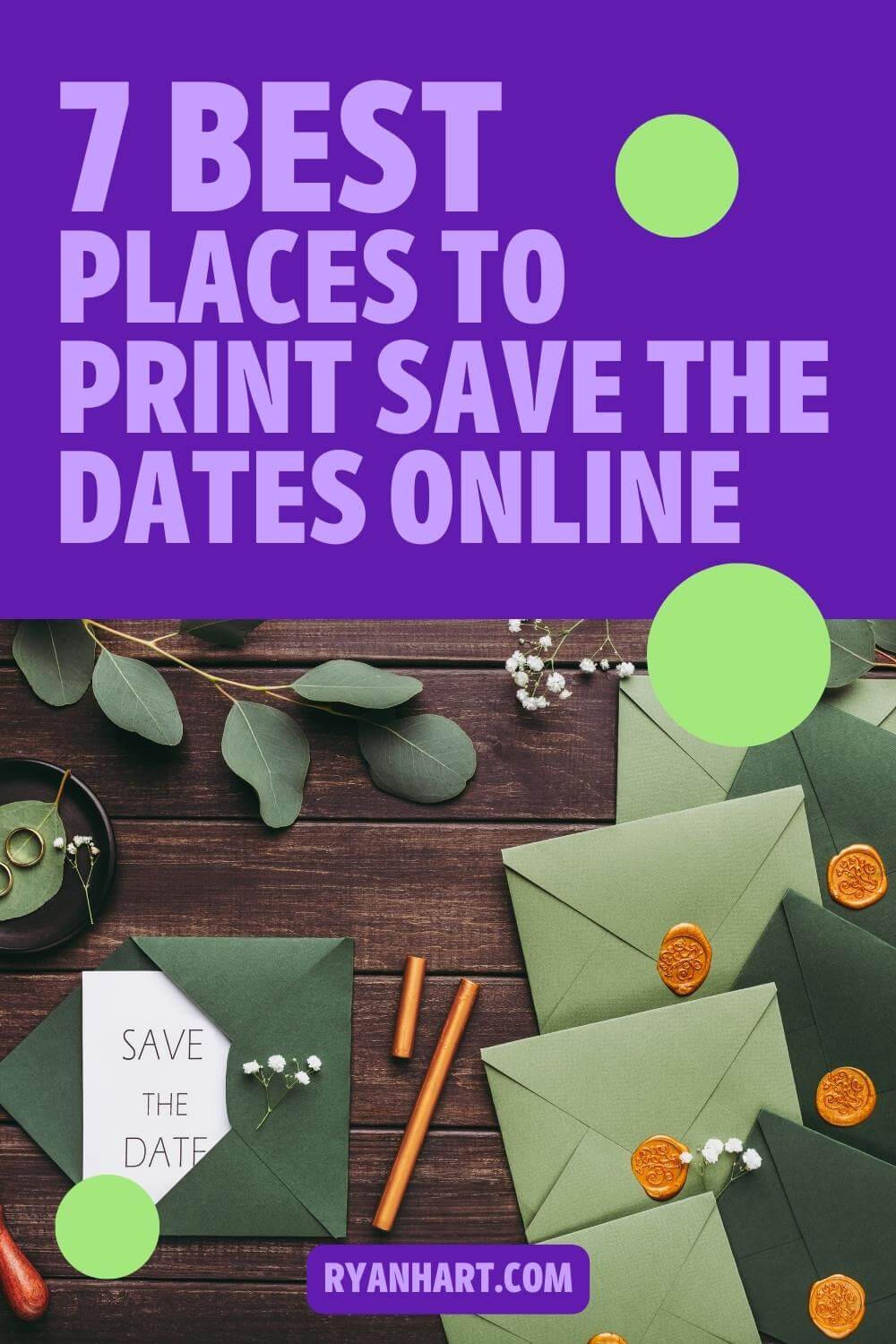 There are many options for printing save the date cards for a wedding. One popular option is to use an online printing service like Vistaprint, Shutterfly, or Minted.
These websites offer a wide range of design templates that you can customize with your own text, images, and colors. They also offer different paper options, printing methods, and pricing tiers to fit your budget.
Once you've designed your save the date cards, you can order them online and have them shipped to your doorstep.
Another option is to use a local or independent printing service that operates online. These printers may be able to offer more customization options or higher quality paper, but they may also be more expensive.
Some popular independent printing services include Zazzle, Basic Invite, and Paper Culture. When choosing a printing service, be sure to read reviews, compare prices, and check the delivery times to ensure that you get your cards on time for your wedding.
With a little research and effort, you can find the perfect printing service online to create and print your save the date cards for your wedding.