One of the most important parts of planning your wedding is making sure you order and send out wedding invitations on time. But choosing the right ones can be a time-consuming and stressful task.
With so many places to order them from, narrowing it down to one isn't always easy.
Yet, five online retailers make ordering your wedding invitations online a breeze. These retailers are all well-known for their affordable wedding stationary.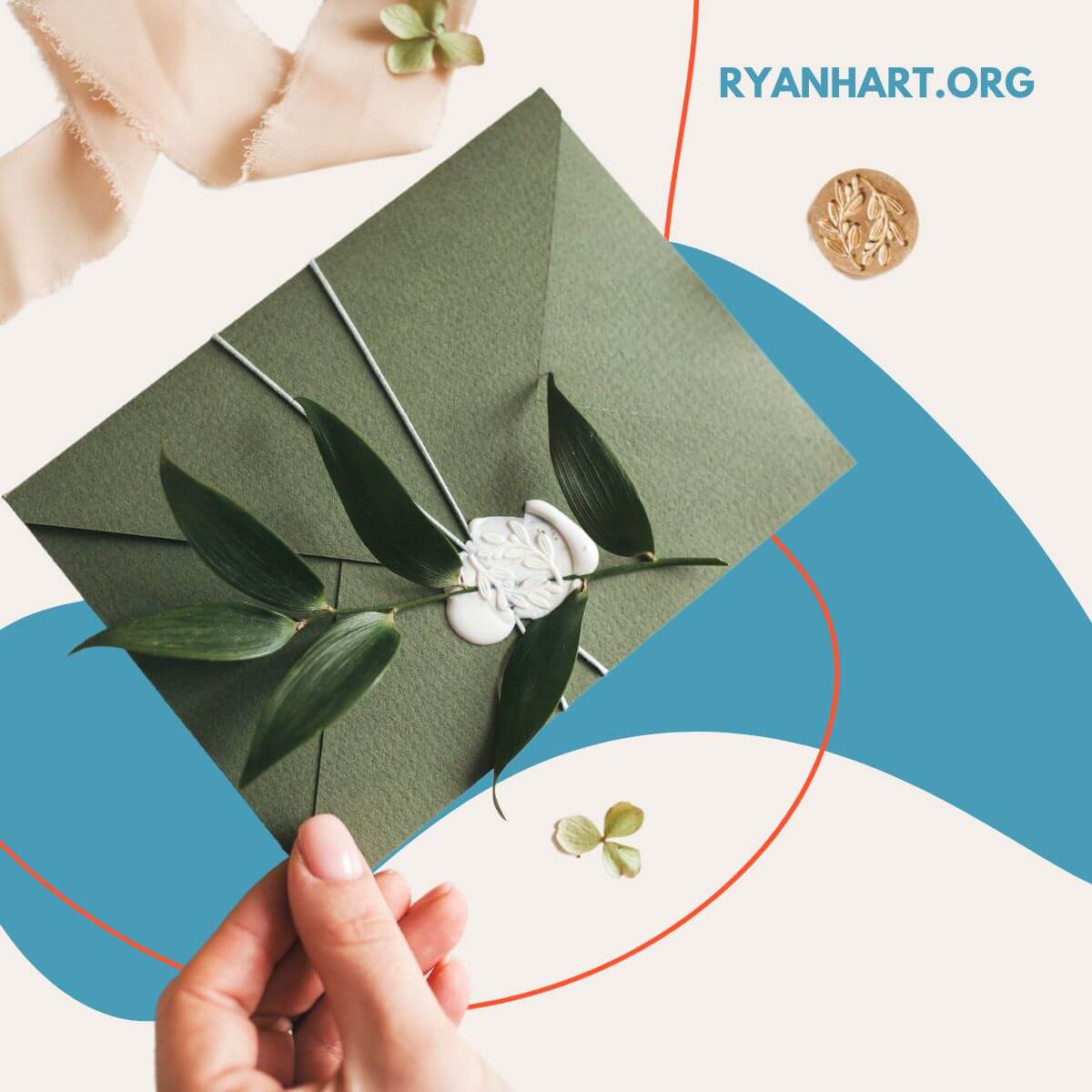 Where to Buy Wedding Invitations Online?
There are a lot of sites that sell both cheap invitations and custom wedding invitation suites. Regardless of which one you're looking for, these sites can help you find the perfect ones.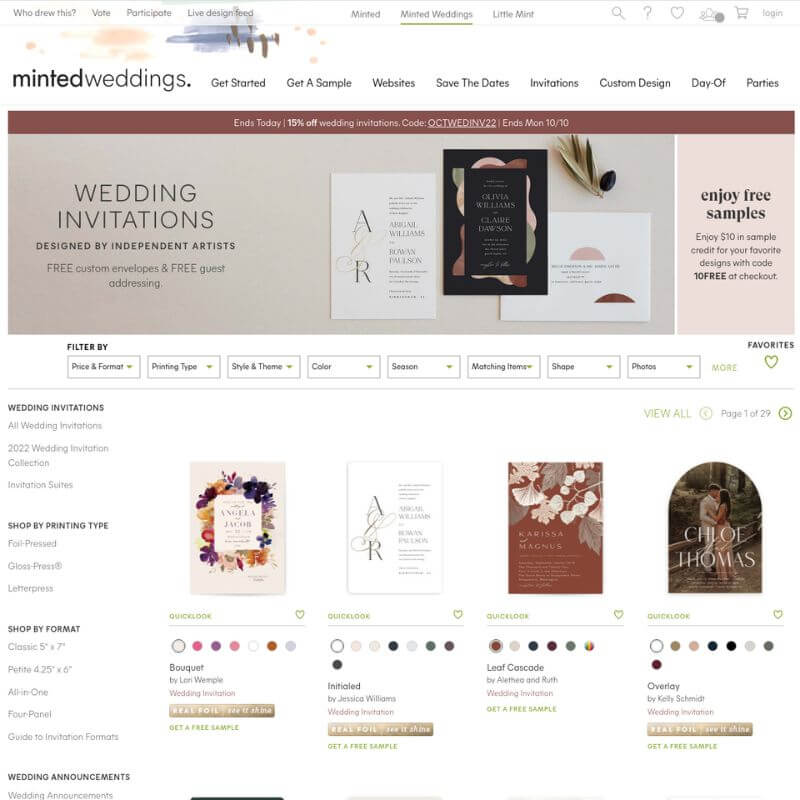 Minted Weddings is an excellent choice when you want to support independent designers and artists. All of their invitations are created by people who are passionate about the wedding industry and their chosen craft.
You can search for the perfect invitations using the site's wedding invitation suites. This makes searching for invitation designs based on a specific theme easy.
Highlights:
You can get a free wedding invitation sample kit to help you decide.
The live design feed gives you a glimpse into the invitations artists are creating. You can even vote for your favorite designs.
If you find a designer you like, it's easy to see all their recent wedding invitation creations.
Online, you can schedule a consultation with a concierge who will help you figure out how to design custom wedding invitations.
What Minted does best:
When it comes to wedding invitations, Minted is focused on what real couples want theirs to look like. By using independent designers, they show that individuality is the most important thing when creating wedding invitations for the big day.
Vistaprint gives you total control over creating your wedding invitations. They provide the basic design, and you fill in the specifics based on your preferences.
If you've already created a design, you can upload it to Vistaprint, and they will use it to make the invitations you want. Like Mint, Vistaprint offers wedding invitation suites that include RSVP cards and envelopes to go with them.
Highlights:
You can always get a digital proof of your wedding invitations for free before you commit to ordering them.
Vistaprint also offers matching thank you cards, programs, and menus.
The site's designers can help you fine-tune the style of your wedding invitations.
You can get advice about creating your own design using the Vistaprint blog.
What Vistaprint does best:
You never have to worry about getting stuck with invitations that didn't turn out right. Vistaprint will reprint them for free, credit your bank account or offer you a refund if you aren't happy with them.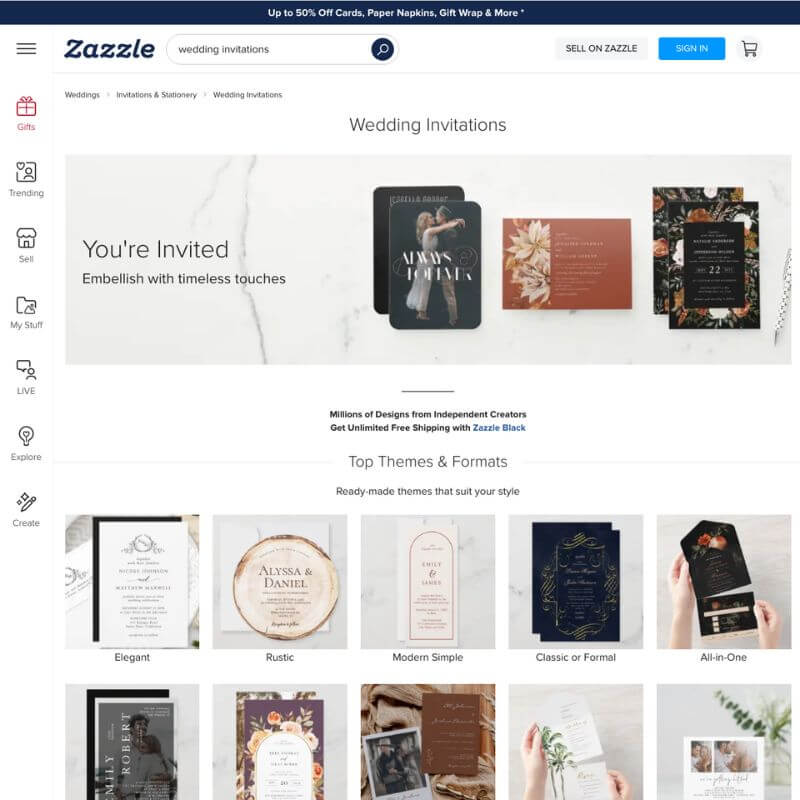 Creating wedding invitations with Zazzle couldn't possibly be more straightforward. If you're stuck and need advice, you can connect in real-time with a designer who will work with you to create exactly what you want. You and the designer can have an audio or text chat, with sessions lasting about 20 minutes.
Highlights:
No matter what style of wedding invitations you want, Zazzle has them.
The trending tab gives you a glimpse at the site's most popular designers.
If you need help getting started, Zazzle will provide you with ideas and advice from experienced designers.
The editors' picks help you choose the design you want for your wedding invitations.
What Zazzle does best:
The possibilities are endless when you create your wedding invitations on Zazzle. Collaborating with experienced designers and artists without having to leave home is a bonus no busy bride or groom should pass up.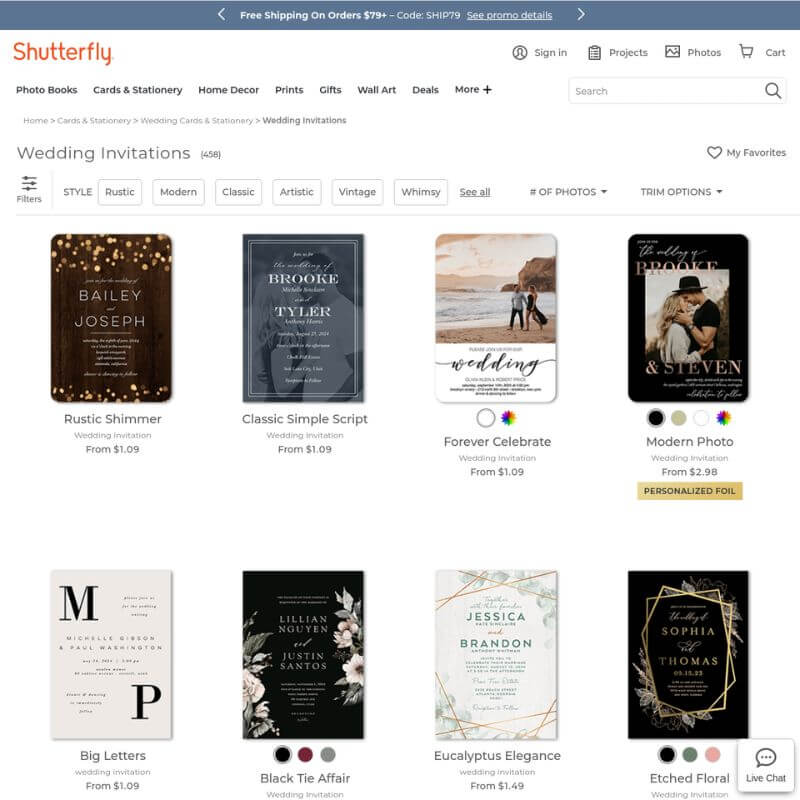 Shutterfly has a vast selection of wedding invitations to browse. And while you can get a free sample kit, you also have another option. They will let you pick as many as five invitation designs and personalize them for your wedding.
Then they will send you a sample of what each one looks like with your personalizations. If you like them, you can pick one and have all your wedding invitations printed out accordingly.
Highlights:
If you have a specific designer in mind, you can search only for the wedding invitations they created.
It's easy to find invitation designs inspired by the season you're getting married in.
You can create a custom color palette for your wedding invitations.
Before you order, you can view any invitation design with your images included.
What Shutterfly does best:
The wide selection of options at Shutterfly means that cheap invitations and custom wedding invitations are all high quality. So, whether you're on a tight budget or not, there is something to suit every couple.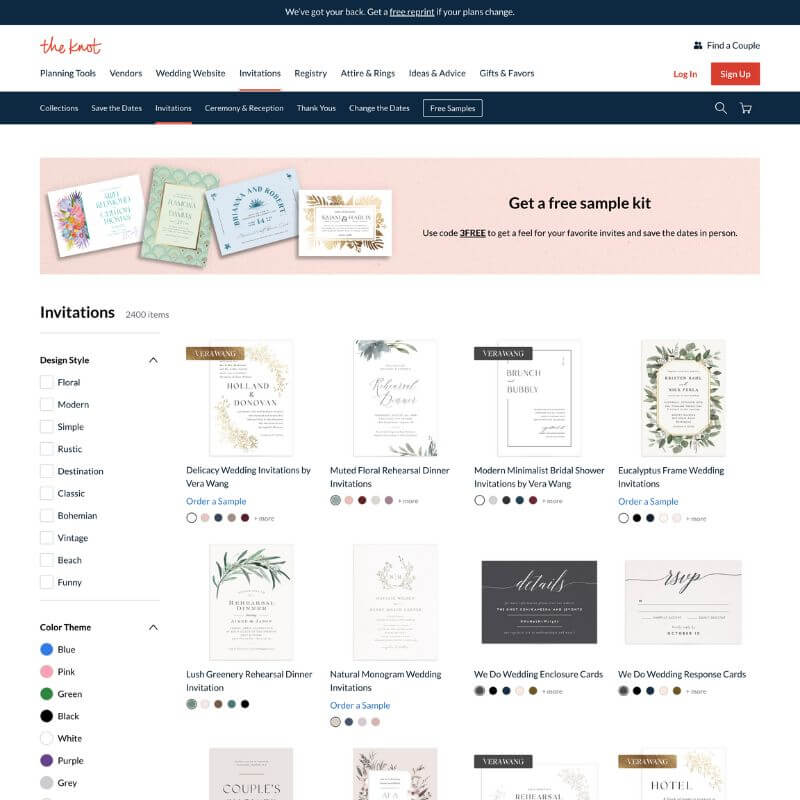 If any company was designed with wedding planning in mind, it was The Knot. Weddings are their sole focus, with the site run by industry experts.
And currently, if you're a fan of The Bachelor, you have the chance to use wedding invitations designed by Jojo & Jordan. You can get a whole wedding invitation suite designed by them.
Highlights:
The Knot makes it easy to create a wedding website and invitations that match each other.
You can order a sample of any wedding invitation you see on the site without an obligation to purchase. You don't pay until you find the one you want.
If your wedding date has to be postponed for any reason at all, The Knot will print out change the date cards for you.
You can see which wedding invitation design styles are trending at any given time if you need inspiration to choose the right one.
What The Knot does best:
Being such a powerhouse in the industry, The Knot gets exclusive wedding invitation collections from world-famous designers like Vera Wang. Her collection currently features 14 wedding invitation suites.
Why are wedding invites so expensive?
The average cost of wedding invitations is around $500, with some couples spending upwards of $2,000 on stationery.
So why are wedding invites so expensive? In addition to the cost of materials, many couples pay for a professional to design and print their invitations.
Custom designs can be costly, and the printing process can be complex and pricey. In addition, some couples opt for luxurious materials such as vellum, engraved paper, or foil-pressed cards, which further drives up the price tag.
Are DIY wedding invitations worth it?
When it comes to wedding invitations, many couples are tempted to DIY in order to save money. However, this can be time-consuming, and it is often not as cost-effective as it may initially seem.
First, you will need to purchase all the supplies necessary to create the invitations, which can add up quickly. In addition, the time investment required to design and assemble the invitations can be significant.
If you're not careful, you could easily spend more time and money on your DIY invitations than if you had simply ordered them from a professional. Therefore, weighing your options carefully before deciding whether or not to DIY your wedding invitations is important.
Is it cheaper to buy wedding invitations or make them?
Many couples find that they can get better value by ordering their invitations online rather than making them at home.
Several websites offer a wide range of beautiful and affordable wedding invitations. Plus, you can often find discounts and coupon codes that further reduce the cost.
Couples often underestimate how much time it requires to make the invitations. So, if you're short on time, it may be better to buy the invitations.
Also, consider the quality of the materials you will use to make the invitations. If you use higher quality materials, it will be more expensive to make the invitations than if you had bought them.
Finally, consider the level of difficulty in making the invitation. If you or your partner are not very good at crafts, buying the invitations and checking the item off your to-do list may be a better option.
When it comes to wedding invitations, there is no definitive answer as to whether it is cheaper to buy them or make them. So it depends on several factors, such as the style of invitation you want and the number of guests you invite.
How much does it cost to send out 150 wedding invitations?
You can expect to spend between $500 and $600 on 150 invitations. However, the cost of wedding stationery can vary depending on many factors, such as the size and style of the invitation, the type of paper used, and whether you choose to include additional enclosures.
If you are looking for ways to save money on your wedding invites, consider opting for a simple design, using recycled paper, or eliminating enclosures.
Also, start the design process early so you have time to shop around for the best deals online.
Finally, don't forget about postage! At the time of publication, the cost of 150 stamps adds up to $94.50. And if you decide to include a postage-paid envelope in your invitation for an RSVP card, you'll need to double your postage budget.
What is the best online invitation site?
Minted is one of the best websites to order invitations and stationery for a wedding. They have a wide selection of beautiful designs, and you can customize your invitation suite to match your unique style.
Minted also offers a variety of paper types and printing options to create the perfect invitation for your big day. Whether you're planning a wedding, a birthday party, or any other event, Minted is an excellent option for creating affordable invitations.
How long before you get married should you send out wedding invitations?
If you're planning a traditional wedding, it's generally accepted that you should send out your invitations 6-8 weeks before the big day. This gives your guests plenty of time to clear their schedules and make any necessary travel arrangements.
If you're having a destination wedding or your guest list is particularly large, you may want to give them even more notice by sending out your invitations 8-10 weeks in advance.
Of course, there are always exceptions to the rule. For example, if you're planning a last-minute wedding or working with a tight budget, you may not have the luxury of sending out invitations so far in advance. In these cases, giving your guests as much notice as possible is still important.
Bottom Line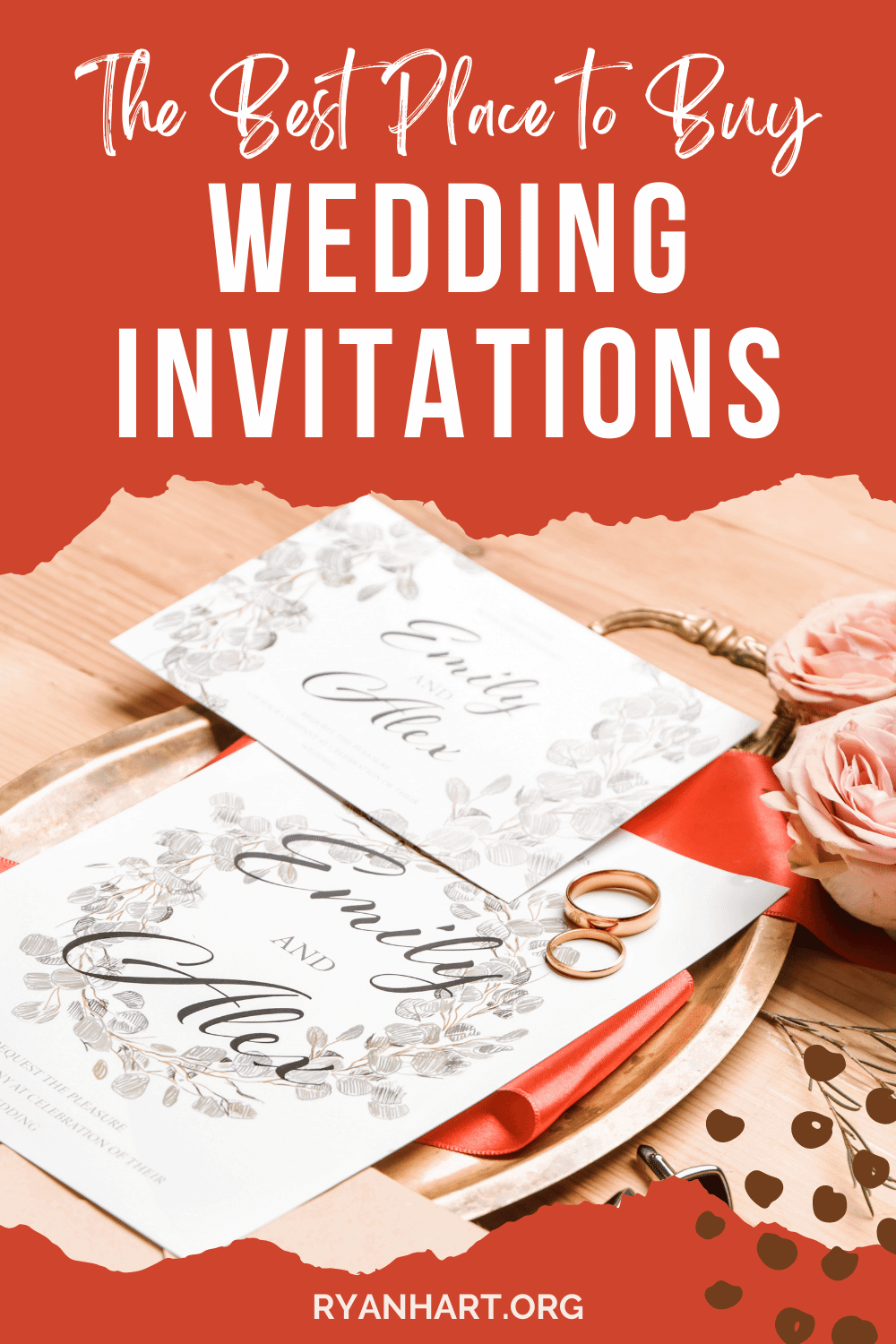 Like any other important life decision, you should plan your wedding with great precision and care. This includes the invitations that you send out to your guests.
Many couples choose to DIY their invitations to save money, but this is often a decision they soon regret. Not only does it take significant time and effort to design and assemble handmade invitations, but there is also a greater chance for mistakes, misspellings, and other errors.
When you order wedding invitations online, you can choose from a wide range of designs that fit your style and budget. Plus, most online vendors offer high-quality printing at an affordable price.
And if you're worried about making a mistake, most online invitation companies have proofreading and customer service teams that can help you make sure your invitations are perfect.
So, buying online is the way to go if you're looking for the easiest and most stress-free way to order wedding invitations.