When you're planning a destination wedding it is important to find the perfect resort that is both beautiful and affordable for your guests. But it's hard to narrow down the right spot when there are so many options to choose from.
We've assembled a list of the best destination wedding resorts we think you'll love.
These locations offer something a little different, are family-friendly and are experts at pulling off the perfect event. Read on to check out our favorite locations for a destination wedding.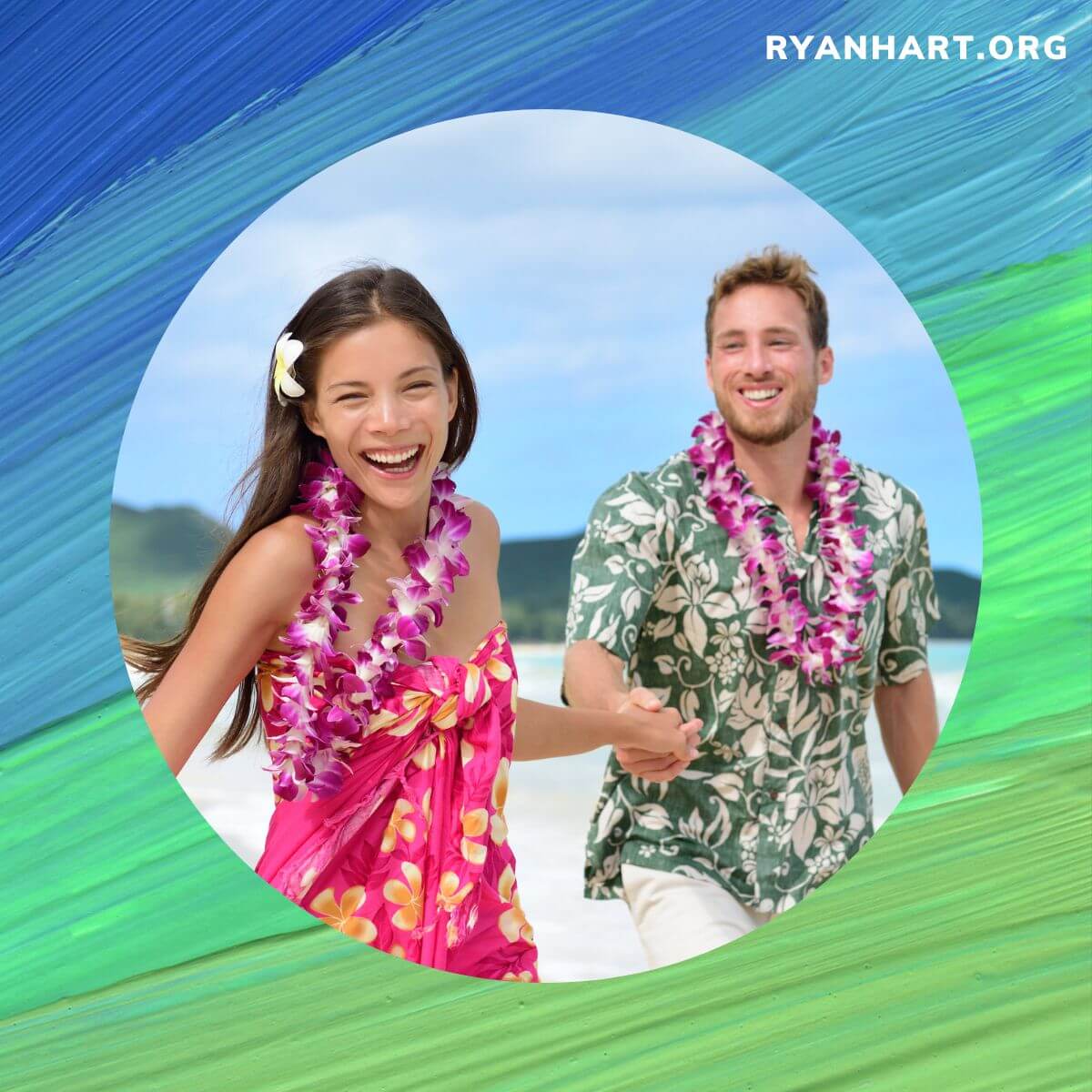 What are the Best Resorts for a Destination Wedding?
Special occasions should only be held in special places; these locales all fit the bill. Here are the five best wedding destination resorts to exchange your vows.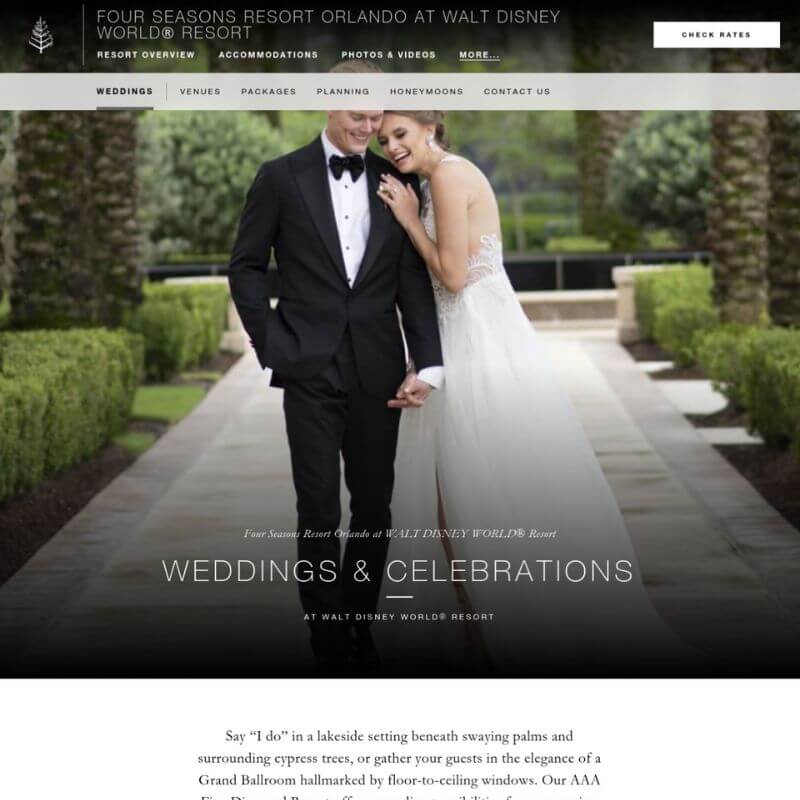 The Four Seasons Resort at Walt Disney World in Orlando has everyone in your party covered.
The AAA Five Diamond Award recipient has several locations for your beautiful event; whether in the Grand Ballroom or the smaller Palm Ballroom, they can accommodate any size wedding. If you want to take the event outside, they can also offer this no matter the time of year.
Highlights:
Diverse locations are available onsite, inside, or outside
Near the Walt Disney World Resort so guests can extend their vacation beyond your wedding
You and your guests can stay on site and enjoy the spa, lazy river, and delicious cuisine
Wedding parties get a ceremony area and dressing room
What Four Seasons Resort at Walt Disney World Does Best:
Personal service, luxury, and amenities for everyone! You can take a virtual resort tour to plan your wedding and look at the resort's beauty and all of the activities and amenities available.
Check Prices at Four Seasons Resort Walt Disney World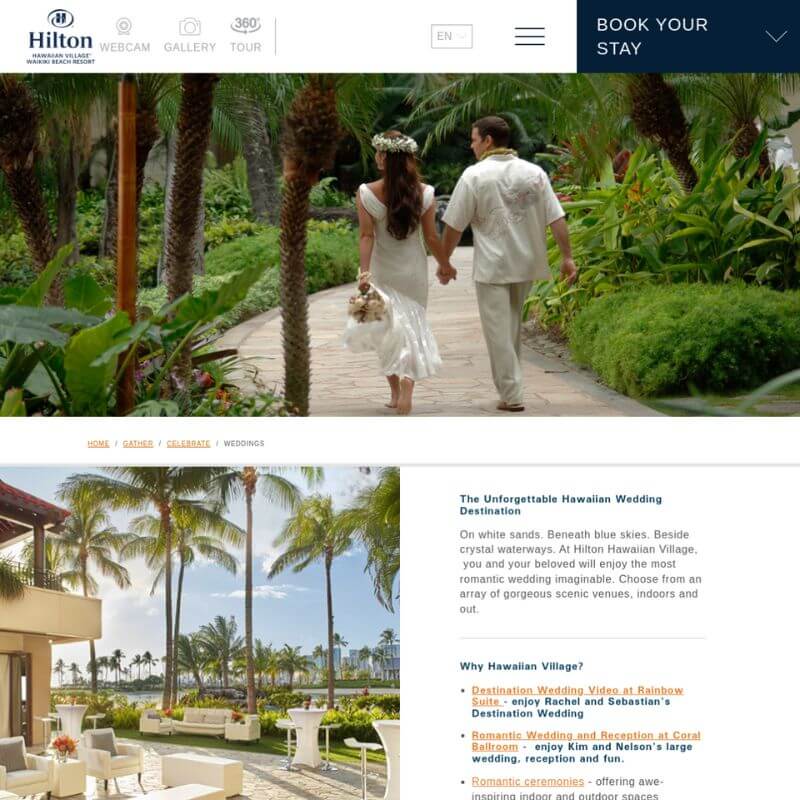 Are you looking for white sand, royal blue skies, and the sound of waves crashing to serve as your wedding background? Find all of that in Hawaii.
Nestled on the beautiful island of Oahu in Honolulu, Hawaii's largest city, is the Hilton Hawaiian Village Waikiki Beach Resort.
The unique village-style resort is on twenty-two acres of oceanfront paradise and has five pools, exotic gardens, ponds, waterfalls, luxury spas, and daily activities. You can plan a romantic ceremony, elegant reception, and stay for an unforgettable honeymoon.
Highlights:
Catering professionals create your custom menu including champagne, hors d'oeuvres, desserts, and seasonal local ingredients.
Guests receive a special room rate when you reserve a block of at least ten guest rooms.
The resort offers The Ali'I, a private sanctuary overlooking Waikiki Beach with access to the elevated pool terrace, private pool, mix bar, fitness center, and library.
For the finest cuisine on the island, enjoy the resorts Bali Oceanfront, the longest-running AAA four diamond-rated restaurant in Hawaii.
What the Hilton Hawaiian Village Waikiki Beach Resort Honolulu Does Best:
Luxury and a Unique Setting! The unique village-style resort is nothing short of stunning and features five pools, including a five-acre saltwater lagoon and twenty restaurants.
Check Prices at Hilton Hawaiian Village
The all-inclusive Hard Rock Hotel Punta Cana has everything you need for your perfect destination wedding. Beautiful beaches, elegant ballrooms, and rooms that accommodate up to 3900 all await.
You and your guests relax and enjoy the gaming action, nightlife, and cuisine. The resort takes care of all the details.
Highlights:
You get a dedicated wedding specialist for your event held in one of several stunning wedding locations.
They'll create a signature cocktail for your big day
Four wedding packages are available
Limitless championship golf, water sports, and unlimited calls to the continental US and Canada
Nine award-winning all-inclusive restaurants
The biggest casino in the Caribbean
What Hard Rock Punta Cana Does Best:
Variety and rewards! Your guests enjoy discounts and upgrades; you get a free anniversary stay and room upgrade. The all-inclusive resort has all the treats the entire group would enjoy, thirteen pools, four pool bars, three pools for kids, a music program, and more.
Check Prices at The Hard Rock Punta Cana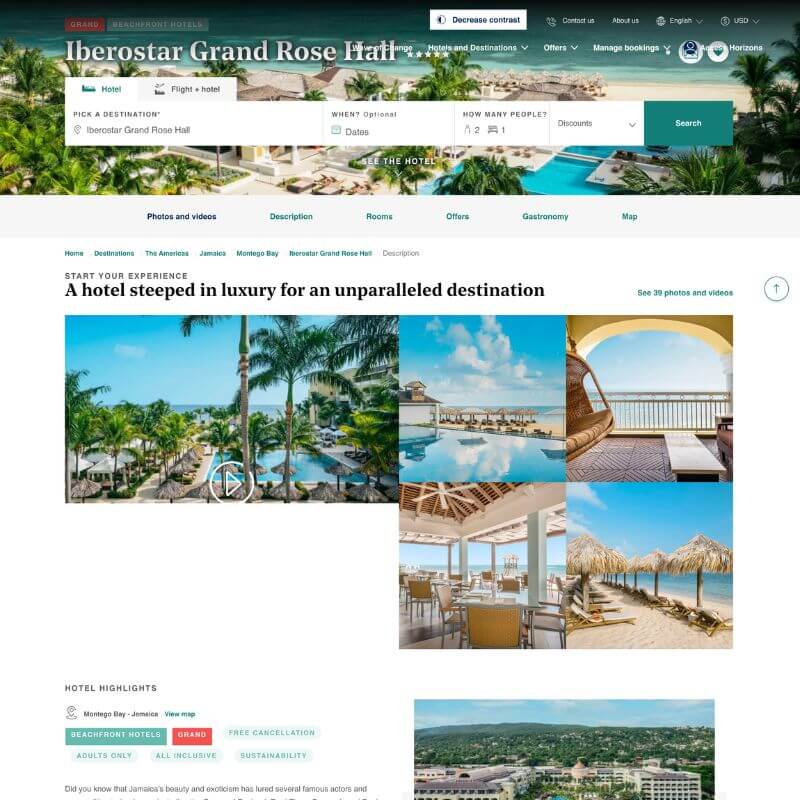 Iberostar Grand Rose Hall in Montego Bay, Jamaica, sits on one of the most beautiful beaches in the Caribbean. You can't go wrong with international and local cuisine created by gourmet chefs and exceptional banquet service. The packages are custom, and weddings are executed with sustainability and responsibility.
Highlights:
Montego Bay offers the city and nightlife and the serenity of the ocean
All-inclusive adult options or family-friendly locations are both available
Custom wedding and honeymoon packages
International cuisine
Activities for the entire wedding party and guests
Onsite wedding specialist, minister, and even witnesses
What Iberostar Grand Rose Hall Montego Bay Does Best:
A preplanned week for you and your guests for your destination wedding! They take care of all the details, starting with the warm welcome, a day of fun excursions, golf, relaxation, your big day, and your honeymoon can happen at the culmination of your week.
Check Prices at Iberostar Grand Rose Hall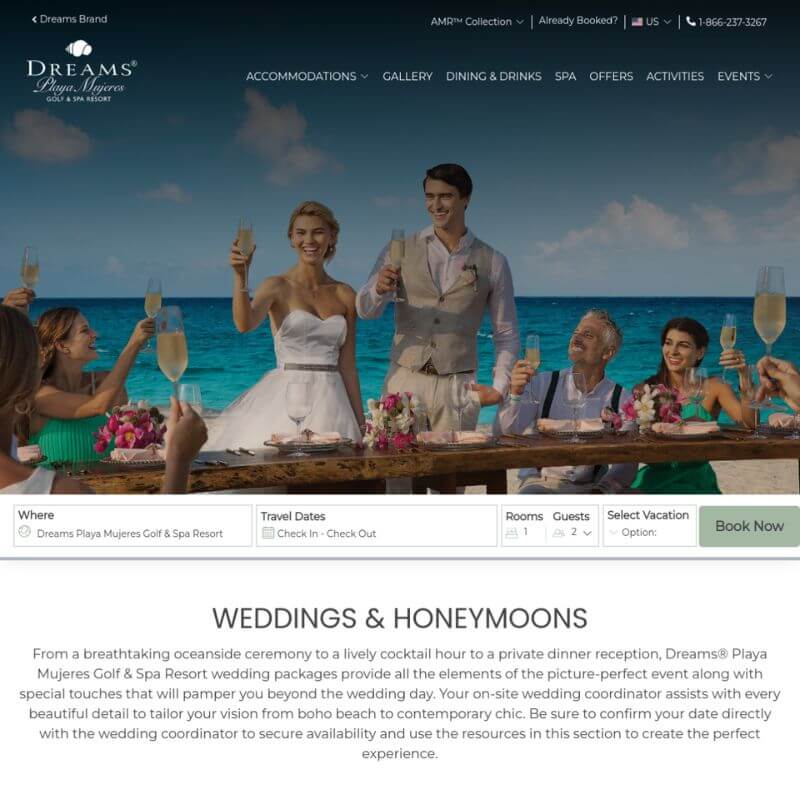 Dreams Playa Mujeres Cancun is a AAA four-diamond resort on a secluded beach in a gated community. The resort offers pools, a water park, and the Playa Mujeres Golf Course. Onsite wedding coordinators help you customize your event, and they arrange everything. Enjoy the white sand beaches of the Yucatan Peninsula.
Highlights:
The resort offers unique wedding packages
The website shares a guide with all the information you need and a checklist to plan your destination wedding.
A gift registry is available to ensure your guests can shower you with love on your big day.
Your dedicated onsite wedding coordinator customizes your package, takes care of all the details, and guides you through the process.
What Dreams Playa Mujeres Does Best:
Tranquility and luxury! The resort sits on a private beach ten miles from Cancun. The secluded location offers luxurious spaces to hold your wedding away from the crowds.
Check Prices at Dreams Playa Mujeres
Which location is best for a destination wedding?
With so many fantastic destination wedding locations, deciding where to have your big day can be difficult. Here are a few factors to consider when choosing a destination wedding resort:
Atmosphere: Do you picture a fairytale castle in the middle of a forest or a stunning beachfront resort? Once you have an idea of the setting you want, you can start to narrow down your options.
Budget: While destination weddings can often be just as expensive as traditional weddings, there are plenty of ways to save money. For example, many resorts offer special rates for wedding groups.
Season: Climate and weather conditions can vary dramatically from season to season, depending on the location. For example, a summer wedding in the tropics may be very hot and humid, while a winter wedding in the snow-capped mountains would be pretty cold.
Guests: Make sure the place is easy to get to and has plenty of activities nearby for your guests to enjoy. Also, consider if the country you are visiting requires passports, vaccinations, or visas for extended stays.
Cost of travel: Some seasons are more popular for destination weddings, so airfares and accommodation rates can be higher during these times. If you are on a tight budget, it may be worth considering a less popular time of year.
Availability: Keep in mind that local events and holidays can impact availability and prices. If you have your heart set on a particular date or location, booking well in advance is best to avoid disappointments.
What is the #1 wedding destination in the world?
One of the most popular wedding destinations in the world is Hawaii. The islands offer a variety of stunning locations for both the ceremony and the reception, from sandy beaches to lush rainforests.
And with year-round warm weather, it's no wonder that so many couples choose to tie the knot in Hawaii.
Whether you're looking for a traditional Hawaiian ceremony complete with a lei exchange and hula dancers, or a more modern affair with a breathtaking ocean backdrop, Hawaii has something to offer everyone.
What is the average cost of an all-inclusive destination wedding?
The average cost of an all-inclusive destination wedding is between $3,000 and $12,000, not including airfare. This price includes the cost of the venue, food and drink, decorations, and photography.
However, it is essential to remember that the average cost of an all-inclusive destination wedding can vary widely depending on the location, time of year, and the number of guests.
For example, a small intimate wedding in the Caribbean will likely cost less than a large wedding in Europe. Therefore, it is essential to do your research and speak with a travel agent before making any final decisions.
For couples on a tight budget, there are some ways to save money on an all-inclusive destination wedding. For example, many resorts offer special packages for weddings, and it is often possible to find discounts by booking well in advance.
Are destination weddings worth it?
A destination wedding offers many benefits over a traditional ceremony, making it worth the extra effort and expense.
For starters, it can help to create a more intimate atmosphere. With only your closest friends and family in attendance, you can truly enjoy your special day without worrying about the pressures of hosting a large event.
Additionally, a destination wedding can be a great way to explore a new place with your loved ones. From finding the perfect venue to exchange vows to sampling local cuisine, you can create memories that will last a lifetime.
Ultimately, only you and your partner can decide if a destination wedding is worth it.
Bottom Line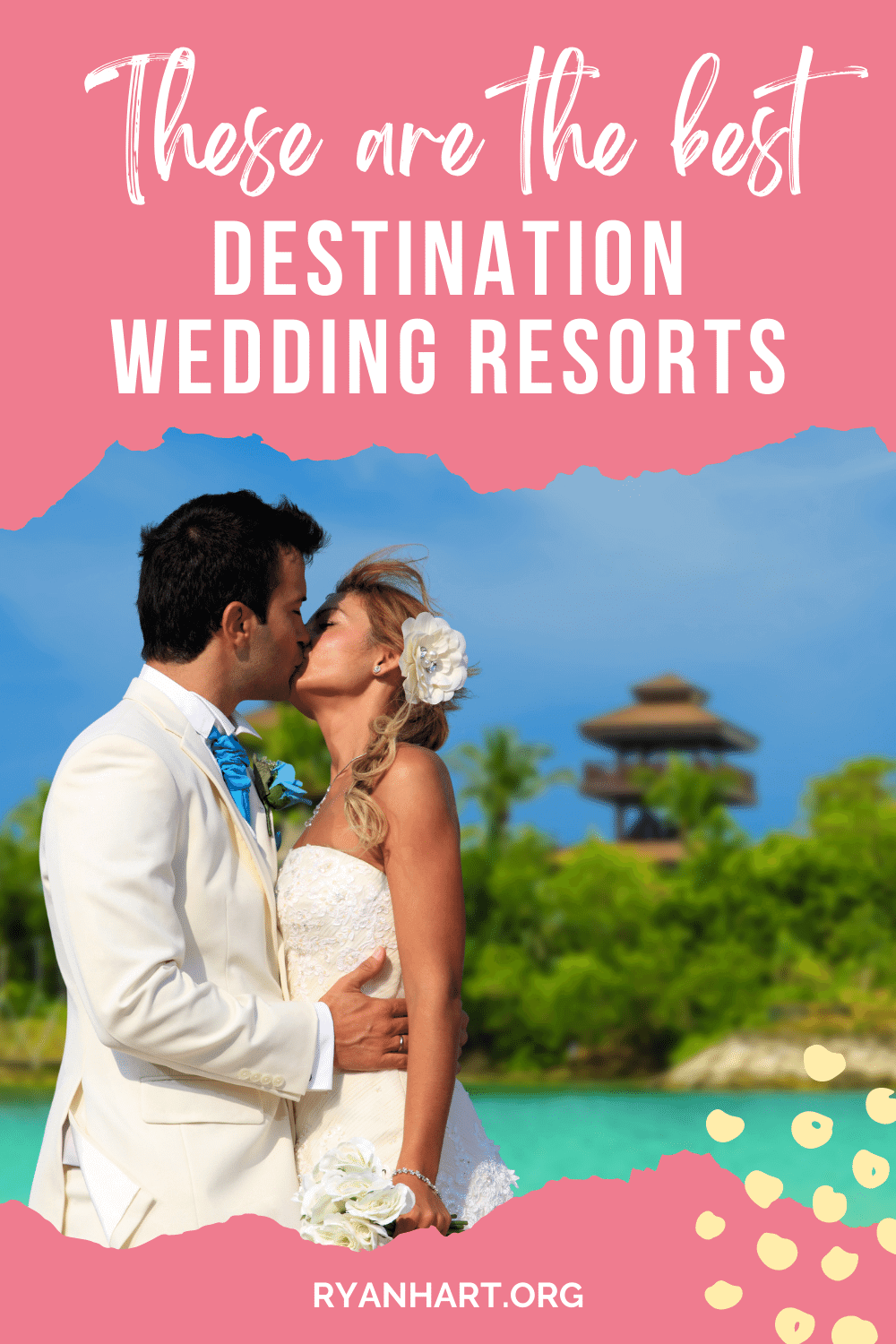 When it comes to destination weddings, luxury resorts offer a wealth of benefits. From stunning locations to expert planners and first-class amenities, one of our recommended resorts can help you create the wedding of your dreams.
One of the advantages of getting married at a resort is the level of service you'll receive. You and your guests will be treated like royalty when you arrive on-site. The staff will take care of all the details, so you can relax and enjoy your special day.
Another benefit is a luxury resort's array of services and amenities. Whether you're looking for a world-class spa or an on-site florist, you'll find it all at one of these resorts.
So if you want a truly unforgettable wedding experience, consider getting married at a resort on this list.