Getting married in Las Vegas isn't always a last-minute, spontaneous thing that intoxicated couples do!
Sometimes couples want to say their vows with Elvis as their officiant! Vegas has plenty of wedding chapels to help you do just that.
But which is the best place to get married by Elvis in Las Vegas? I'm glad you asked because I have compiled the top seven from which you can choose!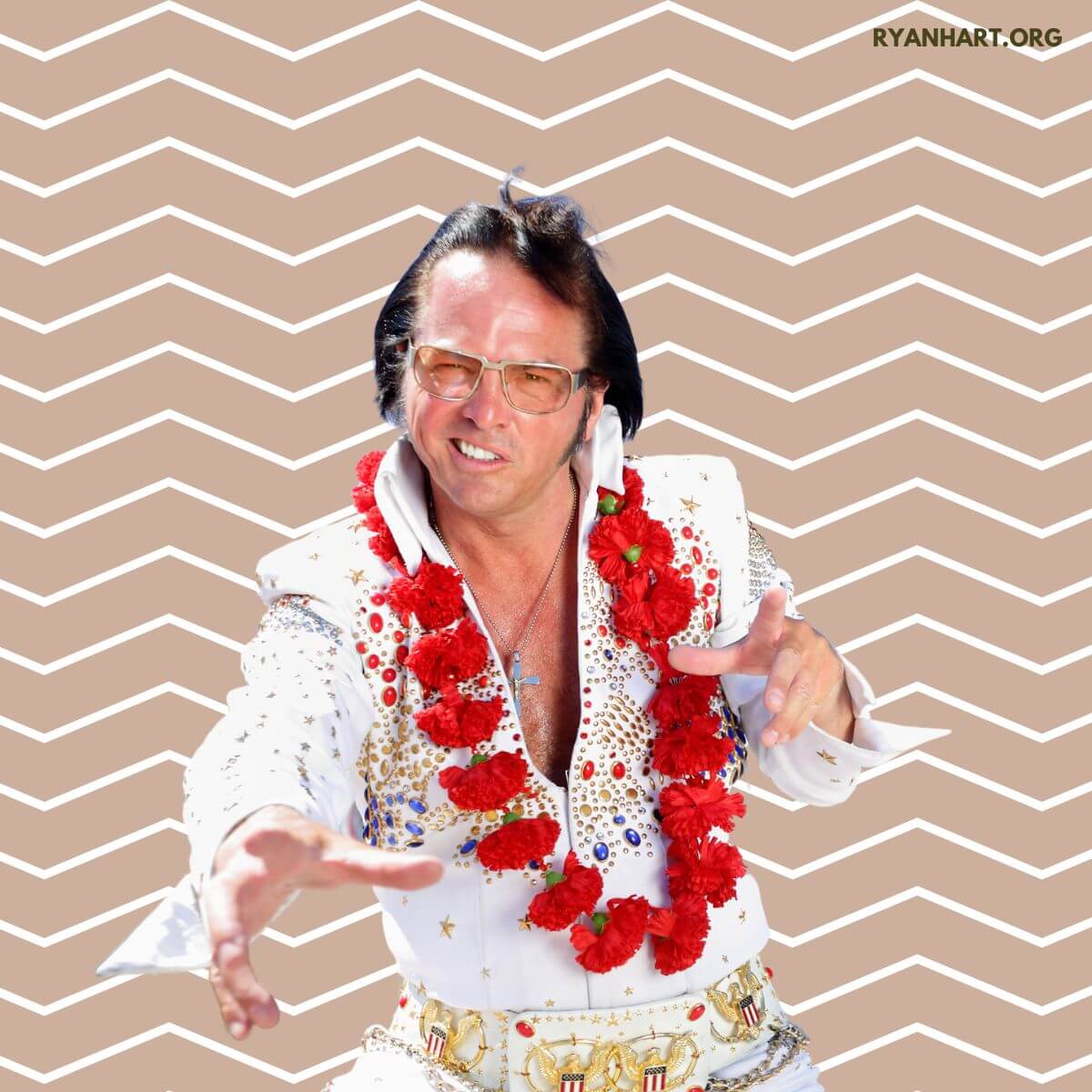 Where to Get Married by Elvis in Las Vegas?
Remember that when you're getting married in Vegas, you want to ensure the marriage is legal!
So, be sure you bring your government-issued ID, like a driver's license or passport, apply online within ninety days of the big day, and pay the license fee. You'll handle the legal portion with the Clark County Marriage License Bureau.
Now that we have that out of the way, let's get to the meat of this post. Here are the seven best places to get married by Elvis in Las Vegas.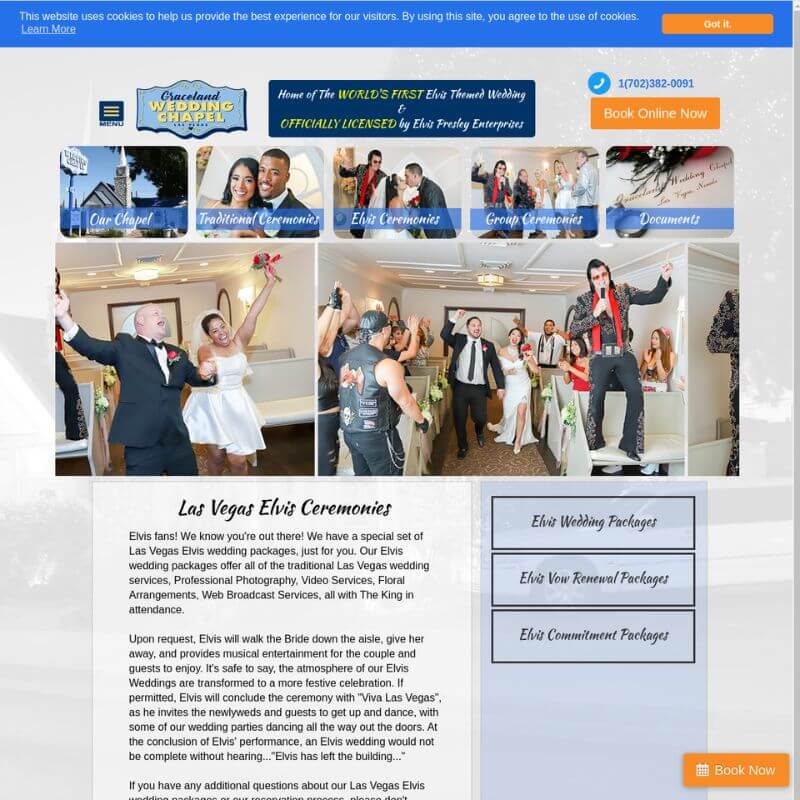 What better place to have Elvis marry you than the first chapel to offer Elvis-themed weddings? In the sixties, Elvis himself dropped in for a tour. The Graceland Wedding Chapel offers weddings and vow renewals.
Their wedding packages offer flowers, limo service, photos, and videos.
Your wedding experience will begin with Elvis accompanying the bride down the aisle and serenading the happy couple. If you have friends that would like to join you virtually, they can do so via Facebook.
What Graceland Wedding Chapel does best:
Pricing! Fees for less than $250 for an entire Elvis wedding. The least expensive package is the Viva Las Vegas package for $249.
You'll get the use of the chapel, an Elvis escort, two songs, a rose and boutonniere presentation, photography, and even a copy of Priscilla and the King's marriage certificate.
Check Prices at Graceland Chapel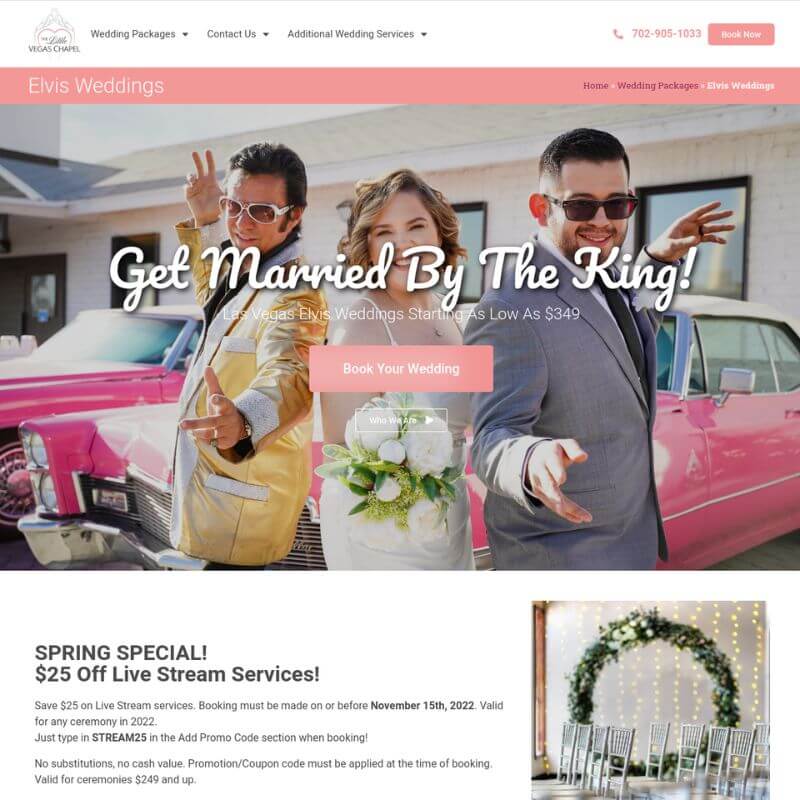 The Little Vegas Chapel is an all-inclusive venue in the heart of the Downtown Arts District. Choose from two chapels for your wedding or vow renewal.
Their coordinators can help you organize your wedding package and coordinate flowers, hair, makeup, catering, photography, and attire.
Elvis can get you married after walking the bride down the aisle and closing the ceremony with one of his famous hits. Their Elvis wedding packages start at $350 and include limo transportation and a marriage license holder keepsake.
What The Little Vegas Chapel Does Best: Unique Services! They actually offer a "fake wedding."
Check Prices at The Little Vegas Chapel
Want to get married to Elvis as Marilyn? Get married, renew your vows, or prank your friends and family members with a fake wedding at The Little Chapel of Hearts.
Close to the Clark County Marriage License Bureau, this little chapel employs actual Vegas show performers. They offer costumes for themed weddings.
Pricing starts at $149, and the package includes the use of the chapel, your Elvis minister, music, professional photography, witnesses, and an elegant silk bouquet. Your wedding will also include limo transportation.
What Little Chapel of Hearts Does Best:
Choices! Five packages are available, and the Little Chapel of Hearts will take your wedding to the Las Vegas sign for your vows!
Check Prices at The Little Chapel of Hearts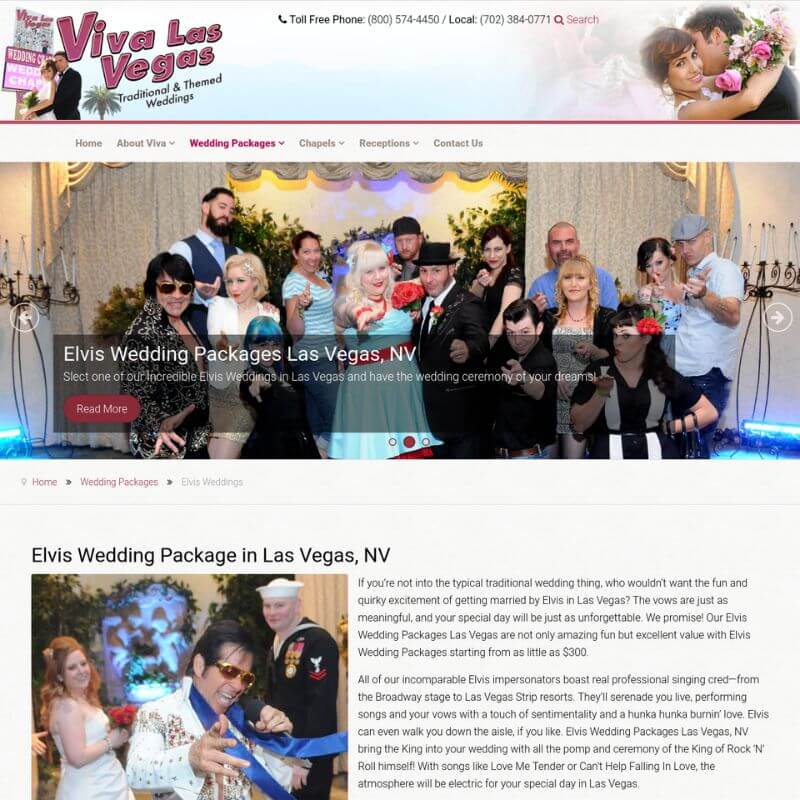 Viva Las Vegas Chapel offers themed weddings and has for over two decades. Their Blue Hawaii Las Vegas wedding has a tropical theme with palm trees and a hula girl. The Doo Wop Diner wedding package has Elvis situated by a retro jukebox and soda fountain. When you book with Viva Las Vegas, you get a free wedding website, digital invites, and an expert to help you plan.
Their wedding planners will help you with wedding attire, makeup, and putting your reception together. You'll also see your names in lights on their marquee right on the strip. Prices start at just $300.
What Viva Las Vegas Wedding Chapel Does Best:
Convenience! Their drive-up weddings can be done in minutes in a 1964 Cadillac!
Check Prices at Viva Las Vegas Chapel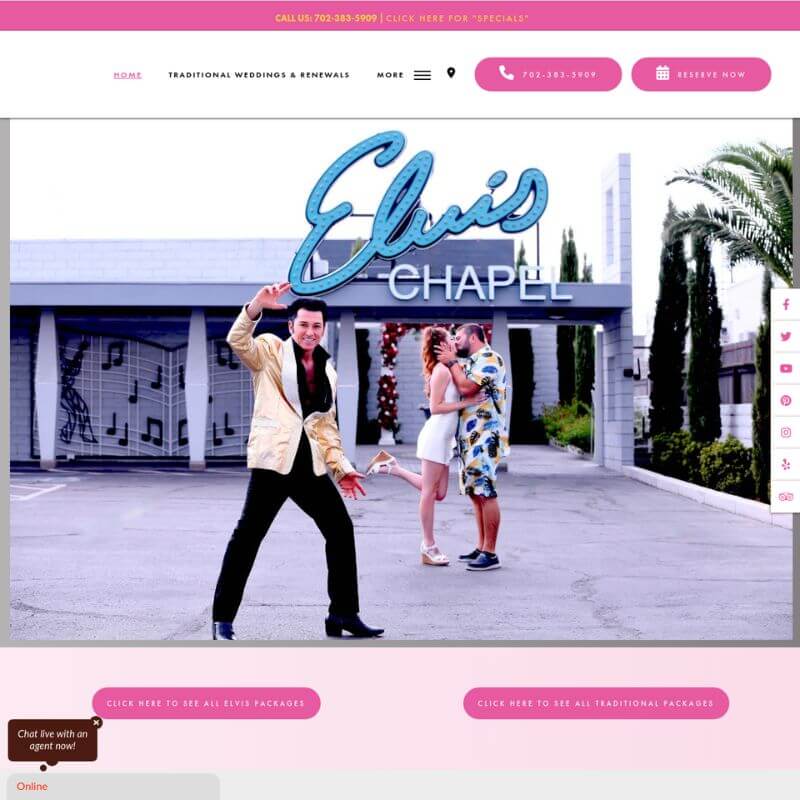 The Elvis Chapel puts the fun into weddings! With an in-house Elvis, photographs, and Elvis performing – you'll have a memorable event for your special day. The team at the Elvis Chapel will help you plan your wedding and help you prepare.
Your vows can happen in the chapel or outside, even by the Welcome to Las Vegas sign or over the Grand Canyon. Elvis packages start at just $200 and include two songs, digital photos, an Elvis escort, a bouquet, and a boutonniere.
What The Elvis Chapel Does Best:
Space! Their gorgeous and spacious chapel allows up to fifty guests to join the happy couple on their big day. There is even room to dance at your reception.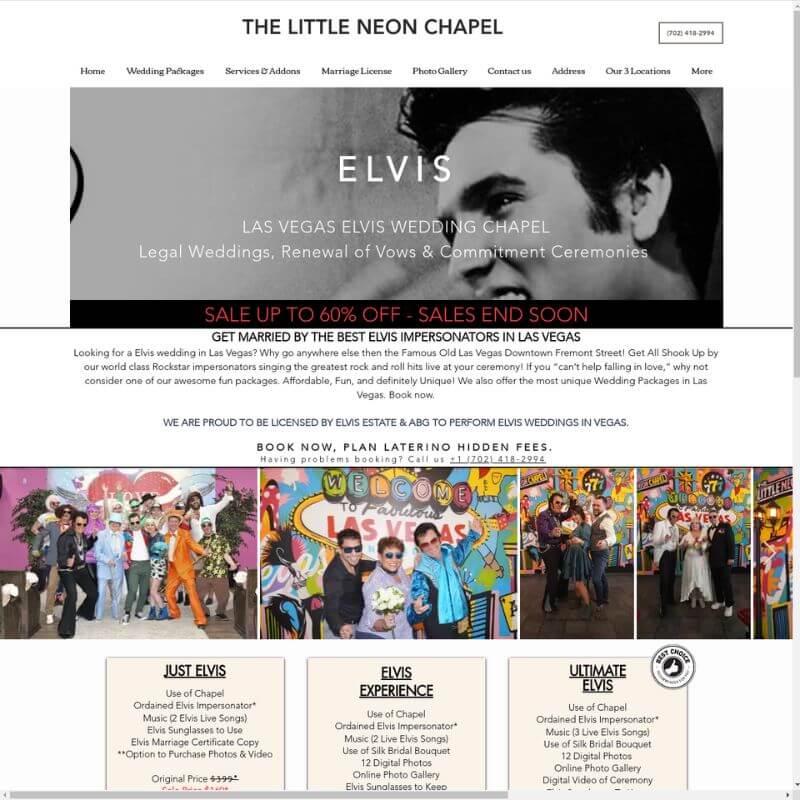 Keep it simple and cost-effective with a Little Neon Chapel ceremony on Fremont Street. And just because it's cheap – doesn't mean it won't be fabulous!
Get married at one of their three chapels, over the strip by helicopter, or at Red Rock Canyon!
Start with their Elvis packages that start at $130, and you can add on limo transfers, hair and makeup services, cakes, bouquets, and wedding attire.
What The Little Neon Chapel Does Best:
Customer service! Even with some of the Lowes prices in Vegas, they keep the services top-notch.
Check Prices at The Little Neon Chapel
In business since the fifties, A Little White Chapel is Vegas-famous and offers several settings and drive-through options. Packages start at just $100, and hair, makeup, gown, and tuxedo rentals can all be added if needed.
A Little White Wedding Chapel also offers the Pink Cadillac Ceremony in their Tunnel of Live. Or choose from one of their five indoor chapels or outdoor gazebo.
Hollywood big shots have said I do in their chapels. The chapel seats twenty guests, so you can have a few friends on hand to cheer you on!
What A Little White Wedding Chapel Does Best:
Originality! They offer the original drive-thru wedding start and have since 1991.
Check Prices at A Little White Chapel
Can I still get married by Elvis in Las Vegas?
Yes, you can still get married by Elvis in Las Vegas! While Elvis may have left this world over 45 years ago, his estate has worked out a private arrangement with several Las Vegas chapels to keep his legacy alive.
If you've always dreamed of getting married by the King of Rock' n' Roll, there's no need to wait any longer. Simply book a flight to Sin City and head to one of the participating chapels (with a marriage license in hand).
Whether you want a traditional ceremony or something a little more unconventional, you're sure to find a chapel that can accommodate your needs.
Where does Elvis marry you in Vegas?
For couples looking to get married in Vegas, there are many Elvis-themed chapels to choose from.
The Little White Chapel is perhaps the most famous, having been featured in a number of movies and TV shows. However, several other chapels offer Elvis-themed weddings, including the Viva Las Vegas Wedding Chapel and the Elvis Wedding Chapel.
Each chapel has its unique take on the Elvis wedding experience, so couples should take the time to research their options before making a decision.
What do you need to get married by Elvis in Vegas?
First, you'll need to find an Elvis impersonator licensed to perform weddings in Nevada. Once you've found an officiant, you'll need to obtain a marriage license from the county clerk's office.
The license fee is $60, and you'll need to present identification for yourself and your spouse-to-be.
After you've obtained your license, you'll be able to schedule your wedding ceremony at one of the many chapels that cater to Elvis fans. Most chapels offer various packages, including music, flowers, and photography.
How much does it cost to get married by Elvis?
The cost of getting married by Elvis will vary depending on the chapel and package you choose. However, you can expect to pay anywhere from $200 to $500 for this service.
Some chapels even offer special packages that include flowers, a limousine, and professional photos.
Are you legally married if you get married in Vegas?
It is a common misconception that getting married in Las Vegas is not a legally binding marriage, but this is not the case.
To be legally married in Nevada, you must obtain a marriage license from the county clerk and have the ceremony performed by a licensed officiant.
There are no residency requirements for getting married in Nevada, meaning anyone can come to Las Vegas and get married, regardless of where they live.
You can get married at any number of chapels or other wedding venues around the city. So, if you're considering tying the knot in Sin City, rest assured that your marriage will be just as legal as if you were married anywhere else in the United States.
What do you wear to an Elvis wedding in Las Vegas?
While some couples prefer to dress up as Elvis and Priscilla for their big day, this is not required. In general, it is best to avoid anything too revealing or flashy, as this may not be in keeping with the event's spirit.
Alternatively, any white dress will do if you're looking for something a little more subtle.
Whatever you choose to wear, make sure you are comfortable and able to have a good time; after all, that's what a wedding is all about!
Bottom Line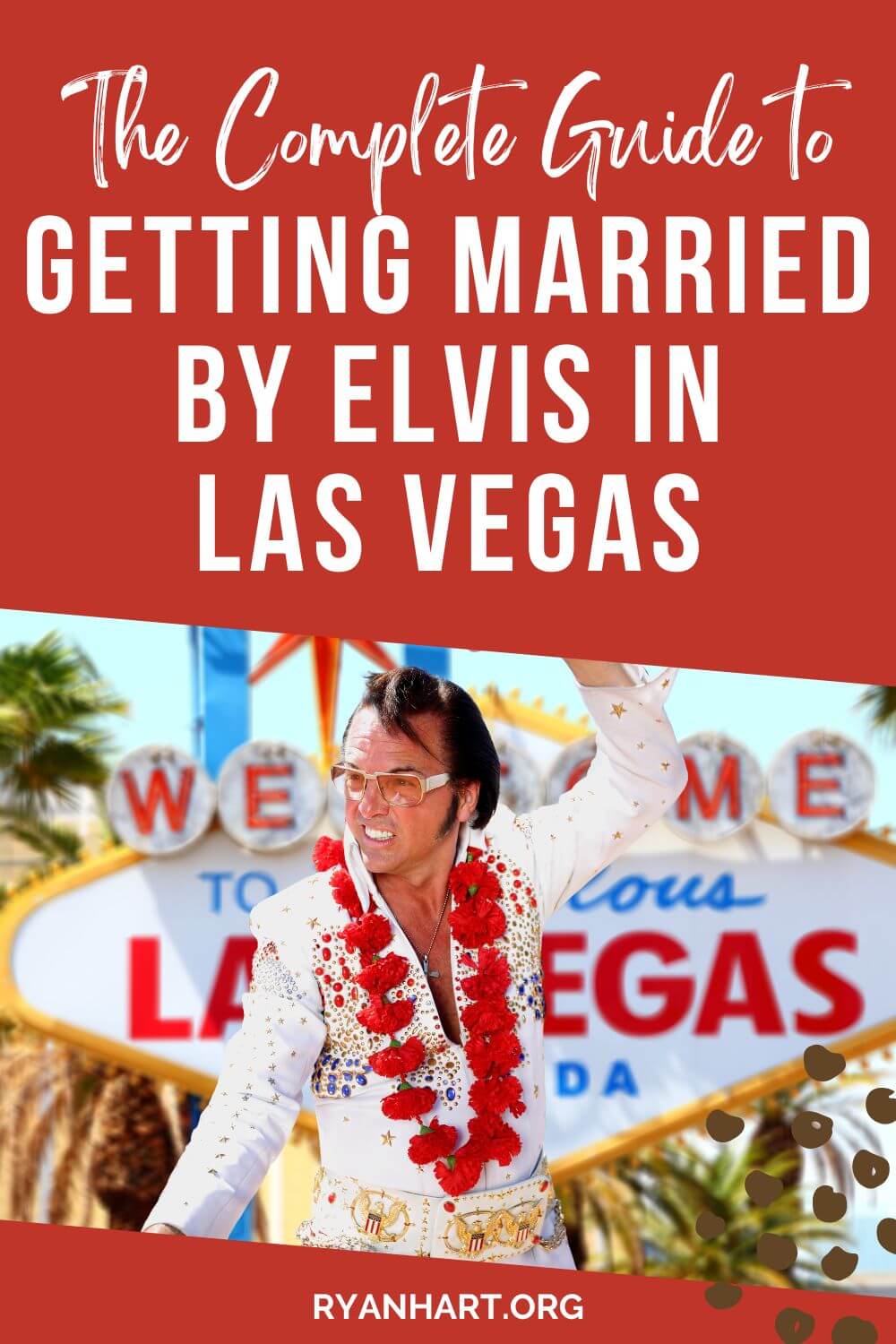 There are many reasons why couples choose to get married in Las Vegas. For starters, it's a unique and memorable experience.
Getting married by Elvis is a once-in-a-lifetime opportunity that you'll never forget. Plus, Las Vegas is a convenient destination for couples from all over the world.
And let's not forget the most important reason: it's fun! Getting married in Las Vegas is a great way to start your life together on a positive note.
So if you're considering tying the knot, consider getting hitched by Elvis in Las Vegas. You won't regret it!