Renting a tuxedo for your wedding or special event can be a big deal. It can also be a bit stressful when you want to find something that looks great and doesn't break the bank.
Plus with so many options available, as well as different wedding suit styles and cuts, it can be difficult to know where to begin your search.
Ready to discover the best place to rent a wedding tuxedo?
Let's dive in.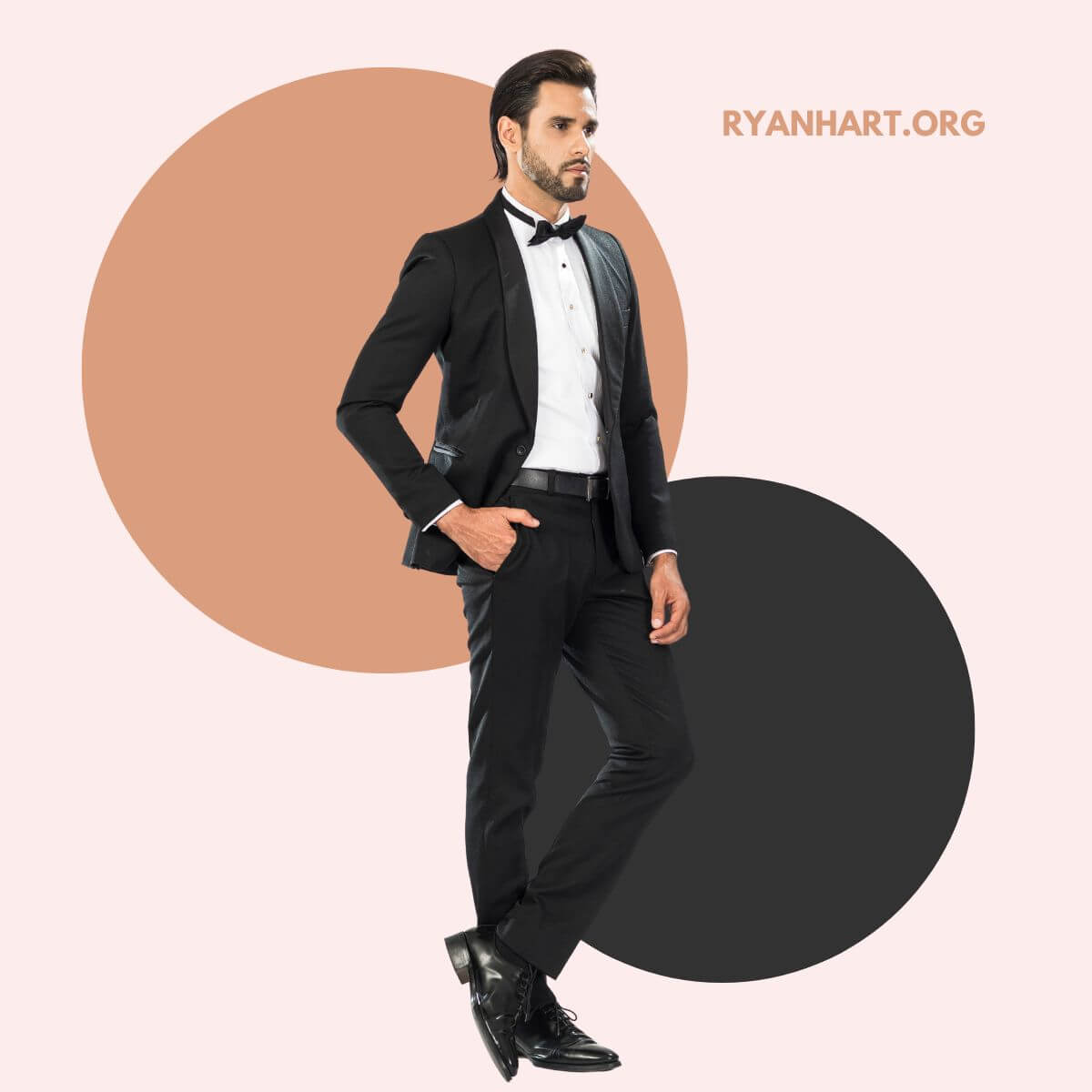 Where to Rent a Tuxedo
Here is a list of the best wedding tuxedo rental companies: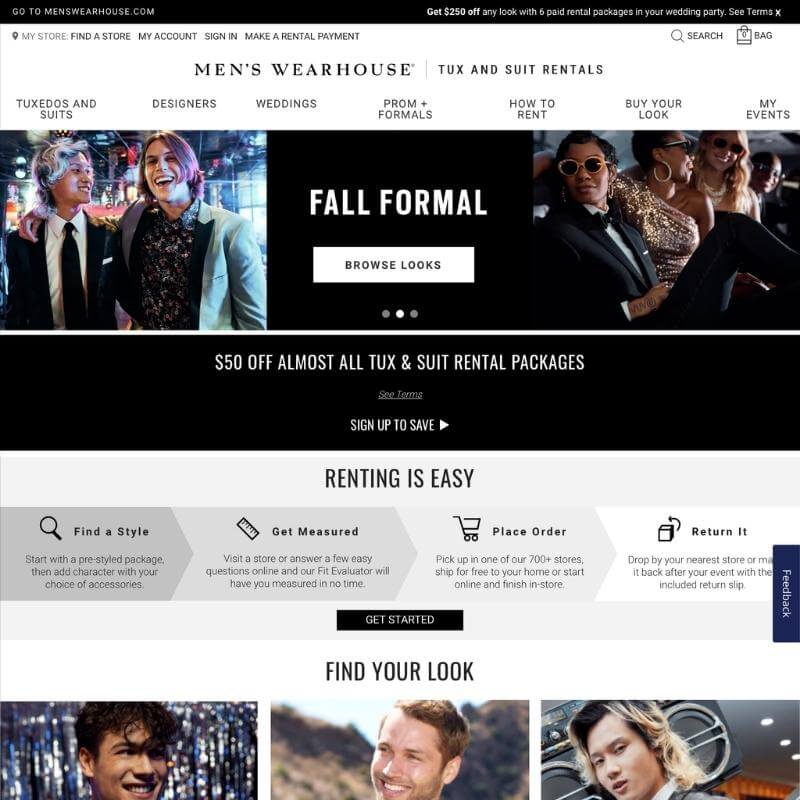 Men's Wearhouse is one of the top places to rent wedding suits and even prom tuxedos. As one of the most popular places to rent a tux, Men's Warehouse offers a straightforward way to order a suit, tuxedo, or dinner jacket.
With such an easy online renting experience, Men's Wearhouse makes looking great for your celebration a breeze.
Highlights:
Men's Wearhouse allows you to find the perfect suit by answering a few online questions. You can even mail back your tuxedo after your event.
There are dozens of styles, colors, and fits, including Vera Wang Black. Plus, you can ensure a good fit with the Fit Calculator and quality of work from their expert stylists.
They have groom wedding packages; you can save events to the Men's Warehouse dashboard, so your groomsmen can easily find their suits. Plus, the groom can earn a free rental or a $250 shopping spree when six tux rentals are paid for in the Groom's Package.
There are both designer and more budget-friendly options available.
You can look at different colored suits and several color options for ties and vests.
What Men's Wearhouse Does Best:
Men's Wearhouse has been in business for years, and its quality and service are well known. They have over 600 stores, making it easy to pick up and drop off your rental at a convenient location. Tuxedo rental at Men's Warehouse is a great way to ensure you look exactly how you want to on your big day.
Check Prices at Men's Wearhouse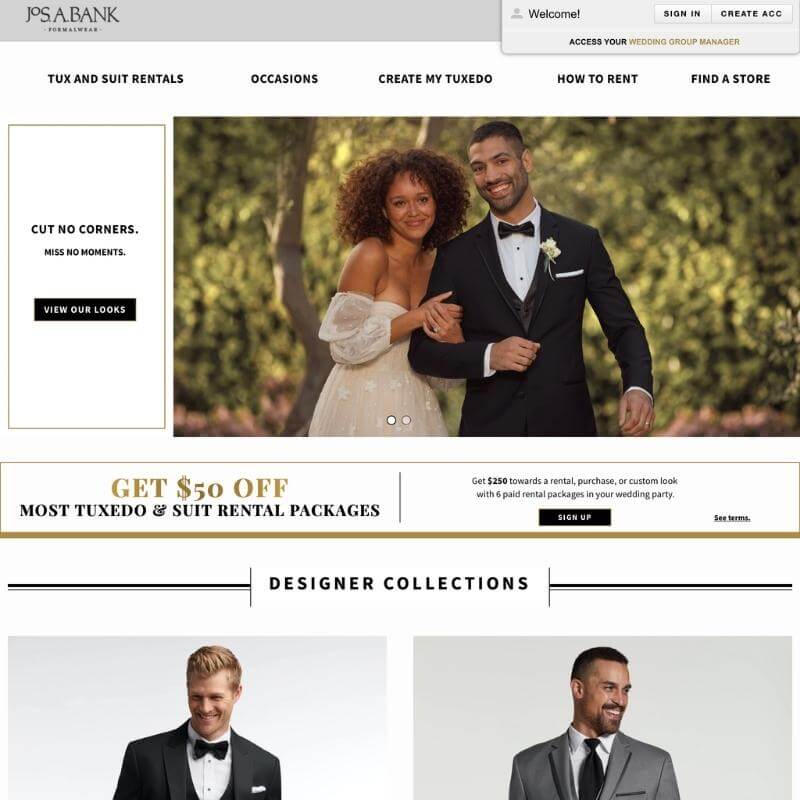 Jos. A. Bank offers wedding and formal suit rentals, as well as several options for custom looks and fits.
Like Men's Warehouse, you can provide measurements and order online. However, you'll need to physically return your garment to a store after your event.
Highlights:
The Create My Tuxedo option allows you to personalize each aspect of your suit to get the exact look you want.
Jos. A. Bank has several styles to choose from in addition to the mix-and-match style. They also offer Vera Wang.
They offer a Groom's Package to make shopping for the groomsmen suits easy.
Jos. A. Bank offers tux rental pickup at the store closest to you. It will be ready a few days before your special event.
This store also offers the groom rewards after six paid rentals.
What Jos. A. Bank Does Best:
Jos. A. Bank is comparable to Men's Warehouse and offers several of the same great features. If you're comfortable with picking up your tuxedo and getting measured in-store, this tux rental shop would be a good choice. They also have several big and tall size options.
Renting tuxes from The Black Tux is a very streamlined experience. The founders created the business because of the stress they went through trying to rent a tux for their own weddings.
Now, they offer simple online tux rental where you can customize your options and have plenty of time to ensure it fits.
Highlights:
Renting or buying a tux online with The Black Tux is very easy. The process is laid out in simple steps, and you'll have ten days before your event to ensure your suit fits.
The suit style options are nearly endless. You can choose from completed outfits or mix and match.
The Black Tux also offers accessories such as cufflinks, studs, and suspenders.
They provide a Fit Survey that allows you to input your size and shape to help you find the right fit when you don't know your measurements.
The Black Tux makes all its garments in-house. They focus on comfort, quality, and modern style.
What The Black Tux Does Best:
The Black Tux is an excellent place for tuxedo rental when looking for something easy and quick. You'll find unique suits that aren't available anywhere else, and they have a great fit assurance policy. The Black Tux is a solid choice for a wedding tux or a prom rental.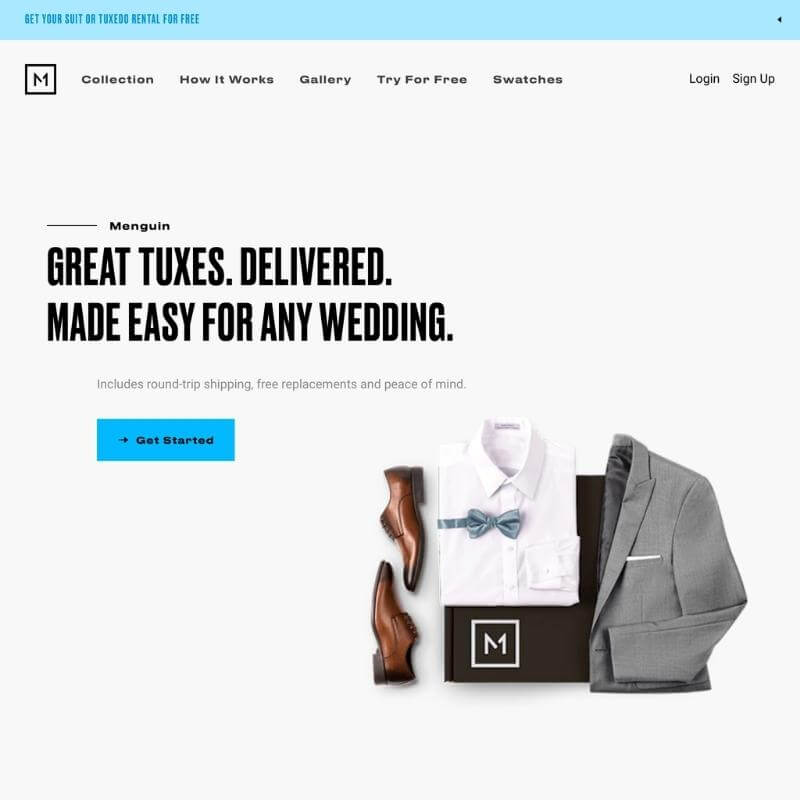 Menguin offers online tuxedo rental for grooms and guests. Their free Home Try-On program sets them apart, allowing you to take your suit for a test drive months before your event.
They have a fit guarantee and will ship your suit to you fourteen days before your big day.
Highlights:
Testing an outfit and showing it to the bride before a wedding can be extremely helpful. The Home Try-On program allows grooms to actually wear the suit before confirming their order.
Menguin allows grooms to set up wedding party accounts and ensure their groomsmen all get their tuxes on time.
You can customize the look and accessories of your suits for something that showcases your personal style.
The tuxedo rental arrives a full two weeks before your event, which gives you a lot of time to ensure that it fits you properly.
Accessories include cufflinks, belts, pocket squares, lapel pins, and suspenders.
What Menguin Does Best:
Menguin really understands how stressful planning for a large event like a wedding can be. Their home try-on is excellent and gives grooms and guys a chance to walk around in their suits like no other online tux rental shop.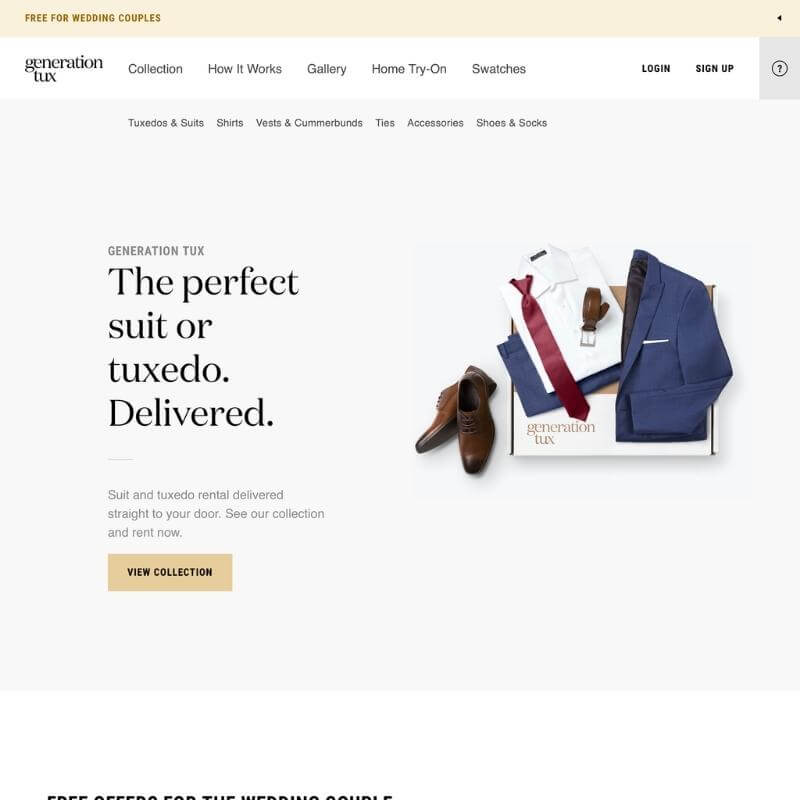 Generation Tux offers customization services, so your tuxedo or suit looks just how you want for your upcoming wedding, prom, date, or formal event.
Generation Tux also provides slim, modern options that don't fall into that boxy trap many retail tux rental shops do. They also offer home try-on, which is an excellent option for the busy groom.
Highlights:
Generation Tux is all online with a quick, easy-to-follow online tux rental form. They provide a free rental with five paid members, which is great for wedding parties.
The Home Try-On program allows you to test the fit and look of your suit months in advance. Once you try it on, ship it back within 48 hours to finalize your order.
Generation Tux offers an On-Demand Personal Fit consultant with the Home Try-On and order process. They also offer free fit replacements.
You'll receive your garments 14 days before your event and have three days after the event to return them.
The Home Try-On offers free round-trip shipping.
What Generation Tux Does Best:
Generation Tux understands that people want to do everything online with minimal fuss. Their fit technology and algorithm make it easy to find a suit that fits like a glove.
Check Prices at Generation Tux
What is a rental tuxedo?
A rental tuxedo is a formal wear garment that you can rent for a special event.
Tuxedos are typically worn to black tie events such as weddings, proms, and balls and are often worn by grooms and groomsmen at wedding ceremonies.
Rental tuxedos usually come with all the necessary accessories, such as a cummerbund, bow tie, and shirt studs.
The tuxedo jacket typically has satin lapels, and the trousers have satin stripes down the sides. Most rental tuxedos are made from wool or polyester blends.
How much does a tuxedo rental cost?
A tuxedo rental can vary in cost depending on a few different factors. For example, the type of tuxedo, the size, and the quality are all critical factors that will affect the price.
Generally, a standard tuxedo rental will cost between $50 and $300. However, the cost can increase significantly if you require a more specific type of tuxedoes, such as a designer label or a plus size.
It is essential to shop around and compare prices before making a decision. You may also be able to find discounts or deals if you book in advance or rent multiple tuxedos at once.
Ultimately, you should consider the cost of a tuxedo rental in relation to the event you are attending. It is worth investing in a high-quality tuxedo if it is a formal event, such as a wedding or prom.
However, if it is a more casual event, such as a party or work function, you may save money by renting a cheaper tuxedo.
How do you measure for a tuxedo rental?
Measuring your tuxedo size is easy and only takes a few minutes.
First, you'll need to determine your jacket size. To do this, measure around the widest part of your chest and compare the number to a size chart.
Next, you'll need to measure your sleeve length. Then, start at the base of your neck and measure along your arm to your wrist.
Once you have your jacket size and sleeve length, you can choose a tuxedo that will fit well and look sharp.
When renting a tuxedo, it is essential to get the proper fit. The jacket should be snug but not tight, and the sleeves should come to the base of the thumb.
The pants should have a slight break at the ankle, and the waist should be comfortable but not too loose.
The shirt should have a collar that fits snugly around the neck, and the cuff should come to the base of the hand.
It is best to visit a professional tailor or rental shop to get the correct tuxedo measurements. They will be able to correctly measure you and ensure that you get the right size tuxedo.
What's the difference between a tux and a wedding suit?
While a tuxedo and suit typically consist of a jacket, trousers, shirt, and tie, the two have several key differences.
Color: A tuxedo is always made from black or midnight blue fabric, while a suit can be any color.
Jacket: A tuxedo jacket typically has satin lapels, while a suit jacket usually has wool or cotton lapels.
Cummerbund: A tuxedo is always worn with a cummerbund or waistcoat, while a suit may or may not be worn with one.
Shoes: A tuxedo is always worn with black patent leather shoes, while a suit can be worn with any shoe.
While both tuxedos and suits are suitable for formal occasions, the tuxedo is generally considered more formal. It is, therefore, more often seen at events such as black-tie dinners and weddings.
Frequently Asked Questions
What is included in a typical tux rental package?
A typical tux rental package usually includes several key items to ensure a complete and stylish look for the wearer. It typically includes a well-fitted tuxedo jacket and trousers, crafted from high-quality fabric.
The package may also include a formal dress shirt, a coordinating vest or cummerbund, and a bow tie or necktie. Accessories like cufflinks and studs are often included to add a touch of elegance. To complete the ensemble, rental packages may offer polished dress shoes and even socks.
The goal of a tux rental package is to provide the wedding party or event attendees with a cohesive and polished appearance. Tailoring services are often included to ensure a perfect fit..
How far in advance should I reserve my tuxedo rentals?
It is recommended to reserve your tux rental as soon as possible, ideally at least 4-6 weeks in advance. This will give you ample time to visit a Men's Wearhouse or similar store location for an in-person experience.
Visiting the store allows you to browse and try on different suits and tuxedos, ensuring you find the perfect style and fit for your event. It also allows the staff to take specific measurements to ensure the tuxedo fits you well.
By reserving early, you can secure the availability of your preferred style and size. Additionally, reserving in advance gives you the flexibility to make any necessary changes or alterations if needed.
Many rental providers offer free returns or exchanges, allowing you to make adjustments if your measurements change or if you need to make any last-minute modifications before the event.
Can I rent a tuxedo online?
Yes, you can rent a tuxedo online. Many reputable tuxedo rental companies offer online rental services, allowing you to conveniently browse and select tuxedos from the comfort of your own home.
Online rental platforms often provide a wide range of styles and sizes to choose from, including options for group rentals if you need matching suits for a wedding party. However, it is essential to review the fine print and ensure that the online rental service is reliable and reputable.
If you have specific measurements or preferences, you may want to visit a brick and mortar store for an in-person experience. But overall, renting a tuxedo online can be a convenient and efficient way to find the best tux rental for your special occasion.
What styles of tuxedos are available for rental?
Tuxedo rental services offer a wide range of styles and options to suit different preferences and occasions.
Whether you're attending a wedding, prom, or formal event, you can find various tuxedo styles available for rental. These may include classic black tuxedos, modern slim-fit designs, and more.
Tux rentals often come in pre-styled looks, which include the tuxedo jacket, trousers, shirt, bow tie or necktie, and accessories like a pocket square.
The specific styles and options may vary depending on the rental provider, but they typically strive to offer a selection that meets different style preferences and ensures you can find the perfect tuxedo for your event.
How do I know what size tuxedo to rent?
To determine the right size tuxedo to rent, you can follow a few simple steps:
First, you can use a tape measure to measure key areas such as your chest, waist, and inseam. This will give you a starting point for selecting the appropriate size.
Secondly, many tuxedo rental providers, like Friar Tux, offer try-on services where you can visit their store and try on different sizes to find the best fit. This allows you to assess how the tuxedo looks and feels on your body.
Additionally, rental providers often have experienced staff who can assist you in finding the right size based on their expertise. They can guide you through the process and ensure you look your best in your rented wedding attire or any formal event.
Can I make changes to my tuxedo rental after I place my order?
After placing your tuxedo rental order, it is often possible to make changes, depending on the rental provider's policies. It's essential to review the specific terms and conditions outlined by the rental company you choose.
Some companies may allow modifications to the rental, such as changing the size or style, as long as the request is made within a certain time frame before the event. However, keep in mind that certain changes may incur additional fees or be subject to availability.
It's recommended to reach out to the rental provider directly to discuss any desired modifications and confirm their policies. Prompt communication will help ensure a smooth rental experience and guarantee you look your best for your special occasion.
Bottom Line
Renting rather than buying a tuxedo can save you a significant amount of money. Designer tuxedos can be expensive to purchase outright, but renting one is usually much more affordable.
Additionally, renting a tux is convenient and easy. You can browse through different styles and sizes from the comfort of your own home and have the tuxedo delivered straight to your door.
Plus, most rental companies offer free alterations if you need to make any adjustments.
So whether you're attending a black-tie event or getting ready for your wedding day, renting a tuxedo online is a great option.