When it comes time to rent a tuxedo for your next formal event, you may be wondering how much it will cost.
The average tuxedo rental cost can vary depending on the type of tuxedo you choose, the company that you rent from, and other factors.
In this blog post, we will provide an overview of the average tuxedo rental prices across the United States. We will also provide some tips on how to save money on your tuxedo rental!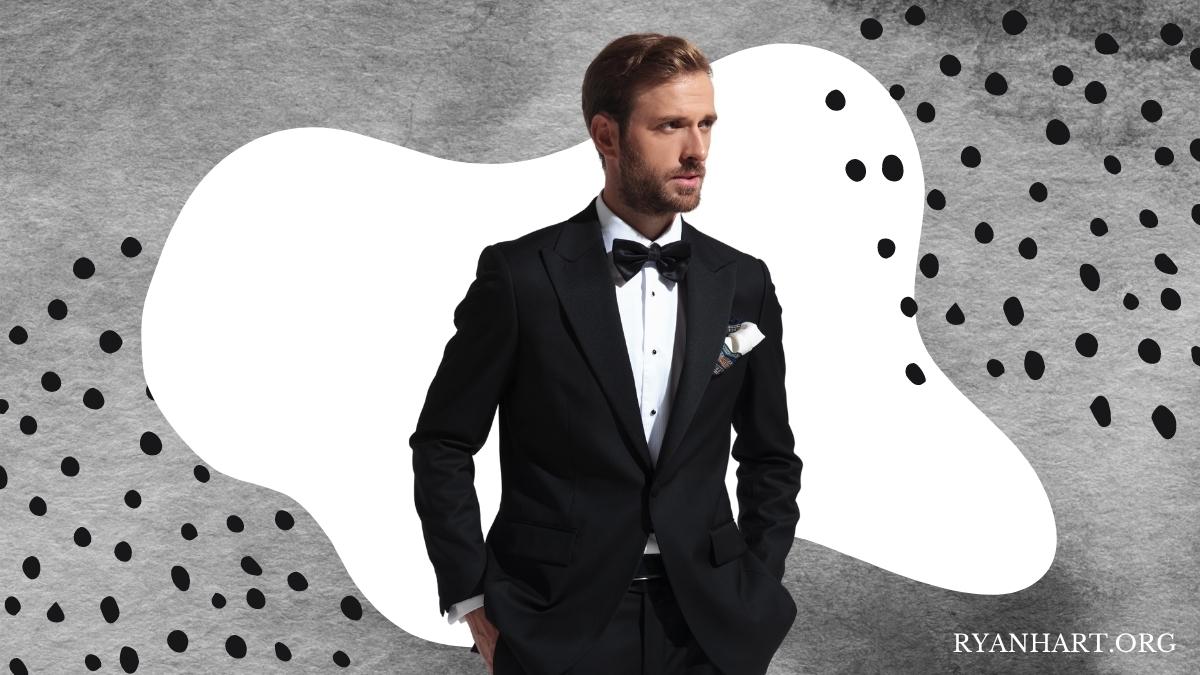 Average Tuxedo Rental Cost
The average tuxedo rental cost can vary depending on the style of tuxedo, the rental company, and the location.
For example, a classic black tuxedo may cost less to rent than a more formal white one. And a rental company in a small town is likely to charge less than one in a major city. However, there are some general guidelines you can follow when estimating the cost of your tuxedo rental.
First, plan on spending about $100 to $200 for the tuxedo itself. Then, factor in the cost of any accessories you'll need, such as shoes, a cummerbund, and cufflinks.
Finally, don't forget to budget for alterations - most rental companies will charge extra for hemming or taking in the jacket.
Should You Rent a Tux Online?
There are a few reasons why you might want to consider renting a tuxedo online instead of in a store.
For one thing, it can be more convenient since you can do it from the comfort of your own home. You'll also have a wider selection to choose from, and you can often find better deals online than you would in a store.
Plus, you'll probably get your tuxedo rental delivered right to your door. That said, there are a few things to keep in mind when renting a tuxedo online.
Make sure to measure yourself carefully so that you get the right size, and read the rental agreement carefully so that you know what's included (and what isn't).
But as long as you keep those things in mind, renting a tuxedo online can be a great option.
Should You Buy or Rent a Tuxedo?
There is no easy answer to the question of whether or not you should buy or rent a tuxedo.
On one hand, renting a tuxedo can be a great option if you only need it for a single special event. Not only is this a more cost-effective choice, but it also saves you the hassle of having to clean and store the tux afterward.
However, buying a tux may be the better choice if you want to ensure that you have a quality formal wear outfit that matches your style preferences. Additionally, if you plan on attending multiple special events in the future, it may be more economical in the long run to purchase your own tux instead of repeatedly renting one.
Ultimately, whether or not you should buy or rent will depend on your personal circumstances and priorities. But with so many great choices available, there is sure to be a tux that's perfect for you!
Why Are Tuxedo Rentals So Expensive?
Have you ever wondered why tuxedo rentals are so expensive? After all, it's just a suit, right? Well, there are actually a few reasons for the high cost of tuxedo rentals.
First, tuxedos are generally made from higher-quality materials than regular suits. Second, they require special care and cleaning to keep them looking their best. And finally, tuxedo rental companies have overhead costs that must be factored into the price of the rental.
Here is a list of the primary factors that contribute to the high cost of renting a tuxedo:
1. Rental Company
There are a number of factors that can contribute to the prices of tuxedo rental companies. Some of these include the types and quality of fabrics used in their tuxedos, the range of sizes available, and the variety and quality of accessories offered.
Additionally, many tuxedo rental companies offer added perks such as complimentary fittings and express delivery services at an additional cost.
Ultimately, prices will also vary depending on where you live and which company you choose to work with. However, it is important to keep in mind that you should prioritize quality over price when selecting a tuxedo rental company, as higher-quality garments will look better and last longer than less expensive options.
2. Time of Year
There is a well-known saying that timing is everything, and nowhere is this more true than when it comes to renting or buying a tuxedo. It may seem surprising, but the time of year can have a huge impact on prices for tuxedo rentals.
Generally speaking, summer and fall are the peak seasons for weddings and other formal events, which means that tuxedo rental businesses tend to get more orders during this time. As a result, they often raise their prices at these times of year.
Whatever time of year you need your tuxedo rental, keep in mind that there may be a range of pricing options throughout the year!
3. Tuxedo Brand
When it comes to formal events like weddings or special occasions, one of the most essential pieces of clothing is undoubtedly a tuxedo. As the epitome of elegance and sophistication, tuxedos help to set the tone for any formal gathering and make a powerful statement about style and taste.
However, since designer tuxedos are typically made from higher-quality materials and feature more intricate details than standard tuxedos, they tend to be more expensive to rent. This is due both to the cost of materials and labor involved in making these luxurious garments, as well as their increased ability to elevate the look of any outfit.
In addition, designer tuxedos are often available in rarer colors or styles that may not be readily available at a typical rental shop. Ultimately, anyone seeking an extra dose of sophistication at their next formal event should consider investing in a designer tuxedo.
4. Quality and Style
When you rent a tuxedo, you usually have the option to choose between different levels of quality.
The higher the quality of the fabric and construction, the more expensive the rental will be. But why is this?
Part of it has to do with the fact that better-made tuxedos will last longer and stand up to more wear and tear. They also tend to fit better and look nicer, which is important for events where you want to make a good impression.
In addition, higher quality materials are simply more expensive to begin with. So when you're considering whether to splurge on a nicer tuxedo rental, keep in mind that you're paying for both durability and style.
5. Accessories
When renting a tuxedo, there are several essential accessories that you will need to order. The first is the actual tux itself, which typically consists of a jacket, shirt, and pants.
In addition, you will need to get dress shoes and a tie or bowtie. Depending on the formality of your event, you may also need to get some extra accessories such as studs and cufflinks to go with your shirt and a vest or cummerbund to help keep your waistline looking smooth and trim.
Overall, taking the time to carefully select all of the necessary items will ensure that you look great for your special occasion!
6. Alterations
When it comes to renting a tuxedo for a special occasion, one of the most common complaints is that alterations are often very expensive. This can be frustrating, as many people expect that renting a tuxedo should already include any necessary adjustments in order to ensure proper fit.
There are a few main reasons why altering a rented tuxedo tends to be so expensive. First, there is typically only a limited time period for making adjustments, as most rental companies require customers to return their tuxedos within a few days of picking them up.
Second, each rental company may have different requirements for alterations and therefore require unique work from their own in-house tailors or seamstresses.
Ultimately, the expenses associated with alterations when renting a tuxedo come down to timing, consistency, and supply and demand. However, while these factors explain why adding modifications comes at such a high price tag, they do not make it any easier to deal with when you're trying to make your big event truly perfect.
7. Cleaning
There are a number of reasons why tuxedo rental cleaning fees can be expensive. For one, the cleaning process itself is quite complex and requires specialized equipment and techniques.
In addition, there can be a lot of wear and tear on a rented tuxedo after only one event, which may require repairs or other attention before it can be properly cleaned.
Finally, many tuxedo rental services operate as a small business, so they must account for costs like labor, rent, and other expenses when setting their prices.
8. Late Fees
The average cost of a tuxedo rental late fee can vary depending on a number of factors, including the type of rental service and the location of the rental.
Typically, you can expect to pay anywhere between $20 and $50 for a tuxedo rental late fee, with prices tending to be somewhat higher in larger urban centers.
Some rental services may also offer discounts or other incentives to encourage customers to return their rentals on time, while others might charge additional fees if the tuxedos are not returned within a certain timeframe.
Ultimately, the best way to determine the cost of your tuxedo rental late fee is to carefully review your rental contract before signing up for a service.
Bottom Line
If you're shopping around for tuxedo rental companies, you may have noticed that some charge more than others. There are a few reasons for this.
First, some companies carry higher-end brands and designer labels. If you're looking for a specific designer, you'll likely have to pay more.
Second, some companies offer additional services beyond just renting the tuxedo. For example, they may offer on-site alterations or a wider range of sizes.
Finally, keep in mind that prices can vary depending on the time of year. For example, rates will typically be higher during prom season or wedding season.
By keeping these factors in mind, you can narrow down your search and find the right tuxedo rental company for your needs.