Grooms and groomsmen must look their best on the big day. While wearing stylish suits or tuxedos, don't forget that extra touch – the cufflinks.
Once only donned by executives and royalty, all men are making a statement with the fashionable accessory. And every man should have a great pair of cufflinks ready for special events.
But you don't have to wear standard-issue cufflinks, be creative and opt for a customized version. Finding the right cufflinks for your occasion may be challenging, but we're making it easier by sharing the seven best places to buy custom cufflinks for grooms and groomsmen.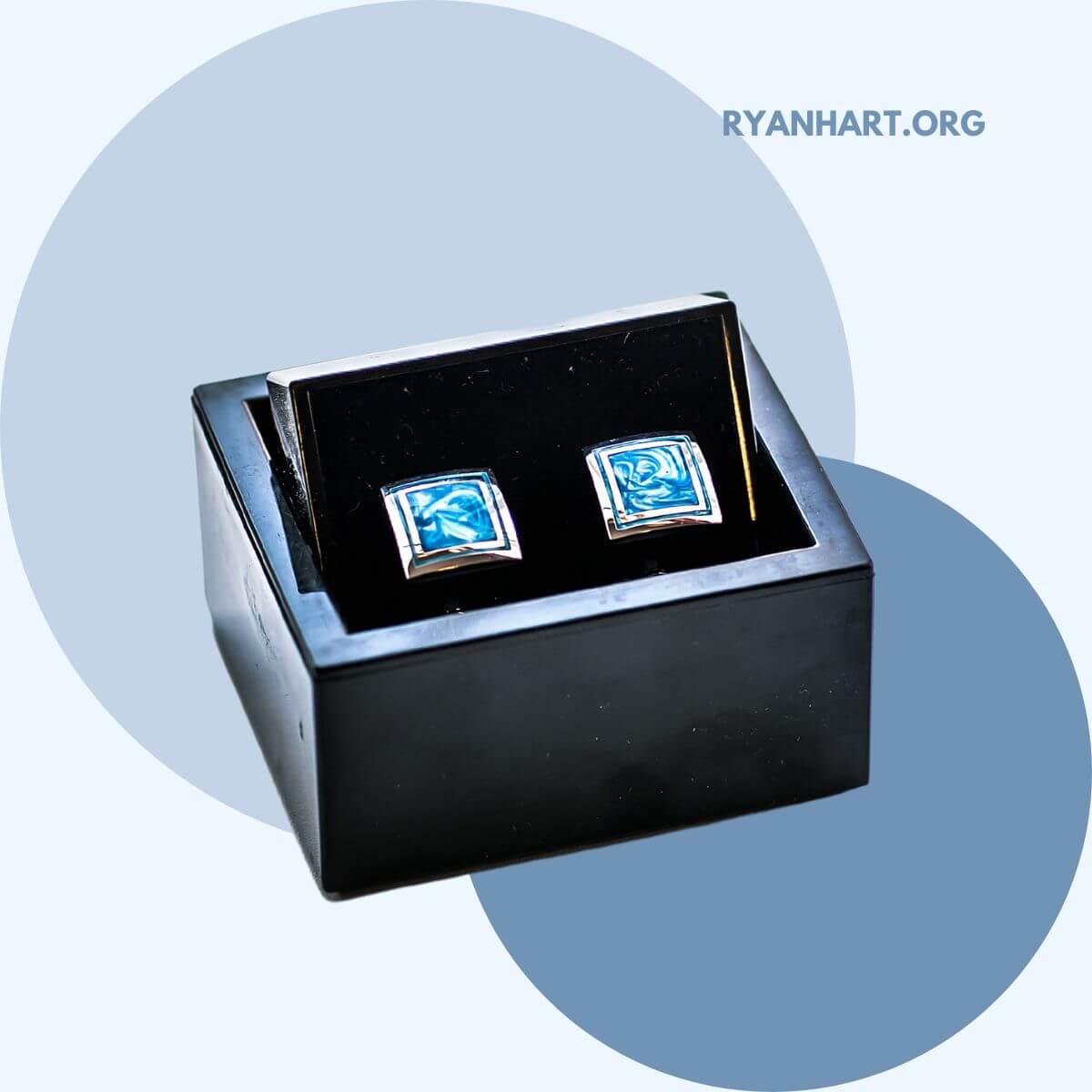 Where to Buy Custom Cufflinks
Remember, your shirt must have prominent cuffs and two buttonholes when wearing cufflinks. Look for a double cuff or French cuff shirt. You can find options with toggles or studs, chain links, magnets, or knots.
There are so many designs available you can start your collection in different materials and colors. They also make for great wedding party gifts. What's so great is these custom cufflinks can be worn for years to come for all sorts of special occasions.
So, let's get to it – here are the seven best places to buy custom cufflinks for grooms and groomsmen: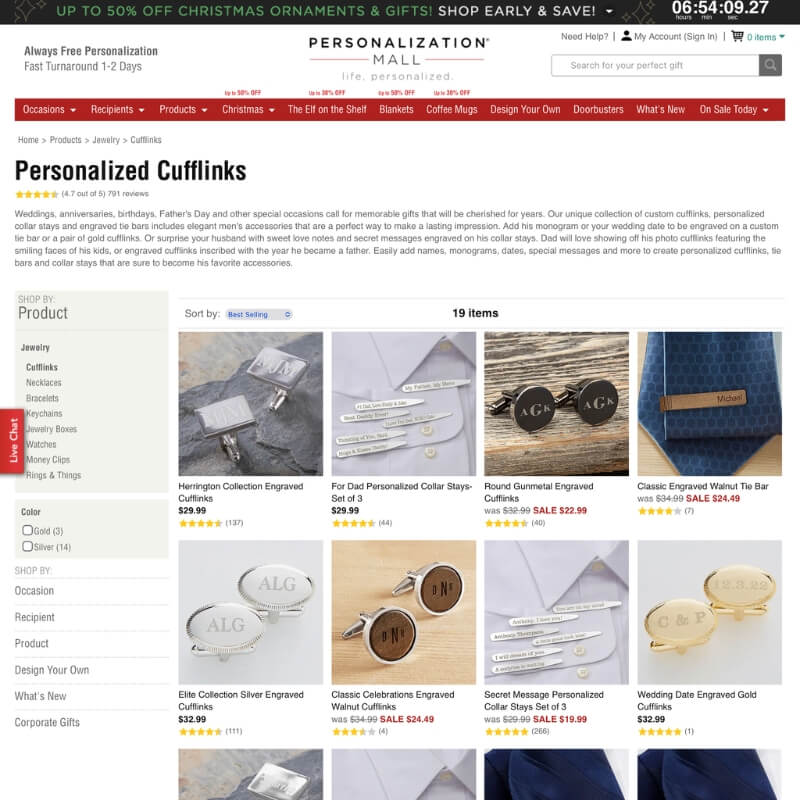 Personalization Mall offers a great selection of custom cufflinks and tie bars. Add a monogram, the wedding date, or a special message. Cufflinks also make a great groom's gift from his new bride. Personalization Mall, owned by 1-800-Flowers, has served wedding parties and other consumers since the 90s.
Unlike other companies, they ship their custom orders in just a few days. They have graphic artists on staff to make designing your custom cufflinks a breeze.
What Personalization Mall Does Best: Quick shipping, and they never charge for the personalization. It's just what they do!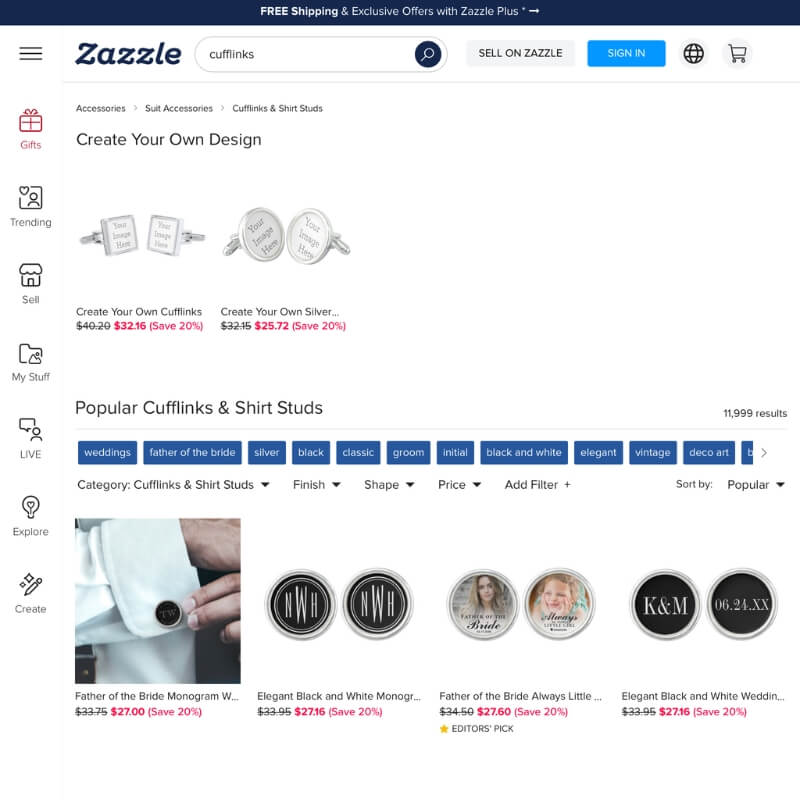 Explore more options to find unique finds from different designers to make it a special gift. Zazzle offers gold and silver-plated cufflinks in round and square for just $30. Choose a design or monogram and your perfect font.
Check the star ratings before buying! The California-based platform gives you the best options and many shops to buy from. They offer good quality products with fast delivery to get what you need in time for your event.
What Zazzle Does Best: Originality and options. With all the Zazzle shops on the platform, you can find something for everyone at the wedding party.
Amazon, of course, has everything you need for your wedding. They have you covered, from invites to décor and lingerie to custom cufflinks! They have great deals and a fantastic wedding registry to shop for everything you need to get your life together started.
Many items get to you in two days when you have Amazon Prime. It comes with free return shipping on Prime items, and you can also get your wedding planner and organizer while on the website.
What Amazon Does Best: Come on, it's Amazon! Availability, options, and Prime shipping all make Amazon a great choice!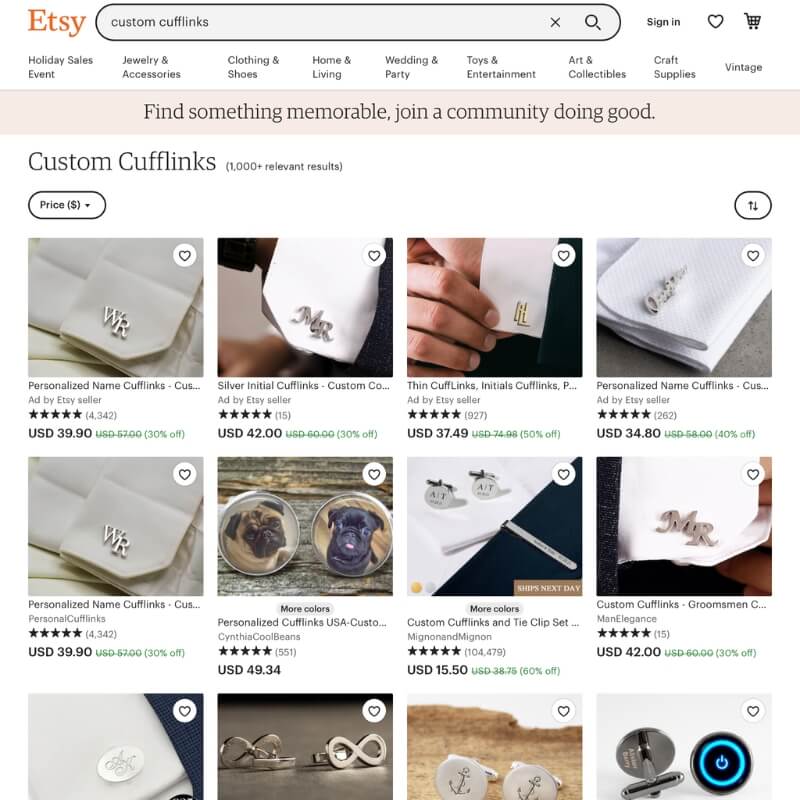 Known for custom finds, Etsy has plenty of shops preparing cufflinks for special occasions. Most Etsy shops will take a couple of days to hand make and anywhere from two to 10 days to get to you.
Etsy is the marketplace to find unique goods, and they manage to put a personal touch and human connection in the mix. Their community of sellers is shared with millions looking for specialty items for their special moments.
What Etsy Does Best: Personal service! You can talk directly with the Etsy app to get the perfect cufflinks for your groom or groomsman.
Well, their name says it all! They specialize in custom cufflinks. Their engravable cufflinks are made with a diamond-cutting process. Cufflinks.com started in the 90s to provide men with the best cufflinks, tie bars, and accessories.
The family-run South Dakota business offers luxury brands, including Tateossian London, Tokens & Icons, Konstantino, and others. Use their website to search by material, price range, and more. You can find novelty and traditional styles.
What Cufflinks.com Does Best: They are serious about cufflinks for everyone - from those looking for a $40 pair of cufflinks to those connoisseurs looking for $15,000 designs.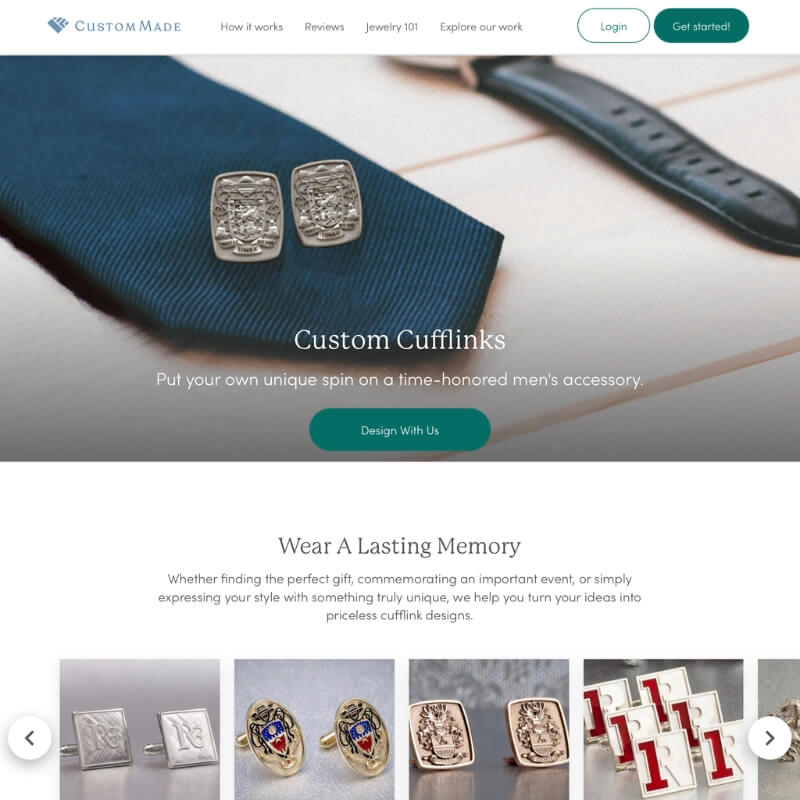 It's right there in the name - Custom Made. They deliver high-quality custom-made cufflinks that allow you to make your choice unique. You'll work with a jewelry consultant and discuss your ideas and budget.
You'll get sketches from their jewelry artists, and your choice can be created in a 3D rendering. Make adjustments and then order. The website even boasts their recently completed projects so you can get better ideas and see what they can produce for you.
What Custom Made Does Best: Personal service working with jewelry consultants and designers directly, so you don't have to go it alone!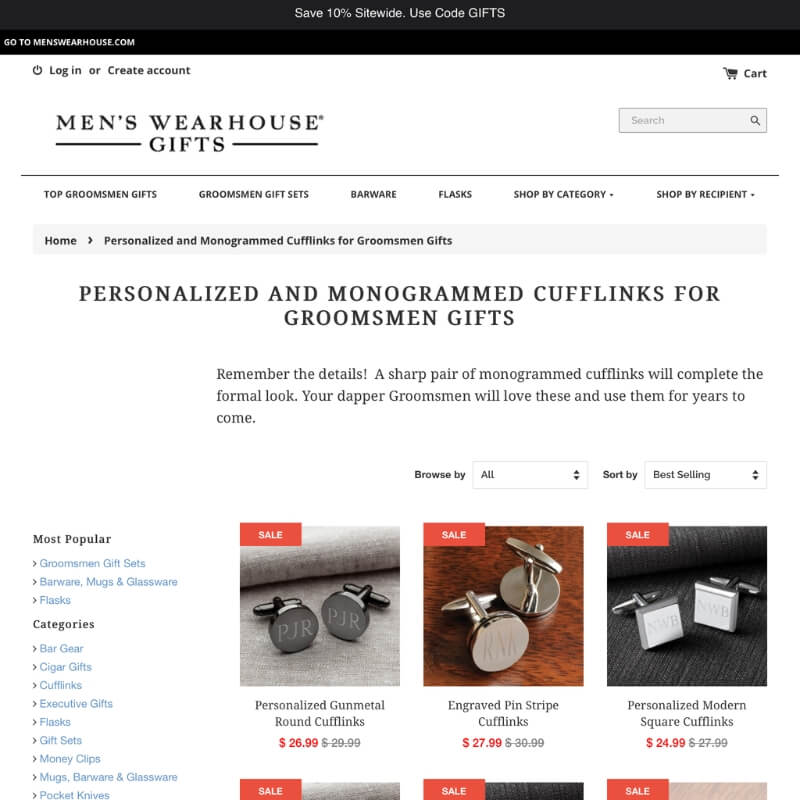 A popular retailer for grooms and groomsmen alike, Men's Wearhouse offers personalized and monogrammed cufflinks. You can get a gorgeous pair for under $30. While you're there, you can get suits in various fabrics and fits for your wedding party.
They make it easy. Just shop around one of the 600 stores, get measured, and place your order. The retailer even offers wedding party deals with a percentage off the entire order.
What the Men's Wearhouse Does Best: Affordability and availability. You can find Men's Wearhouse anywhere in the country, and their prices are great!
What are cufflinks?
Cufflinks are an accessory often worn by men when dressing formally. They are typically used to fasten or secure the buttonholes of a French cuff shirt. The two pieces fit together and link the cuffs, providing a unique look that adds extra style and sophistication to any outfit.
Cufflinks come in different styles and materials, from golden finishes with precious stones to minimalist stainless steel alloys with intricate designs or textures. There is also a wide range of shapes available, ranging from classic circles and squares to circular discs and other geometric forms. Whatever your taste, there's sure to be a pair of cufflinks perfect for you!
When should a man wear cufflinks?
Cufflinks should be worn when the occasion calls for formal attire. This means wearing them to black tie events, weddings, dinners, and other formal functions.
Wearing cufflinks when dressing up for a job interview or presenting at a business meeting is also advised.
Generally speaking, they look best when worn with formal shirts like French-cuffed dress shirts or dress shirts with barrel cuffs. Matching the design of one's cufflinks to the other accessories such as a belt and watch is important for achieving an effortlessly stylish look.
They are an understated accessory that can bring a smart and sophisticated look to a man's outfit.
Are cufflinks outdated?
Though some may consider cufflinks a vestige of an earlier era, there is still merit to be found in wearing them. In certain situations, such as weddings and other important occasions, traditionalists might choose to wear them to exude sophistication and class.
By all accounts, cufflinks remain stylish, even if they are not necessarily as widely used as they once were.
Bottom Line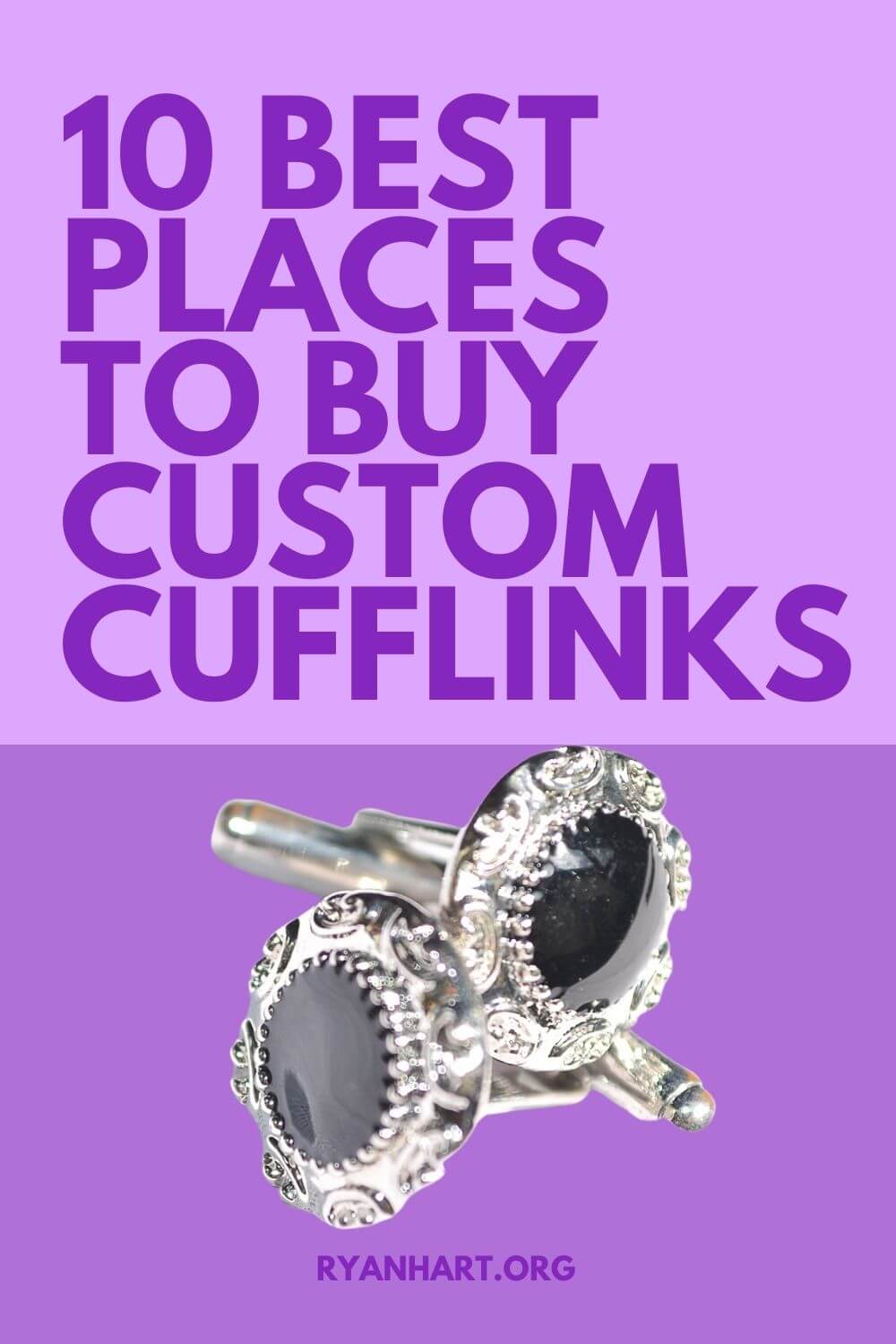 If you're looking for the perfect wedding present for your favorite groom-to-be, look no further than custom cufflinks!
Cufflinks will give him a unique style sure to make an impression on the wedding day, and they will also become an enduring reminder of this special day.
These classically stylish accessories can be tailored with any design or message, ensuring the groom has a unique reminder of his big day every time he suits up.
Show your favorite soon-to-be husband how much you care by giving him a pair of custom wedding cufflinks that he'll treasure forever!