Getting married is beautiful, especially when you add the magic of Las Vegas to it. Why not exchange your vows in one of the many Vegas wedding chapels?
Finding the right venue can be challenging, especially since there are so many options available.
We have done extensive research to bring you the best of the best chapels to exchange your nuptials.
Let's find out more about the best Las Vegas chapels and which of them might be the right one for you.
What is the Best Wedding Chapel in Las Vegas?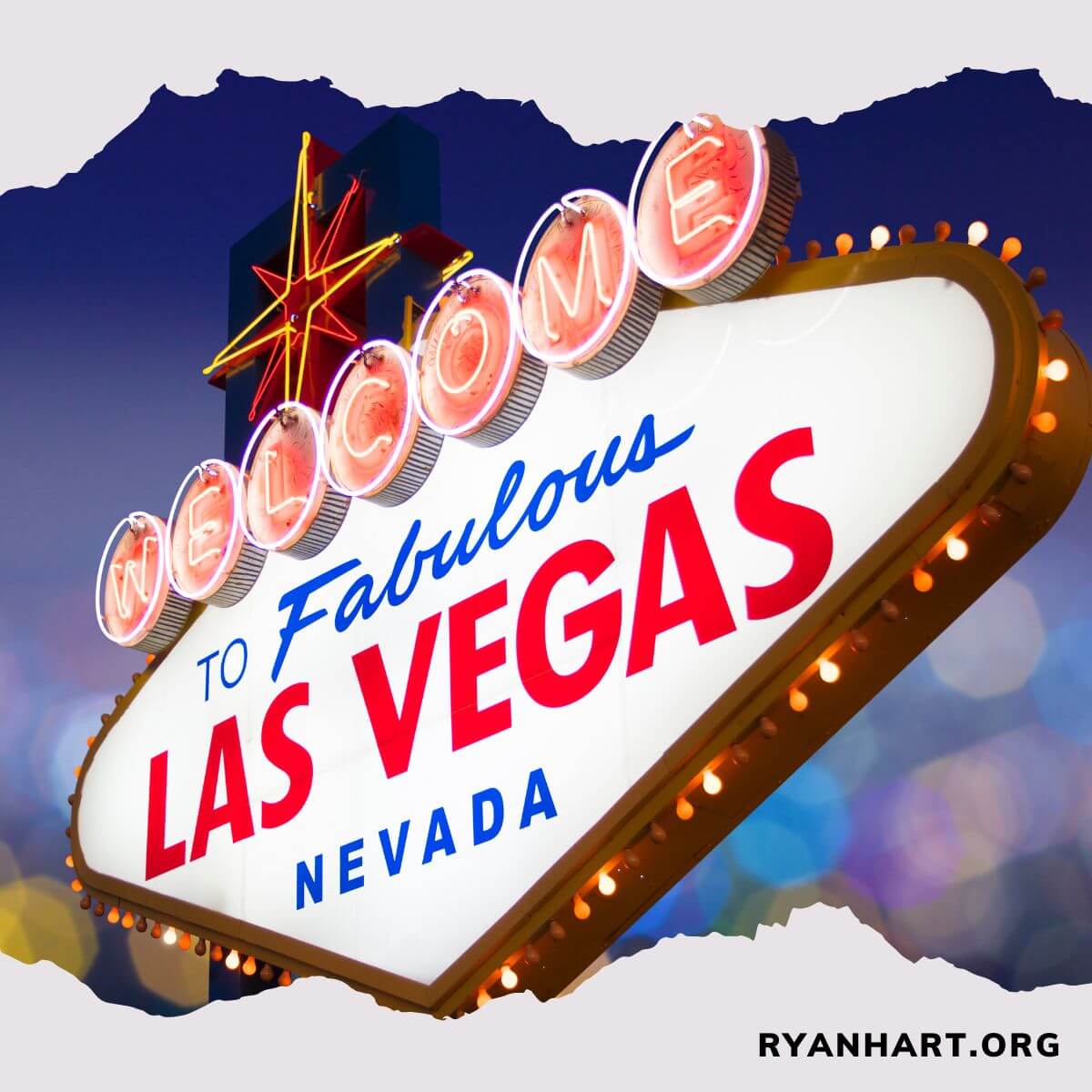 Despite many wedding chapels in Vegas, the following 7 stand out as the best Las Vegas has to offer. Keep reading to see our top seven picks.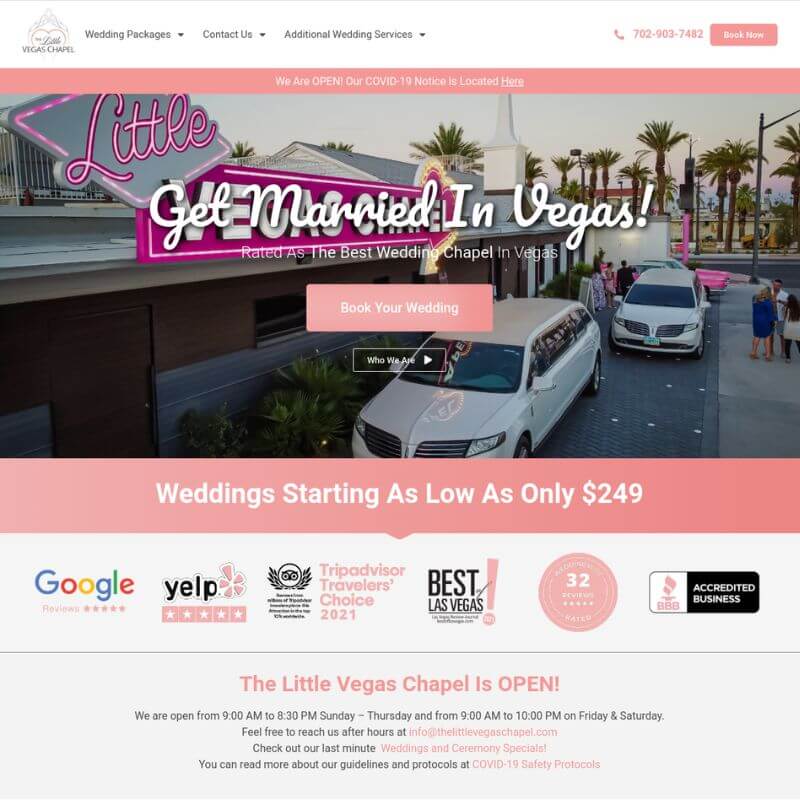 The Little Vegas Chapel is the best wedding chapel in the city. Its popularity is not only because of its exciting history but also because it offers the most reasonable-priced wedding packages in Las Vegas.
There are various packages available online, including an Elvis wedding package where an Elvis impersonator can walk the bride down the aisle and perform any three songs by the King of Rock and Roll. The chapel also has bridal gown and tux rental services should you need them.
What The Little Vegas Chapel Does Best
It is the best all-inclusive wedding chapel in Las Vegas with reasonable prices. Their pretend wedding package is unrivaled by any other venue in the city.
It is an excellent option for those looking for an affordable venue without sacrificing any of the most critical aspects of their wedding experience.
Check Prices at The Little Vegas Chapel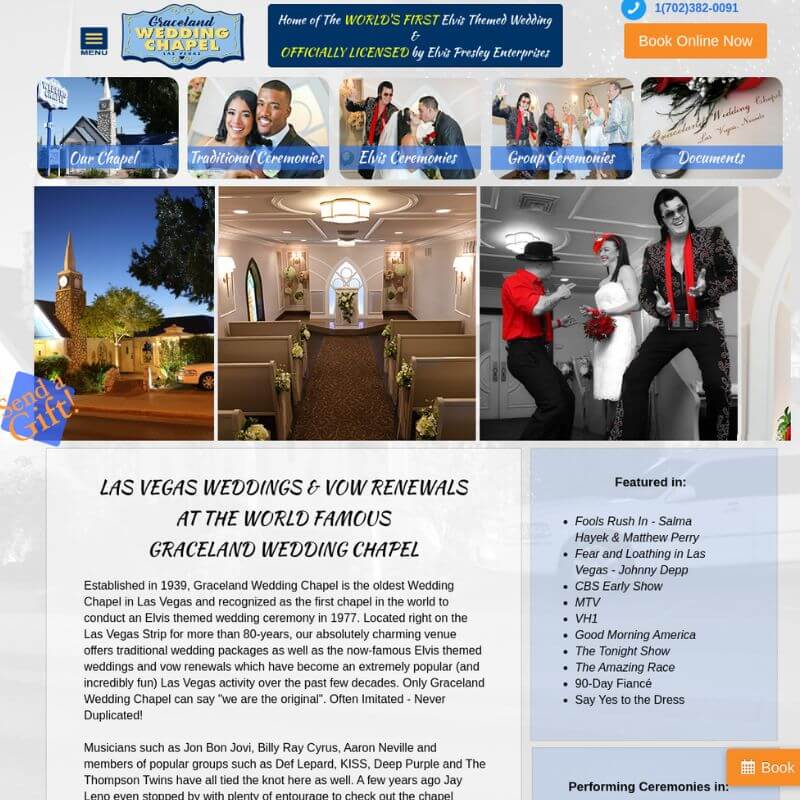 Graceland Chapel was the first Elvis wedding venue in Vegas. It is iconic for holding Elvis-themed marriage ceremonies. The chapel is where a few celebrities have held their weddings, including Bon Jovi.
The venue offers other packages besides Elvis Weddings, including vow renewals, traditional ceremonies, and Valley of Fire and Grand Canyon weddings.
Your package of choice does not matter. It includes limousine services, video recording, pictures, and silk or fresh flowers.
What Graceland Chapel Does Best
The venue is best for those looking to have an Elvis Wedding. You can even stream your wedding over social media to share your special day with friends and the world.
Check Prices at Graceland Chapel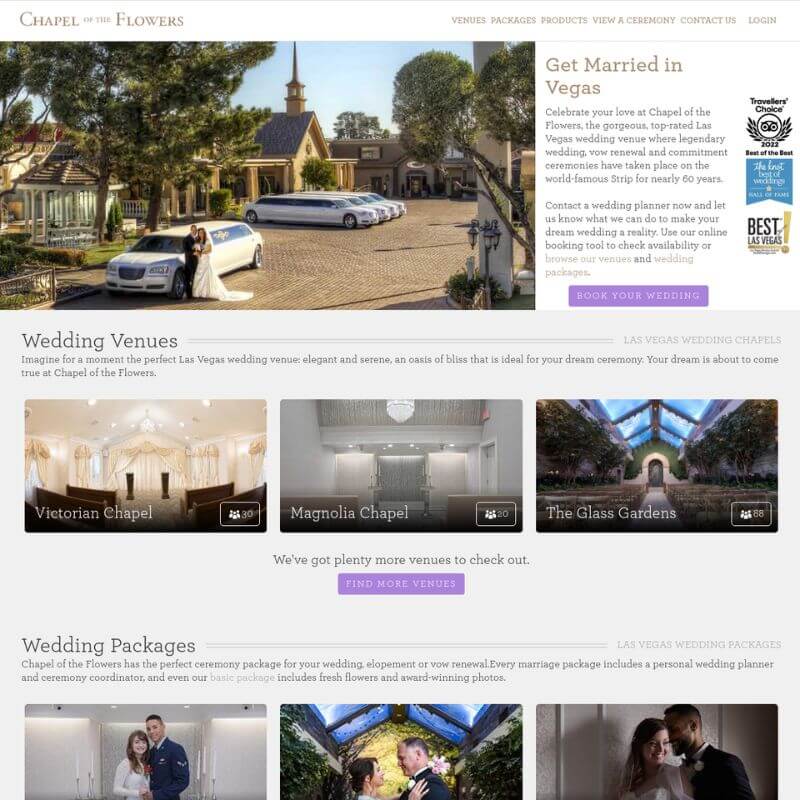 Chapel of Flowers is elegant and pretty, making it one of the go-to venues for a classic wedding on the Strip. The name speaks to how the chapel looks.
The company has years of proven track record of providing wedding packages, together with a team of photographers, wedding planners, concierges, ministers, and videographers, to make your marriage day special.
The team is dedicated to ensuring your day is memorable, that the ceremony goes smoothly, and is both intimate and unforgettable.
Chapel of Flowers has a working relationship with attraction sites, restaurants, and hotels so that they can offer all-inclusive packages.
What Chapel of Flowers Does Best
The team at the chapel will go beyond your expectations to ensure everything goes off without a hitch and that your day is unforgettable.
It is an excellent venue for those looking to have an elegant, enchanting, intimate vow renewal or a wedding in Las Vegas.
Check Prices at Chapel of Flowers
A Special Memory Wedding Chapel has the look and feel of a New England Church with the space to seat 115 attendees. The chapel has been around for about 50 years, offering different wedding packages, including a drive-through wedding, an Elvis wedding, vow renewals, a helicopter ceremony, and others.
This wedding venue even has separate dressing rooms for the groom and bride. Another fantastic thing is that the bride can get to the wedding area via the chapel's double doors or a spiral staircase, which adds to the theatrical elegance of the ceremony.
What A Special Memory Wedding Chapel Does Best
The venue is world-renowned for its drive-through wedding package. If you have an adventurous spirit, you can even get married onboard a helicopter at night while flying over the Strip.
A Special Memory Wedding Chapel is a good option for people looking for a memorable and unique wedding experience.
Check Prices at A Special Memory Wedding Chapel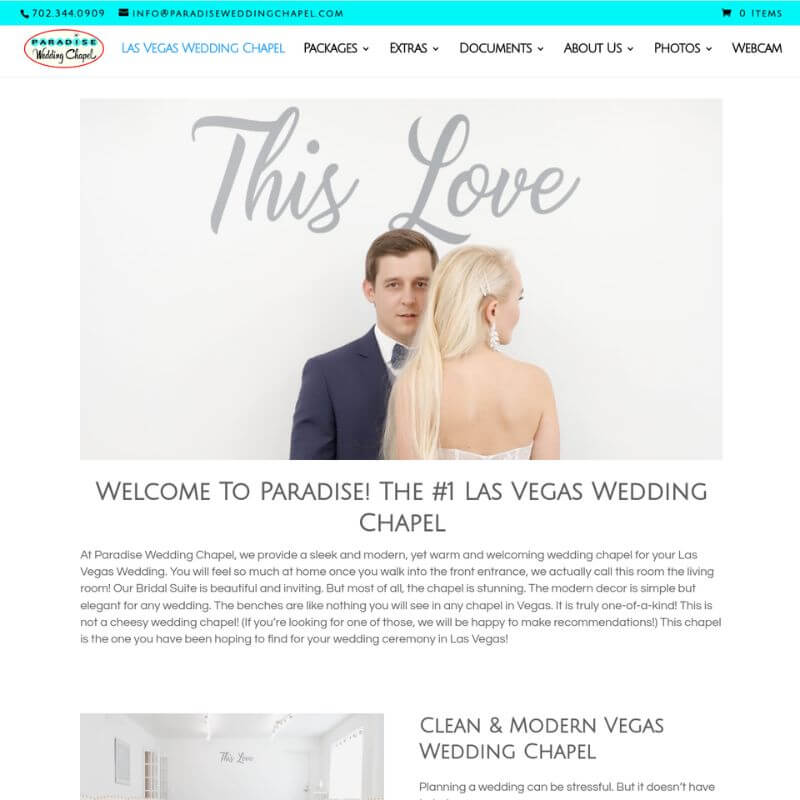 Paradise Wedding Chapel is undoubtedly one of the best for holding brief Las Vegas wedding ceremonies with its famous Quickie Wedding package with pricing of less than $100. The chapel also offers more traditional wedding and vow renewal packages, Elvis wedding, and drive-up packages.
The packages on offer at this chapel can be customized to your needs to accommodate the venue for your wedding (i.e., the gazebo or chapel), the number of guests, and other things such as photos and video recording.
What Paradise Wedding Chapel Does Best
The company offers the a great selection of wedding packages in Las Vegas. Additionally, packages can be customized to suit your needs and budget.
Check Prices at Paradise Wedding Chapel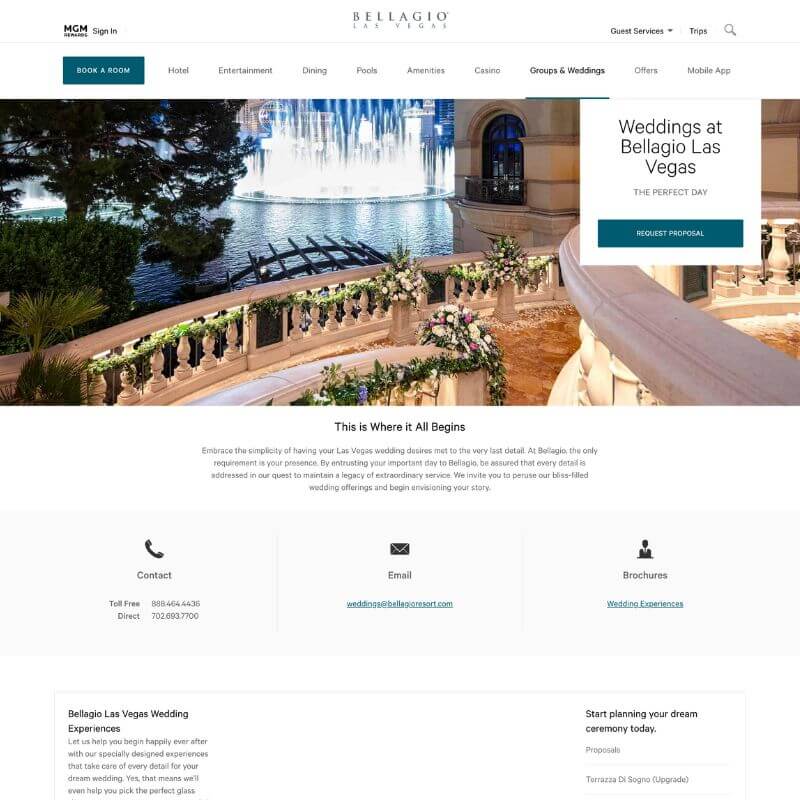 What is a more fitting place to do your ceremony than the Bellagio Fountains? The Bellagio Wedding Chapel offers packages that include holding your wedding ceremony in the courtyard of the Bellagio, any of the resort's chapels, or an outdoor terrace.
Ten wedding packages are on offer, each with a different wedding plan to cater to different tastes. These packages start from standard to luxury packages. There is even a package called The Proposal Terrazzo Di Sogno for those who want to propose in a romantic setting.
What The Bellagio Wedding Chapel Does Best
The team at Bellagio Wedding Chapel plans everything for your wedding (with you), allowing the couple to focus on getting themselves ready for their wedding ceremony. The venue is suitable for people looking to have luxurious and memorable weddings.
Check Prices at The Bellagio Wedding Chapel
Chapel in the Clouds is the place to hold your wedding ceremony. It is part of the STRAT hotel, and couples can choose to have their wedding on indoor or outdoor observation decks.
They offer different weddings, vow renewal, bachelor/bachelorette, and commitment packages. There is even a pretend wedding package for those that want the feeling of being married without the commitment afterward.
Since the venue is 800ft above the Las Vega Strip, you can hold your ceremony while overlooking the mountains and Strip below.
What The Chapel in the Clouds Does Best
The venue provides a unique wedding experience 800ft above the ground overlooking the Strip. It is the venue for couples looking for a special ceremony with a view that no other site can offer.
Check Prices at Chapel in the Clouds
Are there wedding chapels on the Vegas strip?
Las Vegas is home to many unique wedding chapels, which offer couples a quick and convenient way to tie the knot. Most of these chapels are located on or near the Las Vegas Strip, making them easily accessible to locals and visitors.
While some chapels are pretty small and intimate, others are large and lavish, offering various services and amenities. In addition to traditional chapels, there are also drive-thru chapels and even Elvis-themed chapels!
No matter what type of wedding venue you choose, you can be sure that getting married in Las Vegas will be an unforgettable experience.
How do you get married in Las Vegas?
Couples wanting to tie the knot in Las Vegas will be happy to know that getting married in Sin City is quick and easy. There are no residency requirements and no waiting period, so couples can get married as soon as they obtain a marriage license.
It is simple to acquire a marriage license from the County Clerk's Office, even without a blood test.
With license in hand, couples can choose from a wide range of venues for their ceremony, from Elvis-themed chapels to picturesque gazebos. They can also opt for a more traditional ceremony at one of the many hotels on the Las Vegas strip.
Bottom Line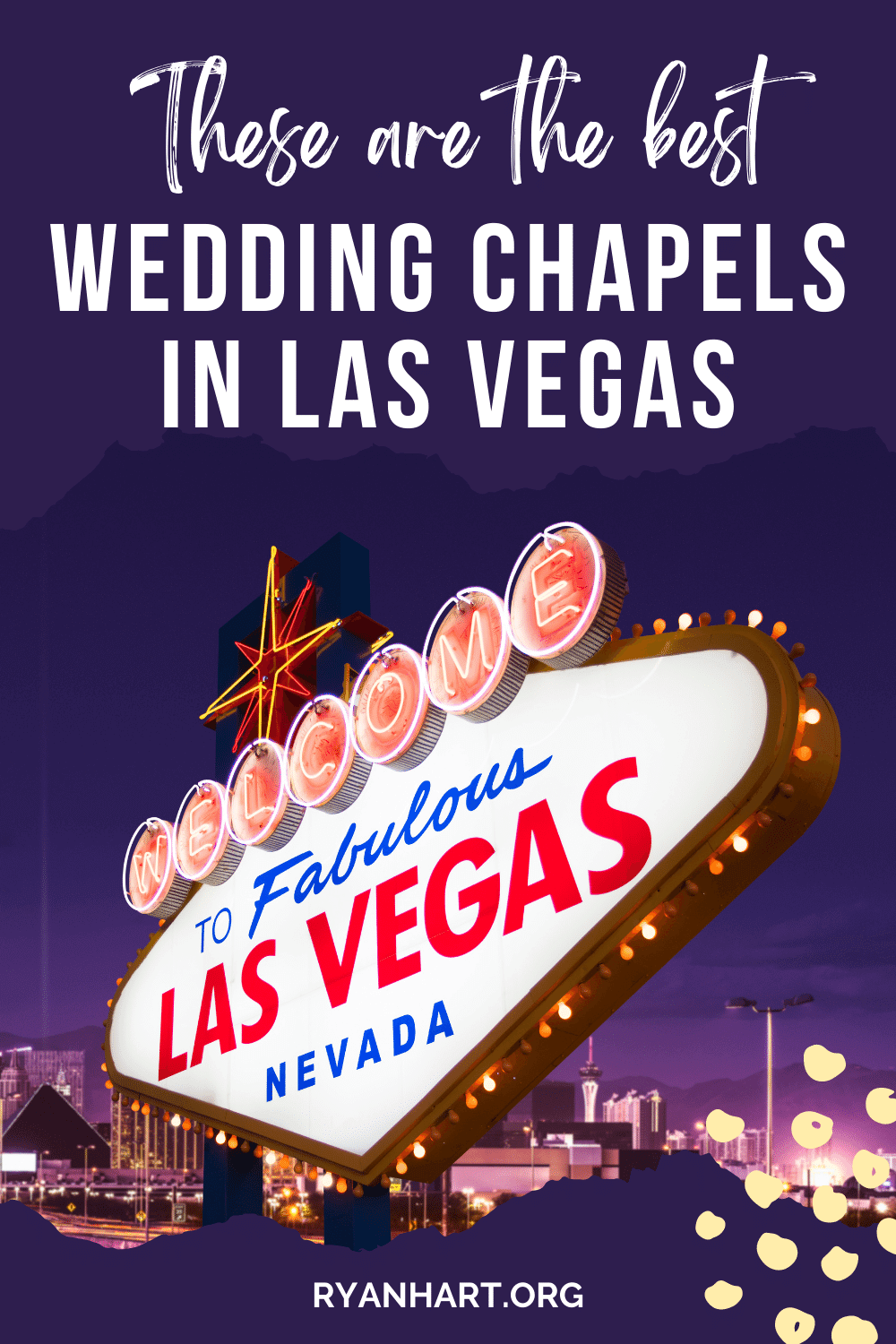 There are many reasons why people are flocking to get married in a Las Vegas wedding chapel. For one, Vegas is a very romantic city, with its bright lights and glamorous atmosphere.
Additionally, getting married in a Las Vegas chapel can be more convenient and less expensive than having a traditional wedding ceremony. However, chapel weddings also tend to be more intimate, ideal for some couples looking to escape the stress of planning a wedding.
And, of course, getting married in Vegas means that you can start your honeymoon right away!
Whether you're looking for a unique and memorable wedding experience or want to take advantage of the many benefits Las Vegas offers, getting married in a Las Vegas chapel is worth considering.