Sometimes you want to know the name of the person that uses a particular email address. The best way to obtain that information is to use a reverse email lookup site.
There are a number of websites that offer reverse email search services, and the process is usually simple and straightforward. You just need to enter the person's email and other relevant information into the search engine, and the site will do the rest.
So which website is best? Here is a list of our favorite people search sites:
Find anyone's name, age, photos, phone number, and social media profiles. Enter their name or email address to discover what they're hiding. Search FREE today!
What is the best way to find someone by email address?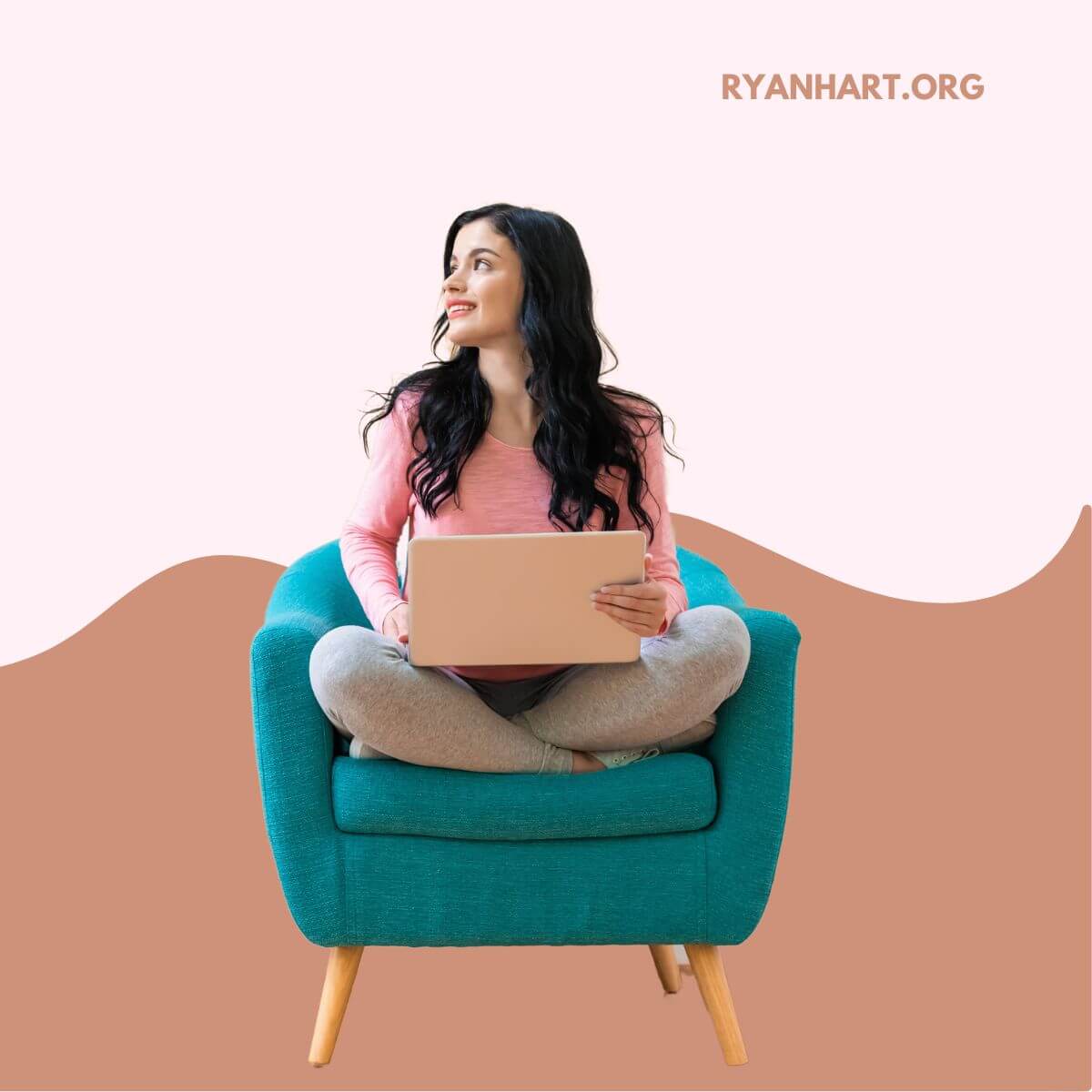 Searching the internet will help you find someone by their email address, but it can be a time consuming process if you don't know where to start. Here are the top seven reverse email lookup sites.
Spokeo is an easy service to run an email address search with. The site has a database of 12 billion records, so finding the person you're looking for should be easy. Over the years, Spokeo has transitioned from a social network aggregator to a search engine to a people search engine.
Not only can you find someone's name based on the email address, but you can also find any social media accounts they may have. You'll also be able to obtain personal details, including any property they own and how much money they earn every year.
Why you should try Spokeo:
Unsolicited emails are often scams and Spokeo can help you verify their validity. Many people have used this email address search site to avoid falling for a scam. And if you own a small business, it's also an effective way to find new customers.
BeenVerified is one of the most thorough reverse email search sites out there. When you search for a person by email address, you can get a comprehensive report that includes their real name and any known aliases. These reports also include contact information, and any known addresses for the person you are researching.
Why you should try BeenVerified:
We all lead busy lives and are often away from the computer. The good news is that BeenVerified has an app for iPhones, Androids, and Apple watches. And with the Apple Watch app, all you need to do is speak the email that you want to look up.
If you run any reports on your phone or tablet, you'll also be able to view them on your Apple Watch with this app.
3. InfoTracer
Imagine getting an email and not knowing who it's from! InfoTracer can solve that mystery for you. It's really easy to use, even for those that are not tech savvy.
All you need to do is type in the email address, and the website will find the owner's name and other information super fast. Plus, it keeps your search a secret, so no one will know you're looking up an email address.
Why you should try InfoTracer:
InfoTracer is helpful, safe, and quick, making it the best choice for discovering who's behind an email.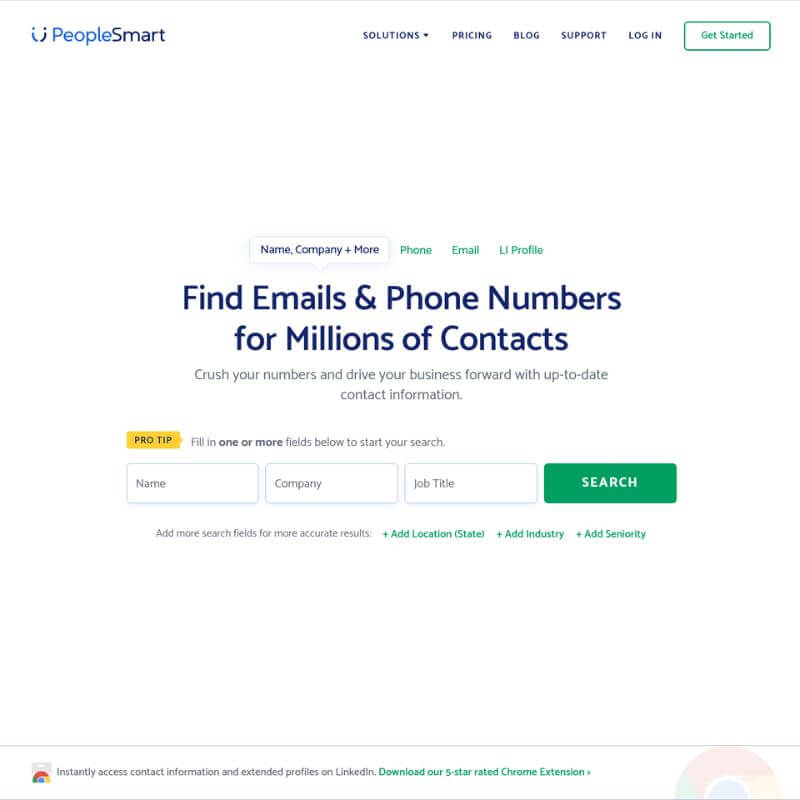 Anyone can use PeopleSmart for an email address search, but it's geared toward businesses of all sizes. You can search for any of your business contacts at any time, and the site will keep you updated if their information changes. When you get search results on a contact, the most important ones are placed at the top of the list.
Why you should try PeopleSmart:
Since PeopleSmart is designed for business users, you can find your contacts on LinkedIn and search for potential new employees for your business by downloading the proper Chrome extension. You can even create lists of contacts from LinkedIn that you can export for later use.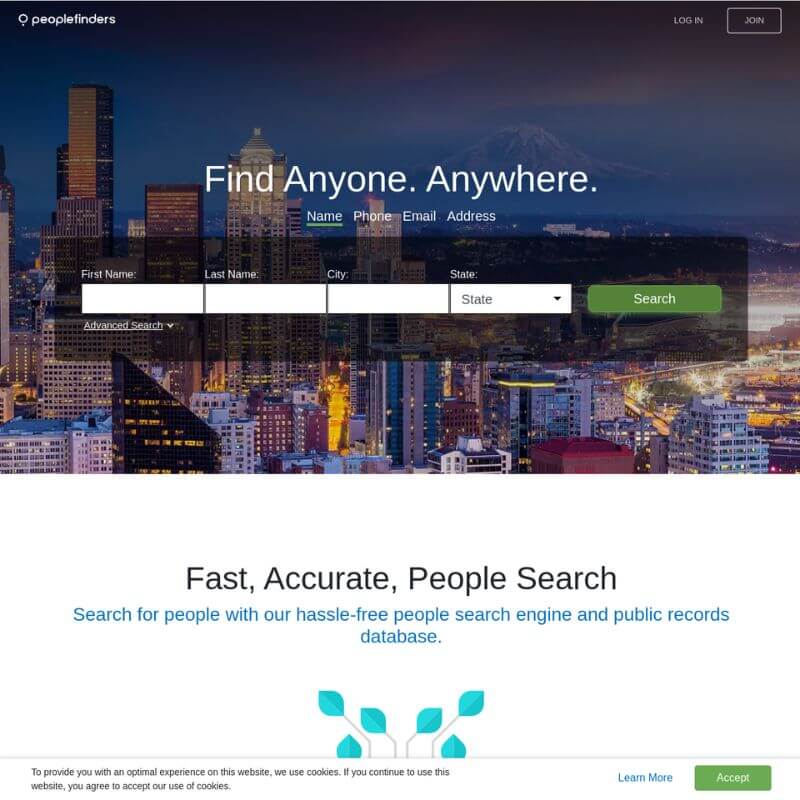 The extensive database PeopleFinders uses means you can find almost anyone in the country using an email address. By using the information found in public records, PeopleFinders can provide you with a way to fight back against anyone that may be trying to scam you.
Why you should try PeopleFinders:
PeopleFinders offers a service called IdentityWatch. You can use it to block scammers from contacting you by email or phone. The service can even tell you when an email account has been hacked.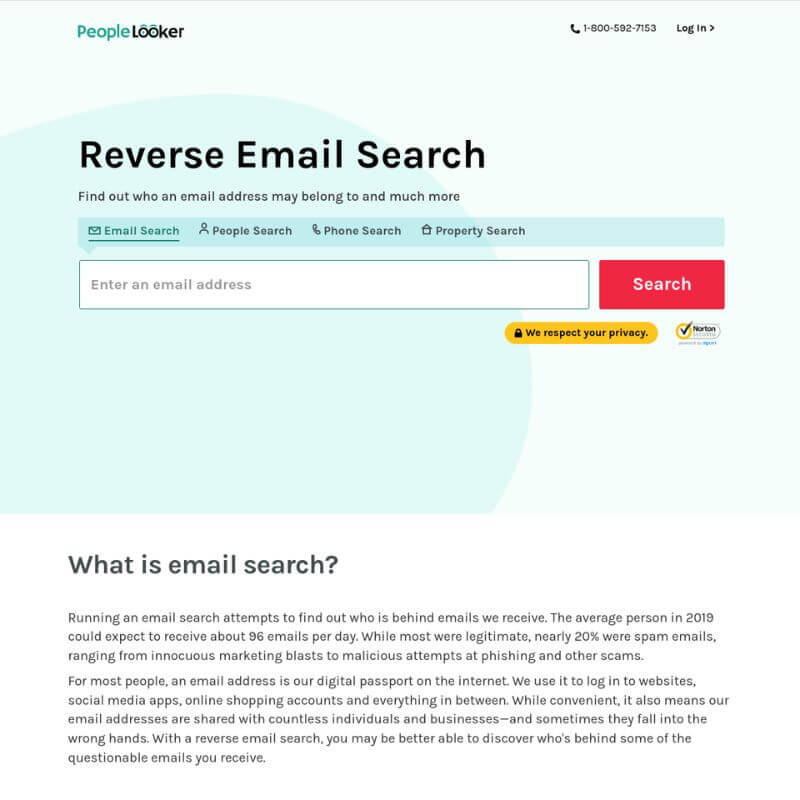 As recently as 2019, almost 20% of the emails the average person received daily were spam. And businesses were regularly receiving spam emails too. PeopleLooker is committed to helping cut down on spam emails by making it easy to find out who is sending them. You can also use this reverse email lookup service to keep your own information private.
Why you should try PeopleLooker:
Navigating the process of an email address search can be confusing at times. If you find yourself struggling, all you have to do is call or email the customer support department.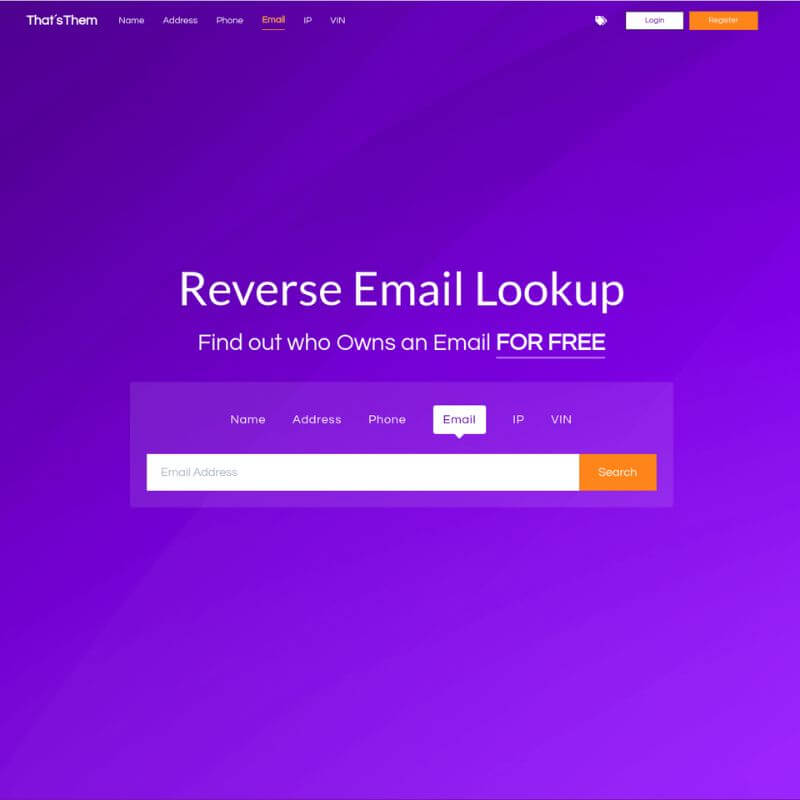 That'sThem runs a consumer database that is updated every week. This means you can always get current information about whoever you're looking up. When you perform a search on the site, it scours trillions of records. In addition to a person's name, you can also find someone's educational credentials.
Why you should try That's Them:
If you have nothing but an email address, it's easy to find out the name of the person who has it, along with their address and even relatives.
What is Reverse Email Lookup?
A reverse email lookup is a service that allows you to enter an email address and find information about the person who owns that address.
Email lookup can be helpful if you're trying to track down someone you've lost touch with or want to find out more about someone you're corresponding with.
There are many different reverse email lookup services that all work the same way. Start by entering an email address, and the service searches its database for matches.
If it finds a match, it will provide you with the name and social media profile of the person who owns that address. In some cases, you may also be able to see their contact information and location.
How Can I Find Out Who is Behind an Email Address?
If you've ever received an email from an unknown sender, you may have wondered how to find out who is behind the address. Luckily, there are ways to do a reverse email lookup and uncover the identity of the mystery sender.
One option is to use a reverse email lookup tool like BeenVerified or PeopleFinder. These services allow you to enter an email address and see any public information associated with it, including the name and location of the owner.
Another option is to use a free internet search engine like Google or DuckDuckGo. Put an email address into the search bar, press enter, and get millions of potentially relevant web pages back. Your results may vary with this method. However, you'll likely be unable to find helpful information about the owner this way.
Finally, you could use a people search site like Spokeo. These sites compile public records from various sources and charge a fee to access them in a simple report.
Give one of these methods a try next time you're trying to track down the owner of an email address.
Bottom Line
It's no secret that we are constantly bombarded with emails. Many of them are spam, but some are from people we know.
However, there are also times when we receive emails from strangers. When this happens, it can be helpful to use a reverse email search to find out who is behind the address.
Running an online background check can be especially useful if you suspect that the email might be part of a scam. For example, a reverse email search can help you confirm the sender's identity and whether or not they are legitimate.
In addition, a reverse email search can also provide you with other information about the person, such as their contact details and social media profiles.
Ultimately, a reverse email search is a quick and easy way to find out more about the person behind an email address.