Everyone needs companionship, even if their only contact is through letters. That being said, there are ways to find a prisoner or inmate to become pen pals with.
When you become prison pen pals with someone, you are their connection to the outside world. Waiting for your correspondence gives them something to look forward to when everything else is bleak.
So, relying on sources where you can find prison pen pals will make connecting with someone in need easier.
What is the Best Prison Pen Pal Site?
You'll see that there are only a few sites where you can find prison pen pals. These seven sites give you everything you need to get started if you want to meet an inmate.
1. Write A Prisoner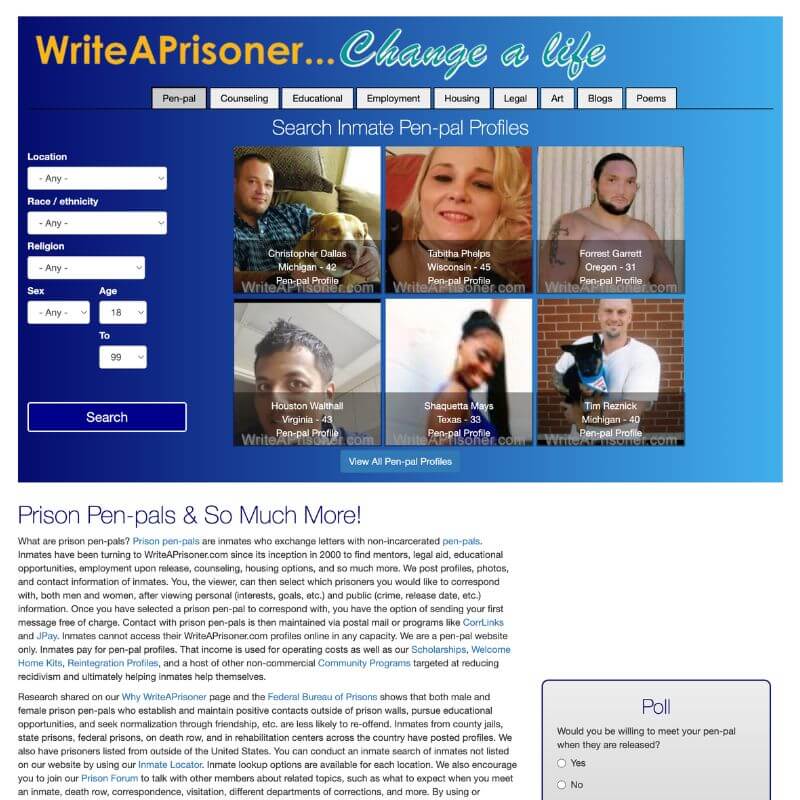 At Write A Prisoner, you can search for prison pen pals by state, race, religion, gender, or age.
Each inmate listed on the site has a profile (with a picture) that you can use to find out more information about them. This includes where they went to school, how long their prison sentence will last, and the crime that landed them there.
When you've chosen which prisoner you want to correspond with, you can contact them through postal mail or email. You can even type a letter and have it printed on stationary.
What the Write A Prisoner Site Does Best:
If you want to find out more about the community programs that prisons run for their inmates, Write A Prisoner is a great resource. You may even be able to arrange for a care package to be created for someone about to be released.
2. Wire of Hope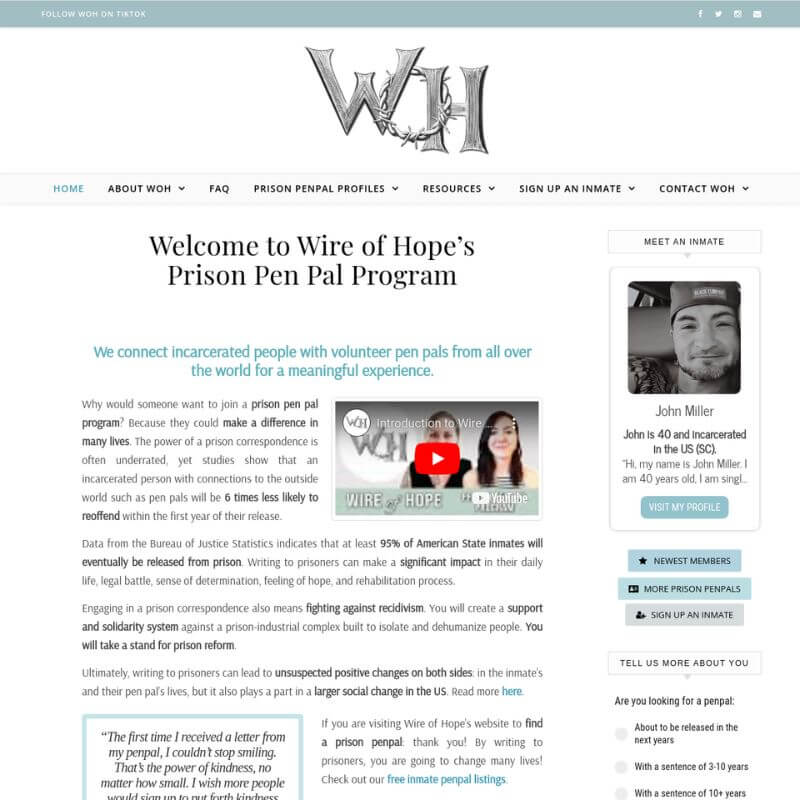 Wire of Hope is a site where you can volunteer to become prison pen pals with someone. When you don't know where to start, this site has all the resources you need. It lets you search for prisoners based on very specific criteria, including their astrological sign, body type, release year, and prison sentence length.
The site also lets you find a pen pal for an inmate you know personally. For a small fee, you can get them a one-year subscription so they can correspond with those in the outside world.
What the Wire of Hope Site Does Best:
You may be interested in connecting with prisoners but not know what to say or how to say it. Wire of Hope provides tutorials and tips to help you get started.
3. Meet an Inmate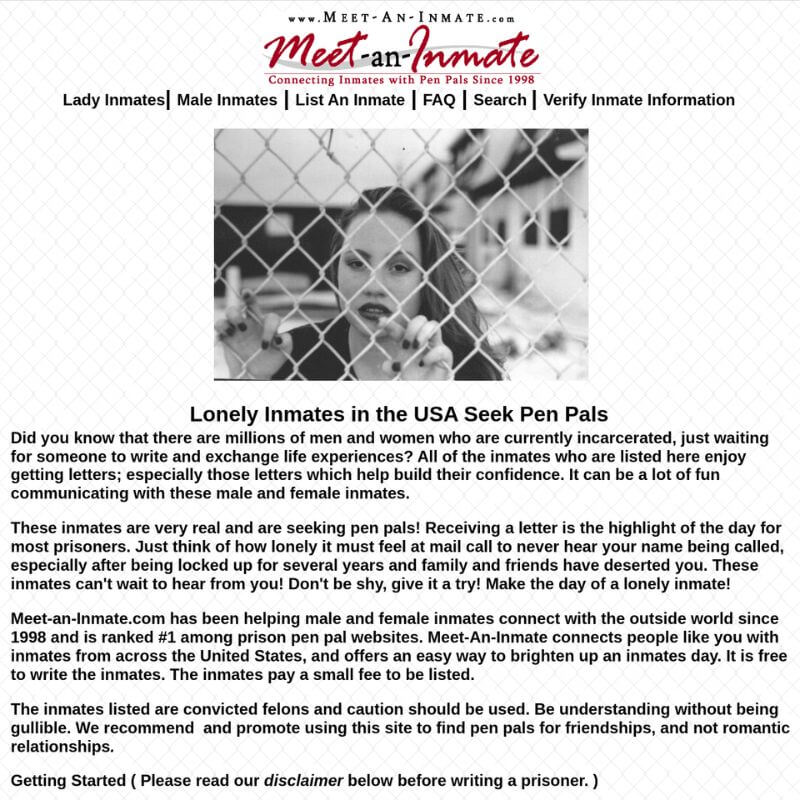 Meet an Inmate has been operating since 1998 and makes it easy for you to find a pen pal for an incarcerated loved one or become a pen pal yourself. You can search for either male or female inmates when looking for someone to write to.
Anyone you find to correspond with through the site is a known convicted felon. Meet an Inmate encourages you to be cautious when communicating with a prisoner.
For the most part, when you write a prisoner you found on the site, it has to be through postal mail. Only select prisoners can communicate with their pen pals through emails.
What Meet an Inmate Does Best:
It is easy to verify the information on any inmate when you use this site. Prisoners are sorted by the state they are incarcerated in, though some states do not allow you to find inmates online.
4. Caged Ladies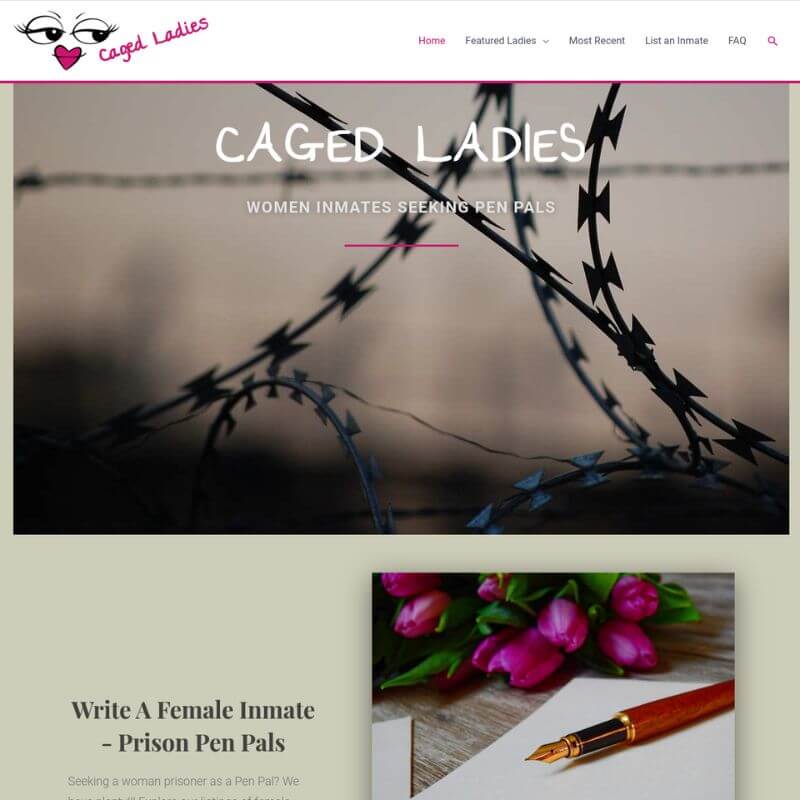 When you want to meet a female inmate, you can do it quickly using Caged Ladies. All you have to do is scroll through their pictures and find one you want to write to. Clicking on an inmate's picture gets you their profile, including instructions on contacting them properly.
You can sort through your choices depending on the age group you want to write to. Note that profiles do not include information on what a particular woman was incarcerated for, but you are allowed to ask in your correspondence.
What the Caged Ladies Site Does Best:
These women are isolated from the opposite gender, so many are looking for a kind and understanding man to communicate with.
5. Women Behind Bars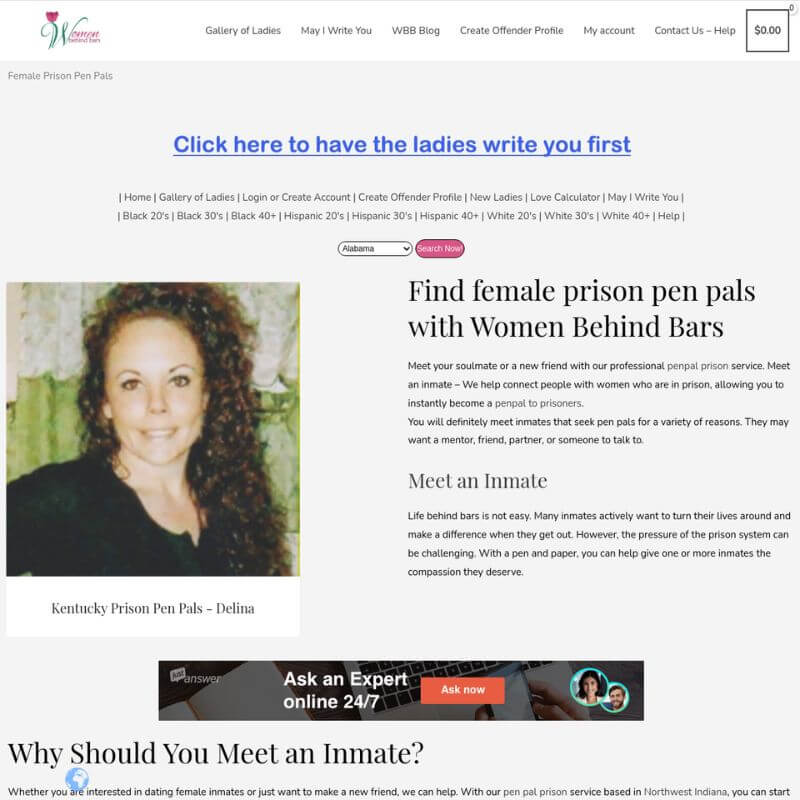 Women Behind Bars provides female prisoners free access to pen pals outside the prison system. You can sort through prisoners based on race and age. Though currently, all the female prisoners are in the U.S., Women Behind Bars plans to make it possible to write to inmates in other countries.
What the Women Behind Bars Site Does Best:
If you want to connect with someone on an intimate level, Women Behind Bars gives you the option of listing your own profile and letting the inmates come to you. And once you've met someone, the site offers a love calculator to help you figure out if it's an ideal match.
6. Penacon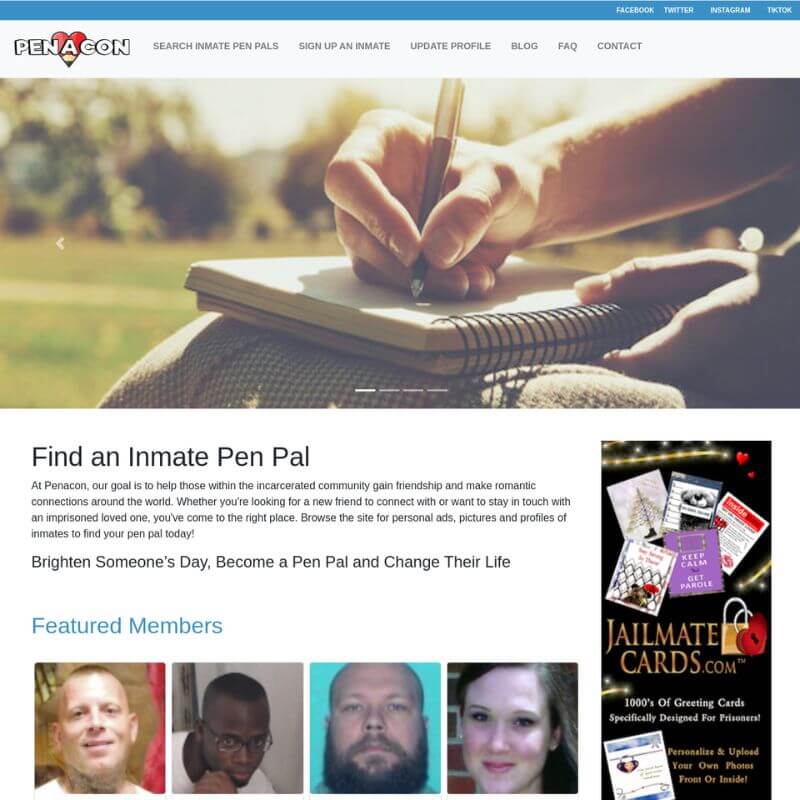 Whether you are looking for friendship or a relationship with an inmate, Penacon will likely be a huge help. You can search for inmates based on the kind of connection you want. There is even a section where you can choose an LGBTQ pen pal.
Inmates are divided into categories, including those incarcerated in urban and rural areas. This makes it easy to find exactly who you are looking for. If you want to reach out to someone who doesn't have anyone to visit them, there is a small section of inmates who have never had a pen pal but want one badly.
What the Penacon Site Does Best:
Penacon lists those who are allowed to receive gifts in prison. When you want to send a gift but don't know what to choose, the site will help you decide what to get them.
7. Inmate Classified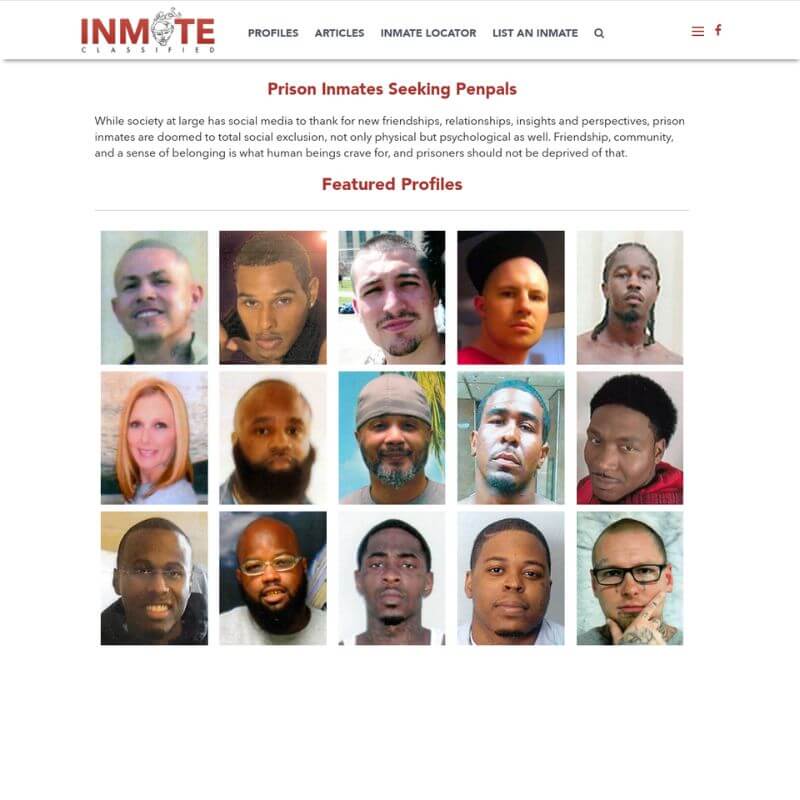 Inmate Classified is a site that cares about making prison sentences easier on the incarcerated. It's been in operation since 1996 and connects prisoners with those who can give them hope for the future. Using this site, you can sort prisoners by who has been incarcerated for the longest.
You can use the site to submit your first correspondence as soon as you find someone you want to write to. All you have to do is fill out the form, and Inmate Classified will print it out and mail it to them. The site sends mail to prisoners every Friday, so you can give them something to look forward to.
If you include your home address in your initial letter, the inmate will have the option of writing a letter back to you. If you don't want to give them your home address, you can send the letter through postal mail, and they will email you an electronic copy. This way, you can communicate with the prisoner of your choice without running the risk of receiving spam emails.
What the Inmate Classified Site Does Best:
If you want a deeper understanding of prisoners' struggles, Inmate Classified keeps you updated through articles and opinion pieces on issues with the justice system. Reading these articles may help you relate to the prisoners better.
Bottom Line
In today's world, it can be easy to feel disconnected and alone. We are often so wrapped up in our own lives that we forget there are other people out there who may be going through tough times.
One way to reach out and connect with others is to become a pen pal with a prisoner. This unique form of correspondence can provide companionship and support for both parties involved.
For the prisoner, a pen pal can offer much-needed contact with the outside world. In addition, a pen pal can provide an invaluable listening ear, offering nonjudgmental support and understanding.
For the person on the outside, becoming a pen pal can provide an opportunity to make a difference in someone's life. In addition, it can be a way to learn more about the criminal justice system and the challenges prisoners face.
Whether you are looking for companionship or a way to make a difference, writing to a prisoner is a rewarding experience.