Cancun, Mexico, is an extremely popular tourist destination — so much so that the city is divided into two parts, one of which is devoted to hotels and resorts.
Among these are some of Mexico's most stunning wedding destinations. Here, you and your spouse-to-be can exchange your vows in the Yucatan Peninsula's natural beauty.
If you are planning a destination wedding in Cancun, check out our top recommendations for Cancun wedding venues for every wedding type and style.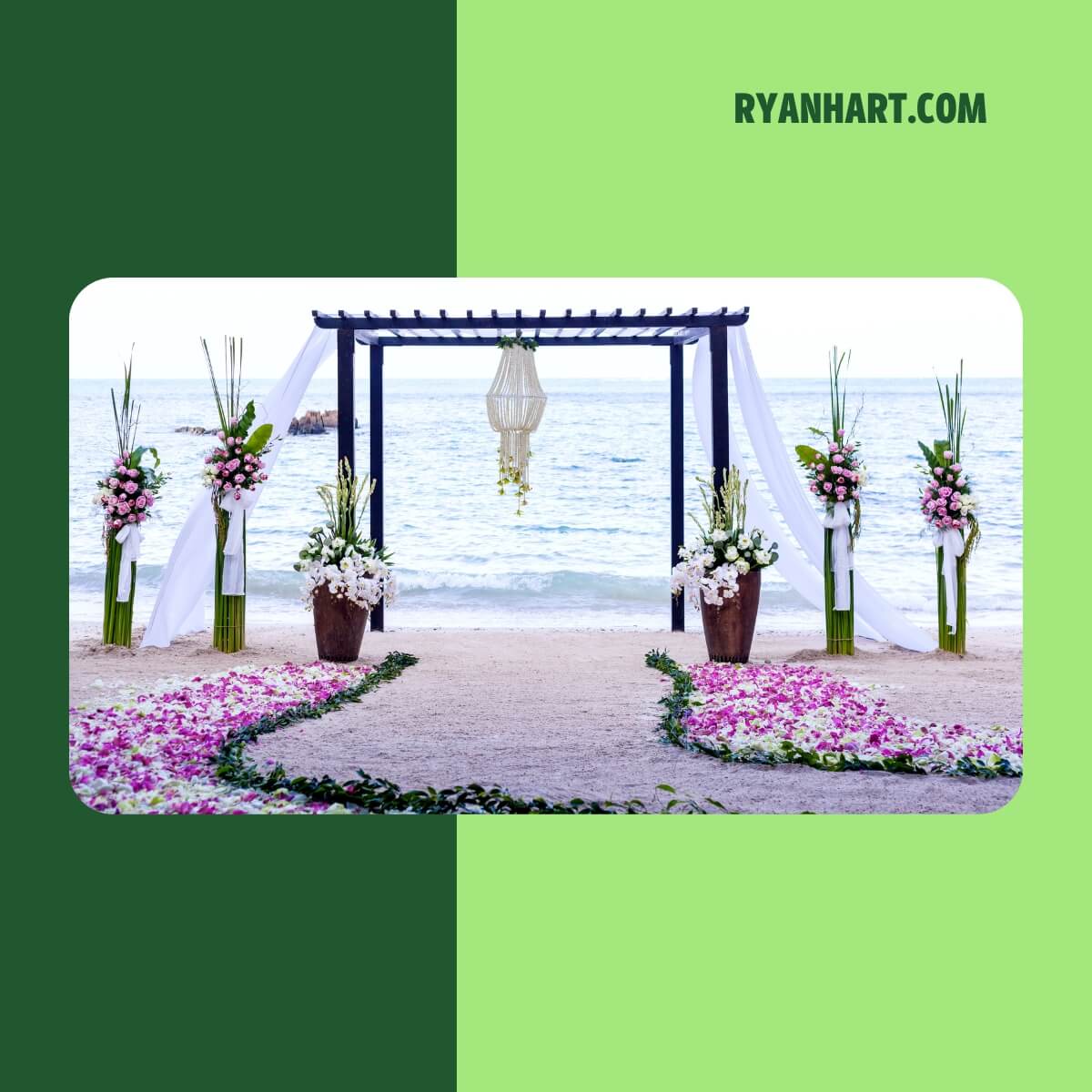 What are the best wedding venues in Cancun?
You will have no shortage of options when choosing a wedding venue in Cancun. The city is full of amazing hotels and resorts with access to private beaches.
While they all offer a beautiful place to stay and celebrate your wedding day, some resorts provide more involvement than others.
In fact, some of these Cancun wedding venues have a full-time wedding planning staff that can help you plan every detail of your big day.
Whether you want a big wedding with all the extras or a small, intimate ceremony in a beautiful place, there is something in Cancun for every couple.
Here is a list of our top recommendations for wedding venues in Cancun: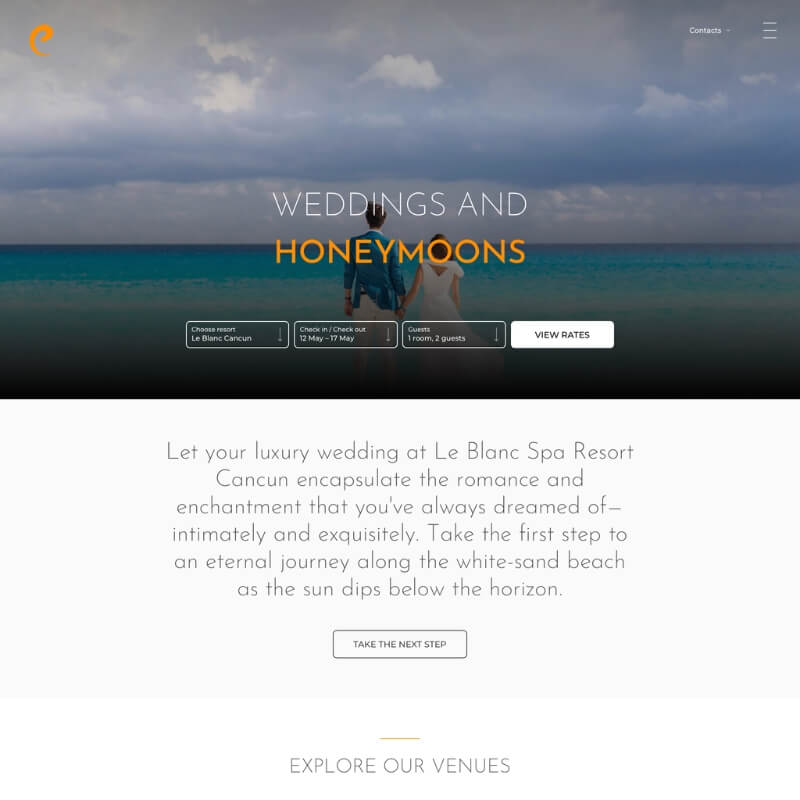 The Le Blanc Spa Resort Cancun offers seven unique venues to choose from for your wedding ceremony and reception.
You and your significant other can exchange vows in a gauzy gazebo on the beach, in one of two grand ballrooms, or on a terrace overlooking the water.
No matter what you have in mind for your big day, the staff at Le Blanc Spa Resort seeks to make it run smoothly. You can even get ready for your wedding in the resort spa before saying "I do"!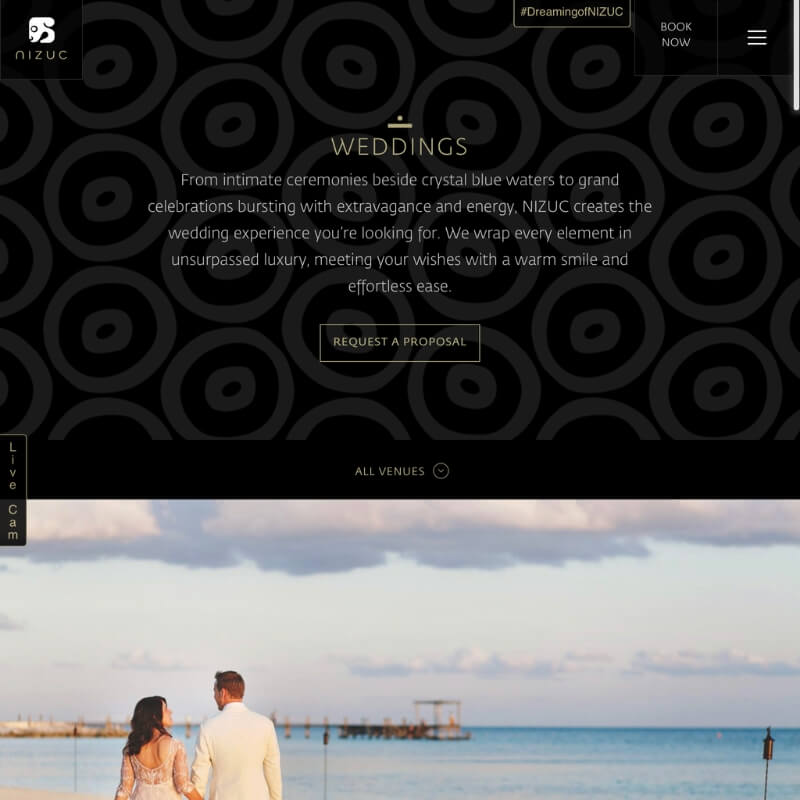 NIZUC Resort & Spa communicates elegance and luxury in every detail. So it is the perfect place to celebrate your wedding, especially if you have a grand gala in mind.
You can choose to hold your ceremony in many venues, including the stunning resort gardens, open-air terrace, or on one of several private beaches.
No matter what you choose, you can bet that it will be an unforgettable experience. NIZUC's wedding package even includes a morning breakfast delivered to your room and spa treatments before your ceremony.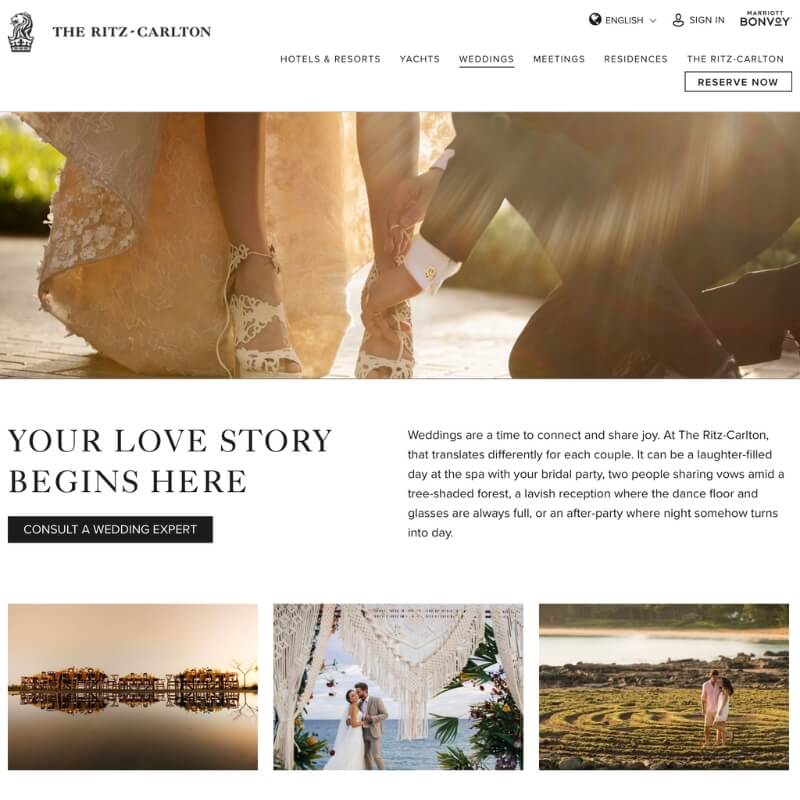 The Kempinski Hotel Cancun is known for its attentive staff and beautiful design, perfectly combining a comfortable indoors with the stunning nature of the Caribbean.
The wedding venues here range from the elegant Yucatan Ballroom to the stunning white sand beach.
The Kempinksi also employs a full-time wedding staff ready to assist you with all the planning you need, from setting up for your big day to ensuring it runs smoothly.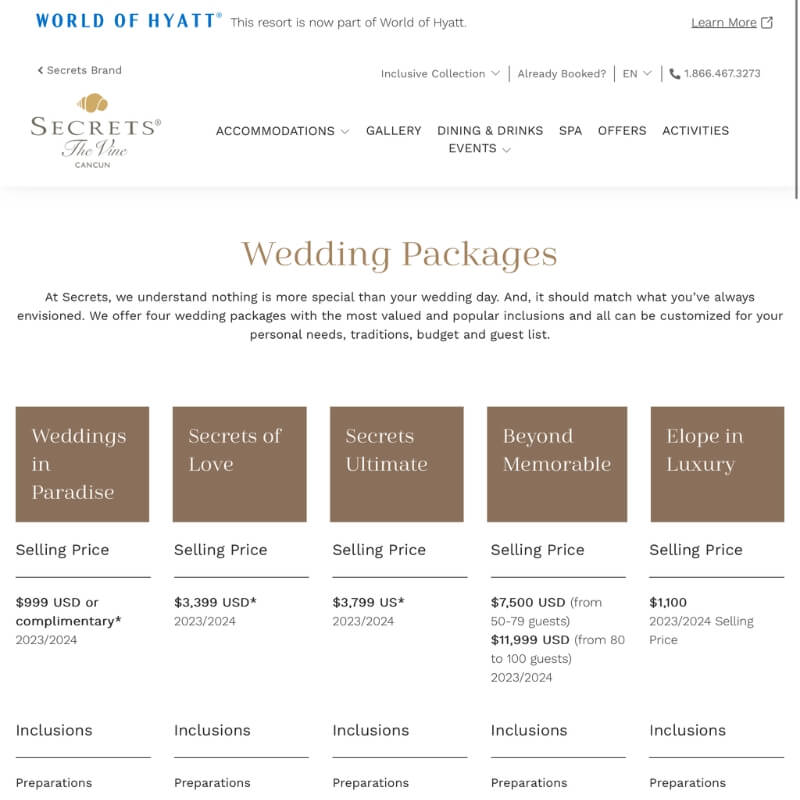 Secrets The Vine Cancun offers a massive range of wedding services, so you can have as much or as little help as you need.
This resort truly offers everything from wedding planning assistance to setup, catering, and hairstyling. But if you prefer to handle things on your own, you can still hold your wedding at this lush resort.
Say your vows on the beach or on an intimate, picturesque terrace or gazebo — every option is available here.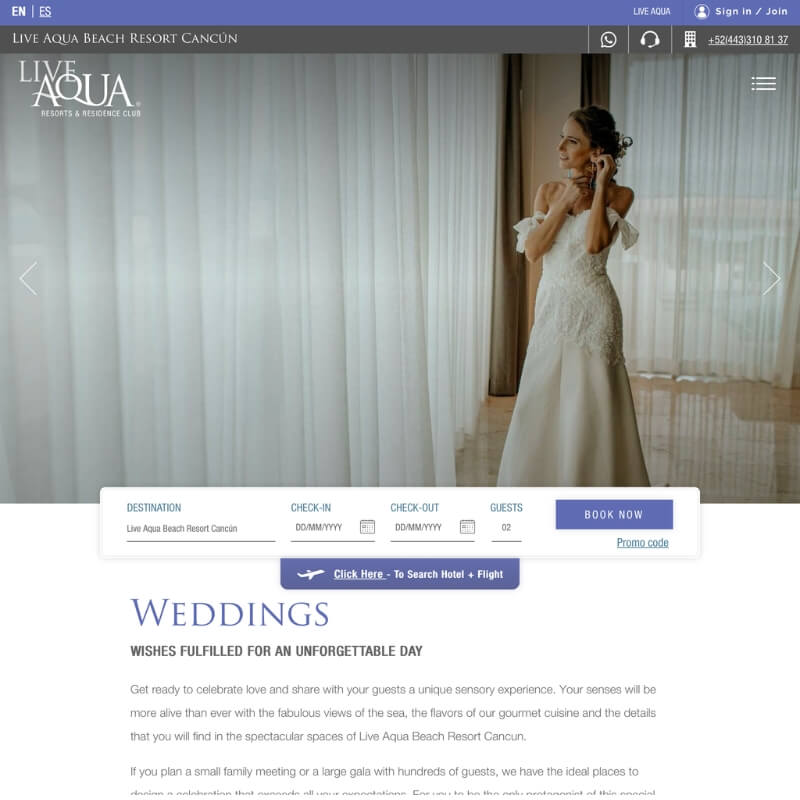 Live Aqua Beach Resort has countless ways to celebrate your wedding, from civil ceremonies to multicultural celebrations.
The on-site staff is ready to accommodate your wishes for every detail of your big day. With six unique wedding venues, the resort truly has something for every couple.
Throw a big bash on the beach or celebrate in style with an intimate ceremony on the terrace. There are also many options for other wedding events, such as cocktail parties, farewell breakfasts, and more.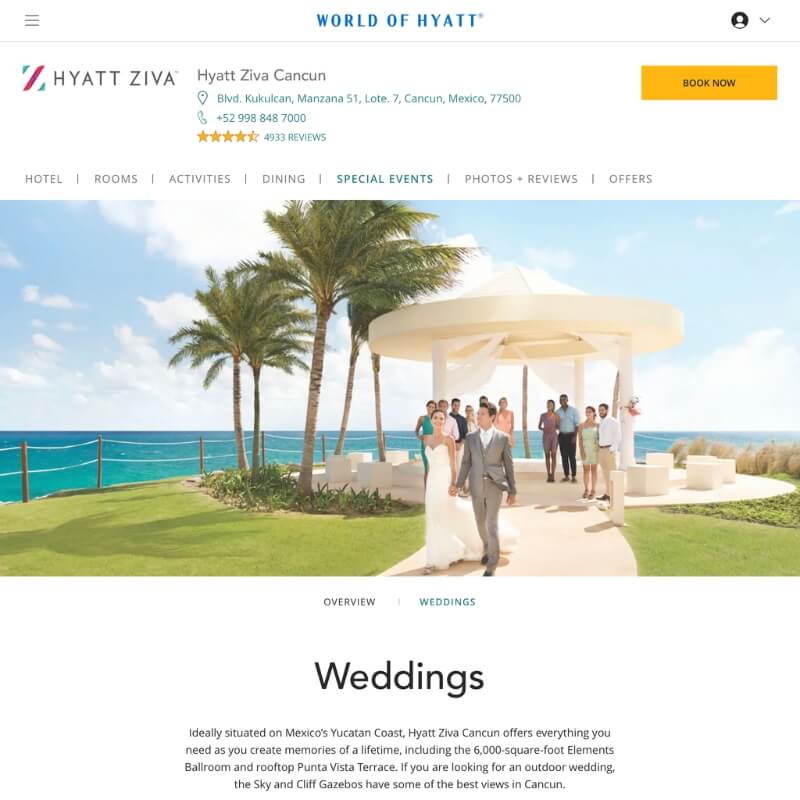 The Hyatt Ziva Cancun is one of Cancun's most popular wedding destinations.
Once you visit, you'll immediately know why: the outdoor terrace spaces and cliffs overlooking the ocean make for some of the best views on the Yucatan Peninsula.
Here, you have several options for where to host your wedding, including an elegant ballroom, a rooftop terrace, or a cliffside gazebo.
The Hyatt's wedding staff is also at hand to help you organize your big day, no matter what kind of celebration you envision.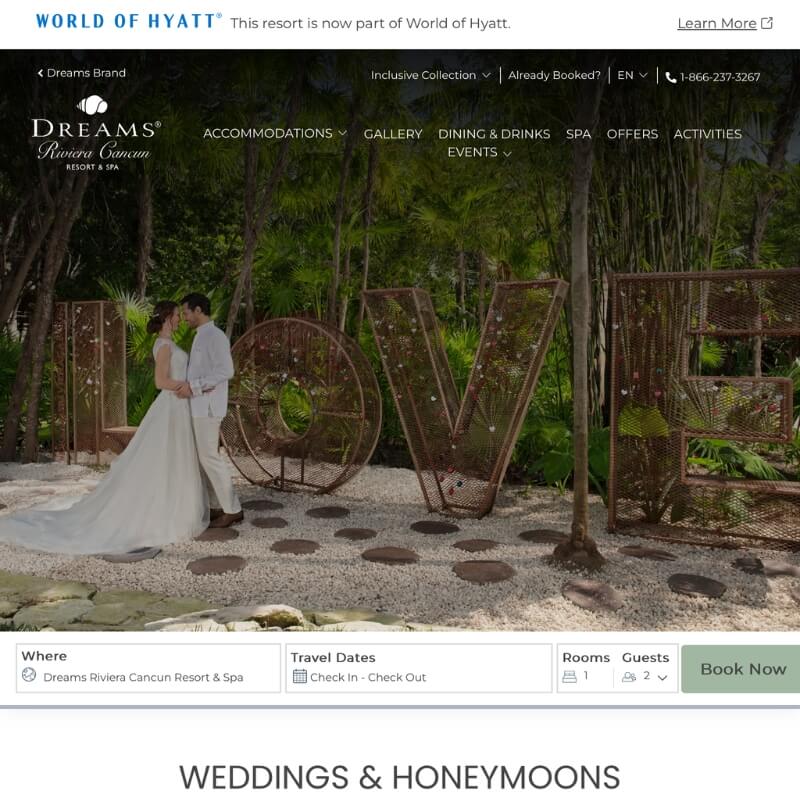 Dreams Riviera Cancun Resort & Spa is a relaxing oasis of lapping waves and gently swaying palm trees.
Here, you can celebrate your wedding in the secluded paradise of Puerto Morelos. The resort has six wedding locations, so you can pick the perfect atmosphere for your big day, from the beachfront to the opulent ballroom.
Dreams Riviera also has a wedding team to help you bring the day together so you can relax and enjoy the celebration.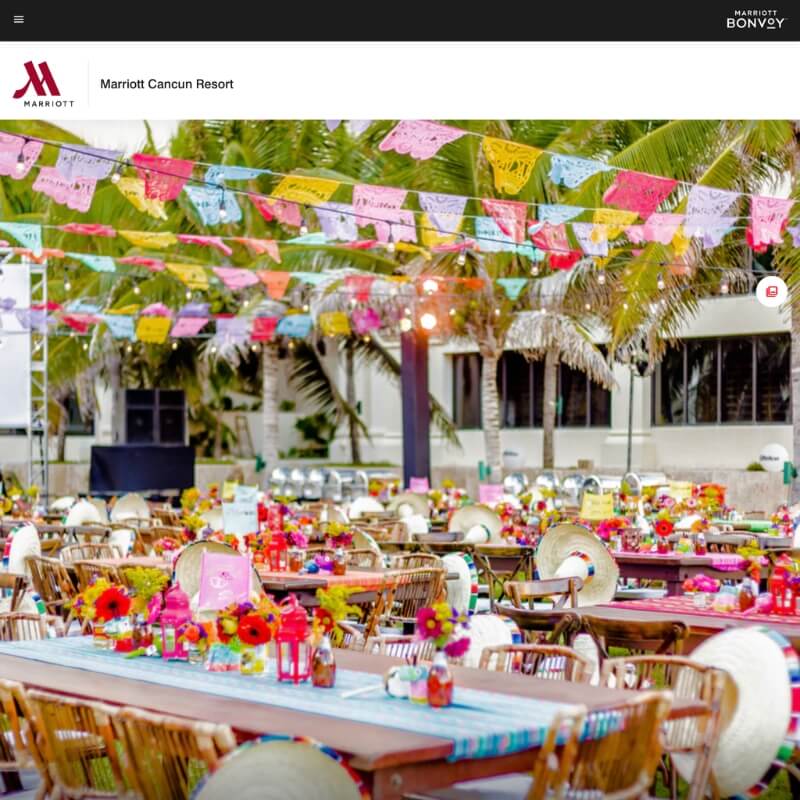 The JW Marriott Cancun Resort & Spa is an all-inclusive hotel offering space for large events, with room for up to 800 people. That makes it perfect for the couple planning a large wedding with many family and friends.
The JW Marriott has a variety of outdoor wedding venues so you can plan your ceremony out in the beautiful Cancun sun. Then head to the resort ballroom for your reception or keep the party going right on the beach.
TheGrand Fiesta Americana Coral Beach is a beautiful place to say your wedding vows, surrounded by the sand and the sea.
But it is also known for its extensive offerings from the wedding planning team, who will help you bring together your celebration.
With a wide variety of venues and options for your ceremony, the Grand Fiesta Americana can be described as truly all-inclusive — meaning that you don't have to worry about a thing.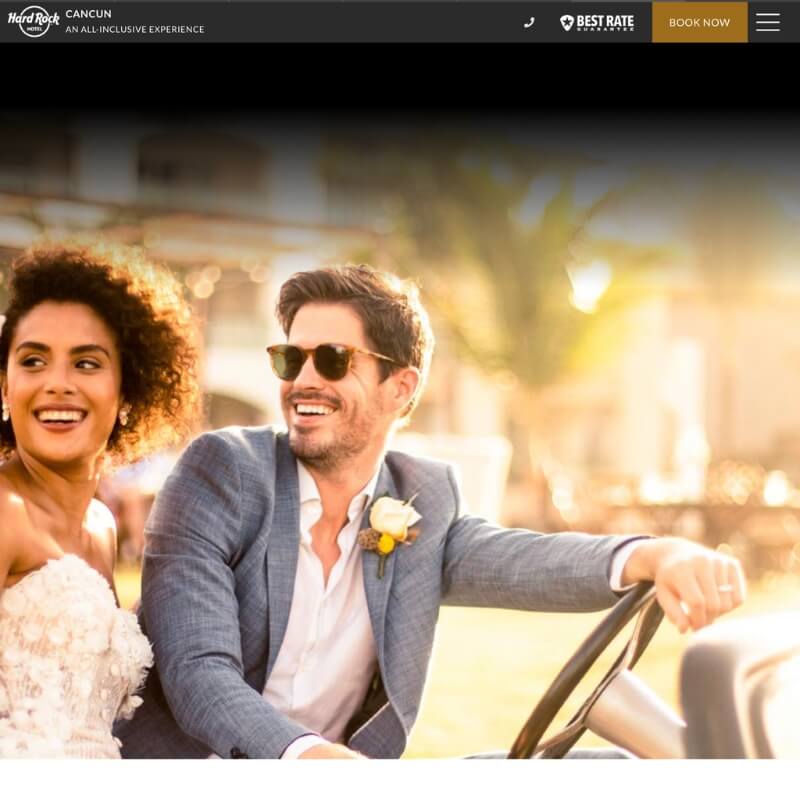 Hard Rock Hotel Cancun offers a wedding experience for every couple, from elopements to civil ceremonies and ethnic wedding celebrations.
Whether you want to throw a big party or exchange vows privately, you can find exactly what you need at Hard Rock Hotel Cancun.
The wedding staff will ensure that you have the wedding of your dreams, surrounded by the natural beauty of the ocean.
Their services even extend to crafting signature cocktails and providing the decor for your big day.
What are the legal requirements for getting married in Cancun?
To get married in Cancun, you need to provide valid passports, tourist visas, birth certificates, and a completed marriage application form. Additionally, you'll need four witnesses with valid identification.
For a civil ceremony, a blood test and a translated, apostilled birth certificate are required. Couples should arrive in Cancun a few days before the wedding to finalize paperwork.
Can I have a religious ceremony in Cancun?
Yes, you can have a religious ceremony in Cancun, but it won't be legally binding. Most couples opt for a civil ceremony beforehand to fulfill legal requirements.
Catholic weddings require additional paperwork and must be held in a consecrated church.
What is the best time of year to get married in Cancun?
The ideal months for a Cancun wedding are December to April when the weather is warm and dry. Avoid the hurricane season (June to November) and the hottest, most humid months (May and September). Note that December and March are peak tourist seasons, so plan and book in advance.
How much does a Cancun wedding cost?
The cost of a Cancun wedding varies depending on factors like venue, guest count, and services. On average, a destination wedding in Cancun can range from $5,000 to $30,000. To save money, consider off-peak seasons, weekday weddings, or all-inclusive packages.
Bottom Line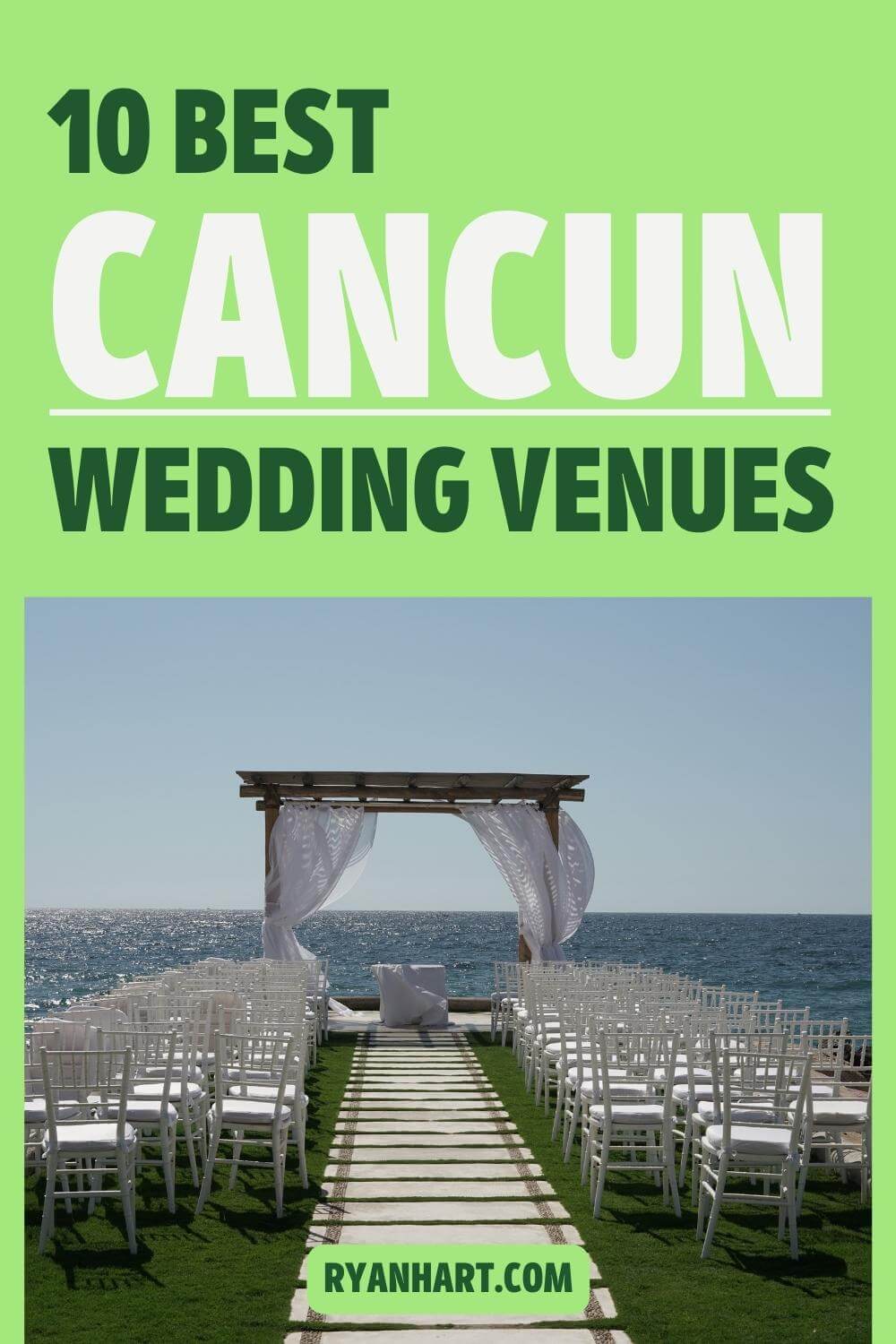 One of the best things about getting married in Cancun is that there are lots of great places to choose from for your big day. You can have a small, intimate ceremony at a romantic beachside gazebo or a grand celebration at a luxurious resort.
Many hotels in Cancun even have wedding planners who will help you with all the details, like picking out the perfect flowers, choosing a delicious menu, and finding a talented photographer.
Plus, since Cancun is a popular vacation spot, your friends and family will have no problem finding a place to stay. With so many options, your Cancun wedding is sure to be perfect!