So you decided not to get married in your backyard, but somewhere amazing, like a sandy beach or a stunning castle. Cool, right?
But how do you tell your friends and family about this awesome adventure? Easy-peasy - with a super-duper, fancy-schmancy destination wedding invitation!
This article will help you design the perfect "golden ticket" that says, "Hey, pack your bags, we're getting hitched, and you're coming along for the ride!"
Ready to get started?
Let's dive into the world of wedding invitations that are so fun, they might even make Aunt Sally forget she's afraid of flying!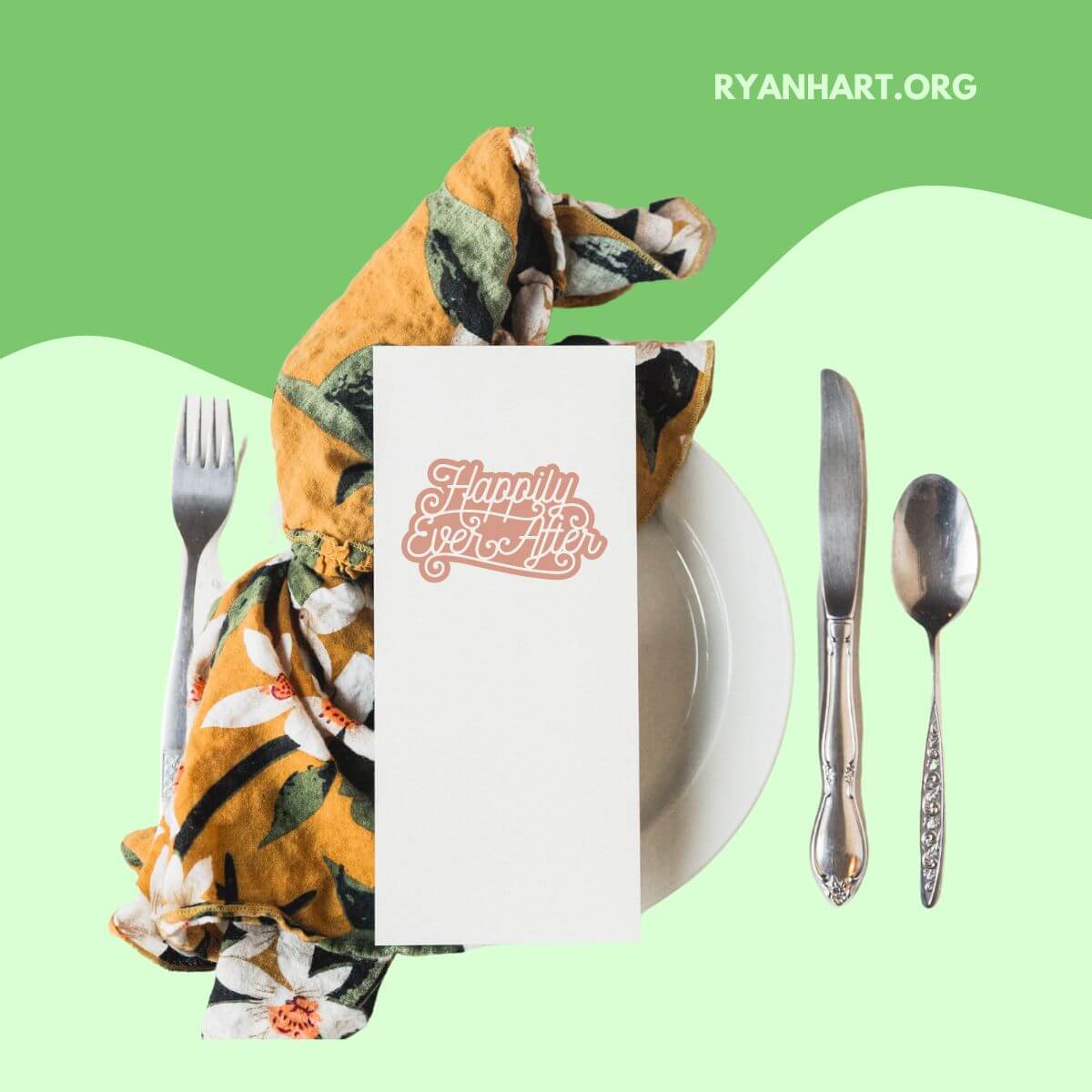 What are the best invitations for destination weddings?
Here are the best destination wedding invitations you'll find on the internet: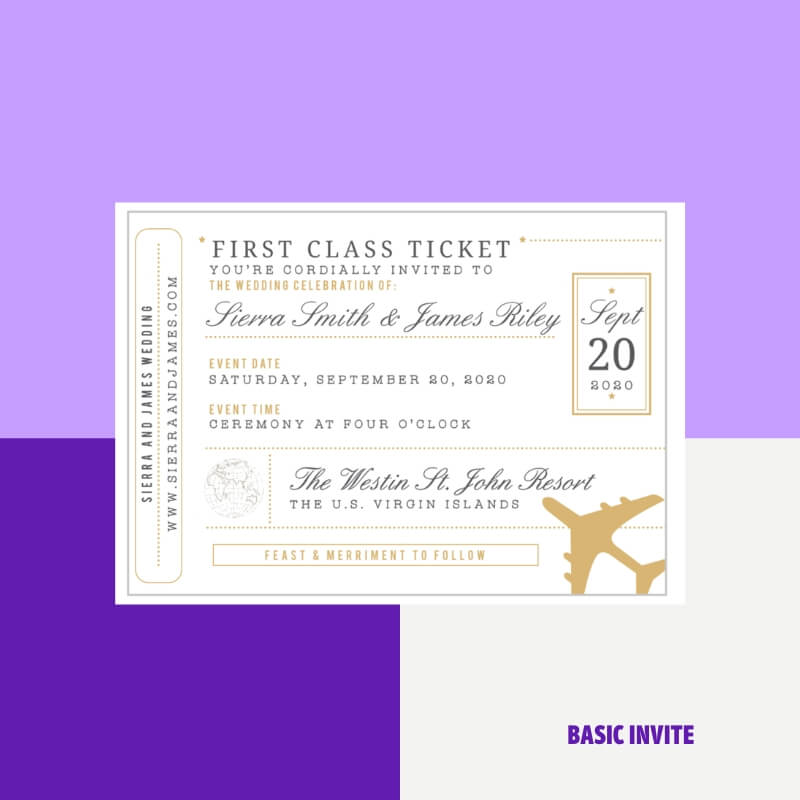 For many people, there is nothing more exciting than holding a plane ticket in their hands. That's why the Bon Voyage destination wedding invitations are the perfect choice.
They are laid out much the way an airline ticket would be while still including all the relevant information about the time, date, and location of your ceremony. You can also choose from a few different layouts for the invitations, including square and round variations.
Why we love this invitation
Your Bon Voyage invitations will make your guests feel like they are already on the way to your wedding.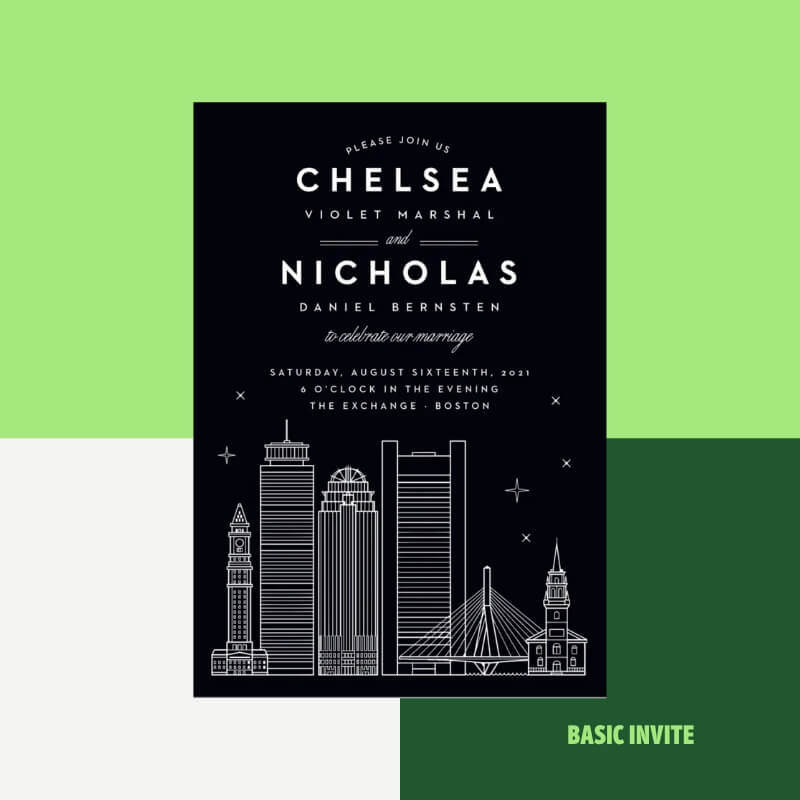 If your destination wedding is in Boston, what's better for the invitation than a drawing of the Boston Skyline?
Your text appears above the skyline, which is drawn in white against a black background. However, you can change the colors around if you want to. These invitations are not flashy or fancy but perfectly capture the mood of a Boston wedding.
Why we love this invitation
The Boston Skyline wedding invitations are simple but eye-catching, leaving an impression without being too over the top.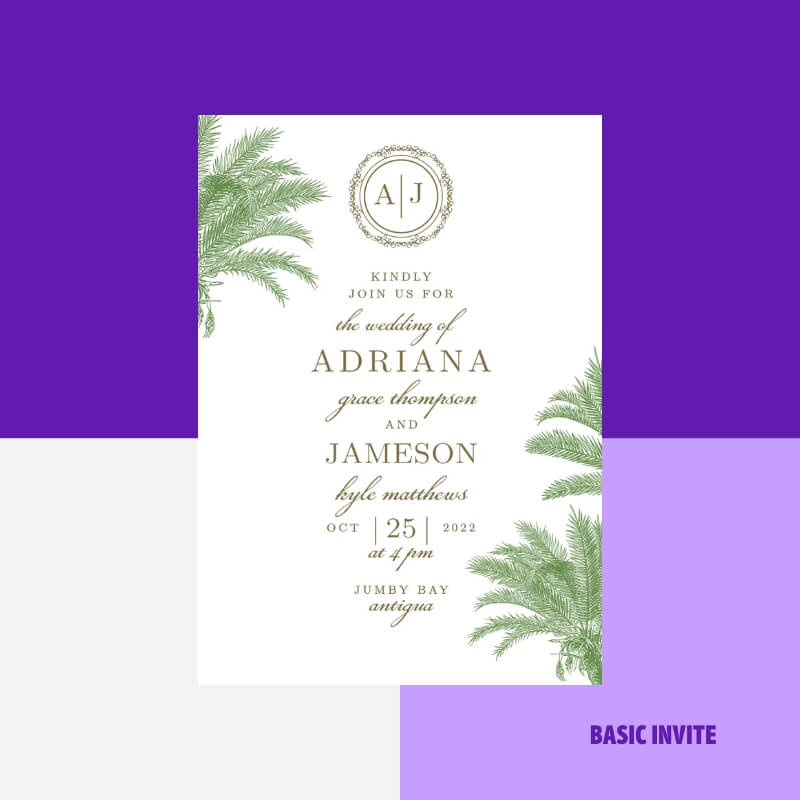 When most people think of relaxation, they think of palm trees swaying in the breeze. If your destination wedding is in the Caribbean, your guests will love the Caribbean Palm wedding invitations. The text is hugged on both sides by the branches of palm trees. And above the details, you can have your first initials printed.
Why we love this invitation
The Caribbean Palm wedding invitations will immediately put your guests in the mood to attend a destination wedding.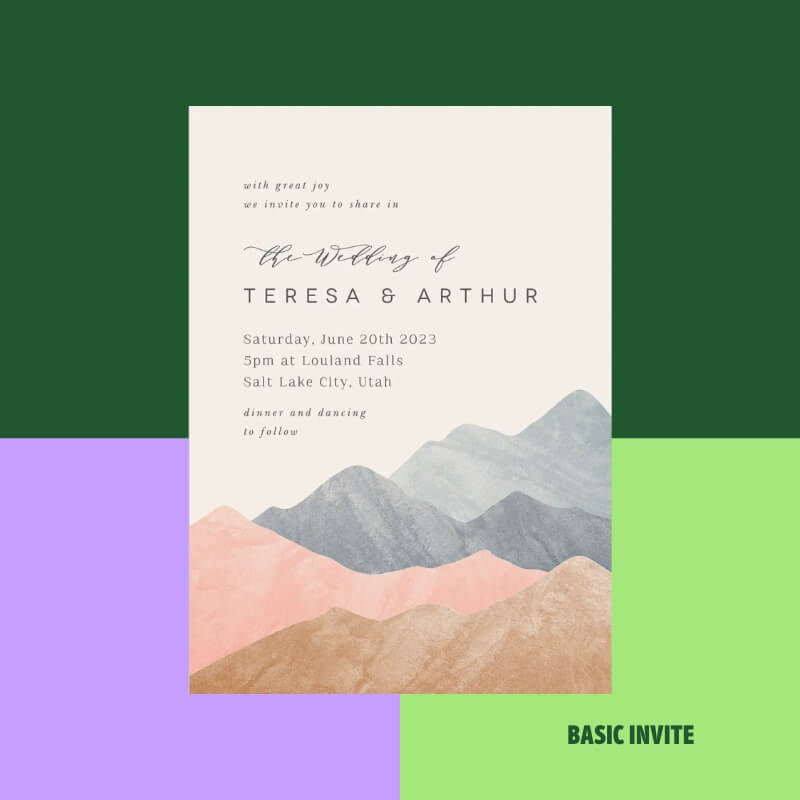 Not every destination wedding invitation has to be bold. You'll find that the Mystic Mountains invitations are relaxing to look at. The choice of background colors are more muted shades, so you can perfectly capture the style you want for your invitations. Regarding the text, your names are in a large print, with everything else in a smaller print.
Why we love this invitation
The Mystic Mountains wedding invitations convey a sense of calmness that can help keep you and your guests centered for the big day.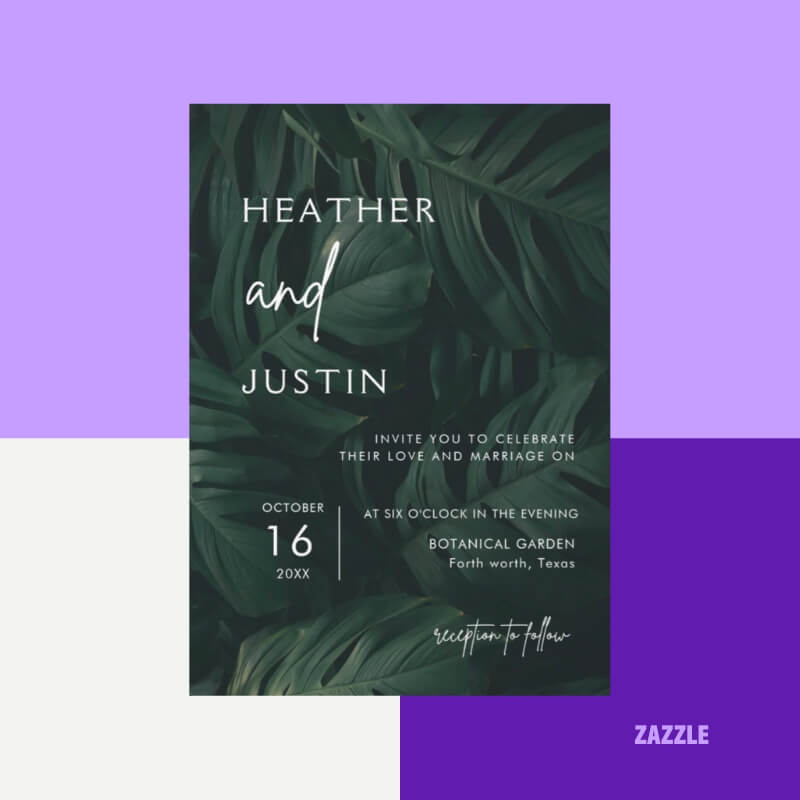 Wedding invitations should always be easy to read. One of the easiest is the Modern TropicalInvitations. The dark background includes palm leaves that are visible but not an eyesore. Information about your wedding is presented neatly in a logical format, making these basic invitations attractive.
Why we love this invitation
The Modern Tropical wedding invitations are perfect for couples looking for an understated way to announce their big day.
There's no wedding like one held in a quiet mountain town. Consider using the Rocky Mountain The Adventure Begins wedding invitations to prepare for yours. Referring to your wedding as an adventure will ready your guests for the fantastic time that they will have when they are there. The invitations include two birds in flight in the upper left corner and mountains and trees under the text. This is the perfect way to instill excitement in your guests.
Why we love this invitation
The trees and mountains look like they are painted in watercolors, making your wedding invitations fun and appealing for your guests to look at.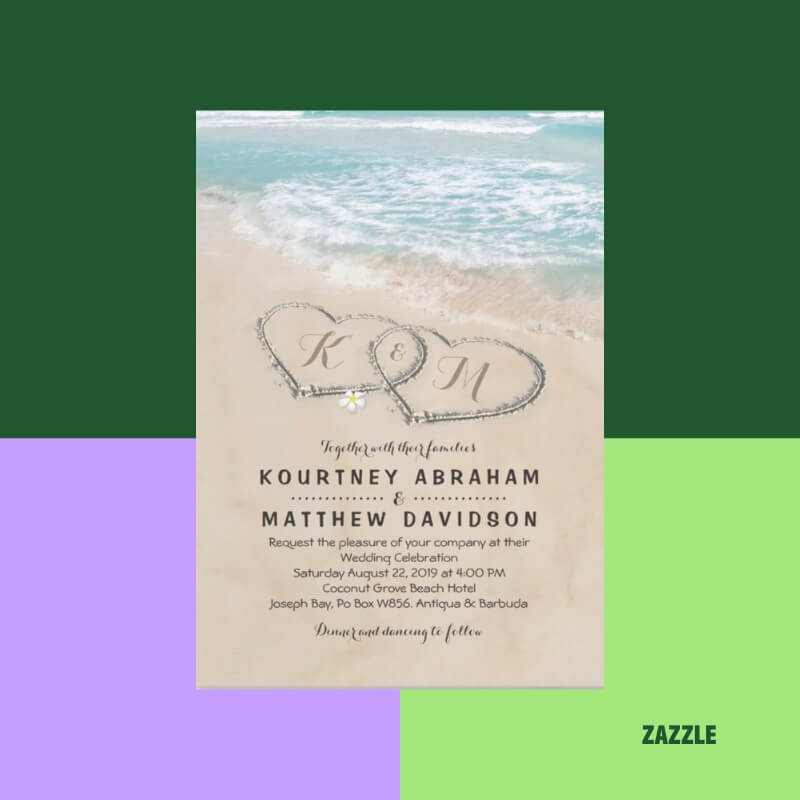 For many couples, there is nothing more romantic than carving their initials into wet sand on the beach. That's why theTropical Vintage Beach destination wedding invitations are the perfect choice. The top of the invitation shows the bluest, calmest water you'll ever see, with your initials carved in the sand and contained within interlocking hearts.
Why we love this invitation
If you are a romantic at heart and you're having a much sought-after beach wedding, then the Tropical Vintage Beach wedding invitations perfectly capture the love you and your partner have for each other.
Destination weddings are often billed as tropical getaways. If this is what you have in mind for your wedding, consider the Tropical Bouquet invitations. They include darkly colored flowers with dark green stems and leaves that anyone who truly appreciates flowers will enjoy. Set against a white background, the flowers really pop off the paper, immediately drawing your eyes to them.
Why we love this invitation
Since bouquets are associated with virtually every kind of wedding, the Tropical Bouquet invitations perfectly convey how special your big day is to you and your partner.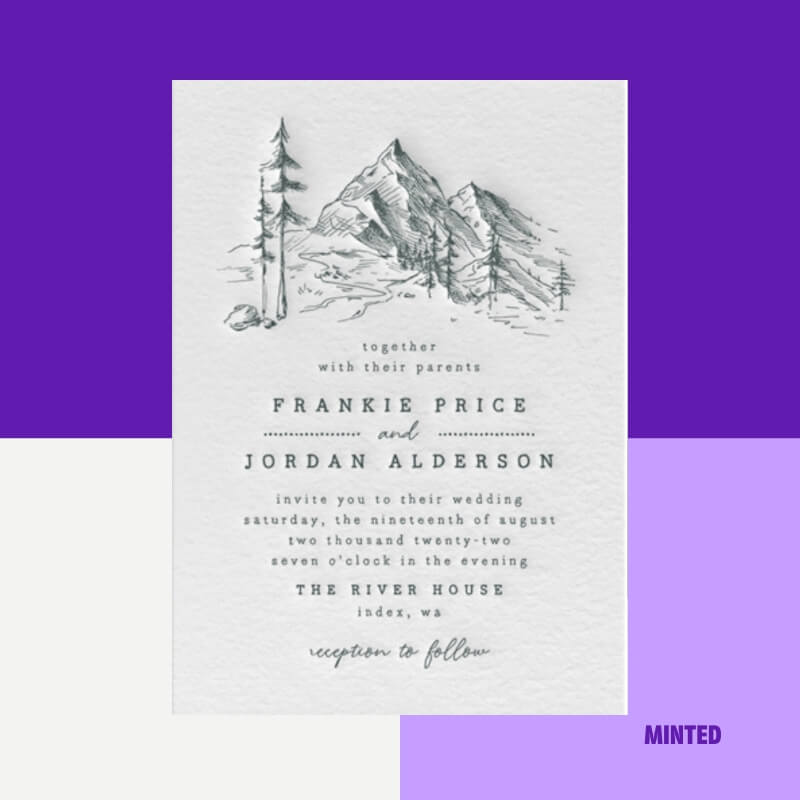 Sometimes, all it takes is a simple sketch to show your wedding day's importance to you. The Fresh Air destination wedding invitations contain a simple drawing of mountains along the top of the invitation. The text is beautifully placed under the drawing and done in letterpress, making the invitation more visually impressive.
Why we love this invitation
The simple but impressive drawings make these invitations come to life and are perfect for outdoor weddings.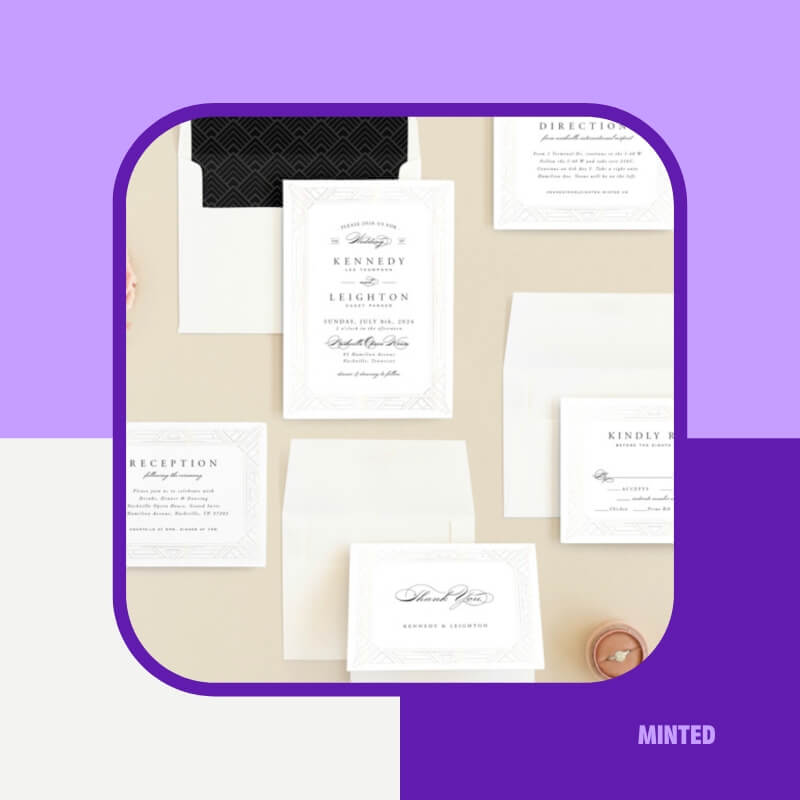 No matter where your destination wedding is, Opulent Border is an excellent choice for your invitations. The text is surrounded by geometrical shapes that make the invitation look like a framed photo. These invitations are simple but give your guests something impressive to look at.
Why we love this invitation
Opulent Border invitations are classy and appealing in an understated way.
Bottom Line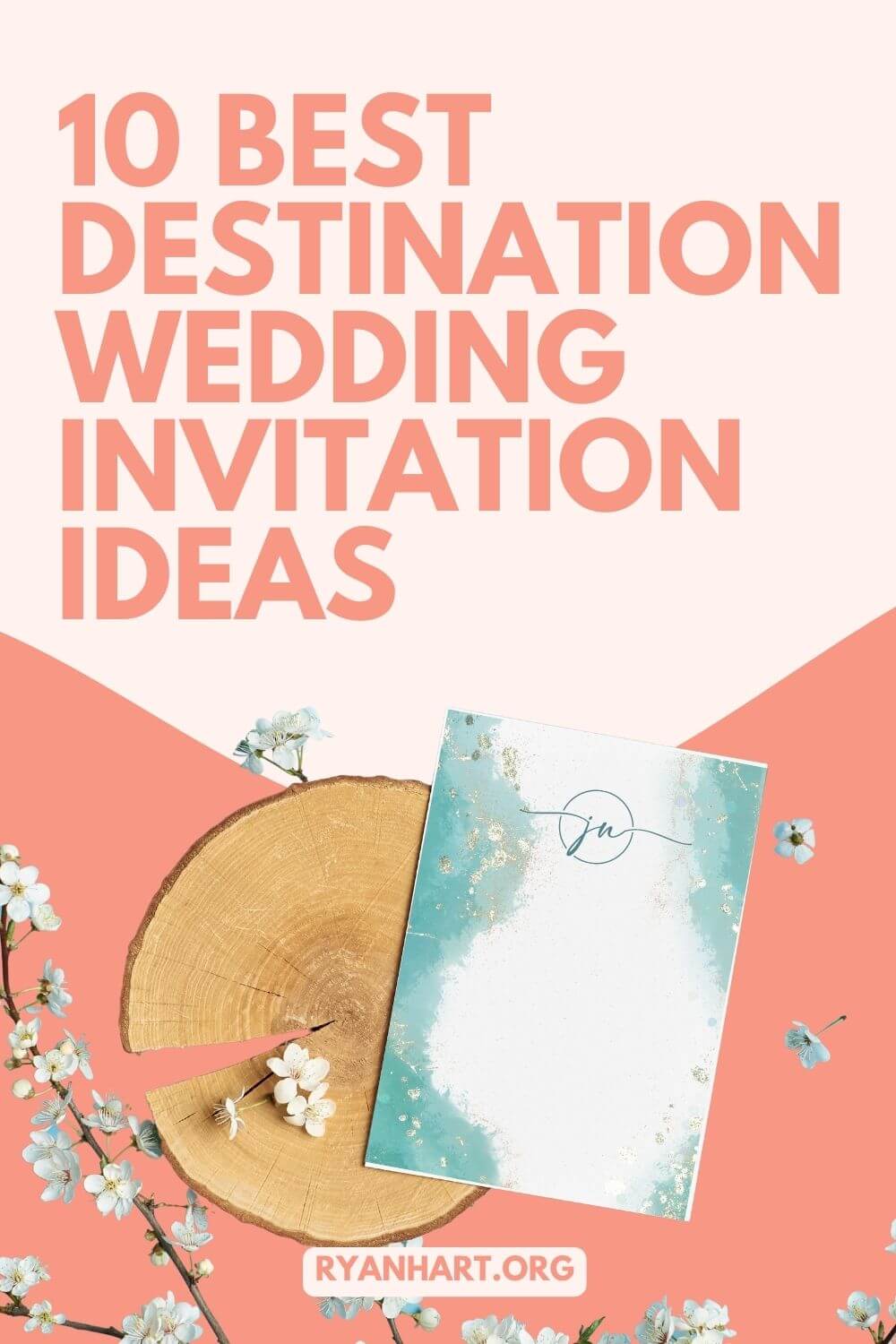 Using a pre-designed template for your wedding invitations is a great idea. It makes things easier and faster.
You don't need to be a design pro to create stunning invites. With a template, you can design beautiful invitations that show your style.
Sending out invitations for a destination wedding can be a little tricky, though.
You need to give your guests enough time to plan. They might need to book flights, hotels, and take time off work. Make sure to send your invites early, about six to eight months before the big day.
With careful planning and a little extra time, you can send out perfect destination wedding invitations.